PBS News: September 12 – 15, 2019, Climate activist Greta Thunberg on the power of a movement and How blockchain technology could revolutionize the art market
[CNA 24/7 LIVE] Breaking news, top stories and documentaries
DW Documentary: Turning toxic – The Bayer-Monsanto merger
Thisiscolossal: Splash and Burn: An Artist-Led Initiative Raising Awareness About the Negative Effects of Palm Oil Production in South Asia and REWILD: A Short Film by Splash and Burn and ESCIF Chronicles Rainforest Restoration Efforts in Sumatra
ArranEve: Naked Raku ~ The Full Monty
TED Talks: Jochen Wegner What happened when we paired up thousands of strangers to talk politics?
my thought spot: A Brief Thought Experiment ~ The Island
Mother and Baby Care: Foods to Eat During Pregnancy for Intelligent Baby
How Possible: Fetal development month by month: Stages of Baby Growth in the Womb
NASA Live: Official Stream of NASA TV
BBC Click: Will Space Tourism Take Off?
Ing-On Vibulbhan-Watts: Ing's Garden: Monarch Butterfly and Butterflies & Bees Backyard Garden Newark-Video on YouTube, www.ingpeaceproject.com
Dominique Lalonde Films Nature: The life of Monarch Butterfly
PBS NewsHour Weekend full episode September 15, 2019
•Published on Sep 15, 2019
PBS NewsHour 1.38M subscribers
On this edition for Sunday, September 15, a look ahead to this week's election in Israel, the author and physicist Sean Carroll on the existence of parallel lives, and do the recent presidential debates show a growing rift between moderates and progressives in the Democratic Party? Hari Sreenivasan anchors from New York.
PBS NewsHour Weekend full episode September 14, 2019
Published on Sep 14, 2019
PBS NewsHour 1.38M subscribers
On this edition for Saturday, September 14, the Bahamas brace as another tropical storm heads their way, the Trump administration announces federal changes to the Clean Water Act, and a legal rule that allows someone to be put away for murder even if they weren't the one who committed it. Hari Sreenivasan anchors from New York.
Climate activist Greta Thunberg on the power of a movement
PBS NewsHour 1.38M subscribers
Although more Americans than ever are worried about climate change, less than 40 percent expect to make "major sacrifices" to tackle the problem. But according to Greta Thunberg, a Swedish teenager and climate activist, drastic action is exactly what's needed to address the problem. William Brangham sits down with Thunberg to discuss galvanizing young people across the globe to the climate cause.
PBS NewsHour full episode September 12, 2019
1.37M subscribers
Thursday on the NewsHour, the leading 10 Democratic presidential candidates face off on the debate stage for the first time. Plus: Impeachment momentum in the House, CEOs of major U.S. companies pressure the Senate on gun legislation, ongoing conflict in Syria, why the Federal Election Commission's operations are limited, the pinch of tariffs on the lobster industry and an oral history of 9/11. Stream your PBS favorites with the PBS app: https://to.pbs.org/2Jb8twG Find more from PBS NewsHour at https://www.pbs.org/newshour Subscribe to our YouTube channel: https://bit.ly/2HfsCD6
[CNA 24/7 LIVE] Breaking news, top stories and documentaries
Started streaming on Jan 14, 2019
CNA 378K subscribers
Watch CNA's 24-hour live coverage of the latest headlines and top stories from Singapore, Asia and around the world, as well as documentaries and features that bring you a deeper look at Singapore and Asian issues. CNA is a regional broadcaster headquartered in Singapore. Get the programming schedule here: https://www.channelnewsasia.com/news/… Subscribe to our news service: WhatsApp: https://cna.asia/whatsapp Telegram: https://t.me/cnalatest Follow CNA on the following platforms: https://www.cna.asia https://www.facebook.com/channelnewsasia https://www.instagram.com/channelnews… https://www.twitter.com/channelnewsasia https://t.me/cnalatest
Category News & Politics
Turning toxic – The Bayer-Monsanto merger | DW Documentary
•Published on Sep 11, 2019
912K subscribers
A year after Germany's Bayer Group took over Monsanto, and it's struggling to deal with the US seed giant's controversial reputation. Now Bayer is also liable for Monsanto's legal bills – which are starting to mount alarmingly. Roundup, a herbicide containing glyphosate sold worldwide by Monsanto has long been suspected of causing cancer. A California court has just awarded more than $2 billion in damages to a couple who had claimed that their use of the pesticide caused them to develop non-Hodgkin's lymphoma . Bayer's share price halved last year, and the consequences are already making themselves felt in the company itself: Around 12,000 jobs worldwide are to be cut in the next few years, a considerable proportion of them in Germany. CEO Werner Baumann, who pushed for the merger, is coming under increasing pressure. Voicing criticism, a majority of shareholders voted against absolving Baumann and other managers of their responsibility in the merger. Bayer is in the midst of its greatest crisis. The film traces the effects of the merger and investigates potential new health hazards emanating from glyphosate. How has Monsanto tried in the past to influence politicians, scientists and public opinion? Did the Americans actually play down or ignore the dangers? And does Bayer really distance itself from these practices? ——————————————————————– Subscribe to DW Documentary: https://www.youtube.com/channel/UCW39… Our other YouTube channels: DW Documental (in spanish): https://www.youtube.com/dwdocumental DW Documentary ??????? ?? ?????: (in arabic): https://www.youtube.com/dwdocarabia For more documentaries visit also: https://www.dw.com/en/tv/docfilm/s-3610 Instagram https://www.instagram.com/dwdocumentary/ Facebook: https://www.facebook.com/dw.stories DW netiquette policy: https://p.dw.com/p/MF1G
Category Education
Splash and Burn: An Artist-Led Initiative Raising Awareness About the Negative Effects of Palm Oil Production in South Asia
May 4, 2018 Kate Sierzputowski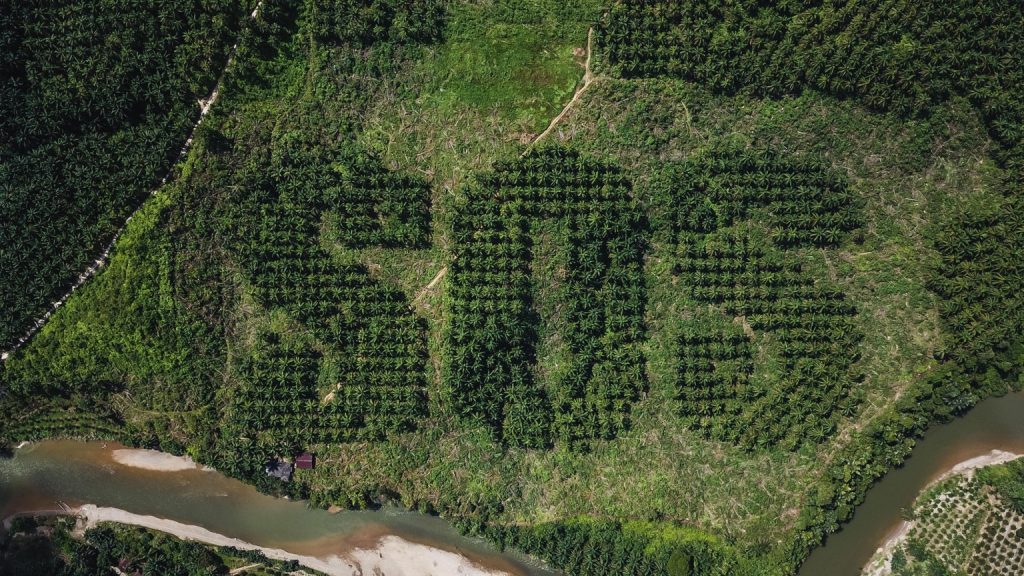 Drone footage still of "Save Our Souls" by Ernest Zacharevic. All images provided by Splash and Burn.
Indonesia is the world's largest exporter of palm oil, the harvesting of which has been shown to have extremely adverse effects on wildlife and natural resources, including deforestation, fires, and the displacement of people and animals. Lithuanian artist Ernest Zacharevic (previously) witnessed this devastation during his time spent photographing and traveling throughout the country, and decided to found the initiative Splash and Burn to spread public awareness about the resource's inhumane production.
"A state of global environmental crisis is defining our generation," Zacharevic tells Colossal. "As consumers, we are so disconnected from the source of our commodities that we do not recognize the impact of our daily choices. This project is an effort to bridge that gap."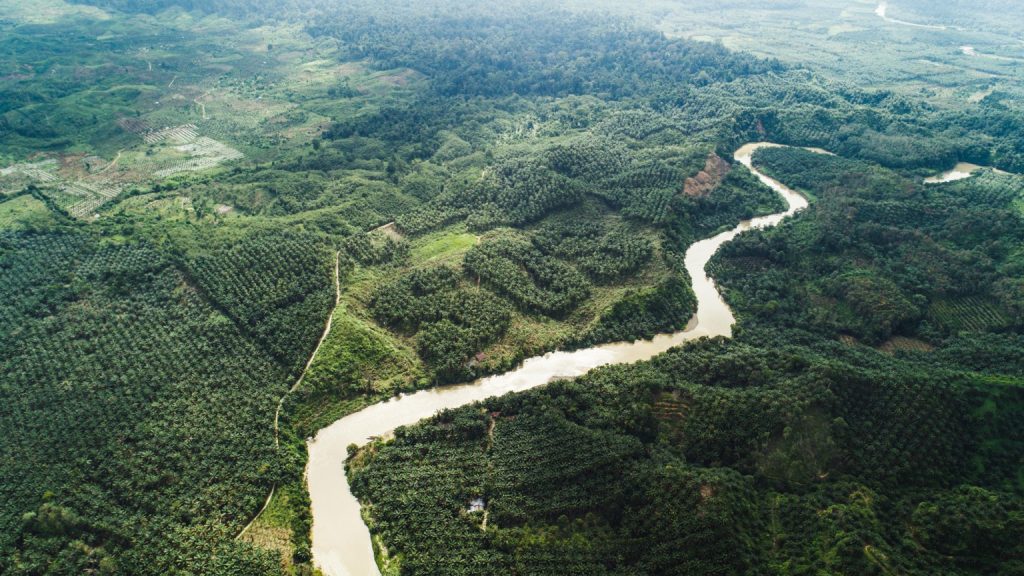 "Save Our Souls" (2018) by Ernest Zacharevic
The organization's name comes from slash-and-burn, the cheap practice of burning land to clear the way for new plantations, a method that releases toxic smoke, and has been linked to more than 500,000 respiratory infections. For two years Zacharevic researched these issues effecting Indonesia's population, meeting with NGOs, locals, and wildlife sites to educate himself on the organizations fighting against the practices and attempting to heal from their destruction.
After researching the area and its local organizations, like the Orangutan Information Centre, the Lithuanian artist invited several fellow creatives to respond to the native landscape and the palm oil crisis through art installations. Since February, international artists have created murals, sculptures, and other works throughout Sumatra. Pieces include an orangutan mural painted by VHILS, Isaac Cordal's miniature hazmat suit installation, and Zacharevic's plantation intervention in which he inserted the message SOS into the landscape's trees.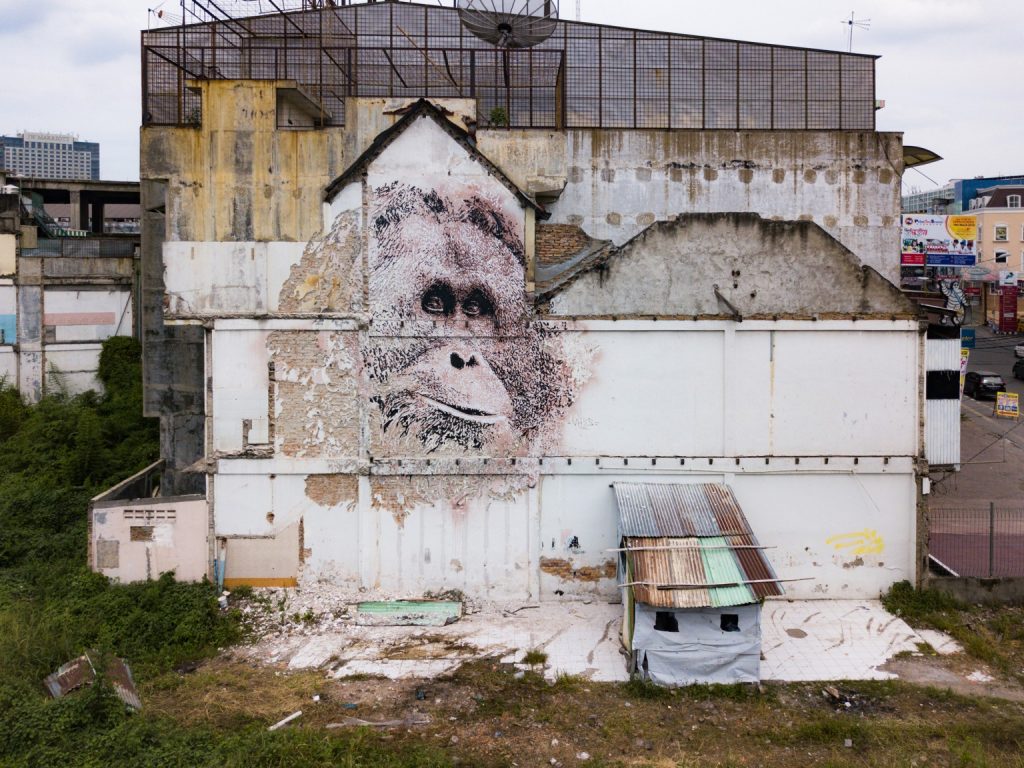 Mural by Alexandre Farto aka VHILS, image credit: Ernest Zacharevic
"I wanted to communicate the magnitude of the problem to a wider audience, as well as provide creative outlook, hope, and inspiration to local communities and conservationists," says Zacharevic in a press release about the work. "From the ground, you would not suspect anything more than just another palm oil plantation, the aerial view however reveals an SOS distress signal. 'Save our Souls' is a message communicated to those at a distance, a reminder of the connectedness we share with nature. As more of the forests are lost, we lose a little bit of ourselves in the process."
So far Splash and Burn has worked with Anders Gjennestad aka Strøk, Axel Void, Bibichun, Gabriel Pitcher, Isaac Cordal, Mark Jenkins, and Pixel Pancho. The ongoing initiative is curated by Zacharevic and coordinated by Charlotte Pyatt. To follow upcoming installations or support the project's efforts visit the Sumatran Orangutan Society website or Splash and Burn's Instagram.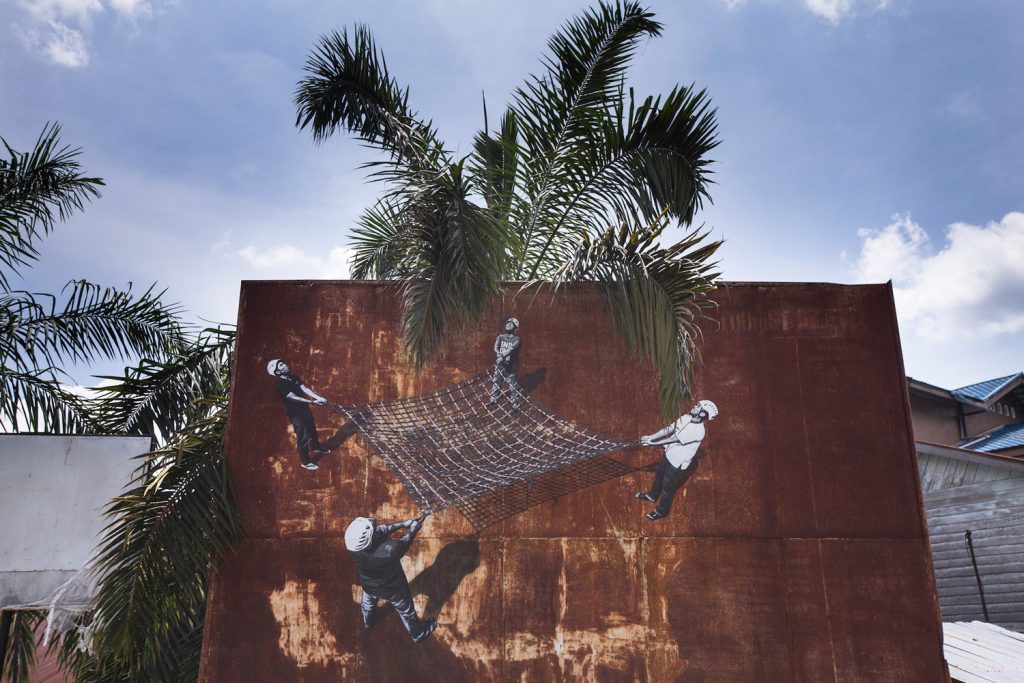 Work by Strøk aka Anders Gjennestad (2017), image credit: Anders Gjennestad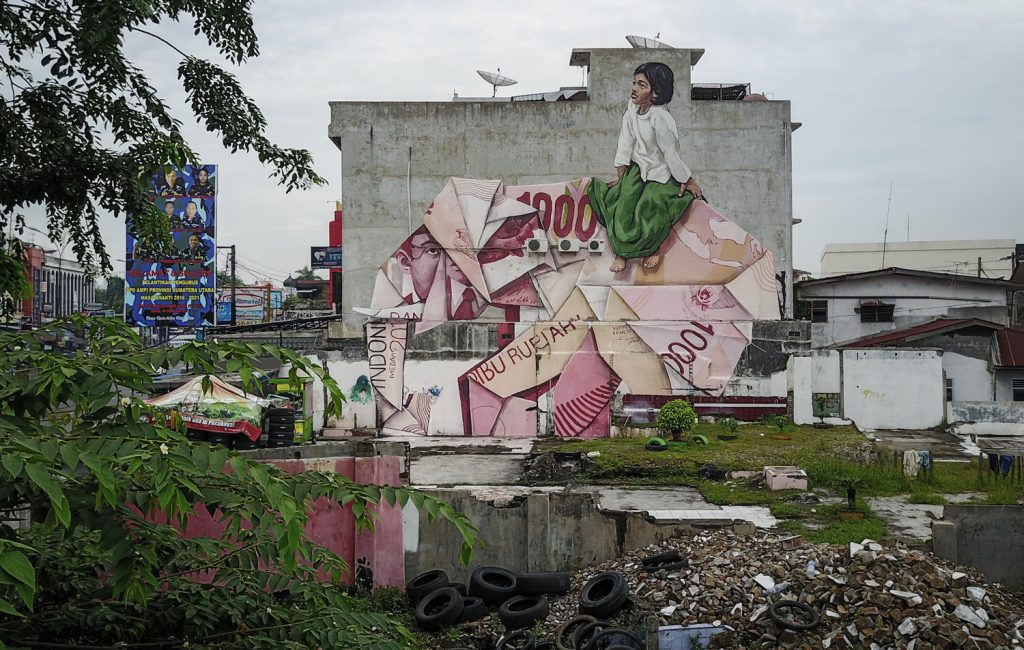 Work by Ernest Zacharevic (2017), photo credit: Ernest Zacharevic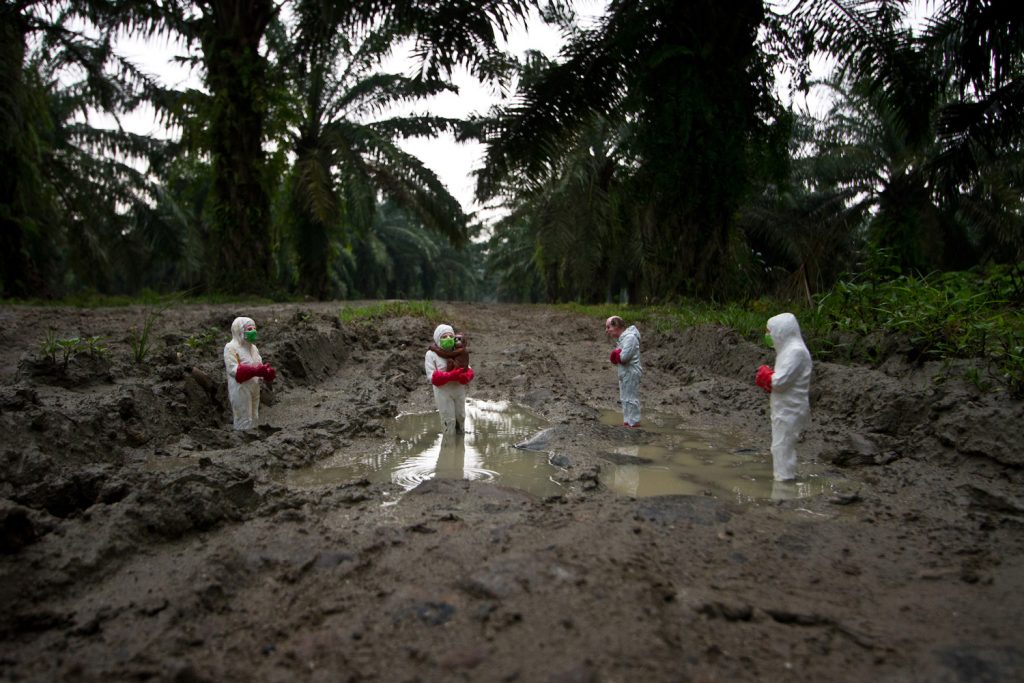 Work by Isaac Cordal (2017), photo credit: Isaac Cordal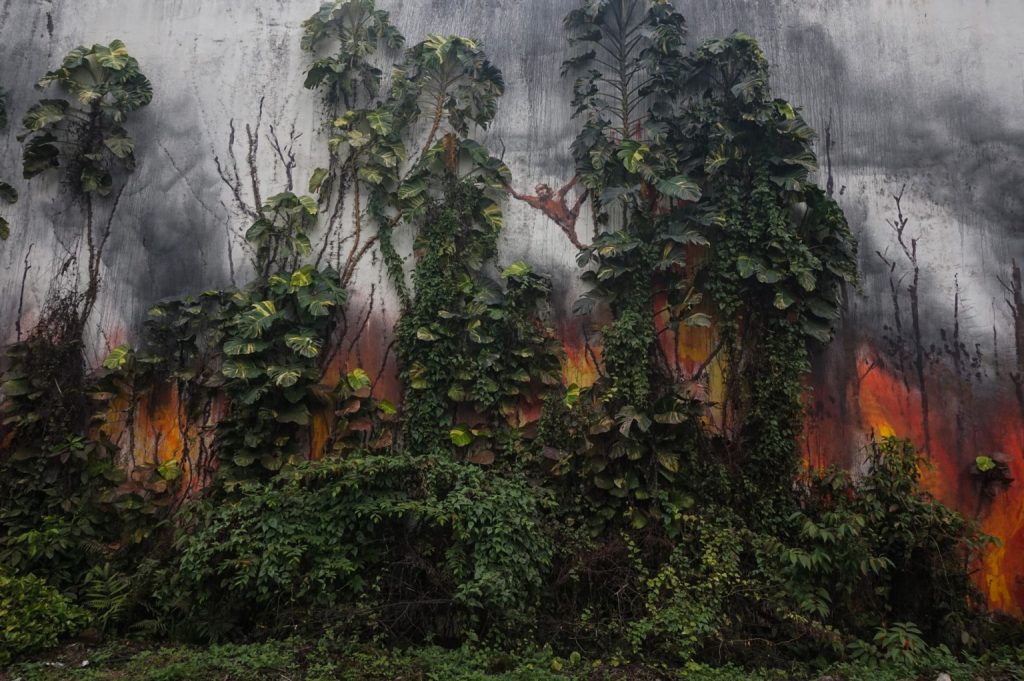 Work by Ernest Zacharevic , photo credit: Tan Wei Ming
REWILD: A Short Film by Splash and Burn and ESCIF Chronicles Rainforest Restoration Efforts in Sumatra
September 10, 2019 Laura Staugaitis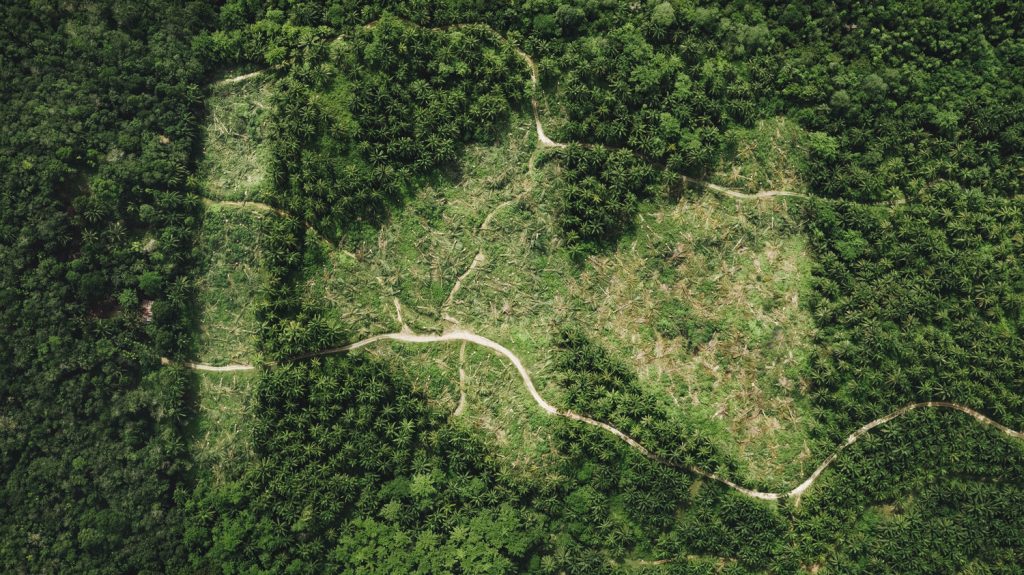 To draw attention to the ecological devastation wrought by palm oil farming in Southeast Asia, the Splash and Burn project (previously) creates and documents large and small-scale art activations. The initiative's most recent endeavor, titled REWILD and executed with Spanish artist ESCIF, involved carving a rewind symbol into a palm oil plantation in Sumatra, Indonesia, and creating a short film documenting the effort. ESCIF explains, "the idea of going back, of rewinding, is an invitation to reconnect with ourselves; to recover awareness and respect for the earth, which is the ecosystem of which we are a part."
The land art intervention took place on an acquired plantation within a new forest restoration site made possible by the Sumatran Orangutan Society. After clearing the palms, diverse vegetation has been re-planted. In a release about the project, Splash and Burn explains that the restoration site is located on the borders of the Leuser Ecosystem, one of the most biodiverse places on earth. Sumatra's forests—and the wildlife populations within—have shrunk by 40% in the past two decades, replaced by palm oil, paper pulp, and rubber plantations. Though not commonly known in the U.S. as a cooking oil, palm oil is the most widely consumed oil on the planet, found in everything from chocolate and instant noodles to lipstick and laundry detergent.
You can watch the trailer of REWILD below. It features an abstract soundscape by Indonesian composer Nursalim Yadi Anugerah. If you are interested in contributing, head to moretrees.info, and follow Splash and Burn (comprised of Ernest Zacharevic and Charlotte Pyatt) on Instagram.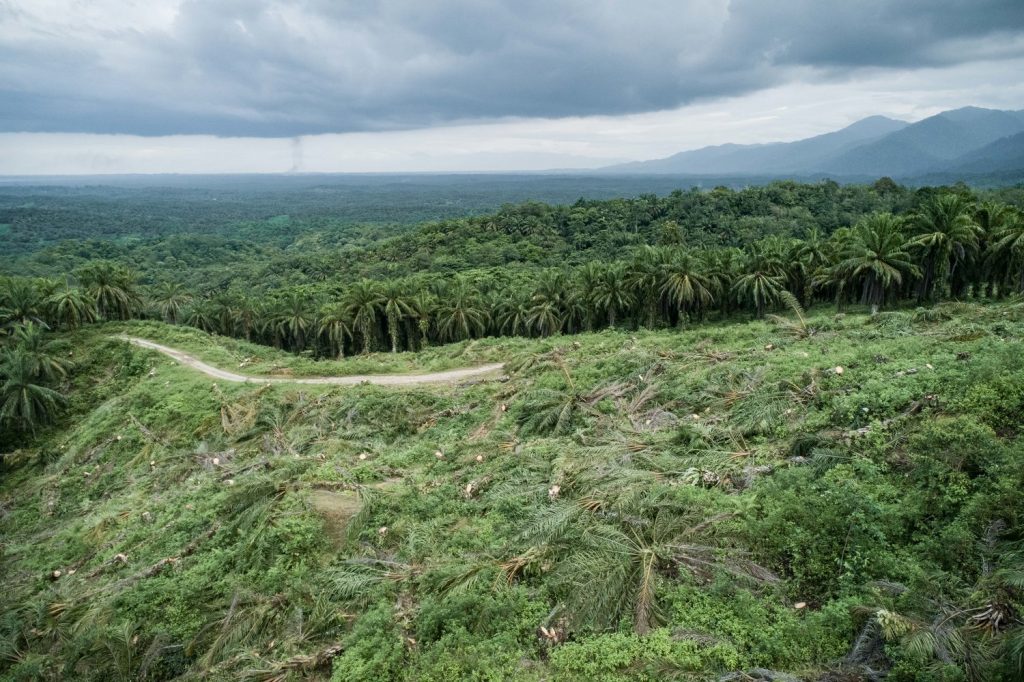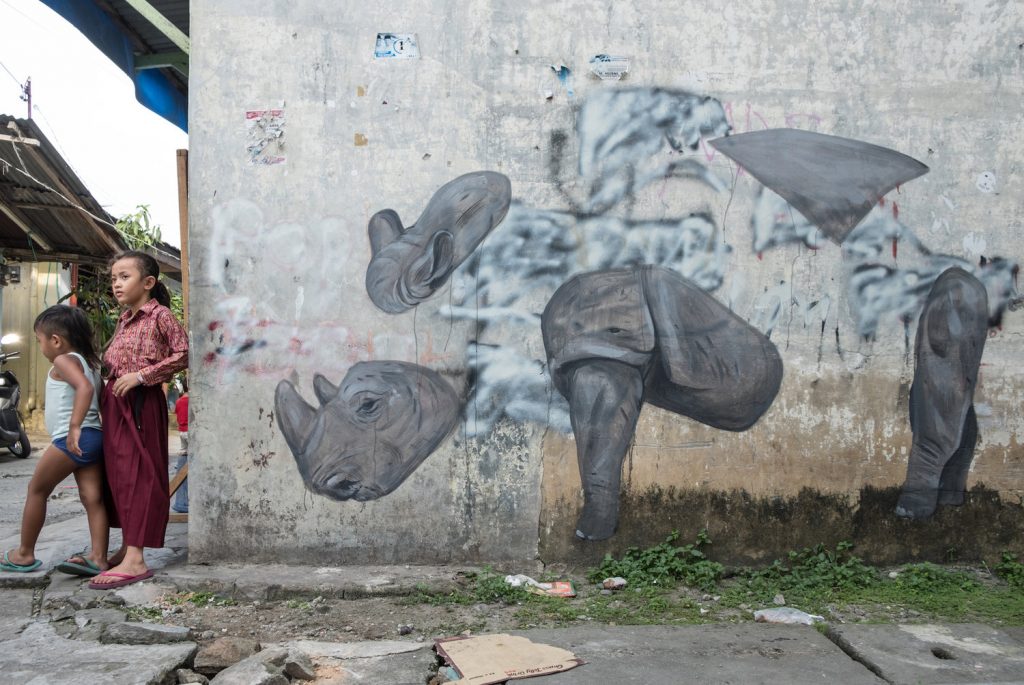 How blockchain technology could revolutionize the art market
PBS NewsHour Published on Sep 11, 2019
The technology underpinning blockchain is a powerful decentralizing network architecture that could revolutionize many industries. Now, some artists are leveraging blockchain to help guarantee the authenticity of their work — and ensure that they get paid. Miles O'Brien reports on how digital documentation is putting power back into artists' hands, even when no tangible object exists. Stream your PBS favorites with the PBS app: https://to.pbs.org/2Jb8twG Find more from PBS NewsHour at https://www.pbs.org/newshour Subscribe to our YouTube channel: https://bit.ly/2HfsCD6
ArranEye Published on Jan 11, 2017
Potter Simon Thorborn shows every step involved in this process. Simon has been perfecting his art on the Scottish Isle of Arran since 1986.
Category Howto & Style
In spring 2019, more than 17,000 Europeans from 33 countries signed up to have a political argument with a complete stranger. They were part of "Europe Talks," a project that organizes one-on-one conversations between people who disagree — sort of like a Tinder for politics. Editor Jochen Wegner shares the unexpected things that happened when people met up to talk — and shows how face-to-face discussions could get a divided world to rethink itself.
This talk was presented at an official TED conference, and was featured by our editors on the home page.
About the speaker
Jochen Wegner edits Zeit Online, the website of German weekly "Die Zeit," which prizes deep dives into cultural issues.
Todd William: A Brief Thought Experiment ~ The Island
What would you do to Survive?
If you found yourself on a deserted island, with no hope of being found, what might be your biggest priorities. If you chose to live, it would no doubt be water and food, followed by some sort of shelter.
Once you've established these, ensuring your safety and health would soon follow. And should those needs be met, you could then get to work on improving the quality of your life, for starters, making all the prior efforts as minimal as possible.
The less time you have to waste gathering food, repairing your shelter, or running from danger, the more time you have to spend doing whatever you would like to do.
Reality
But this is considerably different than ordinary life. For one, we have different objectives. We don't merely eat food to live, we live to eat good foods. We don't just care about shelter, we care about curb appeal.
Our everyday needs are so easily met that almost all our focus and concerns are directed toward things that are not essential to life, they are just creature comforts. We are very fortunate to live in a time period when we can concern ourselves mostly with how we want to improve our lives, not with merely maintaining that life.
We have no reason to apologize for this. We don't live on a deserted island, and improving our quality of life has value. That we've reached a point where most of our daily efforts are put towards creature comforts rather than necessities is a fine tribute to human ingenuity. Yet the implications of this are easily overlooked.
Jobs
Most jobs are about the icing on the cake. Once you move beyond things that involve food, water, housing, safety, and health, the necessity of any job begins to quickly fall into the that grey area where usefulness is purely subjective.
The point isn't that these jobs aren't worthwhile, its that we're addicted to the icing, and we should be. Why not improve our lives. But this addiction keeps us blind to the possibilities.
Technology
We've reached a point when we can realistically discus the possibility that technology may be able to replace most jobs. This is a scary notion. Yet maybe it shouldn't be.
If the use of technology permits us to produce all of life's essentials with negligible manual effort, then all jobs would be related to icing. Any job losses related to technology would merely determine the amount of icing any of us would share.

There would no doubt be disparity, but in exchange, the notion of working to "get by" would be gone. Life would suddenly be merely a matter of how you decide to use your time – and that has more to do with imagination than circumstance.
This is a hard concept to fathom because we're so accustomed to assessing the value of our lives by comparing what we possess relative to those around us.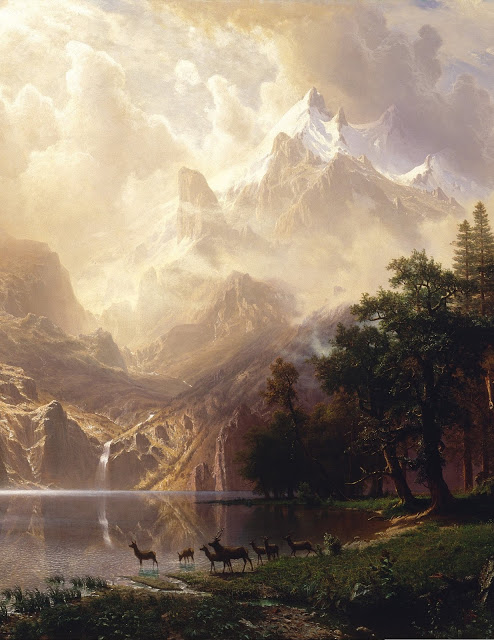 But isn't more appealing to judge the value of life by the amount of quality time we have as our disposal? That is the great equalizer. No matter how much power, wealth, or influence you have, you're still getting the same 24 hours a day that we all get.

The Island

We don't live on an isolated island, but we do live on an isolated planet. Maybe its not so different after all, we just need to get over our addiction.

Consider for a moment what it would mean if you no longer felt compelled to always have more . If food, water, shelter, health, and safety we're all guaranteed to you, might you look at your job differently? Would you feel a bit more selective on how you use your time??

For more information please visit the following link:
https://www.my-thought-spot.com/2017/01/a-brief-thought-experiment-island_12.html
Foods to Eat During Pregnancy for Intelligent Baby
Published on Dec 16, 2017
As an expectant mother, you need to ensure that your diet has all the nutrients and energy needed for your baby to develop properly. You also must ensure that your baby's body is healthy as this will enable him or her to deal with the different developmental changes. What women eat during pregnancy affects the physical and mental development of their child. You can have some foods that will increase the brain power of your child. Not only during pregnancy, you must start eating these foods at the time when you decide to conceive. Have a look at some foods that you can eat during pregnancy to get intelligent baby.
Category People & Blogs
Fetal development month by month: Stages of Baby Growth in the Womb
•Published on Jul 13, 2017
66.8K subscribers
You're pregnant. Congratulations! Are you curious how big your developing baby is, what your baby looks like as it grows inside you, and when you'll feel it move? Take a peek inside the womb to see how a baby develops from month to month without any medical ultrasound or appointment with women's health doctor. Month 1: (Weeks 4) 00:16 Month 2: (Weeks 8) 01:05 Month 3: (Weeks 12) 01:56 Month 4: (Weeks 16) 02:51 Month 5: (Weeks 20) 03:31 Month 6: (Weeks 24) 04:18 Month 7: (Weeks 28) 04:58 Month 8: (Weeks 32) 05:32 Month 9: (Weeks 36) 05:57 Visit these links for more videos related this! Youtube channel: https://www.youtube.com/c/howpossible Twitter: https://twitter.com/howpossiible Google plus: https://plus.google.com/1040794440430… Can this video is help? Please leave your answer in comment Thank you! for watching Fetal development month by month: Stages of Baby Growth in the Womb during pregnancy.
Category People & Blogs
NASA Live: Official Stream of NASA TV
•Started streaming on Dec 28, 2018
Direct from America's space program to YouTube, watch NASA TV live streaming here to get the latest from our exploration of the universe and learn how we discover our home planet. NASA TV airs a variety of regularly scheduled, pre-recorded educational and public relations programming 24 hours a day on its various channels. The network also provides an array of live programming, such as coverage of missions, events (spacewalks, media interviews, educational broadcasts), press conferences and rocket launches. In the United States, NASA Television's Public and Media channels are MPEG-2 digital C-band signals carried by QPSK/DVB-S modulation on satellite AMC-3, transponder 15C, at 87 degrees west longitude. Downlink frequency is 4000 MHz, horizontal polarization, with a data rate of 38.86 Mhz, symbol rate of 28.1115 Ms/s, and ¾ FEC. A Digital Video Broadcast (DVB) compliant Integrated Receiver Decoder (IRD) is needed for reception.
Category Science & Technology
Will Space Tourism Take Off? – BBC Click
•Published on Sep 15, 2019
Click travels to Spaceport USA in New Mexico to speak to the team behind Virgin Galactic and learn more about their plans to put tourists into space. We also test out a new virtual reality experience and celebrate the 20th anniversary of the cubesat. Subscribe HERE https://bit.ly/1uNQEWR Find us online at www.bbc.com/click Twitter: @bbcclick Facebook: www.facebook.com/BBCClick
Category Science & Technology
Ing's Garden: Monarch Butterfly
Photographs by Ing-On Vibulbhan-Watts on Sunday, September 8, 2019 at our backyard garden, Downtown Newark, New Jersey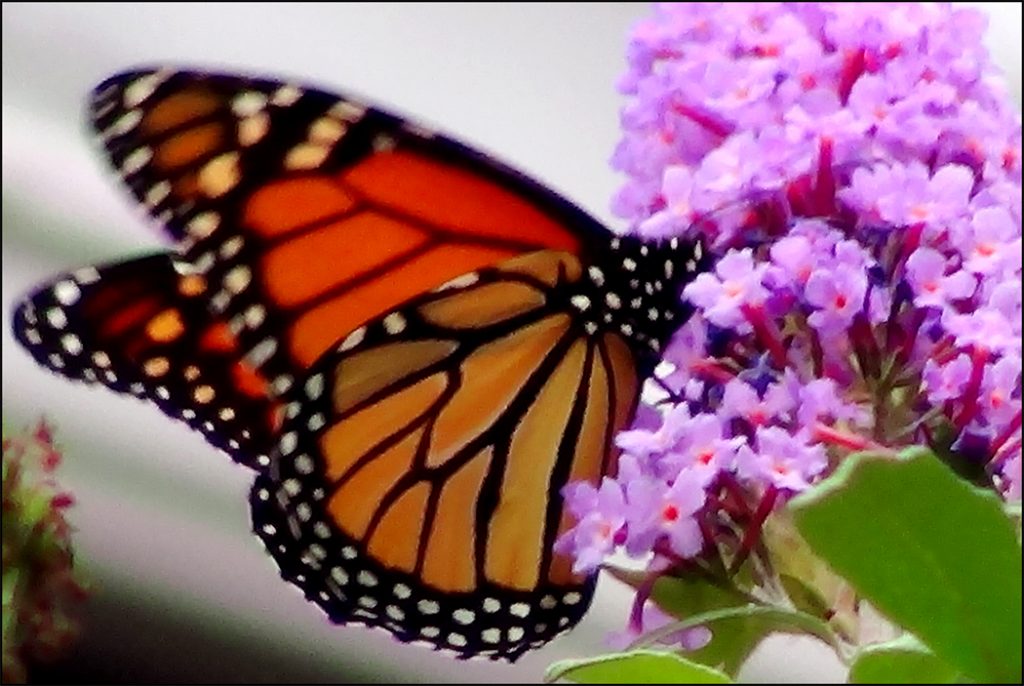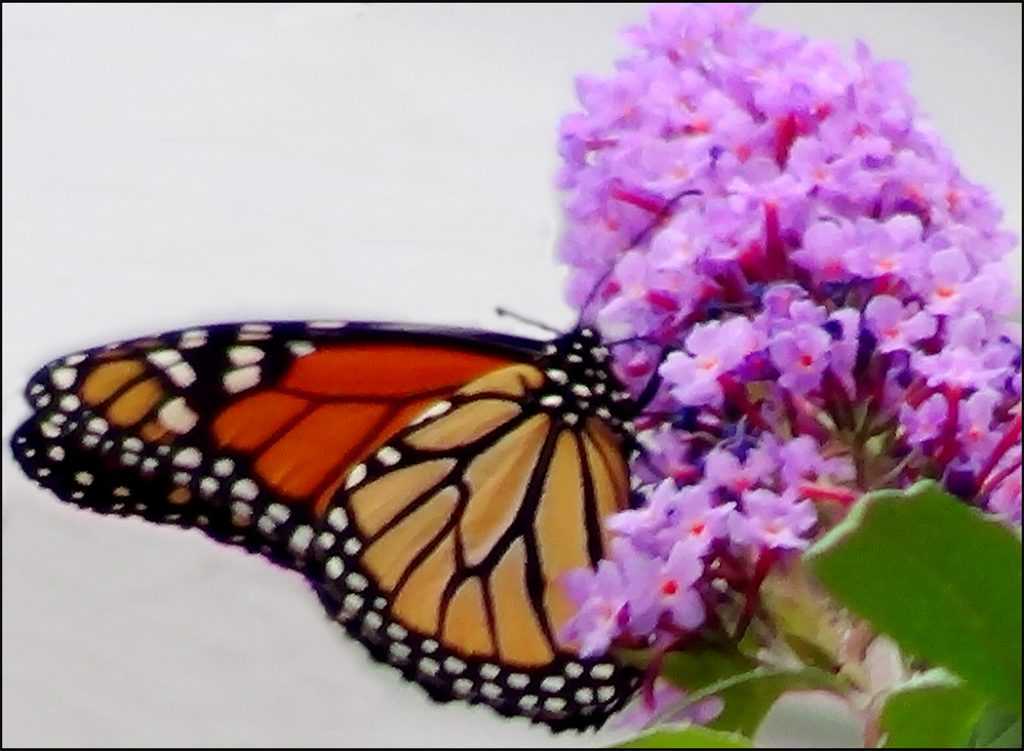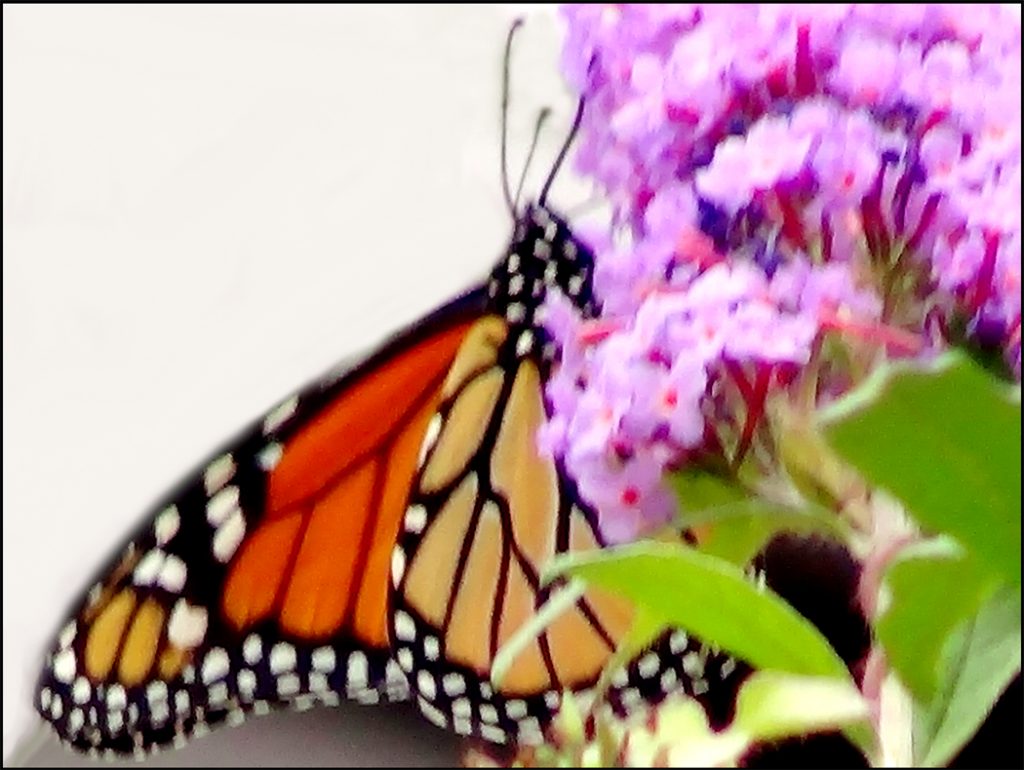 Ing's Garden, Downtown Newark, New Jersey Photograph by Ing-On Vibulbhan-Watts
Butterflies & Bees Backyard Garden Newark
Published on Aug 21, 2012
In downtown Newark, New Jersey, surrounded by walls of brick and concrete buildings there is a small plot of land. This peaceful garden is cultivated to create a little heaven on earth for a simple person who loves nature. In this garden red, pink, orange, yellow, purple, and other colors of beautiful flowers contrast with varying shades of green creating a palette of color reminiscent of a Monet artwork. There is a little table and a few chairs for one or more company to relax in the evening with a gentle breeze bringing the fragrance of Jasmine and other flowers mesmerizing us with peace and tranquility in a moment of utopia on earth. Oh look, Monarch, swallowtail, and other butterflies are dancing around the flowers tasting the sweetness of nectar! A bee is hovering nearby cleverly drinking the nectar from a butterfly bush flower, for the first time teaching me how this is done. At the same time butterflies are using their long proboscis to pierce deep into the center of the flowers drinking up the nectar as though through a straw. For many moons and many summers, I have enjoyed my little plot of heaven on earth. Now it is a time for me to share this with others to help them calm down and enjoy nature before we leave this earth for good.
Ing-On Vibulbhan-Watts
Category Education
Music in this video
Learn more Listen ad-free with YouTube Premium
Song String Quartet No. 1 in B-Flat Major, Op. 1 No. 1, Hob. III:1 "L
Artist Caspar da Salo Quartet
Album Haydn: Strings Quartets Nos. 1, 63 & 77
The life of Monarch Butterfly
•Published on Sep 12, 2015
Dominique Lalonde Films Nature
Discover the life of the monarch. Adult female monarchs lay their eggs on the underside of milkweed leaves. Each female can lay 400 eggs. These eggs hatch, depending on temperature, in three to five days. Monarchs spend the caterpillar stage of their lives eating and growing. The young caterpillar measures about 2 mm and reaches a length of 50 mm. After about two weeks, the caterpillar will be fully-grown and find a place to attach itself so that it can start the process of metamorphosis. Witness the monarch's transformation. It is the only one North American butterfly who migrate, each year, in large number. Probably no other insect on the Earth make such a migration. The Monarch can fly more than 100 km in a single day. Subscribe : https://www.youtube.com/user/Explorat…
Category Pets & Animals