Ing and John's Street Art, Downtown Newark, New Jersey, USA Part 1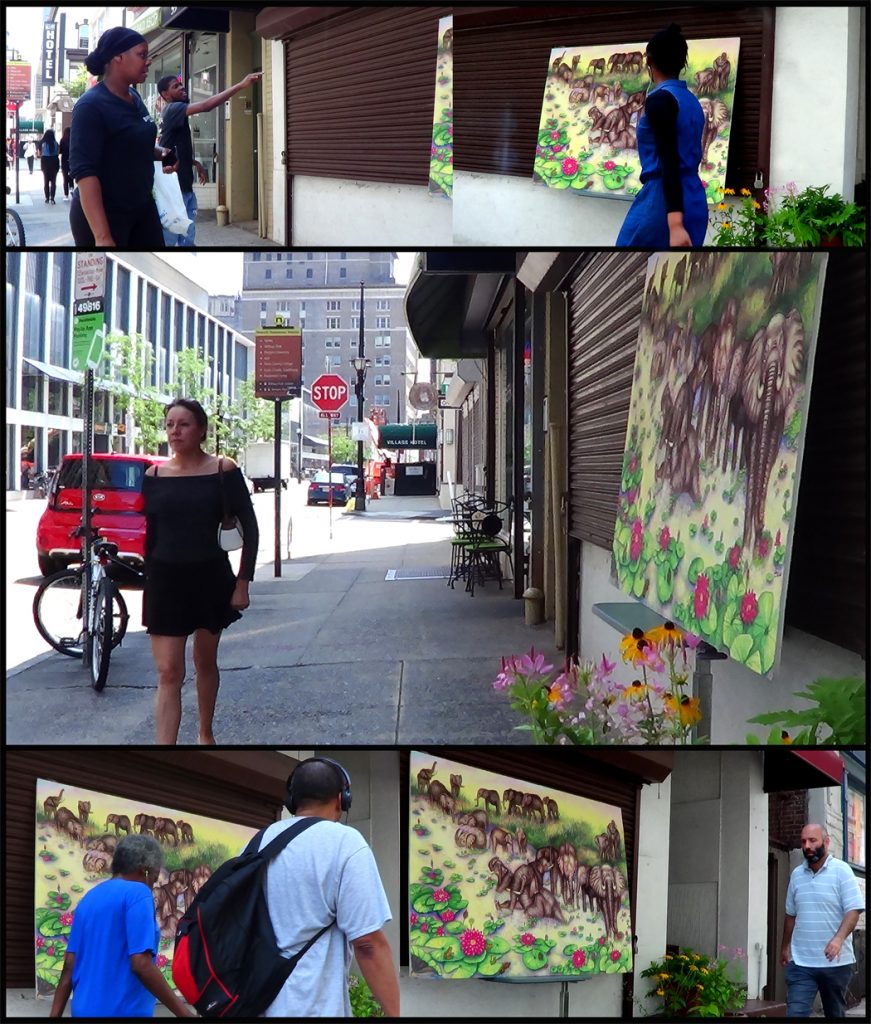 I love street art for many reasons. First of all, the artwork is there for the public. It is for everyone who passes to their destination. Without spending time visiting art galleries or museums, they can see art while they are going to work or getting lunch. Some may pay attention to the artwork and some may not. Some may ask questions about the artwork. I hope, at least the artwork will activate the thought process of those passing by.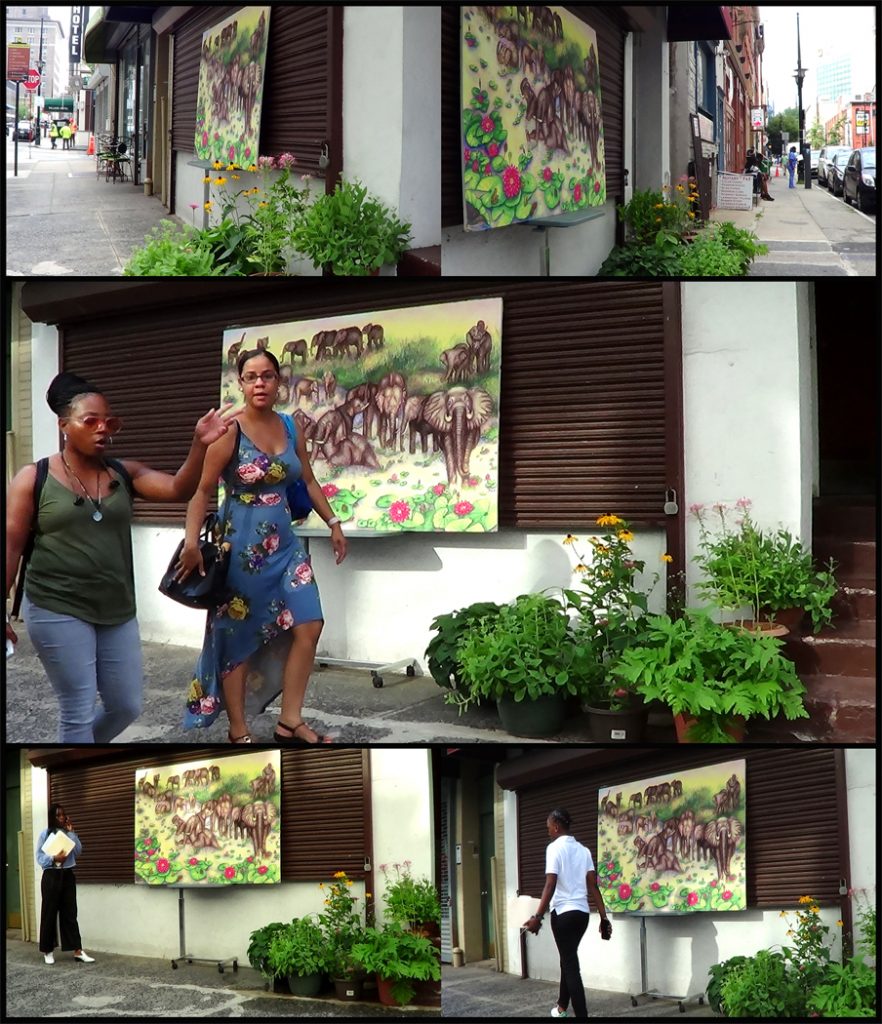 I love plants and flowers. It makes me happy when I see the freshness of green leaves and beautiful flowers blooming. Our shop is closed temporally, and the window gate is down. I thought that if I display our artwork and some of the plants from our backyard garden in front of the shop gate, it would make it more pleasant for the people who pass by. I am happy to do it, and I hope the artwork and the plants will help the downtown office workers or others feel fresh and lively.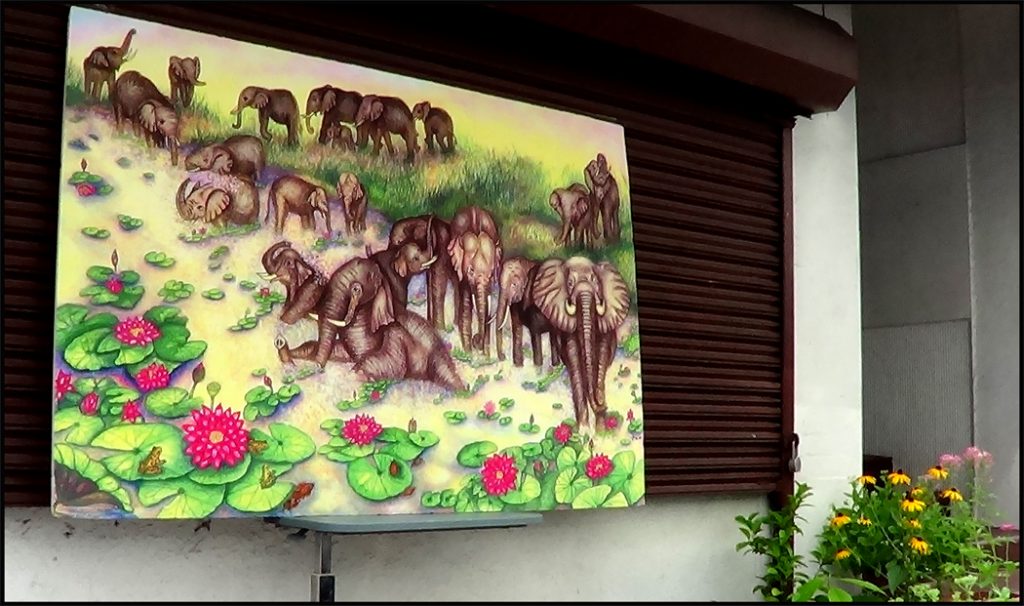 My first day of Street art was on Friday, July 26, 2019. I took some plants from our backyard garden to display in front of our shop. I started my first display of artwork with "Elephants at the Water Lily Pond" I produced in 1999. There are always people walking by our place, but more during lunch time. Most of them are the office workers. Also, in the evening, people walk by going home from work. Some people are interested in the artwork, and ask questions, while others are oblivious to the artwork that I display.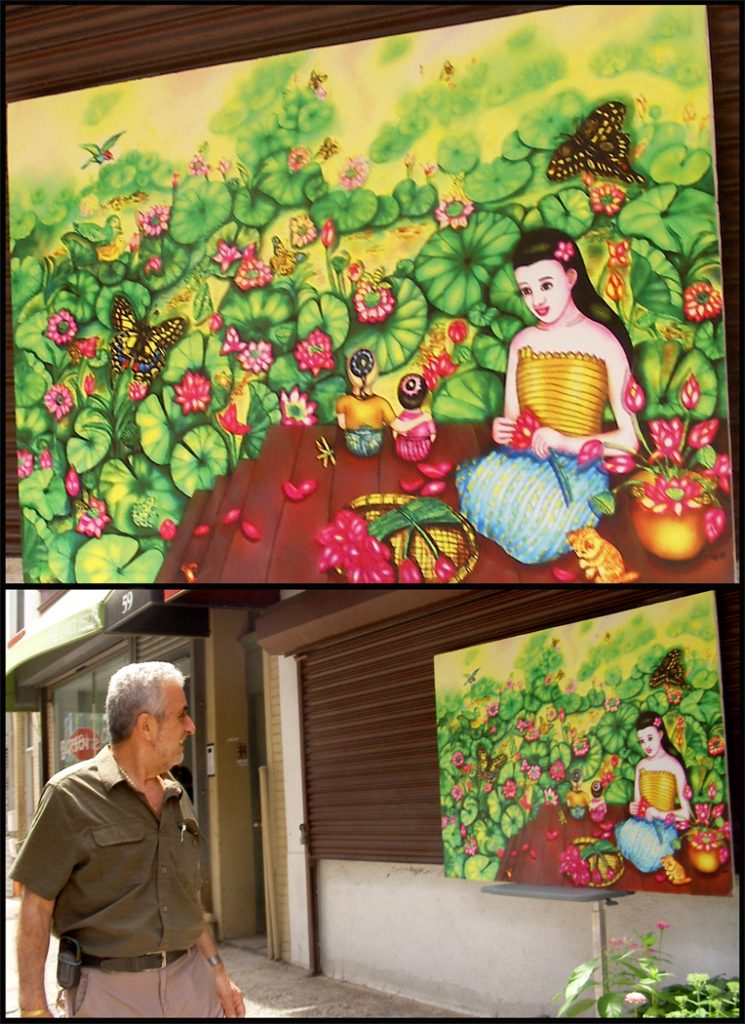 One week later I changed my artwork to, "By the Water Lily Pond", which produced in 1998. I added more plants to my display, when the pink blossom flowers of Rose Queen were in full bloom.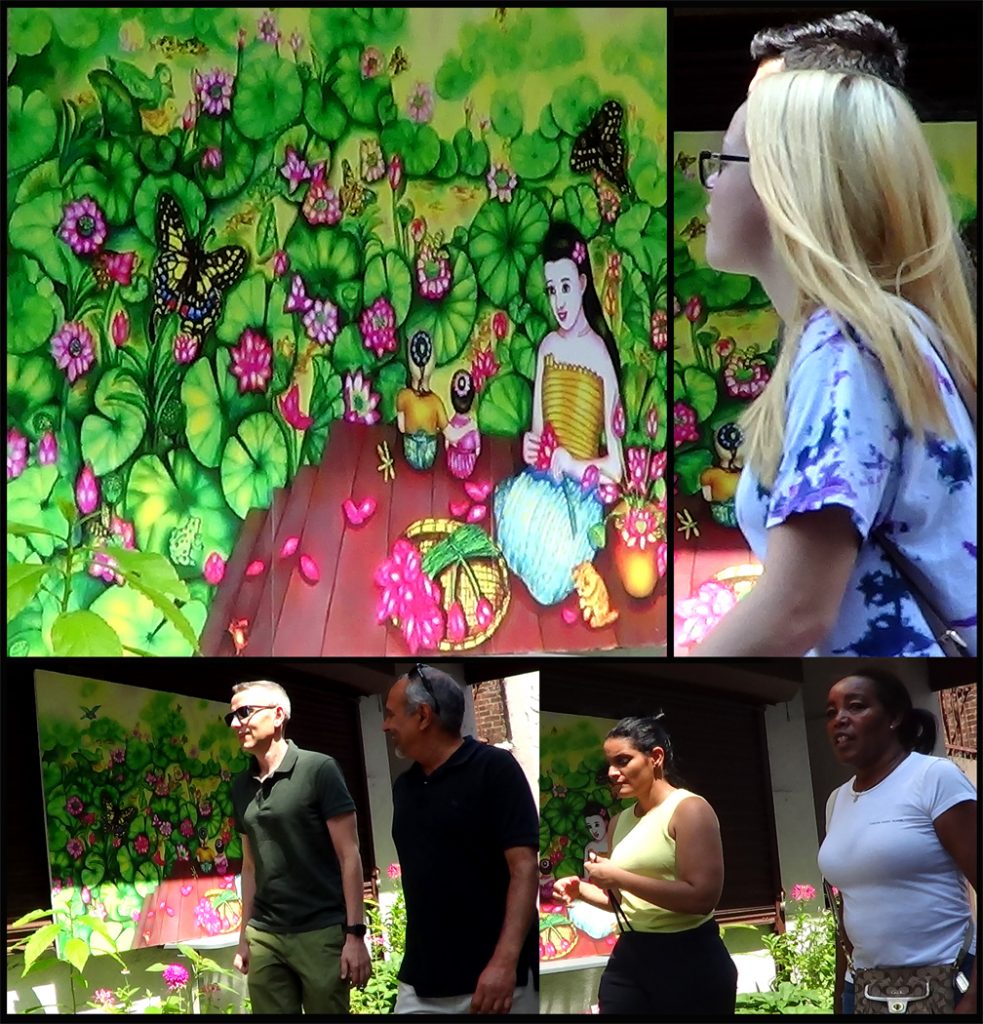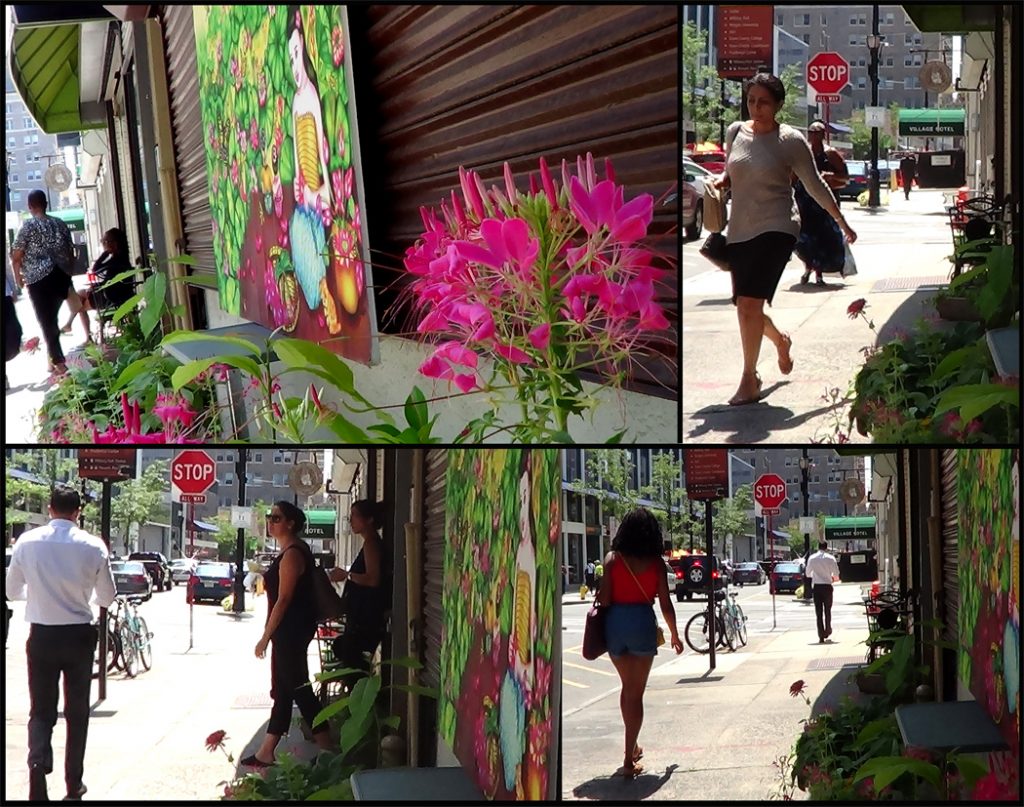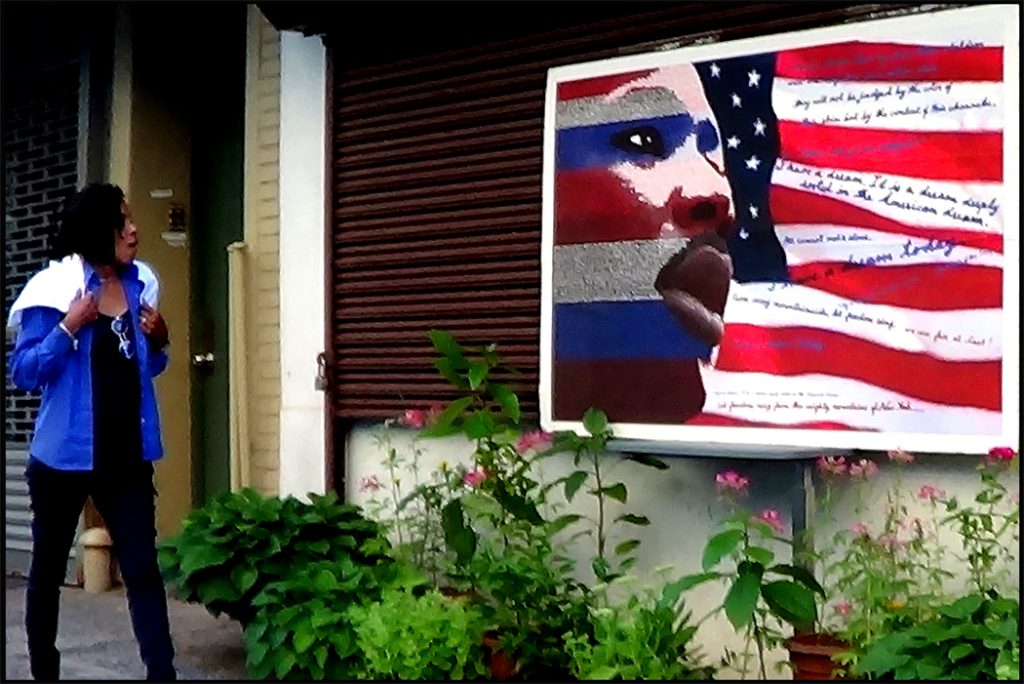 This artwork of mine titled, "I Have A Dream – Dr. Martin Luther King, Jr", I displayed from, Wednesday, August 14, 2019, to August 21, 2019. I produced this work in 2010. I also added more plants to fill the front of shop space.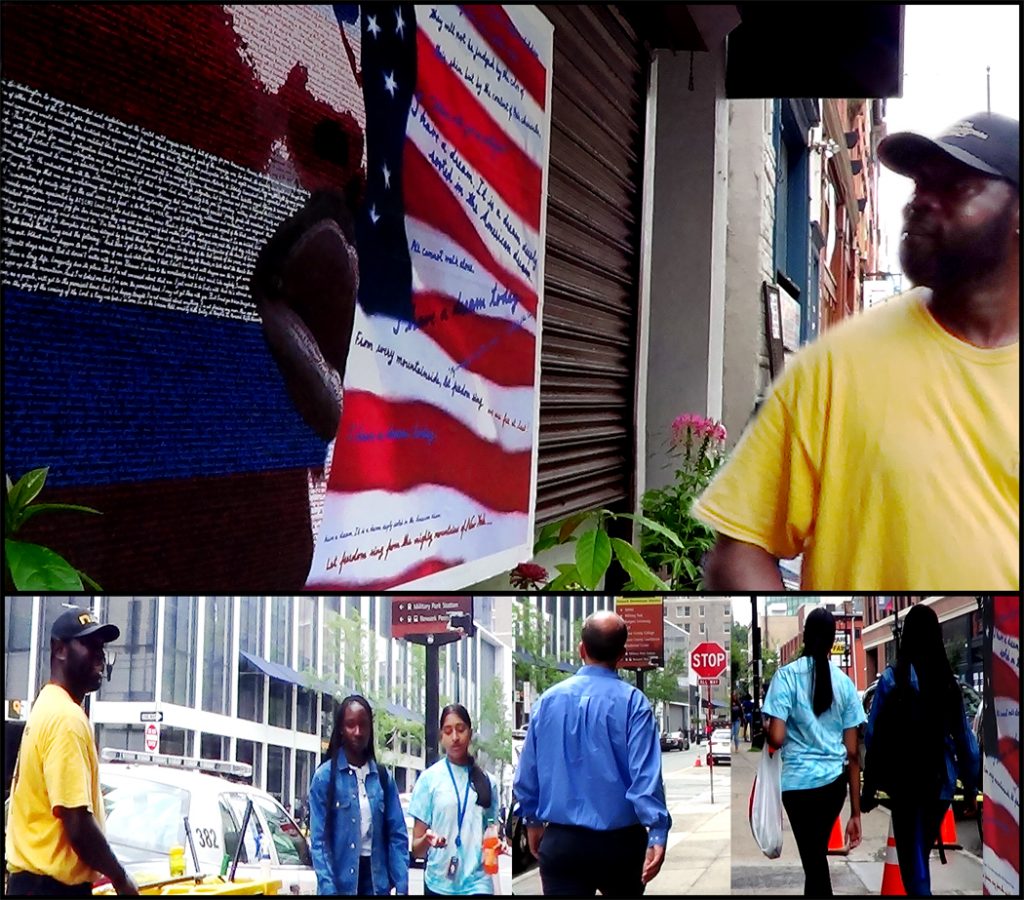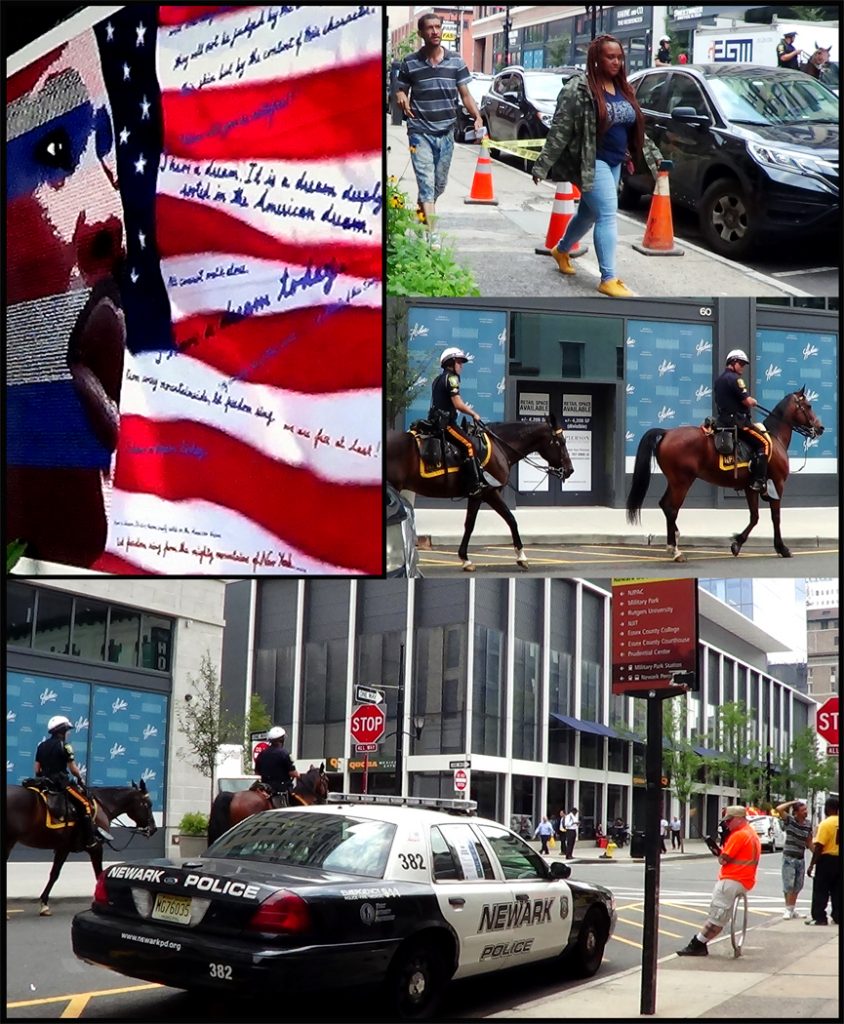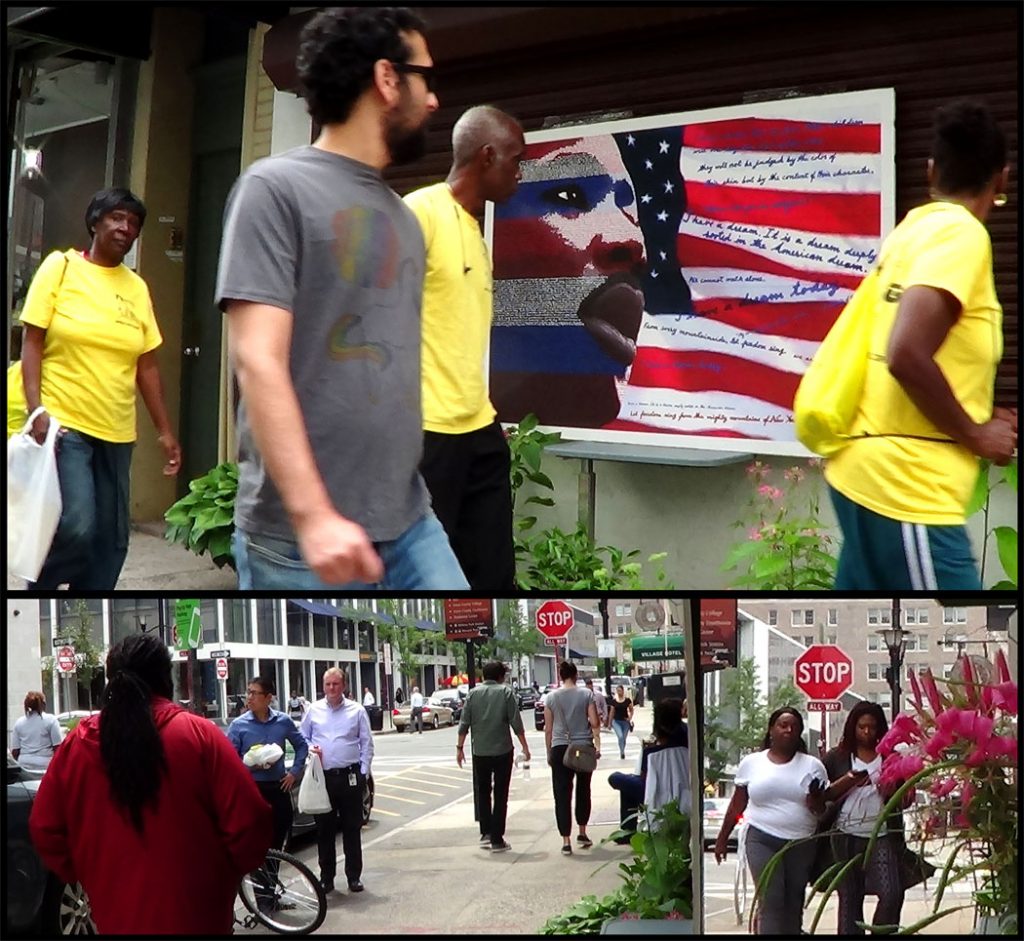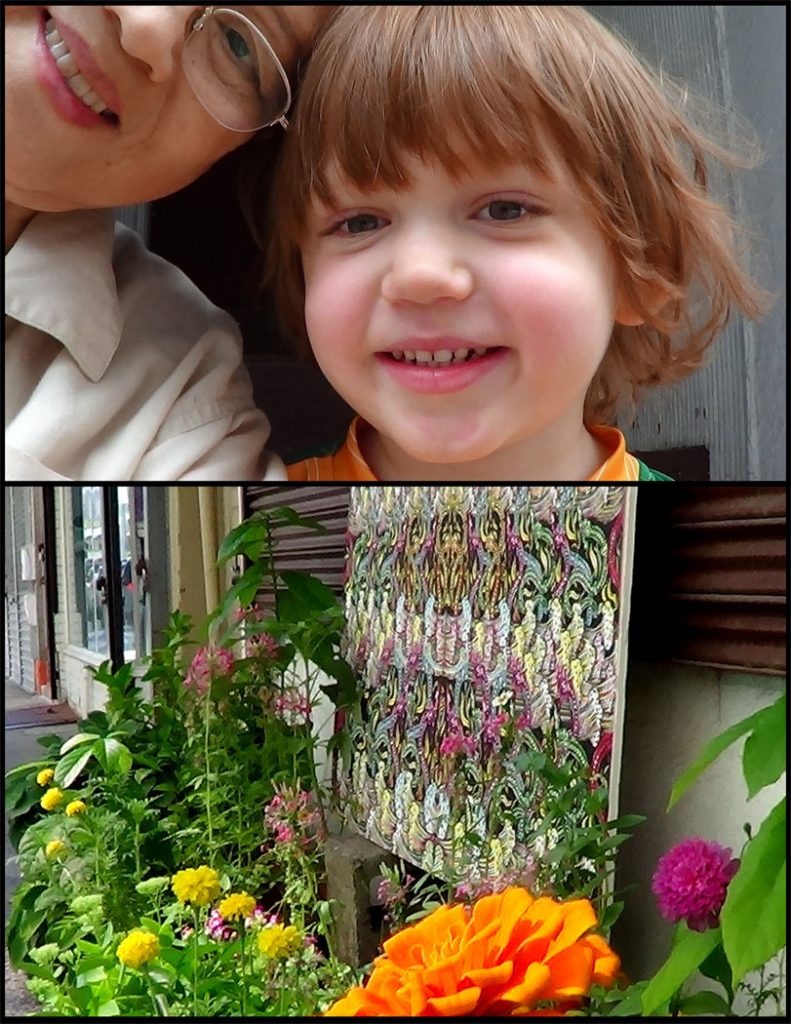 My Thai classical artwork was displayed on Thursday, August 22, 2019. I produced this artwork in1994.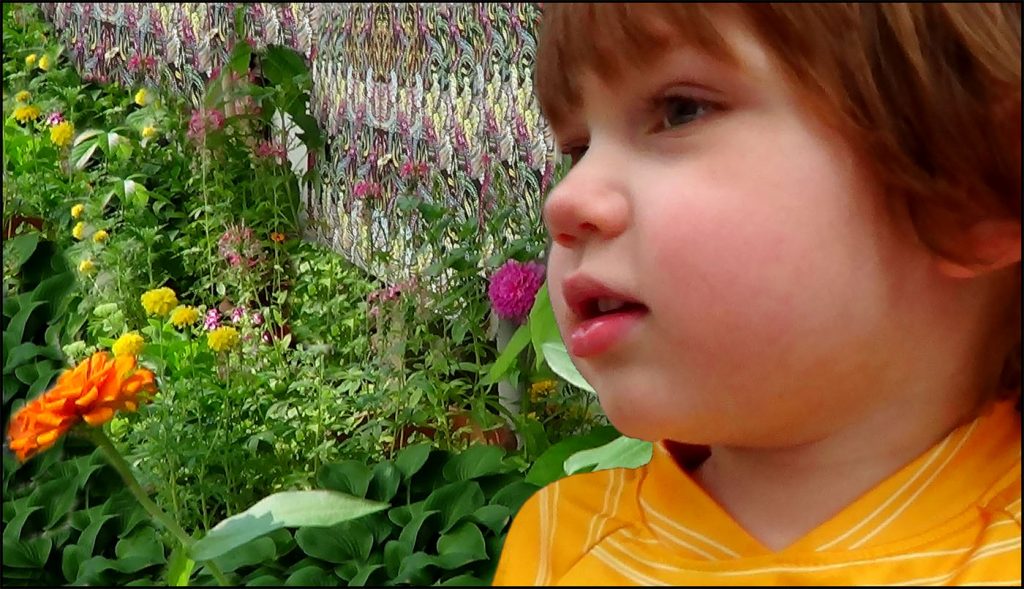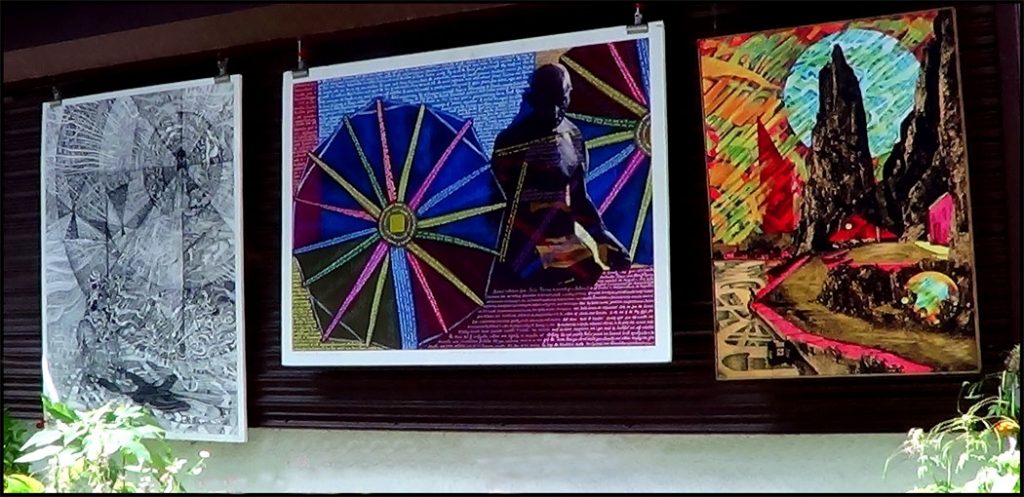 On Monday, August 28, 2019 John added his work to the display. John's artwork is on the far left, "Impossible Dreamer". "Gandhi Man of Peace", in the middle is my artwork, which I produced in 2000. The far right is John's artwork "Beneath the Lake". Thanks to John Watts, my husband, for helping to display the artwork in a better presentation.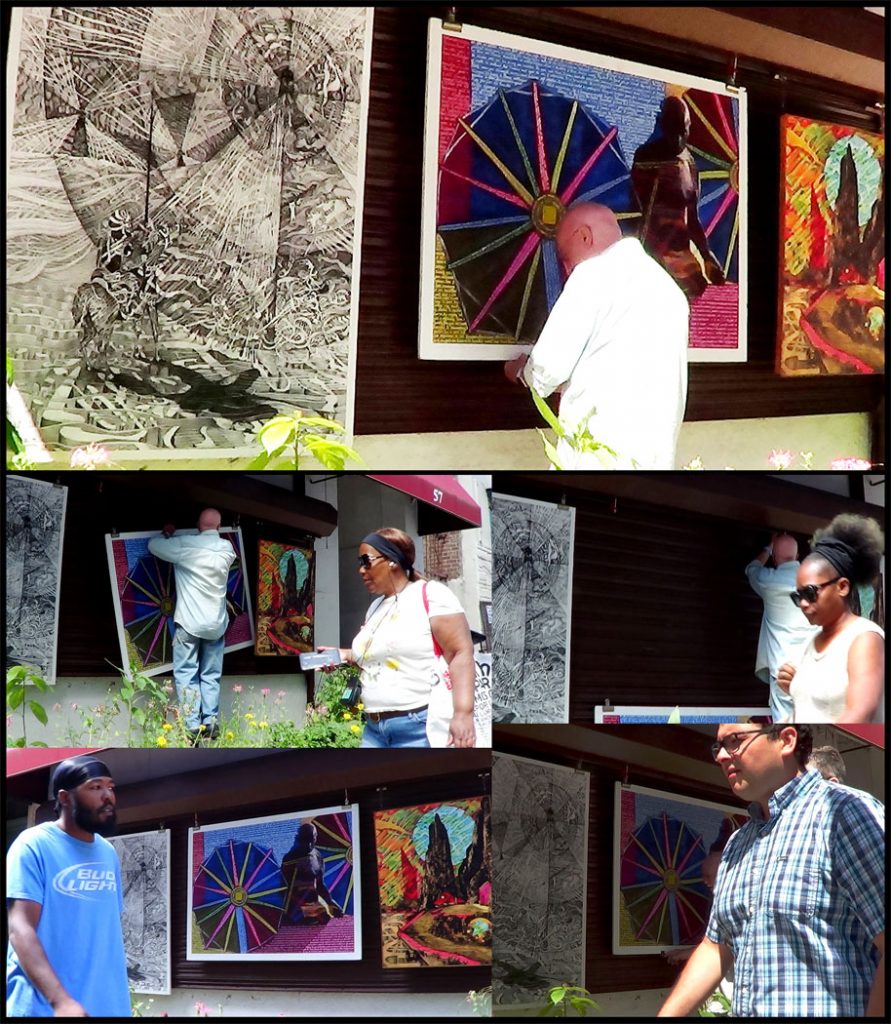 Ing-On Vibulbhan-Watts and John Watts, Thursday, October 10, 2019
International Street Art
New Works from Banksy at the The Jungle Refugee Camp in Calais
December 11, 2015 Christopher Jobson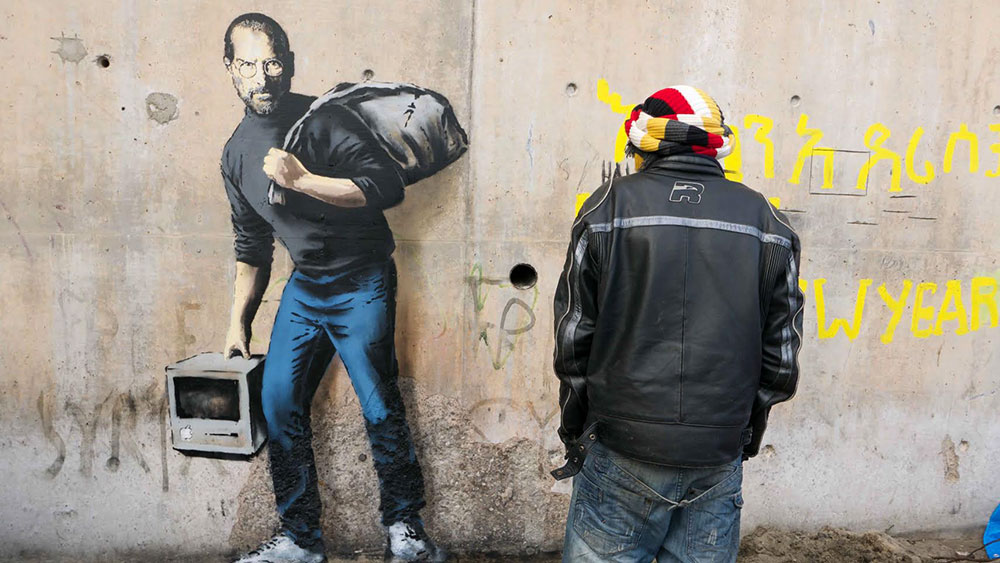 "The Son of a Migrant from Syria"
Based on an update to his website this morning it appears Banksy visited the Jungle Refugee Camp in Calais, France, one of the largest refugee camps in western Europe. The artist left behind four new artworks, most notably a piece featuring Steve Jobs carrying an early Macintosh computer and a sack over his shoulder noting his background as a "son of a migrant from Syria," (Jobs was adopted, but his biological father was from Syria). In another piece he references Géricault's famous Raft of Medusa painting, depicting an imperiled group of people on a sinking raft as they hail a modern cruise ship just on the horizon. The artist previously brought attention to the refuge crisis in a piece at Dismaland earlier this year.
In addition to the artworks, part of Banksy's team installed 12 permanent structures and a makeshift playground inside the squalid Jungle camp using materials left behind from Dismaland, a project he refers to as Dismal Aid.
One of the best ways you can help Syrian refugees is through donations to the UN Refugee Agency.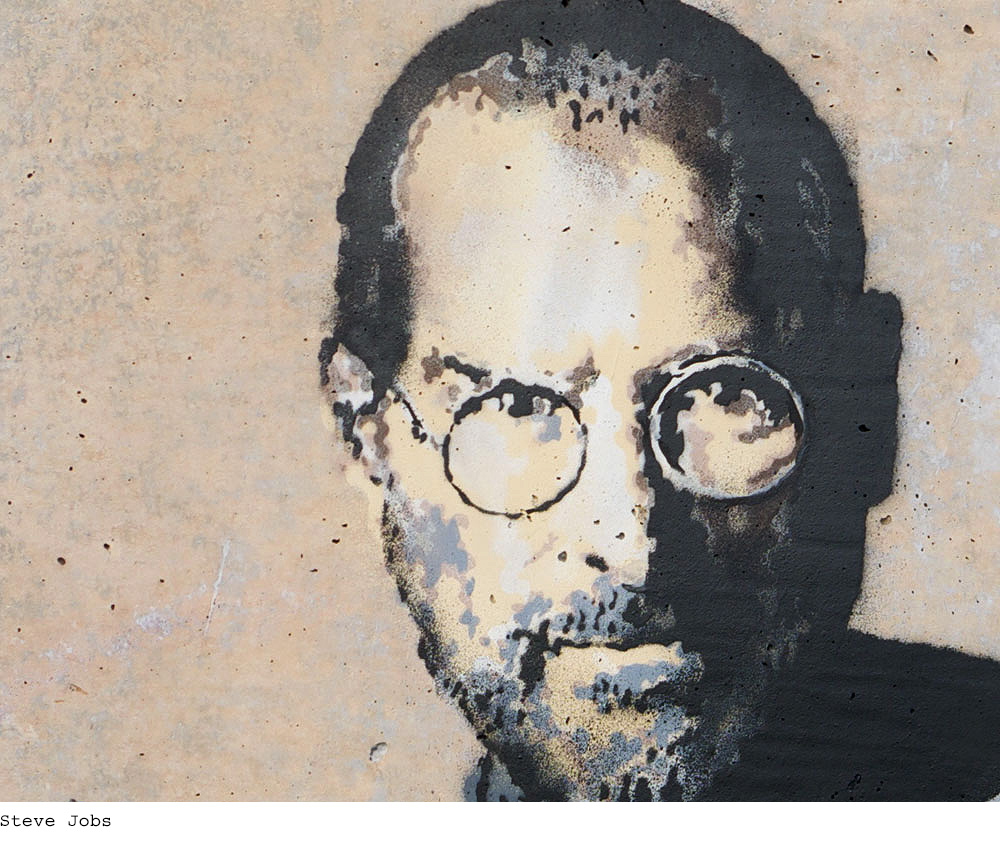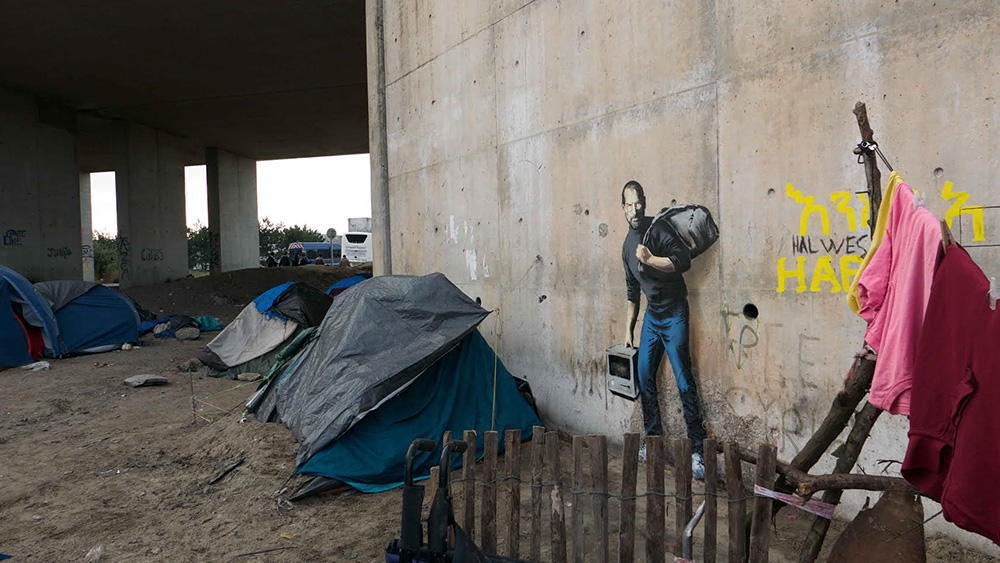 New Solo Exhibition by Seth Globepainter Fills a Historic Chateau in Bordeaux, France
September 1, 2019 Andrew LaSane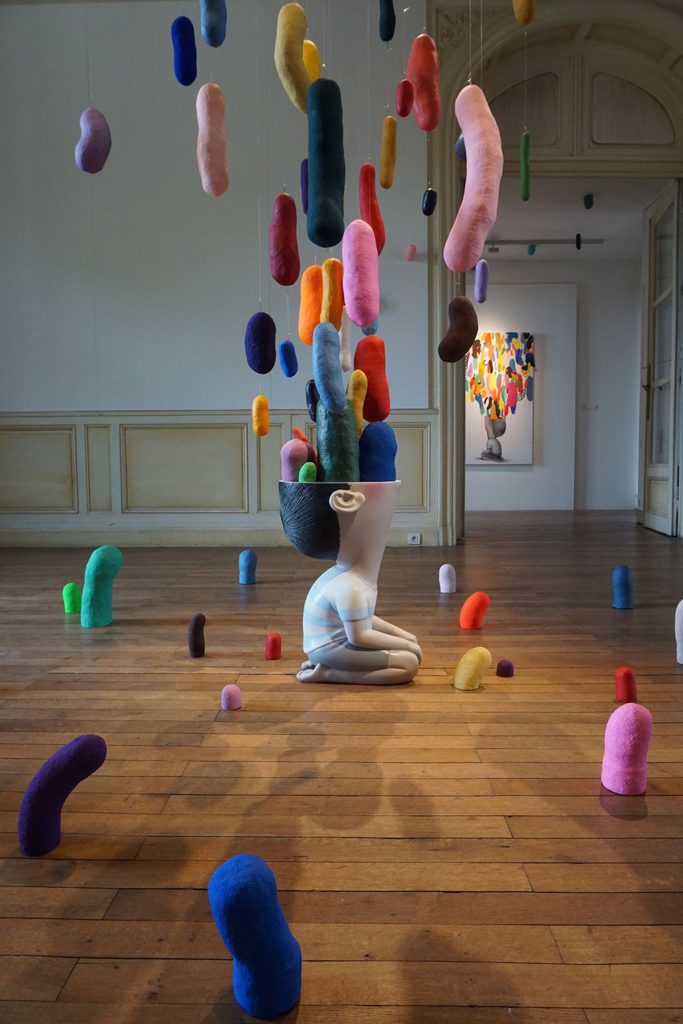 Collaboration with Pascal Vilcollet
French artist Julien Malland, aka Seth Globepainter (previously), has spent the summer exhibiting a large body of work inside and outside of the Institut Culturel Bernard Magrez. Located in Bordeaux, France, the historic chateau was built in the 18th century and now doubles as a cultural center.
Malland's takeover includes dozens of paintings, installations, and sculptures that have transformed the castle into a colorful record of his travels and a look into his mind.
Titled 1,2,3, Soleil, the exhibition features over 50 of the artist's faceless characters. Each room in the chateau has a theme that represents one of Malland's previous projects in countries around the world. Vibrant colors and geometrical shapes are complicated by themes of conflict and loneliness. The exhibition includes site-specific installations as well as collaborative pieces made with artists Mono Gonzalez and Pascal Vilcollet.
The walk through Malland's world will remain on view in France through October 7, 2019. In addition to his solo show, Malland also recently completed two murals in Denmark as part of Kirk Gallery's annual Out in the Open mural initiative. To keep up with the artist's latest projects, follow him on Instagram.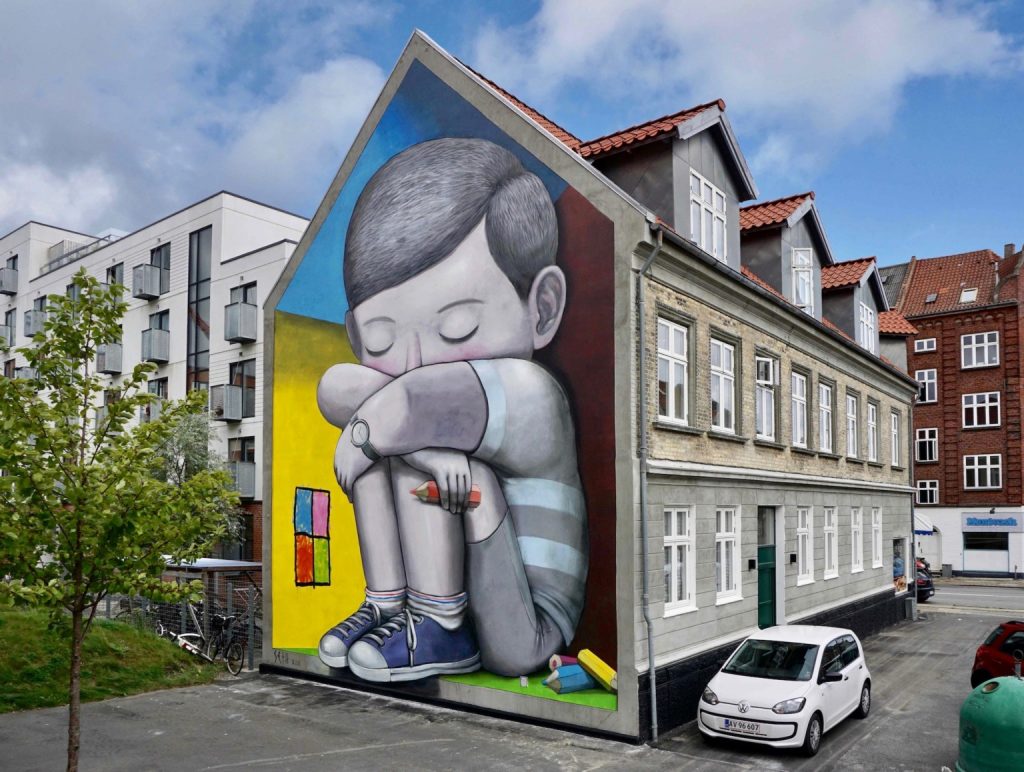 Seth | 'Jack in the Box' | Østerbro 41 | Aalborg | Denmark
For more artwork and information please visit the following link: