PBS News: October 19 – 26, 2019
TED Talks: Ttara Djokic An ancient rock suggests a new theory for how life started?, Prosanta Chakrabarty Four billion years of evolution in six minutes and David Druber Glow in the dark sharks and other stunning sea creatures
YVeritasium: World's lightest solids
BBC News: Egypt archaeologists find 20 ancient coffins near Luxor
Thisiscolossal: A 21 Foot-Long Painting of The Last Supper by 16th Century Nun and Artist Plautilla Nelli Has Just Been Painstakingly Restored
PBS NewsHour Weekend full episode October 26, 2019
Oct 26, 2019 PBS NewsHour
On this edition for Saturday, October 26, rising winds and forced power outages stoke new fears as California wildfires continue to burn, a look at how Miami is tackling an affordable housing crisis, and the band Spoon is staying afloat in a transforming music industry. Hari Sreenivasan anchors from New York. Stream your PBS favorites with the PBS app: https://to.pbs.org/2Jb8twG Find more from PBS NewsHour at https://www.pbs.org/newshour Subscribe to our YouTube channel: https://bit.ly/2HfsCD6
PBS NewsHour full episode October 25, 2019
Oct 25, 2019 PBS NewsHour
Friday on the NewsHour, wildfires rake California, closing schools and forcing evacuations. Plus: Washington political figures say goodbye to Elijah Cummings, what's behind protests in Lebanon and Chile, President Trump's federal appeals court nominations, political analysis from Mark Shields and David Brooks, and legendary entertainer Julie Andrews on balancing films and family. WATCH TODAY'S SEGMENTS: News Wrap: Judge rules House impeachment inquiry is legal https://www.youtube.com/watch?v=QN1Jn… California crews race against the clock to contain fires https://www.youtube.com/watch?v=5keXg… Congressman Elijah Cummings remembered in Baltimore https://www.youtube.com/watch?v=Yhgic… Across the globe, economic uncertainty is driving protest https://www.youtube.com/watch?v=uIiXB… How GOP efforts to reshape federal courts could affect 2020 https://www.youtube.com/watch?v=0mdz7… Shields and Brooks on Trump's judiciary, Taylor's testimony https://www.youtube.com/watch?v=ONaDc… Julie Andrews on fame, family and favorite movies https://www.youtube.com/watch?v=LaaL3… Stream your PBS favorites with the PBS app: https://to.pbs.org/2Jb8twG Find more from PBS NewsHour at https://www.pbs.org/newshour Subscribe to our YouTube channel: https://bit.ly/2HfsCD6
PBS NewsHour full episode October 24, 2019
Oct 24, 2019 PBS NewsHour
Thursday on the NewsHour, Republicans step up criticism of the House impeachment inquiry after stunning testimony about President Trump's handling of military aid to Ukraine. Plus: Rep. Jackie Speier on impeachment criticism, Andrew Brunson's Turkish imprisonment ordeal, children held in Cambodian orphanages, how big data changes creativity and a brief but spectacular take on preventing blindness. Stream your PBS favorites with the PBS app: https://to.pbs.org/2Jb8twG Find more from PBS NewsHour at https://www.pbs.org/newshour Subscribe to our YouTube channel: https://bit.ly/2HfsCD6
PBS NewsHour full episode October 23, 2019
Oct 23, 2019 PBS NewsHour
Wednesday on the NewsHour, a group of GOP lawmakers storms an impeachment inquiry session, and President Trump lifts sanctions on Turkey amid controversy over its incursion into Syria. Plus: Mark Zuckerberg in the hot seat, Chicago teachers on strike, 2020 Democratic presidential candidate Sen. Michael Bennet, Kurds caught in the Syrian crossfire and George Takei on making enemies of each other. WATCH TODAY'S SEGMENTS: GOP lawmakers disrupt Pentagon official's testimony https://www.youtube.com/watch?v=3t-Ks… Violence has calmed in northeastern Syria, but at what cost? https://www.youtube.com/watch?v=W7xlv… News Wrap: British police discover 39 bodies in cargo truck https://www.youtube.com/watch?v=HePx7… Lawmakers grill Zuckerberg on cryptocurrency, political ads https://www.youtube.com/watch?v=8i5BA… In Chicago teachers' strike, how far apart are the 2 sides? https://www.youtube.com/watch?v=8D6F6… Sen. Bennet on 'incredible weakness' of Trump's Syria move https://www.youtube.com/watch?v=QFWWt… Northern Syrians who endured ISIS face new survival struggle https://www.youtube.com/watch?v=6KL_I… George Takei on internment, immigration and 'inhumanity' https://www.youtube.com/watch?v=VULlQ… Stream your PBS favorites with the PBS app: https://to.pbs.org/2Jb8twG Find more from PBS NewsHour at https://www.pbs.org/newshour Subscribe to our YouTube channel: https://bit.ly/2HfsCD6
PBS NewsHour full episode October 21, 2019
Oct 21, 2019 PBS NewsHour
Monday on the NewsHour, President Trump responds to mounting criticism over Syria, the site of the G-7 and an escalating impeachment inquiry. Also: The impact of the U.S. leaving Syria, a one-on-one interview with Bernie Sanders, Tamara Keith and Amy Walter break down the latest political news, a deal in a high-stakes opioid case and healing Flint with nutrition programs. WATCH TODAY'S SEGMENTS: Why Trump is facing weaker GOP support https://www.youtube.com/watch?v=kY9gM… 'Trump betrayed us,' say fleeing Kurds https://www.youtube.com/watch?v=Hz-WK… News Wrap: Lebanese government approves economic reforms https://www.youtube.com/watch?v=7VY_Z… Sanders scores endorsement as centrist candidates gain https://www.youtube.com/watch?v=1aBHd… Sanders: Spending a lot on Medicare for All will save money https://www.youtube.com/watch?v=QR86R… Amy Walter and Tamara Keith on impeachment public opinion https://www.youtube.com/watch?v=SBCJp… What does a $260 settlement suggest for future opioid cases? https://www.youtube.com/watch?v=wU8-c… Flint fights lead poisoning by improving nutrition https://www.youtube.com/watch?v=Tsx5j… Stream your PBS favorites with the PBS app: https://to.pbs.org/2Jb8twG Find more from PBS NewsHour at https://www.pbs.org/newshour Subscribe to our YouTube channel: https://bit.ly/2HfsCD6
PBS NewsHour full episode October 22, 2019
Oct 22, 2019 PBS NewsHour
Tuesday on the NewsHour, the acting U.S. ambassador to Ukraine testifies that the Trump administration did make military aid to Ukraine contingent upon investigations of Trump's political rivals, and the leaders of Russia and Turkey meet to determine control of northeastern Syria. Plus: Sen. Kamala Harris on her 2020 campaign, a conversation with Kirstjen Nielsen and training students as pilots. WATCH TODAY'S SEGMENTS: How Taylor's testimony could affect impeachment inquiry https://www.youtube.com/watch?v=wTheW… Erdogan ignores U.S. agreement for northeastern Syria https://www.youtube.com/watch?v=D11Zb… News Wrap: Canada's Trudeau wins 2nd term but loses majority https://www.youtube.com/watch?v=5yuqK… Kamala Harris defends health care plan from rival critics https://www.youtube.com/watch?v=Tn4sY… Kirstjen Nielsen on what she regrets about her tenure at DHS https://www.youtube.com/watch?v=W023g… Community colleges prepare students for careers in aviation https://www.youtube.com/watch?v=9cVfp… Stream your PBS favorites with the PBS app: https://to.pbs.org/2Jb8twG Find more from PBS NewsHour at https://www.pbs.org/newshour Subscribe to our YouTube channel: https://bit.ly/2HfsCD6
PBS NewsHour Weekend full episode October 20, 2019
Oct 20, 2019 PBS NewsHour
On this edition for Sunday, October 20, President Trump pulls back on a plan to hold a meeting next year with G-7 leaders at his Florida golf resort, a preview of the high-stakes election for Canada's prime minister, and in the second of our two-part series a look at ICE detentions in Louisiana and their economic impact on rural communities. Alison Stewart anchors from New York. Stream your PBS favorites with the PBS app: https://to.pbs.org/2Jb8twG Find more from PBS NewsHour at https://www.pbs.org/newshour Subscribe to our YouTube channel: https://bit.ly/2HfsCD6
PBS NewsHour Weekend live show October 19, 2019
Streamed live 2 hours ago PBS NewsHour
On this edition for Saturday, October 19, another setback for a Brexit deal after the British Parliament postpones a vote, the first of a two-part series on ICE detention in rural Louisiana, and writer John Hodgman's take on losing status. Alison Stewart anchors from New York. Stream your PBS favorites with the PBS app: https://to.pbs.org/2Jb8twG Find more from PBS NewsHour at https://www.pbs.org/newshour Subscribe to our YouTube channel: https://bit.ly/2HfsCD6
Exactly when and where did life on Earth begin? Scientists have long thought that it emerged three billion years ago in the ocean — until astrobiologist Tara Djokic and her team made an unexpected discovery in the western Australian desert. Learn how an ancient rock found near a hot volcanic pool is shifting our understanding of the origin-of-life puzzle.
This talk was presented at an official TED conference, and was featured by our editors on the home page.
Tara Djokic discovered direct evidence that indicates some of Earth's oldest life once thrived in hot springs on land.
Take Action
learn
Get informed about the affects of climate change on our only life support system, Earth.
participate
Vote with your feet and protest for climate action.
TEDxSydney | May 2019
Did humans evolve from monkeys or from fish? In this enlightening talk, ichthyologist and TED Fellow Prosanta Chakrabarty dispels some hardwired myths about evolution, encouraging us to remember that we're a small part of a complex, four-billion-year process — and not the end of the line. "We're not the goal of evolution," Chakrabarty says. "Think of us all as young leaves on this ancient and gigantic tree of life — connected by invisible branches not just to each other, but to our extinct relatives and our evolutionary ancestors."
This talk was presented at an official TED conference, and was featured by our editors on the home page.
About the speaker
Prosanta Chakrabarty · Ichthyologist
Prosanta Chakrabarty studies fish to help explain the evolution of human beings and our planet.
Take Action
learn
Learn more about Prosanta Chakrabarty's research and how to support his work on evolution and the Tree of Life.
TED2018 | April 2018
Just a few meters below the waves, marine biologist and explorer-photographer David Gruber discovered something amazing — a surprising new range of sea creatures that glow in many colors in the ocean's dim blue light. Join his journey in search of biofluorescent sharks, seahorses, sea turtles and more, and learn how these light-up creatures could illuminate a new understanding of our own brains.
This talk was presented at an official TED conference, and was featured by our editors on the home page.
About the speaker
David Gruber · Marine biologist, explorer-photographer
David Gruber searches the undersea world for bioluminescent and biofluorescent marine animals.
More Resources
Further reading
Learn more about the TED-at-sea hosted by TED Prize winner Sylvia Earle.
May 31, 2019 Veritasium
Aerogels are the world's lightest (least dense) solids. They are also excellent thermal insulators and have been used in numerous Mars missions and the Stardust comet particle-return mission. The focus of this video is silica aerogels, though graphene aerogels are now technically the lightest. At one point Dr. Steven Jones literally held the Guinness World Record for making the lightest aerogel and therefore lightest solid. If you're interested in learning more about aerogels, let me know in the comments as there is a potential trilogy in the works… Huge thanks to Dr. Stephen Steiner and the crew at Aerogel Technologies. To find out more or buy your own aerogel sample, check out: https://www.aerogeltechnologies.com/ Thanks to Dr. Steven Jones and Dr. Mihail Petkov at NASA's Jet Propulsion Laboratory And thanks to FLIR for loaning us the awesome high definition thermal camera. The footage is amazing! https://www.flir.com Special thanks to Patreon supporters: Donal Botkin, Michael Krugman, Ron Neal, Stan Presolski, Terrance Shepherd, Penward Rhyme and everyone who provided feedback on an early draft of this video. Filming by Raquel Nuno Animations by Maria Raykova Drawings by Mariel Solsberg Music From https://epidemicsound.com "Seaweed" "Swagger Stagger"
Caption authors (English) ?? Chop Suey nav
Caption author (Korean) ???
Caption author (Portuguese) ARSamogin
Caption author (Chinese (China)) ???
Category Education
Egypt archaeologists find 20 ancient coffins near Luxor – 16 October 2019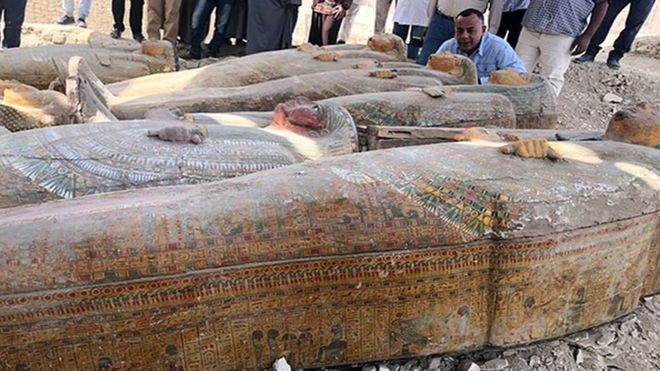 Image copyright Egypt Antiquities Ministry Image caption More details about the discovery will be released at a news conference on Saturday
Archaeologists have found more than 20 ancient wooden coffins near the Egyptian city of Luxor, the country's antiquities ministry says.
The coffins, whose brightly-coloured decorations are still visible, were uncovered at the Theban necropolis of Asasif, on the River Nile's west bank.
They were in two layers, with the ones on top across those below.
The ministry described the discovery as "one of the largest and most important" in recent years.
More details will be released at a news conference on Saturday.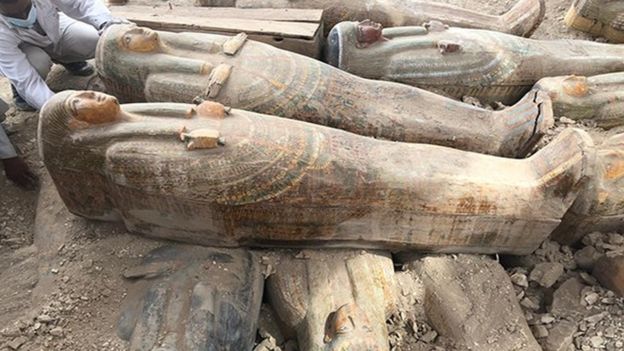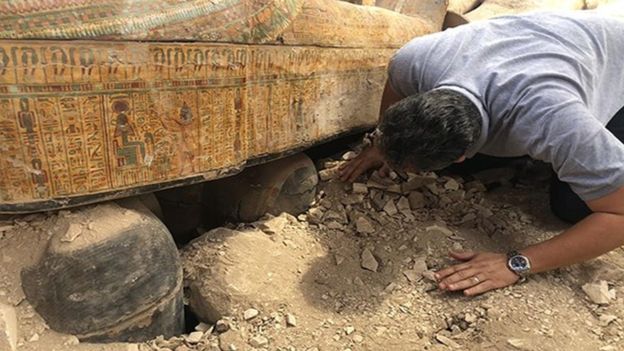 Image copyright Egypt Antiquities Ministry Image copyright Egypt Antiquities Ministry
Most of the tombs at Asasif, which is close to the Valley of the Kings, are from the Late Period (664-332BC) of ancient Egypt.
However, there are also tombs from the earlier 18th Dynasty (1550-1292BC), which was the first of the New Kingdom and included the famous pharaohs Ahmose, Hatshepsut, Thutmose III, Amenhotep III, Akhenaton and Tutankhamun.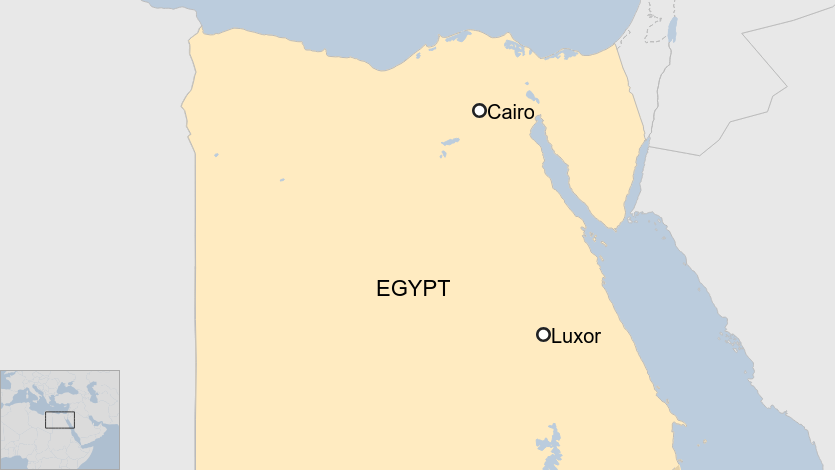 Last week, the antiquities ministry announced that archaeologists had discovered an ancient "industrial area" in Luxor's West Valley.
The area included "houses for storage and the cleaning of funerary furniture, with many potteries dated to the 18th Dynasty", it said.
Media caption'Recipe' for creating mummies in ancient Egypt revealed
For more information Please Visit the following link:
https://www.bbc.com/news/world-middle-east-50068575
A 21 Foot-Long Painting of The Last Supper by 16th Century Nun and Artist Plautilla Nelli Has Just Been Painstakingly Restored
October 24, 2019 Laura Staugaitis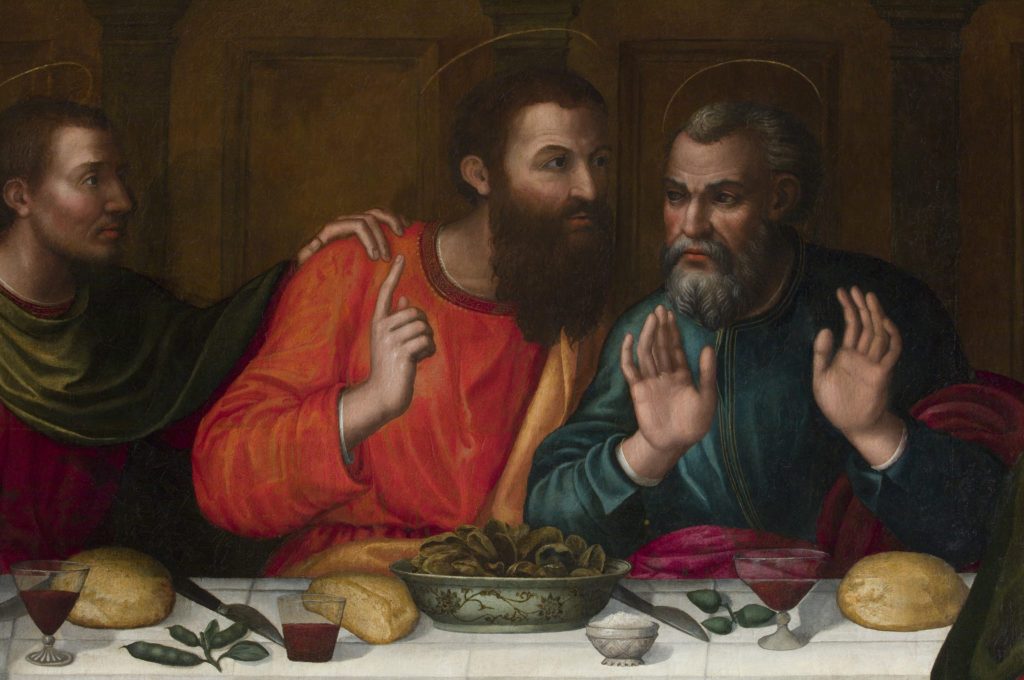 In the 1500's self-taught artist and nun Plautilla Nelli created a life-size mural of Jesus and the twelve apostles at the Last Supper. Spanning 21 feet feet, the vibrantly colored painting includes carefully rendered details including wine chalices, salt cellars, wood panelling, and a rhythmically creased tablecloth. In addition to the inanimate objects depicted, Nelli demonstrated impressive facility with human anatomy in her renderings of the religious figures—at the time, women were barred from studying the field of anatomy.
Nelli's masterpiece stayed for two centuries at her convent, Santa Caterina, and then changed locations a few times before being unstretched, rolled, and put in storage about a hundred years ago. After an initial restoration and then additional damage due to flooding in the 1960's, The Last Supper has been undergoing restoration for the past four years. Brought back to life by an all-female team of curators, restorers, and scientists at Advancing Women Artists, it is now on permanent display at the Santa Maria Novella Museum in Florence, Italy. (via artnet, Smithsonian Magazine)