PBS News: May 9 – 14, 2020
africanews Live
Sky News live
CNA 24/7 LIVE
Roylab Stats [LIVE] Coronavirus Pandemic: Real Time Counter, World Map, News
TED Talks: Andrew Forrest A radical plan to end plastic waste
Doctor Mike Hansen: What Doctors Are Learning From Autopsy Findings of Coronavirus (COVID-19) Patients
Google News: COVID-19 resources
DW News: What can we learn about the coronavirus from past pandemics? | COVID-19 Special
 Colossal: A Dramatic Performance by Juilliard Students Brings a Socially Distant Approach to Ravel's Boléro, The Human Microbiome Reimagined as a Cut-Paper Coral Reef by Rogan Brown, and Sheets of White Paper Layered into Dense Cityscapes and Forests by Ayumi Shibata
PBS NewsHour full episode, May 14, 2020
May 14, 2020  PBS NewsHour
Thursday on the NewsHour, vaccine expert and whistleblower Dr. Rick Bright criticizes the Trump administration's pandemic response. Plus: Former presidential chiefs of staff offer lessons from past American crises, how colleges and universities are adapting to COVID-19, the pandemic in prisons, how to revive the U.S. economy and Ask Us your questions about parenting during the pandemic. WATCH TODAY'S SEGMENTS Vaccine expert criticizes government's pandemic response https://www.youtube.com/watch?v=gN1G9… News Wrap: Burr steps down as head of Senate Intel Committee https://www.youtube.com/watch?v=yAbEZ… Andy Card and Rahm Emanuel on what Trump's crisis response https://www.youtube.com/watch?v=5lxyA… U.S. colleges struggle with decision to reopen in the fall https://www.youtube.com/watch?v=duu2v… U.S. prisons are breeding grounds for COVID-19 https://www.youtube.com/watch?v=FCi9q… A Nobel-winning economist's case for more COVID-19 testing https://www.youtube.com/watch?v=fx2SG… A child psychiatrist on parenting during the pandemic https://www.youtube.com/watch?v=TnOMO… Stream your PBS favorites with the PBS app: https://to.pbs.org/2Jb8twG Find more from PBS NewsHour at https://www.pbs.org/newshour Subscribe to our YouTube channel: https://bit.ly/2HfsCD6
PBS NewsHour full episode, May 13, 2020
May 13, 2020  PBS NewsHour
Wednesday on the NewsHour, tensions over when to lift lockdowns and let businesses reopen dominate American life. Plus: Tennessee Sen. Lamar Alexander and New Jersey Gov. Phil Murphy on the U.S. coronavirus response, child welfare experts fear rising abuse, the family of an American hostage in Afghanistan pleas for his release, the Supreme Court considers faithless electors and "Songs of Comfort." Editor's Note: For the record, one of the talented musicians shown in our "Songs of Comfort" piece is NewsHour producer Ali Rogin, at 53:50. Thanks to all of the performers for sharing with us. WATCH TODAY'S SEGMENTS Trump criticizes Fauci over Senate committee testimony https://www.youtube.com/watch?v=0WDcV… Alexander: States need more flexibility with federal aid https://www.youtube.com/watch?v=n4SAL… N.J. Gov. Phil Murphy: 'All states' need more federal aid https://www.youtube.com/watch?v=cOTQp… News Wrap: Federal judge delays decision on Flynn case https://www.youtube.com/watch?v=VopX9… Why experts worry child abuse is rising during the pandemic https://www.youtube.com/watch?v=EJFS9… Family of American held in Afghanistan asks Trump for help https://www.youtube.com/watch?v=U45TN… 'Faithless electors' SCOTUS case could have big implications https://www.youtube.com/watch?v=74_LT… Yo-Yo Ma's 'Songs of Comfort' inspire musical collaboration https://www.youtube.com/watch?v=ZGagN… Stream your PBS favorites with the PBS app: https://to.pbs.org/2Jb8twG Find more from PBS NewsHour at https://www.pbs.org/newshour Subscribe to our YouTube channel: https://bit.ly/2HfsCD6
PBS NewsHour full episode, May 12, 2020
May 12, 2020  PBS NewsHour
Tuesday on the NewsHour, U.S. public health officials warn of the risks of lifting coronavirus restrictions too early. Plus: Sens. Bill Cassidy and Patty Murray on the federal response to COVID-19, tough questions in legal battle over President Trump's finances, what's happening in Venezuela, racial COVID-19 disparities, the Flint water crisis and a Brief But Spectacular take on supporting nurses. WATCH TODAY'S SEGMENTS Senators press public health officials on COVID-19 testing https://www.youtube.com/watch?v=J5V8k… Sen. Cassidy defends Fauci from GOP criticism https://www.youtube.com/watch?v=FH8jw… Sen. Murray: Administration 'not transparent' about testing https://www.youtube.com/watch?v=x_5i3… News Wrap: Biden disputes Trump's COVID-19 testing claims https://www.youtube.com/watch?v=ZEgUz… Supreme Court asks tough questions in case on Trump finances https://www.youtube.com/watch?v=f__2P… Maduro tries to leverage botched attempt to overthrow him https://www.youtube.com/watch?v=V5mZb… COVID-19 a 'wake-up call' about racial health disparities https://www.youtube.com/watch?v=sa7Oo… Pandemic threatens Flint, Michigan, with 2nd health crisis https://www.youtube.com/watch?v=BLzz3… A Brief But Spectacular take on showing up for nurses https://www.youtube.com/watch?v=MFf-H… Stream your PBS favorites with the PBS app: https://to.pbs.org/2Jb8twG Find more from PBS NewsHour at https://www.pbs.org/newshour Subscribe to our YouTube channel: https://bit.ly/2HfsCD6
PBS NewsHour full episode, May 11, 2020
May 11, 2020  PBS NewsHour
Monday on the NewsHour, the Trump administration urges lifting pandemic restrictions as COVID-19 spreads to the White House. Plus: What countries lifting coronavirus lockdowns are seeing, racial disparities in U.S. health care, Americans with disabilities aren't getting relief, Politics Monday with Amy Walter and Tamara Keith, dating amid the COVID-19 pandemic and NewsHour's four-legged friends. WATCH TODAY'S SEGMENTS Trump touts testing efforts as virus spreads to White House  https://www.youtube.com/watch?v=BPTn5… News Wrap: Biden blasts Trump's COVID-19 response https://www.youtube.com/watch?v=vA0hU… Countries are lifting coronavirus lockdowns. Is that safe? https://www.youtube.com/watch?v=_T-XU… Why COVID-19 is disproportionately affecting black Americans https://www.youtube.com/watch?v=df5f2… COVID-19 legislation leaves out Americans with disabilities https://www.youtube.com/watch?v=bElXJ… Tamara Keith and Amy Walter on COVID-19 at the White House https://www.youtube.com/watch?v=LMWuc… What COVID-19 has meant for dating in America https://www.youtube.com/watch?v=DEZRQ… The NewsHour's family of furry friends https://www.youtube.com/watch?v=OvYdc… Stream your PBS favorites with the PBS app: https://to.pbs.org/2Jb8twG Find more from PBS NewsHour at https://www.pbs.org/newshour Subscribe to our YouTube channel: https://bit.ly/2HfsCD6
https://www.youtube.com/watch?v=HU2Z5fZMLe4
PBS NewsHour Weekend full episode May 10, 2020
May 10, 2020  PBS NewsHour
On this edition for Sunday, May 10, the economic impacts of the coronavirus crisis, the future of hospital design now being shaped by the pandemic, and little free libraries are turning into pantries to help those in need. Hari Sreenivasan anchors from New York. Stream your PBS favorites with the PBS app: https://to.pbs.org/2Jb8twG Find more from PBS NewsHour at https://www.pbs.org/newshour Subscribe to our YouTube channel: https://bit.ly/2HfsCD6
https://www.youtube.com/watch?v=sncb9ijL_HU
PBS NewsHour Weekend full episode May 9, 2020
May 9, 2020  PBS NewsHour
On this edition for Saturday, May 9, more states rush to reopen businesses amid rising unemployment, a new push for absentee voting during the pandemic, and the impact of COVID-19 on frontline Filipino health care workers. Also, a lesson from China on keeping students engaged during lockdown. Hari Sreenivasan anchors from New York. Stream your PBS favorites with the PBS app: https://to.pbs.org/2Jb8twG Find more from PBS NewsHour at https://www.pbs.org/newshour Subscribe to our YouTube channel: https://bit.ly/2HfsCD6
Category  News & Politics
africanews Live
Started streaming on Feb 20, 2020
Africanews is a new pan-African media pioneering multilingual and independent news telling expertise in Sub-Saharan Africa. Subscribe on ourYoutube channel : https://www.youtube.com/c/africanews?… Africanews is available in English and French. Website : www.africanews.com Facebook : https://www.facebook.com/africanews.c… Twitter : https://twitter.com/africanews
Category  News & Politics
Watch Sky News live
Started streaming on Nov 2, 2019 Sky News
Today's top stories: Boris tells adults the best present they can give their mother for Mother's Day is to stay away, the health secretary has said 4,500 retired healthcare workers have signed up to help battle coronavirus and lockdown in the Italian region of Lombardy has been tightened as the country confirmed more than 53,500 cases of COVID-19. ? Boris Johnson warns of 'stark' and 'accelerating' coronavirus numbers ahead of Mother's Day https://trib.al/lrbMq77 ? 4,500 retired doctors and nurses sign up to battle COVID-19 pandemic https://trib.al/LYsfa83 ? Lockdown tightens in parts of Italy hardest hit by COVID-19 https://trib.al/oBdZFdy SUBSCRIBE to our YouTube channel for more videos: http://www.youtube.com/skynews Follow us on Twitter: https://twitter.com/skynews and https://twitter.com/skynewsbreak Like us on Facebook: https://www.facebook.com/skynews Follow us on Instagram: https://www.instagram.com/skynews Sky News videos are now available in Spanish here/Los video de Sky News están disponibles en español aquí https://www.youtube.com/skynewsespanol For more content go to http://news.sky.com and download our apps: Apple https://itunes.apple.com/gb/app/sky-n… Android https://play.google.com/store/apps/de…
Category  News & Politics
[CNA 24/7 LIVE] Breaking news, top stories and documentaries
Started streaming on Jan 1, 2020 CNA
Watch CNA's 24-hour live coverage of the latest headlines and top stories from Singapore, Asia and around the world, as well as documentaries and features that bring you a deeper look at Singapore and Asian issues. CNA is a regional broadcaster headquartered in Singapore. Get the programming schedule here: https://www.channelnewsasia.com/news/… Subscribe to our channel here: https://cna.asia/youtubesub Subscribe to our news service on Telegram: https://cna.asia/telegram Follow us: CNA: https://cna.asia CNA Lifestyle: http://www.cnalifestyle.com Facebook: https://www.facebook.com/channelnewsasia Instagram: https://www.instagram.com/channelnews… Twitter: https://www.twitter.com/channelnewsasia
[LIVE] Coronavirus Pandemic: Real Time Counter, World Map, News
Started streaming 14 hours ago  Roylab Stats
Coronavirus Live Streaming: Breaking news, world Map and live counter on confirmed cases and recovered cases. I started this live stream on Jan 26th. Many people are worried about the spread of coronavirus. For anyone that wants to know the real-time progression of the worldwide spread of this virus, I offer this live stream. The purpose is not to instill fear or panic, nor is it to necessarily comfort; I just want to present the data to help inform the public of the current situation. The purpose of this stream is to show basic information and data to understand the situation easily. For detail information, please visit our reference sites.
Plastic is an incredible substance for the economy — and the worst substance possible for the environment, says entrepreneur Andrew Forrest. In a conversation meant to spark debate, Forrest and head of TED Chris Anderson discuss an ambitious plan to get the world's biggest companies to fund an environmental revolution — and transition industry towards getting all of its plastic from recycled materials, not from fossil fuels.
This talk was presented at "We the Future," a special event in partnership with the Skoll Foundation and the United Nations Foundation.
ABOUT THE SPEAKERS
Andrew "Twiggy" Forrest is an Australian businessman, philanthropist and entrepreneur, widely considered one of the country's greatest change agents.
After a long career in journalism and publishing, Chris Anderson became the curator of the TED Conference in 2002 and has developed it as a platform for identifying and disseminating ideas worth spreading.
MORE RESOURCES
"We the Future 2019: Talks from TED, the Skoll Foundation and the United Nations Foundation"
At "We the Future," a day of talks from TED, the Skoll Foundation and the United Nations Foundation at the TED World Theater in New York City, 18 speakers and performers shared daring ideas, deep analysis, cautionary tales and behavior-changing strategies aimed at meeting the UN Sustainable Development Goals (SDGs), the global goals created in partnership with individuals around the world and adopted at the United Nations in 2015.
TAKE ACTION
LEARN
Visit noplasticwaste.org to learn more about how we can clean the oceans through technological innovation and policy change.
PARTICIPATE
Tell others that a world with #NoPlastic waste is possible.
We the Future | September 2019
What Doctors Are Learning From Autopsy Findings of Coronavirus (COVID-19) Patients
May 6, 2020  Doctor Mike Hansen
What Doctors Are Learning From Autopsy Findings of Coronavirus (COVID-19) Patients #coronavirus #covid19 #covid_19 Coronavirus | COVID-19 YouTube Video Playlist: https://www.youtube.com/playlist?list… Once the SARS-CoV-2 virus is deeply embedded in the body, it begins to cause more severe disease. This is where the direct attack on other organs that have ACE2 receptors can occur, including heart muscle, kidneys, blood vessels, liver, and the brain. Early findings, including those from multiple autopsy and biopsy reports, show that viral particles can be found not only in the nasal passages and throat, but also in tears, stool, kidneys, liver, pancreas, and heart. One case report found evidence of viral particles in the CSF, meaning the fluid around the brain. That patient had meningitis. So the virus is sometimes going to all these different organs by means of attaching to the ACE2 receptors that are there, but that's not even the whole story. Because in some cases, by the time the body's immune system figures out the body are being invaded, it's like unleashing the military to stomp out the virus, and in that process, there's a ton of collateral damage. This is what we refer to as the cytokine storm. When the virus gets into the alveolar cells, meaning the tiny little air sacs within the lungs, it makes a ton of copies of itself and goes onto invading more cells. The alveoli's next-door neighbor is guessed who, yeah, the tiniest blood vessels in our body, capillaries. And the lining of those capillaries is called the endothelium, which also has ACE2 receptors. And once the virus invades the capillaries. It means that it serves as the trigger for the onslaught of inflammation AND clotting. And Early autopsy results are also showing widely scattered clots in multiple organs. In one study from the Netherlands, 1/3rd of hospitalized with COVID-19 got clots despite already being on prophylactic doses of blood thinners. So not only are you getting the inflammation with the cytokine storm, but you're also forming blood clots, that can travel to other parts of the body, and cause major blockages, effectively damaging those organs. So wait a minute doc, you're telling me that this can cause organ damage by 1) Directly attacking organs by their ACE2 receptor? Yup 2) Indirectly attacking organs by way of collateral damage from the cytokine storm? Yup 3) Indirectly cause damage to organs by means of blood clots? yup 4) Indirectly cause damage as a result of low oxygen levels, improper ventilator settings, drug treatments themselves, and/or all of these things combined? Yeah Endothelial cells are more vulnerable to dying in people with preexisting endothelial dysfunction, which is more often associated with being a male, being a smoker, having high blood pressure, diabetes, and obesity. Blood clots can form and/or travel to other parts of the body. When blood clots travel to the toes, and cause blockages in blood flow there, meaning ischemia or infarction, that can cause gangrene there. And lots of times patients with gangrene require amputation, and "COVID toes" So is antiphospholipid antibody syndrome (APS), the cause of all these blood clots in patients with severe COVID? Maybe. Some patients with APS have what's called catastrophic APS, where these patients can have strokes, seizures, heart attacks, kidney failure, ARDS, skin changes like the ones I mentioned. Viral infectious diseases, particularly those of the respiratory tract, have been reported as being the triggers for CAPS. Various factors increase the risk of developing arterial thrombosis. Classically, the cardiovascular-dependent risk factors implicated in clotting have been hypertension, meaning high blood pressure, high levels of cholesterol, smoking, diabetes, age, chemotherapy, and degree of infection. All of these contribute toward developing arterial thrombosis. A lot of patients with severe COVID-19 have certain labs that resemble DIC, such as increased PT/INR, increased PTT, decreased levels of platelets. But the reason why these COVID patients who developed clots in the study I mentioned earlier, the reason why they don't have DIC, is actually 2 reasons, one, they weren't having extensive bleeding, and two, they did not have low fibrinogen levels. And if its truly DIC, you would have both of those things. Anyway, you can probably glean from this video why it's so hard for doctors to figure out what is going on with this virus. Between the variable ways this disease can present in different patients, and the different ways that organs can suffer damage, yeah, this is really, really really, complicated. Are BLOOD CLOTS the reason why COVID19 patients are dying? Video Link – https://youtu.be/qoJ4VDaGSfY Dr. Mike Hansen, MD Internal Medicine | Pulmonary Disease | Critical Care Medicine Website: https://doctormikehansen.com/ #coronavirus #covid19 #covid_19
Category  Education
Google News

https://news.google.com/covid19/map?hl=en-US&gl=US&ceid=US:en

 Cases

Sorted by Confirmed in descending order
Location
Confirmed
Cases per 1M people
Recovered
Deaths
Worldwide
4,437,442
571
1,585,286
302,025
United States
1,448,245
4,395
253,239
86,541
Russia
252,245
1,719
53,530
2,305
United Kingdom
233,151
3,509
—
33,614
Spain
229,540
4,873
143,374
27,321
Italy
223,096
3,703
115,288
31,368
Brazil
202,918
960
79,479
13,993
Germany
174,948
2,104
150,300
7,928
Turkey
144,749
1,741
104,030
4,007
France
141,356
2,107
59,605
27,425
Iran
114,533
1,374
90,539
6,854
Mainland China
82,933
59
78,209
4,633
Peru
80,604
2,509
25,151
2,267
India
78,003
57
26,235
2,549
Canada
73,401
1,933
36,091
5,472
Belgium
54,288
4,711
14,111
8,903
Saudi Arabia
46,869
1,370
19,051
283
Netherlands
43,481
2,492
—
5,590
Mexico
42,595
337
28,475
4,477

 
 
 
 
Source:Wikipedia·
About this data
Description
Coronavirus disease (COVID-19) is an infectious disease caused by a new virus.
The disease causes respiratory illness (like the flu) with symptoms such as a cough, fever, and in more severe cases, difficulty breathing. You can protect yourself by washing your hands frequently, avoiding touching your face, and avoiding close contact (1 meter or 3 feet) with people who are unwell.
HOW IT SPREADS
Coronavirus disease spreads primarily through contact with an infected person when they cough or sneeze. It also spreads when a person touches a surface or object that has the virus on it, then touches their eyes, nose, or mouth.
For informational purposes only. Consult your local medical authority for advice.
Source: World Health OrganizationLearn more

Resources from Google
Google tools and resources to help you stay informed and connected
What can we learn about the coronavirus from past pandemics? | COVID-19 Special
May 8, 2020  DW News
Pandemics have haunted humanity for centuries. From malaria to smallpox, the plague and now the novel coronavirus. All of them have changed the world we live in. Despite all the lessons from history, the suffering and loss of lives from infectious diseases, we're caught up again in a last-minute rush to contain an outbreak with a cure, for which success is as uncertain as it ever was. But have we changed the way we do things and what else is there to learn from past pandemics? Subscribe: https://www.youtube.com/user/deutsche… For more news go to: http://www.dw.com/en/ Follow DW on social media: ?Facebook: https://www.facebook.com/deutschewell… ?Twitter: https://twitter.com/dwnews ?Instagram: https://www.instagram.com/dw_stories/ Für Videos in deutscher Sprache besuchen Sie: https://www.youtube.com/channel/deuts… #Coronavirus #Covid19 #Pandemics
Category  News & Politics
A Dramatic Performance by Juilliard Students Brings a Socially Distant Approach to Ravel's Boléro
A Dramatic Performance by Juilliard Students Brings a Socially Distant Approach to Ravel's Boléro
MAY 4, 2020  GRACE EBERT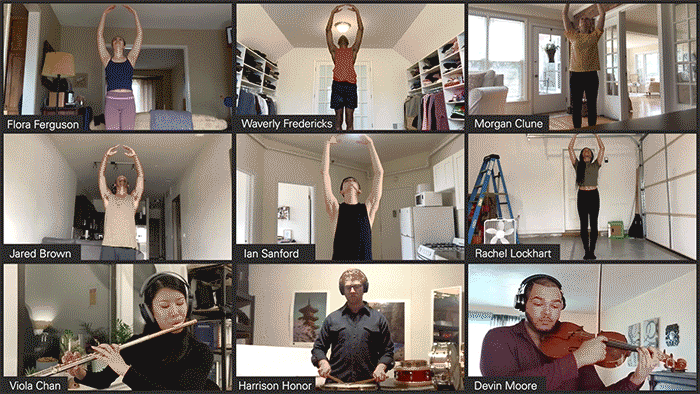 Maurice Ravel's Boléro is a particularly collaborative composition in that it passes the melodic theme through a series of solos. The sequential performances highlight the distinct tones and sounds of each instrument, whether it be a flute, violin, or the anomalous saxophone. In a spectacular new project, dozens of Juilliard students who now are quarantined in their respective homes bring a socially distant approach to the classic orchestral composition. What makes it especially impressive, though, is not just appearances by famous alumni—watch for Yo-Yo Ma, Laura Linney, Patti LuPone, and Itzhak Perlman—but because it coordinates the instrumental piece in addition to a range of dramatic and choreographed elements that appear to transcend individual frames.
In a statement about the project, Juilliard said the hundreds of video clips were filmed separately before being edited and overlayed into a single composition. "Bolero Juilliard, assembled by a team of artists all working from remote locations, is part narrative, part collage. Most of all, it is a collective endeavor that captures a snapshot of a specific global moment and the possibilities of creative connection in an uncertain world," the school said. The assembled video is "a complex online puzzle with many components being conceived, rehearsed, and produced simultaneously."
If you enjoyed Juilliard's project, check out this music video filmed entirely on Zoom and these quarantine dispatches. (via Kottke)
Bolero Juilliard | April 2020
Apr 30, 2020  The Juilliard School
"What can we do together even while we are alone?" With 100+ Juilliard students and alumni, at home together. Read more about the creation of 'Bolero Juilliard': https://www.juilliard.edu/news/146351… Directed and choreographed by Larry Keigwin with associate Nicole Wolcott, featuring a reimagining of Ravel's score, conducted by David Robertson, and produced by Kurt Crowley. Featuring Juilliard dancers, musicians, and actors, with alumni Emanuel Ax (music), Christine Baranski (drama), Jon Batiste (jazz studies), Renée Fleming (voice), Isabel Leonard (voice), Laura Linney (drama), Patti LuPone (drama), Yo-Yo Ma (music), Andrea Miller (dance), Bebe Neuwirth (dance), faculty member Itzhak Perlman (music), Susanna Phillips (voice), Bobbi Jene Smith (dance), Davóne Tines (voice), and Bradley Whitford (drama). 'Bolero Juilliard' is at the center of the many projects and initiatives the school is undertaking during this time of remote learning, supplementing the online lessons, classes, activities, and student- and faculty-generated collaborations and creativity. These collaborations embrace the ethos of #JuilliardThrives, which showcases the creativity, flexibility, and resilience that define the Juilliard community as we are at home, together. Belong to something brilliant: http://www.juilliard.edu/we Like us on Facebook: https://www.facebook.com/TheJuilliard… Follow us on Twitter: https://twitter.com/JuilliardSchool Follow us on Instagram: http://instagram.com/juilliardschool
Category  Education
The Human Microbiome Reimagined as a Cut-Paper Coral Reef by Rogan Brown
The Human Microbiome Reimagined as a Cut-Paper Coral Reef by Rogan Brown
JUNE 4, 2018  KATE SIERZPUTOWSKI
Using the visual metaphor of a coral reef, artist Rogan Brown (previously) introduces his audience to the diverse bacteria, archaea, fungi found in the human body through paper-based sculptures. The detailed works are created after months of research and hunting for aesthetic parallels that might link the two surprisingly similar worlds.
His series Magical Circle Variations merge these sources of inspiration with a pastel color scheme that can also be found in a coral habitat. "What the reef and the microbiome have in common is that they both consist of biodiverse colonies of organisms that coexist more or less harmoniously," Brown explains. "There are further parallels between coral and human beings in that we are both symbiont organisms, that is we depend on a mutually beneficial relationship with another species: coral only receive their beautiful colors from varieties of algae that live on them and human beings can only exist thanks to the unimaginably huge and diverse number of bacteria that live in and on them."
Brown hopes that his intricate paper sculptures will allow his audience to more greatly conceptualize the bacteria-based landscape of the human body. Works like these will be exhibited with C Fine Art at the upcoming Art Market Hamptons July 5-8, 2018. You can see more of his work on his website.
Sheets of White Paper Layered into Dense Cityscapes and Forests by Ayumi Shibata
Sheets of White Paper Layered into Dense Cityscapes and Forests by Ayumi Shibata
FEBRUARY 19, 2020  GRACE EBERT
"Museum Mile Book." All images © Ayumi Shibata, shared with permission
Japan-based artist Ayumi Shibata (previously) constructs intricate paper cities and natural landscapes layers of paper for a single project, Shibata carves miniature houses, clouds, and tree-filled forests that eventually are illuminated in glass vessels, stored safely in a book, or erected in large-scale installations.
The artist tells Colossal that she doesn't use pencil outlines, in part because the white paper isn't durable enough to be erased if there's an error. Instead, she envisions the three-dimensional shapes she wants to create and begins cutting. "White paper expresses the yang, light, (and) the process to cut expresses the yin, shadow. When the sun shines upon an object, a shadow is born," she writes. "Front and back, yin and yang, two side(s) of the same coin."
Shibata also relies on the Japanese word "kami"—which translates to paper but also to god, divinity, and spirit—as she considers the relationship between humans and nature that turns up in her work. "The world of paper that unfolds within the glass expresses the micro world, which is our human world, the Earth, the universe, and other universes and dimensions. The life-sized forest installation expresses the macro world, which is outside of our universe and the unknown worlds." Each time someone walks into a room with one of her more expansive pieces, she thinks it's possible "we could meet, communicate and coexist with Kami, which exists but we can't see."
To check out more of Shibata's structural projects, head to her Instagram.
"Museum Mile Book"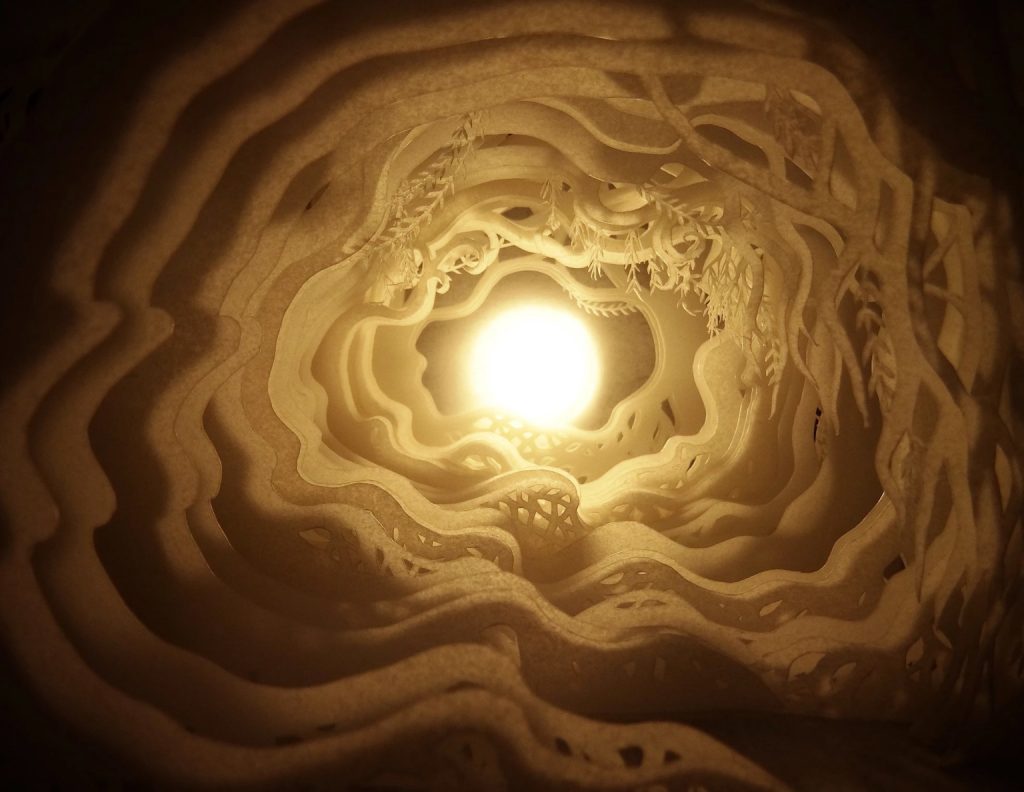 "In the Jar Corridors of Time"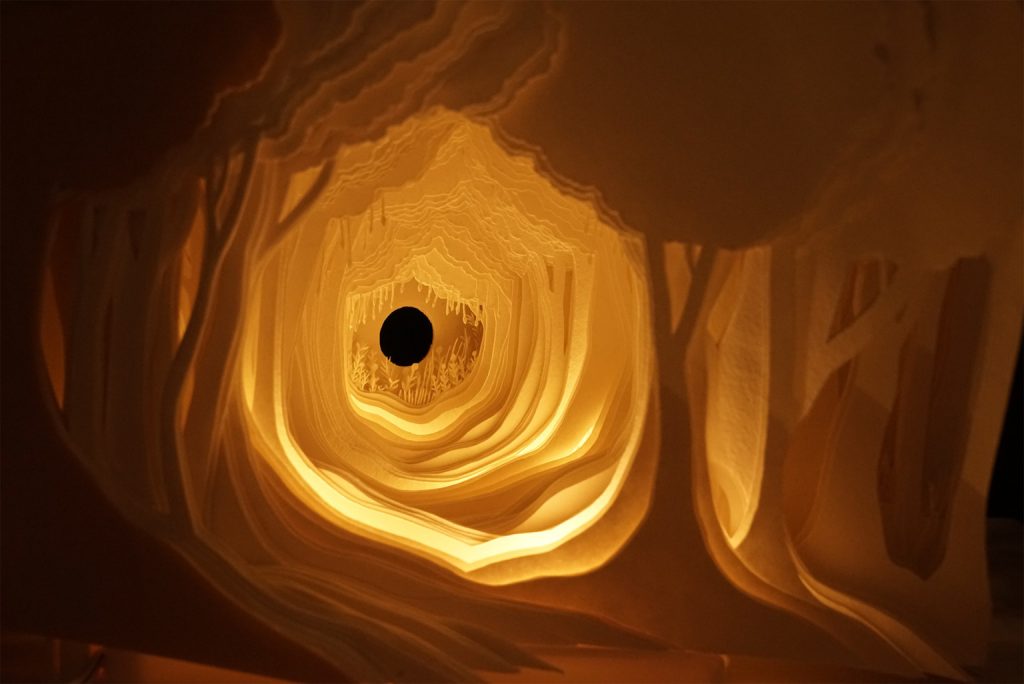 "Forest of Kami"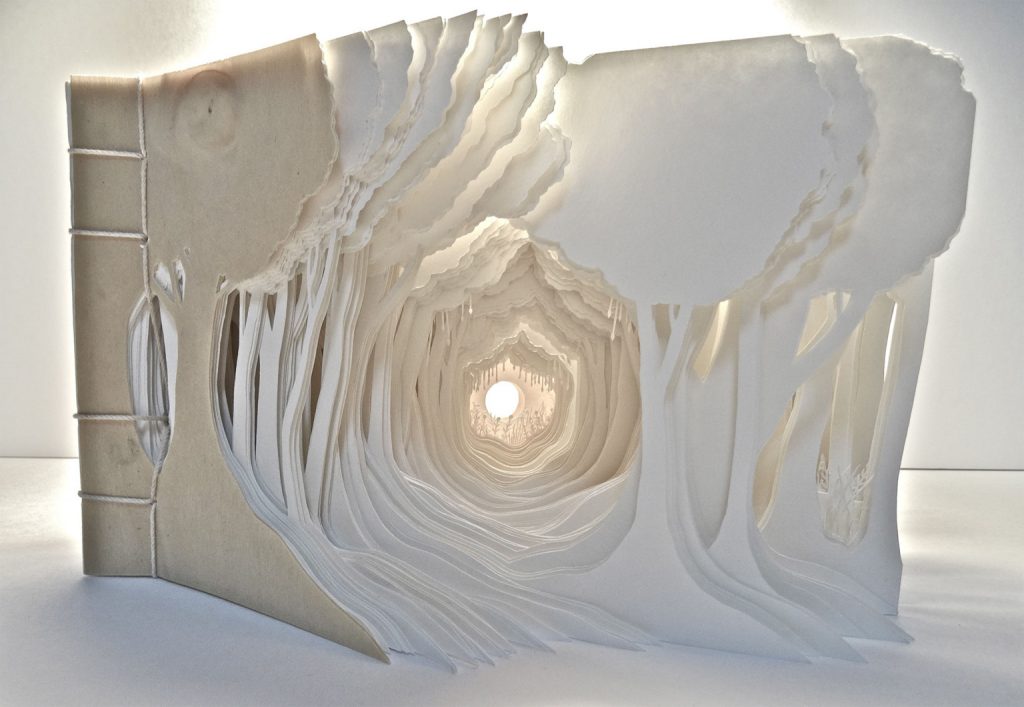 "Forest of Kami"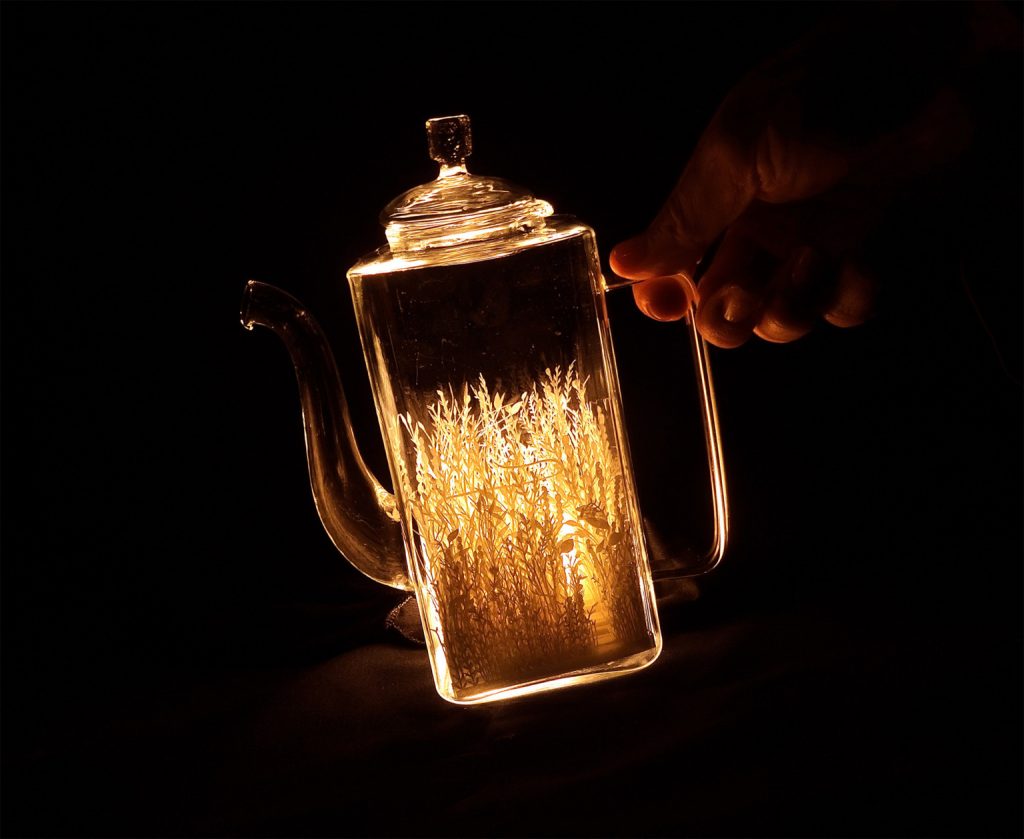 "In the Jar Bush"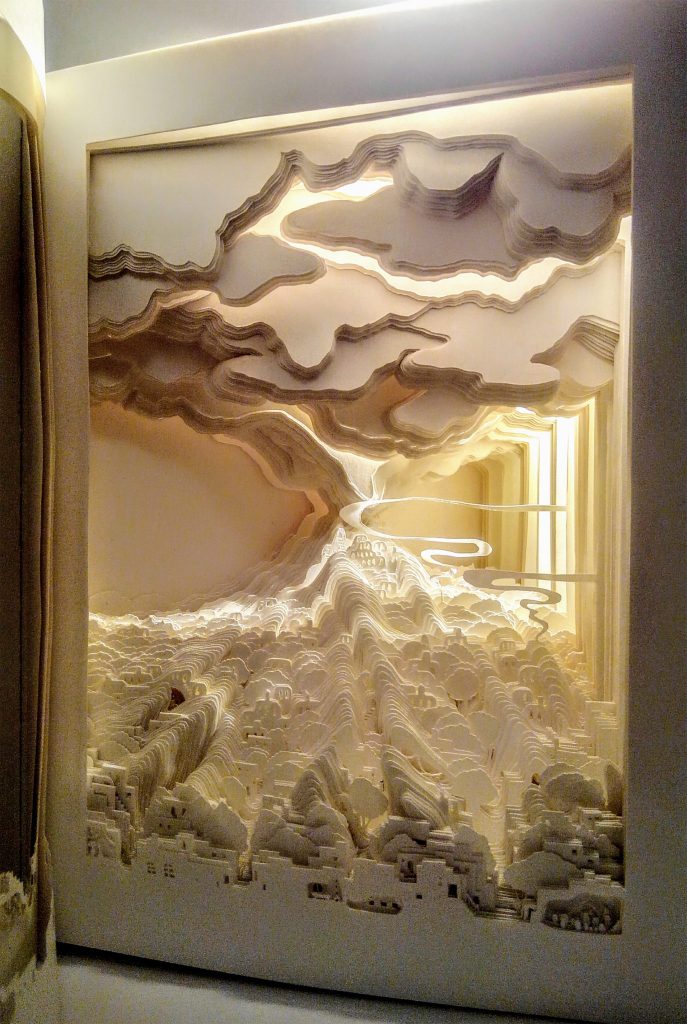 'Volcano Book"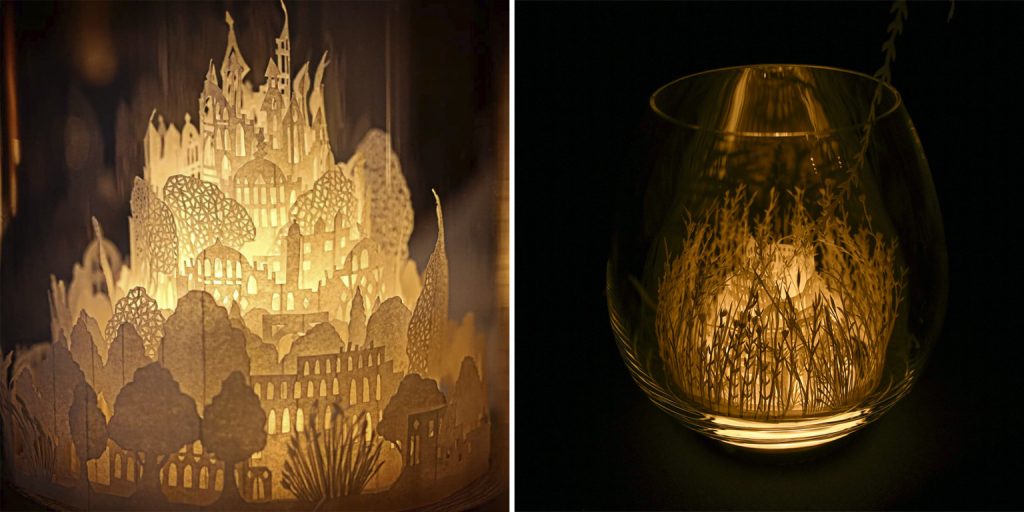 Right: "In the Jar Drop of Bush"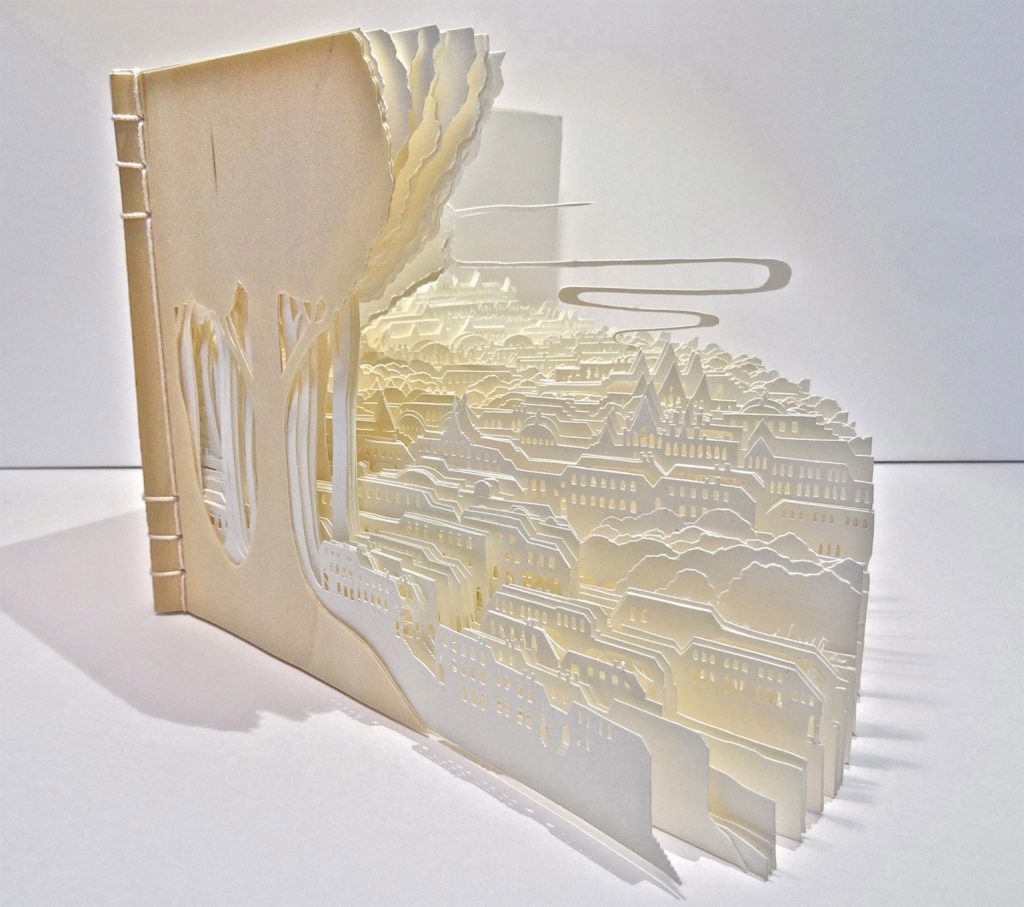 "Voyager Book"