Have A Happy Holiday Everyone

Adventure at the Water Lily Pond with Bodhi and Kai
By Ing-On Vibulbhan-Watts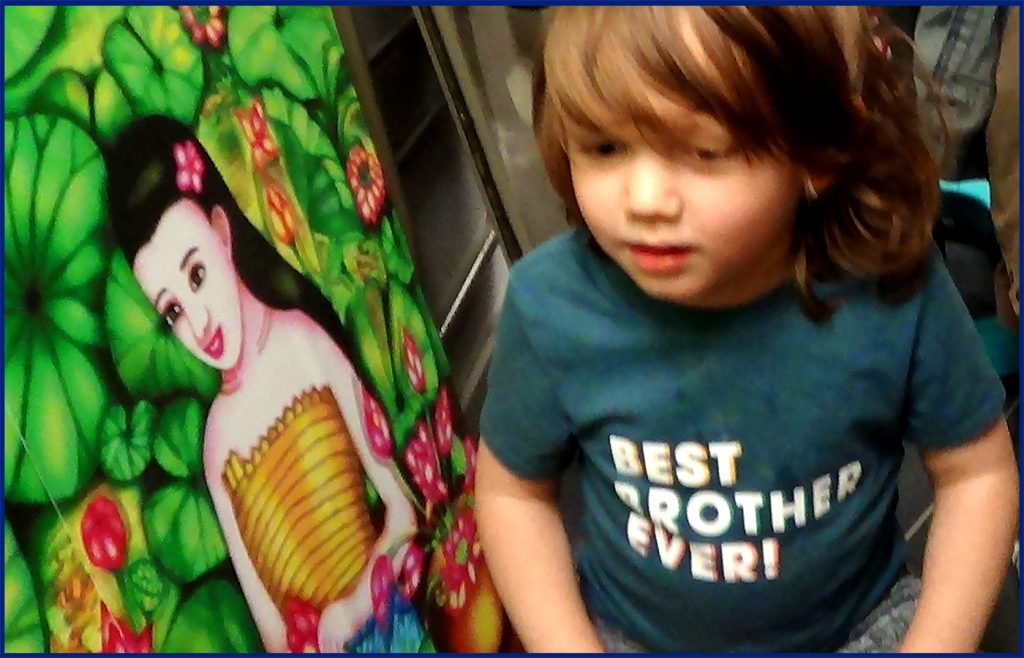 Kai is a young lad of five years old who is so proud of himself as the Best Brother Ever!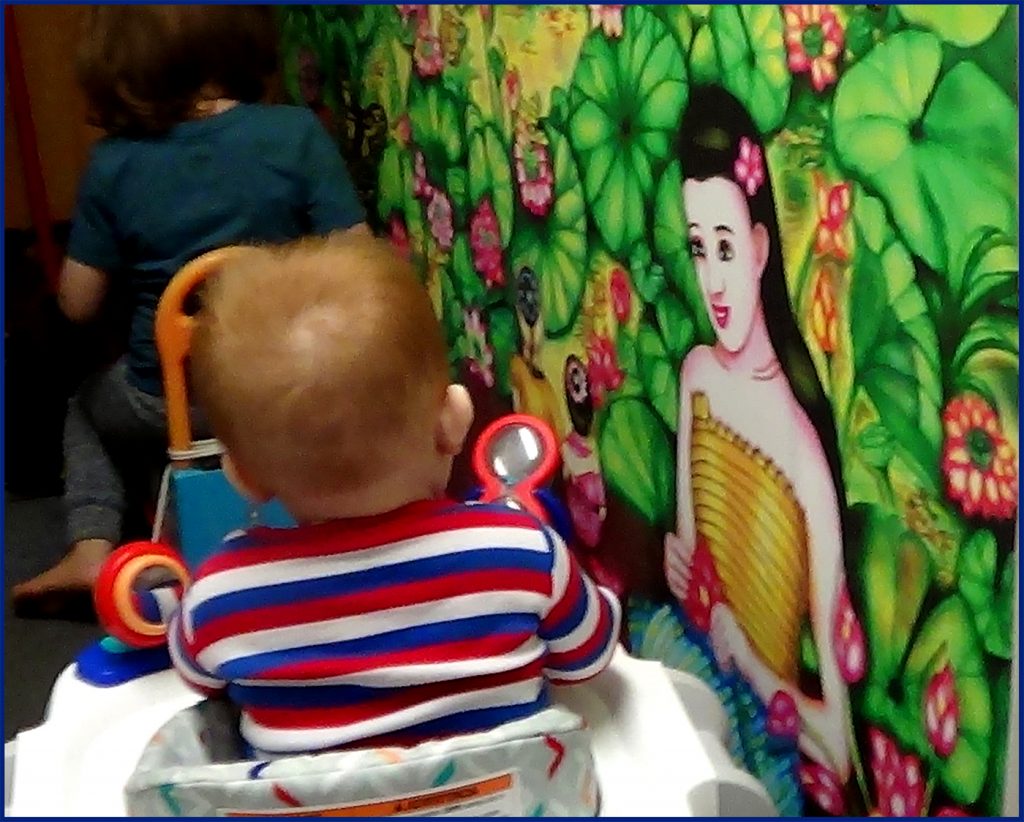 After Kai and his little nine month – old brother, Bodhi, filled their stomachs with delicious food that grandma Ing fed them, they are going for a ride.  Bodhi is ready to be in his walker.   Kai gets his mini truck out, putting a robe around the back of his truck and tied it on the front of Bodhi's walker.  Then he starts to drive Bodhi around the house.  Kai and his brother cannot go outside because of the COVID 19 pandemics trouble.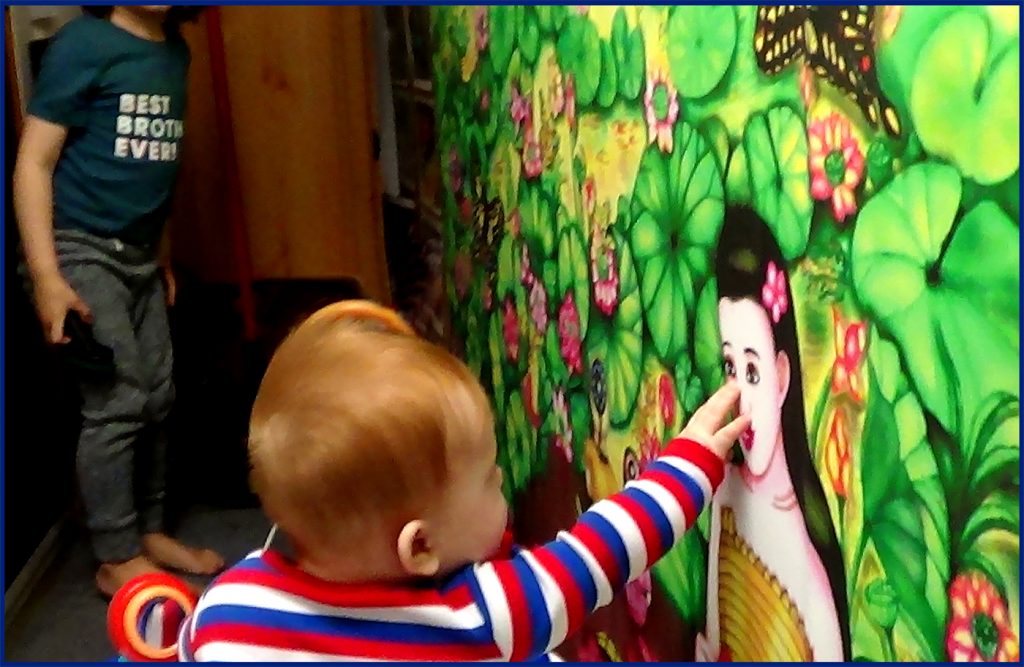 At the end of the trip, Kai stops at the area that Grandma Ing is putting one of her large artworks, "By the Water Lily Pond", on the hallway wall.  Bodhi touches the face of the girl in the artwork.  He murmurs, a sound, like, "Mom ma, Mom ma".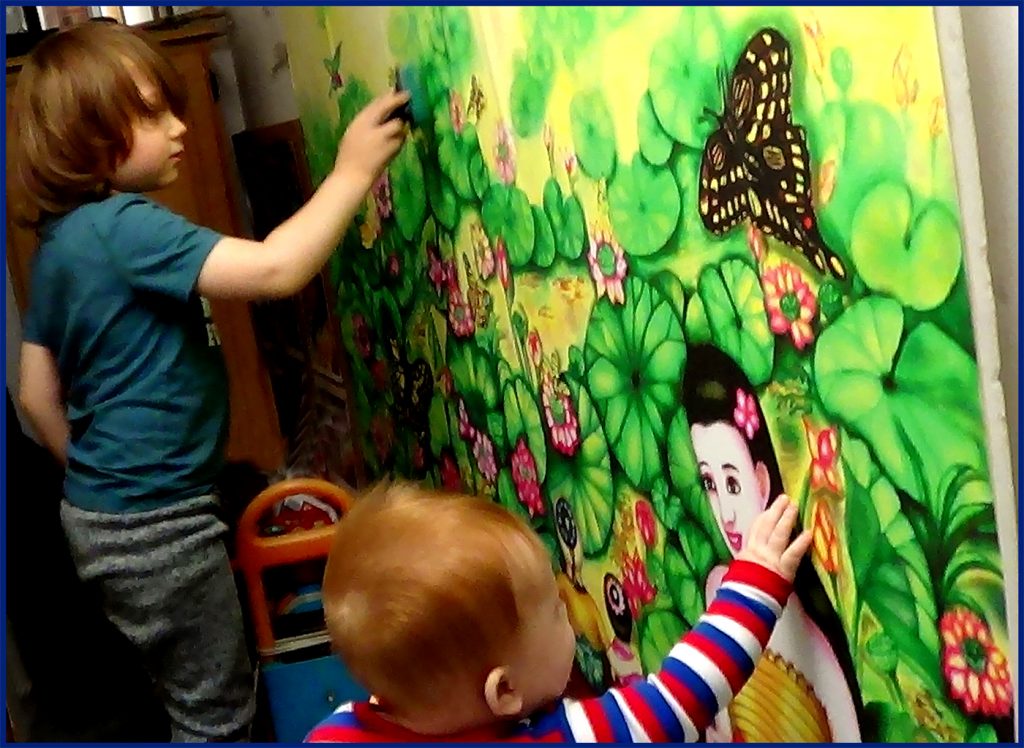 Kai is interested in counting the number of butterflies in the artwork.
Then Kai turns to his grandma Ing and asks "How many Butterflies in your artwork, Grandma?"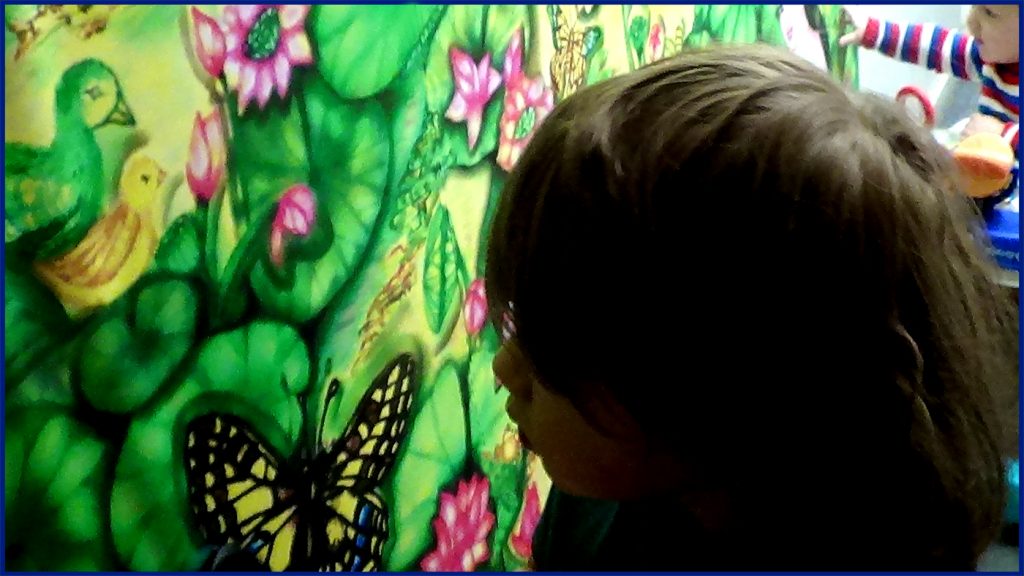 Grandma Ing says "One big Swallowtail Butterfly in front of you, four small butterflies on your right-hand side and another big brown one above the girl's head.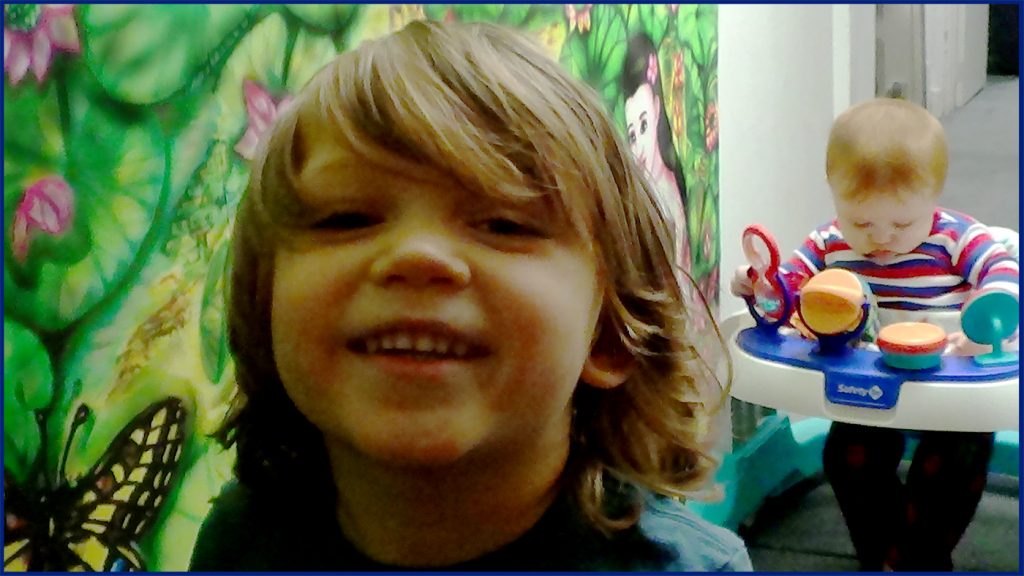 Grandma Ing continues, "One plus four, plus one, what is the total of number of butterflies?"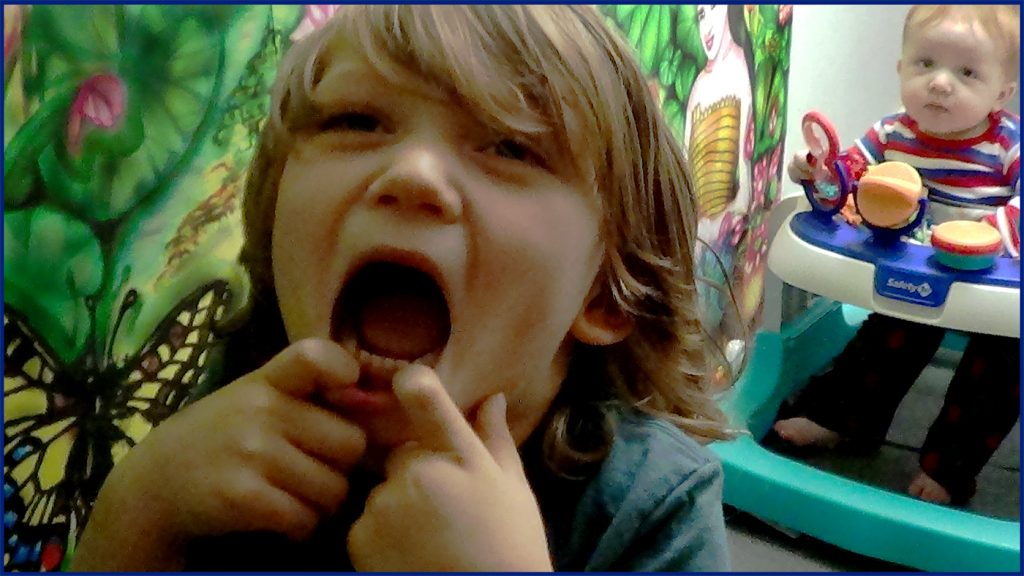 Kai cries out load "Grandma—–ma—–ma, It's not time for learning.  It's time for play."
Then he opens his mouth wide and makes many funny faces.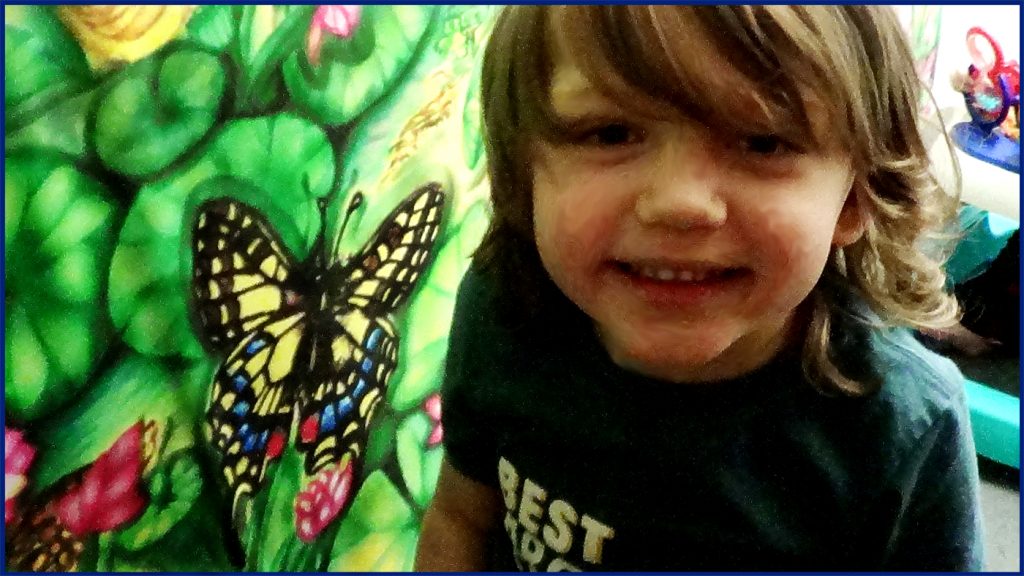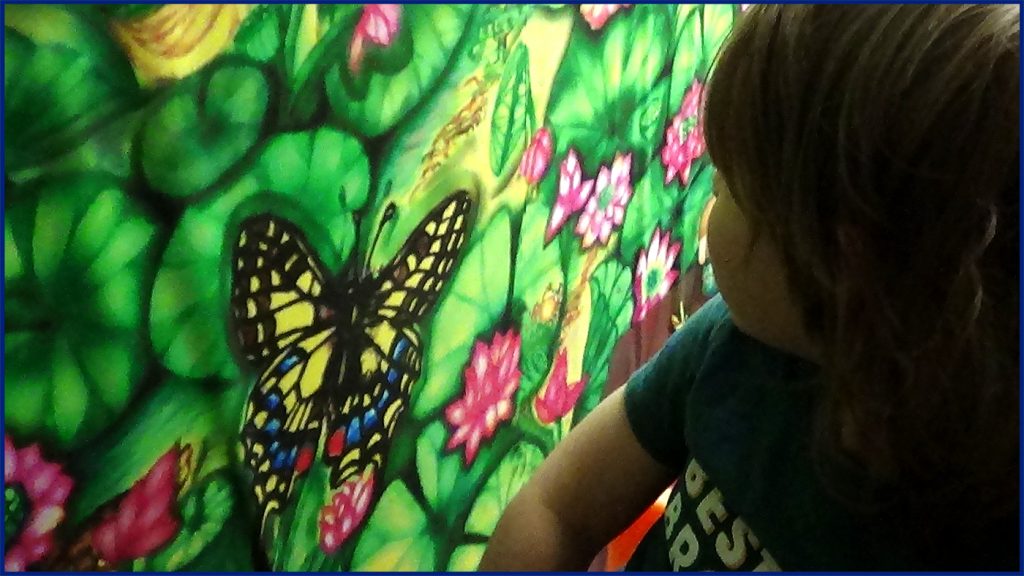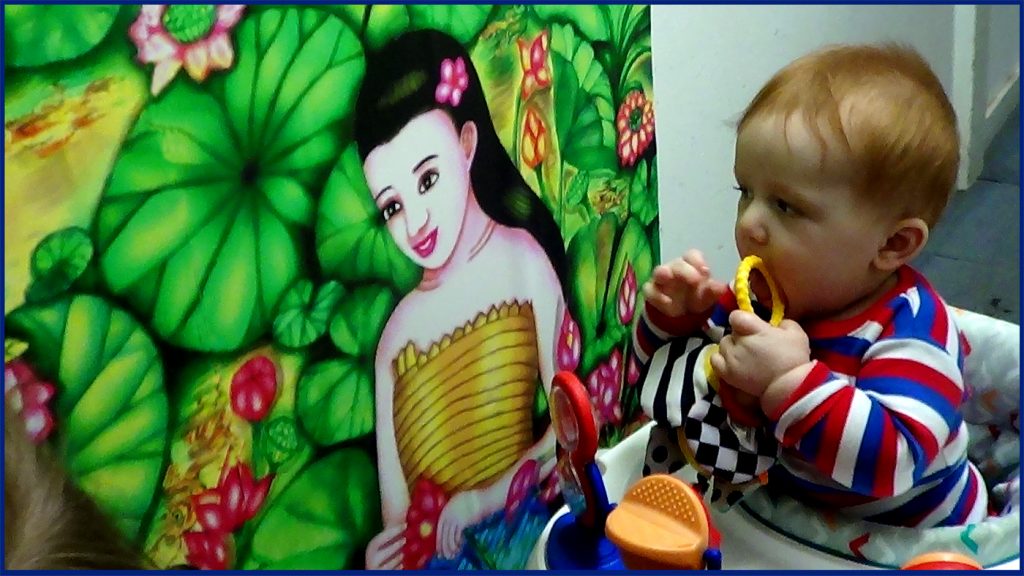 Bodhi is really interested in the girl.  He keeps looking at her for a while.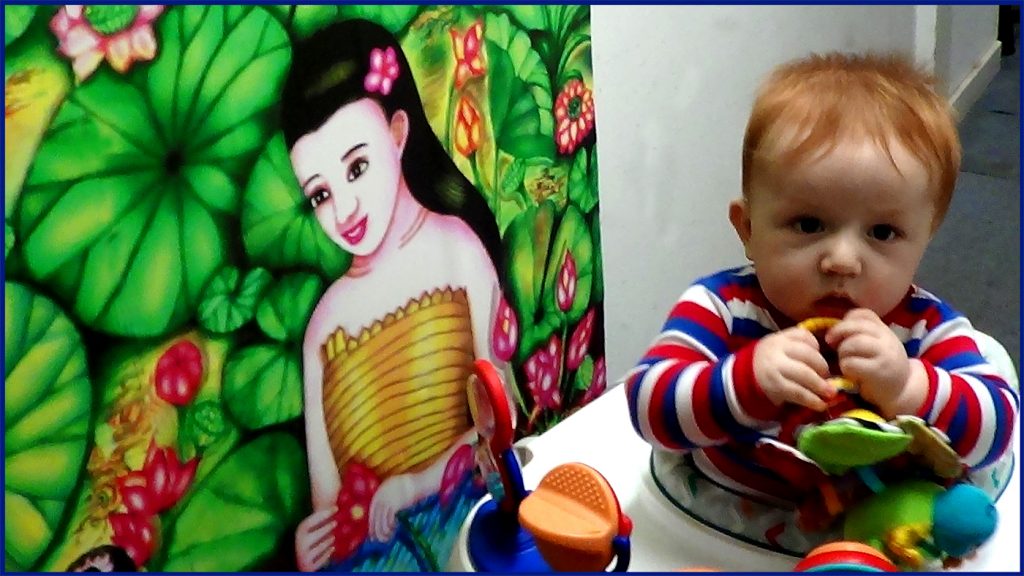 Then he turns to grandma with a confused face as if to ask Grandma "Who is she?".   He is too young to talk.  He only can make sounds like Ma – Ma or Da – Da.  The next word he probably says is Kai – Kai.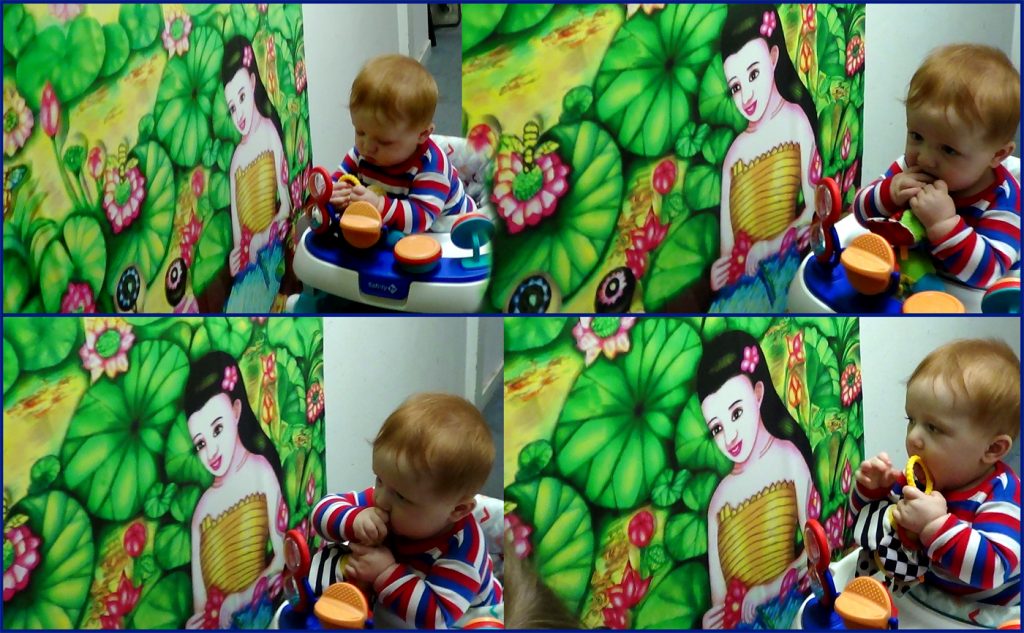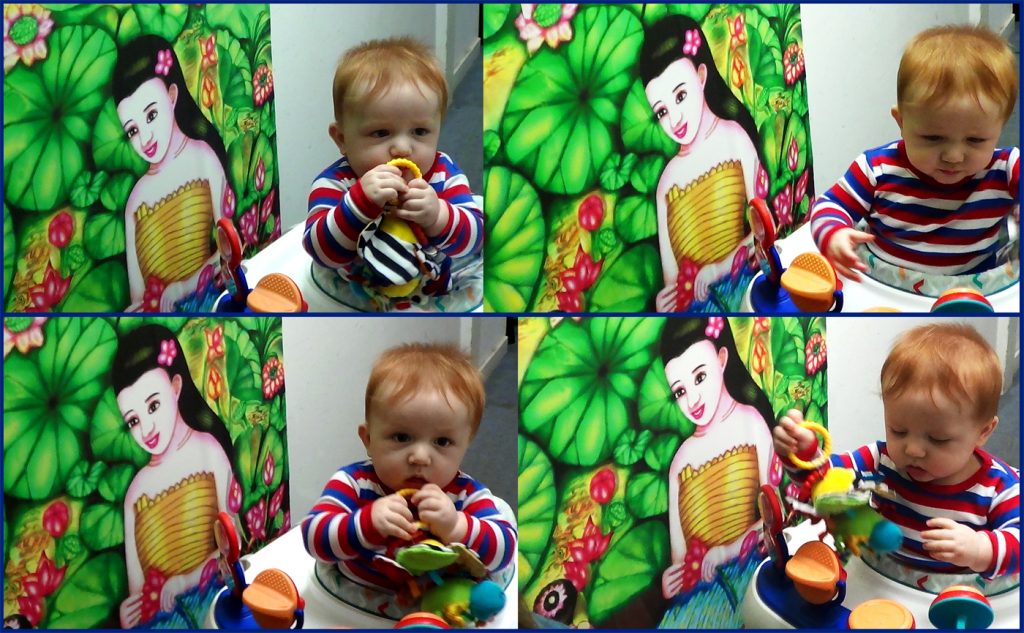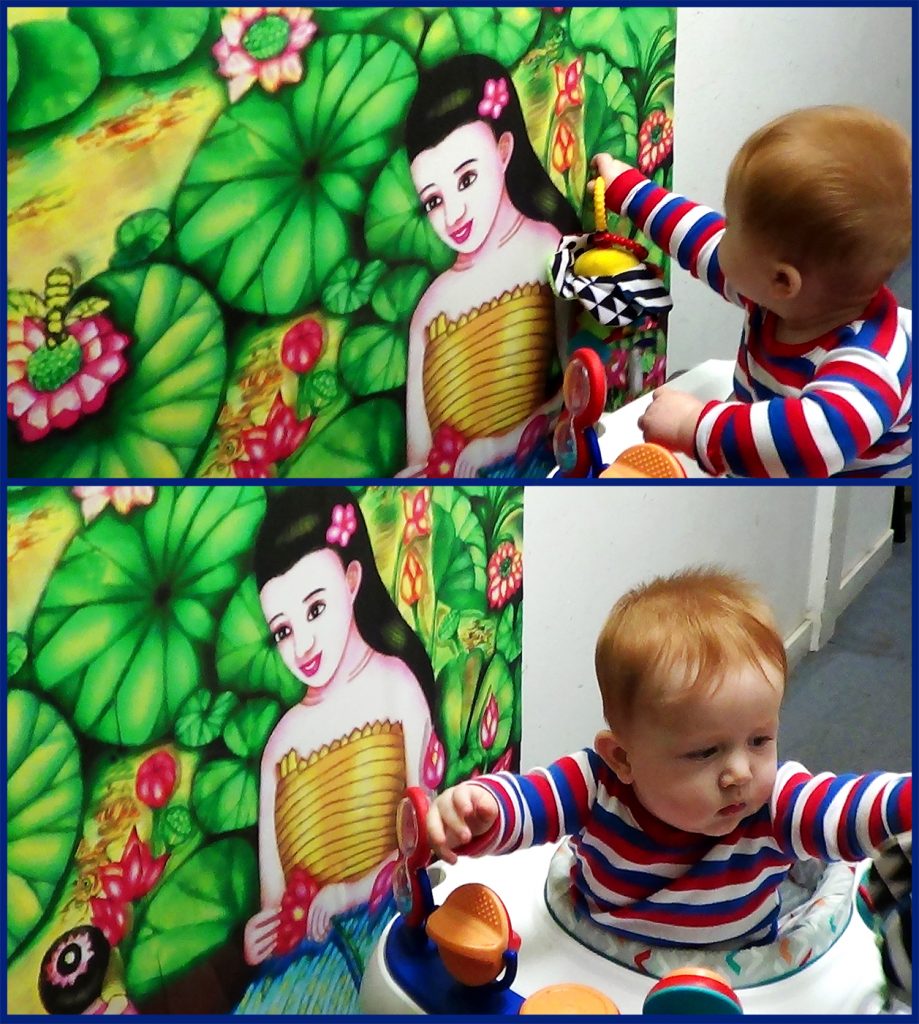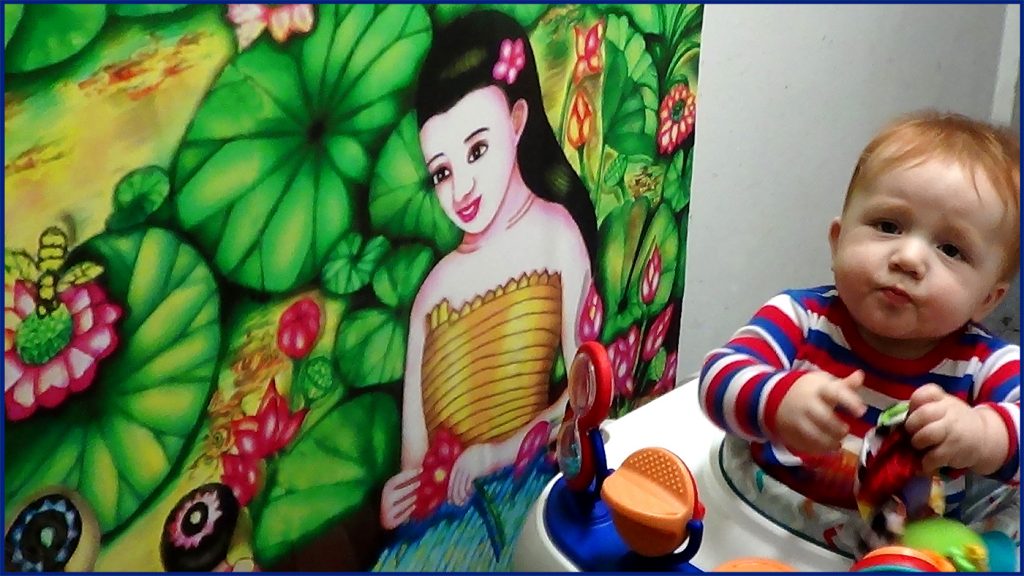 Bodhi shows his expression as though he wants to do something.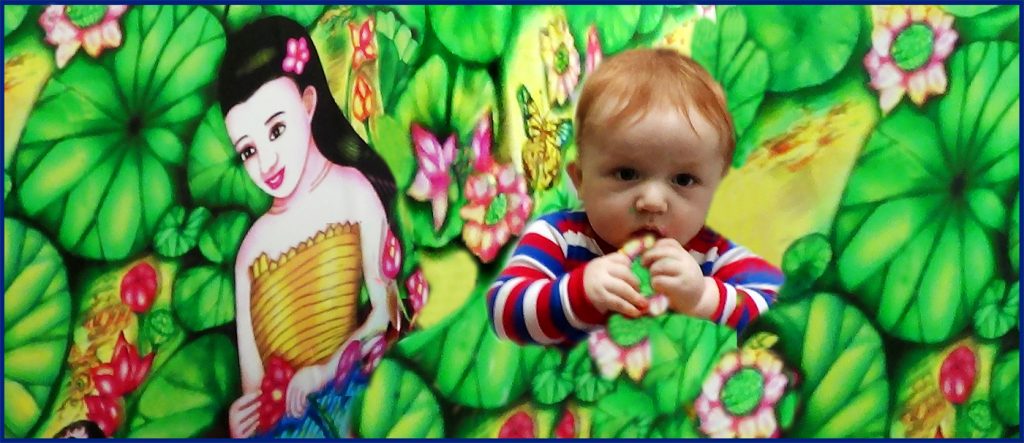 Then suddenly he appears next to the girl in the Water Lilly Pond with a Flower in his mouth.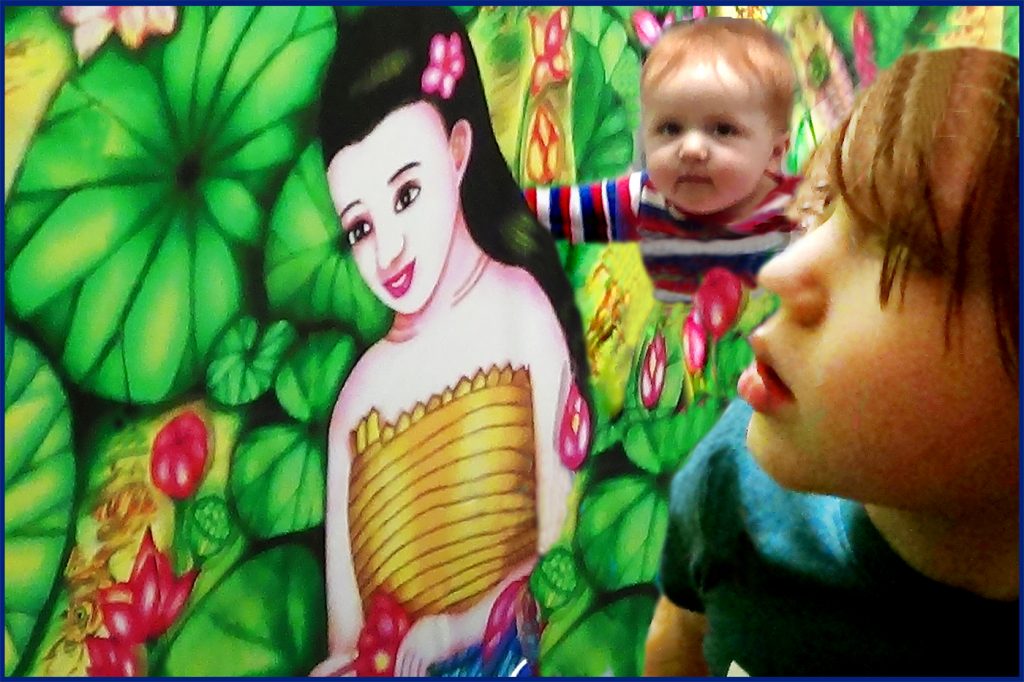 Then he calls his brother "Kai, Kai come in the pond."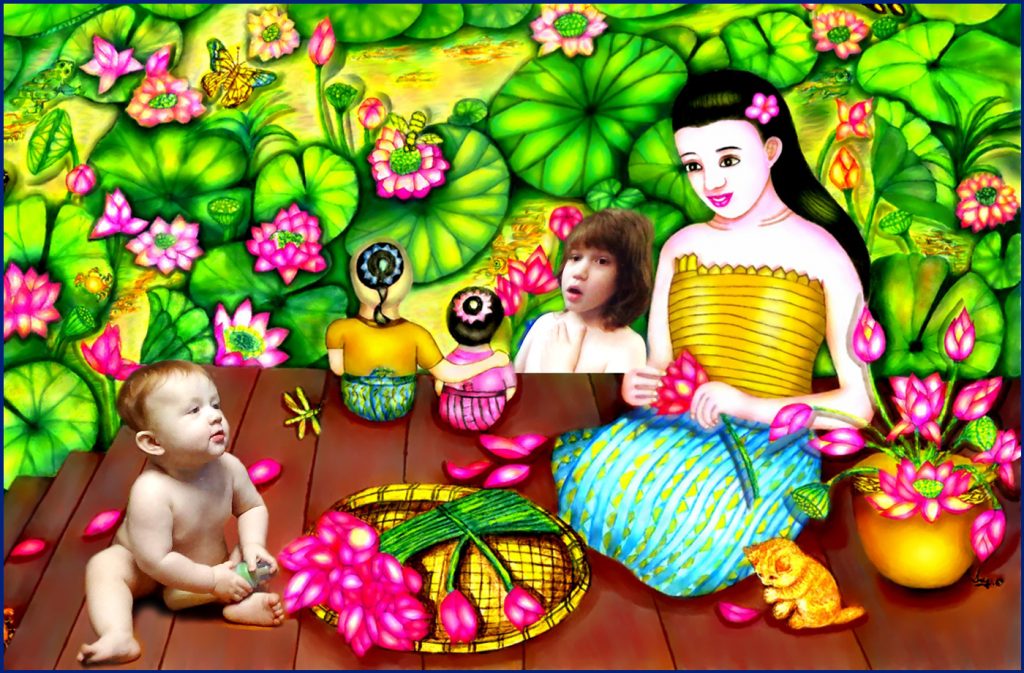 Bodhi comes out of the pond and sits in front of the girl and watching her arrange the Water Lily Flowers.  Kai jumps into the pond and yells, "Bodhi, Bodhi, here I am in the pond."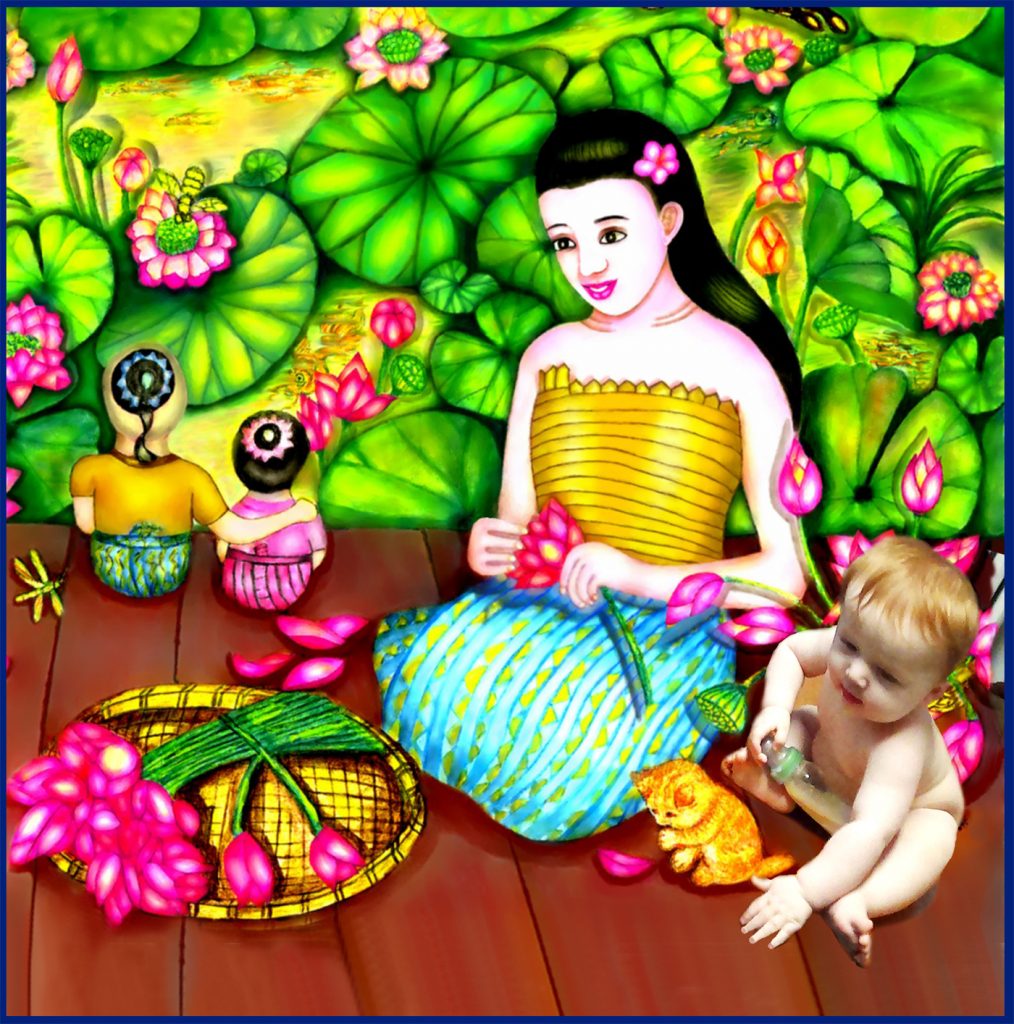 Bodhi moves closer to the girl and plays with and pats the cat, saying, "Hi Kitty cat, you are so cute."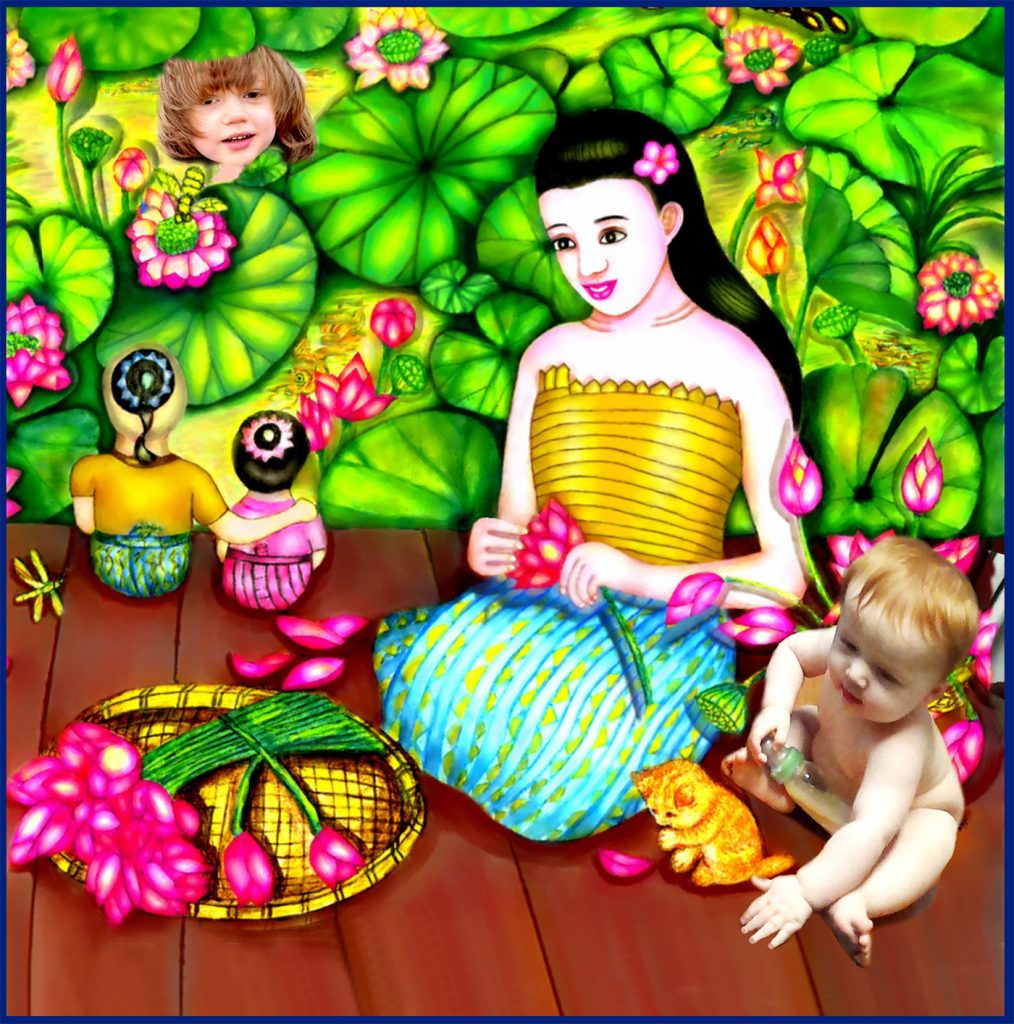 "Bodhi, Bodhi, I am up here!  There's a big bee on the Water Lily Flower.  Bodhi!  Say hello to the Thai girl and boy."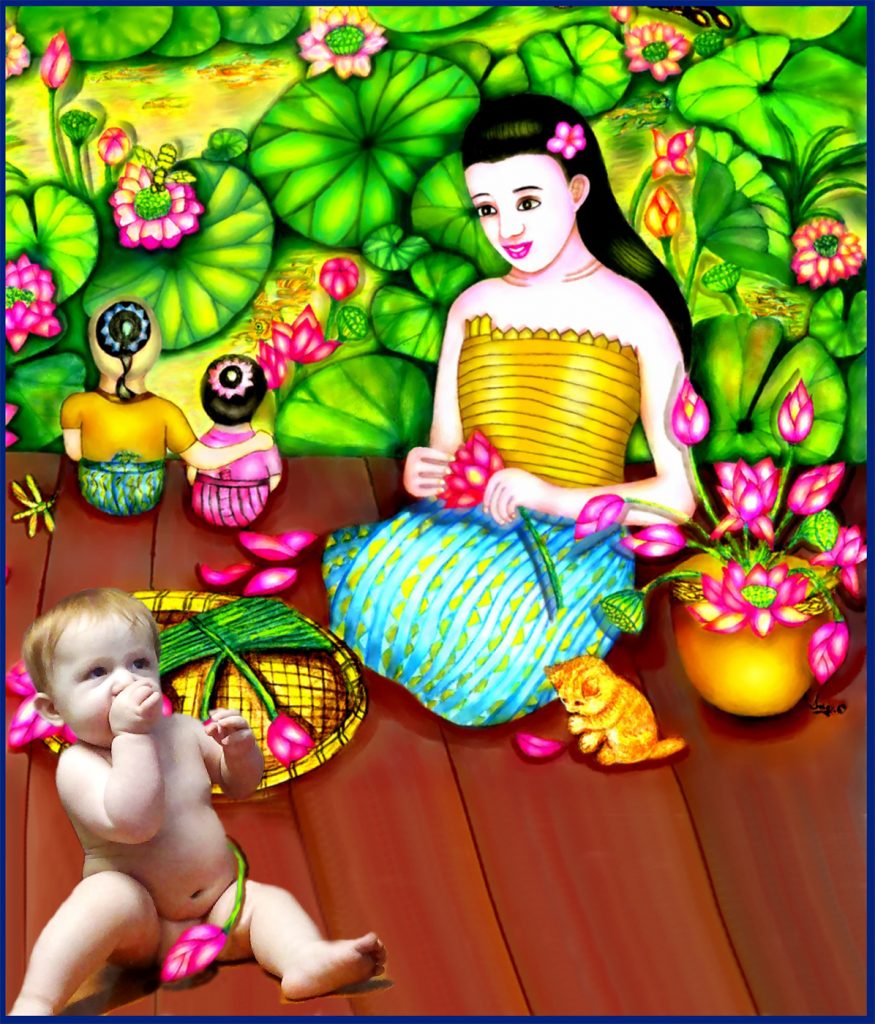 "Lady!  Can I have one of your flowers?"  Bodhi Takes one of the Water Lily Flowers from the tray.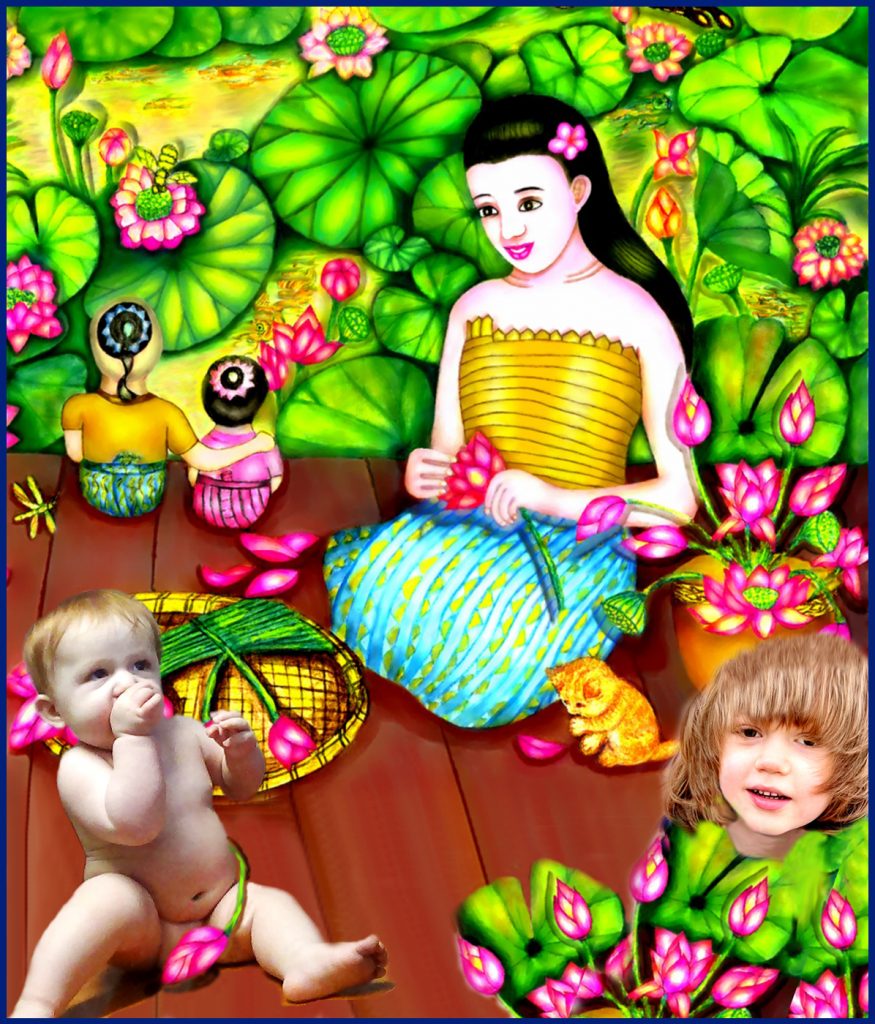 "Bodhi!  Look!  I have some of Water Lily Flowers for you."  Kai gets a big bunch of Water Lily Flowers from the pond.  "I am going to give one each to Mommy, and Daddy.  How about we give two flowers to Papa?  I'll give one to Nana, one to Pa, one to Grandma Ing and one to Grandpa John.  I think I have enough for everyone."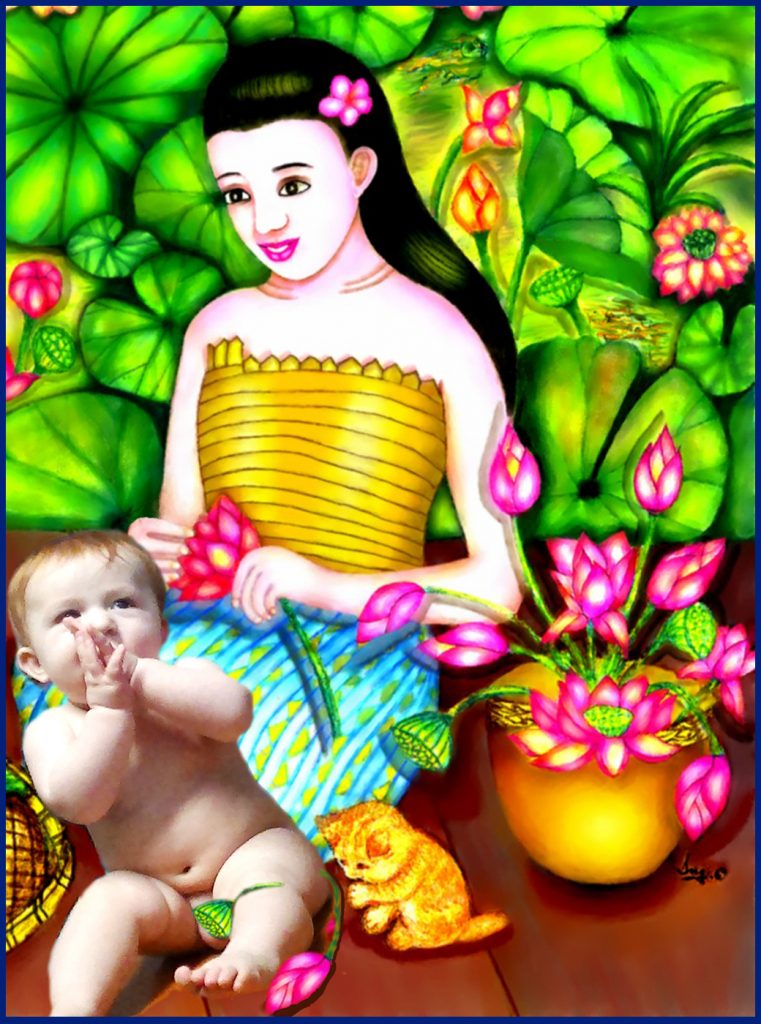 Bodhi tries to have a conversation with the girl.  "How are you lady?  I like sitting here.  The weather is very nice by the Pond.  Do you like it, Lady?"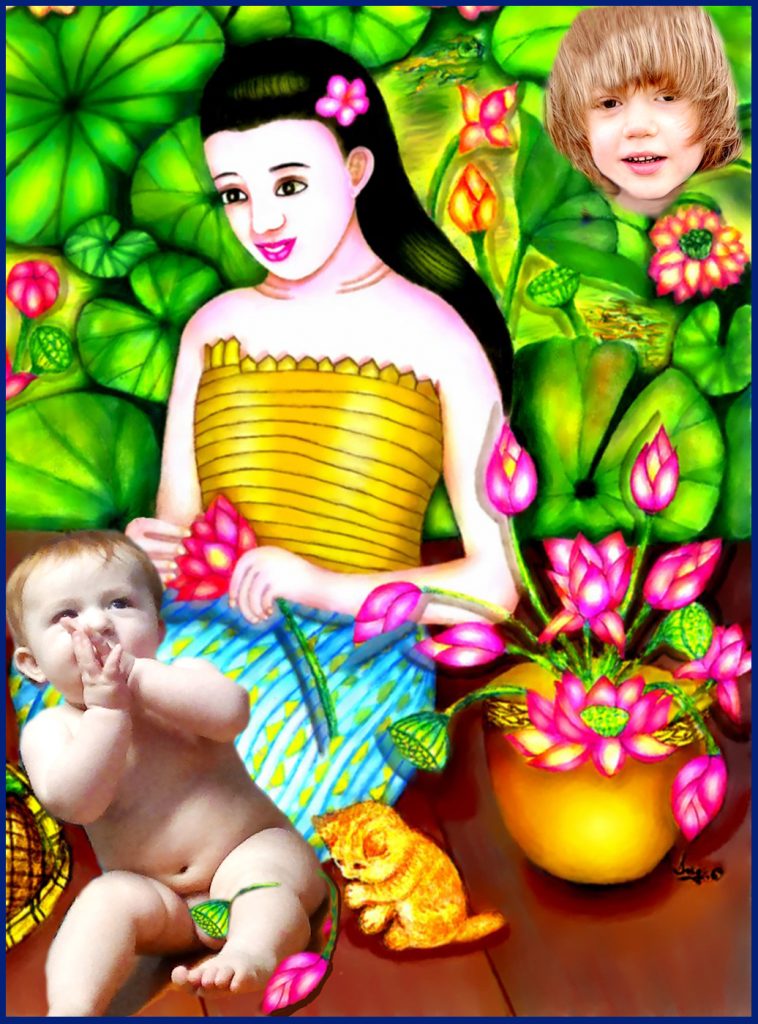 "Hay!  Bodhi!  Come in the water!  It's fun to swim.  You can see fish, crabs, frogs and other fun things."  Kai wants Bodhi to join him.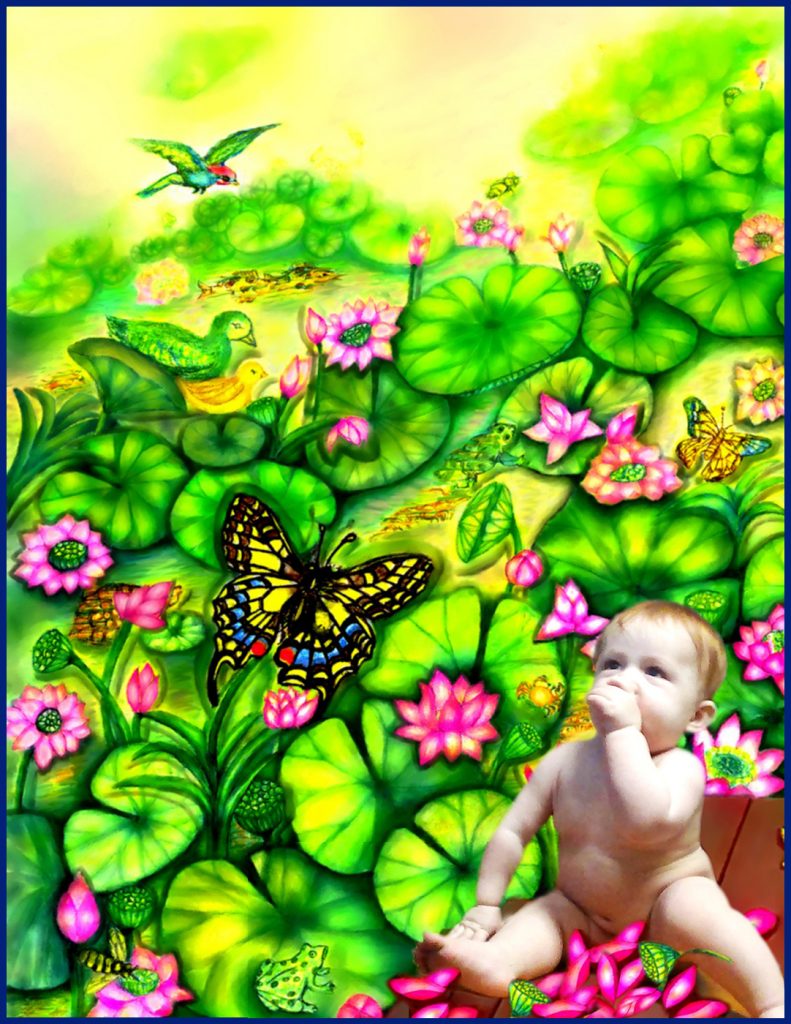 "Kai! I see the mother duck, and baby duck.  Do you see the parrot flying this way?  I love this Pond.  We can see all kind of animals.  They're so beautiful.  I love them all."  Bodhi is happy to be outside of the house in nature.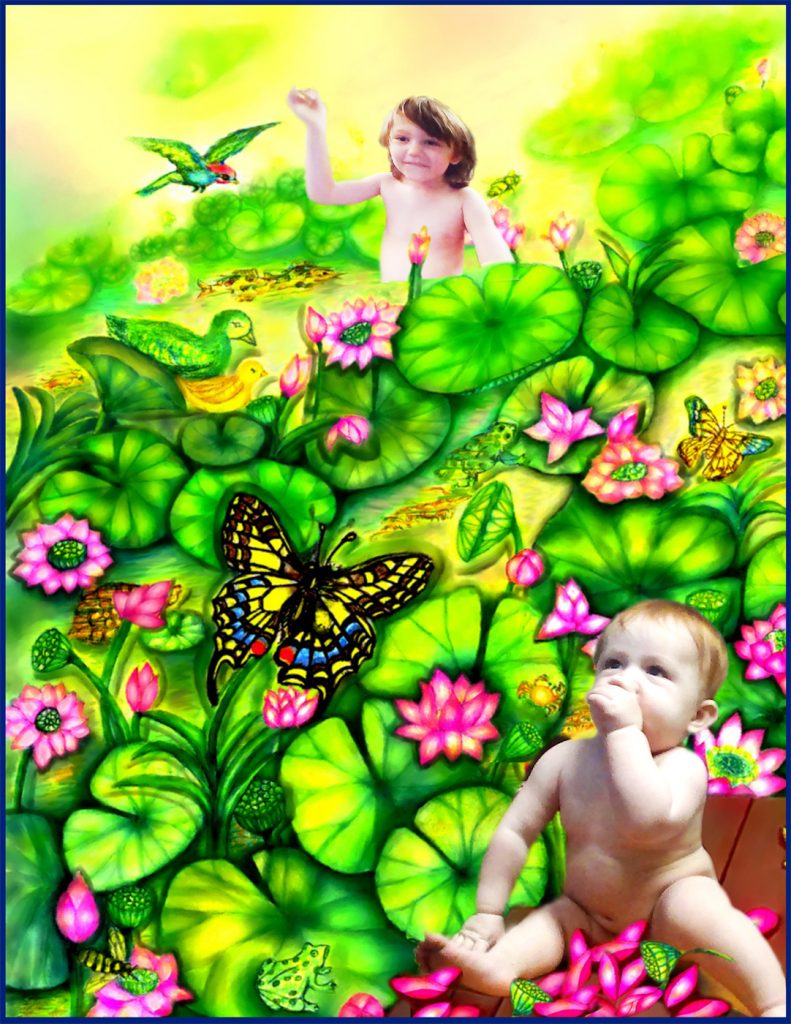 "Bodhi!  I am very close to the ducks.  The duckling is so cute.  Yes, I see the parrot flying my way."  Kai is happy to be in the water.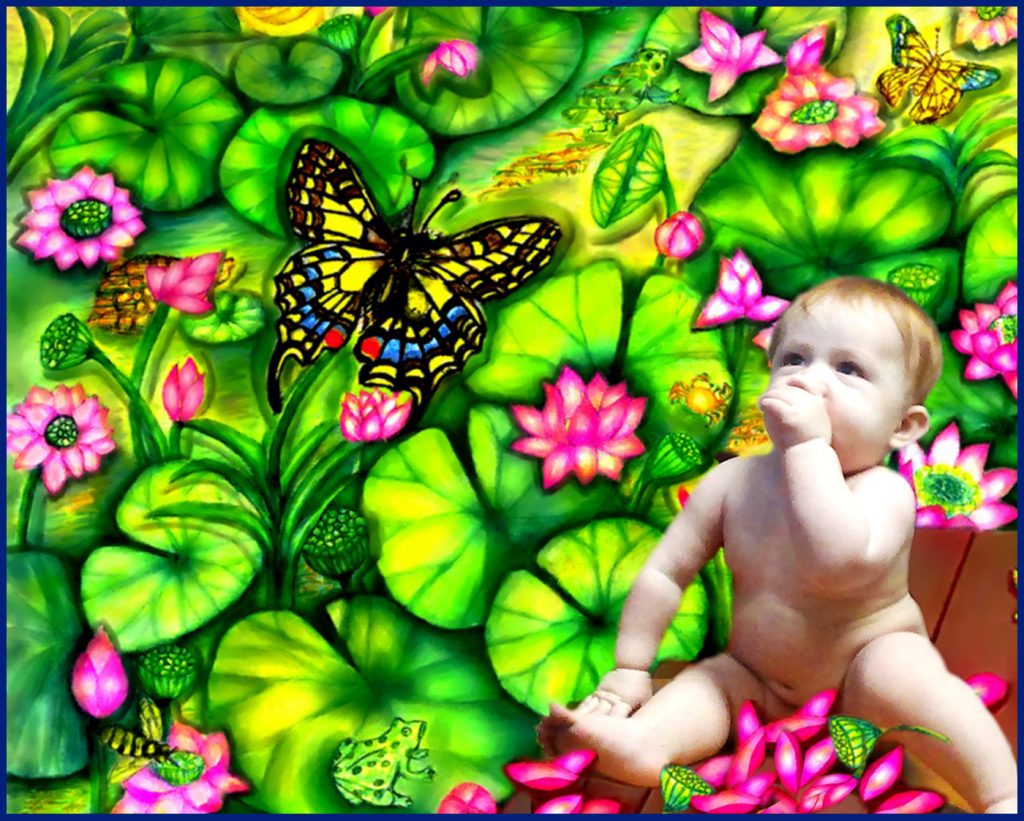 "I love to play with these Flowers.   Kai! From here I see a lot of butterflies.  Hey Kai, look at the beautiful swallowtail Butterfly!"  Bodhi is very interested in the butterfly.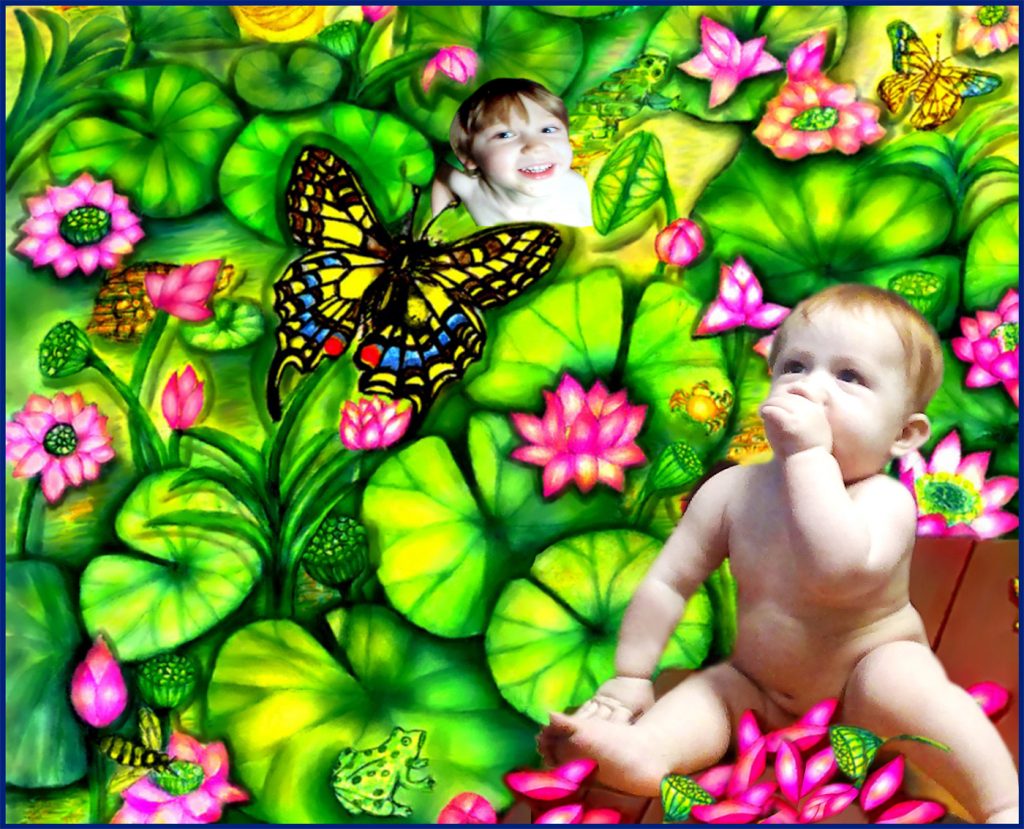 Come on Bodhi!  Jump in the water!  You'll like it.  I 'll teach you how to swim".  Kai is having a very good time.  "Thank you, Brother Kai, but I love to sit up here seeing all the Water Lilies and animals around the pond."  Bodhi smiles happily.
Grandma Ing has woken up from day dream and wishes that her two grandsons can go to the park or someplace outdoors rather than staying in the house all the time.  Hopefully, the vaccine for COVID 19 will help improve the situation, and prevent people from getting the virus. Then we can go out to enjoy nature and people can come together again.  Especially, in spring we love to celebrate the cherry blossoms and have lunch together with the family and friends at Branch brook park, in Newark, New Jersey, USA.
I produced "By the Water Lily Pond" in 1998."
Ing-On Vibulbhan-Watts, Thursday, December 24, 2020
Have A Merry Christmas and A Happy New Year Bodhi, Kai, Mali, Jim, Nana, Pa, Papa and all the Aunties, Uncles and Cousins
Love, from Ing & John
Thursday, December 24, 2020
For more information and photos of cherry blossoms at Branch brook park, Newark, New Jersey, USA please visit the following links: