Dr. King and Gandhi's Ing Artwork Display in Public for the First Time in 2021 and Kai, 5-year-old Street Artist
On Halsey Street, Newark, New Jersey, USA
 Photographs by Ing-On Vibulbhan-Watts and Ing's grandson Kai

My husband, John Watts is helping me put up two of my artworks.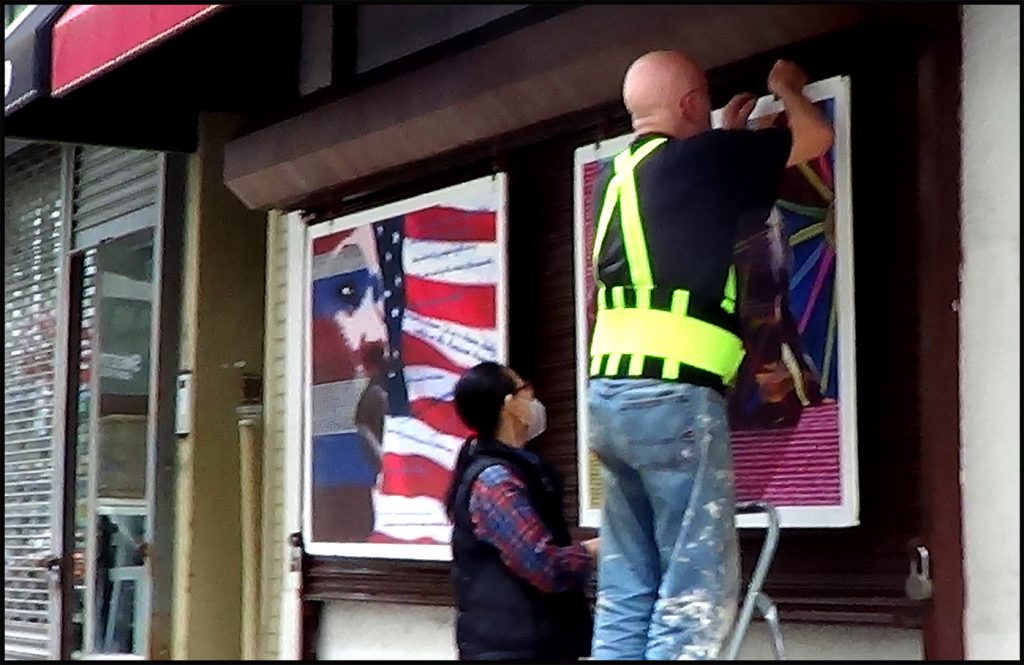 Kai took these Photographs for Grandpa John & Grandma Ing.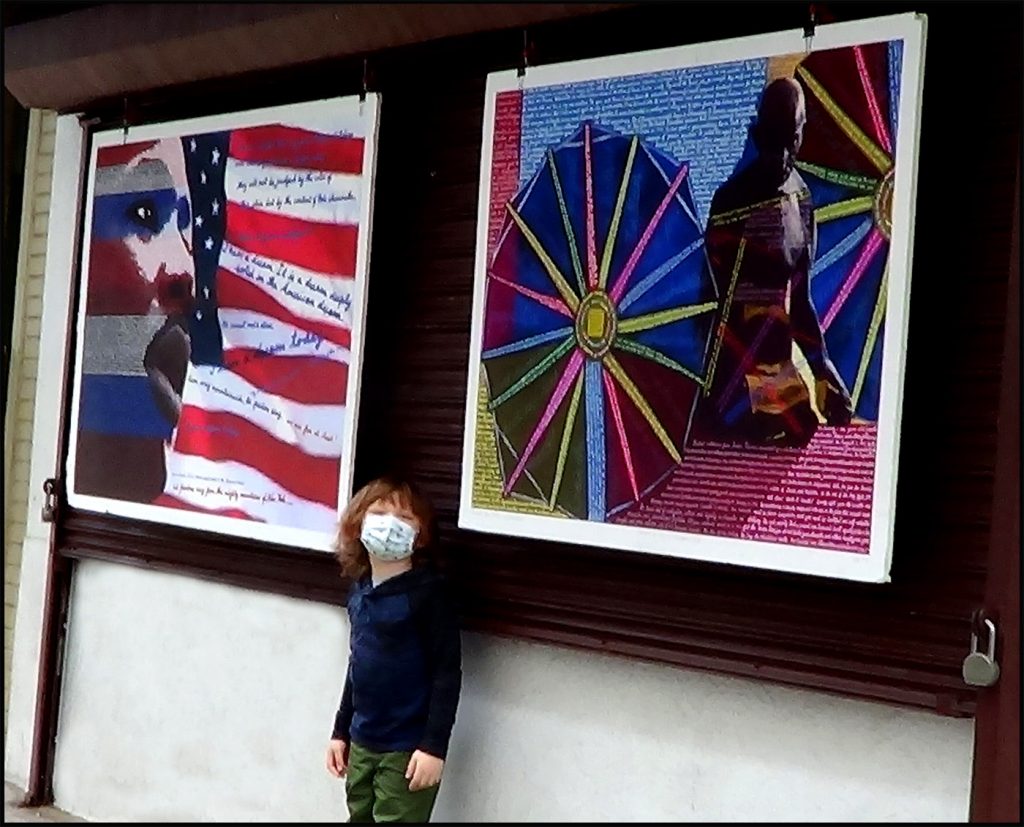 Due to the pandemic of COVID-19, Kai has to wear a mask when he is outside of the house.  All concerned citizens all over the world should wear a mask when they are in public if they are concerned about catching COVID-19.  People who have the virus will not spread germs to the other people if they wear masks.
 The United States is very lucky to have Joe Biden as the new president in 2021.  He is concerned about the spread of the virus that will harm and kill more.  He believes in science, and vigorously worked to acquire and distribute the vaccine to all eligible citizens.  The result is a reduction of people getting COVID-19, and the reduction of people dying from the virus.  The previous president, Donald Trump, does not believe in science, and shows this by his example of not wearing a mask.  His followers, most of them Republicans, voted for him, support him, and follow his example, by condemning the use of masks, refusing to wear them, and not practicing social distancing. 
Mr. Trump had, and continues to have, rallies that pack people next to each other by the thousands. Most of the audience are not wearing masks, while, Mr. Trump, speaks at a podium that has a plexiglass screen to prevent the COVID-19 virus droplets reaching him.  Also Mr. Trump and his wife quietly received the COVID-19 vaccine without letting his followers know, and all his children also received the COVID-19 vaccine
By the end of Trump's administration, over 500,000 (Five hundred thousand) people died as a result of his actions.  The most puzzling aspect of this is that about 70,000,000 (seventy million) people voted for Trump, most of them Republicans, for his second term.  Belief without reason can cause great harm to the believer and if seventy million people or more do so, this can cause the collapse of social order.  If Mr. Trump became the president in a second term, no one could foresee how many more US citizens would die.  The US economy could be far worse with many millions more unemployed, and a dramatic rise in the homeless population in the country. 
I wish to keep my writing as a record on my website for my grandchildren and other generations.  My intention is to make others aware that believing blindly in anything without reasoning and education can destroy all of us.
Ing-On Vibulbhan-Watts, Sunday, April 18, 2021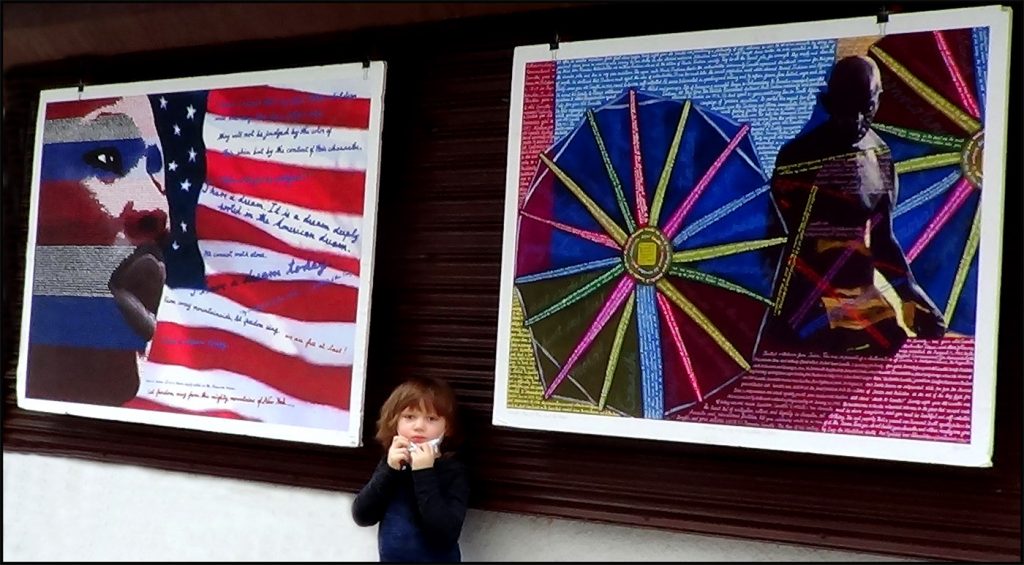 I wanted to see my grandson's face so I asked him to pull his mask down.
Two of my artworks, Dr. Martin Luther King, Jr. and Gandhi, are posted on our shop gate for the public.  It is being posted for the first time this year, 2021.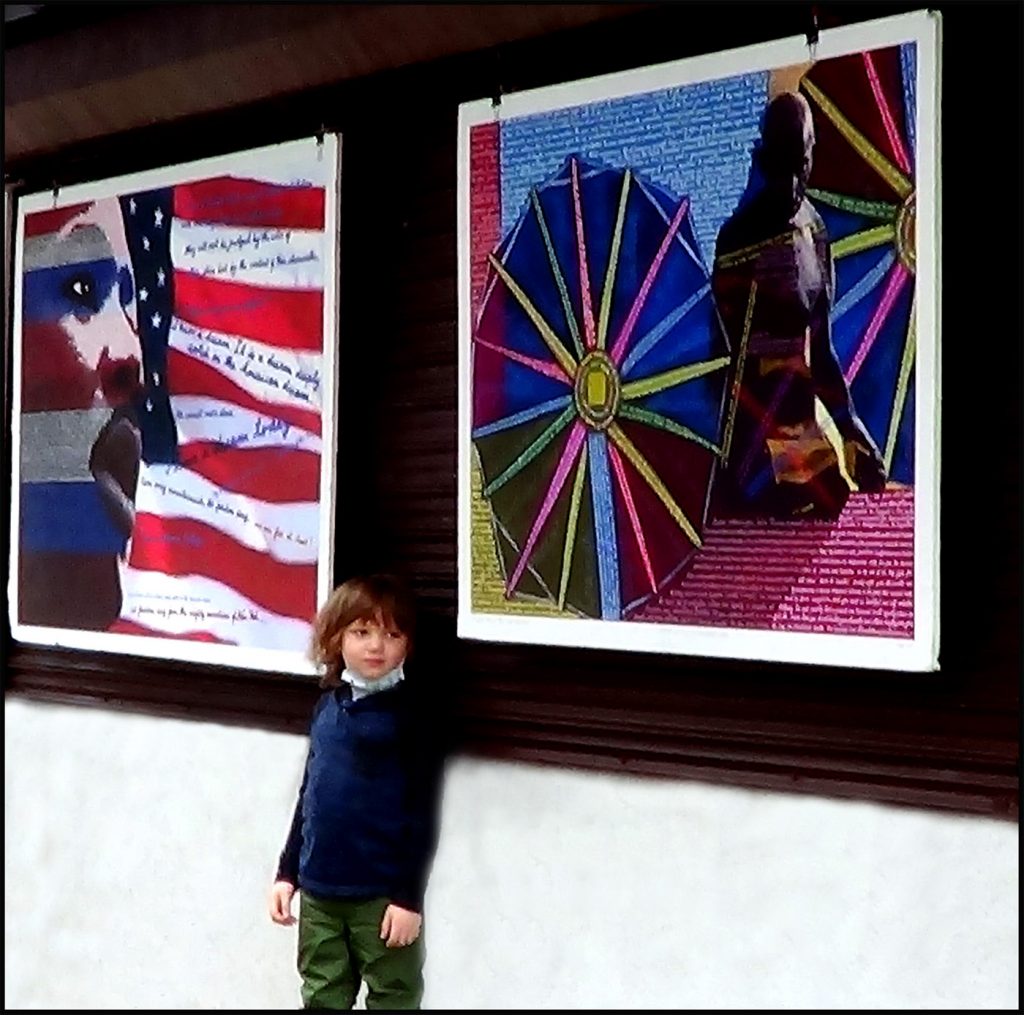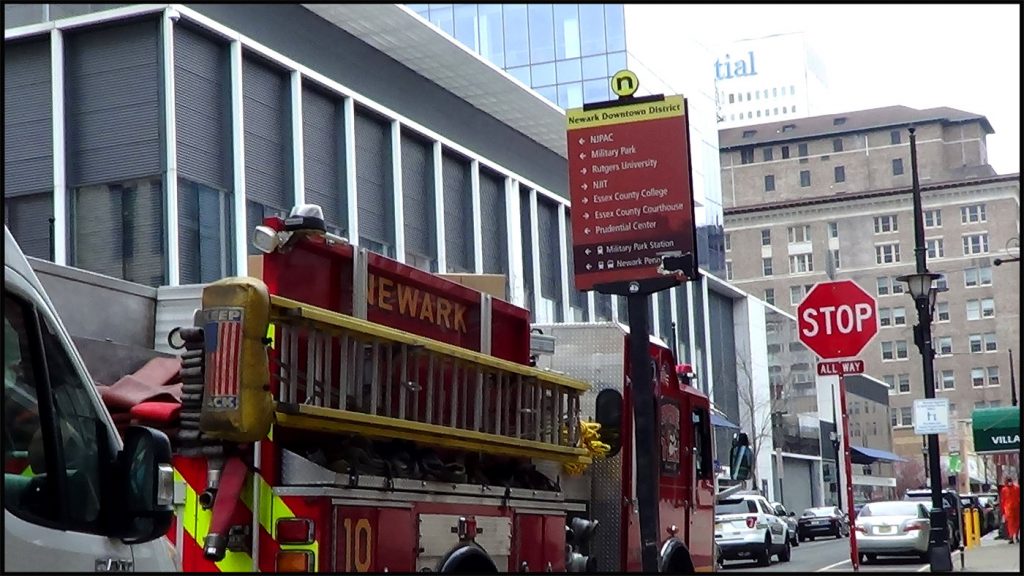 We saw a fire truck passing by.
Kai the Street Artist:
The 5-Year-Old Street Artist on Thursday, March 25, 2021, Halsey Street, Newark, New Jersey, USA
Photographs by Ing-On Vibulbhan-Watts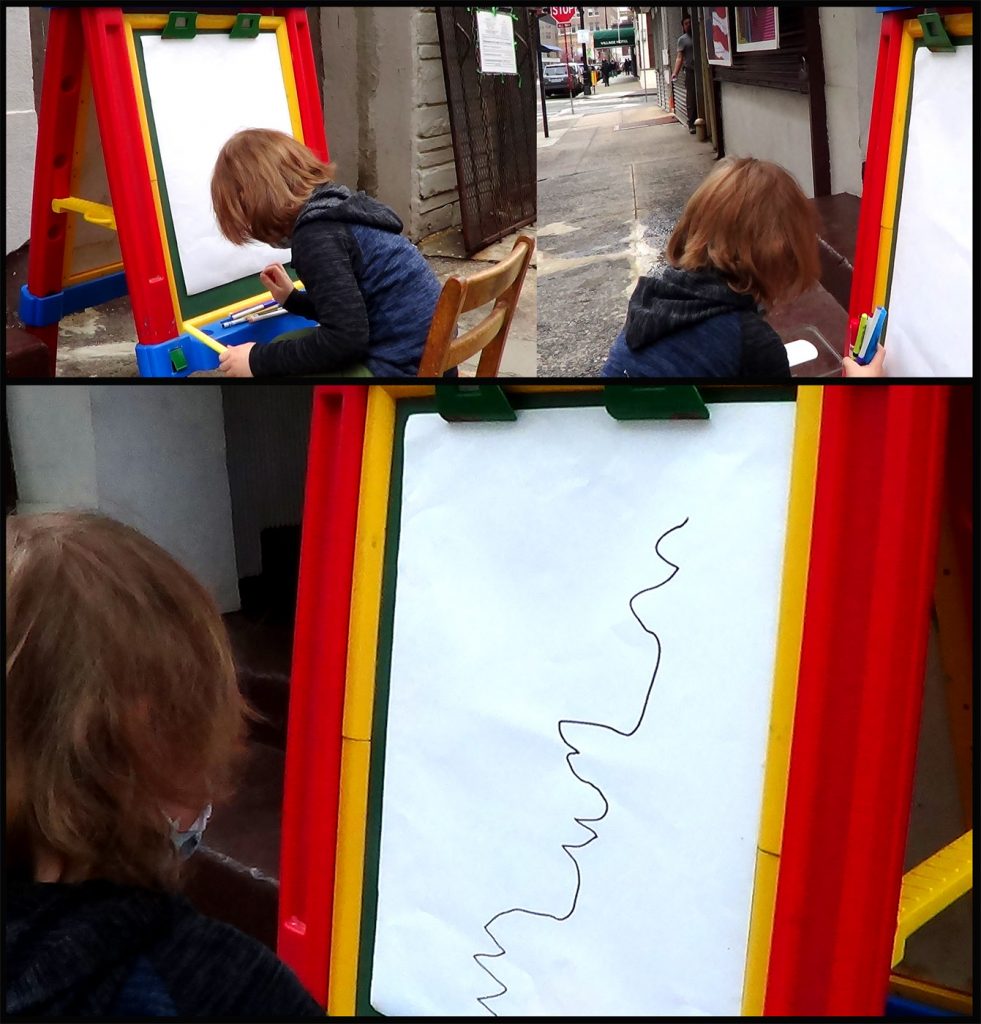 Kai was starting to do his drawing.  He searched for the color markers.  Then with confidence, he drew the line of the object that he had in mind.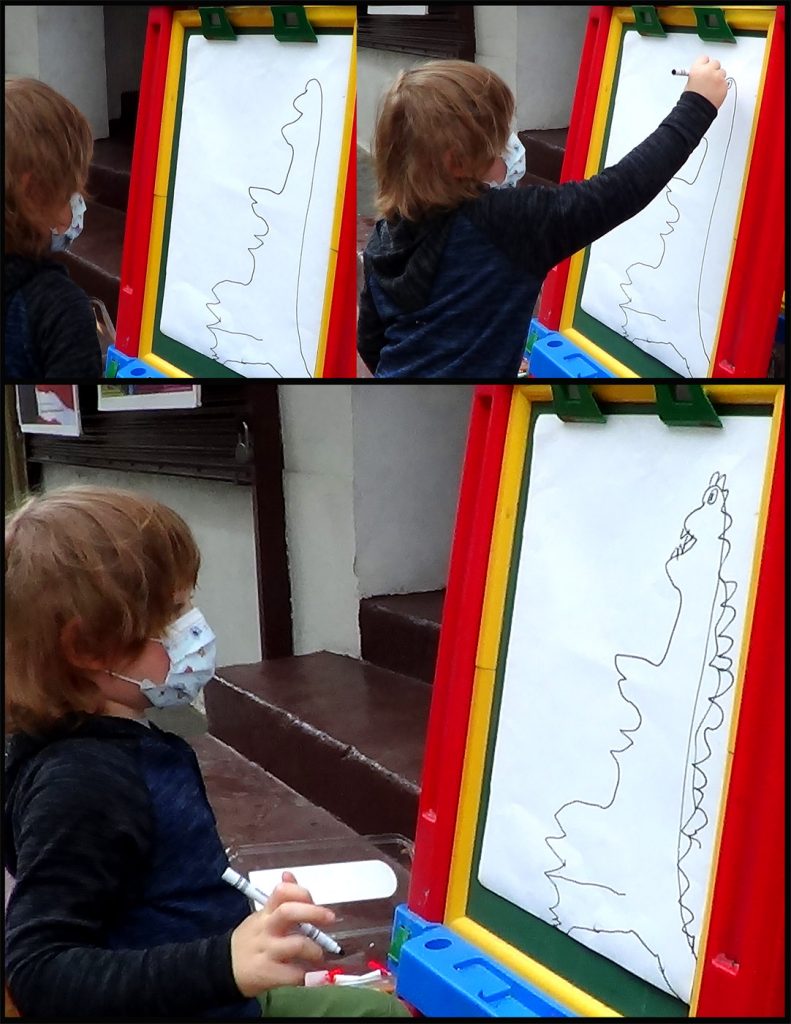 Kai quickly drew his first character without any hesitation in a short period of time.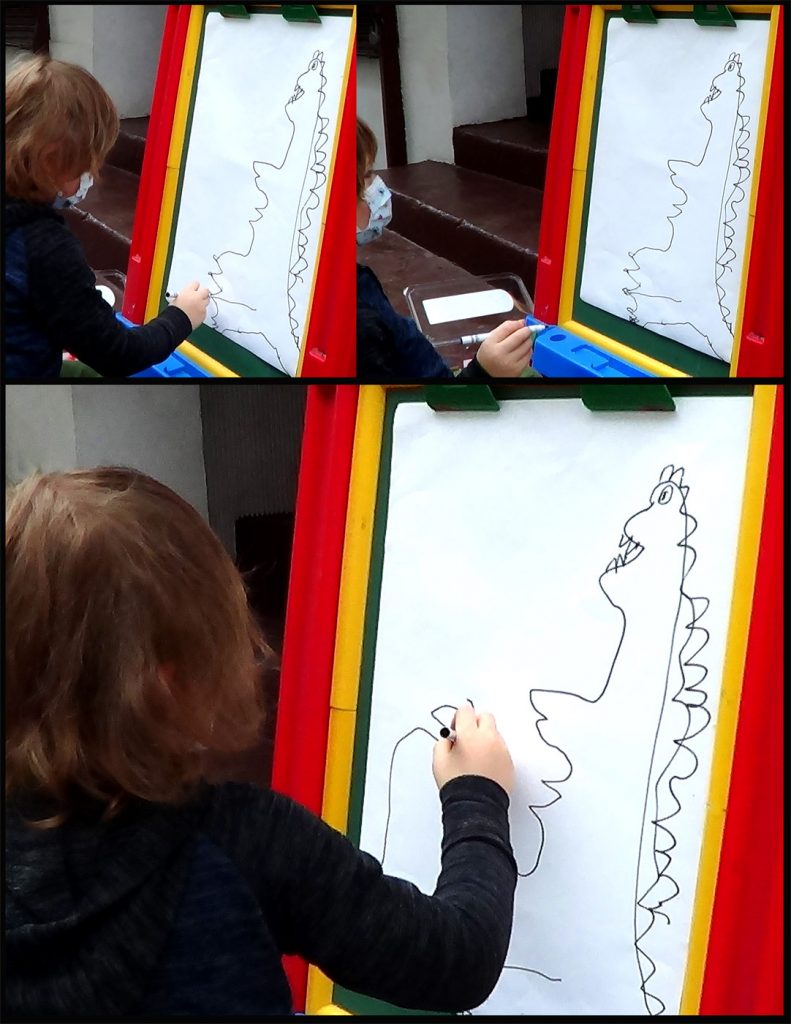 "Is it dinosaur, Kai?" I asked him.  He shook his head.  I asked, "Godzilla?"  Kai said "Yes"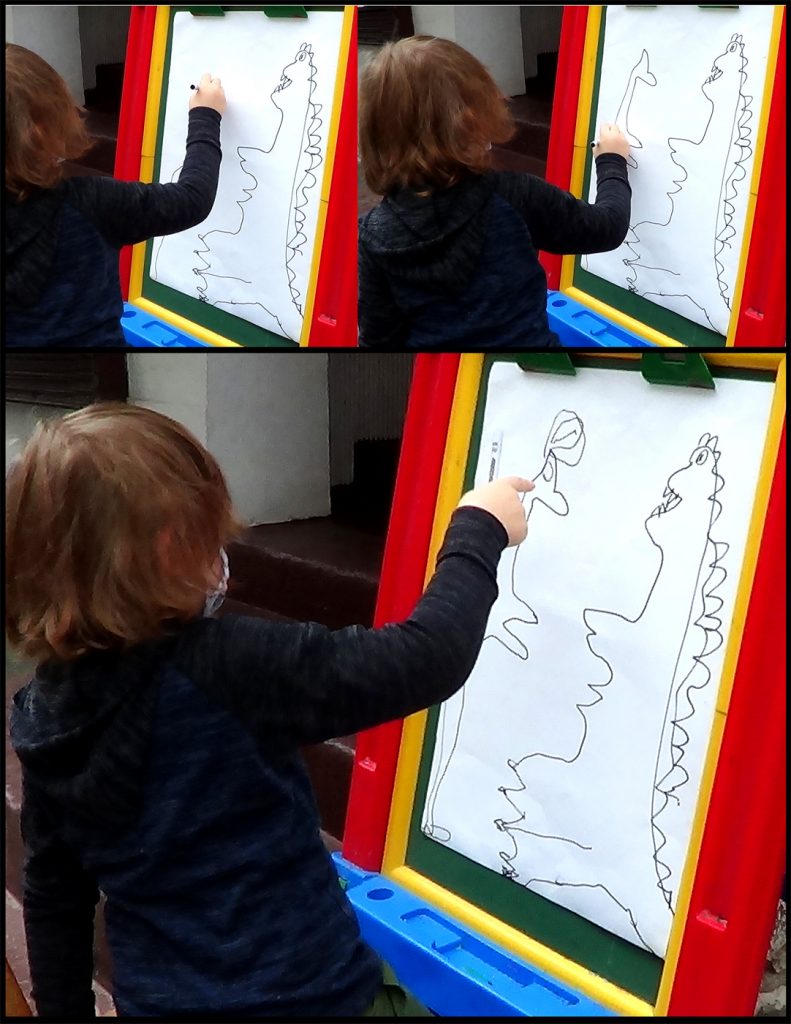 "I will draw The Gigan monster."  Kai said.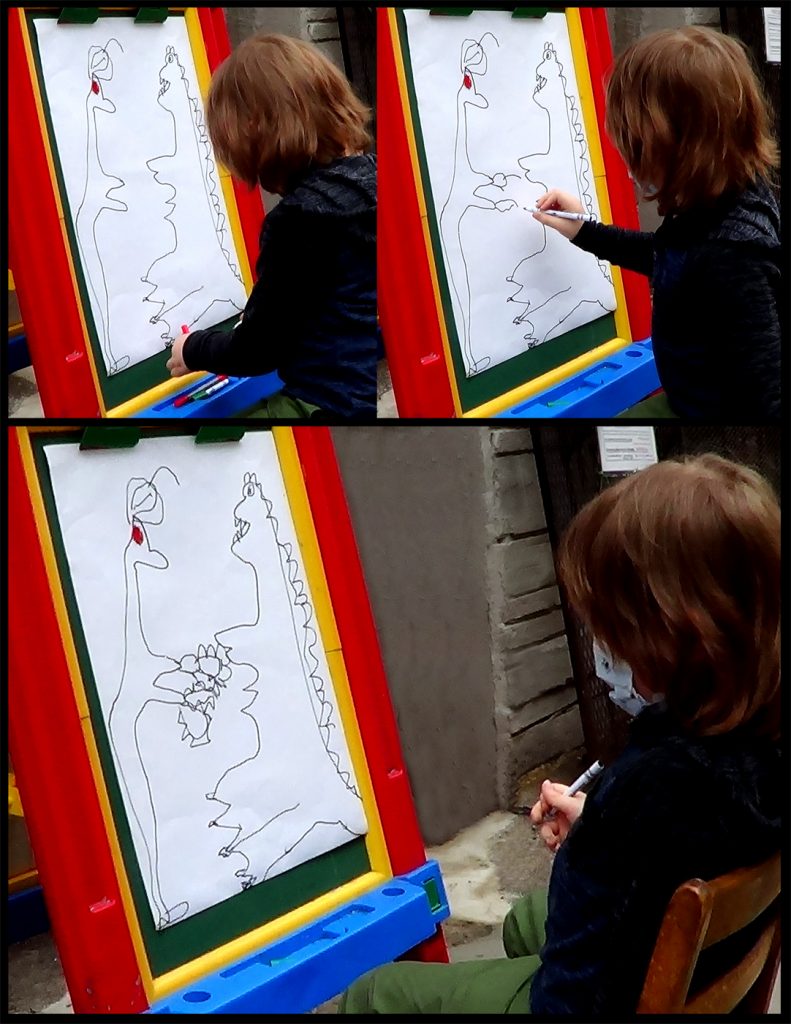 "The story of the monsters – it's the mighty Godzilla movie", Kai said.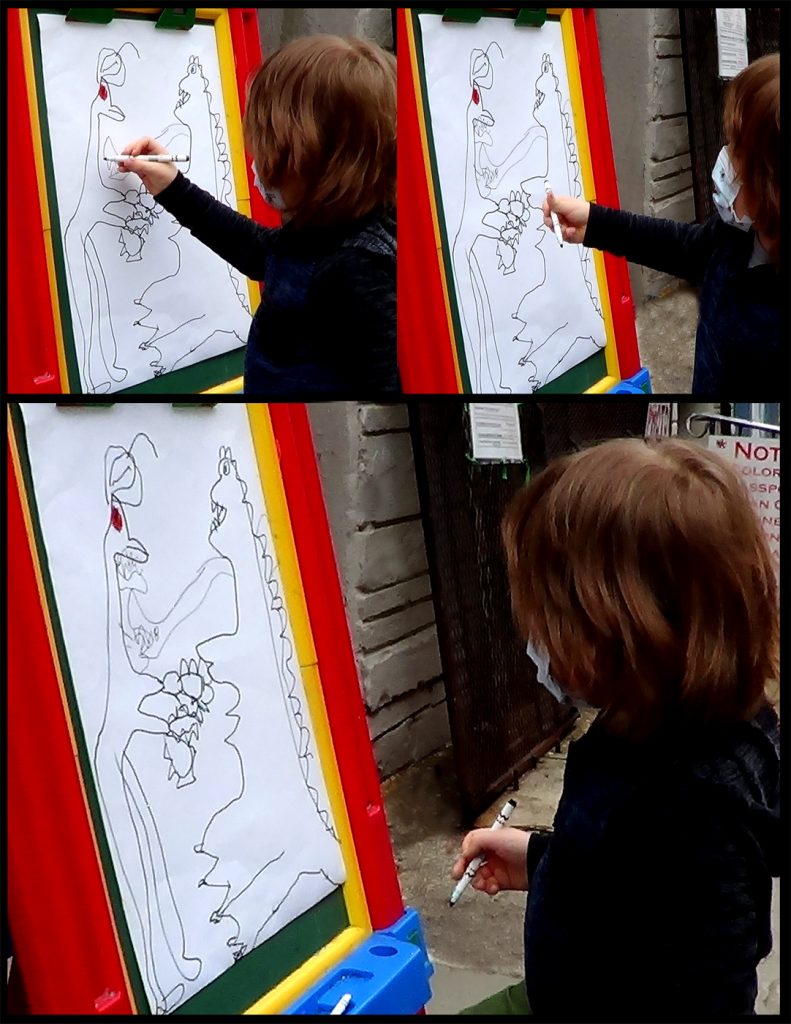 Kai drew a snake monster between Godzilla and the Gigan monster.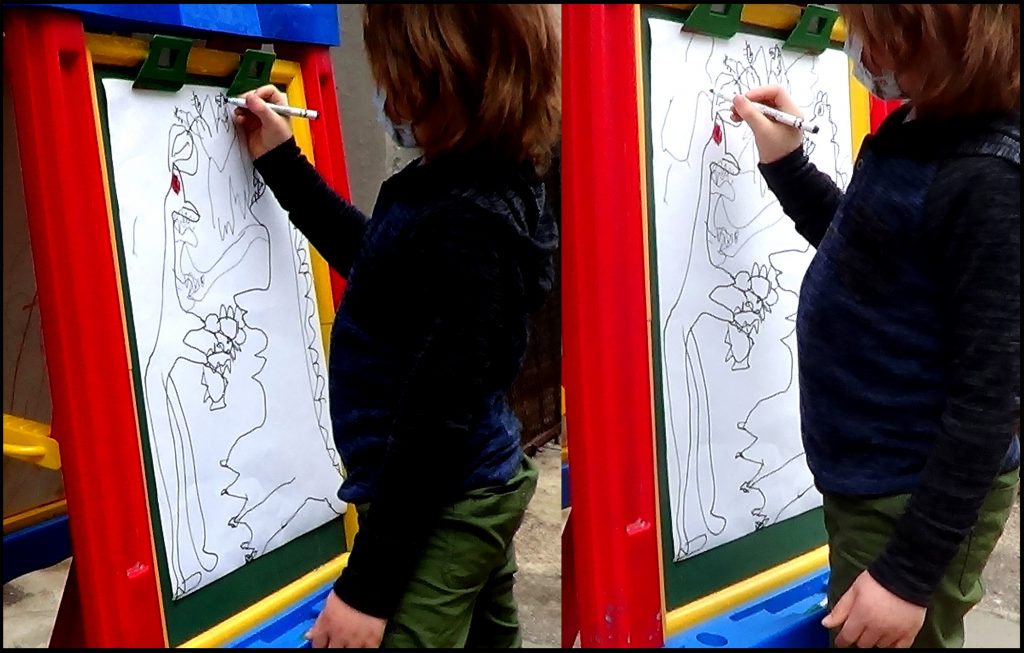 Kai told me that he was drawing The Three Headed King Ghidorah, who is the ultimate nemesis of Godzilla.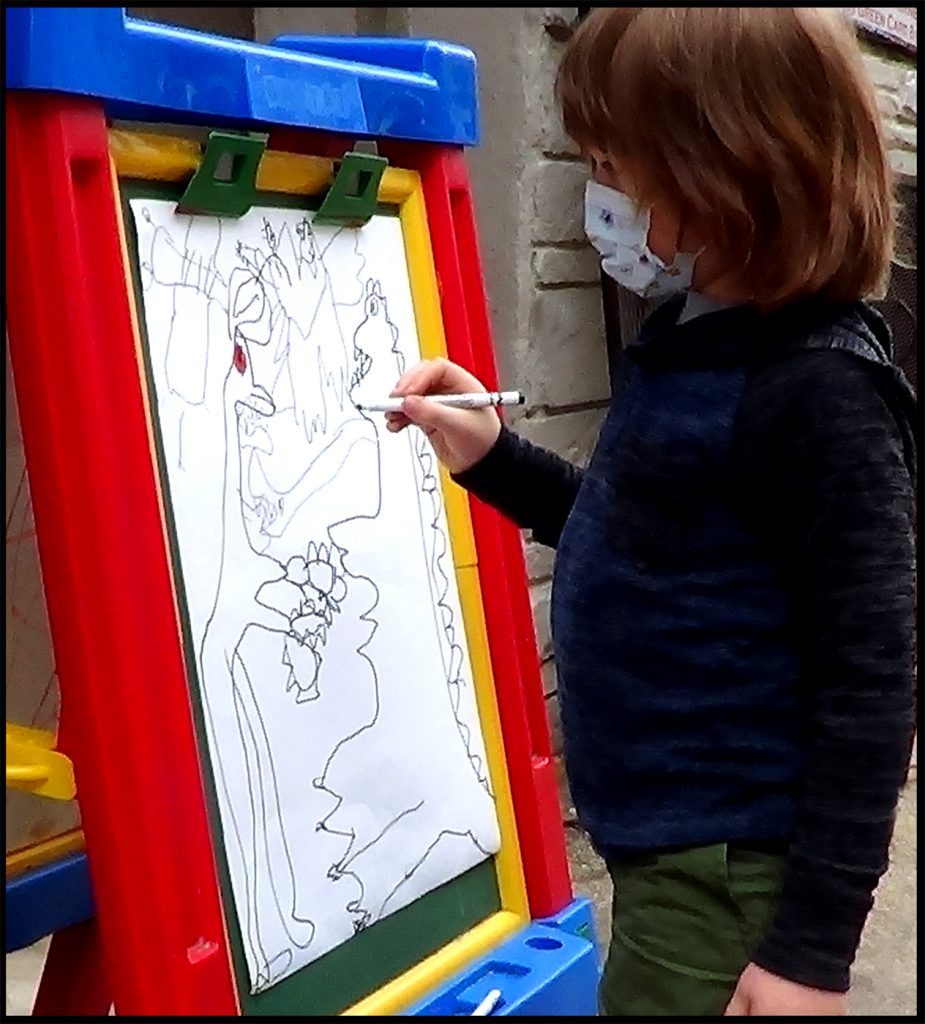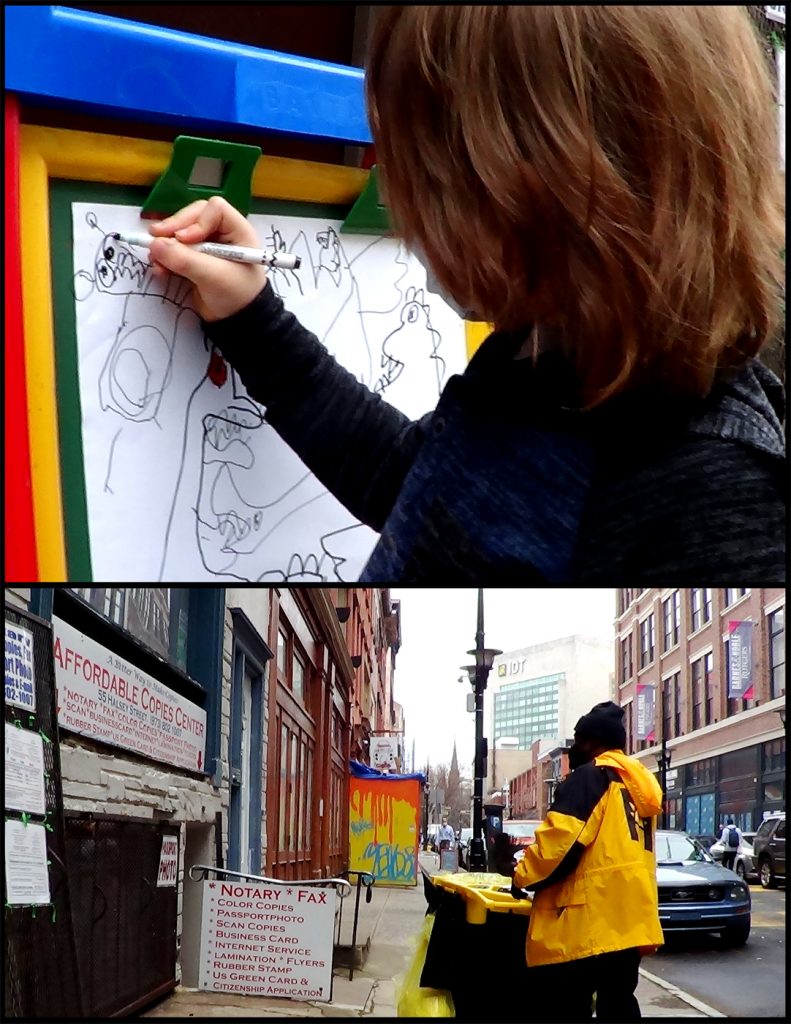 While Kai was working on his drawing, this person was walking by and gave a nice comment to the young artist.  I appreciate his comment to encourage Kai and also, he keeps the side walk clean.  All people who do the sanitation work are important.  If the bathroom in the office building is filthy and smells bad, it will make the work place unpleasant.   We should have Sanitation Day to thanks the people who keep the places clean.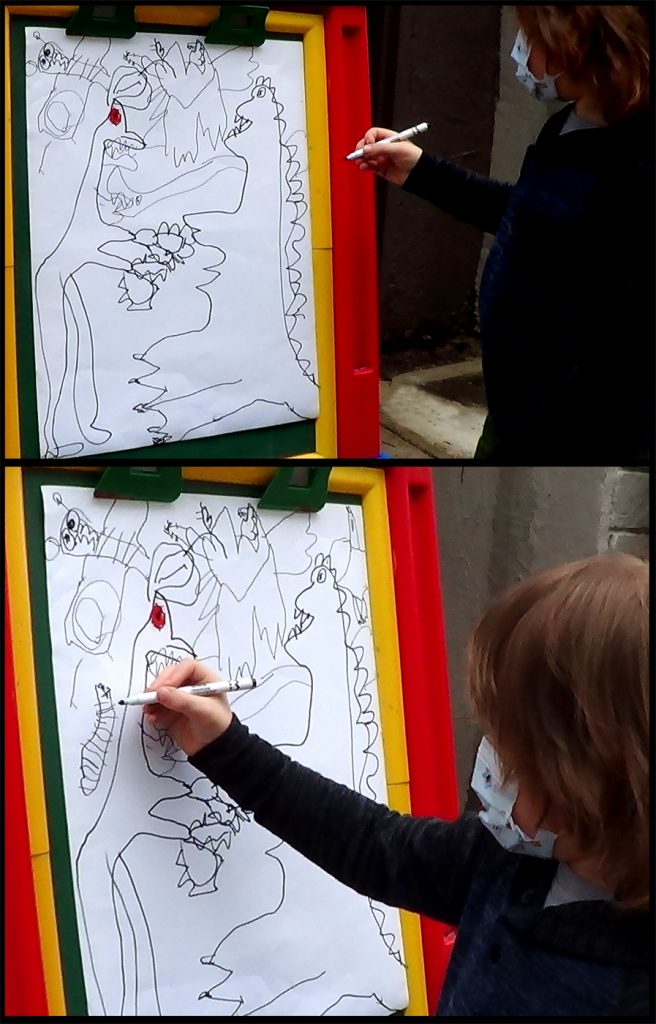 Kai drew the Mothra monster in the adult stage, then he drew the Mothra monster as a baby in the caterpillar stage.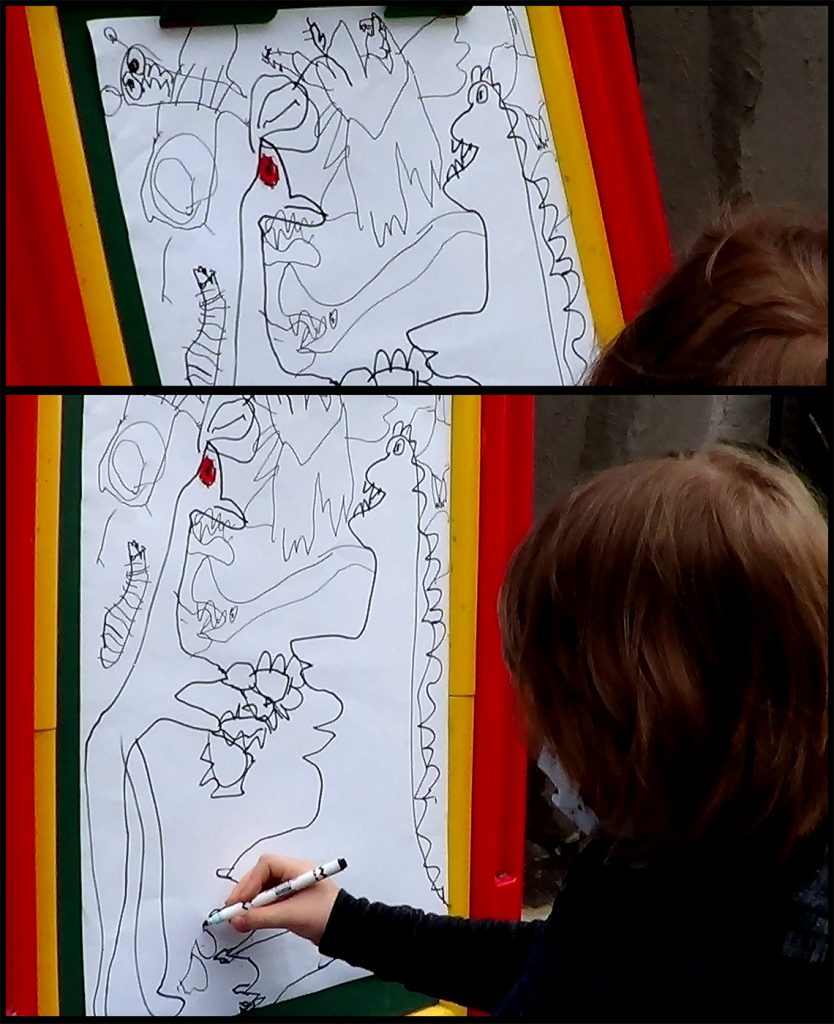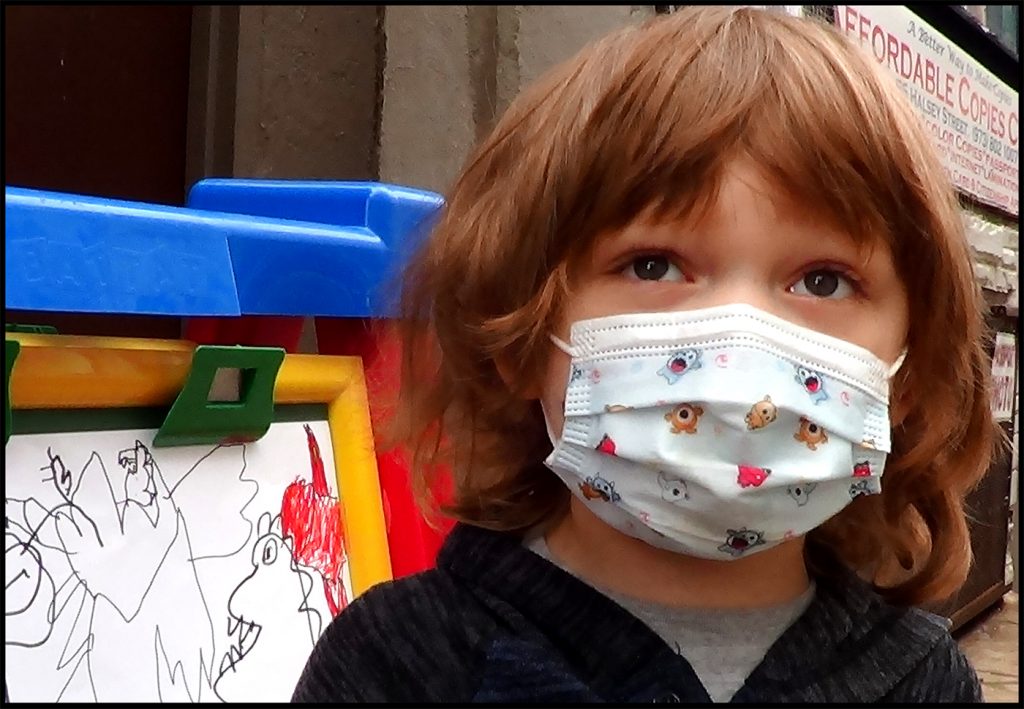 Kai looked at grandma and said nothing.  I thought he might be a little tired.  I asked him if he would like a glass of milk, but he said no.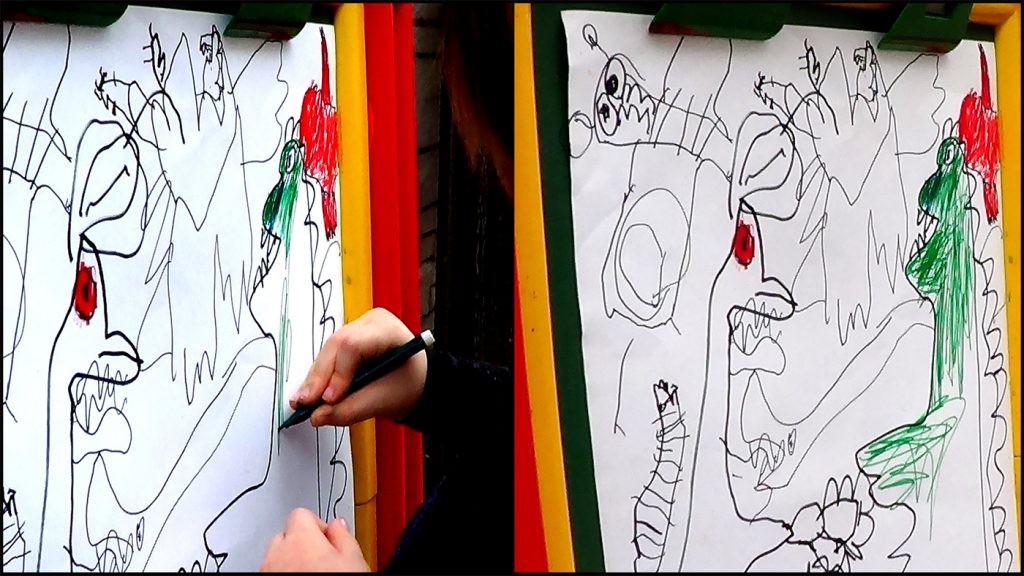 Kai colors the Rodan monster in red and Godzilla in green.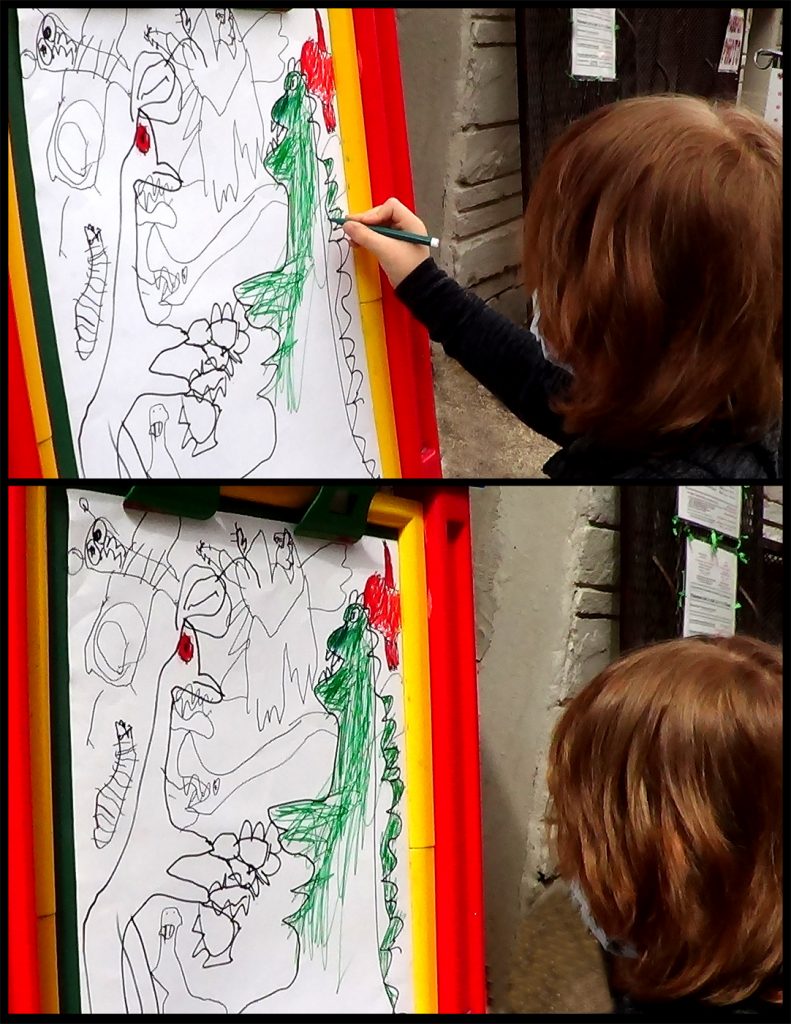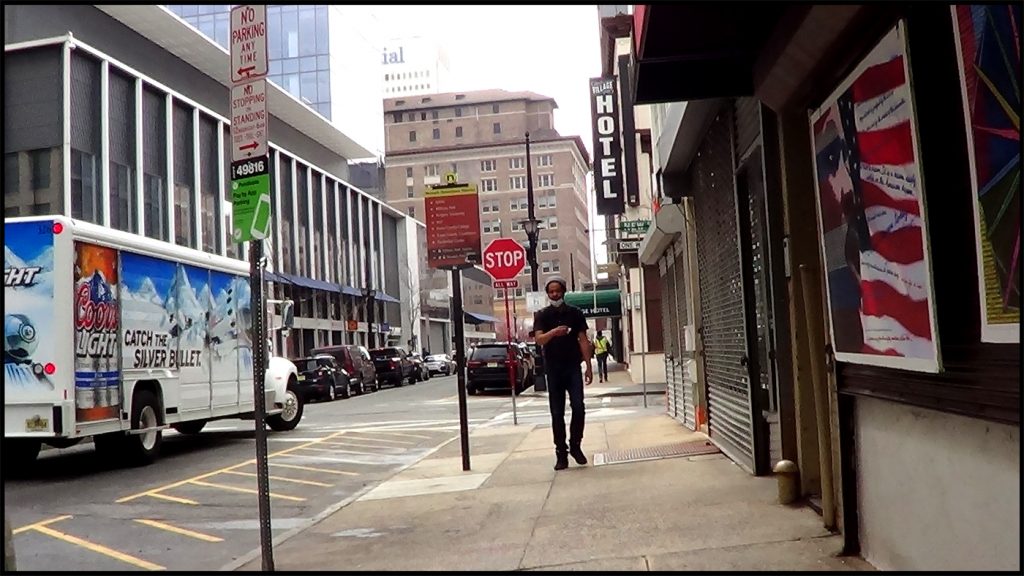 Halsey Street is quiet, the restaurant next door is still closed due to COVID-19.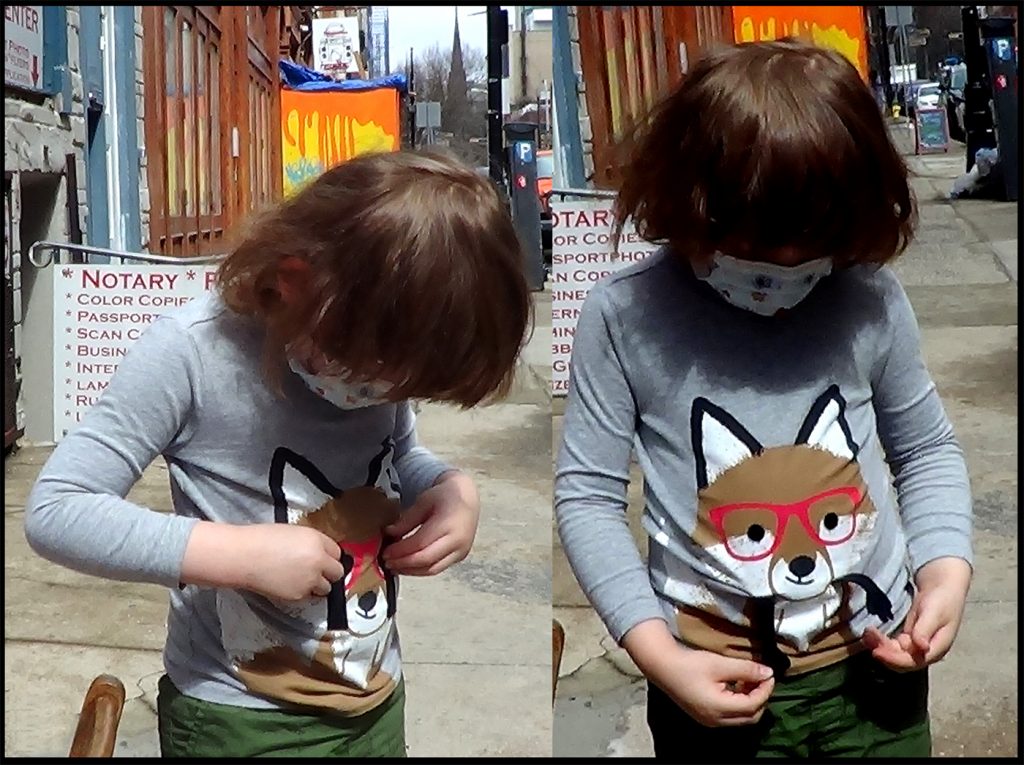 "It's very hot!"  Kai said.  "Take your jacket off.", I recommended.
Kai said, "Grandma, look at these!"  He lifted off the patch that cover the fox eyes on his shirt and I said "Peek A Boo!" He was so proud of his foxy design shirt.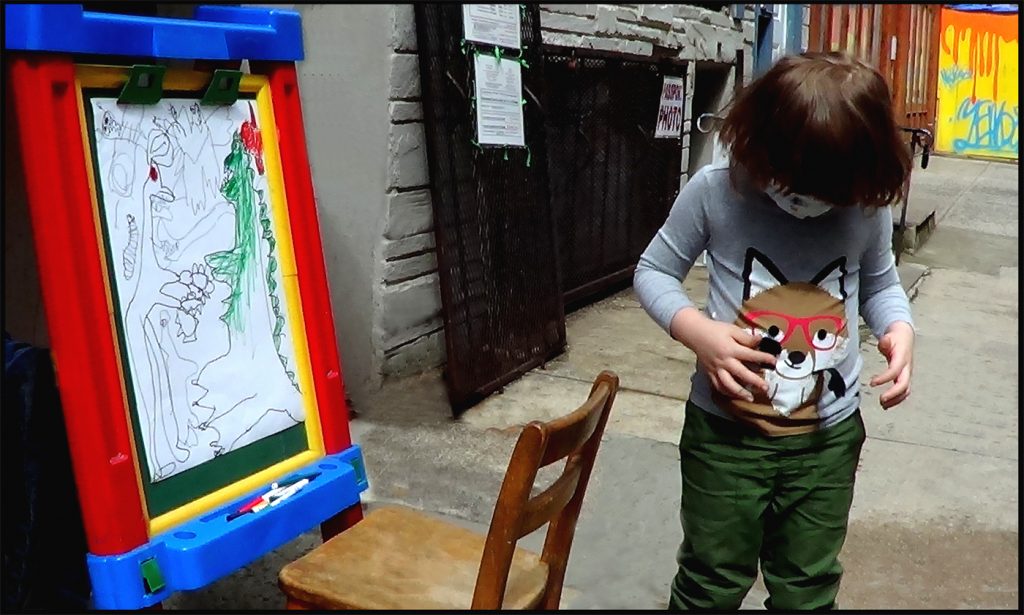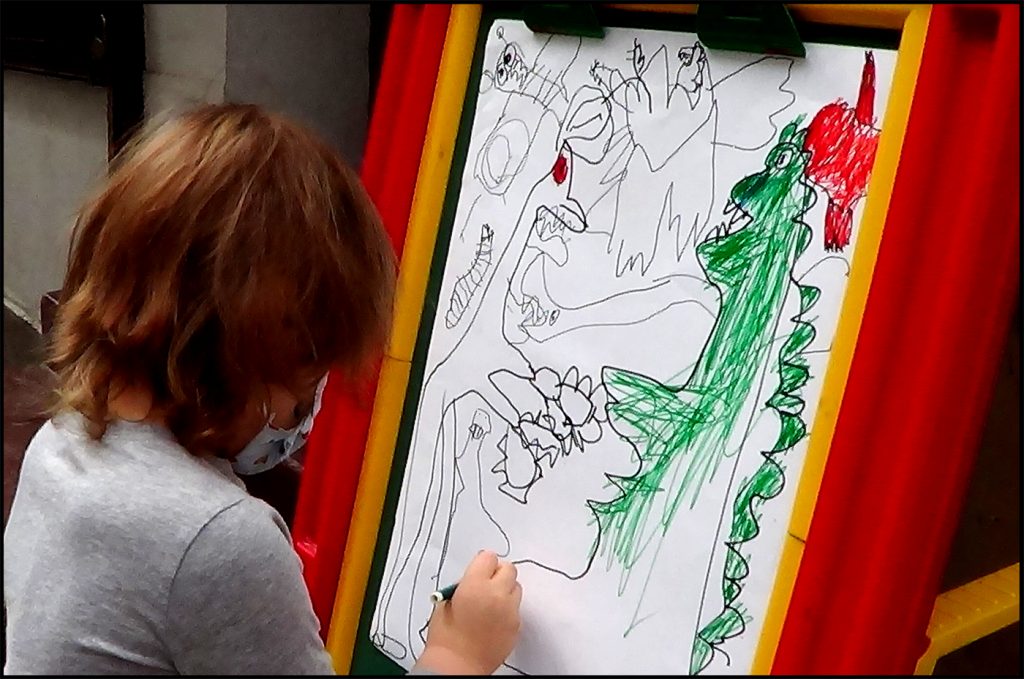 Then Kai went back to drawing the King Kong character on his artwork.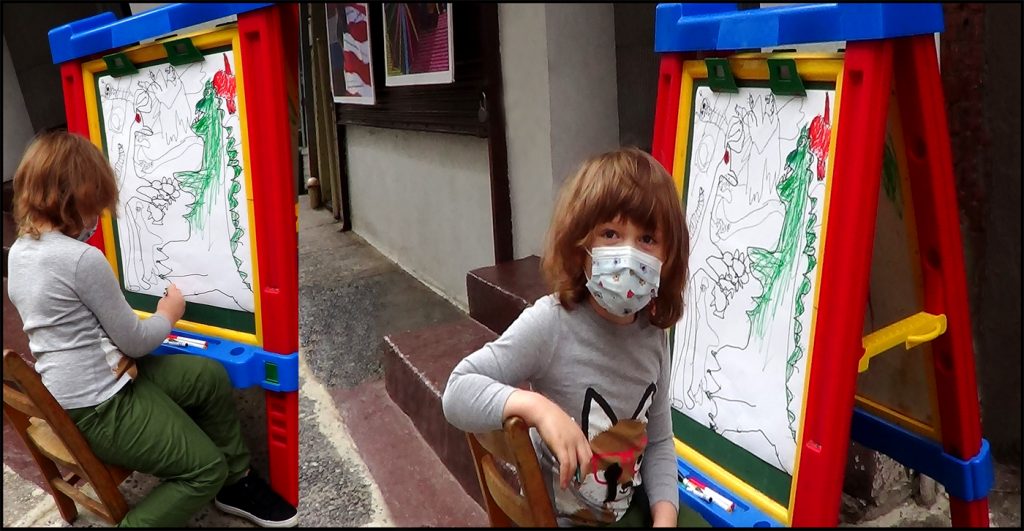 For a while Kai turned sideways.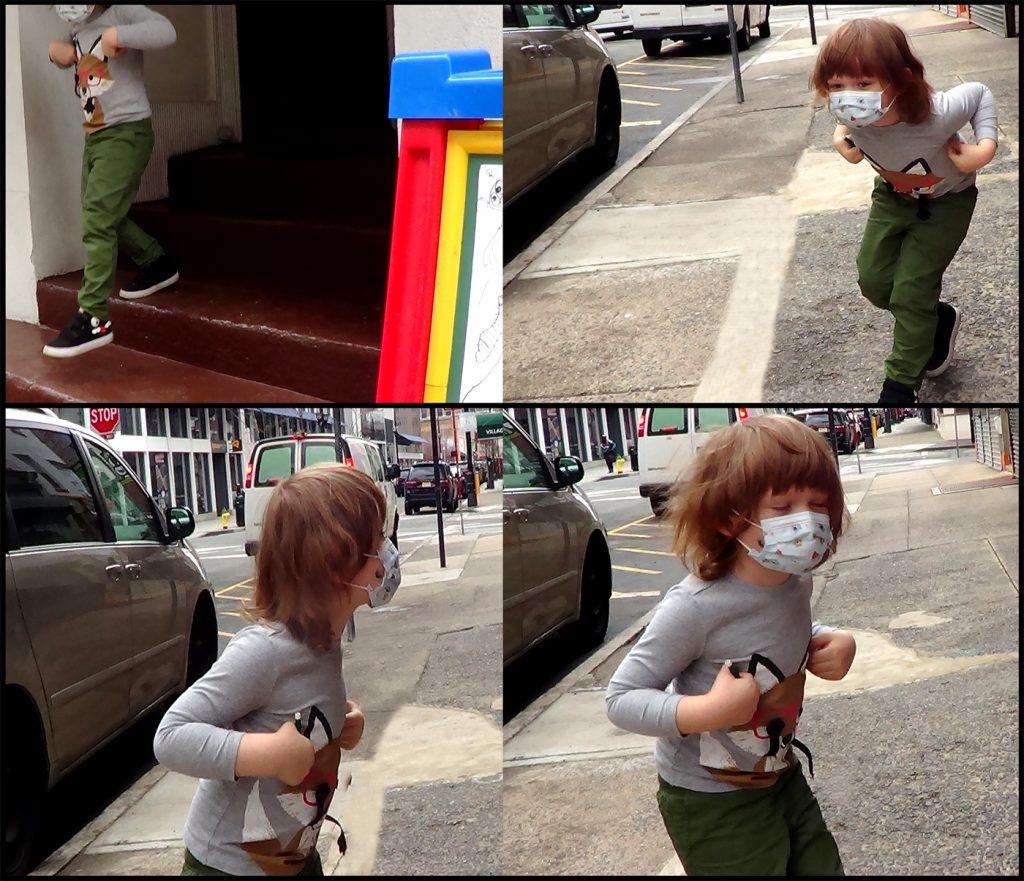 Then he jumped out of his seat and ran up the steps.  He put up his hands and made some noise.  I asked him what kind of animal is that.  "Chicken!" Kai responded.
He ran back and forth in front of our shop, passed his artwork, to the entrance of the building next door.  He did this a couple times.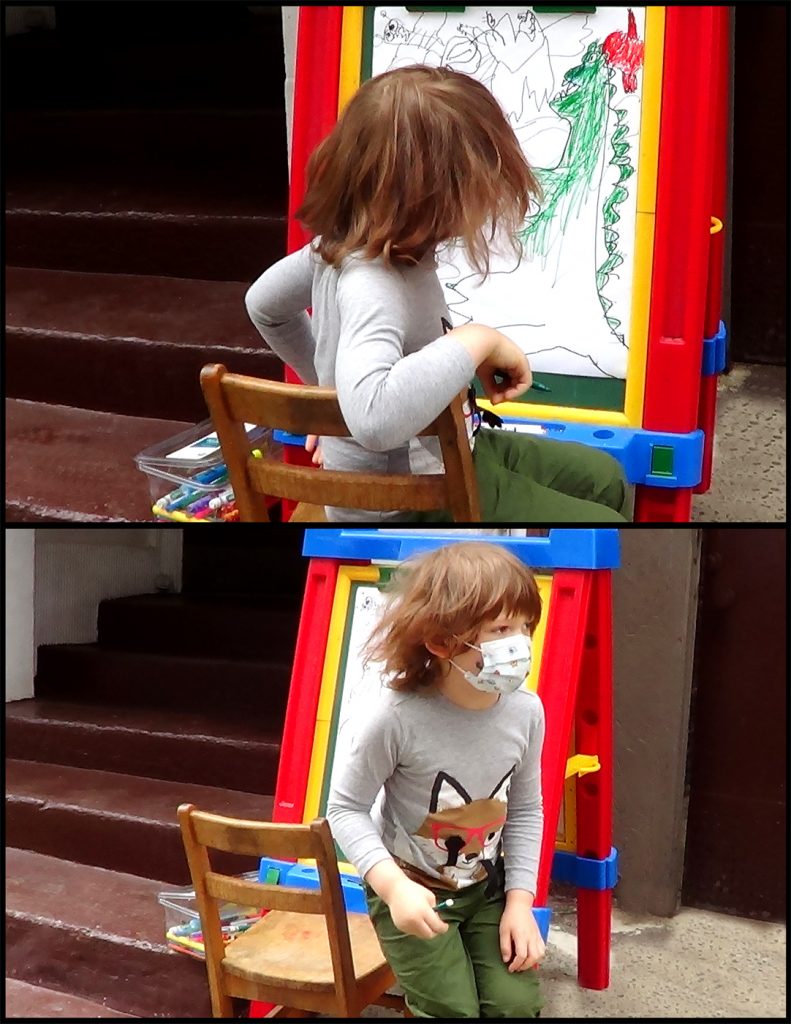 Kai went back to his chair and looked at his artwork for a while, then he jumped up and ran again.  I guess he needed to regenerate some energy before he resumed his artwork. Or he is just a five-year-old kid that want to have some fun, most of the time.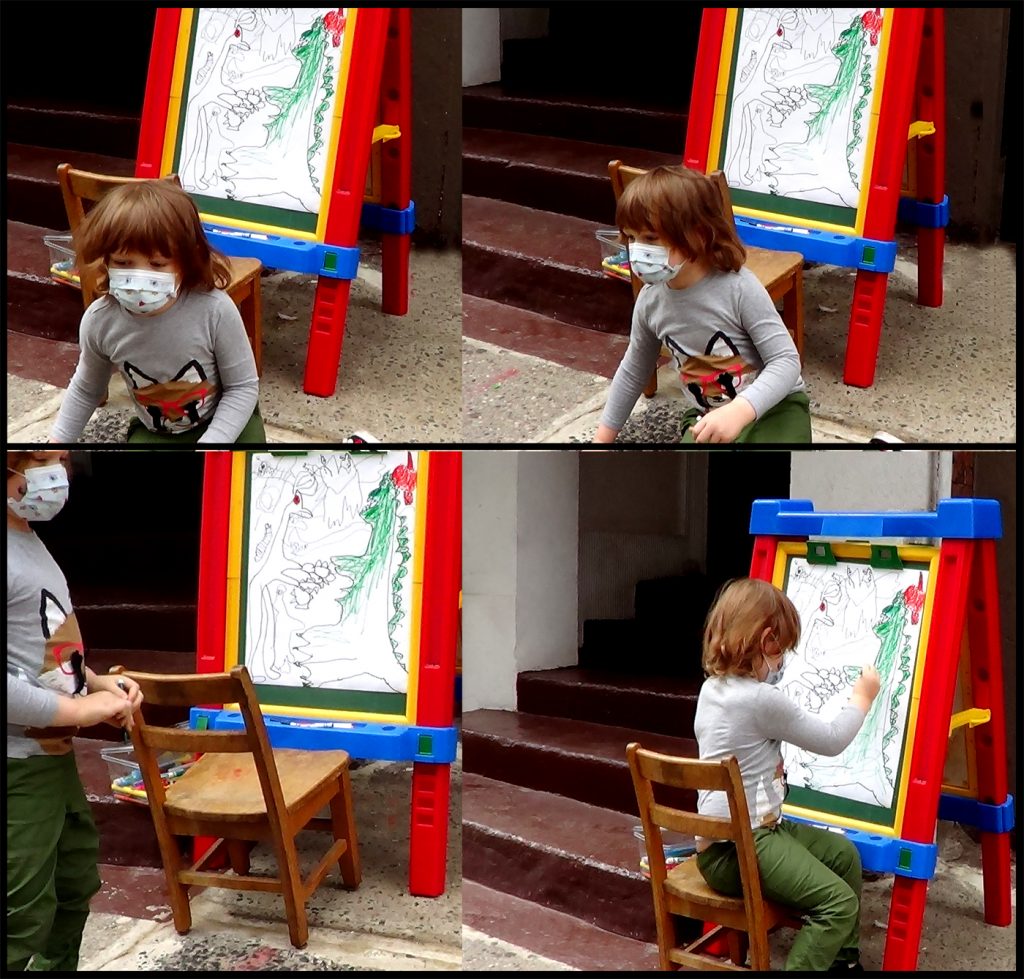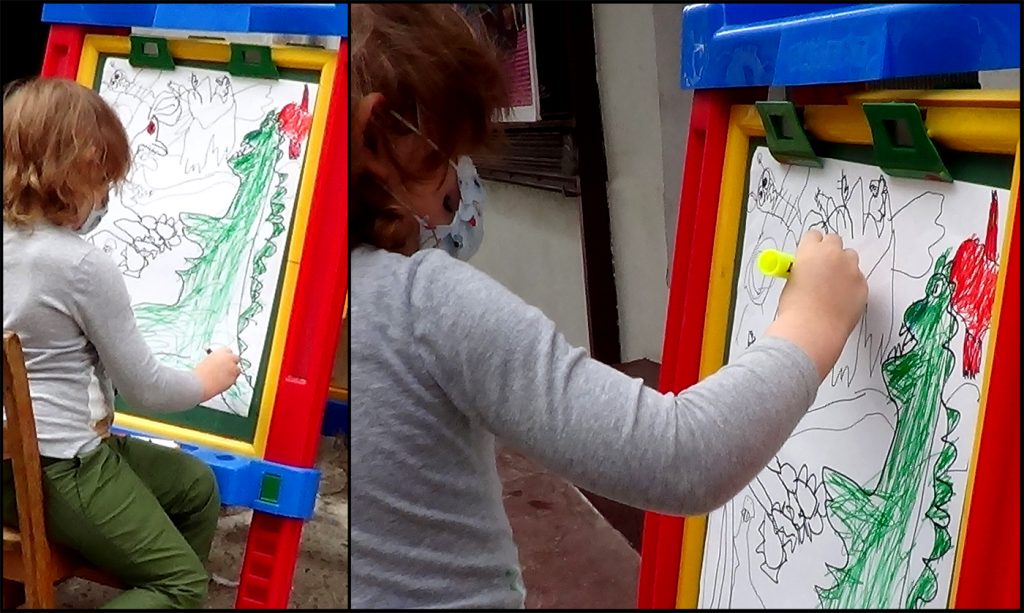 Kai went back to color his artwork after he had his fun of running like a chicken.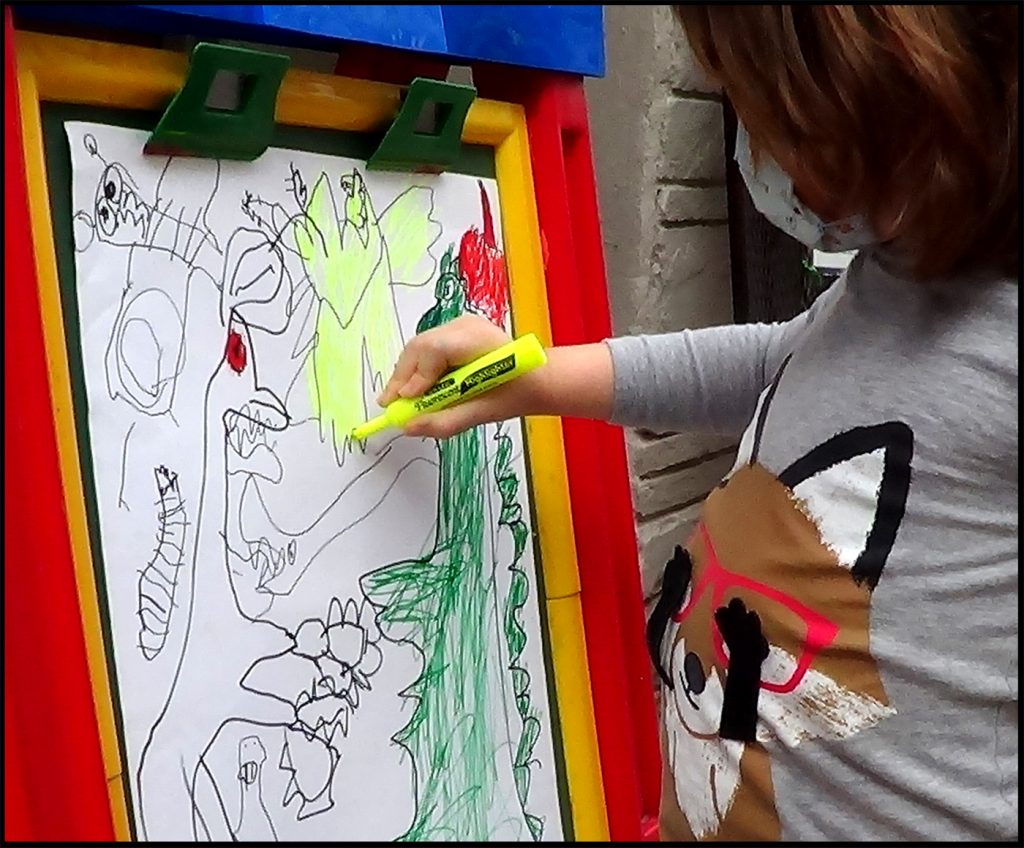 The Three headed King Ghidorah is in yellow.  But Kai insisted it is gold.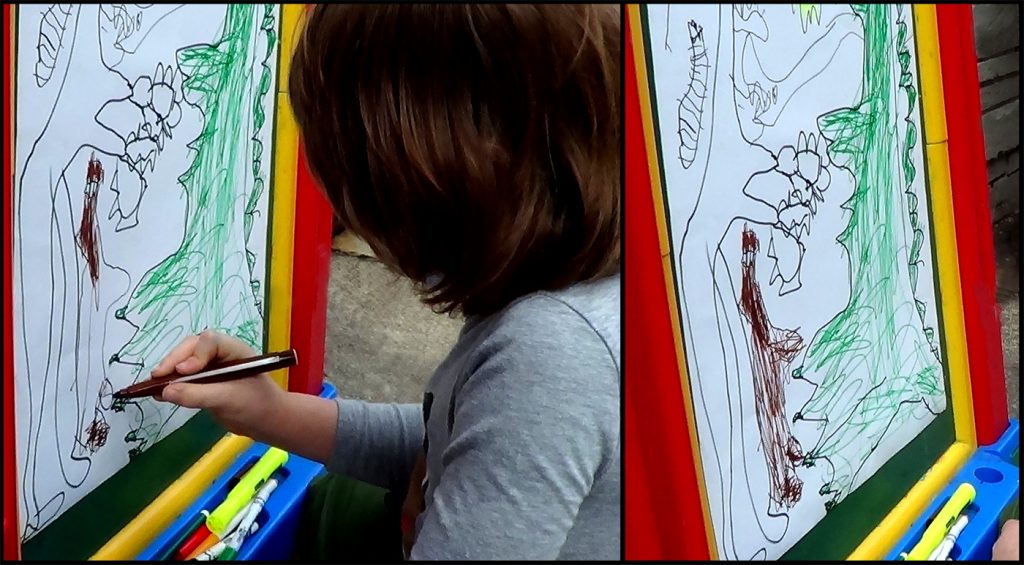 "King Kong has to be brown", Kai declared.

This young boy came with his mother.  He stopped to see Kai's drawing.  Kai got out of his chair and let the boy sit as he gently asked the boy, "Would you like to draw?"  The boy said yes.  His mother told me that he is four years old.
I told Kai to get a mask for him.  The boy and his mother did not wear masks.  Then I went to get drawing paper for the boy.  His mother stood not very far from us talking on the phone to someone.  After finishing her phone call, she said that she is going to take her son for lunch at a restaurant nearby and she will bring him right back.
Kai waited for the boy to come back and do drawing with him.  But the boy and his mother never come back.  Kai went back to color his artwork and said "I wish he is coming back.  I like him."  I felt sad for my grandson that the boy did not come back.  I guess that Kai was hoping for a new friend.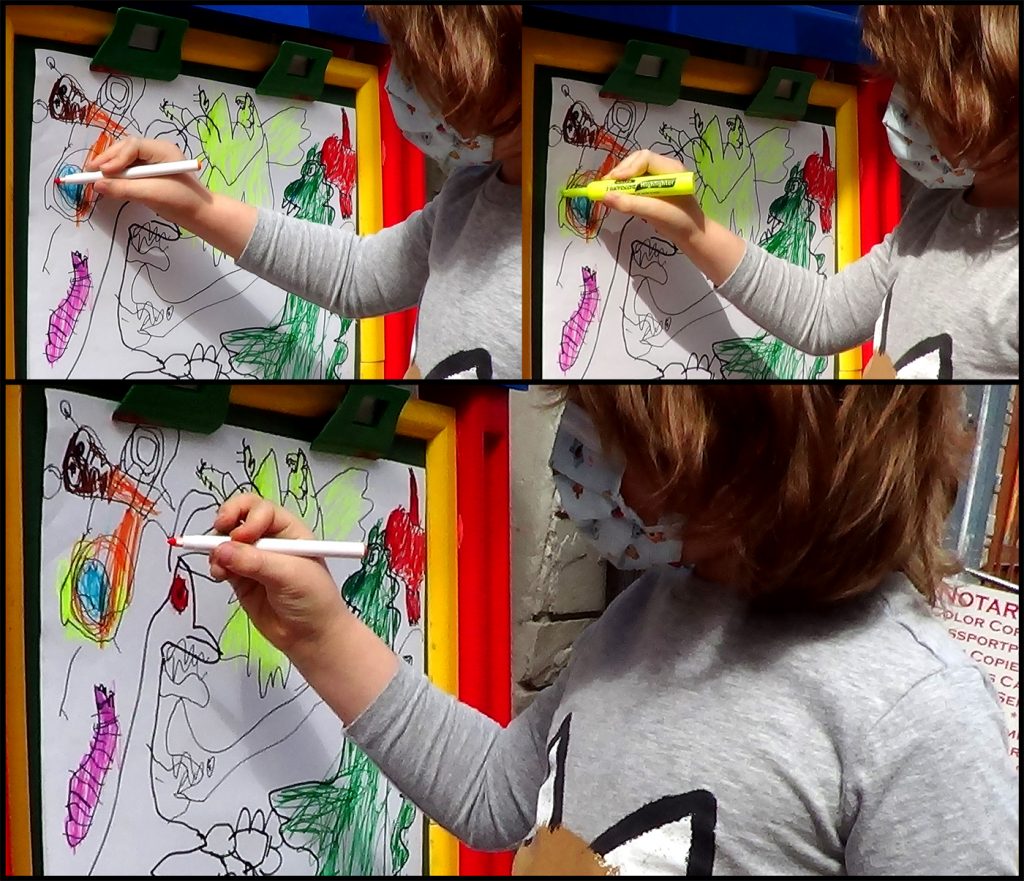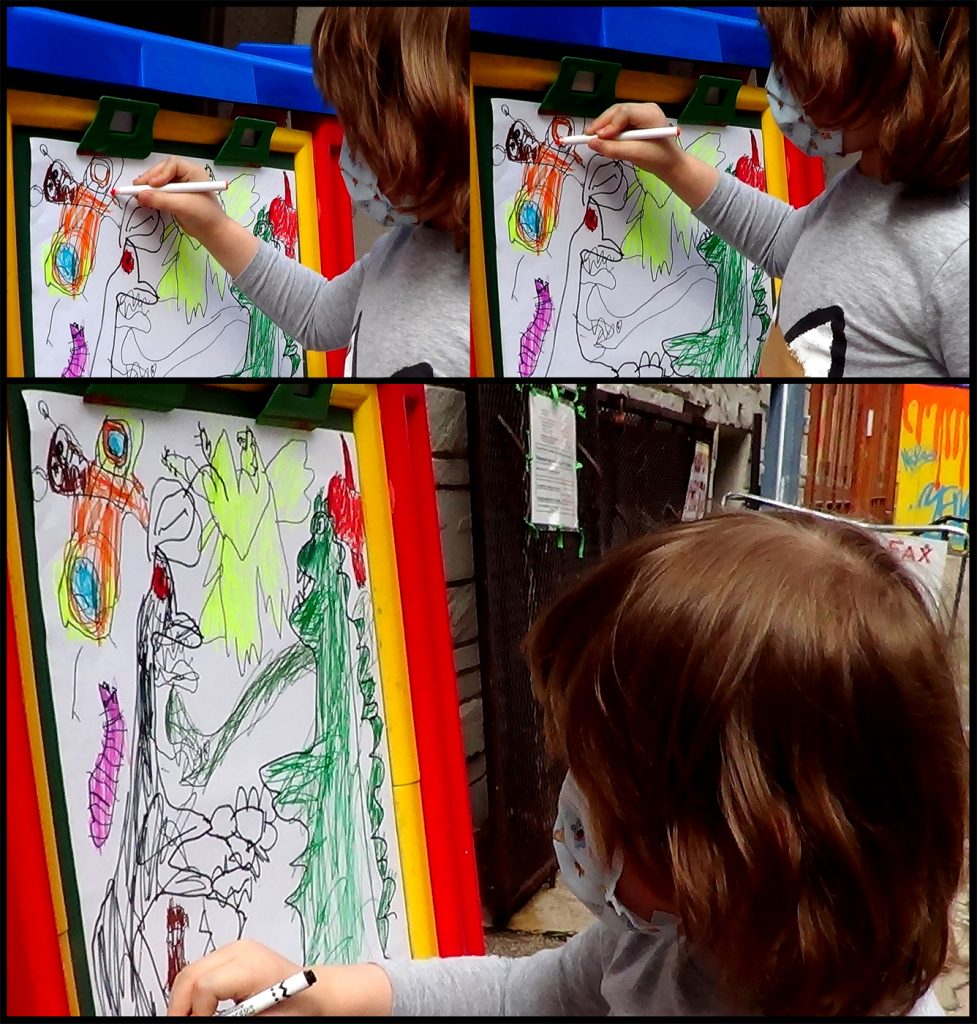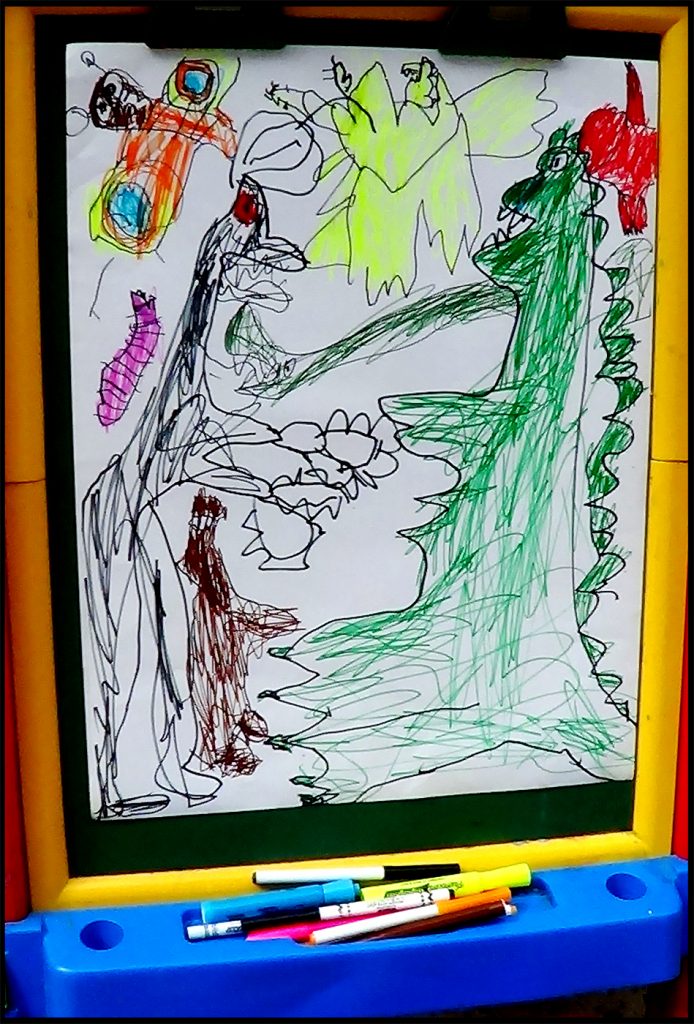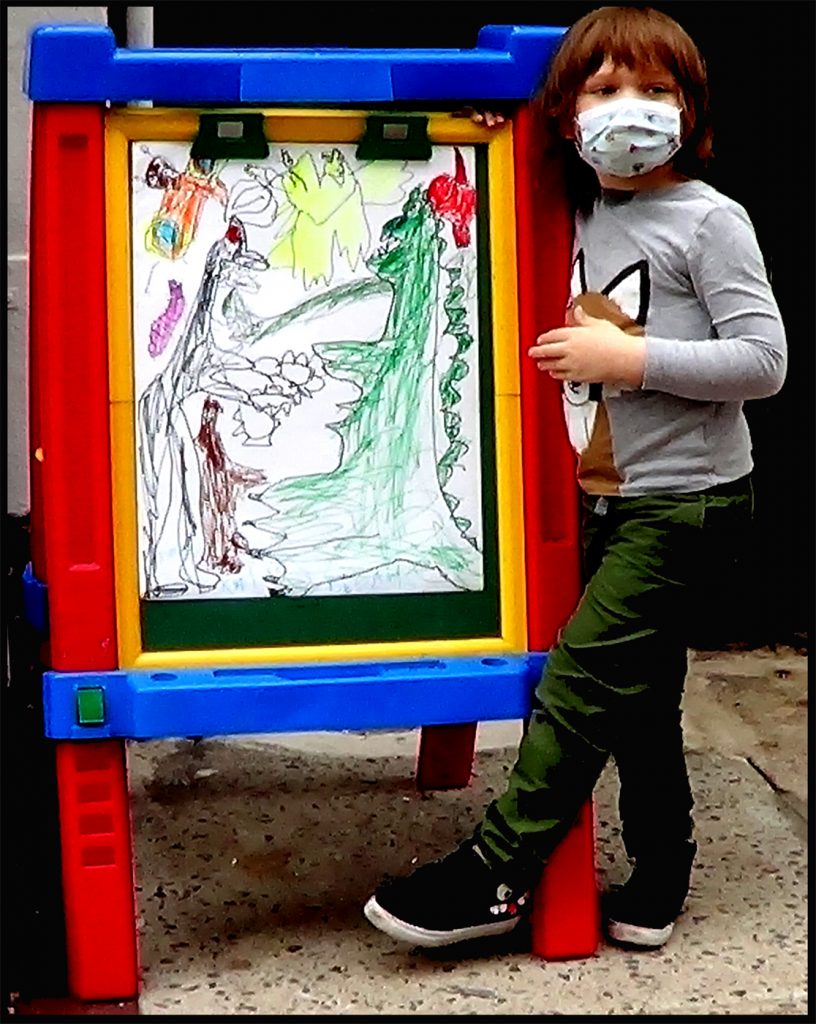 Kai said "I finished my artwork Grandma."  I said to him "I like your drawing and your story.  You can show your artwork to your Mommy and Daddy."  His Grandpa John also loves his artwork.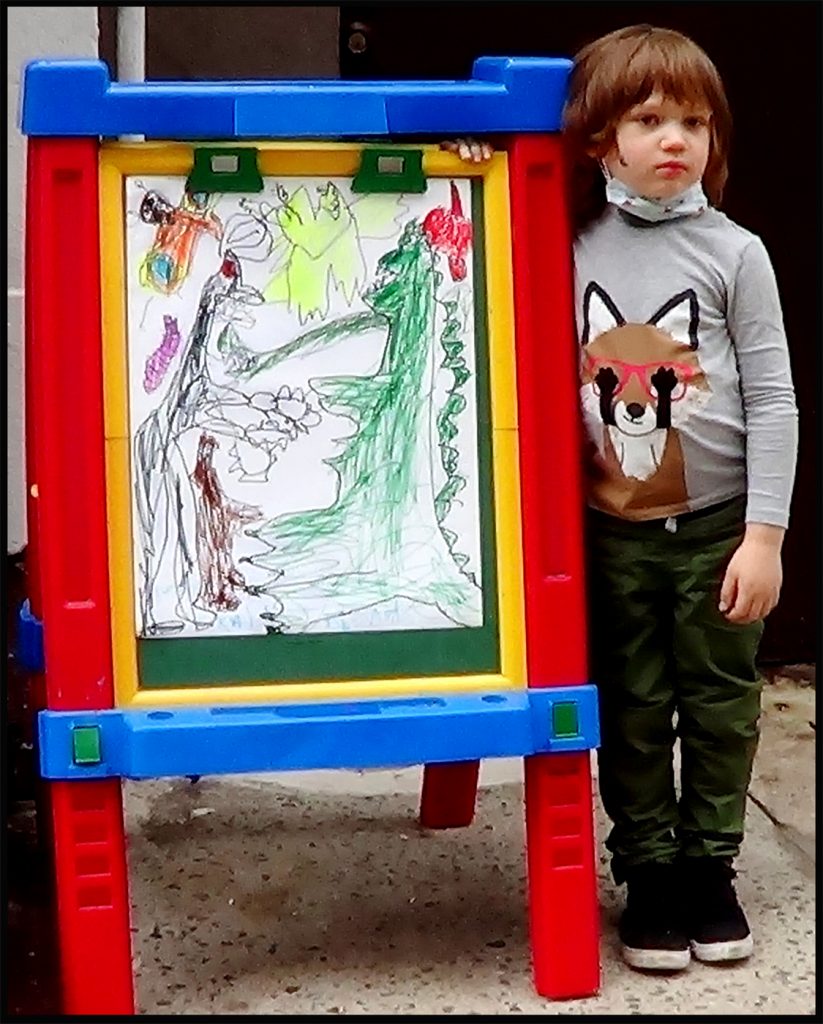 I asked Kai to pose with his artwork.  He felt good for his achievement.  I am glad that Kai enjoys doing artwork.  As his Grandma, it makes me very happy to see his happiness and playfulness.  We adults have to gently give encouragement to the youngsters in our family and all others as well.  Children today will replace us, and become adults tomorrow.  Loving and kindness to all can form a peaceful and harmonic family and society.
Ing-On Vibulbhan-Watts, Sunday, April 18, 2021