Ing's Street Art: Elephant Bath, Bodhi First Time Plays Out Side the house with Brother Kai and Friend, Jacob
Ing's Street Art: Elephant Bath,
Bodhi First Time Plays Out Side the house with Brother Kai and Friend, Jacob
Thursday, May 20, 2021 at Halsey Street, Newark, New Jersey
Photographs by Ing-On Vibulbhan-Watts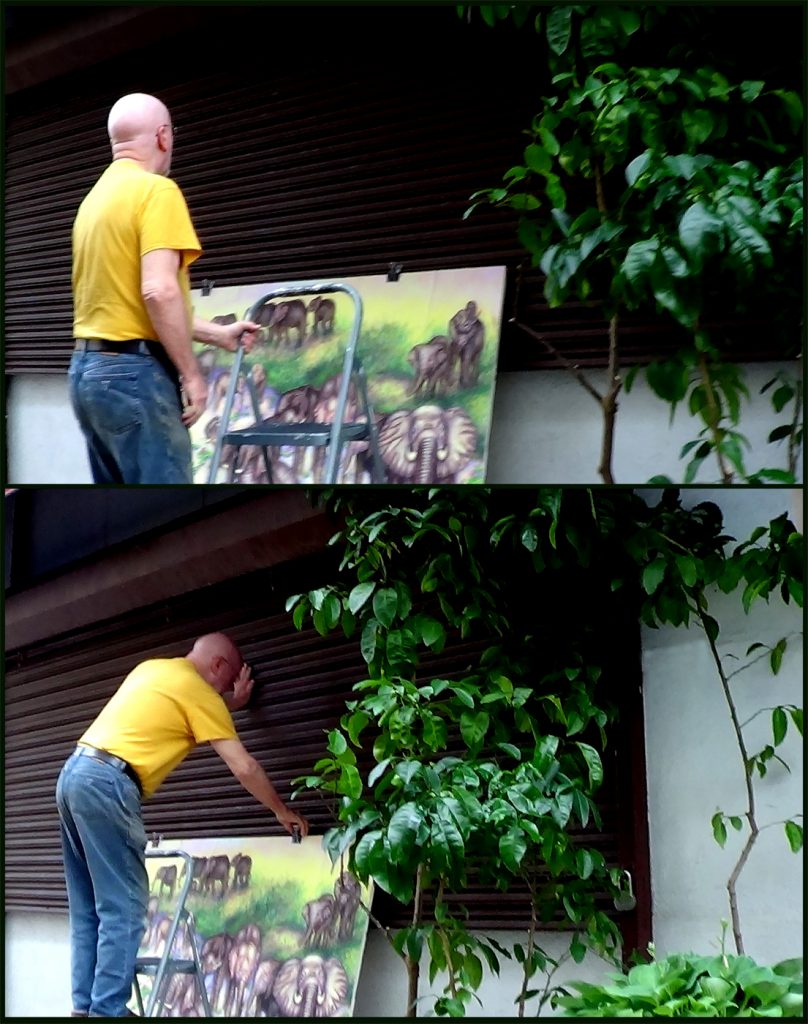 As usual, my husband, John Watts helps me hang one of my artworks, Elephant Bath, on our shop gate.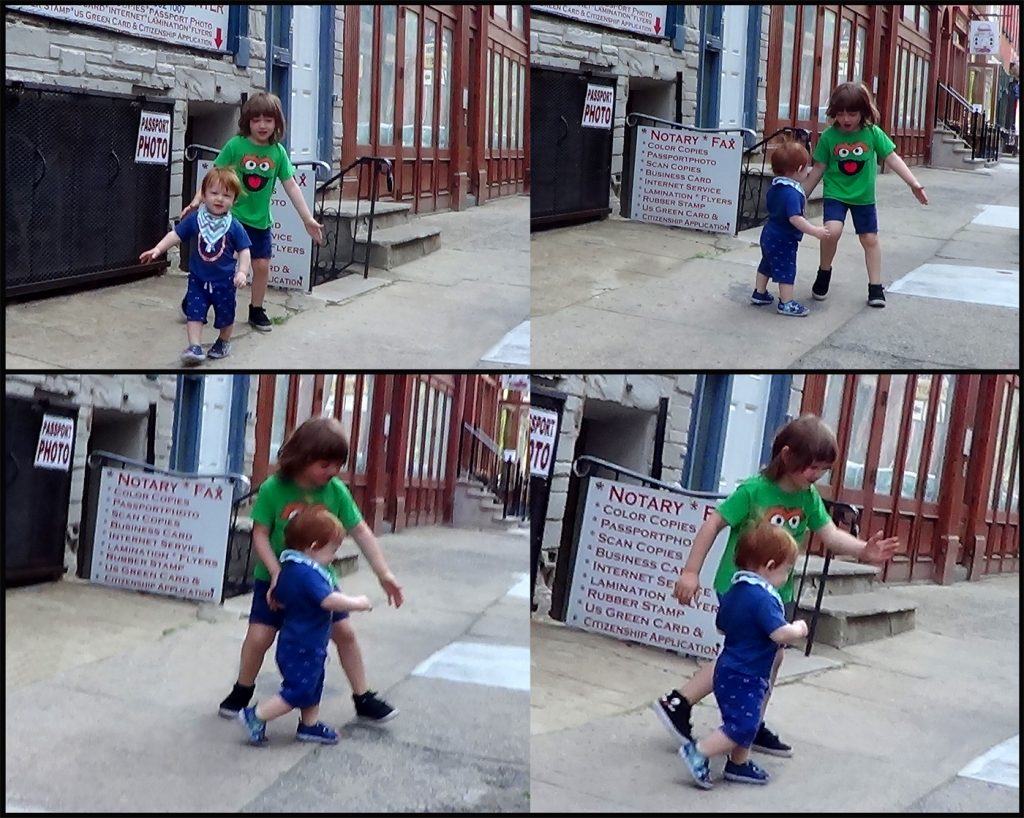 While I am taking the photos, Kai, our five-year-old grandson, is helping me prevent the little one from walking to far away from our shop.  But Bodhi likes to walk away from us.
Due to the COVID-19 pandemic, this is the first time that Bodhi has come out of the house.  He is interested in every thing.  He stops walking to watch grandpa John hang Grandma Ing 's artwork.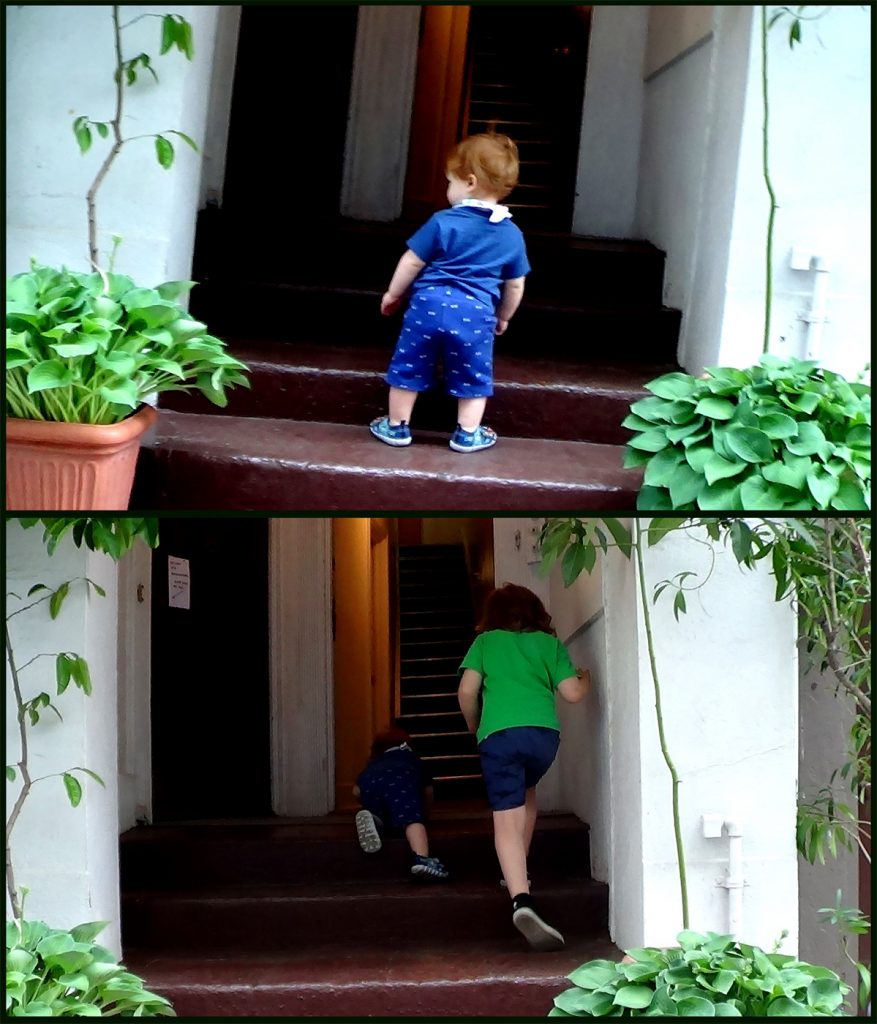 Bodhi decides to go in the house by himself.  He cannot walk upright climbing the steps, so he crawls up.  Kai runs in to help Bodhi.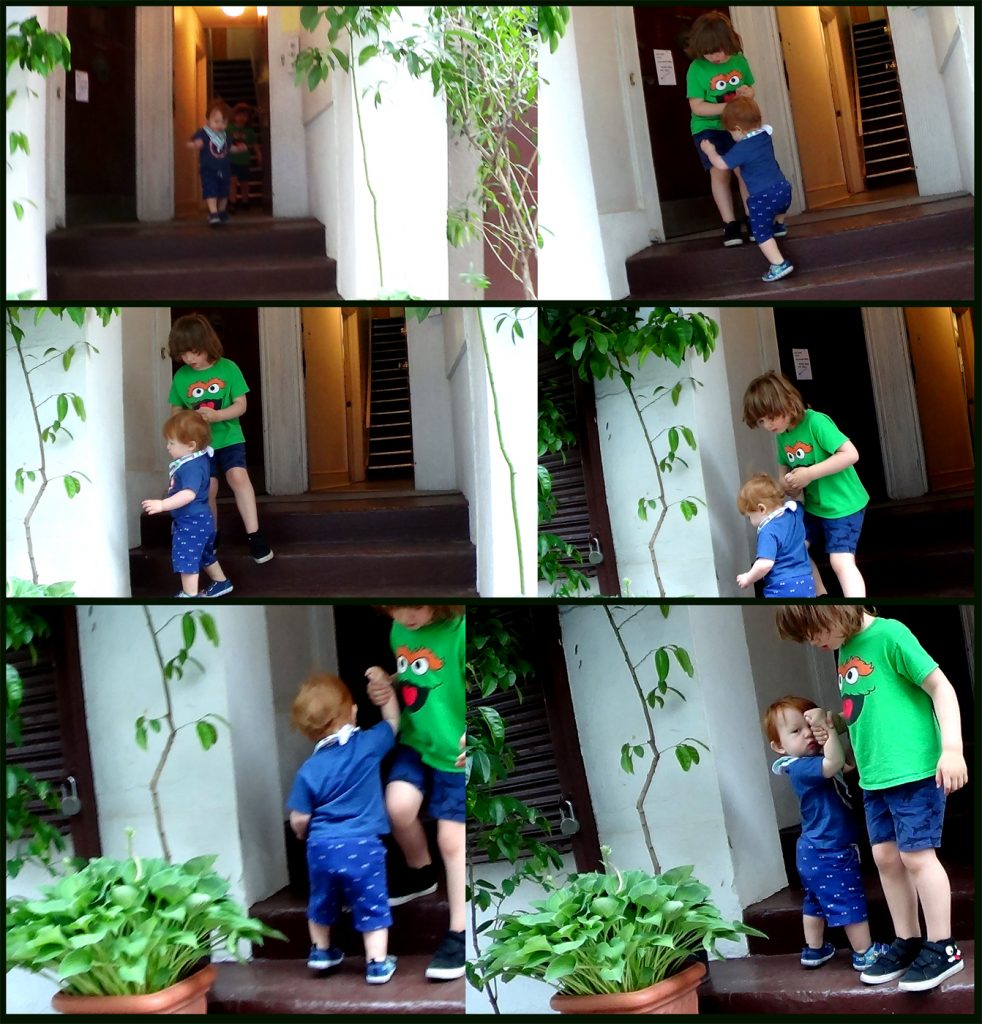 For a short time, I see Bodhi coming out by the door.  Kai comes out and tries to get Bodhi back into the house.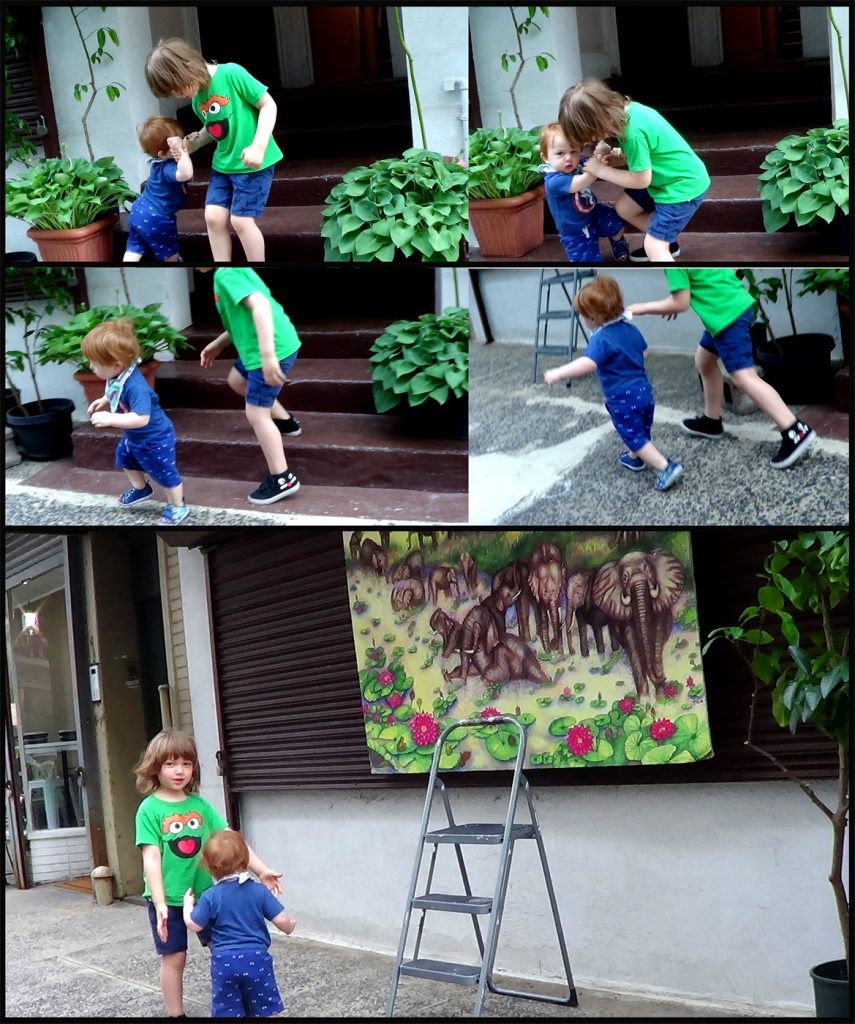 Bodhi resists, but holds on to Kai's arm to get himself down the next step.  Until he able to get to the side walk, he pulls his arm free from Kai and runs away.  Bodhi is only one year and two-month-old but very determined and physically strong.  He able to free himself from his brother.  I keep a close eye on my two grandsons' activities, to be sure that they are not in danger.  But I like to observe their behavior and see how they solve problems.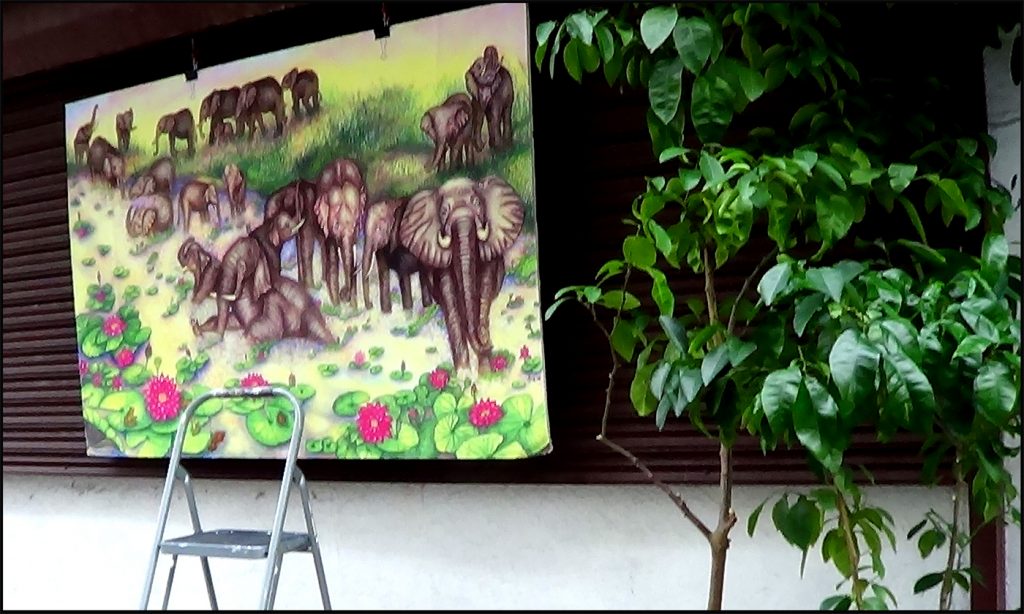 John is finished hanging my artwork.  I take a few of my tall trees to create a forest atmosphere, where elephants live.  I only hope that we remain and maintain the forests all over the world, instead of cutting them down for human consumption, leaving nothing for other creatures that live on this planet.
It is nice to see a policeman riding a horse on the street. 
Bodhi tries to get into the restaurant next door while Kai tries to prevent him.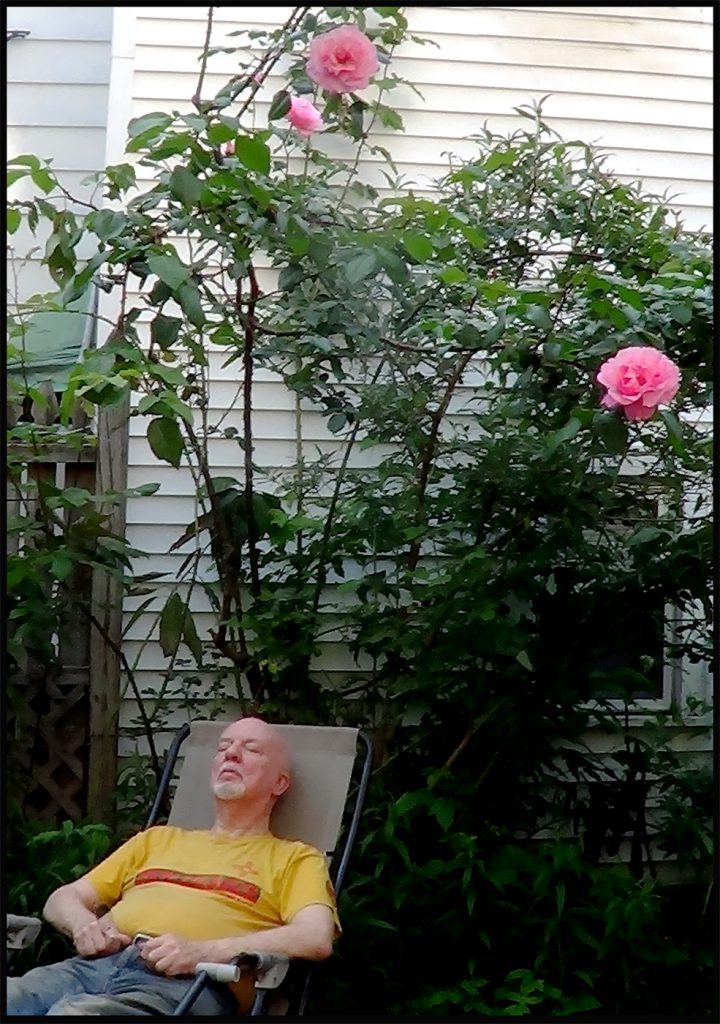 After the hard work, John is resting in our backyard garden under the rose bush.  This is the first rose bloom of this year.  The first roses are much larger than the following blossoms.
My eyes passing a large pink rose, as I view John's large sculpture next to the grapevines and avocado trees.
At 3:30 P.M. on the days that Kai and Bodhi stay with us, Kai sees his friend, Jacob.  They play with each other at the Rutgers campus.  This time I take Bodhi with me to join Kai and Jacob.
Bodhi is so happy to be walking outdoors.  If he could, he probably would run with Kai and Jacob.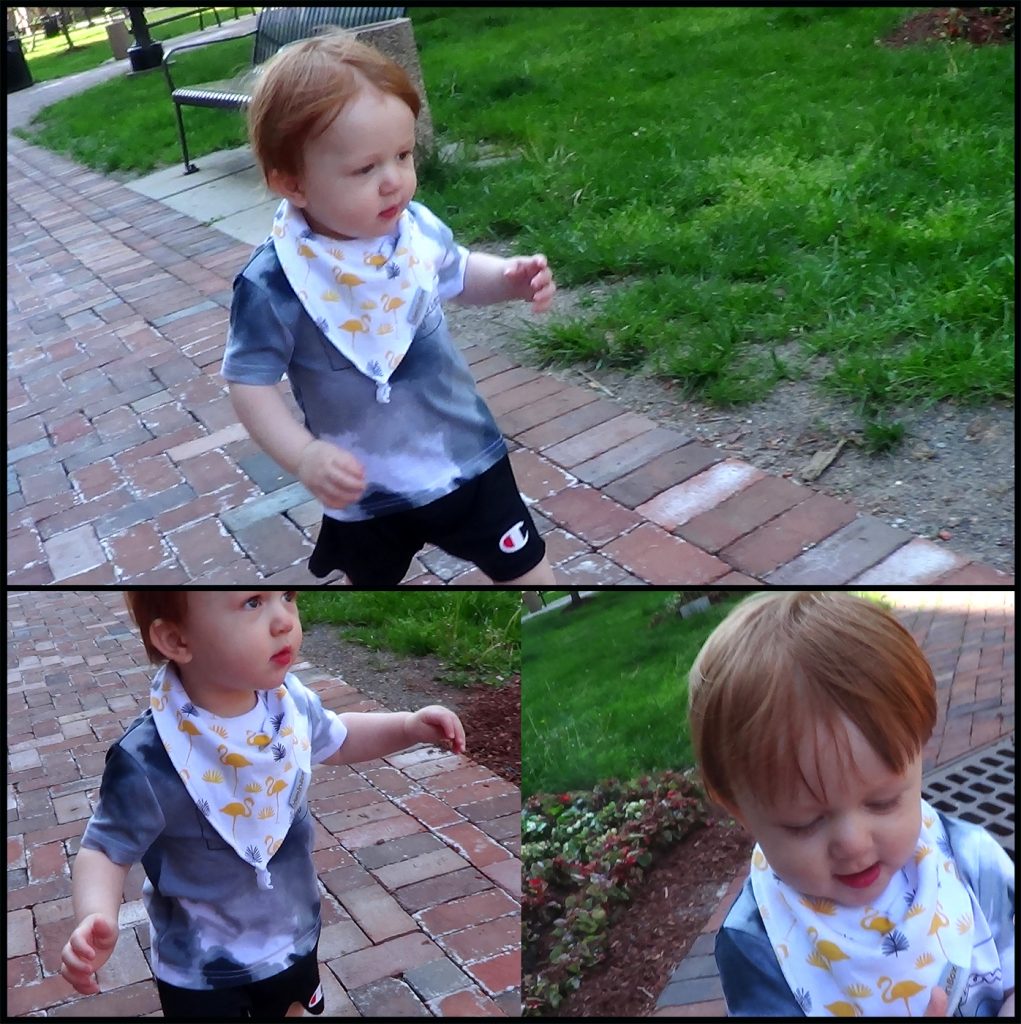 Bodhi never stop walking.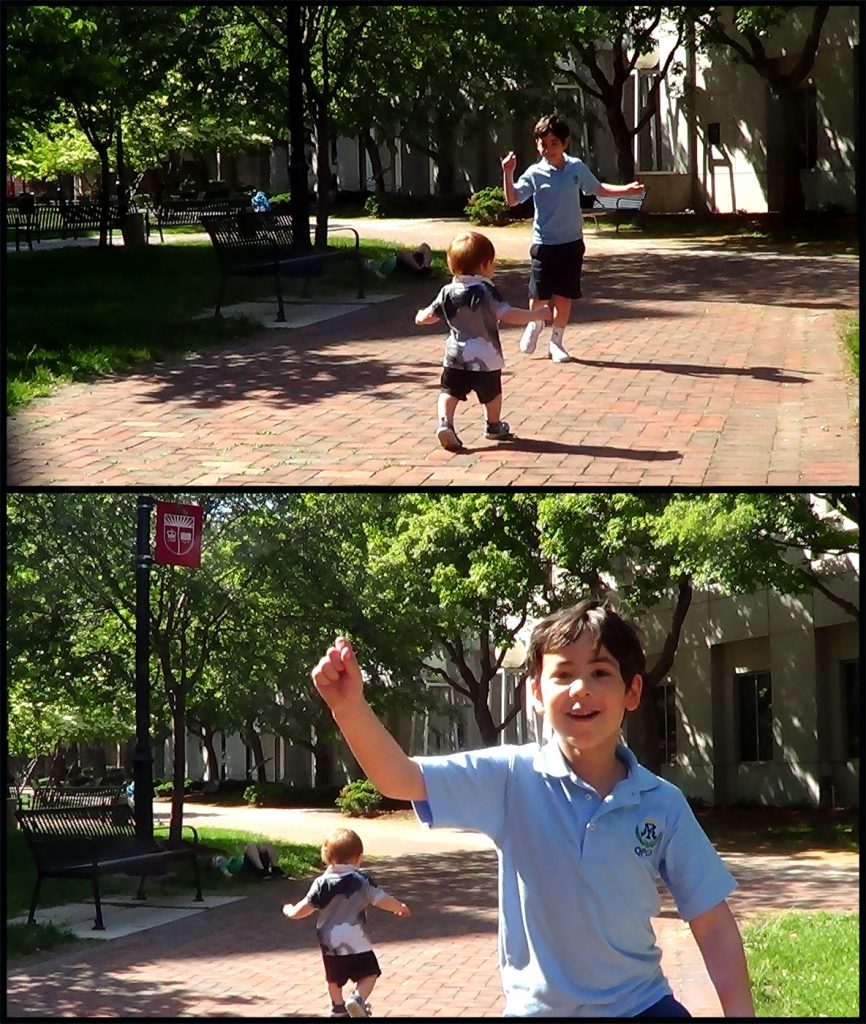 Jacob is having a good time teasing Bodhi.
This person says Hello to Bodhi.  Bodhi stops walking and look back at that person.
Bodhi walks up to the Rutgers sign.  He is curious about the large red letters.  I think he may become another Rutgers student.  Bodhi's father, his grandpa Jim and his mother graduated from Rutgers University, as did I, with degree in Chemistry in 1976.  Bodhi's Grandpa John was teaching pottery classes at Rutgers in Newark for many years.    
🙂 FRIENDS 🙂
Time to go home, Kai and Jacob help to get Bodhi's carriage for me.  Bodhi is quite tired and wants to drink his milk.
The children are having very good time running playing hide and seek and other games.  Bodhi is having a good experience outdoors in a small park. 
With more people are having vaccination in USA, it seems like we are reaching a normalcy that we are too busy to appreciate until we lose it.
Hi Mali,
Please view the attachment, I hope you like it.  We were very busy today.  Your Daddy had to fix the leaking gas valve in the kitchen.  I spent time helping him move the stove & other things to clear the area.  Unfortunately, the microwave does not work.  I tried to finish your birthday card with little time to do so.
Happy Birthday Mali, look at the bright side, the kids will grow up along with you.  Then you will have more time to sleep and two pairs of helping hands.
Love,
Mom & Daddy  
Sunday, 6.6.2021
Yesterday was our daughter birthday.  She is Kai and Bodhi's mother.
Ing-On Vibulbhan-Watts, Tuesday, June 8, 2021