Happy New Year Everyone, Grandpa John and Grandson Kai Drawings

🙂  Happy New Year Everyone, Grandpa John and Grandson Kai Drawings 🙂
🙂 For the Love of family and all the creatures on earth for 2022 and always🙂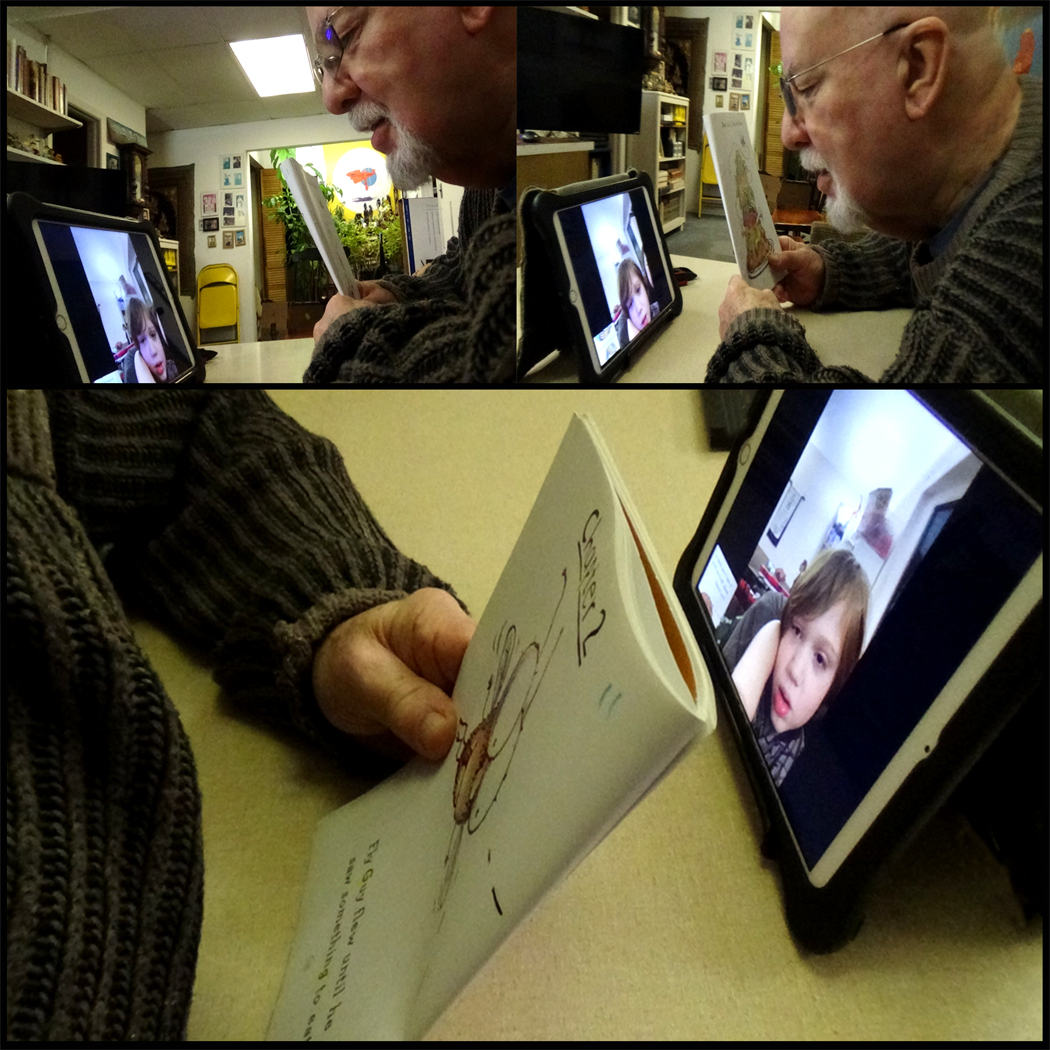 Due to the COVID-19 pandemic, Grandpa John and Grandma Ing cannot see our two grandsons that often.  Since the earliest lockdown, we call our daughter's family, and spend time talking to them in the evening almost every day on Face-Time.  Our older grandson Kai is six years old, he started school in September, 2021.  Eventually the school had to close because of the problem of COVID-19.  Grandpa John has some ideas for learning activities to help Kai.  He gives Kai reading and drawing lessons.  They explore any kind of artwork that Kai and John enjoy.  Kai loves to do artwork but is less enthusiastic about reading.  Because he is a good kid, he agrees to the reading lesson before doing his artwork.  From time to time, he will request a vacation or holiday, to omit his reading lesson.
The following are the result of some artworks from Grandpa John and Grandson Kai to cheer up everyone for the new year.  We hope that will give everyone a smile and a happy moment.  We all need it. 
Ing-On Vibulbhan-Watts, Tuesday, January 11, 2022
🙂 🙂 Happy New Year Everyone for 2022 and always 🙂 🙂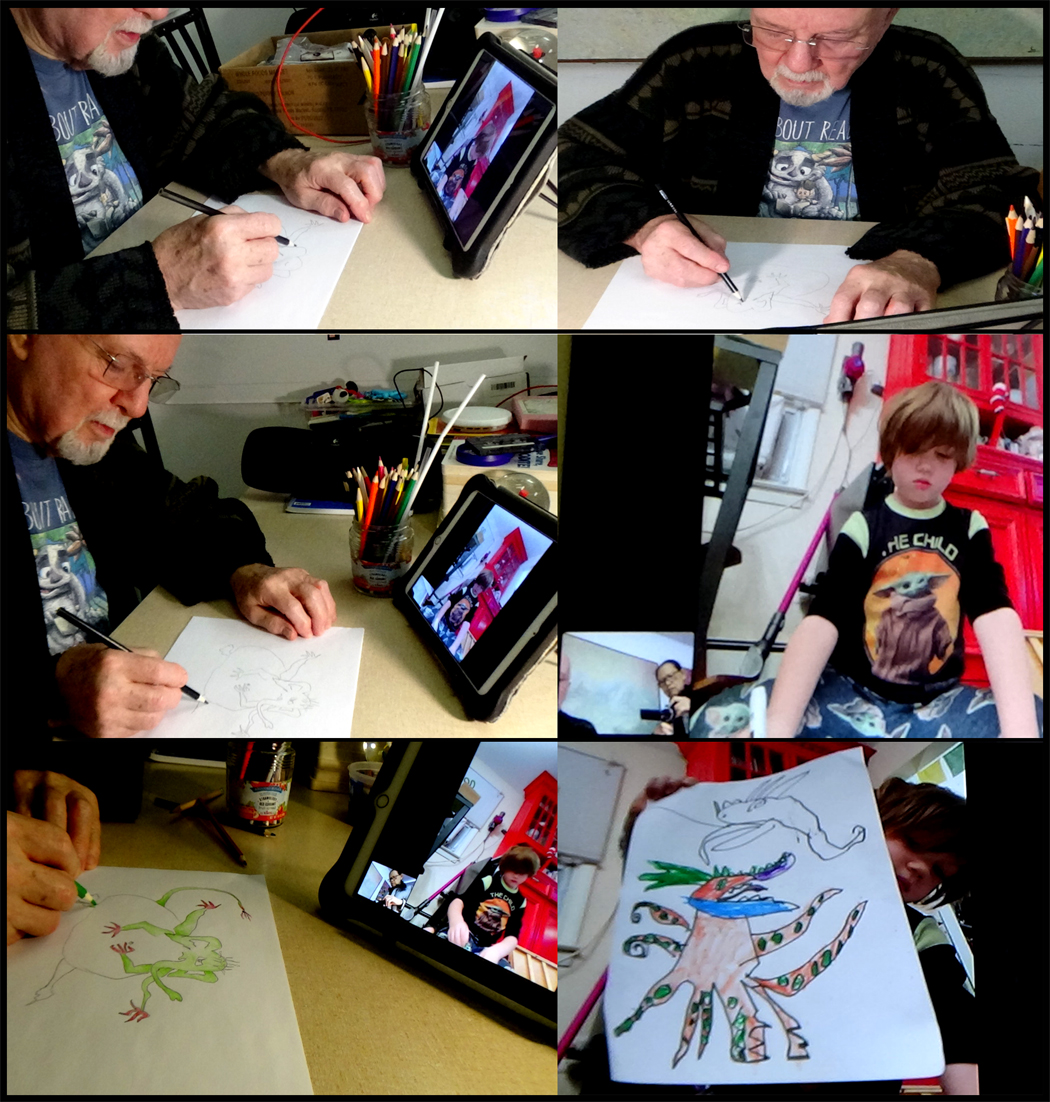 After Finishing the reading, Grandson Kai, and Grandpa John, are ready to have a good time drawing.  Kai did a very fast drawing and he colored his artwork in a very short time.
Finally, Grandpa finished his drawing.  Kai Started the next drawing, he finished the drawing and was coloring his second art work.
After Kai finished coloring his second drawing, he went to get a roll of tape and a pair of scissors.  Then he turned his two drawings on the other sides, putting them together.  He cut the adhesive tape in short lengths and taped them on the back of his drawing in 4 places evenly in a horizontally position.  Next, he took out a long piece of tape, pressed it on the joining line of the artworks vertically.  Then he turned his artwork over to the drawing side, and drew a line from one figure to the other horizontally to visually join them as one artwork.  He did this process very quickly then lifted his drawing up to us, showing his finished artwork.  I really am impressed by the way he achieved his finished drawing.  I asked him, who taught you how to join your drawing?  "My teacher" Kai answered.  I am glad he learned something from school.  He went to school for only short period of time, then the school had to close because of the COVID-19 pandemic.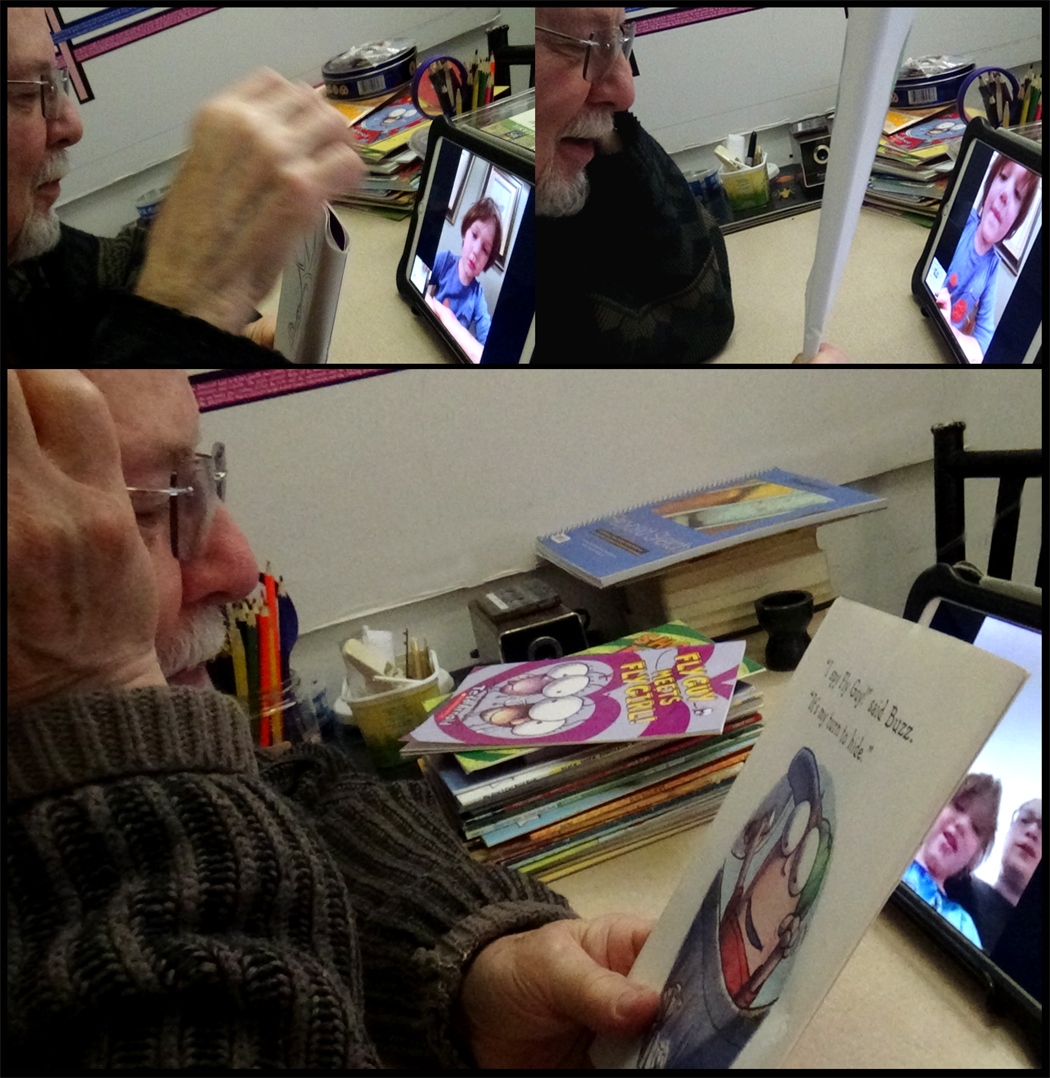 Next day, started with reading time for Kai with Grandpa John before they enjoyed drawing.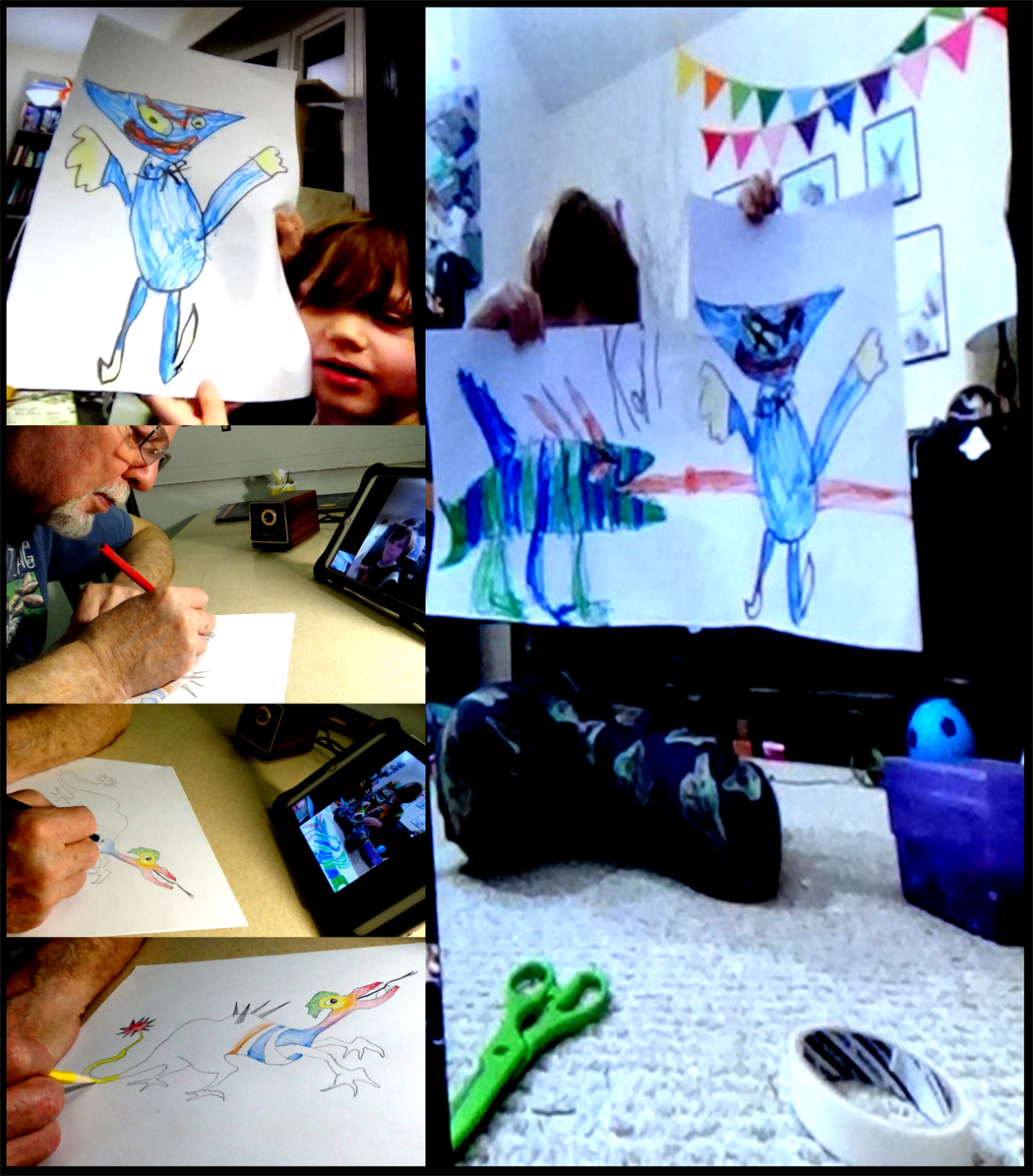 In drawing time, Kai did his artwork very fast, showing us his first character.  After he did his second drawing, he joined them into one artwork in the same procedure he did before.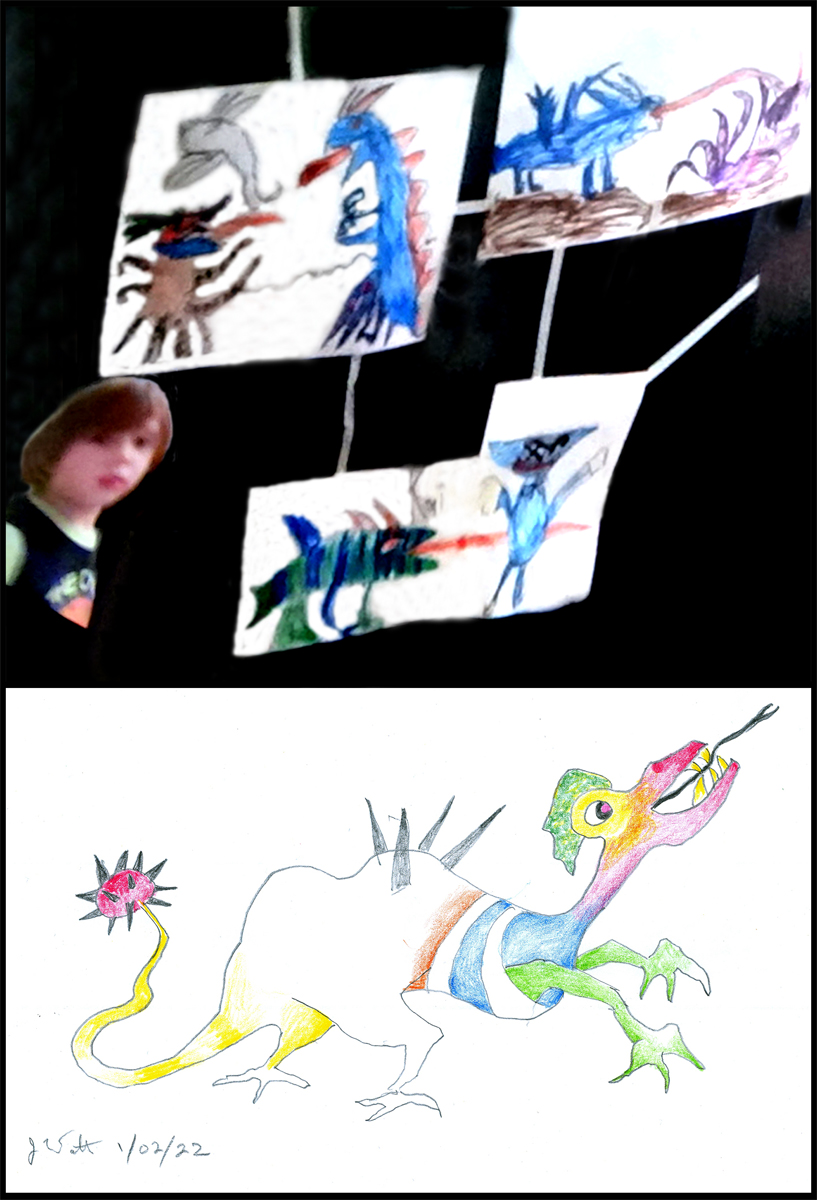 Kai is proudly exhibiting his artwork on his mother's cabinet door.  Grandpa John also did an exotic character that he created on Sunday, January 2, 2022.
During a summer session, Jacob, one of Kai's friends came to study drawing with John when Kai came to visit Grandpa John & Grandma Ing on a Thursday.  We are glad to have Jacob.  He is a good student and Kai enjoys having his friend do artwork and playing with him.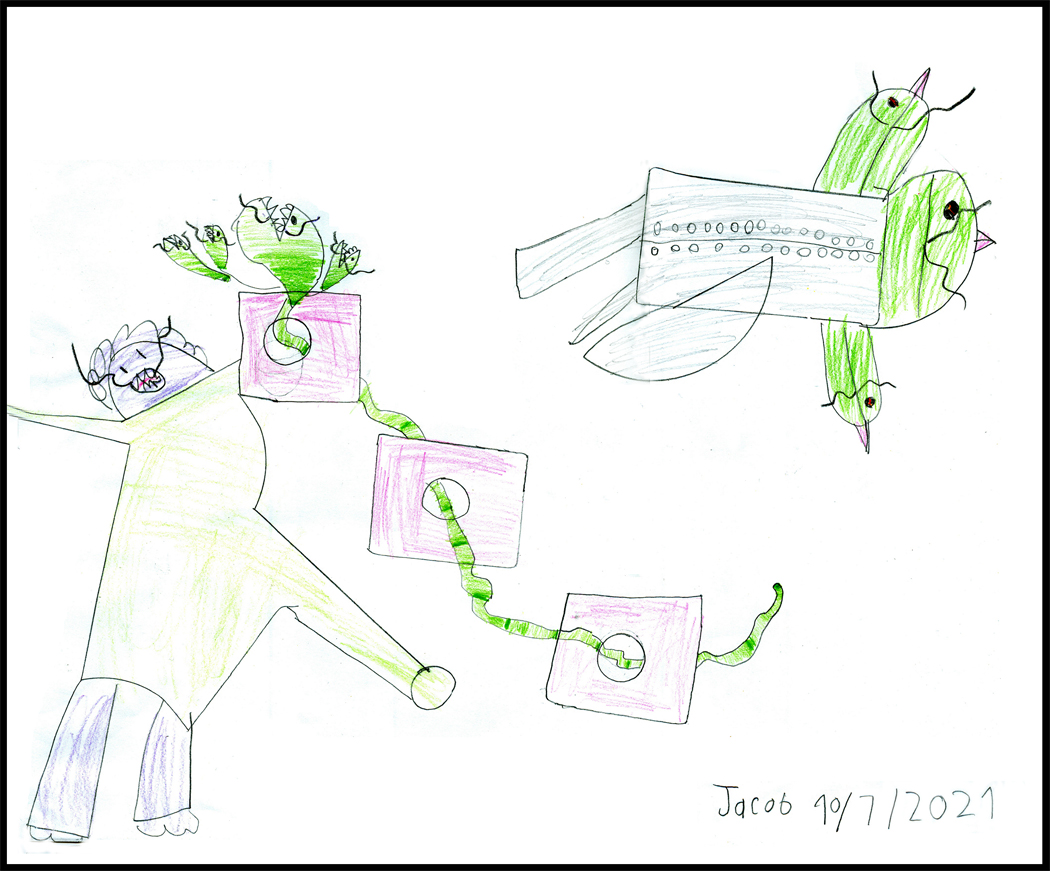 This is the latest of Jacob's drawings with teacher, John on Thursday, October 7, 2021.  I like Jacob's drawing; he is only 7 years old but he can follow John's instructions very well.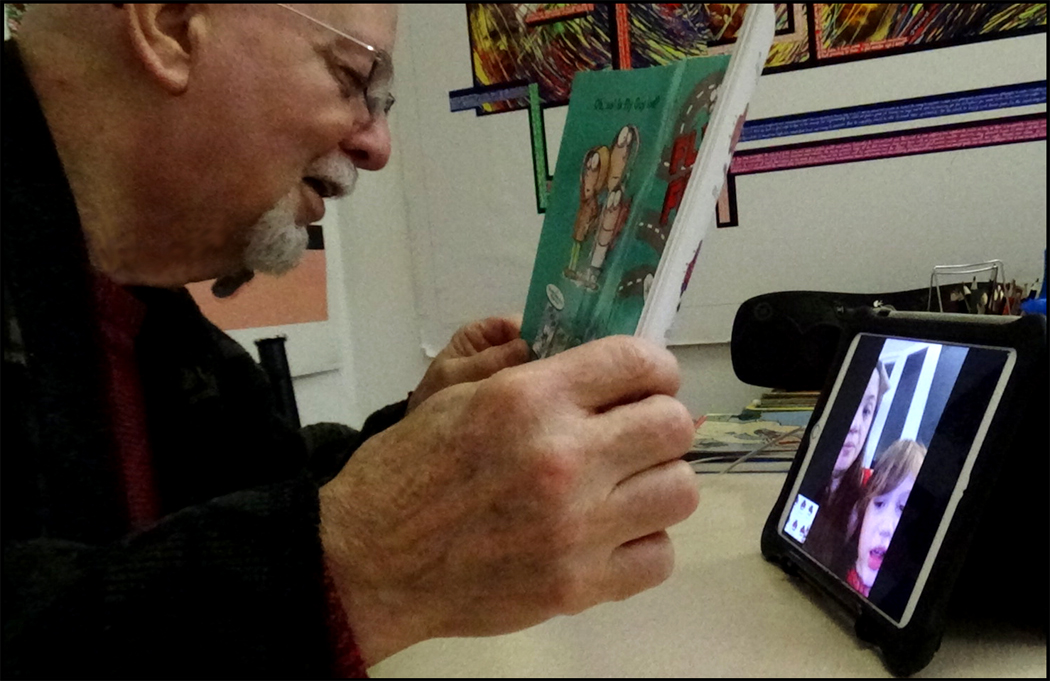 Reading Lesson: Kai reading with Grandpa John, with some help from Mommy Mali.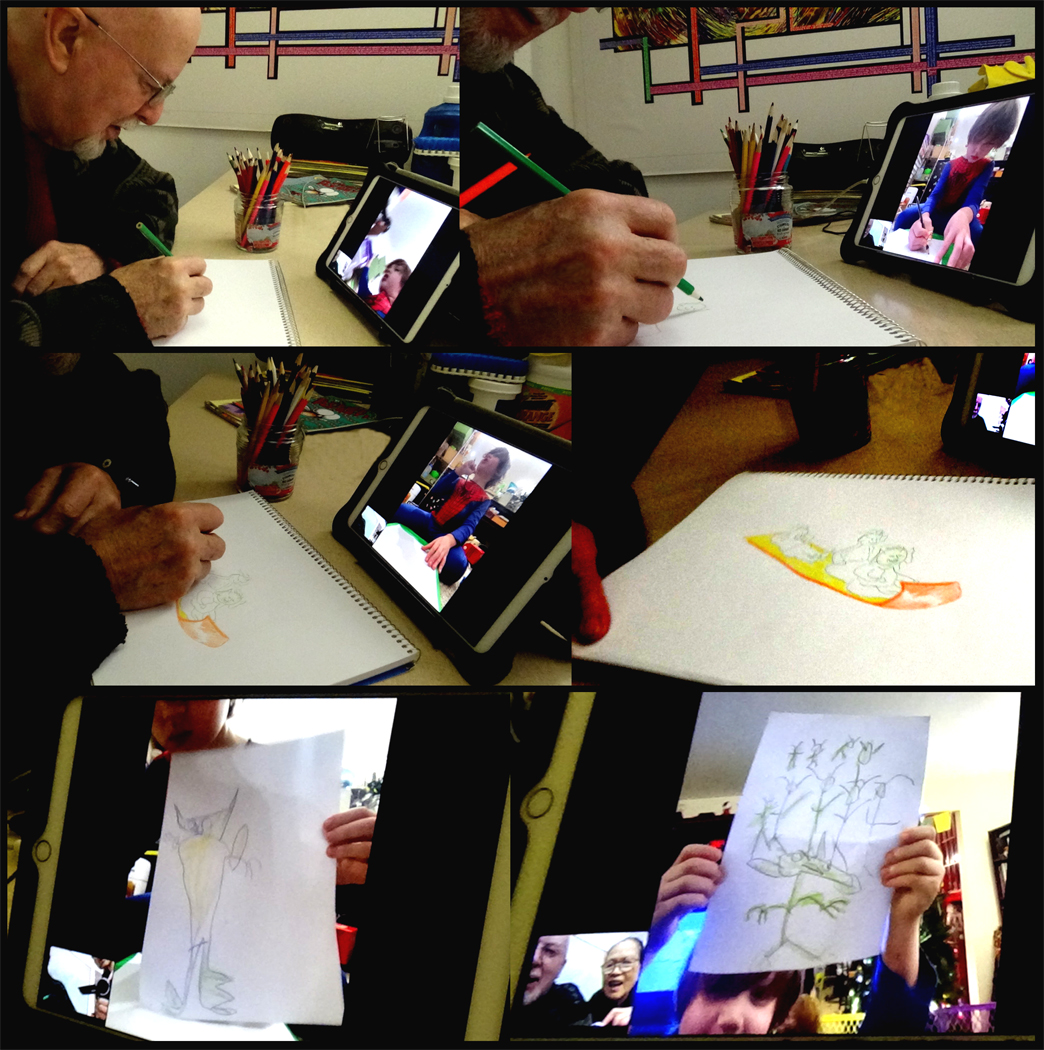 Time to have fun drawing, after the reading lesson with Grandpa John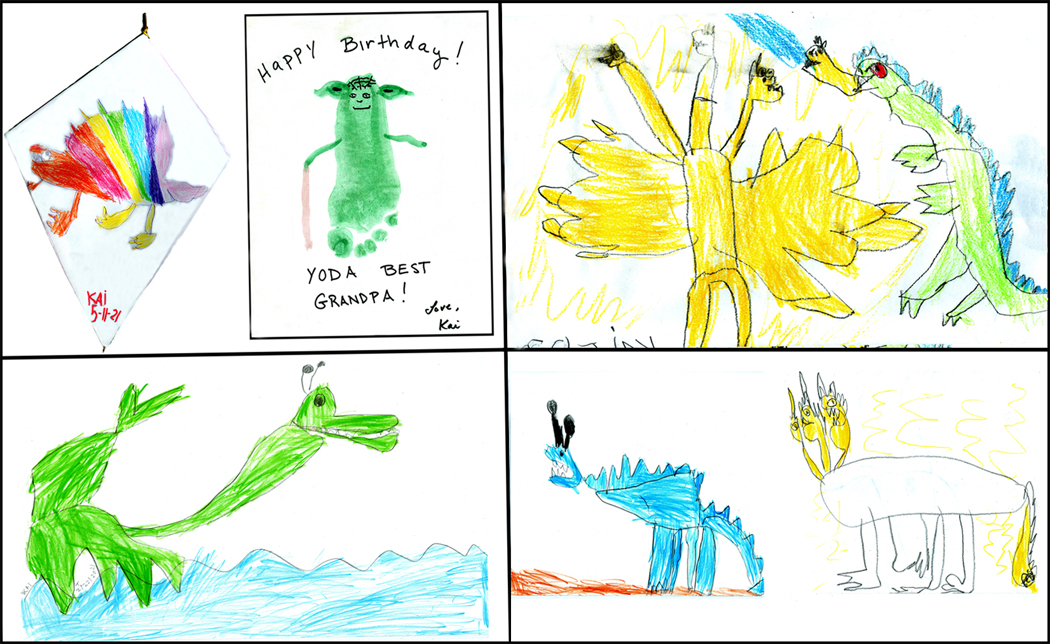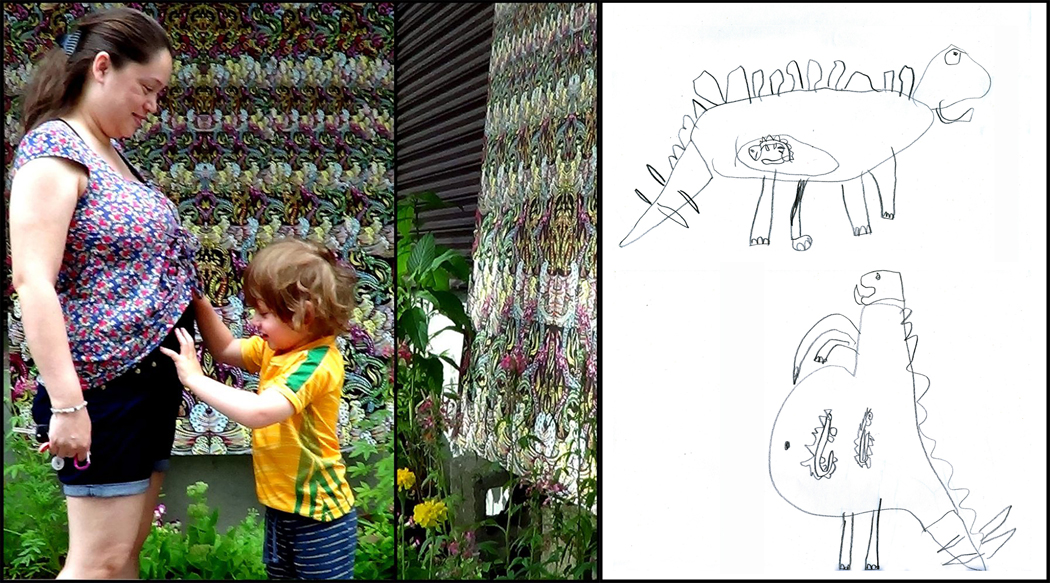 I think Kai got some idea for the baby dinosaur inside the mother dinosaur, by seeing his mother pregnant with his younger brother, Bodhi.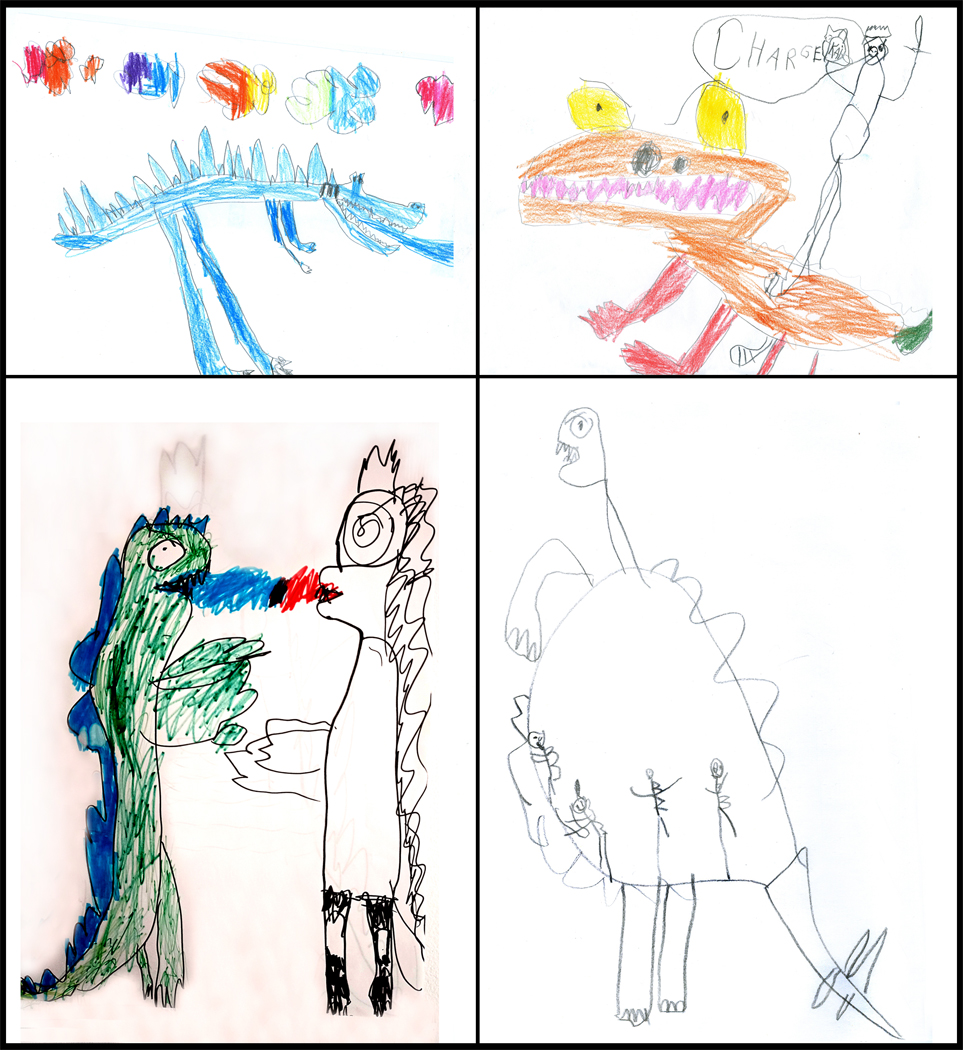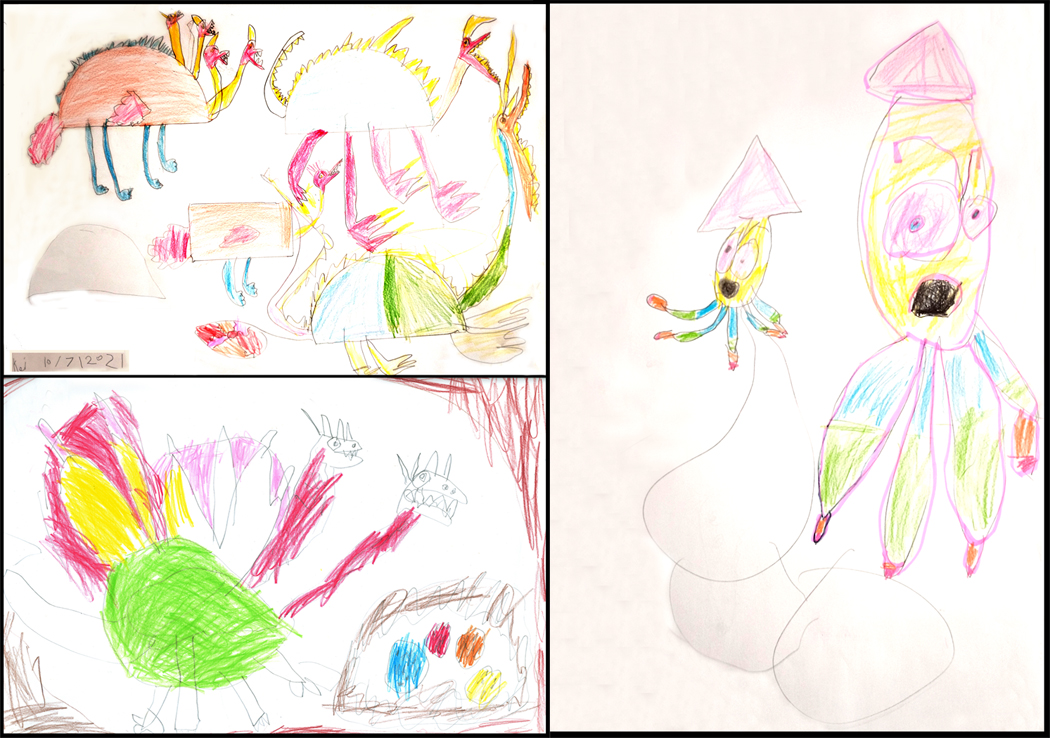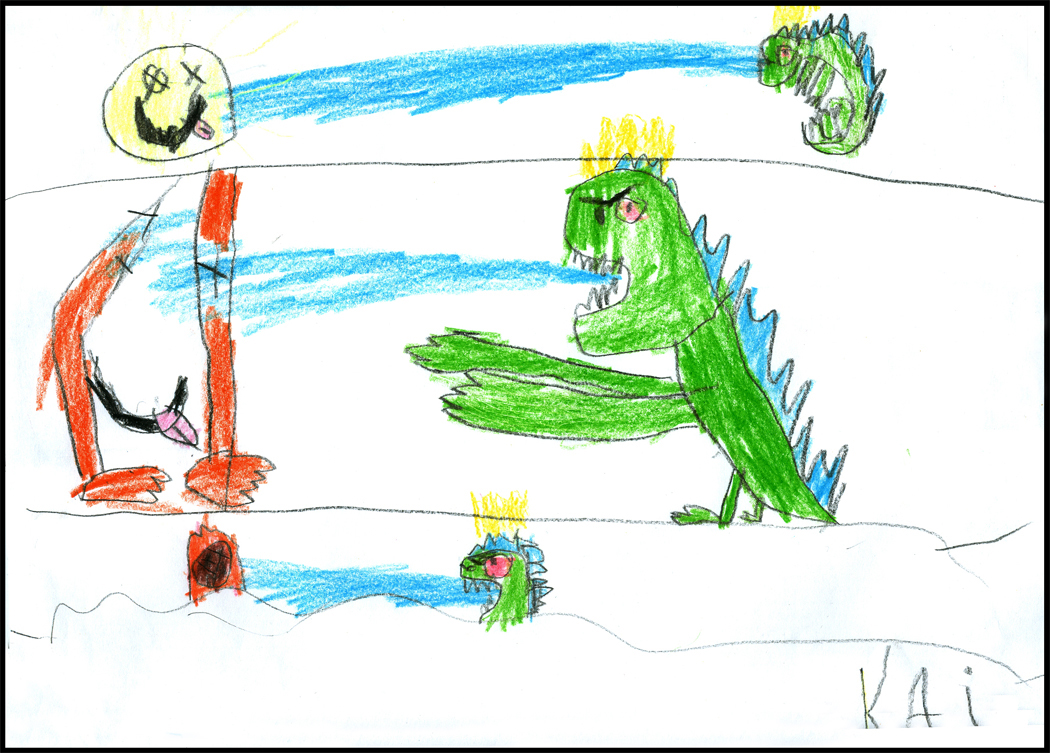 Kai's drawings, Thursday, 12, 30, 2021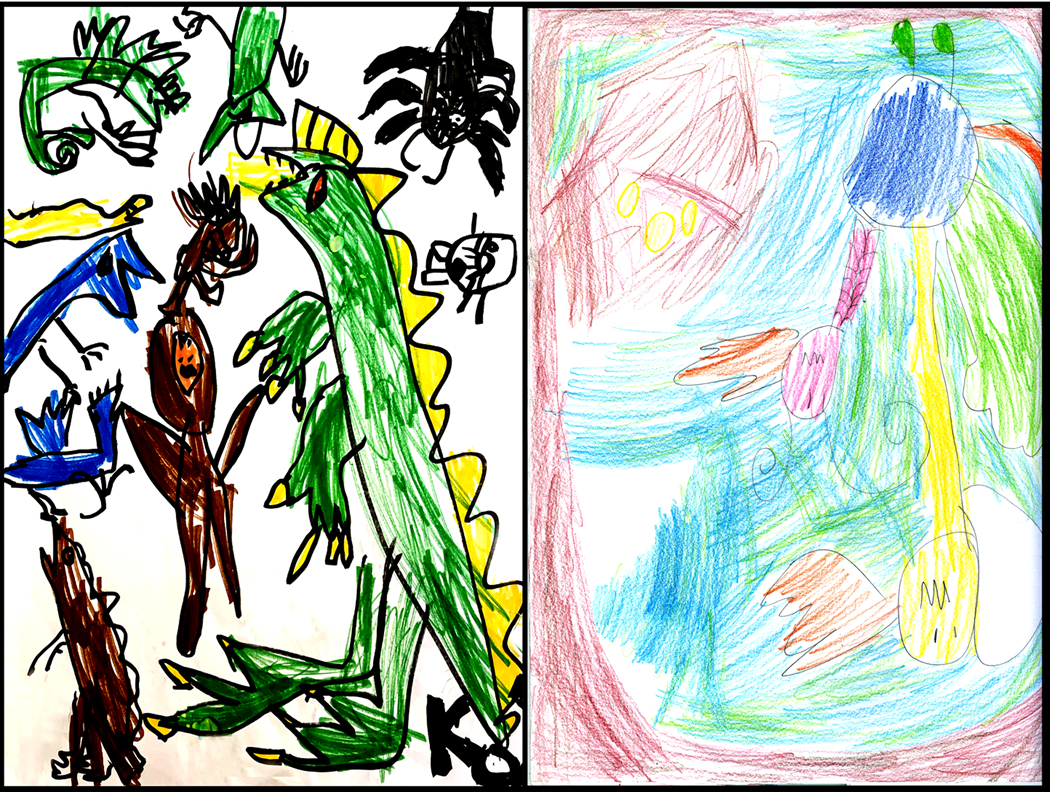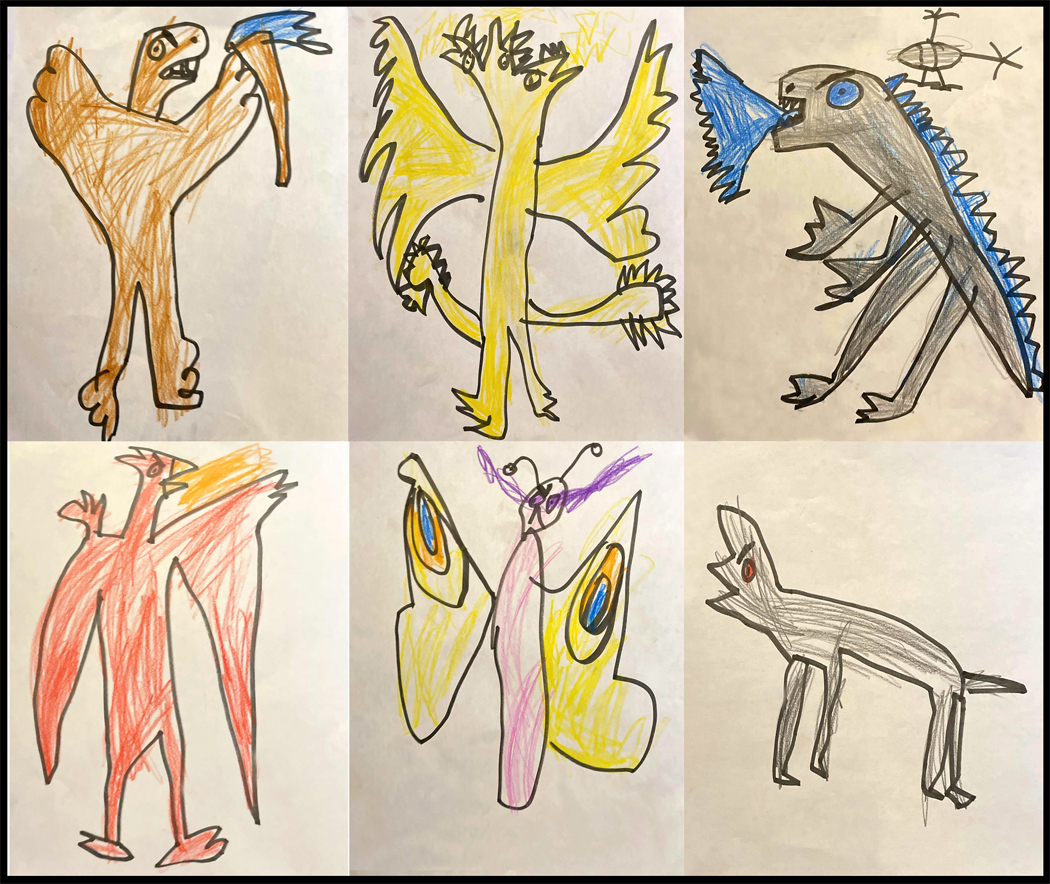 Kai's drawings, Friday, 12, 17, 2021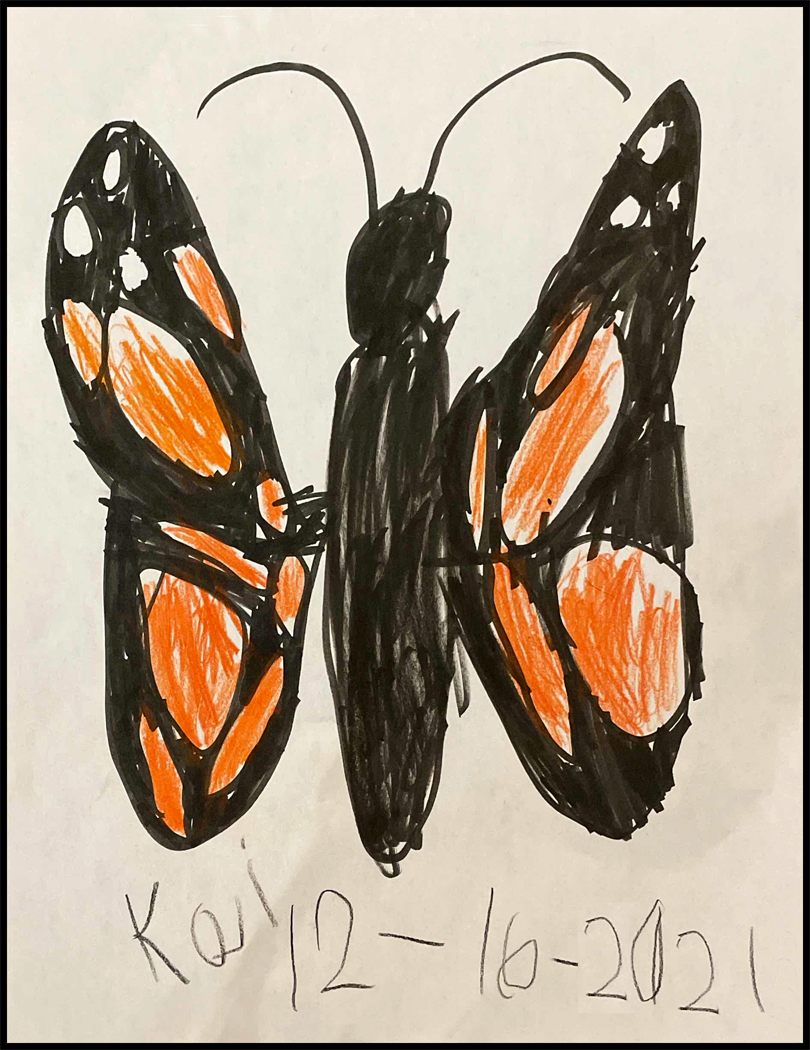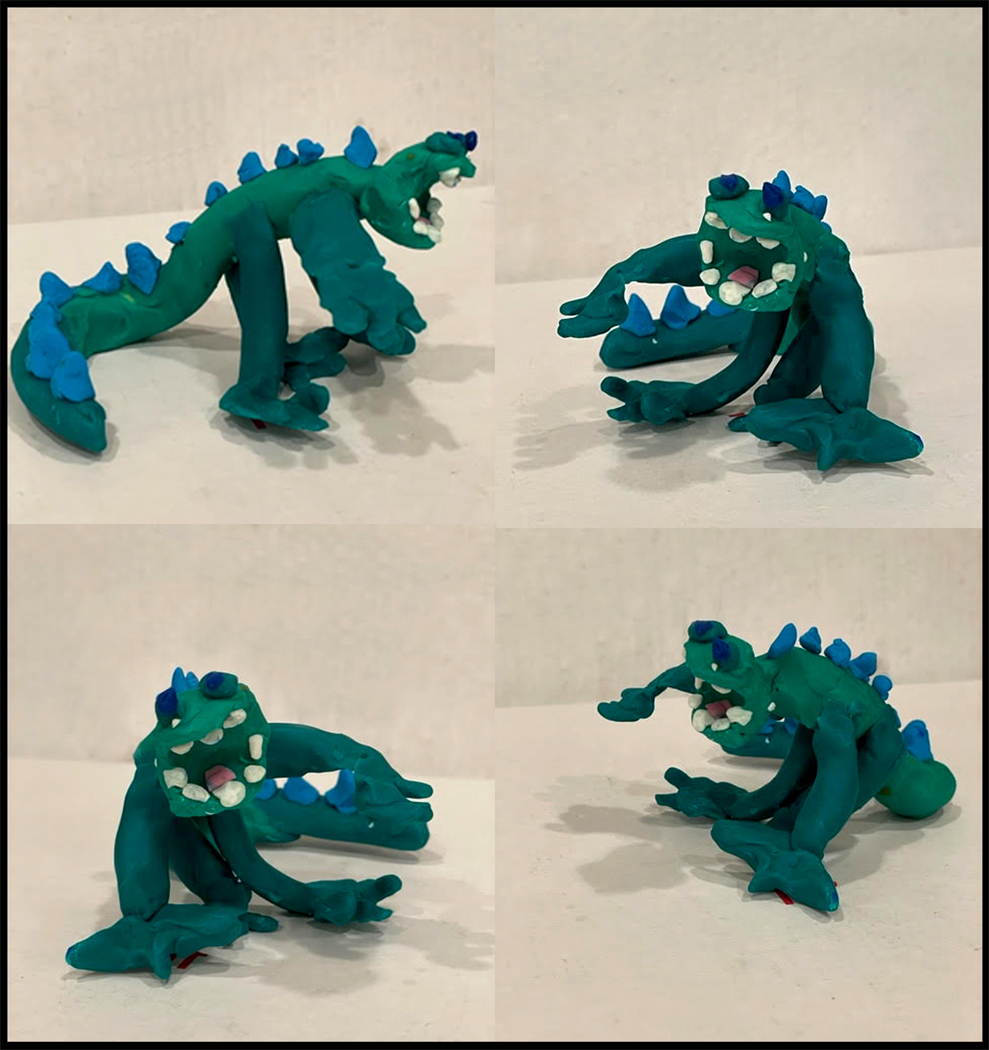 Kai's Sculptures, Saturday, 12, 18, 2021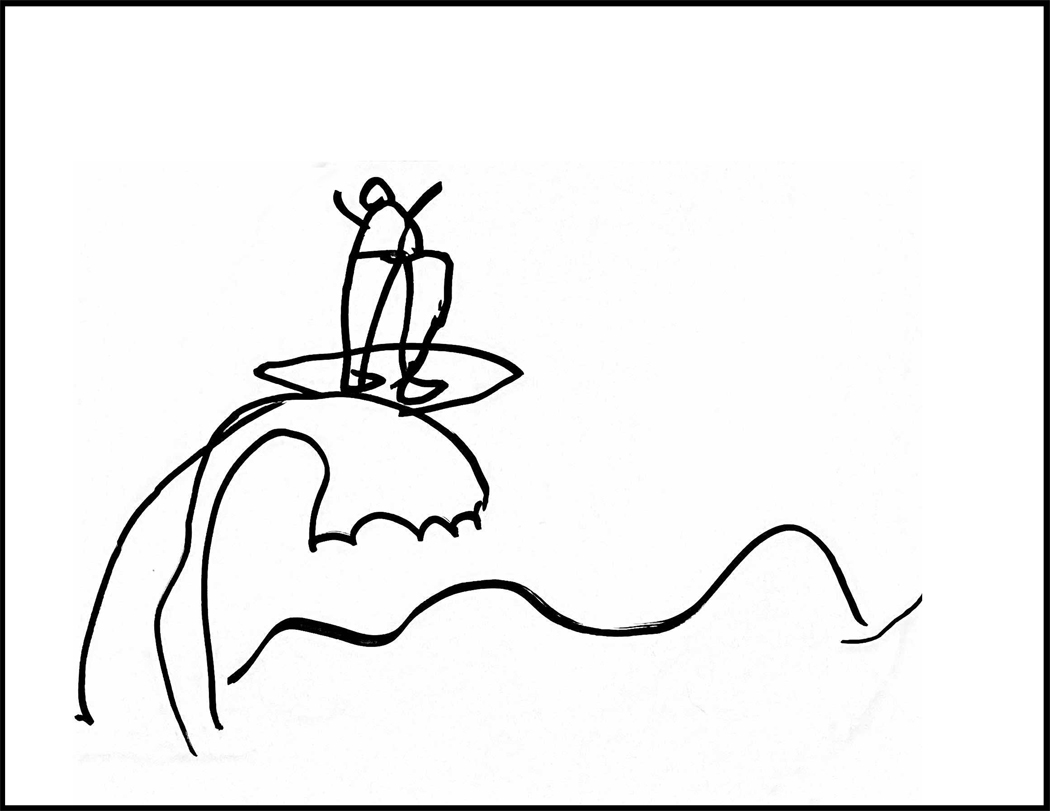 Kai's drawing of his father surfing on a wave, Monday, 12, 6, 2021.  Kai is 6 years and 3 months old.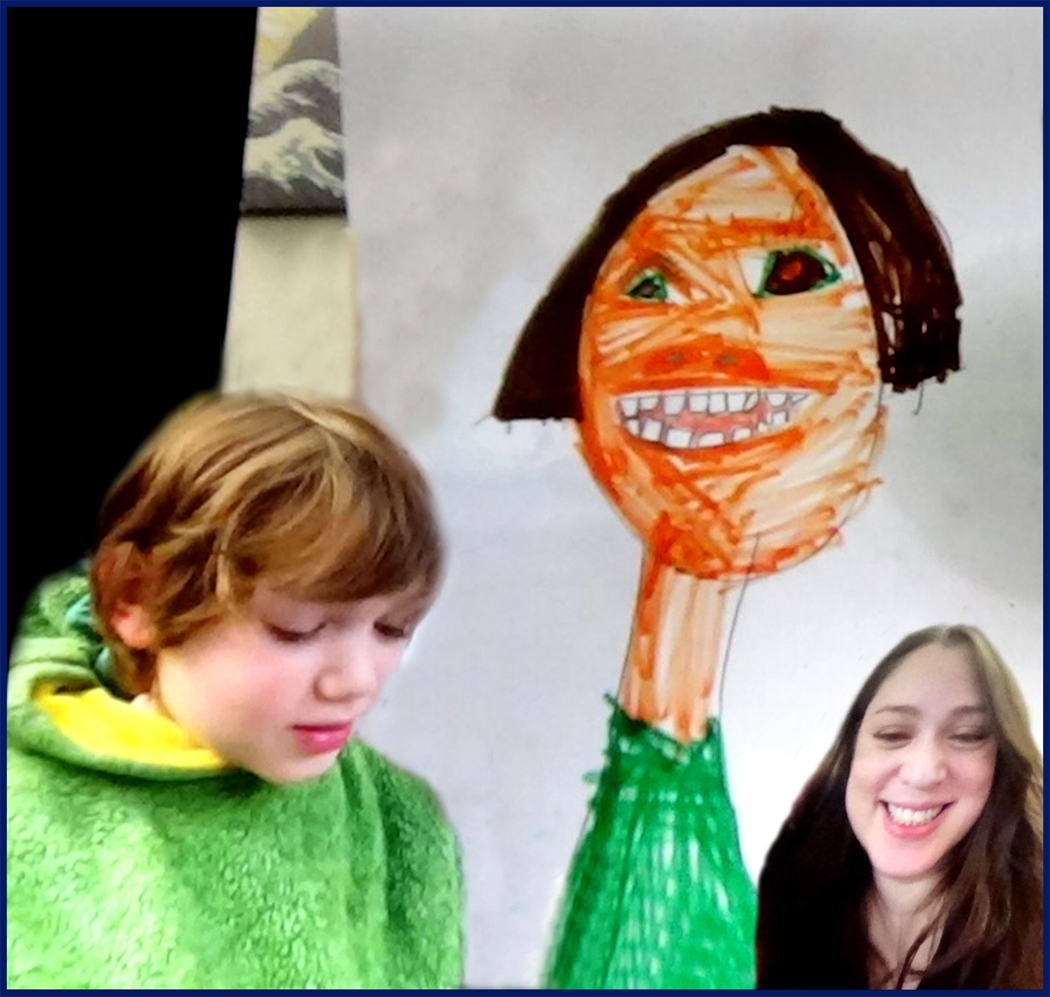 Kai's drawing of his mother, Mali's portrait, Saturday, 12, 11, 2021
This is his mother laughing, hea, hea, hea,——— after she saw her portrait by her son, Kai.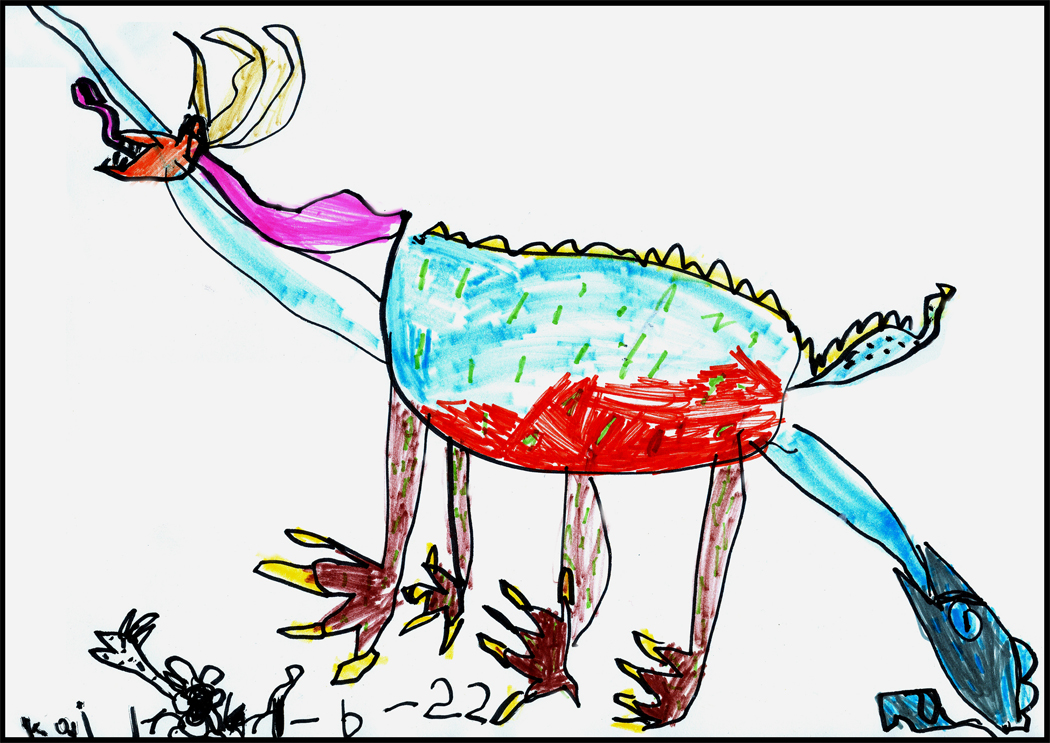 Kai's recent drawing this year, Thursday, January 6, 2022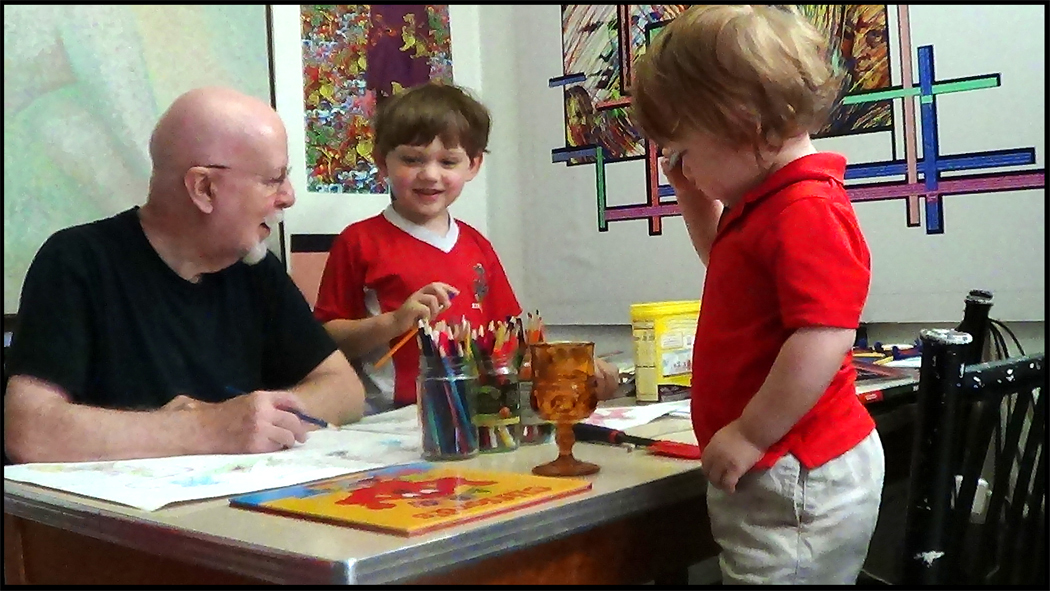 John & Kai are drawing while Bodhi wants to participate.  He is watching intensively, Tuesday, 8, 31, 2021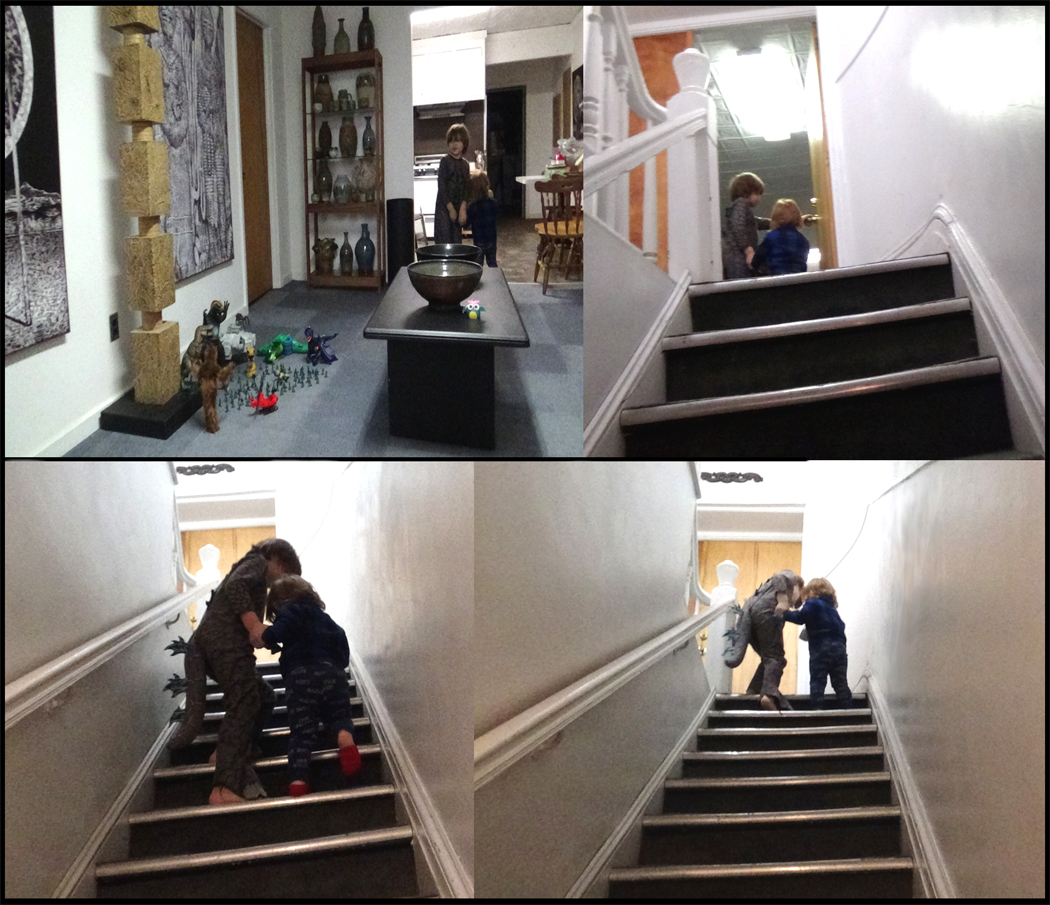 Kai is helping his little brother, Bodhi to climb to the 2nd floor, Grandpa John's exhibition room to seeing his Godzilla movie design.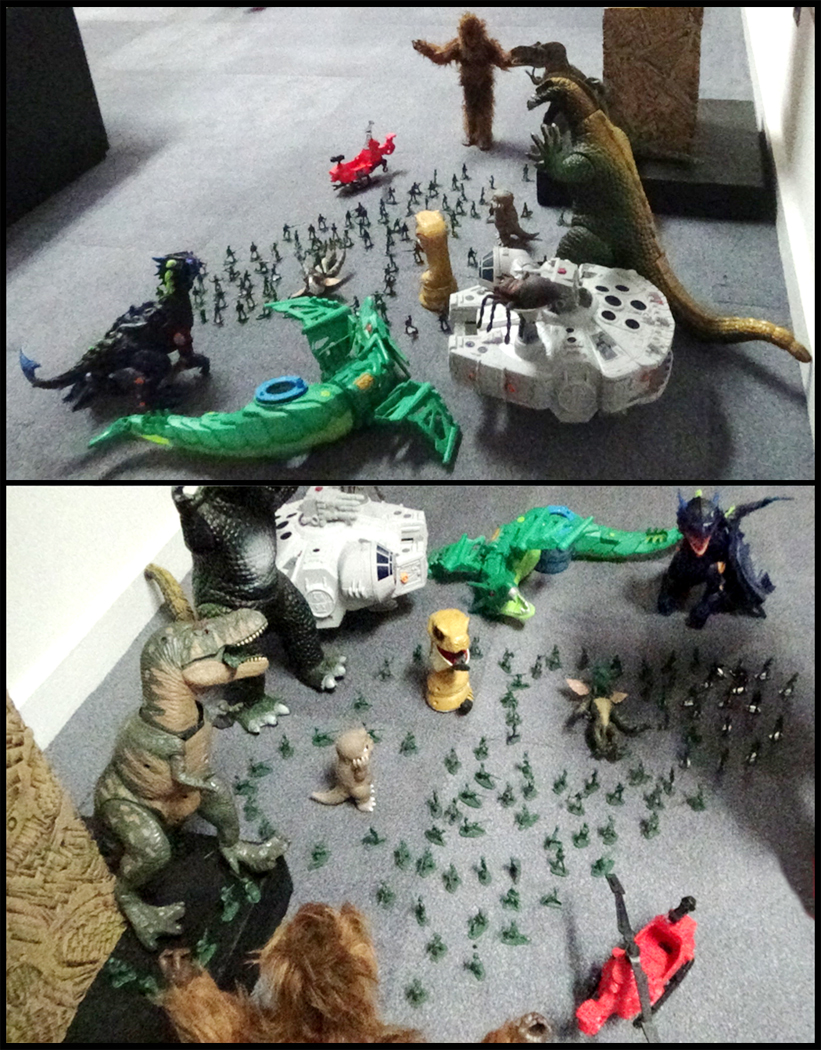 Kai's Godzilla movie design, Sunday, 12,26,2021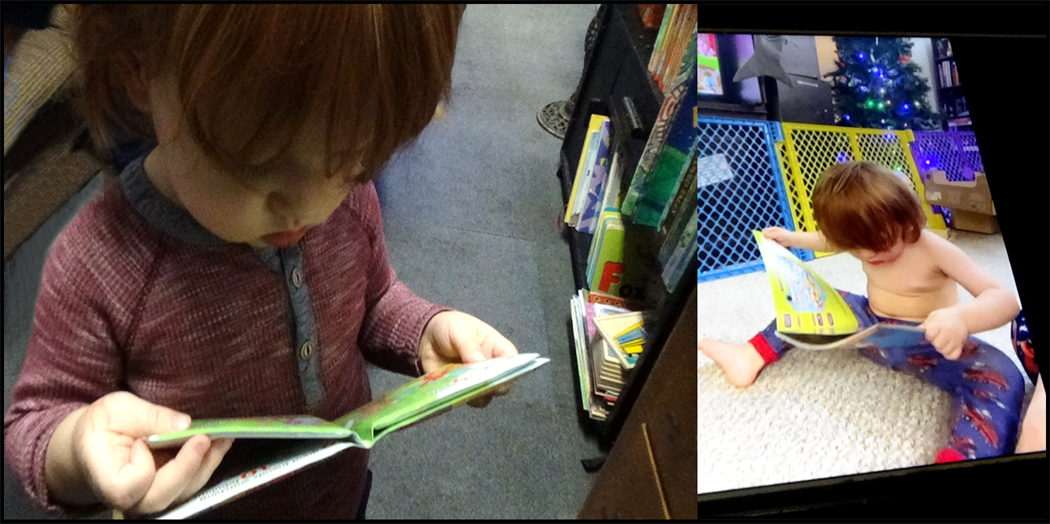 Bodhi is copying his older brother, Kai reading when he saw Kai was reading with Grandpa John, Monday, 12, 27, 2021.  Bodhi is 1 year and 9 months old.