A Year After Uvalde School Shooting, Murals Honor 21 Victims, PEOPLE, PBS News, and AXIOS
PEOPLE: A Year After Uvalde School Shooting, Murals Honor 21 Victims: 'Art Has the Power to Help These Families Heal'
The 'Healing Uvalde' murals were conceived by longtime resident Abel Ortiz in the days after the May 24, 2022, school shooting
Updated on May 24, 2023 04:45 PM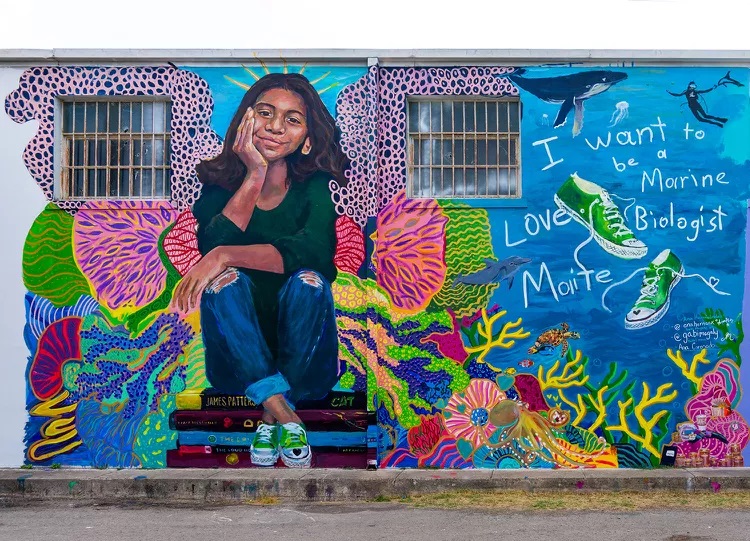 Maite Rodriguez.
PHOTO: AL RENDON; ART BY: ANA HERNANDEZ
The healing power of art is hard at work on the streets of Uvalde, Texas. Last year, the small South Texas city was the site of one of the nation's deadliest mass shootings when a gunman opened fire at Robb Elementary School, taking the lives of 19 students and 2 teachers. Healing Uvalde is an outdoor mural project honoring the 21 victims that was conceived in the days after the May, 24, 2022, tragedy by longtime Uvalde resident Abel Ortiz, an associate professor of art at Southwest Texas Junior College whose children, now grown, attended the school where the mass shooting occurred.
"I know, from my own experience, that art has the power to help these families heal from the monumental pain that they're going to experience for the rest of their lives," says Ortiz, who worked with more than 20 artists to create the murals, as well as with Dr. George Meza and Monica Maldonado of MAS Cultura. "This is a reason why the murals had to be monumental and why they had to be portraits so that we remember their faces and their names. Hopefully, they become voices for change as well, as we need change in this country. The murals hopefully will persuade the hearts of Americans to bring change."
Check out the Healing Uvalde murals, photographed by Al Rendon @rendonphotographyandfineart
Nevaeh Bravo, 10
Nevaeh Bravo.
AL RENDON; ART BY: BRITTANY JOHNSON
Nevaeh's name spelled backwards is "heaven." After her death, the girl's aunt wrote on Facebook, "She is flying with the angels above. We love you Nevaeh very much princess!"
Jackie Cazares, 9
Jackie Cazares.
AL RENDON; ART BY: KIMIE FLORES
Jackie was killed with her cousin Annabell Rodriguez. After Jackie's death, her father, Jacinto Cazares, wrote on Facebook that Jackie was "full of life and love" and added, "We're devastated in ways I hope no one ever goes through. … It hurts us to our souls."
RELATED: Grieving Uvalde Mom Says Guns Are 'More Important' Than Children in America, 1 Year After Shooting
Makenna Lee Elrod, 10
Makenna Lee Elrod.
AL RENDON; ART BY: SILVY OCHOA AND COURTNEY JIMENEZ
Makenna loved tumbling, a friend's mother told The Dallas Morning News. "She had the biggest heart and loved her family and friends so much," Makenna's aunt wrote in a verified GoFundMe page set up for her family.
Jose Flores Jr., 10
Jose Flores Jr.
AL RENDON; ART BY: TINO ORTEGA
Hours before he was killed, Jose was one of several star students who received a certificate for making the school honor roll. His father, Jose Flores Sr., told CNN, "He was always full of energy, ready to play till the night." His favorite pastimes were baseball and video games.
Eliahna 'Ellie' Garcia, 9
Ellie Garcia.
AL RENDON; ART BY: ABEL ORTIZ
Ellie was a basketball player in Uvalde's youth league who was very involved with her Christian faith. After her death, her mother Jennifer wrote on Facebook, "My heart is shattered to pieces. I love you baby girl I will never stop thinking of you !!!"
RELATED: Family of Uvalde Victim Eliahna Garcia Holds Funeral Days After She Would've Turned 10
Irma Garcia, 48
Joe & Irma Garcia.
AL RENDON; ART BY: CEASE MARTINEZ
A teacher at Robb Elementary School, Garcia was remembered on a GoFundMe page set up in her honor as a loving wife and mother to four children. "Sweet, kind, loving. Fun with the greatest personality," the page read. Garcia loved to barbecue with her husband of 24 years, Joe, and to listen to music. She had been a teacher at the school for 23 years.
RELATED: Town of Uvalde Pays Respects to Teacher Irma Garcia and Her Husband Joe, Who Died 2 Days Apart
Uziyah Garcia, 9
Uziyah Garcia.
AL RENDON; ART BY: RICHARD SAMUEL
"Uziyah was the sweetest little boy that I've ever known," Uziyah's grandfather, Manny Renfro, told the AP, quickly clarifying: "I'm not just saying that because he's my grandkid." Uziyah was learning how to play football. "Such a fast little boy and he could catch a ball so good," Renfro said. Uziyah left behind two sisters.
Amerie Jo Garza, 10
Amerie Jo Garza.
AL RENDON; ART BY: CRISTINA NORIEGA
Amerie loved nothing more than her family, especially her little brother, 3-year-old Zayne, her grandmother, Berlinda Arreola, 49, told PEOPLE. The day of the shooting, Amerie marked a major milestone for a 4th grader: She made the honor roll. She was shot to death while trying to call 911. "She was so protective," her grandmother said. "She always wanted to help."
RELATED: 'She Was Trying to Call 911 and He Shot Her': Texas Shooting Victim Amerie Jo Garza, 10, Remembered as Hero
Xavier Lopez, 10
Xavier Lopez.
AL RENDON; ART BY: AMADO CASTILLO III
Xavier Lopez was excited for summer to roll around so he could spend his days off swimming, his cousin, Lisa Garza, told the AP. "He was just a loving 10-year-old little boy, just enjoying life. He was very bubbly, loved to dance with his brothers, his mom."
Jayce Luevanos, 10
Jayce Luevanos, Tess Mata, Maranda Mathis, Eva Mireles, Alithia Ramirez, Annabell Rodriguez, Maite Rodriguez, Alexandria 'Lexi' Rubio, Layla Salazar, Jailah Silguero, Eliahna Torres, Rojelio Torres,
Jayce Luevanos.
AL RENDON; ART BY: RUBEN ESQUIVEL
On the morning of the shooting, Jayce asked his grandmother if he could go with her on another class' trip to the San Antonio Zoo, his grandfather Carmelo Quiroz, told USA Today. His family told him that he couldn't miss a day of classes so close to the end of the school year "He was so sad he couldn't go," Quiroz said. "Maybe if he would have gone, he'd be here."
RELATED: Texas School Shooting: What We Know About the Victims
Tess Mata, 10
Tess Mata.
AL RENDON; ART BY: ANAT RONEN
"My precious angel you are loved so deeply," Tess' sister, Faith, wrote on Twitter. "In my eyes you are not a victim but a survivor. I love you always and past forever baby sister, may your wings soar higher then you could ever dream. Till we meet again Tess Marie, love your big sissy."
Maranda Mathis, 11
Maranda Mathis.
AL RENDON; ART BY: LUIS ANGULO
Maranda's mother, Deanna Gornto, told KSAT that Maranda had a "kind heart."
"I want people to remember her by her love of animals. I want them to remember her smile and beautiful eyes," said Gornto.
Want to keep up with the latest crime coverage? Sign up for PEOPLE's free True Crime newsletter for breaking crime news, ongoing trial coverage and details of intriguing unsolved cases.
Eva Mireles, 44
Eva Mireles.
AL RENDON; ART BY: SANDRA GONZALEZ
Mireles was one of two teachers killed at Robb Elementary School. According to her school district teacher bio, she was a fourth grade teacher who loved running and hiking. For five years, she had been co-teaching the grade with fellow instructor Irma Garcia, who was also killed. Mireles' daughter Adalynn paid tribute to her mother on Twitter, writing, "My sweet mommy, I will miss you forever."
RELATED: Teacher Killed in Texas School Shooting ID'd as Eva Mireles, 44, a Mom Who Loved the Outdoors
Alithia Ramirez, 10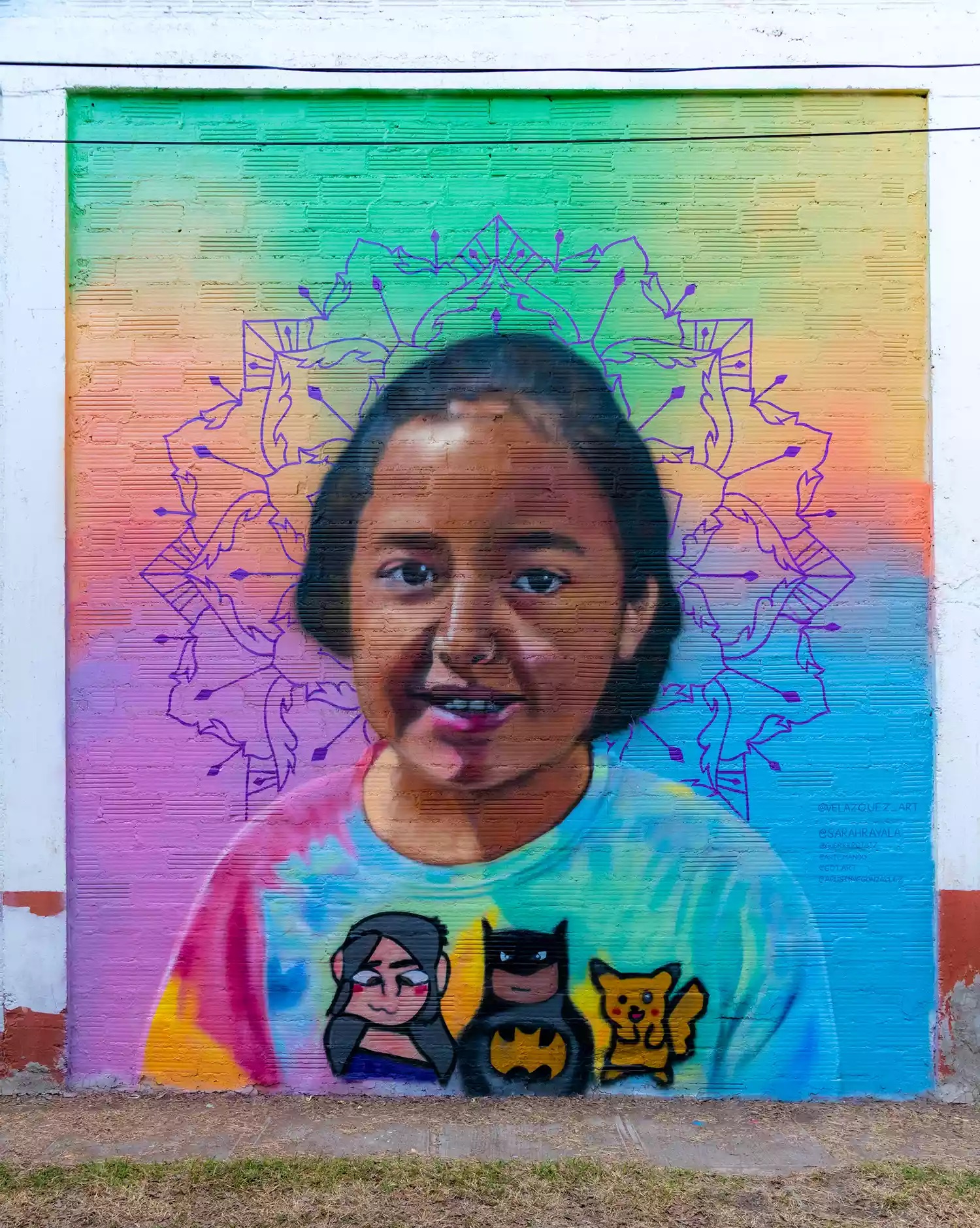 Alithia Ramirez.
AL RENDON; ART BY: JUAN VELAZQUEZ
Alithia's aunt Rosemarie Ramirez told PEOPLE last year that her niece loved to draw. She showed a PEOPLE reporter a photo of a drawing of sunflowers Alithia had made for her, saying, "It's the last thing she gave me."
RELATED: Uvalde Victim's Google Doodle Shared, Along with Note: 'I Want People to be Happy'
Annabell Rodriguez, 10
Annabell Rodriguez.
AL RENDON; ART BY: JOEY C MARTINEZ
Annabell Rodriguez died alongside her cousin, Jackie Cazares, who was also 10. Annabell's sister, Lidia Anthony Luna, wrote on Facebook that Annabell was looking forward to the upcoming summer vacation. "Now," Luna wrote, the two cousins are "dancing up in the sky, watching over us."
RELATED: 10-Year-Old Uvalde Victims Who Texted 'I Love You' to Each Other at Bedtime Will Be Buried Side by Side
Maite Rodriguez, 10
Maite Rodriguez.
AL RENDON; ART BY: ANA HERNANDEZ
After Maite's death, her mother Ana Rodriguez wrote on Facebook: "As I lay here on this empty bed and with tears running down my face at 3am I would like to say to my baby girl 'it's not goodbye it's I'll see you later my sweet girl.'"
Alexandria 'Lexi' Rubio, 10
Alexandria Aniyah Rubio.
AL RENDON; ART BY: FILIBERTO MENDIETA
In a Facebook post, Alexandria Rubio's mother, Kimberly Mata-Rubio, wrote, "My beautiful, smart, Alexandria Aniyah Rubio was recognized today for All-A honor roll. She also received the good citizen award. We told her we loved her and would pick her up after school. We had no idea this was goodbye."
RELATED: How a Uvalde Mother Turned Her Grief into Action: 'I Want Children to Have a Chance to Grow Up'
Layla Salazar, 11
Layla Salazar.
AL RENDON; ART BY: ALVARO ZERMENO
The happy girl, who loved jamming to "Sweet Child O' Mine" by Guns 'N' Roses with her dad on the way to school, was fondly known as the "princess" of her family, according to her parents' Facebook profiles.
RELATED: Nearly a Year After Mass Shooting, Uvalde Family Says 'We're Lost' Without Daughter Killed at School
Jailah Silguero, 10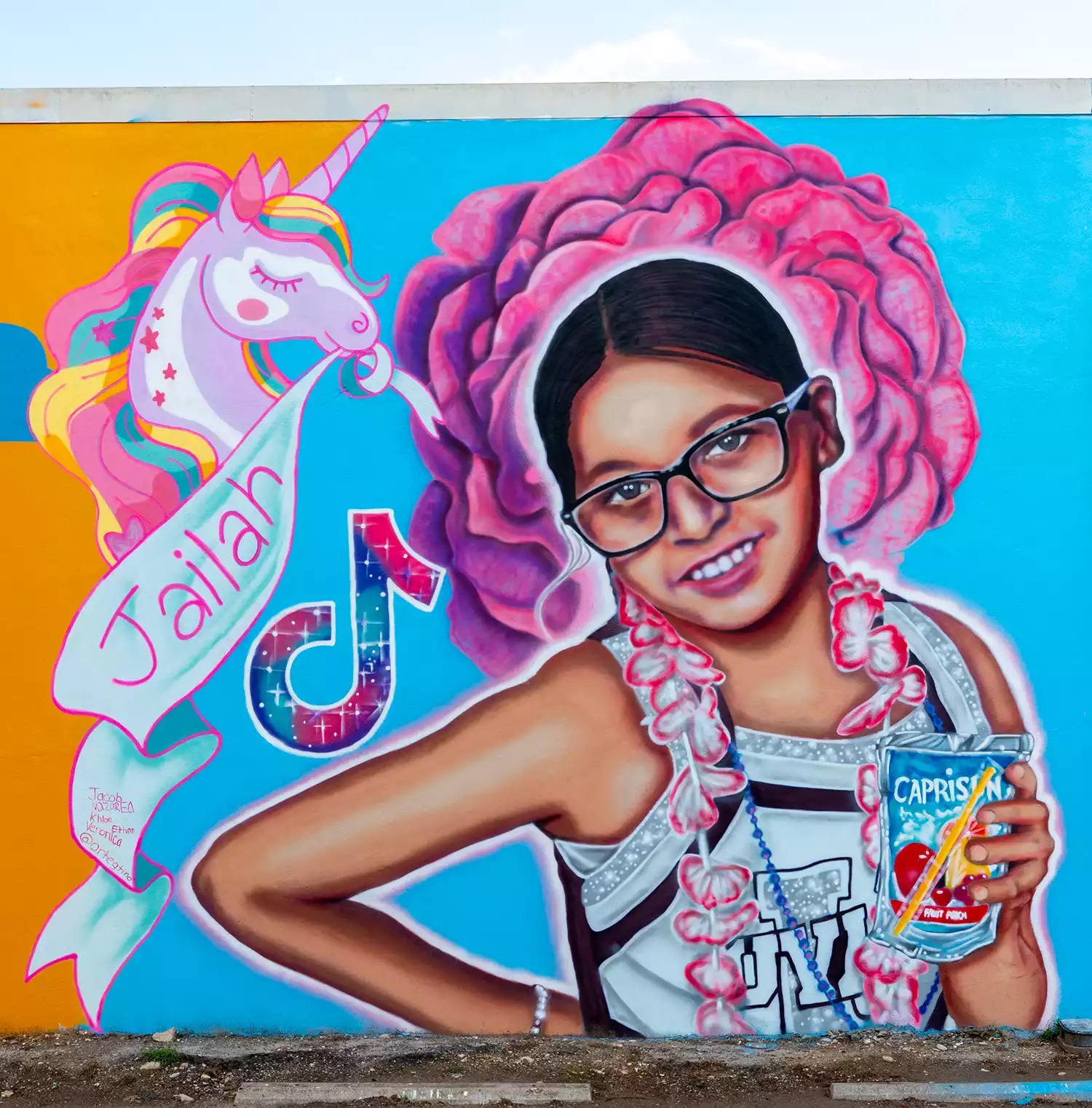 Jailah Silguero.
AL RENDON; ART BY: TINO ORTEGA
Jailah loved to dance and film TikTok videos, her mom Veronica Luevanos told the Los Angeles Times. On the day of the shooting,  Jailah, who normally enjoyed school, "didn't want to go." On Facebook, her grieving mother wrote, "I'm so heartbroken baby. We miss you so much mama R.I.P my beautiful angel fly high baby can't wait to see u again."
Eliahna Torres, 10
Eliahna Torres.
AL RENDON; ART BY: FILIBERTO MENDIETA
Eliahna was looking forward to her final softball game of the season on the day she was killed. "I talked to her last night," her aunt told KENS-TV, "and she was kind of nervous, saying that it was her last game, and she didn't want softball to end."
RELATED: 'We're in a Nightmare': Stories of Anguish and Love from Uvalde
Rojelio Torres, 10
Rojelio Torres.
AL RENDON; ART BY: FLOYD MENDOZA III AND JESSE DE LEON
Rojelio's aunt, Precious Perez, told KSAT-TV after the boy's death: "We are devastated and heartbroken. Rojer was a very intelligent, hard-working and helpful person. He will be missed and never forgotten."
For more information, please visit the following link:
https://people.com/uvalde-school-shooting-one-year-later-murals-victims-7503494
Uvalde community still seeking accountability a year after elementary school shooting
2,100 views May 23, 2023
This week marks one year since the mass shooting at Robb Elementary School where a gunman killed 19 children and two teachers. In Uvalde, Texas, the community is still trying to make sense of what happened that day. Family members who lost loved ones are asking for accountability and action from their elected leaders as many questions have gone unanswered. Amna Nawaz reports. Stream your PBS favorites with the PBS app: https://to.pbs.org/2Jb8twG Find more from PBS NewsHour at https://www.pbs.org/newshour Subscribe to our YouTube channel: https://bit.ly/2HfsCD6 Follow us: TikTok: https://www.tiktok.com/@pbsnews Twitter: http://www.twitter.com/newshour Instagram: http://www.instagram.com/newshour Facebook: http://www.pbs.org/newshour Subscribe: PBS NewsHour podcasts: https://www.pbs.org/newshour/podcasts Newsletters: https://www.pbs.org/newshour/subscribe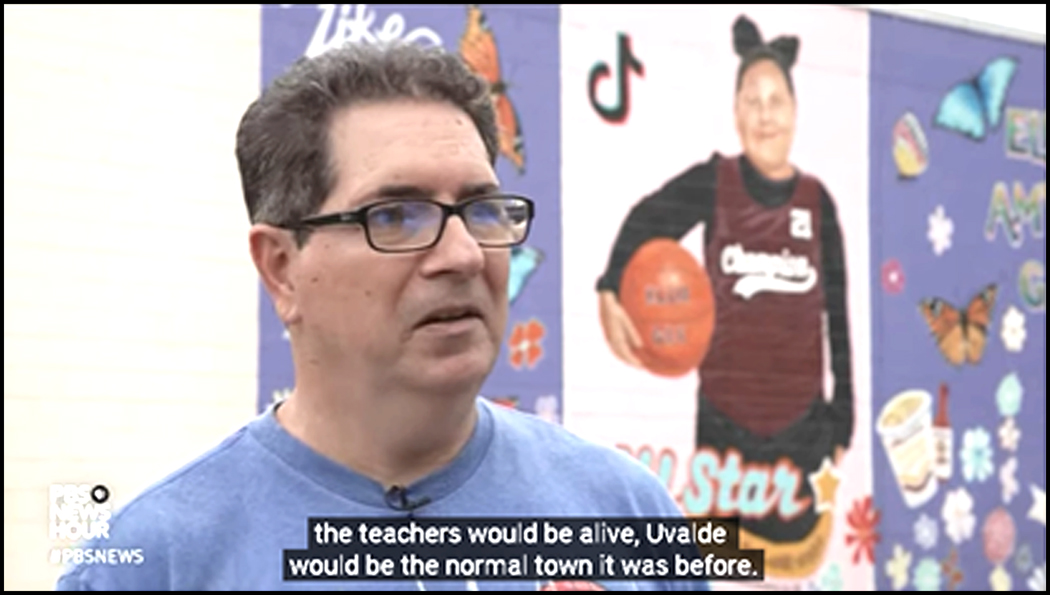 AXIOS: State Legislators Have Passed More Laws Expanding Gun Access Than Gun Control

Mike Allen mike@axios.com  Axios AM, May 23, 2023
U.S. lawmakers pass more pro-gun bills than safety measure
Data: Giffords Center, Axios research. Chart: Erin Davis/Axios Visuals

State legislators have passed more laws expanding gun access than gun-control measures in the year since the mass shooting in Uvalde, Texas, Axios' Russell Contreras and Erin Davis write from Giffords Center data.

· Tomorrow marks one year since a gunman killed 19 students and two teachers in a fourth-grade classroom at Robb Elementary School.

 By the numbers: More than 1,700 gun-related bills have been introduced in state legislatures since the Uvalde shooting. 93 were signed into law.

· Of those, 56% expanded access to firearms — or benefited the firearms industry by, for example, allowing manufacturing in the state, or protecting manufacturers from liability suits, the Axios review found.

· Arkansas passed seven such laws — the most of any state.

· 44% of the bills passed restricted access to firearms or supported victims and potential victims in gun-related cases.

 Between the lines: In 14 of the 17 states that only enacted bills loosening gun restrictions, Republicans control both chambers of the legislature and the governor's office.

· The other three states — Kansas, Kentucky and North Carolina — have GOP-controlled legislatures but Democratic governors.

 Zoom in: The Axios review found that some bills aimed at protecting gun access that passed were so-called "financial privacy" bills.

· Those measures made it harder to track gun sales by barring merchants from using gun-specific codes in credit card billing.

· Other successful bills from highly rated-NRA legislators prevented government entities from patronizing businesses that boycott the firearms industry.

· Some bills made state government funds divest of any ESG funds.

In a rare move, Republicans and Democrats came together in New Mexico recently with a measure that made it a felony to purchase a firearm for someone who is prohibited from possessing one. Gov. Michelle Lujan Grisham (D) signed the measure last month.

· Share this story … Go deeper: "The Uvalde Report," released yesterday by Giffords Law Center.

Ing's Comments:

Uvalde School Shooting

It is so painful to look at the murals of 19 young students and 2 teachers, the victims of the Robb Elementary Uvalde School shooting in a small South Texas city. It is only one of the many mass shootings in the United States. My heart is broken, and I cannot resist the tears coming down, thinking of the people that passed away and the parents, families, friends of the ones that perished. How sad they must be. And the many others who hear the news of this incident must also feel great sadness. This incident provoked this country and the morality of the world.

What good are guns, if they are used to kill innocent people, and the mentally unstable using these weapons? The carnage is multiplied many times over by the semi-automatic rifles that can kill many people within seconds. Here is a quote from an article I read in AXIOS with the headline:

"State legislators have passed more laws expanding gun access than gun-control measures in the year since the mass shooting in Uvalde, Texas, Axios' Russell Contreras and Erin Davis write from Giffords Center data."

I started my Peace Project Website back in 2010. Eager to stop the violence, I went to schools, and other places of social activity, to promote the message of peace from my website. I even promoted this message in my shop, downtown Newark, New Jersey. Initially, I thought that if I start speaking to people, others would understand and continue to promote and talk about this to their families, friends, and especially children. Children could speak to their friends and teachers in school. People could also talk to co-workers on the job and others. But my hope is fading more every day. It seems that people are too busy, or preoccupied, to think or talk about Peace. For some it even seems to be silly to bother talking about peace.

How is our society in USA and the world nowadays?

There is more death by gunfire in US than almost all of the economic and socially developed countries of the world collectively.

Some countries, including the United States, have politicians promoting aggressive behavior between citizens, turning one group against another to win elections, rather than encouraging compromise to bring about unity, and peace for the country.

As time permits, I will continue to use my peace project to promote peace. Hopefully, the current epidemic of gun violence in America and horrors of ongoing wars around the world will make more people take notice. There is a great need for dialogue between adults and children about these issues to give future generations a chance to live in peace.

I will Hug my two grandsons harder, longer and more often than before.  I hope that they will be safe in school and everywhere on earth.

Ing-On Vibulbhan-Watts, Monday, May 29, 2023