PBS News: March 20 – 23, 2020 and Confronting Coronavirus — A PBS NewsHour Special
NBC News: How To Identify Early Symptoms Of COVID-19
africanews Live,
Al Jazeera English | Live
ABC News (Australia) Live
[CNA 24/7 LIVE] Breaking news, top stories and documentaries,
Global National: March 23, 2020 | Coronavirus crisis leads to more extreme measures around the world,
Sky News live
DW News Livestream – Latest news and breaking stories
Roylab Stats: [LIVE] Coronavirus Pandemic: Real Time Counter, World Map, News
Scientific American: Destroyed Habitat Creates the Perfect Conditions for Coronavirus to Emerge COVID-19 may be just the beginning of mass pandemics
Thisiscolossal: Amazing Underwater Photographs Capture the World's Only Known Pink Manta Ray
PBS NewsHour full episode, Mar 23, 2020
Mar 23, 2020 PBS NewsHour
Monday on the NewsHour, as the novel coronavirus continues to spread across the U.S. and the globe, Congress struggles to agree on a relief bill. Plus: What doctors are seeing on the frontlines of the fight against COVID-19, how to protect health care workers, the threat of pandemic in war zones, Politics Monday with Tamara Keith and Amy Walter, the latest from the White House and what to read. WATCH TODAY'S SEGMENTS Where are Senate negotiations on next COVID-19 relief bill? https://www.youtube.com/watch?v=uVbTt… What doctors are seeing in emergency departments nationwide https://www.youtube.com/watch?v=0OeLi… How hospitals can keep medical workers safe amid pandemic https://www.youtube.com/watch?v=COv2G… News Wrap: IOC member says Tokyo Olympics will be postponed https://www.youtube.com/watch?v=nbVQn… What virus would mean in current global conflict zones https://www.youtube.com/watch?v=nv3kV… Tamara Keith and Amy Walter on 2020 race's pandemic pause https://www.youtube.com/watch?v=kOD5s… Trump says he's eager to return U.S. economy to normal https://www.youtube.com/watch?v=pyTR8… Author Ann Patchett on what to read while staying home https://www.youtube.com/watch?v=F6_OS… Stream your PBS favorites with the PBS app: https://to.pbs.org/2Jb8twG Find more from PBS NewsHour at https://www.pbs.org/newshour Subscribe to our YouTube channel: https://bit.ly/2HfsCD6
PBS NewsHour Weekend full episode March 22, 2020
Mar 22, 2020 PBS NewsHour
On this edition for Sunday, March 22, the latest developments on the coronavirus outbreak, social services adapt to continue to provide for seniors, the psychological toll of social distancing and the trends that researchers are seeing with the pandemic. Hari Sreenivasan anchors from New York. Stream your PBS favorites with the PBS app: https://to.pbs.org/2Jb8twG Find more from PBS NewsHour at https://www.pbs.org/newshour Subscribe to our YouTube channel: https://bit.ly/2HfsCD6
PBS NewsHour Weekend full episode, March 21, 2020
Mar 21, 2020 PBS NewsHour
On this edition for Saturday, March 21, as the coronavirus spreads hospitals and medical professionals are pushed to capacity, a growing number of cities shut down services, and the music industry deals with cancellations from the outbreak by performing online. Hari Sreenivasan anchors from New York. Stream your PBS favorites with the PBS app: https://to.pbs.org/2Jb8twG Find more from PBS NewsHour at https://www.pbs.org/newshour Subscribe to our YouTube channel: https://bit.ly/2HfsCD6
PBS NewsHour full episode, Mar 20, 2020
Mar 20, 2020 PBS NewsHour
Friday on the NewsHour, more sections of the U.S. shut down in an attempt to slow the spread of the novel coronavirus. Plus: The latest from Congress and the White House on pandemic response, Dr. Anthony Fauci provides a public health perspective on the crisis, why the U.S. wasn't better prepared for coronavirus, the outbreak worsens in the United Kingdom and Shields and Brooks on a historic week. WATCH TODAY'S SEGMENTS More states go on lockdown as Trump defends virus response https://www.youtube.com/watch?v=Vfdg8… When will U.S. be able to meet demand for COVID-19 tests? https://www.youtube.com/watch?v=yxXJo… Dr. Fauci on what Americans can do to limit pandemic's harm https://www.youtube.com/watch?v=0Vvma… News Wrap: Taliban attack kills at least 17 in Afghanistan https://www.youtube.com/watch?v=eMnU0… Why public health hasn't been a national security priority https://www.youtube.com/watch?v=N5QDS… Coronavirus pandemic finally hits home for United Kingdom https://www.youtube.com/watch?v=G-PUt… Shields and Brooks on American life amid a pandemic https://www.youtube.com/watch?v=8fVff… Stream your PBS favorites with the PBS app: https://to.pbs.org/2Jb8twG Find more from PBS NewsHour at https://www.pbs.org/newshour Subscribe to our YouTube channel: https://bit.ly/2HfsCD6
WATCH: Confronting Coronavirus — A PBS NewsHour Special
Streamed live 8 hours ago PBS NewsHour
Novel coronavirus has, in just a few months, grown into a full-blown pandemic. It has stressed governments and health systems around the globe, ended an era of economic expansion and reshaped public life. To offer context around these uncertain times, the PBS NewsHour will air "Confronting Coronavirus: A PBS NewsHour Special" on PBS stations across the country on Thursday, March 19, starting at 8 p.m. ET. PBS NewsHour anchor and managing editor Judy Woodruff and our correspondents will shed light on what health precautions everyone should take, as well as the pandemic's economic impact. The special will feature interviews with officials, dispatches on the crisis from around the world, plus a virtual town hall with curated questions from viewers like you across the United States. Stream your PBS favorites with the PBS app: https://to.pbs.org/2Jb8twG Find more from PBS NewsHour at https://www.pbs.org/newshour Subscribe to our YouTube channel: https://bit.ly/2HfsCD6
How To Identify Early Symptoms Of COVID-19 | NBC News NOW
Mar 18, 2020 NBC News
President Trump said that anybody who wants a COVID-19 test can get one. NBC News' Alexa Liautaud explains the step-by-step process to getting tested for the virus, and why some people are hitting roadblocks. » Subscribe to NBC News: http://nbcnews.to/SubscribeToNBC » Watch more NBC video: http://bit.ly/MoreNBCNews NBC News Digital is a collection of innovative and powerful news brands that deliver compelling, diverse and engaging news stories. NBC News Digital features NBCNews.com, MSNBC.com, TODAY.com, Nightly News, Meet the Press, Dateline, and the existing apps and digital extensions of these respective properties. We deliver the best in breaking news, live video coverage, original journalism and segments from your favorite NBC News Shows. Connect with NBC News Online! NBC News App: https://apps.nbcnews.com/mobile Breaking News Alerts: https://link.nbcnews.com/join/5cj/bre… Visit NBCNews.Com: http://nbcnews.to/ReadNBC Find NBC News on Facebook: http://nbcnews.to/LikeNBC Follow NBC News on Twitter: http://nbcnews.to/FollowNBC Follow NBC News on Instagram: http://nbcnews.to/InstaNBC How To Identify Early Symptoms Of COVID-19 | NBC News NOW
Category News & Politics
africanews Live
Started streaming on Feb 20, 2020
Africanews is a new pan-African media pioneering multilingual and independent news telling expertise in Sub-Saharan Africa. Subscribe on ourYoutube channel : https://www.youtube.com/c/africanews?… Africanews is available in English and French. Website : www.africanews.com Facebook : https://www.facebook.com/africanews.c… Twitter : https://twitter.com/africanews
Category News & Politics
Al Jazeera English | Live
Started streaming on Jan 15, 2020 Al Jazeera English
@Al Jazeera English, we focus on people and events that affect people's lives. We bring topics to light that often go under-reported, listening to all sides of the story and giving a 'voice to the voiceless'. Reaching more than 270 million households in over 140 countries across the globe, our viewers trust Al Jazeera English to keep them informed, inspired, and entertained. Our impartial, fact-based reporting wins worldwide praise and respect. It is our unique brand of journalism that the world has come to rely on. We are reshaping global media and constantly working to strengthen our reputation as one of the world's most respected news and current affairs channels. Subscribe to our channel: http://bit.ly/AJSubscribe Follow us on Twitter: https://twitter.com/AJEnglish Find us on Facebook: https://www.facebook.com/aljazeera Check our website: http://www.aljazeera.com/ #AlJazeeraEnglish #BreakingNews #AlJazeeraLive
Category News & Politics
Watch ABC News live
Started streaming on Mar 19, 2020 ABC News (Australia)
ABC News channel provides around the clock coverage of news events as they break in Australia and abroad. Including the latest coronavirus updates. It's news when you want it, from Australia's most trusted news organisation. This embedding tool is not for use by commercial parties. ABC News Homepage: http://abc.net.au/news Follow us on Twitter: http://twitter.com/abcnews Like us on Facebook: http://facebook.com/abcnews.au Subscribe to us on YouTube: http://ab.co/1svxLVE Follow us on Instagram: http://instagram.com/abcnews_au
Category News & Politics
[CNA 24/7 LIVE] Breaking news, top stories and documentaries
Started streaming on Jan 1, 2020 CNA
Watch CNA's 24-hour live coverage of the latest headlines and top stories from Singapore, Asia and around the world, as well as documentaries and features that bring you a deeper look at Singapore and Asian issues. CNA is a regional broadcaster headquartered in Singapore. Get the programming schedule here: https://www.channelnewsasia.com/news/… Subscribe to our channel here: https://cna.asia/youtubesub Subscribe to our news service on Telegram: https://cna.asia/telegram Follow us: CNA: https://cna.asia CNA Lifestyle: http://www.cnalifestyle.com Facebook: https://www.facebook.com/channelnewsasia Instagram: https://www.instagram.com/channelnews… Twitter: https://www.twitter.com/channelnewsasia
Category News & Politics
Global National: March 23, 2020 | Coronavirus crisis leads to more extreme measures around the world
Mar 23, 2020 Global News
Canadian Parliament will be holding an emergency session on Tuesday to pass urgent legislation in response to the COVID-19 pandemic. David Akin and Mercedes Stephenson explain how the Liberal government will table a bill aimed at giving it new, special powers. Also, Prime Minister Justin Trudeau has issued a stern warning to Canadians refusing to abide by social distancing guidelines. Mike Le Couteur reports on the prime minister's message, and what different provinces are doing to get people to stay in their homes. Hospitals across Canada are bracing for the inevitable spike of COVID-19 patients that will strain resources and medical workers. Abigail Bimman reports on Health Minister Patty Hajdu's message to hospitals. Turning to the United States, New York state has become the epicentre of the COVID-19 pandemic in the U.S., while a new outbreak is growing in Louisiana. As Jackson Proskow reports, the White House is facing multiplying, urgent pleas to bail out the economy and the healthcare system. After Canada and Australia refused to send their athletes to the Tokyo 2020 Olympics, veteran IOC member Dick Pound said he expects the games will be postponed. Eric Sorensen explains when the next Olympics could be held, and the reaction. Additionally, despite social distancing guidelines to help flatten the curve of the COVID-19 pandemic, many people in the U.K. are still mingling in parks and cramming into commuter trains. As Crystal Goomansingh reports, the British government is preparing to ramp up enforcement. For more info, please go to http://www.globalnews.ca Subscribe to Global News Channel HERE: http://bit.ly/20fcXDc Like Global News on Facebook HERE: http://bit.ly/255GMJQ Follow Global News on Twitter HERE: http://bit.ly/1Toz8mt Follow Global News on Instagram HERE: https://bit.ly/2QZaZIB #GlobalNews #GlobalNational
Category News & Politics
Watch Sky News live
•Started streaming on Nov 2, 2019 Sky News
Today's top stories: Boris tells adults the best present they can give their mother for Mother's Day is to stay away, the health secretary has said 4,500 retired healthcare workers have signed up to help battle coronavirus and lockdown in the Italian region of Lombardy has been tightened as the country confirmed more than 53,500 cases of COVID-19. ? Boris Johnson warns of 'stark' and 'accelerating' coronavirus numbers ahead of Mother's Day https://trib.al/lrbMq77 ? 4,500 retired doctors and nurses sign up to battle COVID-19 pandemic https://trib.al/LYsfa83 ? Lockdown tightens in parts of Italy hardest hit by COVID-19 https://trib.al/oBdZFdy SUBSCRIBE to our YouTube channel for more videos: http://www.youtube.com/skynews Follow us on Twitter: https://twitter.com/skynews and https://twitter.com/skynewsbreak Like us on Facebook: https://www.facebook.com/skynews Follow us on Instagram: https://www.instagram.com/skynews Sky News videos are now available in Spanish here/Los video de Sky News están disponibles en español aquí https://www.youtube.com/skynewsespanol For more content go to http://news.sky.com and download our apps: Apple https://itunes.apple.com/gb/app/sky-n… Android https://play.google.com/store/apps/de…
Category News & Politics
DW News Livestream | Latest news and breaking stories
Started streaming on Jan 21, 2019 DW News
DW News goes deep beneath the surface, providing the key stories from Europe and around the world. Exciting reports and interviews from the worlds of politics, business, sports, culture and social media are presented by our DW anchors in 15-, 30- and 60-minute shows. Correspondents on the ground and experts in the studio deliver detailed insights and analysis of issues that affect our viewers around the world. We combine our expertise on Germany and Europe with a special interest in Africa and Asia while keeping track of stories from the rest of the world. Informative, entertaining and up-to-date – DW News, connecting the dots for our viewers across the globe. Deutsche Welle is Germany's international broadcaster. We convey a comprehensive image of Germany, report events and developments, incorporate German and other perspectives in a journalistically independent manner. By doing so we promote understanding between cultures and peoples. #dwNews #LiveNews #NewsToday
Category News & Politics
[LIVE] Coronavirus Pandemic: Real Time Counter, World Map, News
Started streaming on Jan 29, 2020 Roylab Stats
Novel coronavirus Live Streaming: Breaking news, world Map and live counter on confirmed cases, recovered cases(COVID-19). I started this live stream on Jan 26th, and since Jan 30th I have been streaming this without stopping. Many people are worried about the coronavirus spreading. For anyone that wants to know the numbers and progression of the worldwide spread of this virus, I offer this live stream. The purpose is not to instill fear or panic, nor is it to necessarily comfort; I just want to present the data to help inform the public of the current situation. At first, I tried to show only official data from governments without any manipulation. But many people wanted to apply an up-to-date format of data to stream. I added a procedure to manually manipulate data with my computer. After seeing the inflicted countries numbers had sharply increased, I realized that I could no longer keep up with new information from 100 countries. So I made another procedure which enables moderators the ability to manipulate the numbers on screen remotely. Not only the moderators who willingly accepted the hard work, but also everyone that gave us reliable information were able to add streaming data. The role of this streaming is to show basic information to undertand situation easily. For detail information, please visit our reference sites. References: 1. WORLDOMETER: https://www.worldometers.info/coronav… 2. BNO News: https://bnonews.com/index.php/2020/02… 3. JHU CSEE: https://gisanddata.maps.arcgis.com/ap… 4. 1point3acres (for USA/CAN):https://coronavirus.1point3acres.com/en 5. RiskLayer (DEU): http://www.risklayer-explorer.com/eve… 6. MorgenPost (DEU): https://interaktiv.morgenpost.de/coro… 7. DXY (CHN): https://ncov.dxy.cn/ncovh5/view/pneum… 8. J.A.G Japan (JPN): https://jagjapan.maps.arcgis.com/apps… 9. VG (NOR): https://www.vg.no/spesial/2020/corona… 10. Wiki – Brazil page (BRA): https://en.wikipedia.org/wiki/2020_co… I majored in life science and joined bioinformatics laboratory for master degree. At that time I used python. Since I decided to change my career as dentist, I have been stopped programming for 15 years. Now, I start to learn more about python with googling. Because my job doesn't allow mistakes, I won't try something new works. Still I am wondering how can i start this live streaming. Sometimes python program doesn't work as i intended. If I can devote all my free time to this live stream, I would give more accurate and faster information. But please understand that I can't manipulate data all day. While I am working and sleeping, data gathering is done automatically. I live in South Korea. At the beginning of streaming, the number of confirmed cases were not so high in South Korea. After sudden appearing local transmission that can't be trackable, the number has been dramatically increased. Please be warned that COVID-19 is highly contagious disease. Although the stream started off crude and basic, many people have supported me in improving and maintaining this. It is because of your support that I am encouraged to keep streaming. I especially appreciate all moderators for willingly accepting the role. They have given their precious time to making this live stream better – Max Mustermann, Stephanie Hughes, Random, Entrenched Trader, Droid Knight, Craft Fan, Fries, jlpowell73, The NCV, Josh Leathers,The Eldritch God, srpk khin, Hitz1001, Red Chiref, GildArt by Gilda, emmamec, lambi, AmberLeanne, DukeHeart, Green Rock Films, Charlie and amithist57. I hope this live stream can be a useful source of information for you. Please keep track of the numbers that impact you and let them inform the decisions you make when you have to make them. Please take care. Keeping good immunity is very important!!! Please sleep, eat and rest fully for resilience. Keep those affected by this unfortunate outbreak in your thoughts. Data1 – screen numbers https://docs.google.com/spreadsheets/… Data2 – Daily numbers https://docs.google.com/spreadsheets/… Eyes_of_Glory/ Heaven_and_Hell / Heaven_and_Hell_Part_2 / Hero_Down/ Into_the_Sky / Lonely_Troutman / Lonely_Troutman_II / Parzival / Mountain/The_Heartache Hero Down: http://incompetech.com/ from www.bensound.com from www.epidemicsound.com
Category News & Politics
https://www.scientificamerican.com/article/destroyed-habitat-creates-the-perfect-conditions-for-coronavirus-to-emerge/
Destroyed Habitat Creates the Perfect Conditions for Coronavirus to Emerge COVID-19 may be just the beginning of mass pandemics
By John Vidal, Ensia on March 18, 2020
From Ensia (find the original story here); reprinted with permission.
Mayibout 2 is not a healthy place. The 150 or so people who live in the village, which sits on the south bank of the Ivindo River, deep in the great Minkebe forest in northern Gabon, are used to occasional bouts of diseases such as malaria, dengue, yellow fever and sleeping sickness. Mostly they shrug them off.
But in January 1996, Ebola, a deadly virus then barely known to humans, unexpectedly spilled out of the forest in a wave of small epidemics. The disease killed 21 of 37 villagers who were reported to have been infected, including a number who had carried, skinned, chopped or eaten a chimpanzee from the nearby forest.
I traveled to Mayibout 2 in 2004 to investigate why deadly diseases new to humans were emerging from biodiversity "hot spots" like tropical rainforests and bushmeat markets in African and Asian cities.
It took a day by canoe and then many hours down degraded forest logging roads passing Baka villages and a small gold mine to reach the village. There, I found traumatized people still fearful that the deadly virus, which kills up to 90% of the people it infects, would return.
Villagers told me how children had gone into the forest with dogs that had killed a chimp. They said that everyone who cooked or ate it got a terrible fever within a few hours. Some died immediately, while others were taken down the river to hospital. A few, like Nesto Bematsick, recovered. "We used to love the forest, now we fear it," he told me. Many of Bematsick's family members died.
Only a decade or two ago it was widely thought that tropical forests and intact natural environments teeming with exotic wildlife threatened humans by harboring the viruses and pathogens that lead to new diseases in humans like Ebola, HIV and dengue.
But a number of researchers today think that it is actually humanity's destruction of biodiversity that creates the conditions for new viruses and diseases like COVID-19, the viral disease that emerged in China in December 2019, to arise—with profound health and economic impacts in rich and poor countries alike. In fact, a new discipline, planetary health, is emerging that focuses on the increasingly visible connections among the well-being of humans, other living things and entire ecosystems.
Is it possible, then, that it was human activity, such as road building, mining, hunting and logging, that triggered the Ebola epidemics in Mayibout 2 and elsewhere in the 1990s and that is unleashing new terrors today?
"We invade tropical forests and other wild landscapes, which harbor so many species of animals and plants—and within those creatures, so many unknown viruses," David Quammen, author of Spillover: Animal Infections and the Next Pandemic, recently wrote in the New York Times. "We cut the trees; we kill the animals or cage them and send them to markets. We disrupt ecosystems, and we shake viruses loose from their natural hosts. When that happens, they need a new host. Often, we are it."
INCREASING THREAT
Research suggests that outbreaks of animal-borne and other infectious diseases like Ebola, SARS, bird flu and now COVID-19, caused by a novel coronavirus, are on the rise. Pathogens are crossing from animals to humans, and many are now able to spread quickly to new places. The U.S. Centers for Disease Control and Prevention (CDC) estimates that three-quarters of "new or emerging" diseases that infect humans originate in nonhuman animals.
Some, like rabies and plague, crossed from animals centuries ago. Others, like Marburg, which is thought to be transmitted by bats, are still rare. A few, like COVID-19, which emerged last year in Wuhan, China, and MERS, which is linked to camels in the Middle East, are new to humans and spreading globally.
Other diseases that have crossed into humans include Lassa fever, which was first identified in 1969 in Nigeria; Nipah from Malaysia; and SARS from China, which killed more than 700 people and traveled to 30 countries in 2002–03. Some, like Zika and West Nile virus, which emerged in Africa, have mutated and become established on other continents.
Kate Jones, chair of ecology and biodiversity at UCL, calls emerging animal-borne infectious diseases an "increasing and very significant threat to global health, security and economies."
AMPLIFICATION EFFECT
In 2008, Jones and a team of researchers identified 335 diseases that emerged between 1960 and 2004, at least 60% of which came from non-human animals.
Increasingly, says Jones, these zoonotic diseases are linked to environmental change and human behavior. The disruption of pristine forests driven by logging, mining, road building through remote places, rapid urbanization and population growth is bringing people into closer contact with animal species they may never have been near before, she says.
The resulting transmission of disease from wildlife to humans, she says, is now "a hidden cost of human economic development. There are just so many more of us, in every environment. We are going into largely undisturbed places and being exposed more and more. We are creating habitats where viruses are transmitted more easily, and then we are surprised that we have new ones."
Jones studies how land use change contributes to the risk. "We are researching how species in degraded habitats are likely to carry more viruses which can infect humans," she says. "Simpler systems get an amplification effect. Destroy landscapes, and the species you are left with are the ones humans get the diseases from."
"There are countless pathogens out there continuing to evolve which at some point could pose a threat to humans," says Eric Fevre, chair of veterinary infectious diseases at the University of Liverpool's Institute of Infection and Global Health. "The risk [of pathogens jumping from animals to humans] has always been there."
The difference between now and a few decades ago, Fevre says, is that diseases are likely to spring up in both urban and natural environments. "We have created densely packed populations where alongside us are bats and rodents and birds, pets and other living things. That creates intense interaction and opportunities for things to move from species to species," he says.
TIP OF THE ICEBERG
"Pathogens do not respect species boundaries," says disease ecologist Thomas Gillespie, an associate professor in Emory University's Department of Environmental Sciences who studies how shrinking natural habitats and changing behavior add to the risks of diseases spilling over from animals to humans.
"I am not at all surprised about the coronavirus outbreak," he says. "The majority of pathogens are still to be discovered. We are at the very tip of the iceberg."
Humans, says Gillespie, are creating the conditions for the spread of diseases by reducing the natural barriers between virus host animals—in which the virus is naturally circulating—and themselves. "We fully expect the arrival of pandemic influenza; we can expect large-scale human mortalities; we can expect other pathogens with other impacts. A disease like Ebola is not easily spread. But something with a mortality rate of Ebola spread by something like measles would be catastrophic," Gillespie says.
Wildlife everywhere is being put under more stress, he says. "Major landscape changes are causing animals to lose habitats, which means species become crowded together and also come into greater contact with humans. Species that survive change are now moving and mixing with different animals and with humans."
Gillespie sees this in the U.S., where suburbs fragmenting forests raise the risk of humans contracting Lyme disease. "Altering the ecosystem affects the complex cycle of the Lyme pathogen. People living close by are more likely to get bitten by a tick carrying Lyme bacteria," he says.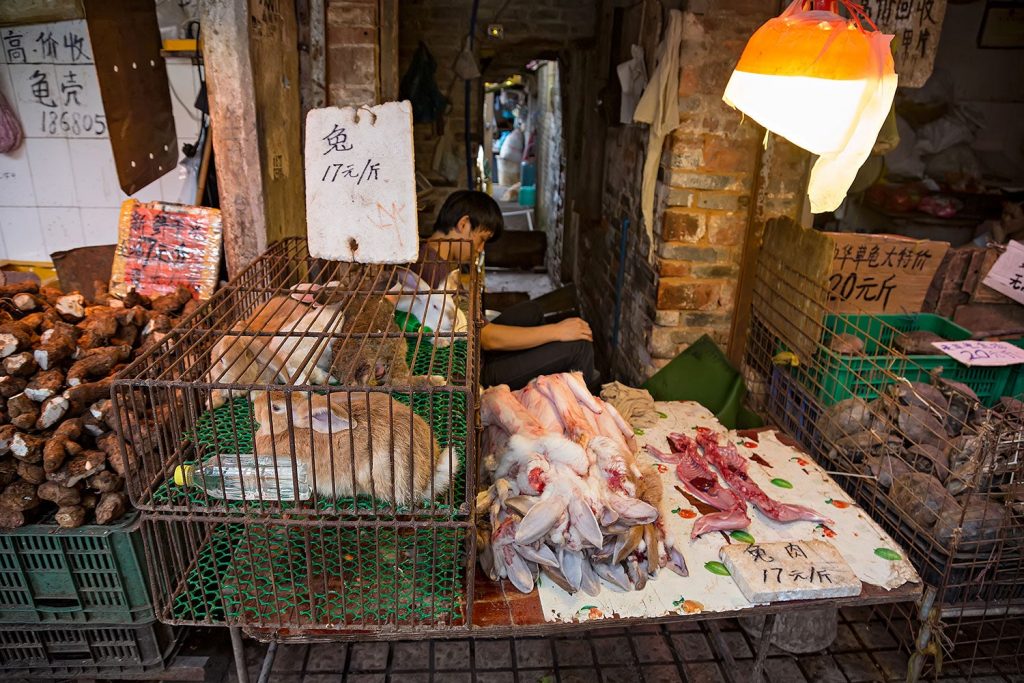 Wet market in Guangzhou, China. Credit: Nisa Maier Getty Images
Yet human health research seldom considers the surrounding natural ecosystems, says Richard Ostfeld, distinguished senior scientist at the Cary Institute of Ecosystem Studies in Millbrook, New York. He and others are developing the emerging discipline of planetary health, which looks at the links between human and ecosystem health.
"There's misapprehension among scientists and the public that natural ecosystems are the source of threats to ourselves. It's a mistake. Nature poses threats, it is true, but it's human activities that do the real damage. The health risks in a natural environment can be made much worse when we interfere with it," he says.
Ostfeld points to rats and bats, which are strongly linked with the direct and indirect spread of zoonotic diseases. "Rodents and some bats thrive when we disrupt natural habitats. They are the most likely to promote transmissions [of pathogens]. The more we disturb the forests and habitats the more danger we are in," he says.
Felicia Keesing, professor of biology at Bard College, New York, studies how environmental changes influence the probability that humans will be exposed to infectious diseases. "When we erode biodiversity, we see a proliferation of the species most likely to transmit new diseases to us, but there's also good evidence that those same species are the best hosts for existing diseases," she wrote in an email to Ensia.
THE MARKET CONNECTION
Disease ecologists argue that viruses and other pathogens are also likely to move from animals to humans in the many informal markets that have sprung up to provide fresh meat to fast-growing urban populations around the world. Here animals are slaughtered, cut up and sold on the spot.
The "wet market" (one that sells fresh produce and meat) in Wuhan, thought by the Chinese government to be the starting point of the current COVID-19 pandemic, was known to sell numerous wild animals, including live wolf pups, salamanders, crocodiles, scorpions, rats, squirrels, foxes, civets and turtles.
Equally, urban markets in west and central Africa see monkeys, bats, rats and dozens of species of bird, mammal, insect and rodent slaughtered and sold close to open refuse dumps and with no drainage.
"Wet markets make a perfect storm for cross-species transmission of pathogens," says Gillespie. "Whenever you have novel interactions with a range of species in one place, whether that is in a natural environment like a forest or a wet market, you can have a spillover event."
The Wuhan market, along with others that sell live animals, has been shut by the Chinese authorities, and the government in February outlawed trading and eating wild animals except for fish and seafood. But bans on live animals being sold in urban areas or informal markets are not the answer, say some scientists.
"The wet market in Lagos is notorious. It's like a nuclear bomb waiting to happen. But it's not fair to demonize places which do not have fridges. These traditional markets provide much of the food for Africa and Asia," says Jones.
"These markets are essential sources of food for hundreds of millions of poor people, and getting rid of them is impossible," says Delia Grace, a senior epidemiologist and veterinarian with the International Livestock Research Institute, which is based in Nairobi, Kenya. She argues that bans force traders underground, where they may pay less attention to hygiene.
Fevre and Cecilia Tacoli, principal researcher in the human settlements research group at the International Institute of Environment and Development (IIED), argue in a blog post that "rather than pointing the finger at wet markets," we should look at the burgeoning trade in wild animals.
"[I]t is wild animals rather than farmed animals that are the natural hosts of many viruses," they write. "Wet markets are considered part of the informal food trade that is often blamed for contributing to spreading disease. But … evidence shows the link between informal markets and disease is not always so clear cut."
CHANGING BEHAVIOR
So what, if anything, can we do about all of this?
Jones says that change must come from both rich and poor societies. Demand for wood, minerals and resources from the Global North leads to the degraded landscapes and ecological disruption that drives disease, she says. "We must think about global biosecurity, find the weak points and bolster the provision of health care in developing countries. Otherwise we can expect more of the same," she says.
"The risks are greater now. They were always present and have been there for generations. It is our interactions with that risk which must be changed," says Brian Bird, a research virologist at the University of California, Davis School of Veterinary Medicine One Health Institute, where he leads Ebola-related surveillance activities in Sierra Leone and elsewhere.
"We are in an era now of chronic emergency," Bird says. "Diseases are more likely to travel further and faster than before, which means we must be faster in our responses. It needs investments, change in human behavior, and it means we must listen to people at community levels."
Getting the message about pathogens and disease to hunters, loggers, market traders and consumers is key, Bird says. "These spillovers start with one or two people. The solutions start with education and awareness. We must make people aware things are different now. I have learned from working in Sierra Leone with Ebola-affected people that local communities have the hunger and desire to have information," he says. "They want to know what to do. They want to learn."
Fevre and Tacoli advocate rethinking urban infrastructure, particularly within low-income and informal settlements. "Short-term efforts are focused on containing the spread of infection," they write. "The longer term—given that new infectious diseases will likely continue to spread rapidly into and within cities—calls for an overhaul of current approaches to urban planning and development."
The bottom line, Bird says, is to be prepared. "We can't predict where the next pandemic will come from, so we need mitigation plans to take into account the worst possible scenarios," he says. "The only certain thing is that the next one will certainly come."
ABOUT THE AUTHOR(S)
John Vidal and Ensia
Recent Articles
Keep an Eye on These 2020 Conservation Issues
Companies May Limit Lifesaving Climate Data to Clients That Can Pay
Surprising Changes Will Affect Biodiversity in 2019
Amazing Underwater Photographs Capture the World's Only Known Pink Manta Ray
March 13, 2020 Grace Ebert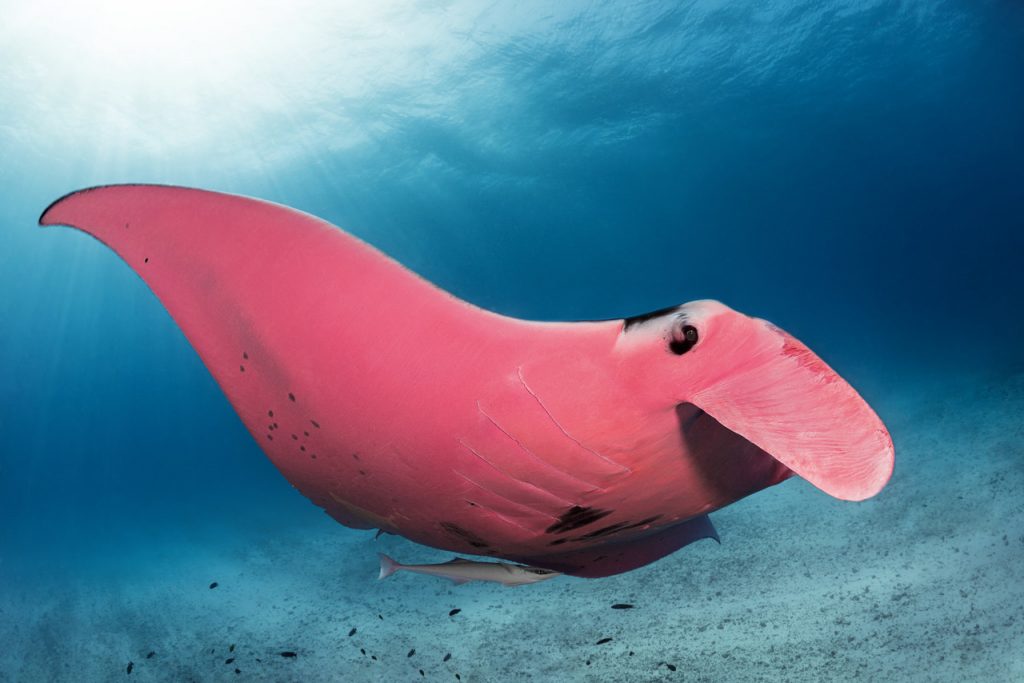 All images © Kristian Laine, shared with permission
Australia-based photographer Kristian Laine recently got a glimpse at a particularly special underwater creature: the world's only known pink manta ray. Spanning about 11 feet and nicknamed Inspector Clouseau after The Pink Panther, the aquatic animal lives near Lady Elliot Island, which is part of the Great Barrier Reef. "I had no idea there were pink mantas in the world, so I was confused and thought my strobes were broken or doing something weird," Laine told National Geographic.
Project Manta has been studying the male fish since he was discovered in 2015. After conducting a skin biopsy, the organization concluded that the unusual hue is not due to diet or disease but rather is likely a genetic mutation called erythrism, which causes changes in melanin expressions. Most manta rays are black, white, or a combination of the two.
For more of Laine's underwater shots, follow him on Instagram or Facebook. You also can purchase one of his photographs of Inspector Clouseau and other ocean fish from his shop. (via My Modern Met)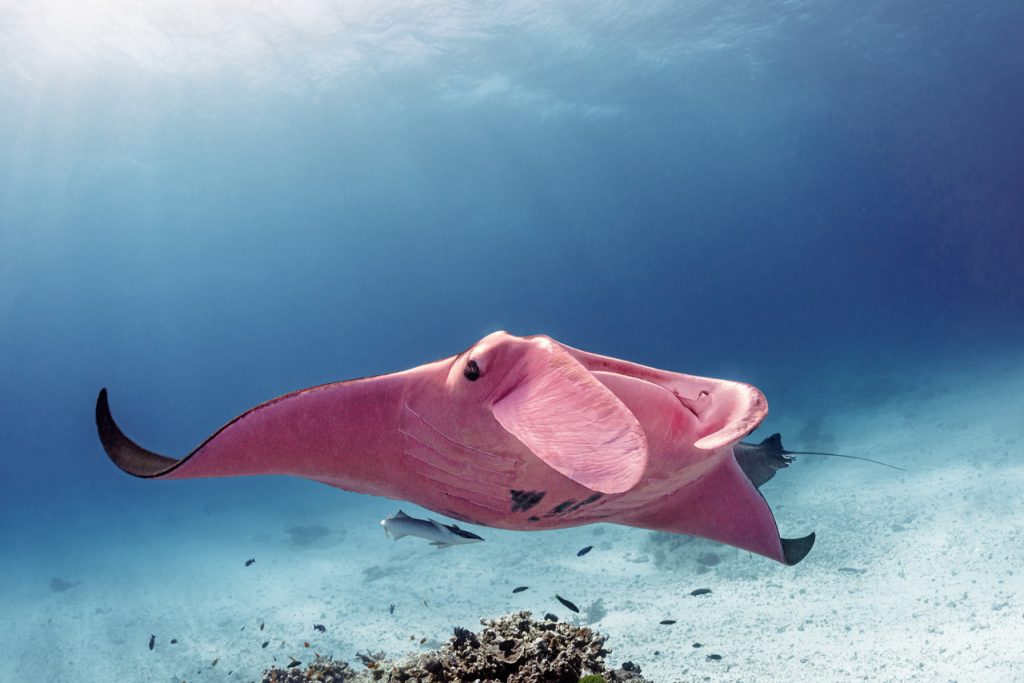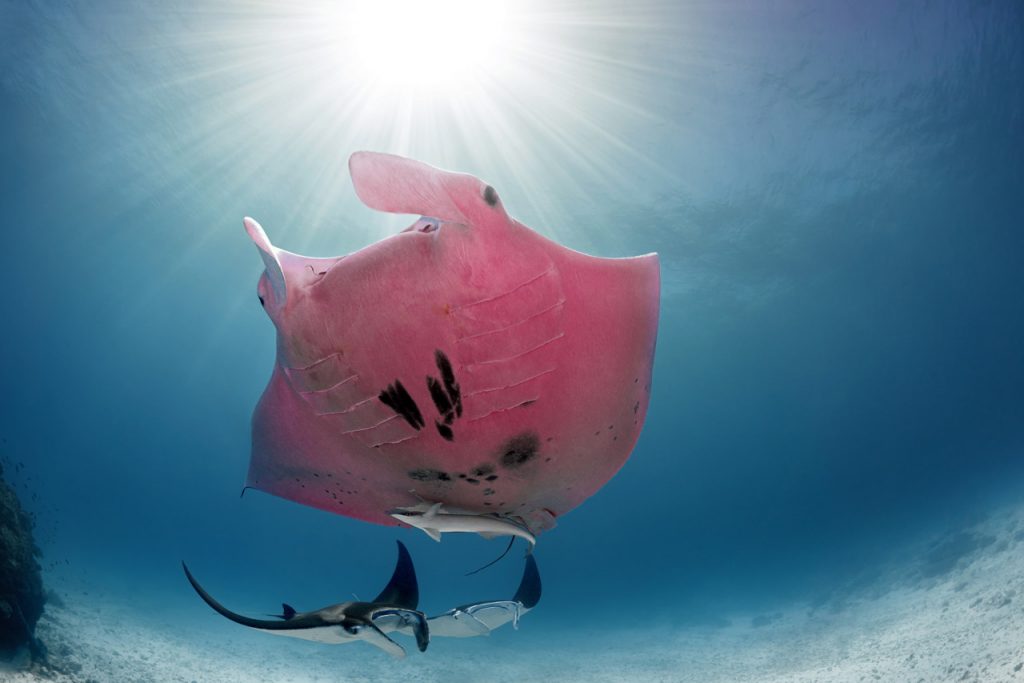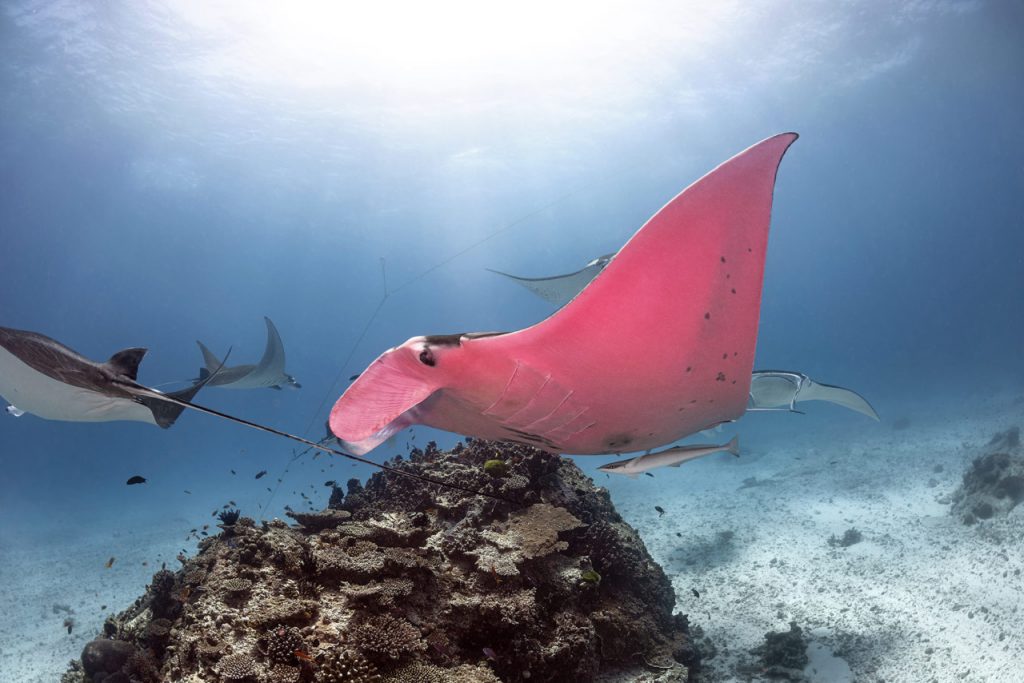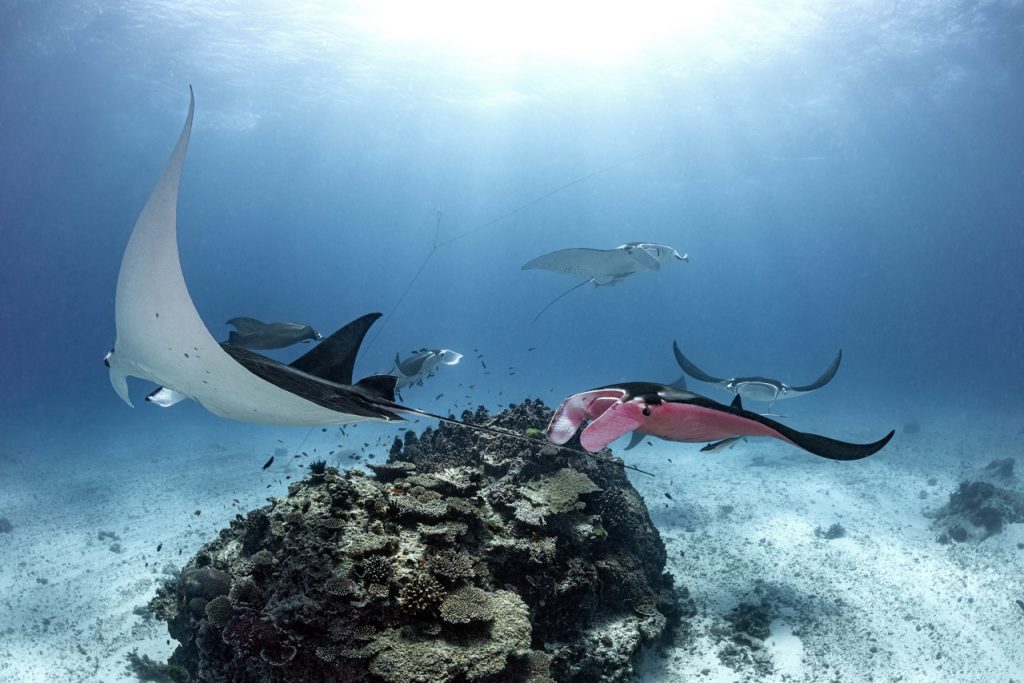 Go to the top