PBS News: March 6 – 9. 2020, How painter Jacob Lawrence reframed early American history with 'Struggle', What's at stake in Supreme Court's Louisiana abortion law case, and How San Francisco is fighting novel coronavirus — and the stigma that comes with it
The New York Times: By Chris Stanford, Monday, March 9, 2020 – Morning Briefing
DW Documentary: Better brain health
BBC Click: Foldable Phones and Medical Tech
TED Talks: The genius behind some of the world's most famous buildings – Renzo Piano, and Jill Seubert How a miniaturized atomic clock could revolutionize space exploration
Bored Panda: NASA's Curiosity Has Been on Mars For More Than 7 Years And Here Are Its 30 Best Photos
My Modern Met: These Exotic Trees Transform into Rainbows as Their Barks Shed
PBS NewsHour live episode, Mar 9, 2020
•Streamed live 83 minutes ago PBS NewsHour
Stream your PBS favorites with the PBS app: https://to.pbs.org/2Jb8twG Find more from PBS NewsHour at https://www.pbs.org/newshour Subscribe to our YouTube channel: https://bit.ly/2HfsCD6
PBS NewsHour Weekend full episode March 8, 2020
Mar 8, 2020 PBS NewsHour
On this edition for Sunday March 8, the coronavirus outbreak spreads and Italy imposes strict travel restrictions, and after years of planning the 2020 census makes its debut this week. Also, a new approach in Louisiana for prison reform focuses on rehabilitation. Hari Sreenivasan anchors from New York. Stream your PBS favorites with the PBS app: https://to.pbs.org/2Jb8twG Find more from PBS NewsHour at https://www.pbs.org/newshour Subscribe to our YouTube channel: https://bit.ly/2HfsCD6
PBS NewsHour Weekend full episode March 7, 2020
Mar 7, 2020 PBS NewsHour
On this edition for Saturday, March 7, concerns over coronavirus continue as the number of cases rise, the presidential democratic candidates rally ahead of the upcoming primaries, tensions escalate amid migrant push on Greece-Turkey border, and can women landowners in Iowa help conservation efforts? Hari Sreenivasan anchors from New York. Stream your PBS favorites with the PBS app: https://to.pbs.org/2Jb8twG Find more from PBS NewsHour at https://www.pbs.org/newshour Subscribe to our YouTube channel: https://bit.ly/2HfsCD6
PBS NewsHour full episode, Mar 6, 2020
Mar 6, 2020 PBS NewsHour
Friday on the NewsHour, President Trump signs a bipartisan emergency spending deal to fund the government's novel coronavirus response, as the global number of cases approaches 100,000. Plus: Questions about how to handle sick leave and medical bills amid the novel coronavirus outbreak, a conversation about women in politics, political analysis with Shields and Brooks and a music documentary. WATCH TODAY'S SEGMENTS Spread of novel coronavirus yields new global reality https://www.youtube.com/watch?v=GEB94… News Wrap: February saw strongest U.S. hiring since 2016 https://www.youtube.com/watch?v=uIfKt… How lack of paid sick leave complicates U.S. virus response https://www.youtube.com/watch?v=6JrYP… Are female presidential candidates held to higher standard? https://www.youtube.com/watch?v=bNLVk… Shields and Brooks on Warren's farewell, Biden's surge https://www.youtube.com/watch?v=KcP7u… Robbie Robertson on building The Band https://www.youtube.com/watch?v=hxRL7… Stream your PBS favorites with the PBS app: https://to.pbs.org/2Jb8twG Find more from PBS NewsHour at https://www.pbs.org/newshour Subscribe to our YouTube channel: https://bit.ly/2HfsCD6
How painter Jacob Lawrence reframed early American history with 'Struggle'
Mar 4, 2020 PBS NewsHour
Amid the McCarthy hearings and the launch of the civil rights movement in the 1950s, painter Jacob Lawrence sought to frame early American history the way he saw it. His ensuing work, the sprawling series "Struggle," has been reassembled and is now on a national tour, with its first stop at the Peabody Essex Museum in Massachusetts. Special correspondent Jared Bowen of WGBH visits the exhibit. Stream your PBS favorites with the PBS app: https://to.pbs.org/2Jb8twG Find more from PBS NewsHour at https://www.pbs.org/newshour Subscribe to our YouTube channel: https://bit.ly/2HfsCD6
What's at stake in Supreme Court's Louisiana abortion law case
Mar 4, 2020 PBS NewsHour
The Supreme Court heard arguments Wednesday in a case about access to abortion doctors in Louisiana. The law in question is similar to a Texas one struck down by the Court in 2016 — but decided by a different group of justices. Lisa Desjardins talks to the National Law Journal's Marcia Coyle and Mary Ziegler, professor and author of "Abortion and the Law in America: Roe v. Wade to the Present." Stream your PBS favorites with the PBS app: https://to.pbs.org/2Jb8twG Find more from PBS NewsHour at https://www.pbs.org/newshour Subscribe to our YouTube channel: https://bit.ly/2HfsCD6
How San Francisco is fighting novel coronavirus — and the stigma that comes with it
Mar 4, 2020 PBS NewsHour
On Wednesday, California officials confirmed the state's first death from novel coronavirus, as the number of infections nationwide continues to rise. But beyond the serious medical implications of the virus, it is also provoking fear, suspicion and ethnic stereotyping. Amna Nawaz reports from San Francisco, a city long known for its ties to China and the Chinese-American community. Stream your PBS favorites with the PBS app: https://to.pbs.org/2Jb8twG Find more from PBS NewsHour at https://www.pbs.org/newshour Subscribe to our YouTube channel: https://bit.ly/2HfsCD6
The New York Times: By Chris Stanford, Monday, March 9, 2020 – Morning Briefing
Good morning.
We're covering updates in the coronavirus outbreak and the latest in the Democratic presidential race. We also explain a dispute over classified portions of the U.S. agreement with the Taliban.
By Chris Stanford
A plunge in stocks to start the week
Global markets fell sharply today, and Wall Street looked set to follow suit, as the effects of the coronavirus outbreak deepened and Saudi Arabia cut oil prices nearly 10 percent over the weekend. Here are the latest market updates.
The Saudi decision was in retaliation for Russia's refusal to join OPEC in a large production cut as the outbreak continues to slow the global economy.
Related: A cruise ship that has been held off California after 21 people aboard tested positive for the virus is set to dock today in Oakland. More than 3,500 passengers and crew members will be taken to military facilities around the country to be quarantined for 14 days. The State Department on Sunday advised Americans against traveling on cruise ships.
Closer look: Dr. Fauci has become the chief explainer of the epidemic, partly because other government scientists have either avoided the spotlight or been reined in by the Trump administration.
News analysis: President Trump, who seems at his strongest politically when he has a human target to attack, has found it harder to confront the threat of an invisible pathogen, our chief White House correspondent writes.
In other developments:
Italians are urged to respect lockdown
As the site of the worst outbreak of the coronavirus outside Asia, Italy has announced strict measures that limit the movements of about a quarter of the population. To bolster the effort, the country's leaders have appealed to Italians to reject "furbizia," the sort of cleverness typically channeled into getting around bureaucracy.
"We are the new Wuhan," one woman in the closed-off northern region of Lombardy said on Sunday.
Go deeper: The lockdown may save lives, but analysts say it will paralyze Italy's economic heartland and almost certainly tip Europe into a recession.
Better brain health | DW Documentary
Mar 5, 2020 DW Documentary
Chocolate reduces stress. Fish stimulates the brain. Is there any truth to such popular beliefs? The findings of researchers around the world say yes: It appears we really are what we eat. A study in a British prison found that inmates who took vitamin supplements were less prone to violent behavior. And in Germany, a psychologist at the University of Lübeck has shown that social behavior is influenced by the ingredients consumed at breakfast. But what really happens in the brain when we opt for honey instead of jam, and fish rather than sausage? Scientists around the world are trying to find out. Neuro-nutrition is the name of an interdisciplinary research field that investigates the impact of nutrition on brain health. Experiments on rats and flies offer new insight into the effects of our eating habits. When laboratory rats are fed a diet of junk food, the result is not just obesity. The menu also has a direct influence on their memory performance. The role of the intestinal flora has been known for some time, but scientists are currently discovering other relationships. So-called "brain food" for example: The Mediterranean diet that's based on vegetables and fish is said to provide the best nutrition for small grey cells. Omega-3 fatty acids, which are found in fish, for example, protect the nerve cells and are indispensable for the development of the brain – because the brain is also what it eats! ——————————————————————– DW Documentary gives you knowledge beyond the headlines. Watch high-class documentaries from German broadcasters and international production companies. Meet intriguing people, travel to distant lands, get a look behind the complexities of daily life and build a deeper understanding of current affairs and global events. Subscribe and explore the world around you with DW Documentary. Subscribe to: DW Documentary: https://www.youtube.com/channel/UCW39… DW Documental (Spanish): https://www.youtube.com/dwdocumental DW Documentary ??????? ?? ?????: (Arabic): https://www.youtube.com/dwdocarabia For more visit: http://www.dw.com/en/tv/docfilm/s-3610 Instagram: https://www.instagram.com/dwdocumentary/ Facebook: https://www.facebook.com/dw.stories
Category Education
Foldable Phones and Medical Tech – BBC Click
Mar 8, 2020 BBC Click
Click checks out a new foldable phone, but is the technology worth the hype? Also, we meet a man having a microcomputer implanted into his heart. Subscribe HERE http://bit.ly/1uNQEWR Find us online at www.bbc.com/click Twitter: @bbcclick Facebook: www.facebook.com/BBCClick
Category Science & Technology
The genius behind some of the world's most famous buildings | Renzo Piano
Jul 13, 2018 TED
Legendary architect Renzo Piano — the mind behind such indelible buildings as The Shard in London, the Centre Pompidou in Paris and the new Whitney Museum of Art in New York City — takes us on a stunning tour through his life's work. With the aid of gorgeous imagery, Piano makes an eloquent case for architecture as the answer to our dreams, aspirations and desire for beauty. "Universal beauty is one of the few things that can change the world," he says. "This beauty will save the world. One person at a time, but it will do it." Check out more TED Talks: http://www.ted.com The TED Talks channel features the best talks and performances from the TED Conference, where the world's leading thinkers and doers give the talk of their lives in 18 minutes (or less). Look for talks on Technology, Entertainment and Design — plus science, business, global issues, the arts and more. Follow TED on Twitter: http://www.twitter.com/TEDTalks Like TED on Facebook: https://www.facebook.com/TED Subscribe to our channel: https://www.youtube.com/TED
Category Science & Technology
Ask any deep space navigator like Jill Seubert what makes steering a spacecraft difficult, and they'll tell you it's all about the timing; a split-second can decide a mission's success or failure. So what do you do when a spacecraft is bad at telling time? You get it a clock — an atomic clock, to be precise. Let Seubert whisk you away with the revolutionary potential of a future where you could receive stellar, GPS-like directions — no matter where you are in the universe.
This talk was presented to a local audience at TEDxUCLA, an independent event. TED's editors chose to feature it for you.
ABOUT THE SPEAKER
Jill Seubert · Interplanetary navigator
Jill Seubert navigates spacecraft throughout the solar system, exploring with robots where humans cannot yet go.
ABOUT TEDX
TEDx was created in the spirit of TED's mission, "ideas worth spreading." It supports independent organizers who want to create a TED-like event in their own community.
TEDxUCLA | May 2019
NASA's Curiosity Has Been On Mars For More Than 7 Years And Here Are Its 30 Best Photos
Giedr? Vai?iulaityt? BoredPanda staff
For us, mere mortals, Mars is a no man's land where survival seems like a distant dream. After all, no man has ever walked on its surface (as far as we know) and plans to send one to the red planet are only in the early stages of its development. However, humans have touched Mars through the durable wheels of Mars rovers. We've had 4 successful robotically operated Mars rovers (all of which were managed by the Jet Propulsion Laboratory, NASA) so far: Sojourner, Opportunity, Spirit, and Curiosity.
As Opportunity's mission was declared complete on February 13, 2019 when NASA lost all contact with the vehicle, Curiosity became the lone survivor on the red planet, rolling over its surface to examine and explore the unknown land all by itself. The spacecraft first landed on Mars on August 6, 2012 and started carrying out its objectives throughout the years. In fact, Curiosity did its job so well and held on for so long that its original mission duration of 687 days was expanded indefinitely.
Here's how Curiosity looked 7 years ago and now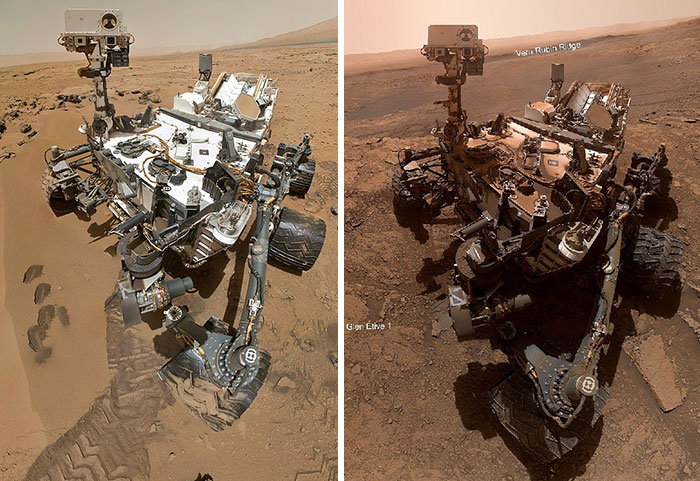 #1 Ripples On Surface Of Martian Sand Dune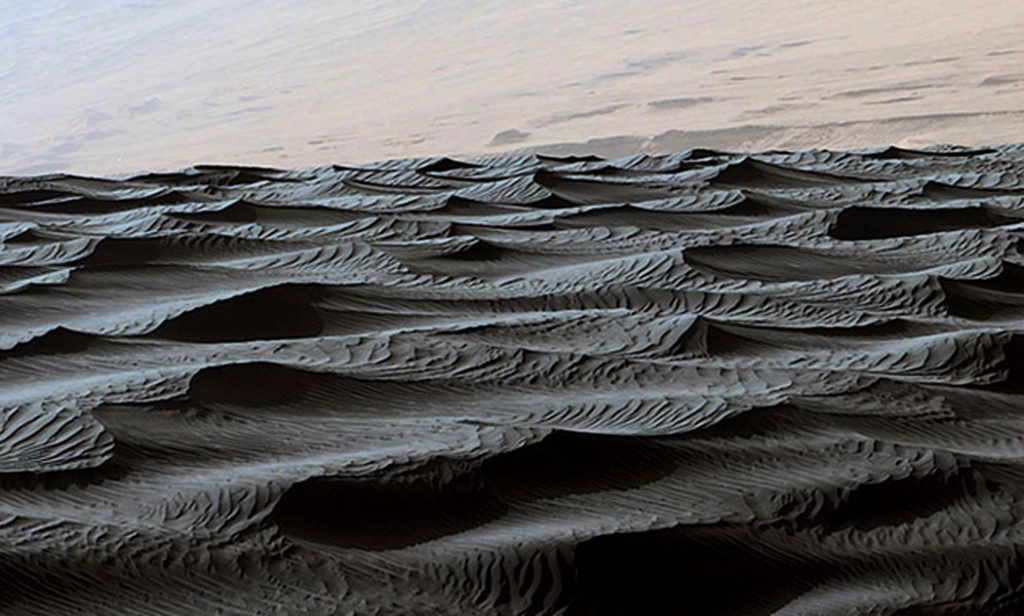 Final score: 102points 12 Reply View More Replies…View more comments
Curiosity is approaching its 8 year anniversary on Mars and while it is currently the only functional rover on the planet (after we all, unfortunately, had to say goodbye to Oppy), NASA has plans to send it some company in the shape of Mars 2020 rover. The 2020 mission is scheduled to start on 17 July to 5 August 2020 when the rocket carrying the rover will be launched. NASA also announced a student naming contest for the rover that was held in the fall of 2019. The final name will be announced in early March 2020, so we definitely have something to look forward to!
#2 Sunset Sequence In Mars' Gale Crater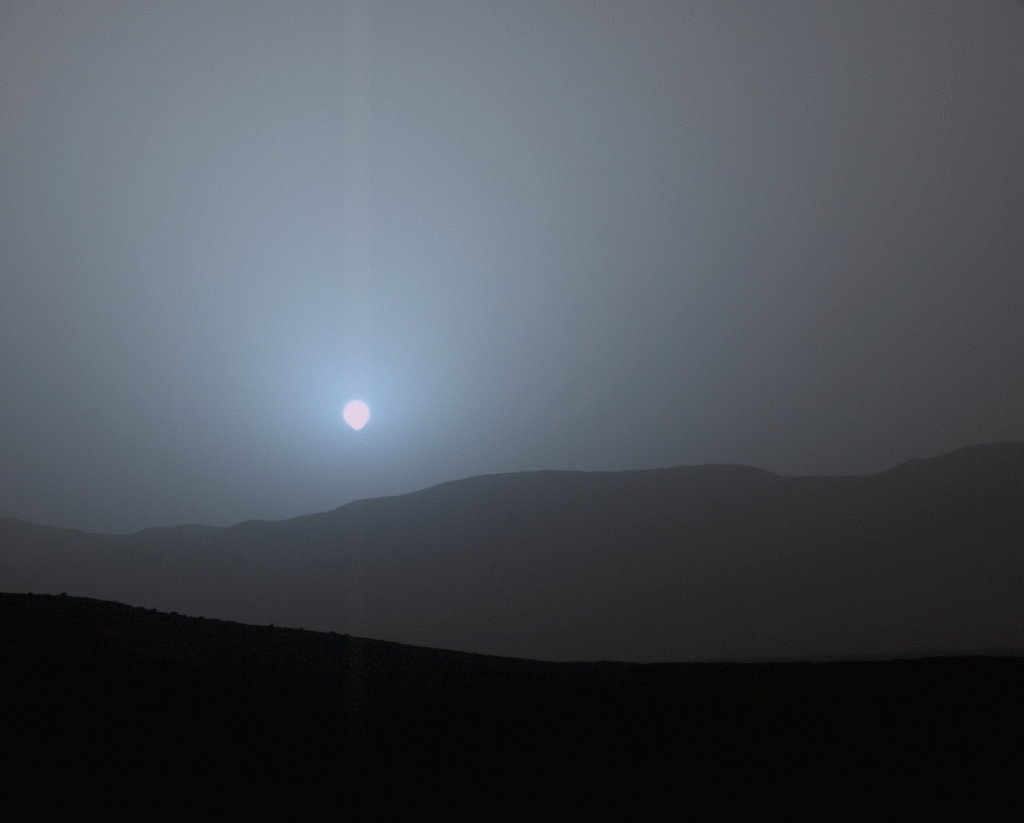 Final score:85points 21 Reply View More Replies…View more comments
#3 Curiosity Rover Finds And Examines A Meteorite On Mars
Final score: 84points 69 Reply View More Replies…View more comments
#4 Curiosity's Color View Of Martian Dune After Crossing It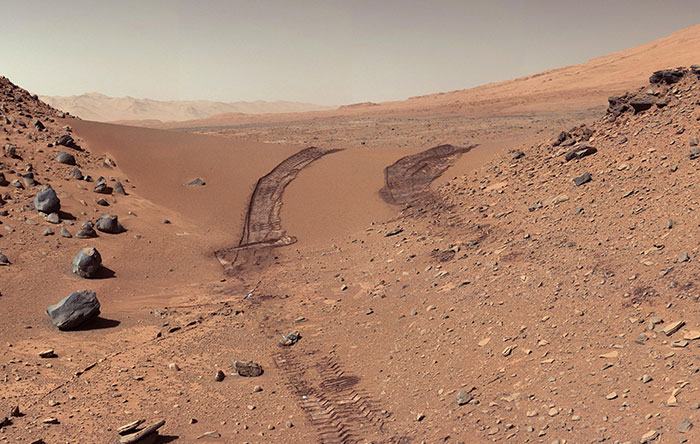 Final score: 76points 29 Reply View more comments
#5 Martian Rock 'Harrison' In Color, Showing Crystals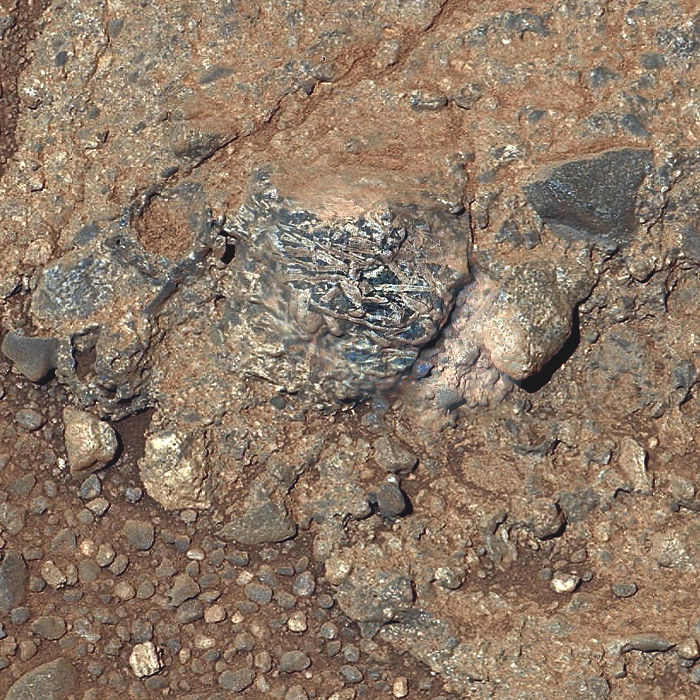 Final score: 72points 27 Reply View More Replies…View more comments
#6 Curiosity's Dusty Selfie At Duluth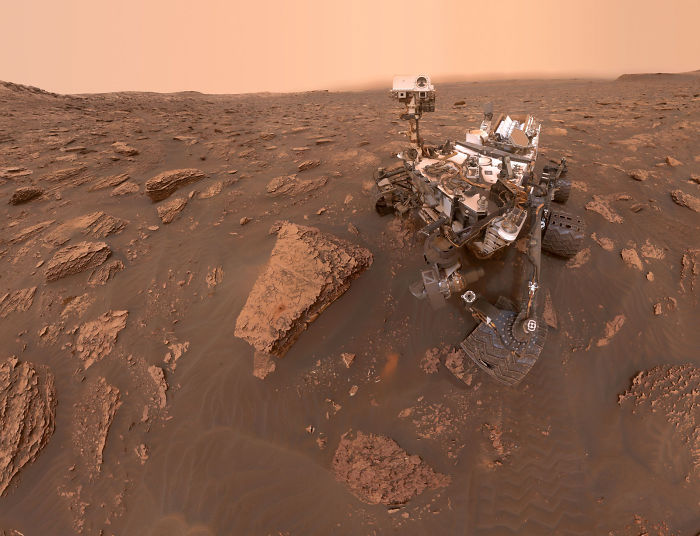 Final score: 68points 51 Reply View More Replies…View more comments
#7 Jake Matijevic Rock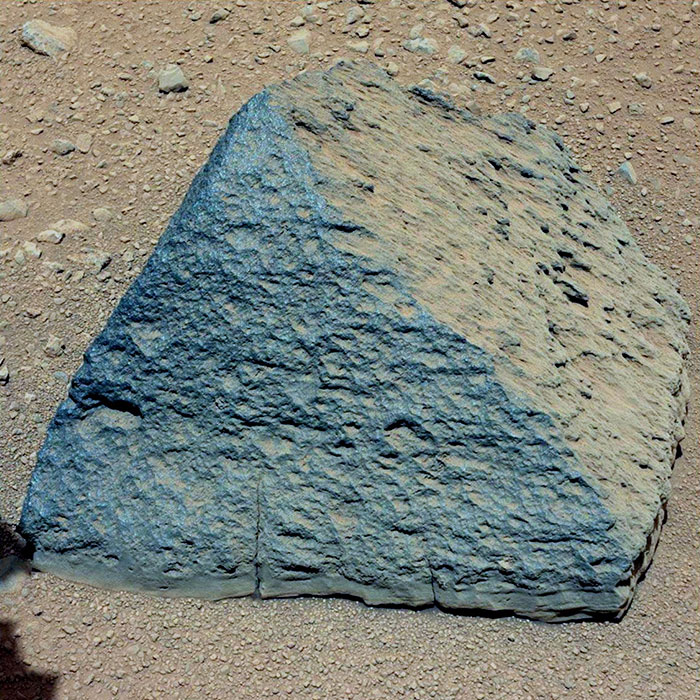 Final score: 68points 30 Reply View More Replies…View more comments
#8 Multiple Layers Of Mount Sharp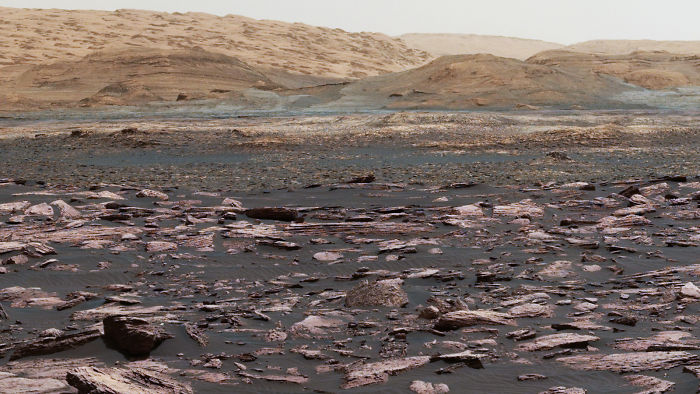 Final score: 64points 29 Reply View More Replies…View more comments
#9 First Sampling Hole In Mount Sharp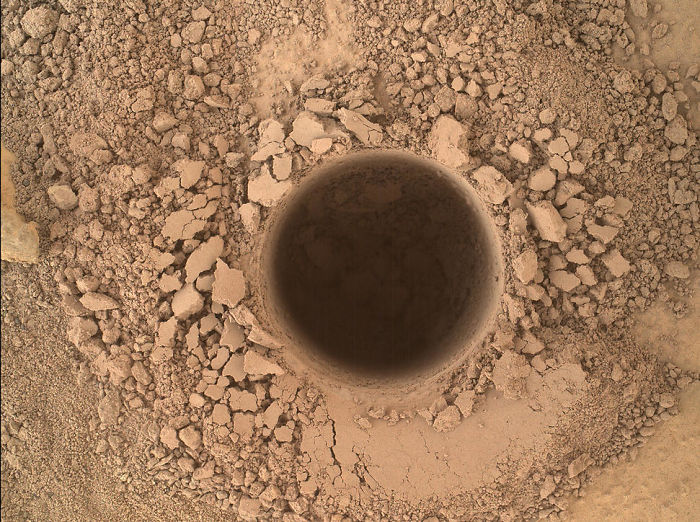 Final score: 63points 18 Reply View More Replies…View more comments
#10 Curiosity Took Dozens Of Mast Cam Images To Complete This Mosaic Of A Petrified Sand Dune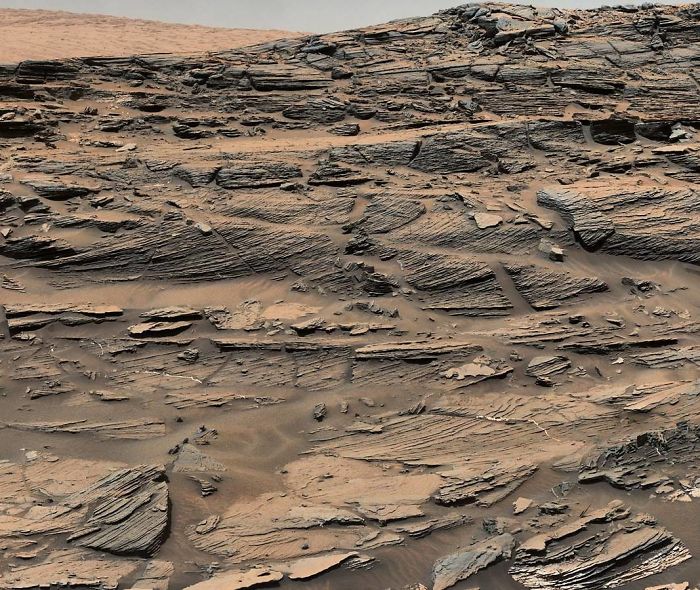 Final score: 63points 25 Reply View More Replies…View more comments
#11 Remnants Of Ancient Streambed On Mars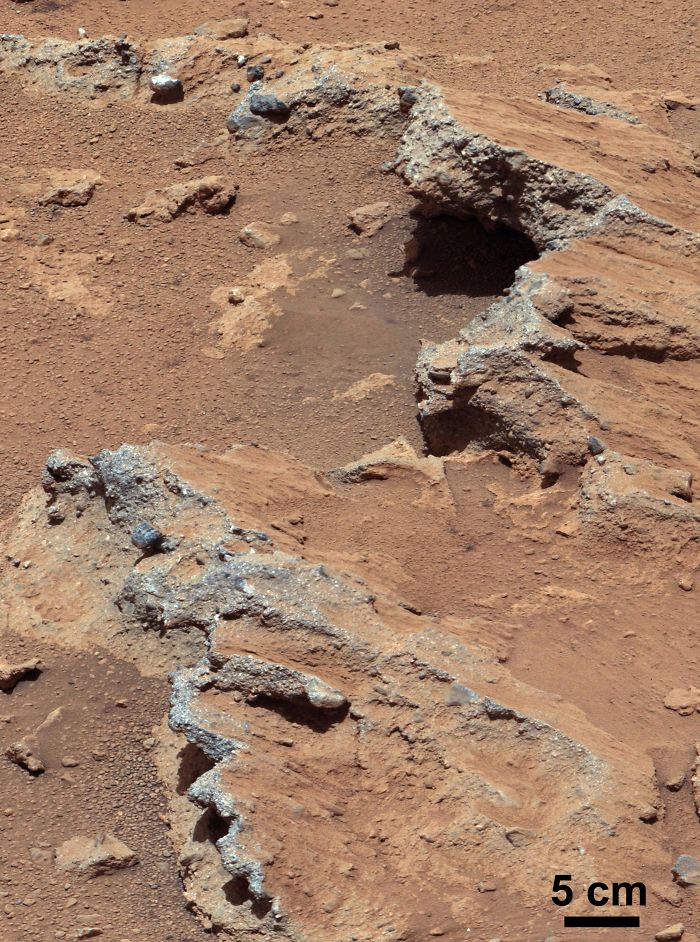 Final score: 61points 13 Reply View more comments
#12 Outcrop In The Murray Buttes Region Of Lower Mount Sharp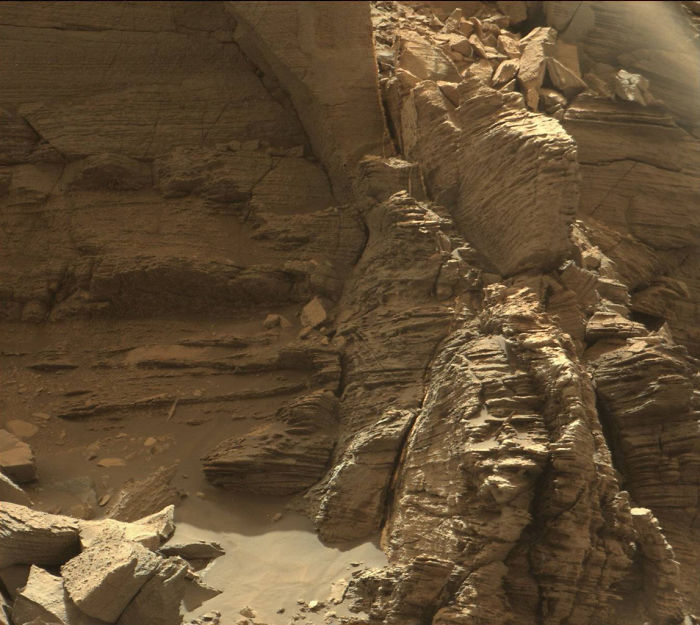 Final score: 61points 26 Reply View More Replies…View more comments
#13 Mount Sharp Comes In Sharply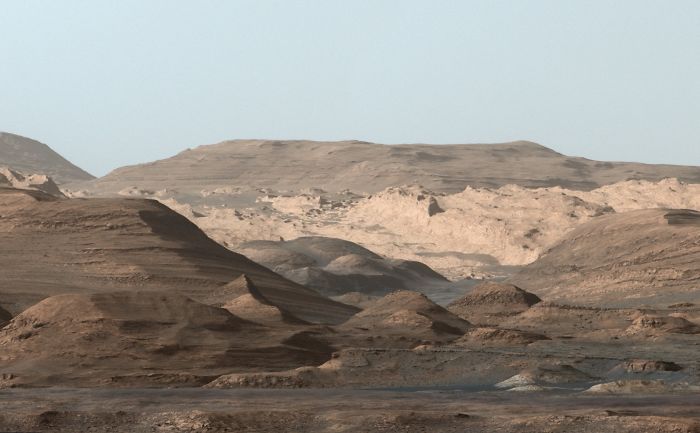 Final score: 59points 7 Reply View more comments
#14 Curiosity Self-Portrait At Martian Sand Dune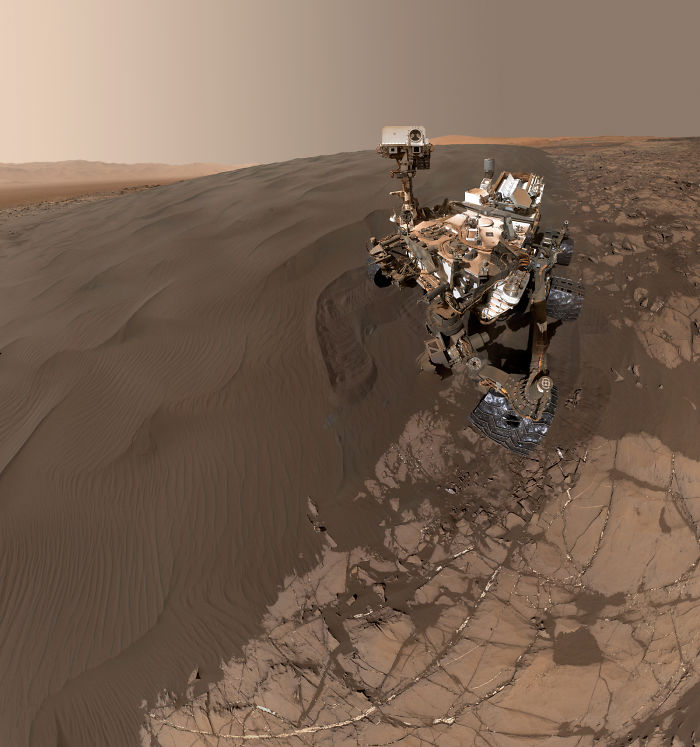 Final score: 56points 52 Reply View More Replies…View more comments
#15 Curiosity Visited An Area Named "Fracture Town" Which Contains Many Pointed, Layered Rock Formations
Final score: 53points 22 Reply View More Replies…View more comments
#16 Having Reached The Base Of Mount Sharp, Curiosity Captured This Image Of Its Rocky Surroundings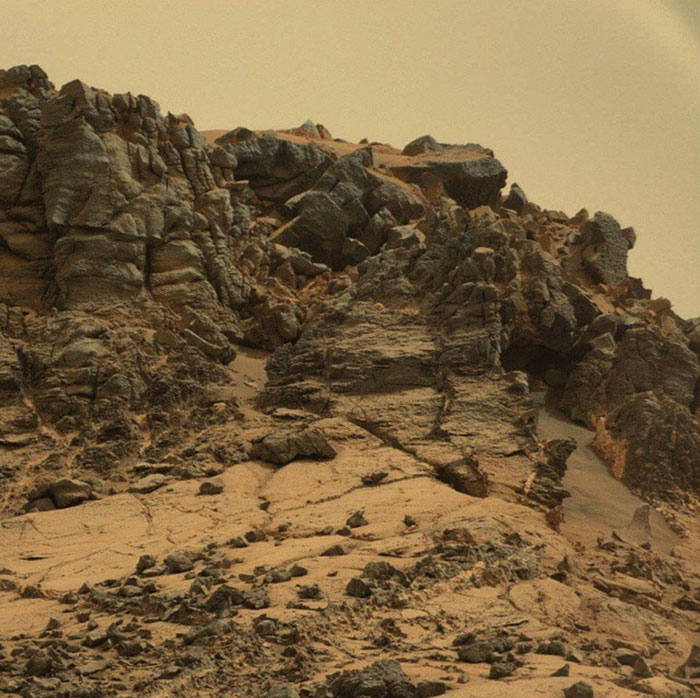 Final score: 53points 26 Reply View More Replies…View more comments
#17 Wheel Scuff Mark At 'Rocknest'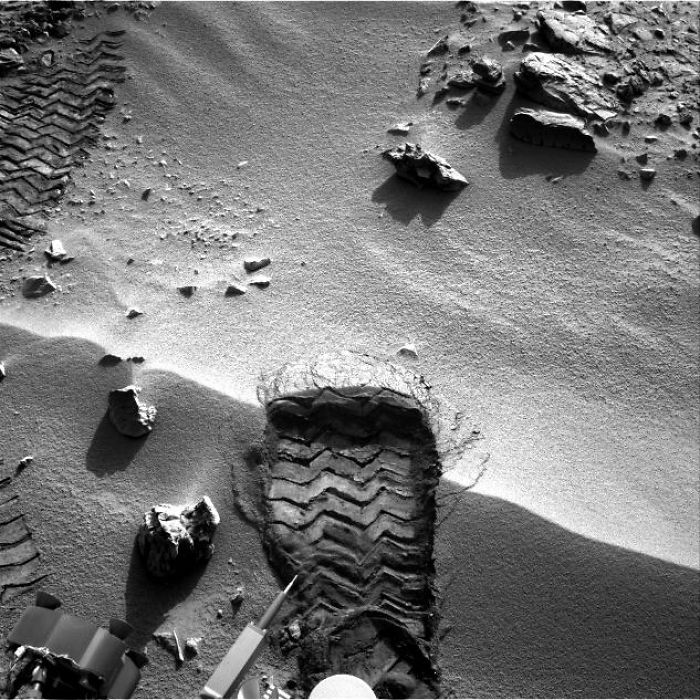 Final score: 52points 25 Reply View More Replies…View more comments
#18 Focusing The 100-Millimeter Mastcam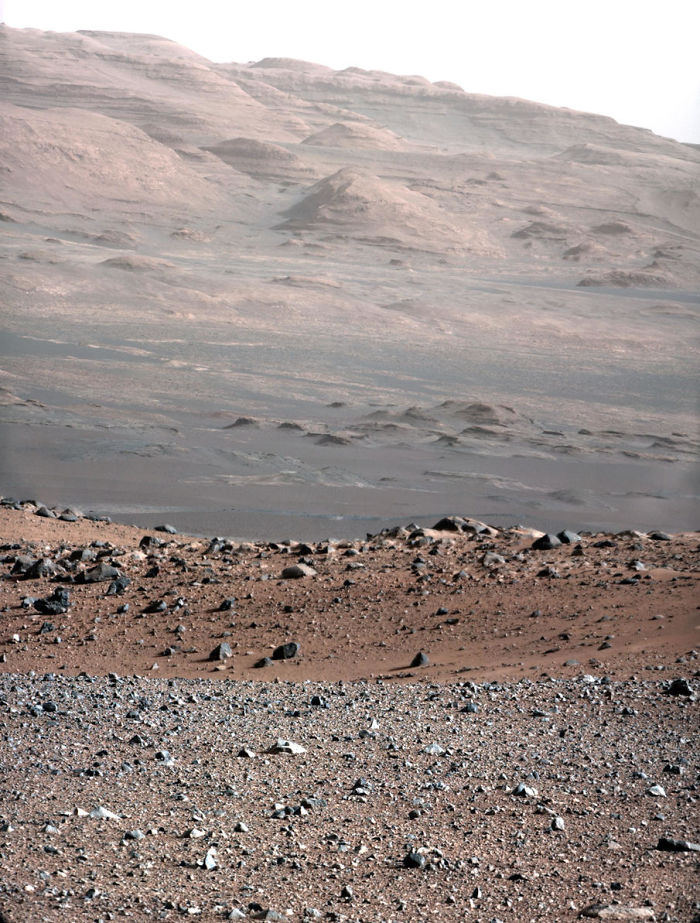 Final score: 49points 44 Reply View More Replies…View more comments
#19 Curiosity Arrived At This Active Sand Dune Named "Gobabeb", Which Is Part Of A Larger Dune Field Known As "Bagnold"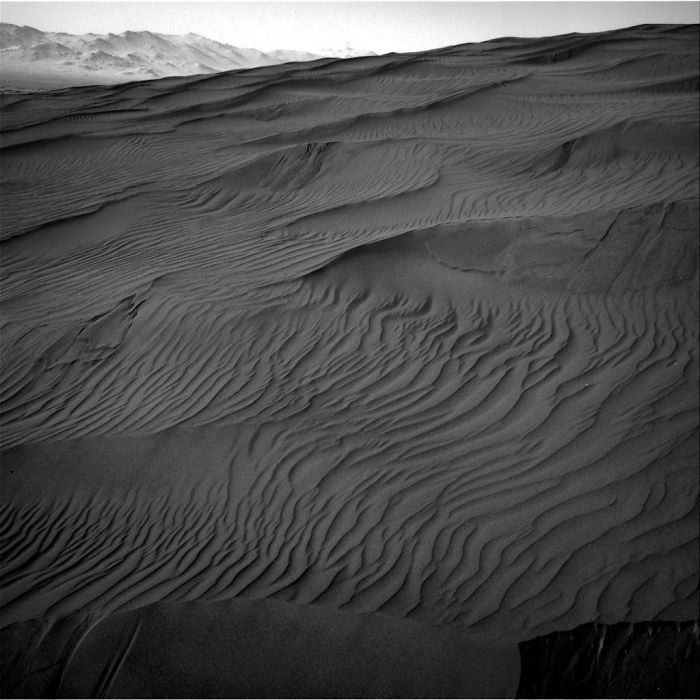 Final score: 48points 22 Reply View More Replies…View more comments
#20 View From Mars Orbiter Showing Curiosity Rover At 'Shaler'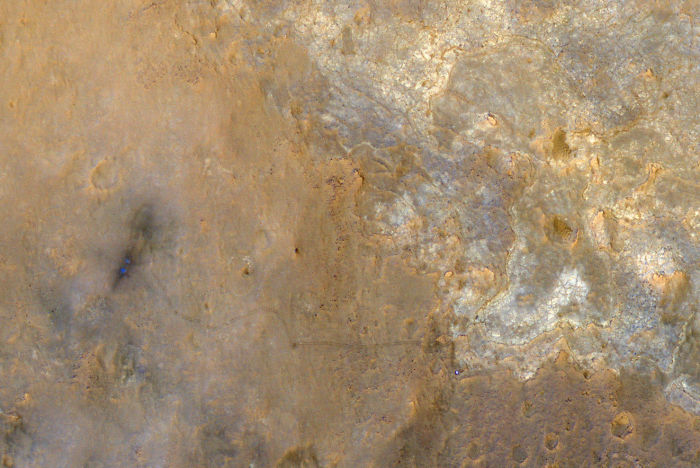 Final score: 47points 19 Reply View More Replies…View more comments
#21 Mars Rover Curiosity In 'Buckskin' Selfie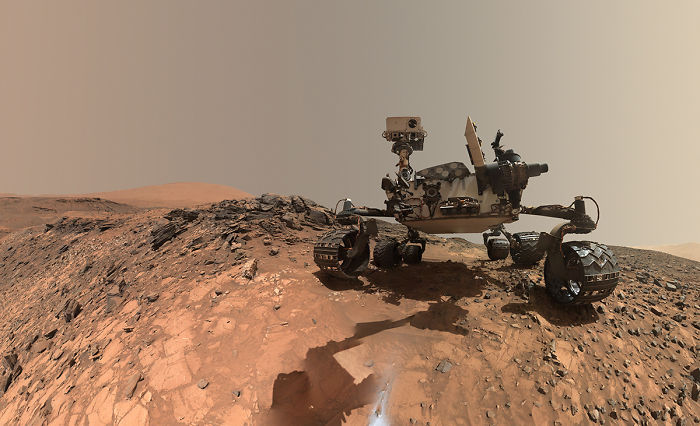 Final score: 45points 32 Reply View More Replies…View more comments
#22 Layers At The Base Of Mount Sharp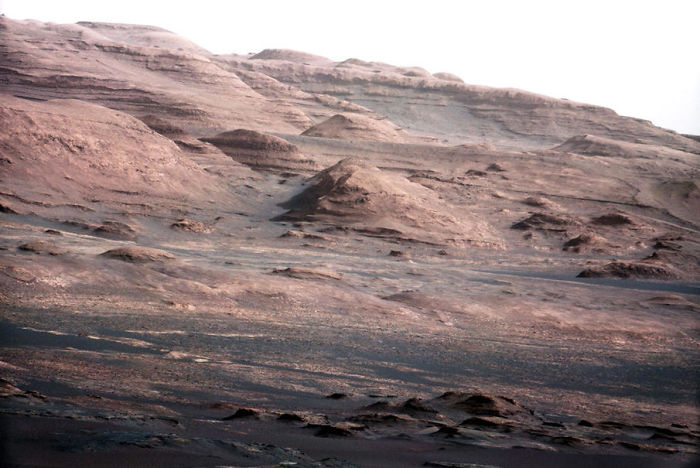 Final score:44points 1 Reply View more comments
#23 Getting To Know Mount Sharp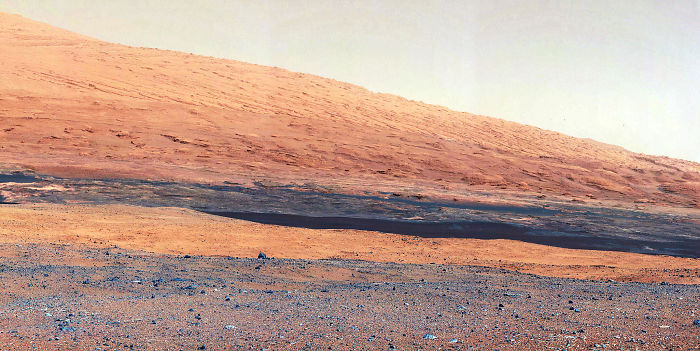 Final score: 44points 7 Reply View more comments
#24 Curiosity Tracks In 'Hidden Valley' On Mars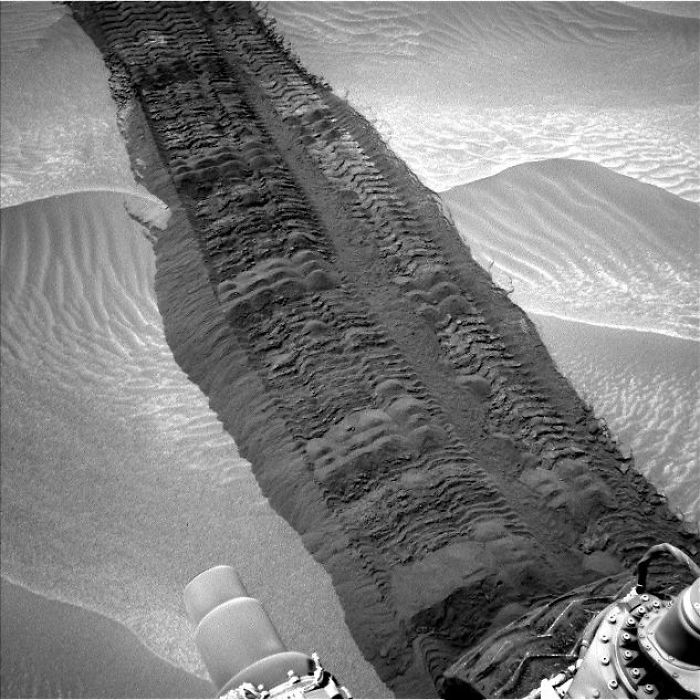 Final score: 42points 7 Reply View more comments
#25 Curiosity Rover's View Of Alluring Martian Geology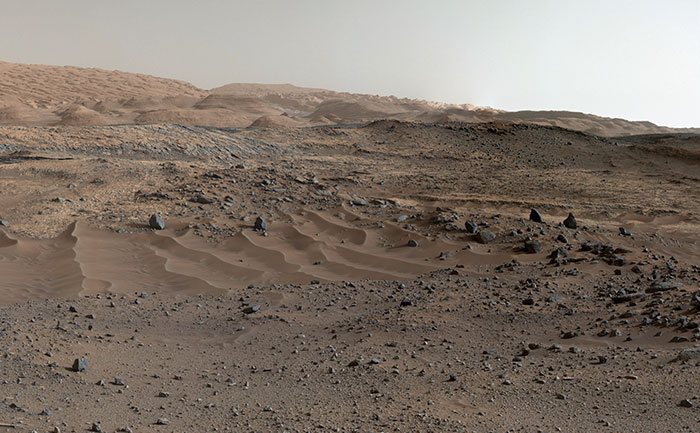 Final score: 41points 15 Reply View More Replies…View more comments
#26 Curiosity Self-Portrait At 'Windjana' Drilling Site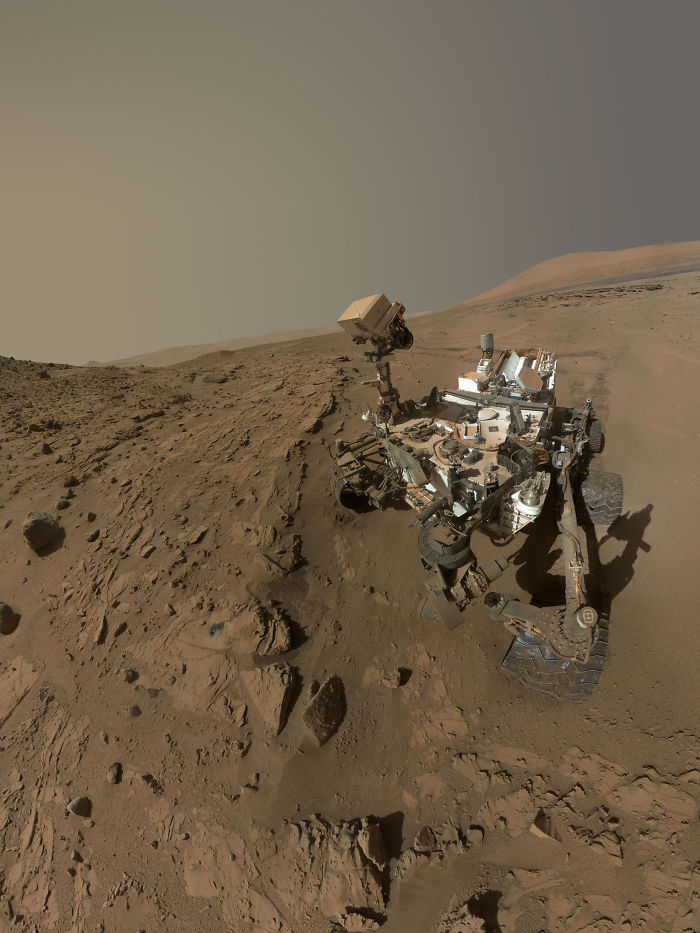 Final score: 41points 7 Reply View More Replies…View more comments
#27 A Mudstone Rock Outcrop At The Base Of Mount Sharp
Final score: 41points 15 Reply View More Replies…View more comments
#28 Bone Up On Mars Rock Shapes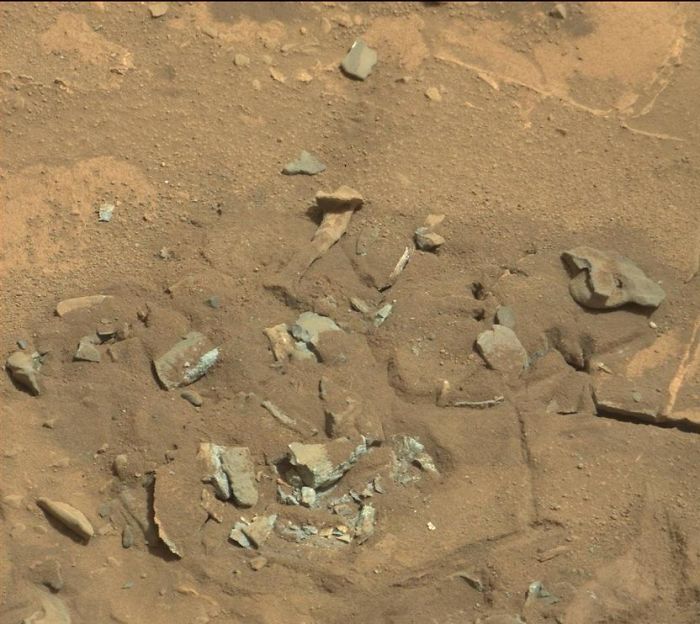 Final score: 39points 10 Reply View More Replies…View more comments
#29 Strata At Base Of Mount Sharp
Final score: 38points 31 Reply View More Replies…View more comments
#30 Resistant Features In 'Pahrump Hills' Outcrop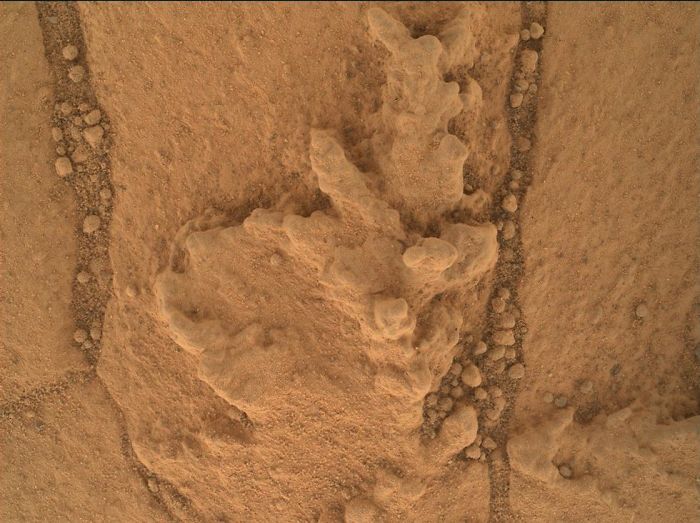 Final score: 37points 15 Reply View More Replies…View more comments
Note: this post originally had 44 images. It's been shortened to the top 30 images based on user votes.
Follow Bored Panda on Google News!
Author, BoredPanda staff
As a writer and image editor for Bored Panda, Giedr? crafts posts on many different topics to push them to their potential. She's also glad that her Bachelor's degree in English Philology didn't go to waste (although collecting dust in the attic could also be considered an achievement of aesthetic value!) Giedr? is an avid fan of cats, photography, and mysteries, and a keen observer of the Internet culture which is what she is most excited to write about. Since she's embarked on her journalistic endeavor, Giedr? has over 600 articles under her belt and hopes for twice as much (fingers crossed – half of them are about cats).
These Exotic Trees Transform Into Rainbows as Their Barks Shed
By Jessica Stewart on January 31, 2020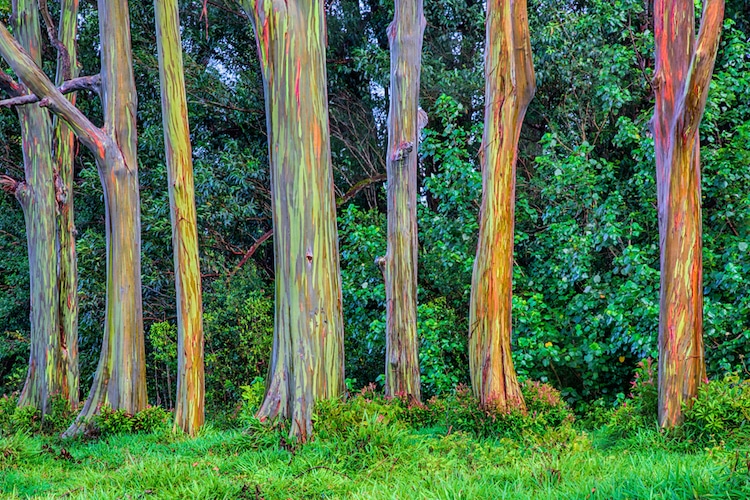 Photo: Stock Photos from Danita Delmont/Shutterstock
Eucalyptus trees are most known for their fragrant leaves and for being the main food source for koalas, but did you know that they can also be quite colorful? In fact, Eucalyptus deglupta is so colorful that it's known as the rainbow eucalyptus. When this incredible tree sheds its bark, it almost looks like a colored pencil being sharpened. This makes for a spectacle that is unforgettable.
Also known as the Mindanao gum or rainbow gum, the rainbow eucalyptus is a tall tree that is unique in that it's the only eucalyptus to live in the rainforest and only one of four species found outside of Australia. It can be found in the Philippines, Indonesia, and Papua New Guinea, where it can soar up to 250 feet in the air. While its height is impressive, it's really the tree's multicolor bark that makes it stand out.
As the rainbow eucalyptus sheds, it first reveals a bright green inner bark. Over time, this ages into different colors—blue, purple, orange, and maroon. The colorful striations are created due to the fact that the tree doesn't shed all at once. Slowly, over time, different layers fall off, while other exposed areas have already begun aging.
This process makes for a spectacular visual, with the rainbow eucalyptus looking like it could be pulled from Alice in Wonderland. Its unique appearance has also made it quite popular amongst garden enthusiasts. It can be found in botanical gardens around the world and is often planted as an ornamental tree in Hawaii, Texas, Louisiana, and Southern California, where the frost-free climate allows it to thrive.
Interestingly, the rainbow eucalyptus also has a high commercial value that has nothing to do with its color. The tree is often found at tree plantations, as it's an excellent source for pulpwood—the main ingredient in making white paper. So the next time you pull out a blank sheet, just remember that it may have originally been something much more colorful.
The rainbow eucalyptus gets its name from its colorful appearance.
Photo: Stock Photos from Sean D. Thomas/Shutterstock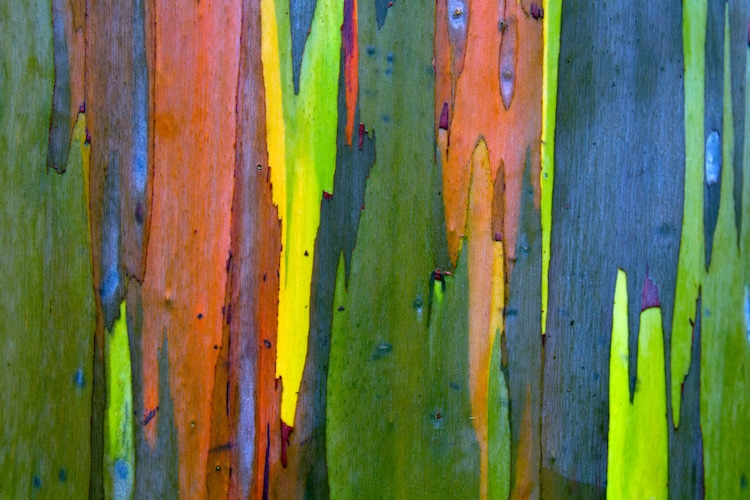 Photo: Stock Photos from A. Michael Brown/Shutterstock
Eucalyptus deglupta takes on different colors as bark sheds and the inner bark slowly ages.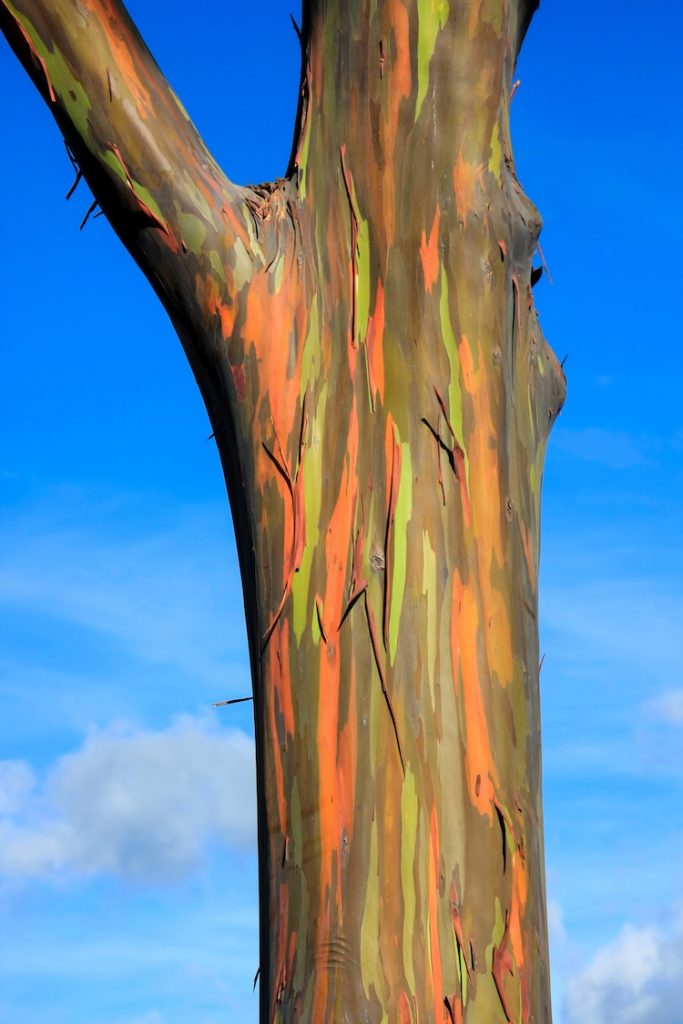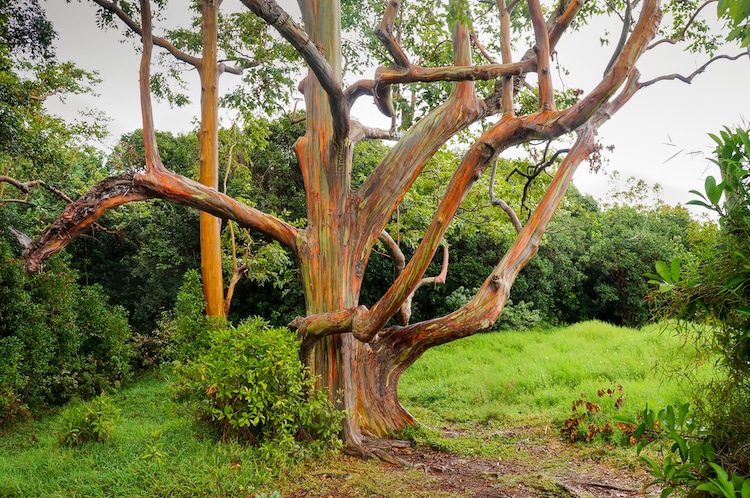 Photo: Stock Photos from Martina Roth/Shutterstock
Photo: Stock Photos from Ilya Images/Shutterstock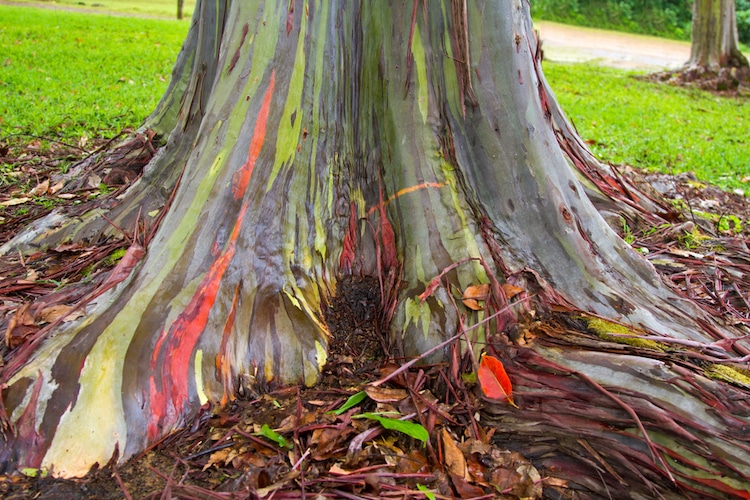 Photo: Stock Photos from A. Michael Brown/Shutterstock
h/t: [Earthly Mission]
Jessica Stewart is a writer, curator, and art historian living in Rome, Italy. She earned her MA in Renaissance Studies from University College London. She cultivated expertise in street art led to the purchase of her photographic archive by the Treccani Italian Encyclopedia in 2014. When she's not spending time with her three dogs, she also manages the studio of a successful street artist. In 2013, she authored the book 'Street Art Stories Roma' and most recently contributed to 'Crossroads: A Glimpse Into the Life of Alice Pasquini'. You can follow her adventures online at @romephotoblog