PBS News: June 28 – 31, 2020, #WashWeekPBS full episode: President Trump stokes fears about election security, and #WashWeekPBS Bookshelf: "The Hardest Job in the World: The American Presidency"
Roylab Stats: [LIVE] Coronavirus Pandemic: Real Time Counter, World Map, News
 Al Jazeera English | Live
 DW News Livestream | Latest news and breaking stories
 The New York Times: The Morning, July 31, 2020 by David Leonhardt
Colossal: Stunning Portraits of Madagascar's Reptiles and Amphibians by Ben Simon Rehn
PBS NewsHour full episode, July 31, 2020
Fundraiser
Jul 31, 2020  PBS NewsHour
Friday on the NewsHour, top U.S. health officials testify before Congress about the country's raging coronavirus pandemic — and their hopes for a vaccine. Plus: A conversation with Rep. Jim Clyburn, the Trump administration takes on China, Joe Biden's running mate decision, political analysis with Mark Shields and David Brooks and remembering five people killed by COVID-19. Support your local PBS station here: https://pbs.org/donate WATCH TODAY'S SEGMENTS U.S. health officials acknowledge delays in virus testing https://www.youtube.com/watch?v=-QLTh… Clyburn on having a Black woman as Biden's running mate https://www.youtube.com/watch?v=urTtY… News Wrap: Hong Kong postpones elections due to pandemic https://www.youtube.com/watch?v=1qP54… Why DOJ is pursuing new legal action against China https://www.youtube.com/watch?v=Z352-… Who has the momentum to join Biden on Democratic ticket? https://www.youtube.com/watch?v=acVNG… Shields and Brooks on Biden's VP decision, pandemic economy https://www.youtube.com/watch?v=PtTUo… Honoring 5 lives lost to coronavirus https://www.youtube.com/watch?v=ROE9s… Stream your PBS favorites with the PBS app: https://to.pbs.org/2Jb8twG Find more from PBS NewsHour at https://www.pbs.org/newshour Subscribe to our YouTube channel: https://bit.ly/2HfsCD6
#WashWeekPBS full episode: President Trump stokes fears about election security
Jul 31, 2020  Washington Week
Washington Week
Watch the latest full show and Extra here: https://pbs.org/washingtonweek Subscribe to our YouTube channel: https://bit.ly/2ZEPJNs Follow us on Twitter: https://twitter.com/washingtonweek Like us on Facebook: https://www.facebook.com/washingtonweek
https://www.youtube.com/watch?v=F25uMndwCNI
#WashWeekPBS Bookshelf: "The Hardest Job in the World: The American Presidency"
Jul 31, 2020  Washington Week
Watch the latest full show and Extra here: https://pbs.org/washingtonweek Subscribe to our YouTube channel: https://bit.ly/2ZEPJNs Follow us on Twitter: https://twitter.com/washingtonweek Like us on Facebook: https://www.facebook.com/washingtonweek
PBS NewsHour full episode, July 30, 2020
Fundraiser
Jul 30, 2020  PBS NewsHour
Thursday on the NewsHour, data from the second quarter of the year shows the worst U.S. economic collapse since the Great Depression. Plus: Medical experts urge the U.S. to change its approach to coronavirus, congressional testimony from Secretary of State Mike Pompeo, the struggling antibiotics industry, the return of professional sports and remembering John Lewis and his legacy of action. Support your local PBS station here: https://pbs.org/donate WATCH TODAY'S SEGMENTS How long we can expect U.S. economic catastrophe to endure https://www.youtube.com/watch?v=GGUAq… News Wrap: NASA launches rover Perseverance to Mars https://www.youtube.com/watch?v=Mdp0H… Health experts say the U.S. needs a new approach to COVID-19 https://www.youtube.com/watch?v=YdaqN… Why a Senate committee is questioning Pompeo https://www.youtube.com/watch?v=eR-Io… How crumbling antibiotics infrastructure risks public health https://www.youtube.com/watch?v=JWR3f… The NBA is set to resume play. But can it do so safely? https://www.youtube.com/watch?v=e2vuB… Remembering John Lewis, an American civil rights icon https://www.youtube.com/watch?v=7Bv3I… At John Lewis' Atlanta funeral, legacy of activism and hope https://www.youtube.com/watch?v=TBYPU… Stream your PBS favorites with the PBS app: https://to.pbs.org/2Jb8twG Find more from PBS NewsHour at https://www.pbs.org/newshour Subscribe to our YouTube channel: https://bit.ly/2HfsCD6
PBS NewsHour full episode, July 29, 2020
Fundraiser
Jul 29, 2020  PBS NewsHour
Wednesday on the NewsHour, Senate Majority Leader Mitch McConnell weighs in on the outlook for pandemic relief legislation. Plus: Tech CEOs testify before Congress, President Trump's relationship with Russia and how it affects U.S. foreign policy, the economic and medical implications of an interrupted antibiotic industry and a Now Read This conversation with "Citizen" author Claudia Rankine. Support your local PBS station here: https://pbs.org/donate WATCH TODAY'S SEGMENTS McConnell: 'Looking at all options' for pandemic relief https://www.youtube.com/watch?v=rV_Yx… News Wrap: Some federal agents to leave Portland, Oregon https://www.youtube.com/watch?v=Km8-E… House lawmakers ask tech CEOs about quashing competition https://www.youtube.com/watch?v=SFh9v… Why big tech companies are under scrutiny from Congress https://www.youtube.com/watch?v=CD8ZZ… Why Trump didn't ask Putin about bounties on U.S. troops https://www.youtube.com/watch?v=wT4eQ… As virus ravages the world, antibiotic makers are in chaos https://www.youtube.com/watch?v=DdD1y… Author Claudia Rankine answers questions about 'Citizen' https://www.youtube.com/watch?v=hpREs… Stream your PBS favorites with the PBS app: https://to.pbs.org/2Jb8twG Find more from PBS NewsHour at https://www.pbs.org/newshour Subscribe to our YouTube channel: https://bit.ly/2HfsCD6
https://www.youtube.com/watch?v=HDOXylvX8a8
PBS NewsHour full episode, July 28, 2020
Fundraiser
Jul 28, 2020  PBS NewsHour
Tuesday on the NewsHour, Attorney General William Barr testifies in front of the House Judiciary Committee in a long-delayed, combative hearing. Plus: Unemployment relief during the pandemic, the value of college education at a distance, Trump's immigration agenda, Congo Basin wildlife in jeopardy, a poet laureate remembers her mother's violent death and cannabidiol business in Navajo Nation. Support your local PBS station here: https://pbs.org/donate WATCH TODAY'S SEGMENTS News Wrap: Mayor of Portland, Oregon, asks for 'cease-fire' https://www.youtube.com/watch?v=9gp4I… Barr insists he's exercising 'independent judgment' as AG https://www.youtube.com/watch?v=Jvbfj… Should Congress extend additional unemployment aid? https://www.youtube.com/watch?v=0bOI0… Is traditional residential college worth the cost? https://www.youtube.com/watch?v=a7iuN… How Trump is cracking down on immigration during pandemic https://www.youtube.com/watch?v=qmvqM… Congo Basin's endangered wildlife find unlikely guardians https://www.youtube.com/watch?v=Wx4WD… The 'existential wound' inspiring Natasha Trethewey's poetry https://www.youtube.com/watch?v=ql_T-… Hemp cultivation draws hesitation in Navajo Nation https://www.youtube.com/watch?v=9qcco… Stream your PBS favorites with the PBS app: https://to.pbs.org/2Jb8twG Find more from PBS NewsHour at https://www.pbs.org/newshour Subscribe to our YouTube channel: https://bit.ly/2HfsCD6
[LIVE] Coronavirus Pandemic: Real Time Counter, World Map, News
Started streaming 15 hours ago   Roylab Stats
Coronavirus Live Streaming: Breaking news, world Map and live counter on confirmed cases and recovered cases. I started this live stream on Jan 26th, and since Jan 30th I have been streaming this without stopping. Many people are worried about the spread of coronavirus. For anyone that wants to know the real-time progression of the worldwide spread of this virus, I offer this live stream. The purpose is not to instill fear or panic, nor is it to necessarily comfort; I just want to present the data to help inform the public of the current situation. The purpose of this stream is to show basic information and data to understand the situation easily. For detail information, please visit our reference sites.
https://www.youtube.com/watch?v=EOBY5J0b9Uo
Al Jazeera English | Live
Started streaming on Jul 15, 2020  Al Jazeera English
@Al Jazeera English, we focus on people and events that affect people's lives. We bring topics to light that often go under-reported, listening to all sides of the story and giving a 'voice to the voiceless'. Reaching more than 270 million households in over 140 countries across the globe, our viewers trust Al Jazeera English to keep them informed, inspired, and entertained. Our impartial, fact-based reporting wins worldwide praise and respect. It is our unique brand of journalism that the world has come to rely on. We are reshaping global media and constantly working to strengthen our reputation as one of the world's most respected news and current affairs channels. Subscribe to our channel: http://bit.ly/AJSubscribe Follow us on Twitter: https://twitter.com/AJEnglish Find us on Facebook: https://www.facebook.com/aljazeera Check our website: http://www.aljazeera.com/ #AlJazeeraEnglish #BreakingNews #AlJazeeraLive
Category  News & Politics
https://www.youtube.com/watch?v=NvqKZHpKs-g
DW News Livestream | Latest news and breaking stories
Started streaming on Jan 21, 2019  DW News
DW News goes deep beneath the surface, providing the key stories from Europe and around the world. Exciting reports and interviews from the worlds of politics, business, sports, culture and social media are presented by our DW anchors in 15-, 30- and 60-minute shows. Correspondents on the ground and experts in the studio deliver detailed insights and analysis of issues that affect our viewers around the world. We combine our expertise on Germany and Europe with a special interest in Africa and Asia while keeping track of stories from the rest of the world. Informative, entertaining and up-to-date – DW News, connecting the dots for our viewers across the globe. Deutsche Welle is Germany's international broadcaster. We convey a comprehensive image of Germany, report events and developments, incorporate German and other perspectives in a journalistically independent manner. By doing so we promote understanding between cultures and peoples. #dwNews #LiveNews #NewsToday
Category  News & Politics
| | |
| --- | --- |
| | The New York Times        The Morning     July 31, 2020     |
Good morning. Children may transmit the virus after all. The economy contracts sharply. But first a breath of fresh air: innovative ways that people have moved activities outdoors.
Outdoors innovation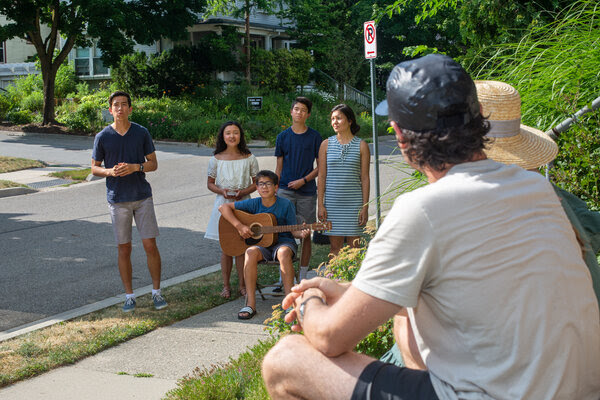 A family performing in a neighborhood of Grand Rapids, Mich., in early July.Dave Kagan

If you're looking for a pick-me-up — to be inspired by human ingenuity in the midst of a whole lot of bad news — today's newsletter is for you.
My colleagues and I were energized by the ideas. They made us want to move more of our own activities outdoors — and made us hope that more companies, government agencies and other organizations take similar steps.
One of our favorites will resonate with many parents, children and teachers: It's an attempt to hold school in a way that's both safe and in person.
Aspire Scholar Academy is a once-a-week school in Provo, Utah, for students ages 12 to 18 who are otherwise home-schooled. It usually operates out of a church, but the school's leaders were not persuaded that indoor classes would be safe this fall, even if everybody were wearing masks.
So a school vice president traveled to local Costcos and bought 33 canopies. Students will attend classes under them, on the church grounds. Teachers will use a public-address system.
"The kids don't want Zoom," Vanessa Stanfill, a member of the school's board, says. "They want to be together." The school has told parents that students will need sunblock and (eventually) snow pants, and it plans to incorporate the surrounding nature into lessons.
A small, once-a-week school obviously has an easier task moving classes outside than a large public school. But before you dismiss Aspire as irrelevant, remember that many New York City schools moved classes outdoors during the tuberculosis outbreak of the early 1900s. (A recent column, by The Times's Ginia Bellafante, has some wonderful old photos.)
Among the other innovative ideas we heard from readers:
A ceremony for new American citizens held outside a federal courthouse in Boise, Idaho.
A cabaret troupe in Grand Rapids, Mich., that drives to people's homes and puts on performances in driveways and yards.
A California psychotherapist seeing clients in a forest, with chairs eight feet apart.
A Pennsylvania company that sells gazebos and that now holds staff meetings outdoors in — where else? — a gazebo.
"Kids don't get visibly sick very often, and even when they do, only rarely go on to have complications or to die," my colleague Apoorva Mandavilli explains. "But many people have — wrongly — extrapolated this to mean that kids don't get infected." They do, she added, and they may also pass the virus to others, which is only logical: "Kids are adept at spreading other kinds of viruses, including the flu, so why not this one?"
As usual, it will be important to see if more research confirms these findings. But the study offers one more reason that reopening schools will be complicated. (This Times map of the U.S. shows where reopenings would create the greatest risks.)
In other virus developments:
Because of pandemic shutdowns, the U.S. economy shrank in the second quarter at the fastest rate since at least the 1940s. And today's looming expiration of expanded jobless benefits has created a new risk for the economy. (These charts show how far apart the Republican and Democratic unemployment proposals are.)
Cases in both New Jersey and Greenwich, Conn., have jumped recently, evidently because of parties.
Herman Cain, the former pizza executive and Republican presidential candidate, died of complications from the virus, at age 74. Cain had posted a photograph of himself, without a mask, attending President Trump's indoor rally in Tulsa, Okla., last month; it is unclear when he contracted the virus.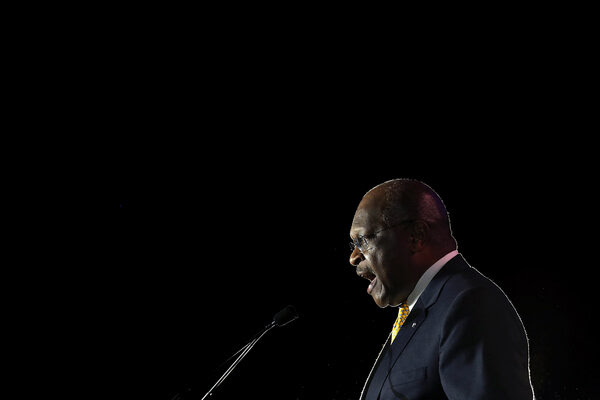 Herman Cain attended President Trump's rally in Tulsa, Okla., last month without a mask.Justin Sullivan/Getty Images

2. Trump's empty threat 

Trailing in the polls and facing bad news on the economy and the virus, President Trump on Thursday suggested delaying the Nov. 3 election. Nothing in the Constitution gives presidents that power, and other Republicans shot down the idea.

I asked Jonathan Martin, a Times political reporter, how to make sense of the threat. His answer:
"We should not dismiss, or even minimize, a sitting president who suggests delaying the election. But it's important to view Mr. Trump's remark in the context of his longstanding refusal to acknowledge failure, a pattern that predates his entering politics. Should he lose, he will likely seek a rationale. Any uncertainty about the balloting affords him an opening to raise questions about the election's legitimacy, regardless of whether he challenges the results."

In a Times Op-Ed, Steven Calabresi, a conservative law professor who opposed Trump's impeachment last year, called the tweet "fascistic."
3. Climate change victims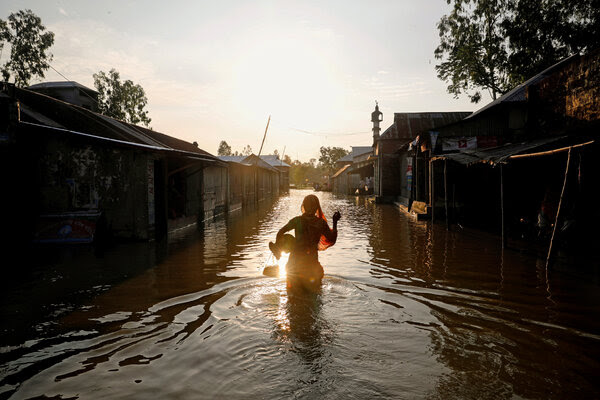 A flooded road in Jamalpur, Bangladesh, this month.Mohammad Ponir Hossain/Reuters
In the latest disaster to hit Bangladesh, torrential rains have flooded at least a quarter of the country, inundating nearly a million homes. Two months ago, a cyclone slammed Bangladesh's southwest, while a rising sea has submerged villages along the coast.
Scientists project that severe flooding will intensify as climate change increases rainfall in Bangladesh. It's a story that reflects the unequal burden of climate change's effects: The average American is responsible for 33 times more planet-warming carbon dioxide than the average Bangladeshi. "Those who are least responsible for polluting Earth's atmosphere are among those most hurt by its consequences," Somini Sengupta and Julfikar Ali Manik write.
Stunning Portraits of Madagascar's Reptiles and Amphibians by Ben Simon Rehn
Stunning Portraits of Madagascar's Reptiles and Amphibians by Ben Simon Rehn
APRIL 22, 2019  LAURA STAUGAITIS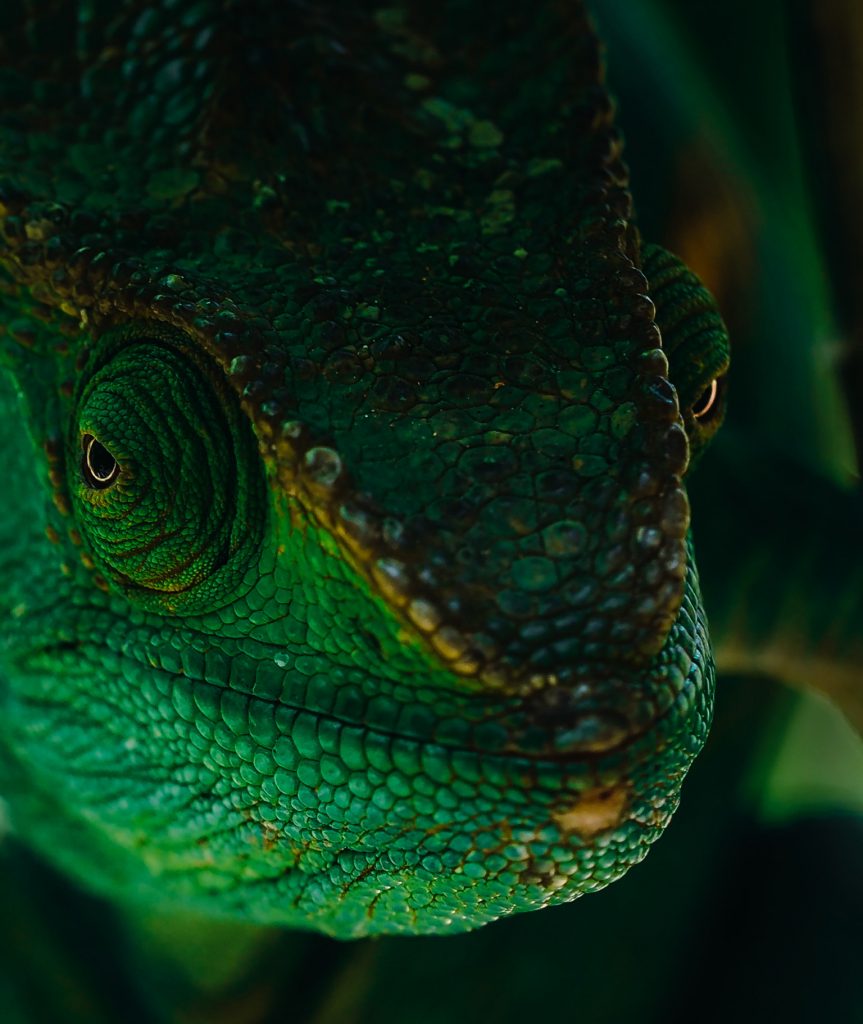 All photographs © Ben Simon Rehn, shared courtesy of the artist
In December, 2018, Iceland-based photographer Ben Simon Rehn trekked to Madagascar to test a new camera for Olympus. While on assignment, the photographer captured some spectacular images of the lush African island's wildlife. Striking close-ups of chameleons show the reptiles' pebbled skin texture and unique coloration, and a portrait of a Sky-Blue Reed Frog shows the amphibian's shimmering bronze-toned eyes and sleek yellow and blue skin
Prior to Rehn's career as a photographer, he was a high performance athlete, which shows in his ambitious location shoots in remote, rugged locations. In addition to his editorial work, Rehn seeks to raise awareness about environmental issues and the impact of mankind on the earth. Follow along with the photographer's travels on Instagram and Behance and take an in-motion look at the landscapes he explores on Vimeo.