Former Secretary of State Colin Powell Dies from Complications of COVID-19, PBS News, NBC News, New York Time, Academy of Achievement, The Film Archives, Commonwealth Club of California, Colossal, Night life in the Mediterranean Sea and Aquatilis
PBS NewsHour full episode, Oct. 18, 2021
Nightly News Full Broadcast – October 18th, NBC News
The New York Times: Colin Powell's death highlights the continuing Covid risks to older Americans with medical conditions.
Gen. Colin Powell, Academy Class of 1988, Full Interview, Oct 21, 2016  Academy of Achievement
Colin Powell: Autobiography, Leadership, Quotes, Family, Youth, Education, Military Career (1994), Jun 25, 2014  The Film Archives
General Colin Powell (6/7/12), Jun 26, 2012  Commonwealth Club of California
Night life in the Mediterranean Sea, Aquatilis, Colossal
PBS NewsHour full episode, Oct. 18, 2021
Oct 18, 2021  PBS NewsHour
Monday on the NewsHour, President Joe Biden's ambitious legislative agenda exposes deep rifts within his party ahead of a looming deadline. Then, former secretary of state Colin Powell dies from complications of COVID-19 after battling cancer. We remember his trailblazing career and complicated legacy. And, how applying white paint to exterior surfaces could combat the rising temperatures. WATCH TODAY'S SEGMENTS: News Wrap: Jury selection begins in Ahmaud Arbery trial https://www.youtube.com/watch?v=lZFKG… How Biden's legislative agenda is faring in Congress https://www.youtube.com/watch?v=Q2Ido… How American missionaries' kidnapping signals chaos in Haiti https://www.youtube.com/watch?v=pq8tm… Rising number of U.S. workers pushing back against employers https://www.youtube.com/watch?v=a7nZy… Can the world's whitest paint save Earth? https://www.youtube.com/watch?v=-qyE-… Remembering the life and legacy of Colin Powell https://www.youtube.com/watch?v=3dNcW… How Powell was the nexus of America's 'momentous' decisions https://www.youtube.com/watch?v=3AuH4… Tamara Keith and Amy Walter on Biden agenda, voter views https://www.youtube.com/watch?v=kRvsM… Stream your PBS favorites with the PBS app: https://to.pbs.org/2Jb8twG Find more from PBS NewsHour at https://www.pbs.org/newshour Subscribe to our YouTube channel: https://bit.ly/2HfsCD6
https://www.youtube.com/watch?v=fBBWI9D7PvU
Nightly News Full Broadcast – October 18th
Oct 18, 2021  NBC News
Remembering former Secretary of State Colin Powell, FBI and State Dept. team in Haiti after 17 missionaries kidnapped, conflict over Covid vaccine mandates in Chicago and beyond. 00:00 Intro 02:15 Remembering Colin Powell 05:17 Americans Kidnapped In Haiti 07:53 Vaccine Mandate Showdown 11:00 Ahmaud Arbery Murder Trial 12:46 Former Miami Police Chief Speaks Out 14:51 School Lunch Shortages 16:36 China's Major Global Infrastructure Push » Subscribe to NBC News: http://nbcnews.to/SubscribeToNBC » Watch more NBC video: http://bit.ly/MoreNBCNews NBC News Digital is a collection of innovative and powerful news brands that deliver compelling, diverse and engaging news stories. NBC News Digital features NBCNews.com, MSNBC.com, TODAY.com, Nightly News, Meet the Press, Dateline, and the existing apps and digital extensions of these respective properties. We deliver the best in breaking news, live video coverage, original journalism and segments from your favorite NBC News Shows. Connect with NBC News Online! NBC News App: https://smart.link/5d0cd9df61b80 Breaking News Alerts: https://link.nbcnews.com/join/5cj/bre… Visit NBCNews.Com: http://nbcnews.to/ReadNBC Find NBC News on Facebook: http://nbcnews.to/LikeNBC Follow NBC News on Twitter: http://nbcnews.to/FollowNBC #NBCNews #ColinPowell #VaccineMandates
The New York Times <nytdirect@nytimes.com> 
October 19, 2021
Good morning. Colin Powell's death highlights the continuing Covid risks to older Americans with medical conditions.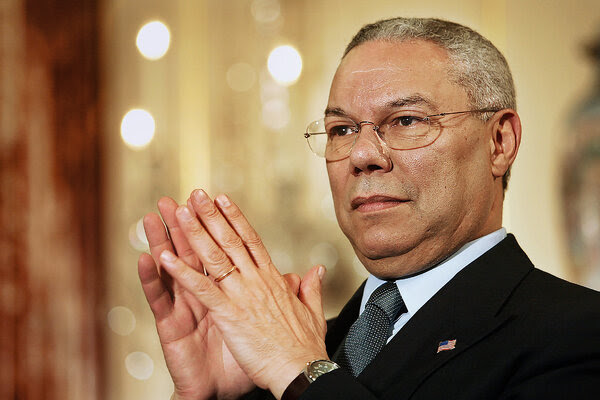 Colin Powell in 2002, when he was secretary of state. Brooks Kraft/Corbis, via Getty Images
The threat, in perspective
Colin Powell's death at 84 underscores the continuing risk that Covid-19 presents to older people — even if they are fully vaccinated, as Powell was.
For vaccinated Americans in their 70s and 80s, Covid remains more dangerous on average than many other everyday risks, including falls, choking, gunshot wounds or vehicle accidents: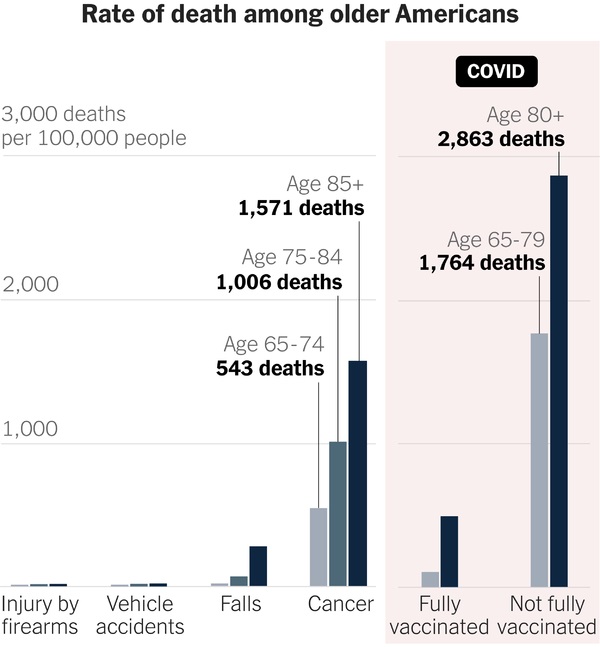 Covid data is an annualized rate from the week of Aug. 29 to Sept. 4, and is a sample from 16 U.S. jurisdictions. Data for other causes is from 2019.Source: Centers for Disease Control and Prevention
The numbers in this chart are averages, of course, covering a wide range of situations. They encompass both healthy older people and those with compromised immune systems (as was the case with Powell, who had multiple
myeloma and Parkinson's disease). At every age, Covid presents considerably more danger to people with serious underlying medical conditions.
"Vaccines turn Covid into a mild disease," Dr. Ashish Jha, dean of the Brown University School of Public Health, wrote yesterday. But mild infections can "kill vulnerable people," he explained.
For older people with a medical condition, the vaccines both sharply reduce the dangers of Covid and still leave Covid as a meaningful threat, one that arguably justifies a different approach to day-to-day life. Spending time indoors with an unmasked, untested grandchild or eating a meal inside a restaurant may not be worth the risk, at least until case counts have fallen to low levels.
For older people who are healthy, the risks may be more tolerable. Covid is probably not vastly more dangerous than other activities that people do without thinking — like driving a vehicle or climbing a flight of stairs — but it is not zero risk, either.
"Getting vaccinated doesn't deliver you into an entirely new category of pandemic safety — safer and more protected than anyone who hasn't gotten vaccinated — but simply pushes you down the slope of mortality risk by the equivalent of a few decades," David Wallace-Wells has written in New York Magazine.
As a country, what can we do to protect older people from Covid? The data points to at least three good answers.
1. Reduce caseloads
The main reason that Covid deaths surged in the U.S. recently is that cases surged. If cases return to their low levels of the spring and early summer, deaths among older adults will probably plummet as well. In June, only about one-tenth as many Americans over 65 were dying from Covid as in August, according to the C.D.C.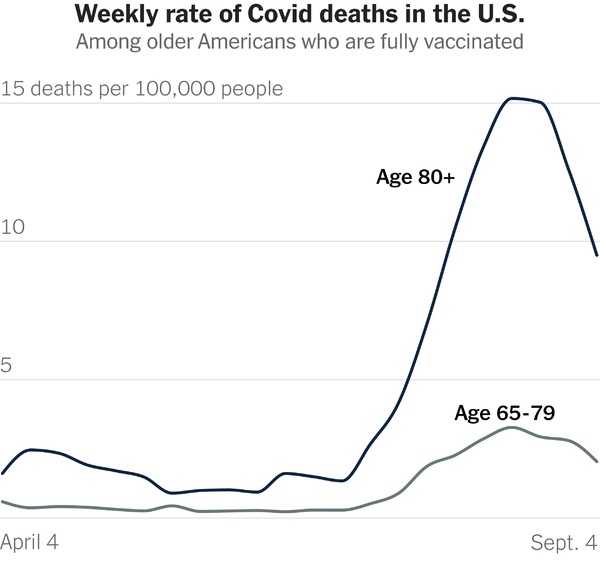 Chart shows data from a sample of 16 U.S. jurisdictions. Source: Centers for Disease Control and Prevention
The most effective way to reduce caseloads is to continue raising the country's vaccination rate, through workplace mandates and other measures. Vaccinating children under 12 can also save the lives of older people.
Cases in the U.S. have already fallen 50 percent since Sept 1. If the declines continue — and can be maintained — the risks for older Americans will be much more manageable than they were in the late summer.
2. Give booster shots
Scientists are still trying to figure out how quickly vaccine immunity wanes. But the bulk of the evidence suggests that it does wane at least somewhat in the first year after vaccination, which creates additional risks for older people. Among that evidence: Covid case counts are higher in Britain, where vaccinations tended to happen earlier, than in other parts of Europe, as John Burn-Murdoch of The Financial Times has noted.
Waning immunity, in turn, suggests that booster shots can protect vulnerable people.
In the U.S., the federal government has not yet authorized booster shots for any recipients of the Moderna or Johnson & Johnson vaccines, although a scientific advisory panel has recommended them for people who are 65 and older, among others. Pfizer vaccine recipients 65 and older are already eligible for a booster once they are at least six months removed from their second shot.

Powell was set to receive a booster shot last week but had to postpone it when he became sick, a spokeswoman said.

If rapid Covid tests were widely available, as they have been in much of Western Europe, they could help protect the elderly.
In a previous newsletter, I mentioned a woman in Germany who greeted visitors with a stash of rapid tests — allowing her husband, who has Parkinson's disease, to stay safe and still have a social life. Imagine if American families could do the same. Grandma and grandpa are coming over for Sunday dinner? Everybody else takes a rapid test before they arrive.
The Biden administration has promised to make rapid tests widely available this fall. For now, they are still difficult to find, largely because the F.D.A. has been slow to approve them.
For most Americans, vaccination makes the risk of a serious form of Covid extremely rare. And for children, Covid tends to be mild even without vaccination. But until caseloads decline more, the situation remains frightening for many older people.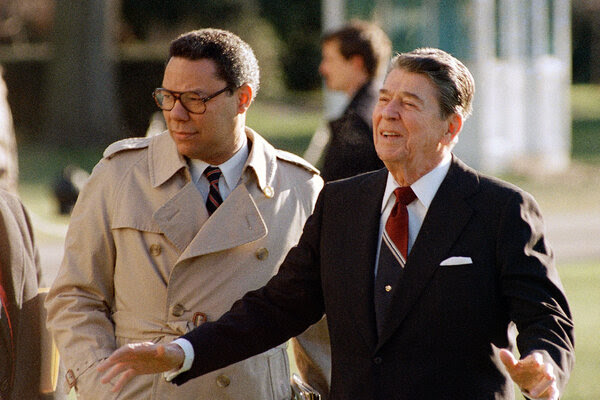 Colin Powell with Ronald Reagan in 1988. Barry Thumma/Associated Press
More on Powell's life
The Latest News
The Virus
Politics
The Justice Department asked the Supreme Court to block a Texas law that bans most abortions.
International
Opinions
Embracing Covid's lessons about better ventilation and masking can help us fight the flu, says Linsey Marr.
Gen. Colin Powell, Academy Class of 1988, Full Interview
Oct 21, 2016  Academy of Achievement
www.achievement.org Copyright: American Academy of Achievement
https://www.youtube.com/watch?v=6ksRQi7nTb8
Colin Powell: Autobiography, Leadership, Quotes, Family, Youth, Education, Military Career (1994)
Jun 25, 2014  The Film Archives
Colin Luther Powell (/?ko?l?n/; born April 5, 1937) is an American statesman and a retired four-star general in the United States Army. About the book: https://www.amazon.com/gp/product/034… He was the 65th United States Secretary of State, serving under U.S. President George W. Bush from 2001 to 2005, the first African American to serve in that position. During his military career, Powell also served as National Security Advisor (1987–1989), as Commander of the U.S. Army Forces Command (1989) and as Chairman of the Joint Chiefs of Staff (1989–1993), holding the latter position during the Persian Gulf War. He was the first, and so far the only, African American to serve on the Joint Chiefs of Staff, and was the first of two consecutive African American office-holders to hold the key Administration position of U.S. Secretary of State. Powell was born on April 5, 1937,[6] in Harlem, a neighborhood in the New York City borough of Manhattan, to Jamaican immigrant parents Maud Arial (née McKoy) and Luther Theophilus Powell. He also has Scottish ancestry.[7][8] Powell was raised in the South Bronx and attended Morris High School, a former public school in the Bronx, from which he graduated in 1954. While at school, he worked at a local baby furniture store where he picked up Yiddish from the shopkeepers and some of the customers.[9] He received his BS degree in geology from the City College of New York in 1958 and was a self-admitted C average student. He was later able to earn a MBA degree from the George Washington University in 1971, after his second tour in Vietnam. Powell married Alma Johnson on August 25, 1962. Their son, Michael Powell, was the chairman of the Federal Communications Commission (FCC) from 2001 to 2005. His daughters are Linda Powell, an actress, and Annemarie Powell. As a hobby, Powell restores old Volvo and Saab cars.[90][91] In 2013, he faced questions about a relationship with a Romanian diplomat, after a hacked AOL email account had been made public. He acknowledged a "very personal" email relationship but denied further involvement. Powell's experience in military matters made him a very popular figure with both American political parties. Many Democrats admired his moderate stance on military matters, while many Republicans saw him as a great asset associated with the successes of past Republican administrations. Put forth as a potential Democratic Vice Presidential nominee in the 1992 U.S. presidential election[32] or even potentially replacing Vice President Dan Quayle as the Republican Vice Presidential nominee,[33] Powell eventually declared himself a Republican and began to campaign for Republican candidates in 1995.[34] He was touted as a possible opponent of Bill Clinton in the 1996 U.S. presidential election, possibly capitalizing on a split conservative vote in Iowa[35] and even leading New Hampshire polls for the GOP nomination,[36] but Powell declined, citing a lack of passion for politics.[37] Powell defeated Clinton 50-38 in a hypothetical match-up proposed to voters in the exit polls conducted on Election Day.[38] Despite not standing in the race, Powell won the Republican New Hampshire Vice-Presidential primary on write-in votes.[39] In 1997 Powell founded America's Promise with the objective of helping children from all socioeconomic sectors. That same year saw the establishment of The Colin L. Powell Center for Leadership and Service. The mission of the Center is to "prepare new generations of publicly engaged leaders from populations previously underrepresented in public service and policy circles, to build a strong culture of civic engagement at City College, and to mobilize campus resources to meet pressing community needs and serve the public good." [40] In the 2000 U.S. presidential election Powell campaigned for Senator John McCain and later Texas Governor George W. Bush after the latter secured the Republican nomination.[citation needed] Bush eventually won, and Powell was appointed Secretary of State. http://en.wikipedia.org/wiki/Colin_Po…
General Colin Powell (6/7/12)
Jun 26, 2012  Commonwealth Club of California
General Colin Powell Former U.S. Secretary of State; Former Chairman, Joint Chiefs of Staff; Author, It Worked for Me: In Life and Leadership In conversation with Dan Ashley, News Anchor, ABC 7 TV; Member, Commonwealth Club Board of Governors Throughout his decades of service to the country, General Powell has kept his private life out of the limelight. Now, in his new book, It Worked for Me: In Life and Leadership, Powell is opening up to reveal the important principles that guided his journey from being the son of Jamaican immigrants to becoming chairman of the Joint Chiefs of Staff and the first African-American secretary of state. He will reveal the foundations for achievement and leadership that worked for him and can help make others' dreams come true, too.
Footage from a Blackwater Dive Off the Coast of Italy Frames the Striking Marine Creatures Found in Its Depths
For marine biologists and photographers, a nighttime dive into the ocean offers an austere backdrop for capturing the myriad creatures that live below the surface: entirely devoid of light, black water creates a stark visual contrast to the iridescent, translucent, and tentacled organisms that float in the dark expanses, making rare sightings of cusk eels and or billowing blanket octopuses all the more striking. An expedition by Alexander Semenov (previously) near Ponza Island unveiled an array of marine life off the western coast of Italy, framing their unique forms and movements. The footage is part of an ongoing documentary project for Aquatilis, and you
can see more from Semenov on his site.
Night life in the Mediterranean sea
Dec 19, 2019  Aquatilis
Underwater world of the Mediterranean sea at the night time. Filmed near Ponza Island as part of a documentary project we are currently working on. Music by Cell – Switch Off (feat. Aes Dana) Shot with Panasonic Lumix GH5 & Subal underwater housing
Music in this video
Listen ad-free with YouTube Premium
Song
Artist
Cell
Album
Hanging Masses
Licensed to YouTube by
EMPIRE (on behalf of ULTIMAE); BMG Rights Management (US), LLC, ASCAP, Abramus Digital, LatinAutorPerf, and 5 Music Rights Societies