Happy Father's Day Everyone & Thai Alphabet Drawing by John & Kai Part 4
Happy Father's Day Everyone
and
Thai Alphabet Drawing by Grandpa John, and Grandson Kai, Part 4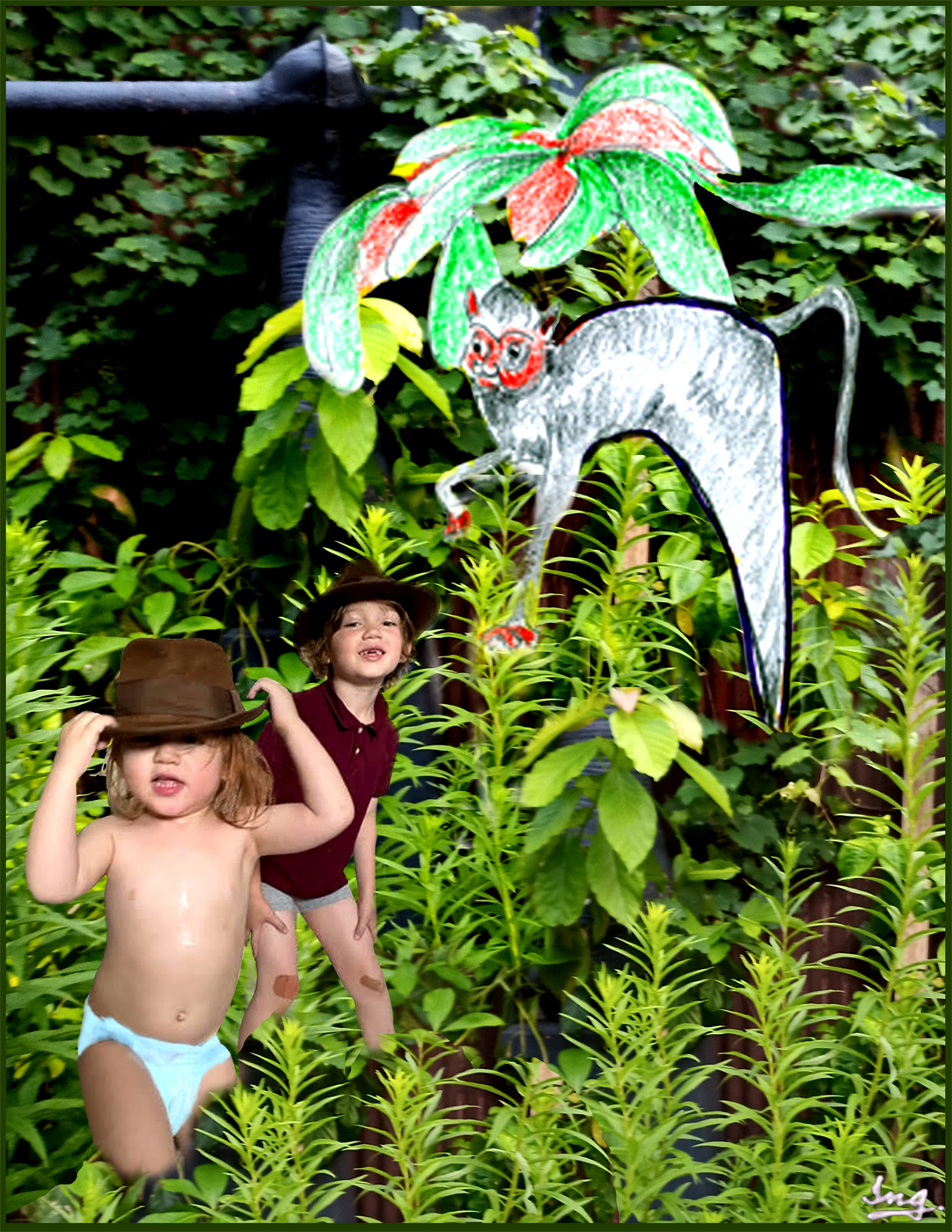 Three Monkeys in the Jungle:  Kai and Bodhi on Saturday, June 18, 2022, John's drawing Thai letter # 36 and his sculpture in our garden
Happy Father's Day Daddy, Grandpa Jim,
Grandpa John and Every Father on Earth
🙂 Love, 🙂
Kai and Bodhi
Sunday, June 19, 2022

Thai Alphabet Drawing by Grandpa John (77 years old), Grandson Kai (4 years old), and Daddy Jim, Part 4 (Thai alphabet from letter #34 to letter #44)
Organized by Grandma Ing (Ing-On Vibulbhan-Watts)
Technical Support by Mommy Mali, Daddy Jim and almost two months old brother Bodhi, started on Wednesday, April 22, 2020, Grandpa John and Grandson Kai communicated via Face Time through iPad during the lock-down from the pandemic of COVID-19 (coronavirus)
Ing's Artwork: Thai alphabet drawing by Grandpa John & Grandson Kai and King Ram Khumhaeng Inscription
There are 44 letters in Thai Alphabets.  I divided into 4 parts, 11 characters in each group.  John and Kai enjoyed drawing Thai characters using their imaginations in composing the letters.  Mommy Mali was holding her new born 2 months old baby, Bodhi, to supervise Kai with his playful and loving drawing activity.  I participated by taking pictures and video of the event.  Daddy Jim entertained the troops by playing music with his loving of Guitar performance.  We were all happy spending time in the evening after a full belly from the home-made meal.  Hopefully, little bodhi heard our conversation of loving and laughing. We managed to turn the COVID – 19 locked down in to a more useful and entertaining time.
For me, personally, I was so glad to see the Welshman, John, and our American grandson Kai, invent characters that are unique and special to me.  As a Thai person it brought a sentimental reminder of my own native Thai language.  
I hope that Thai people who view this Thai alphabet will smile because of the unique playfulness of the Thai characters created in John and Kai's drawings.  Each culture is unique, and when we come together, we can appreciate each other, bringing harmony and peace to families, communities and the world. 
Ing-On Vibulbhan-Watts, Friday, May 27, 2022, 12:45 PM
Happy Father's Day Daddy, Grandpa Jim,
Grandpa John and Every Father on Earth
🙂 Love, 🙂
Kai and Bodhi
Sunday, June 19, 2022