PBS News: April 28 – 30 & May 1, 2020, and Jane Goodall on animal-human interconnectedness amid the pandemic
 Africanews Live
 Sky News Live
 CNA 24/7 LIVE – Breaking news, top stories and documentaries
 Roylab Stats: Coronavirus LIVE Count [LIVE] Coronavirus Pandemic: Real Time Counter, World Map, News
 Google: Coronavirus disease (COVID-19) information
Washington Post: April 28, 2020 – Important developments in the coronavirus pandemic
BBC – Future: How-has-coronavirus-helped-the-environment
TED-Ed: Emma Bryce What really happens to the plastic you throw away
The Guardian: Are female leaders more successful at managing the coronavirus crisis?
Colossal: Alarming Studio Works by Pejac Focus on Earth's Environmental Crisis
https://www.youtube.com/watch?v=S8AOuKUlH3g
PBS NewsHour full episode, May 1, 2020
May 1, 2020  PBS NewsHour
Friday on the NewsHour, with millions of Americans filing for unemployment and businesses desperate, more states lift pandemic restrictions. Plus: Rising tensions between the White House and China, a perspective on reopening restaurants, essential workers strike for their health, Joe Biden denies a sexual assault allegation, the analysis of Shields and Brooks, Jazz Fest goes quiet and in memoriam. WATCH TODAY'S SEGMENTS Economic strain drives more states to lift pandemic rules https://www.youtube.com/watch?v=ZZzPh… The ongoing U.S.-China rhetorical battle over the pandemic https://www.youtube.com/watch?v=WKamw… News Wrap: White House blocks Fauci from House testimony https://www.youtube.com/watch?v=H4fJa… The CEO of Waffle House on adapting restaurants to COVID-19 https://www.youtube.com/watch?v=Qd6uZ… How these essential workers feel about the risks they face https://www.youtube.com/watch?v=w58M4… What Biden said in 1st public response to assault allegation https://www.youtube.com/watch?v=5ApNi… Shields and Brooks on Biden's assault allegation denial https://www.youtube.com/watch?v=1I-up… Trombone Shorty on New Orleans' quieted musical heartbeat https://www.youtube.com/watch?v=fWULo… Mourning some of those lost to COVID-19 https://www.youtube.com/watch?v=UUNnk… Stream your PBS favorites with the PBS app: https://to.pbs.org/2Jb8twG Find more from PBS NewsHour at https://www.pbs.org/newshour Subscribe to our YouTube channel: https://bit.ly/2HfsCD6
PBS NewsHour full episode, Apr 30, 2020
Apr 30, 2020  PBS NewsHour
Thursday on the NewsHour, new jobs numbers emphasize the depths of the pandemic's economic damage. Plus: What happens to Americans struggling to pay for housing, complications around accessing food stamps, viewer questions about the economic crisis, Wyoming Sen. John Barrasso on COVID-19, the World Health Organization under fire and a Brief But Spectacular take on why we're never really alone. Correction: When discussing President Trump's response to the COVID-19 pandemic during the interview with Sen. Barrasso, Judy Woodruff mistakenly said 15 Americans had died of the disease in late February. She meant that there were 15 confirmed U.S. cases of the disease then. We regret the error. WATCH TODAY'S SEGMENTS States ask for more federal aid as economic crisis deepens https://www.youtube.com/watch?v=1T_Xq… How to get help if you can't pay your mortgage https://www.youtube.com/watch?v=Qo7RD… How COVID-19 is keeping food from America's hungriest https://www.youtube.com/watch?v=d7TvV… Michelle Singletary answers viewers' financial questions https://www.youtube.com/watch?v=cXtif… News Wrap: Pelosi defends Biden over assault allegation https://www.youtube.com/watch?v=y9weo… Sen. Barrasso: Early remdesivir results 'very encouraging' https://www.youtube.com/watch?v=1-mI2… 2 perspectives on the Trump administration's clash with WHO https://www.youtube.com/watch?v=nyIcz… A Brief But Spectacular take on why we're never really alone https://www.youtube.com/watch?v=jEtvP… Stream your PBS favorites with the PBS app: https://to.pbs.org/2Jb8twG Find more from PBS NewsHour at https://www.pbs.org/newshour Subscribe to our YouTube channel: https://bit.ly/2HfsCD6
https://www.youtube.com/watch?v=Zu8YKymgbYg
PBS NewsHour full episode, Apr 29, 2020
Apr 29, 2020  PBS NewsHour
Wednesday on the NewsHour, U.S. deaths from COVID-19 now exceed American fatalities incurred in the Vietnam War. Plus: The latest on testing and possible treatment, how the pandemic threatens U.S. food production, distance learning challenges for students with special needs, earning potential for collegiate athletes and a new book on community and relationships from a former U.S. surgeon general. WATCH TODAY'S SEGMENTS Amid economic gloom, is there hope for a COVID-19 treatment? https://www.youtube.com/watch?v=F3TNr… What we know about remdesivir study and COVID-19 antibodies https://www.youtube.com/watch?v=RWuPp… News Wrap: Navy widens investigation of Roosevelt outbreak https://www.youtube.com/watch?v=tkHat… Trump wants meat processing plants open. But are they safe? https://www.youtube.com/watch?v=elxBy… How distance learning is creating a special education crisis https://www.youtube.com/watch?v=jgxRo… Does NCAA earnings decision mean a 'new era' for athletes? https://www.youtube.com/watch?v=Oo31s… Could pandemic loneliness spark a 'social revival?' https://www.youtube.com/watch?v=TIecV… What could a post-pandemic world look like? https://www.youtube.com/watch?v=BJCs8… Stream your PBS favorites with the PBS app: https://to.pbs.org/2Jb8twG Find more from PBS NewsHour at https://www.pbs.org/newshour Subscribe to our YouTube channel: https://bit.ly/2HfsCD6
https://www.youtube.com/watch?v=DVZmZGh8Js8
PBS NewsHour full episode, Apr 28, 2020
Apr 28, 2020  PBS NewsHour
Tuesday on the NewsHour, more states start to lift restrictions put in place due to COVID-19, causing some health experts to worry. Plus: Small businesses struggle to obtain federal aid, Sen. Chuck Schumer on the federal response, New Zealand and Australia successfully battle virus spread, how the pandemic is changing religious observation and telling fact from fiction in a global health crisis. WATCH TODAY'S SEGMENTS More states lift restrictions, in bid for economic relief https://www.youtube.com/watch?v=roc_a… News Wrap: Violent new protests in Lebanon turn deadly https://www.youtube.com/watch?v=5YJVO… Why can't more small businesses get federal pandemic aid? https://www.youtube.com/watch?v=hgjoY… Schumer demands hearings on coronavirus relief oversight https://www.youtube.com/watch?v=Omuw6… How New Zealand and Australia have kept COVID-19 losses loz https://www.youtube.com/watch?v=leM0L… How religious leaders are keeping the faith during COVID-19 https://www.youtube.com/watch?v=leM0L… The dangerous flood of misinformation surrounding COVID-19 https://www.youtube.com/watch?v=Xl9zg… Stream your PBS favorites with the PBS app: https://to.pbs.org/2Jb8twG Find more from PBS NewsHour at https://www.pbs.org/newshour Subscribe to our YouTube channel: https://bit.ly/2HfsCD6
Jane Goodall on animal-human interconnectedness amid the pandemic
Apr 22, 2020  PBS NewsHour
We mark this 50th anniversary of Earth Day with Jane Goodall, one of the world's most renowned scientists and environmentalists. A new National Geographic documentary explores her life and work, teaching generations how interconnected we are with the natural world. Jeffrey Brown talks to Goodall about her career and mission — and the pandemic that has brought modern civilization to its knees. Stream your PBS favorites with the PBS app: https://to.pbs.org/2Jb8twG Find more from PBS NewsHour at https://www.pbs.org/newshour Subscribe to our YouTube channel: https://bit.ly/2HfsCD6 Follow us: Facebook: http://www.pbs.org/newshour Twitter: http://www.twitter.com/newshour Instagram: http://www.instagram.com/newshour Snapchat: @pbsnews Subscribe: PBS NewsHour podcasts: https://www.pbs.org/newshour/podcasts Newsletters: https://www.pbs.org/newshour/subscribe
Category  News & Politics
africanews Live
Started streaming on Feb 20, 2020
Africanews is a new pan-African media pioneering multilingual and independent news telling expertise in Sub-Saharan Africa. Subscribe on ourYoutube channel : https://www.youtube.com/c/africanews?… Africanews is available in English and French. Website : www.africanews.com Facebook : https://www.facebook.com/africanews.c… Twitter : https://twitter.com/africanews
Category  News & Politics
Watch Sky News live
Started streaming on Nov 2, 2019 Sky News
Today's top stories: Boris tells adults the best present they can give their mother for Mother's Day is to stay away, the health secretary has said 4,500 retired healthcare workers have signed up to help battle coronavirus and lockdown in the Italian region of Lombardy has been tightened as the country confirmed more than 53,500 cases of COVID-19. ? Boris Johnson warns of 'stark' and 'accelerating' coronavirus numbers ahead of Mother's Day https://trib.al/lrbMq77 ? 4,500 retired doctors and nurses sign up to battle COVID-19 pandemic https://trib.al/LYsfa83 ? Lockdown tightens in parts of Italy hardest hit by COVID-19 https://trib.al/oBdZFdy SUBSCRIBE to our YouTube channel for more videos: http://www.youtube.com/skynews Follow us on Twitter: https://twitter.com/skynews and https://twitter.com/skynewsbreak Like us on Facebook: https://www.facebook.com/skynews Follow us on Instagram: https://www.instagram.com/skynews Sky News videos are now available in Spanish here/Los video de Sky News están disponibles en español aquí https://www.youtube.com/skynewsespanol For more content go to http://news.sky.com and download our apps: Apple https://itunes.apple.com/gb/app/sky-n… Android https://play.google.com/store/apps/de…
Category  News & Politics
[CNA 24/7 LIVE] Breaking news, top stories and documentaries
Started streaming on Jan 1, 2020 CNA
Watch CNA's 24-hour live coverage of the latest headlines and top stories from Singapore, Asia and around the world, as well as documentaries and features that bring you a deeper look at Singapore and Asian issues. CNA is a regional broadcaster headquartered in Singapore. Get the programming schedule here: https://www.channelnewsasia.com/news/… Subscribe to our channel here: https://cna.asia/youtubesub Subscribe to our news service on Telegram: https://cna.asia/telegram Follow us: CNA: https://cna.asia CNA Lifestyle: http://www.cnalifestyle.com Facebook: https://www.facebook.com/channelnewsasia Instagram: https://www.instagram.com/channelnews… Twitter: https://www.twitter.com/channelnewsasia
[LIVE] Coronavirus Pandemic: Real Time Counter, World Map, News
Started streaming 14 hours ago  Roylab Stats
Coronavirus Live Streaming: Breaking news, world Map and live counter on confirmed cases and recovered cases. I started this live stream on Jan 26th. Many people are worried about the spread of coronavirus. For anyone that wants to know the real-time progression of the worldwide spread of this virus, I offer this live stream. The purpose is not to instill fear or panic, nor is it to necessarily comfort; I just want to present the data to help inform the public of the current situation. The purpose of this stream is to show basic information and data to understand the situation easily. For detail information, please visit our reference sites.
 Google News
https://news.google.com/covid19/map?hl=en-US&gl=US&ceid=US:en
Cases

Sorted by Confirmed in descending order
Location
Confirmed
Cases per 1M people
Recovered
Deaths
Worldwide
3,424,254
440
1,092,715
243,674
United States
1,157,782
3,513
150,934
67,046
Spain
216,582
4,598
117,248
25,100
Italy
209,328
3,475
79,914
28,710
United Kingdom
182,260
2,743
—
28,131
Germany
164,967
1,984
121,014
6,812
France
130,979
1,953
50,562
24,760
Turkey
124,375
1,496
58,259
3,336
Russia
124,054
845
15,013
1,222
Brazil
96,559
457
40,973
6,750
Iran
96,448
1,157
77,350
6,156
China
84,388
60
77,713
4,643
Canada
56,714
1,493
23,801
3,566

 
 
 
 
Source:Wikipedia·
About this data
Description
Coronavirus disease (COVID-19) is an infectious disease caused by a new virus.
The disease causes respiratory illness (like the flu) with symptoms such as a cough, fever, and in more severe cases, difficulty breathing. You can protect yourself by washing your hands frequently, avoiding touching your face, and avoiding close contact (1 meter or 3 feet) with people who are unwell.
HOW IT SPREADS
Coronavirus disease spreads primarily through contact with an infected person when they cough or sneeze. It also spreads when a person touches a surface or object that has the virus on it, then touches their eyes, nose, or mouth.
For informational purposes only. Consult your local medical authority for advice.
Source: World Health OrganizationLearn more

Resources from Google
Google tools and resources to help you stay informed and connected
Washington Post                                          April 28, 2020
Important developments in the coronavirus pandemic.
Presented by Goldman Sach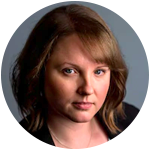 The latest
The United States surpassed 1 million confirmed cases of the coronavirus Tuesday, which is around a third of all the world's reported infections. More than 55,000 deaths in the United States have been reported since February, according to tracking by The Washington Post. Health experts say that both cases and deaths are likely being undercounted.
The pandemic is endangering the U.S. beef, chicken and pork supply chains, as worker infection has shut down at least 20 plants and forced those still open to slow production. President Trump is expected to sign an executive order to force meat production plants to keep operating, despite mounting reports of employee deaths due to covid-19. Read about the risks for workers and what it means for your grocery store, then check out answers to your questions below.
A Federal Reserve program to begin within weeks will provide $500 billion in emergency aid to large American corporations without requiring them to protect workers or limit payments to executives and shareholders. Since it's exempt from rules passed by Congress for other aid, critics say it would allow large companies to take federal help without saving any jobs.
Meanwhile, despite pressure from the Trump administration, some larger businesses — including cruise line operators — are refusing to return their small business Paycheck Protection Program money. The program ran out of funds in just weeks, and several businesses have already said they would return money because they realize they weren't the intended small-business recipients. Read about the companies that are keeping their loans. 
This couple got married in the middle of the friendliest street in town — and the neighbors all came to help create their outdoor, socially distant wedding. The bride wore a white lace jumpsuit with a peach tulle skirt. Big chalk hearts were drawn on the sidewalks. The neighbors hung flowers on the trees, and the neighborhood kids constructed a dogwood bouquet.
More important news
Will summer kill coronavirus? Cities fear heat waves will quickly become deadly.
Patients with three certain cancers are at a much higher risk of death or severe complications from covid-19, according to a new study.
U.S. intelligence agencies issued warnings about the coronavirus in more than a dozen classified briefings prepared for Trump in January and February.
Attorney General William P. Barr told prosecutors to 'be on the lookout' for state and local coronavirus orders that could violate the Constitution.
Across the political spectrum, leaders are warning of financial calamity if Congress and the White House don't help struggling states.
BBC – Future: How-has-coronavirus-helped-the-environment
https://www.bbc.com/future/article/20200422-how-has-coronavirus-helped-the-environment
By Martha Henriques – 23rd April 2020
We know that carbon emissions have sharply fallen during lockdown. But will all these changes actually be good for the environment in the long run?
There's clear water in the Venice canals, blue skies over Delhi and wild animals are roaming boldly in locked-down cities. The oil industry and airlines are floundering in this new world, and carbon emissions are falling fast.
But there are also mountains of food going to waste that our supply chains aren't set up to deal with. And, what's more, the radical changes to daily life that we're seeing now are not – thankfully – going to be permanent.
History tells us that when emissions have fallen sharply in the past, as they do after recessions, there's often a rocketing rebound that wipes out any short-term cut in emissions. (Read more about Covid-19's lasting impact on the environment.)
Is this pandemic any different?
Future Planet talks to BBC Minute about the close ties between lockdown and carbon emissions. In a nutshell: we could see long-lasting positive environmental change after the pandemic. But it's all down to how we move on after lockdown.
You can watch the video above.
As an award-winning science site, BBC Future is committed to bringing you evidence-based analysis and myth-busting stories around the new coronavirus. You can read more of our Covid-19 coverage here.
TED-Ed
We've all been told that we should recycle plastic bottles and containers. But what actually happens to the plastic if we just throw it away? Emma Bryce traces the life cycles of three different plastic bottles, shedding light on the dangers these disposables present to our world. [Directed by Sharon Colman, narrated by Addison Anderson, music by Peter Gosling].
MEET THE EDUCATOR
Emma Bryce · Educator
ABOUT TED-ED
TED-Ed Original lessons feature the words and ideas of educators brought to life by professional animators.
The Guardian: Are female leaders more successful at managing the coronavirus crisis?
Plenty of countries with male leaders have also done well. But few with female leaders have done badly
Jon Henley and Eleanor Ainge Roy
Sat 25 Apr 2020 00.00 EDT Last modified on Sat 25 Apr 2020 19.15 EDT
12,643
On 1 April, the prime minister of Sint Maarten addressed her nation's 41,500 people. Coronavirus cases were rising, and Silveria Jacobs knew the small island country, which welcomes 500,000 tourists a year, was at great risk: it had two ICU beds.
Jacobs did not want to impose a strict lockdown, but she did want physical distancing observed. So she spelled it out: "Simply. Stop. Moving," she said. "If you don't have the bread you like in your house, eat crackers. Eat cereal. Eat oats. Eat … sardines."
The 51-year-old Caribbean premier may not have the global profile of Angela Merkel or Jacinda Ardern, but her blunt message exemplified firm action, effective communication – and showed another female leader getting the job done.
From Germany to New Zealand and Denmark to Taiwan, women have managed the coronavirus crisis with aplomb. Plenty of countries with male leaders – Vietnam, the Czech Republic, Greece, Australia – have also done well. But few with female leaders have done badly.
Ardern, 39, New Zealand's premier, has held Kiwis' hands through the lockdown, delivering empathetic "stay home, save lives" video messages from her couch and communicating daily through non-combative press conferences or intimate Facebook Live videos, her favourite medium.
Her insistence on saving lives and her kindness-first approach – urging New Zealanders to look after their neighbours, take care of the vulnerable, and make sacrifices for the greater good – has won her many fans, while her emphasis on shared responsibility has united the country.
Choosing to "go hard and go early", Ardern imposed a 14-day quarantine on anyone entering the country on 14 March and implemented a strict lockdown two weeks later, when fewer than 150 people had been infected and none had died. New Zealand has recorded just 18 deaths; public trust in Ardern's government is greater than 80%.
In Germany, Angela Merkel has been hailed for direct but uncharacteristically personal public interventions, warning that up to 70% of people would contract the virus – the country's "greatest challenge" since 1945 – and lamenting every death as that of "a father or grandfather, a mother or grandmother, a partner …"
Thanks to extensive testing from the outset, plenty of intensive care beds, and the chancellor's periodic forthright reminders that Covid-19 was "serious – so take it seriously", Germany has so far recorded fewer than 5,000 deaths, a far lower figure than most EU countries.
With a doctorate in quantum chemistry, Merkel's clear, calm expositions – a clip of her explaining the scientific basis behind the government's lockdown exit strategy was shared thousands of times online – have also helped propel public approval of the fourth-term chancellor's handling of the crisis above 70%.
1:38
Merkel sets out clear explanation of how coronavirus transmission works – video
In nearby Denmark, meanwhile, the prime minister, Mette Frederiksen, acted equally firmly, closing the Scandinavian country's borders as early as 13 March, and following up a few days later by shutting all kindergartens, schools and universities and banning gatherings of more than 10 people.
That decisiveness appears to have spared Denmark the worst of the pandemic, with fewer than 8,000 confirmed cases and 370 deaths. Frederiksen's no-punches-pulled speeches and clear instructions to the nation have been widely praised.
She even managed to show a sense of fun, posting a clip on Facebook of herself doing the dishes while singing along to the 1980s Danish popsters Dodo and the Dodos during the nation's weekly TV lockdown singalong. The Scandinavian country's youngest-ever prime minister, whose approval ratings have doubled to more than 80%, has now begun easing its lockdown.
Taiwan's president Tsai Ing-wen responded equally fast, activating the country's central epidemic command centre in early January and introducing travel restrictions and quarantine measures. Mass public hygiene measures were rolled out, including disinfecting public areas and buildings.
In all, Taiwan adopted 124 control and contain measures in weeks, making a full lockdown unnecessary. It has reported just six deaths, and is now dispatching millions of face masks to the worst-struck parts of the US and Europe. Tsai's warm, authoritative style has won her plaudits, even from political opponents.
Norway, with 7,200 cases and 182 deaths, this week began relaxing its restrictions by reopening kindergartens. The prime minister, Erna Solberg, told CNN she had made a point of "letting scientists make the big medical decisions", adding that she thought her country's early lockdown and thorough testing programme had been key.
Following an example set earlier by Frederiksen, Solberg also took the unusual step of directly addressing the country's children, telling them in two press conferences – from which adult journalists were banned – that it was "permitted to be a little bit scared" and that she, too, missed being able to hug her friends.
Meanwhile, Iceland, under the prime minister, Katrín Jakobsdóttir's, leadership, has offered free testing to all citizens, not only those with symptoms, and has recorded 1,800 cases and 10 deaths. Some 12% of the population has taken up the offer, and an exhaustive tracing system has meant the country has not had to close schools.
The world's youngest head of government, Finland's prime minister, Sanna Marin, also moved decisively to impose a strict lockdown, including a ban on all non-essential travel in and out of the Helsinki region. This has helped her country contain the spread of the virus to just 4,000 cases and 140 deaths, a per-million toll 10 times lower than that of neighbouring Sweden.
Not all the women who have excelled in the corona crisis are national leaders. Jeong Eun-kyeong, the unflappable head of South Korea's centre for disease control, has become a national icon after overseeing a "test, trace, contain" strategy that has made the country the world's coronavirus role-model, with daily infections in single digits and a death toll of less than 250.
Jeong, a former rural doctor dubbed "the world's best virus hunter", has delivered no-nonsense daily press conferences, including demonstrating the ideal way to cough. While these have won praise, her work ethic – she has left an emergency operations bunker only for quick visits to a food truck – has prompted concern for her health.
5:06
Why South Korea's coronavirus death toll is comparatively low – video explainer
Whatever conclusions we may draw from these leaders' performances during the pandemic, experts caution that while women are "disproportionately represented to a rather startling degree" among countries managing the crisis well, dividing men and women heads of state and government into homogenous categories is not necessarily useful.
Complicating factors may be at play. Kathleen Gerson, a professor of sociology at New York University, notes, for example, that women leaders are more likely to be elected in "a political culture in which there's a relative support and trust in the government – and that doesn't make stark distinctions between women and men. So you've already got a head start".
In addition, it may be harder for men to escape "the way they are expected to behave" as leaders, Gerson told The Hill website. And since the very best leaders are both strong and decisive and capable of displaying feeling, women could, perhaps, "lead the way in showing that these are not competing and conflicting attributes, but complementary – and necessary for good leadership", she said.
America faces an epic choice …
… in the coming year, and the results will define the country for a generation. These are perilous times. Over the last three years, much of what the Guardian holds dear has been threatened – democracy, civility, truth. This administration has cleared out science and scientists across all departments. America's reputation as a competent global leader is in peril. Truth is being chased away. But with your help we can continue to put it center stage.
Rampant disinformation, partisan news sources and social media's tsunami of fake news are no bases on which to inform the American public in 2020. We believe every one of us deserves equal access to fact-based news and analysis. So we've decided to keep Guardian journalism free for all readers, regardless of where they live or what they can afford to pay. This would not be possible without the generosity of readers, who now support our work from across America in all 50 states.
Our journalism relies on our readers' generosity – your financial support has meant we can keep investigating, disentangling and interrogating. It has protected our independence, which has never been so critical. We are so grateful.
For more information please visit the following link:
https://www.theguardian.com/world/2020/apr/25/why-do-female-leaders-seem-to-be-more-successful-at-managing-the-coronavirus-crisis?utm_source=pocket-newtab
Alarming Studio Works by Pejac Focus on Earth's Environmental Crisis
Alarming Studio Works by Pejac Focus on Earth's Environmental Crisis
OCTOBER 22, 2018  SASHA BOGOJEV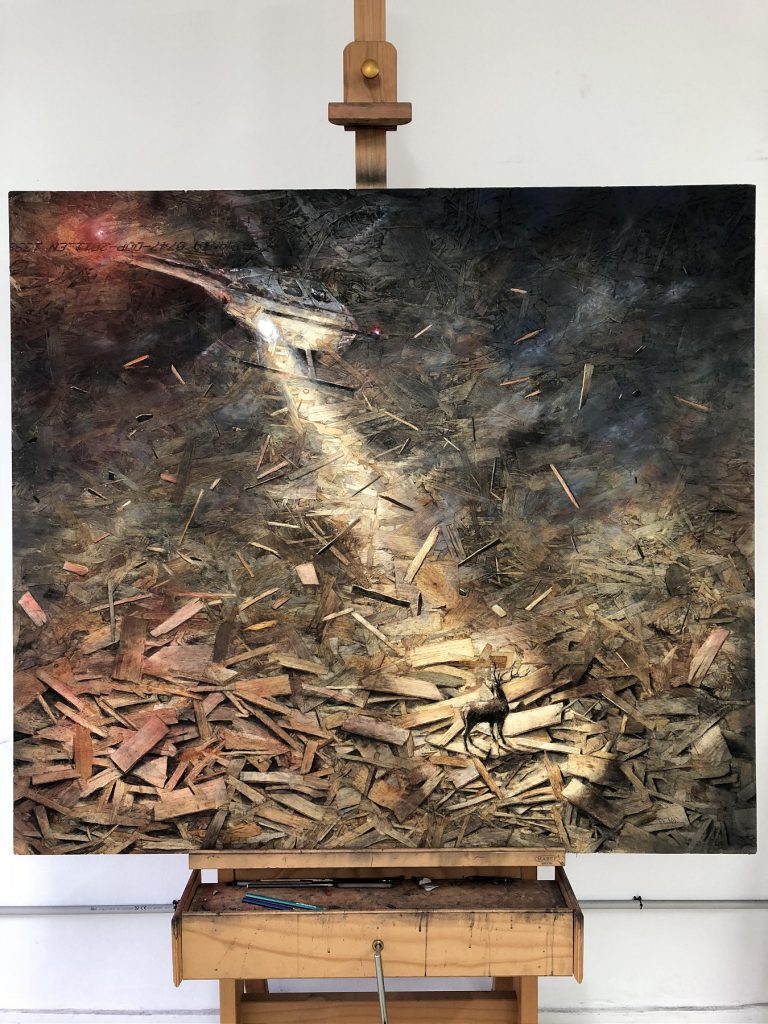 After taking a much-needed break over the summer following his successful presentation in Paris in June, Pejac is now back in his studio, developing new works for his U.S. debut in New York City and preparing a special limited edition that will be released toward the end of the year. Mixing his most recognizable techniques and mediums, he's been sharing some of the alluring new pieces via his Instagram, including most recent drawings and works on pressed wood panels.
The Spanish artist first introduced the captivating works on wooden chipboard from the Redemption series back in January 2017, and eventually had an entire showcase focused on these pieces back in September 2017 in Venice. Known for revisiting his ideas and concepts, he recently finished this poignant new piece titled Safari. Mixing some of the previously seen imagery, such as patrolling helicopters with a spotlight, or a lonely stag, Pejac combines these visuals into a dynamic image that depicts a wild animal caught in the open by an unknown authority. Using fastidious shading and light effects, he uses the unorthodox composite wood medium to create a powerful effect of objects flying around the animal as its surrounding crumble around it. Once again putting a focus on the careless and ignorant bearing of humans towards nature, the artist constructed a gripping image utilizing an original technique he developed.
With similar thematic content, Pejac's most recent solo exhibition on an old waterway barge on the Seine in Paris included three masterful large-scale drawings, along with other works on paper. Portraying a post-apocalyptic, surreal future, these meticulously rendered drawings mounted on thick frames were matched the quality of his paintings while depicting the hefty subject with a direct and delicate technique. Showing a lone character diving deep to retrieve a sinking lifebuoy ring in between plastic waste, or a helicopter removing a lighthouse over a desert, these images showcase Pejac's poetic vision and his ability to pass a sharp and weighty message in the most poetic way.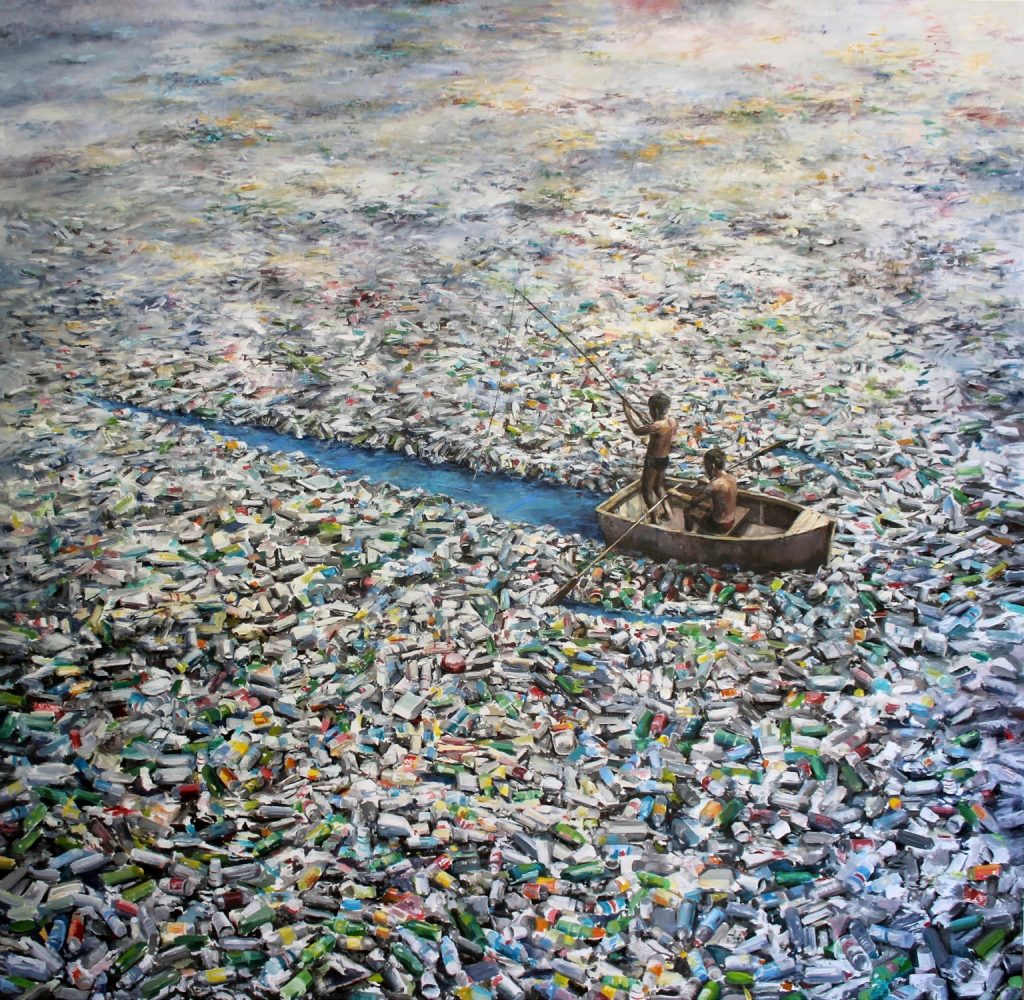 A great example of such narrative is his canvas Le Bateau Ivre (The drunken boat) from 2015, titled after a poem written by Arthur Rimbaud, describing the drifting and sinking of a boat lost at sea in a fragmented first-person narrative saturated with vivid imagery and symbolism. Making an analogy with poem's verbal saturation, the image shows two boys finishing from a small boat drifting through a sea densely polluted with garbage. Originally exhibited at his 2016 London solo show "Law of the Weakest," this troubling vision from only three years ago is repeatedly becoming an alarming reality around the globe. You can see Pejac's works in progress and stay up to date on show and print release announcements by following him on Instagram.