PBS News: June 22 – 25, 2020, and PBS NewsHour.org – June 23, 2020 – Five overlook political stories from the past week
MSNBC: A Bad Poll for Trump and Worst Day For COVID-19 Cases Yet In U.S. | The 11th Hour |
Roylab Stats [LIVE] Coronavirus Pandemic: Real Time Counter, World Map, News
Al Jazeera English | Live
 The New York Times: The Morning – June 24 & 19, 2020, and Five Takeaways from John Bolton's Memoir
The Associated Press:  AP MORNING WIRE – June 24, 2020
The Washington Post: Important developments in the pandemic – Tue, Jun 23, 2020
PBS NewsHour live episode, June 25, 2020
Fundraiser
Streamed live 2 hours ago  PBS NewsHour
Support your local PBS station here: https://pbs.org/donate Stream your PBS favorites with the PBS app: https://to.pbs.org/2Jb8twG Find more from PBS NewsHour at https://www.pbs.org/newshour Subscribe to our YouTube channel: https://bit.ly/2HfsCD6 Follow us:
PBS NewsHour full episode, June 24, 2020
Fundraiser
Jun 24, 2020  PBS NewsHour
Wednesday on the NewsHour, two Justice Department attorneys tell a congressional committee that some of the agency's investigations are politically motivated. Plus: President Trump's controversial plan to move U.S. troops to Poland, meatpacking amid the pandemic, Sen. James Lankford on police reform, professional baseball's return, summer reading for young adults and remembering Les Crystal. Support your local PBS station here: https://pbs.org/donate WATCH TODAY'S SEGMENTS News Wrap: Federal appeals court orders Flynn case dismissed https://www.youtube.com/watch?v=zCVR5… Is Barr politicizing justice? 2 DOJ lawyers say yes https://www.youtube.com/watch?v=lsl5f… With Polish president, Trump reiterates plan to move troops https://www.youtube.com/watch?v=UtoHu… Coronavirus means meatpacking workers fear for their lives https://www.youtube.com/watch?v=qw1uY… Lankford says Democrats putting politics over police reform https://www.youtube.com/watch?v=hJ0El… Are professional sports ready to resume play in a pandemic? https://www.youtube.com/watch?v=D1fTA… Summer reading lists for young people at a time of crisis https://www.youtube.com/watch?v=LNPmG… Les Crystal's NewsHour legacy, as a great boss and a friend https://www.youtube.com/watch?v=mpCCK… Stream your PBS favorites with the PBS app: https://to.pbs.org/2Jb8twG Find more from PBS NewsHour at https://www.pbs.org/newshour Subscribe to our YouTube channel: https://bit.ly/2HfsCD6
https://www.youtube.com/watch?v=hRCe2i-HnBA
PBS NewsHour full episode, June 23, 2020
Fundraiser
Jun 23, 2020  PBS NewsHour
Tuesday on the NewsHour, top U.S. infectious disease expert Dr. Anthony Fauci tells Congress he is "quite concerned" about the continuing spread of COVID-19. Plus: An emergency medicine doctor on the pandemic in Houston, President Trump visits Arizona, reexamining Confederate landmarks, coronavirus and renewed violence in Yemen and U.S. schools scramble to improve distance learning for the fall. Support your local PBS station here: https://pbs.org/donate WATCH TODAY'S SEGMENTS Fauci urges more virus testing to counter surge in cases https://www.youtube.com/watch?v=la9-I… Why this Texas ER doctor is begging residents to stay home https://www.youtube.com/watch?v=yi4Dl… News Wrap: Historic church holds funeral for Rayshard Brooks https://www.youtube.com/watch?v=BUC8l… Trump's Phoenix rally attracts thousands in virus hot spot https://www.youtube.com/watch?v=6Or_w… What the future could hold for symbols of the American past https://www.youtube.com/watch?v=Oi_yC… Monuments, statues and a national reckoning on race https://www.youtube.com/watch?v=i6aQZ… War-ravaged Yemen facing deadly new threat in COVID-19 https://www.youtube.com/watch?v=-hBfG… Distance learning highlights disparities in income, access https://www.youtube.com/watch?v=7dOWS… Stream your PBS favorites with the PBS app: https://to.pbs.org/2Jb8twG Find more from PBS NewsHour at https://www.pbs.org/newshour Subscribe to our YouTube channel: https://bit.ly/2HfsCD6
PBS NewsHour full episode, June 22, 2020
Fundraiser
Jun 22, 2020  PBS NewsHour
Monday on the NewsHour, the World Health Organization records the highest daily total of new coronavirus cases worldwide since the pandemic began. Plus: Arkansas Gov. Asa Hutchinson on COVID-19 in his state, global threats against journalists, U.S. election security, will Gen-Z voters support Joe Biden, Politics Monday with Amy Walter and Tamara Keith and learning from pandemics of the past. Support your local PBS station here: https://pbs.org/donate WATCH TODAY'S SEGMENTS Where the coronavirus is spreading worldwide – and why https://www.youtube.com/watch?v=IBGnO… News Wrap: NASCAR drivers support Wallace after noose found https://www.youtube.com/watch?v=wOOG9… Arkansas Gov. Asa Hutchinson on rising COVID-19 in his state ttps://www.youtube.com/watch?v=qwrFHmTUtA0 What Maria Ressa's conviction means for global news media https://www.youtube.com/watch?v=HgpUf… Ga. Primary chaos reveals an electoral system deeply flawed https://www.youtube.com/watch?v=ckzzj… What to expect from Gen Z voters in 2020 elections https://www.youtube.com/watch?v=oYL9h… Tamara Keith and Amy Walter on Gen-Z turnout, mail-in voting https://www.youtube.com/watch?v=hGPWv… Past pandemics have reshaped society. Will COVID-19? https://www.youtube.com/watch?v=ntEv3… Stream your PBS favorites with the PBS app: https://to.pbs.org/2Jb8twG Find more from PBS NewsHour at https://www.pbs.org/newshour Subscribe to our YouTube channel: https://bit.ly/2HfsCD6
A Bad Poll for Trump And Worst Day For COVID-19 Cases Yet In U.S. | The 11th Hour | MSNBC
Jun 25, 2020   MSNBC
As a new poll shows Trump trailing Biden by double digits, the U.S. has its worst day ever for the coronavirus with over 42,000 new cases recorded according to NBC News. Aired on 06/24/2020. » Subscribe to MSNBC: http://on.msnbc.com/SubscribeTomsnbc MSNBC delivers breaking news, in-depth analysis of politics headlines, as well as commentary and informed perspectives. Find video clips and segments from The Rachel Maddow Show, Morning Joe, Meet the Press Daily, The Beat with Ari Melber, Deadline: White House with Nicolle Wallace, Hardball, All In, Last Word, 11th Hour, and more.
[LIVE] Coronavirus Pandemic: Real Time Counter, World Map, News
Started streaming 15 hours ago   Roylab Stats
Coronavirus Live Streaming: Breaking news, world Map and live counter on confirmed cases and recovered cases. I started this live stream on Jan 26th, and since Jan 30th I have been streaming this without stopping. Many people are worried about the spread of coronavirus. For anyone that wants to know the real-time progression of the worldwide spread of this virus, I offer this live stream. The purpose is not to instill fear or panic, nor is it to necessarily comfort; I just want to present the data to help inform the public of the current situation. The purpose of this stream is to show basic information and data to understand the situation easily. For detail information, please visit our reference sites.
https://www.youtube.com/watch?v=2EppLNonncc
Al Jazeera English | Live
@Al Jazeera English, we focus on people and events that affect people's lives. We bring topics to light that often go under-reported, listening to all sides of the story and giving a 'voice to the voiceless'. Reaching more than 270 million households in over 140 countries across the globe, our viewers trust Al Jazeera English to keep them informed, inspired, and entertained. Our impartial, fact-based reporting wins worldwide praise and respect. It is our unique brand of journalism that the world has come to rely on. We are reshaping global media and constantly working to strengthen our reputation as one of the world's most respected news and current affairs channels. Subscribe to our channel: http://bit.ly/AJSubscribe Follow us on Twitter: https://twitter.com/AJEnglish Find us on Facebook: https://www.facebook.com/aljazeera Check our website: http://www.aljazeera.com/ #AlJazeeraEnglish #BreakingNews #AlJazeeraLive
Category  News & Politics
The New York Times    The Morning      June 24, 2020
Good morning. Biden leads Trump by 14 points in The Times's first poll. Many of last night's primaries remain too close to call. And Fauci says the next two weeks will be crucial to fighting the coronavirus.
Why the virus is winning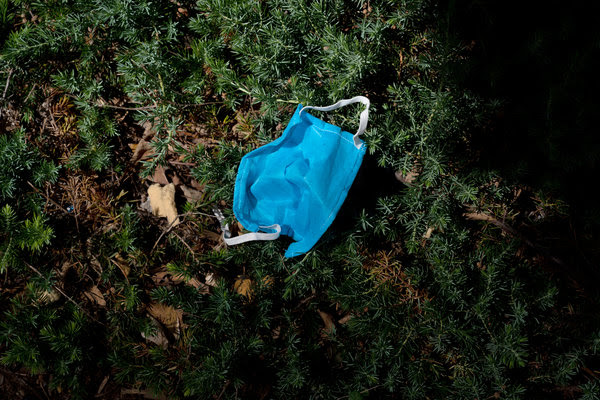 Nick Oxford for The New York Times

We know how to slow the spread of the coronavirus.
I know it doesn't always seem that way. And, yes, there is still a great deal we don't know about the virus. But there is also a consistent set of lessons, from around the world, about how to reduce the number of new cases sharply.You should wear a mask if you're going to spend time near anybody who is not part of your household. You should minimize your time in indoor spaces with multiple people. You should move as many activities as possible outdoors. You should wash your hands frequently. And you should stay home, away from even your own family members, if you feel sick.
Government officials, for their part, can slow the virus's spread by encouraging all of these steps, as well as by organizing widespread testing and competent tracing of people who are likely to have the virus.
The past six months have repeatedly shown the value of these steps. Countries and regions that have taken them have either avoided outbreaks or beaten them back. Look at South Korea and Vietnam. Or many places that were hardest hit in the pandemic's early waves: China, the New York metro area and much of Western Europe. Or New England and the upper Midwest.
Over the last few weeks, however, the virus has begun spreading across the southern and western U.S., as well as in some other countries. And there's no real mystery about why. Many people have stopped following public-health guidance. They have gathered in restaurants, bars, churches, gyms and workplaces (sometimes because their employers pressured them to do so).

Anthony Fauci, the government's top infectious disease expert, told Congress yesterday: "The next couple of weeks are going to be critical in our ability to address those surges that we are seeing in Florida, Texas, Arizona, and other states." If the surges aren't reversed, they will create a much larger pool of people who have the virus and can then spread it to others.
Whether the U.S. succeeds during this next stage is not a matter of epidemiology or lab science. It's a matter of political will. It does not even require severe new lockdowns in most places.

As my colleague Apoorva Mandavilli, a science reporter, says: "There are ways to be responsible and socialize, but people don't seem to be able to draw the line between what's OK and what is not. For too many people, it seems to be binary — they are either on lockdown or taking no precautions."
By The New York Times | Source: New York Times/Siena College poll
"What's new," Jonathan Martin, a Times political reporter, told me, "is Trump's collapse with voters who Republicans have traditionally relied on, namely whites with college degrees. The president's inability to project unifying leadership in response to three crises this spring — the pandemic, collapse of the economy and racial unrest — has sent his support tumbling."

Recent polls by other organizations have found, on average, that Biden leads by 10 points. The best news for Trump: The election is still more than four months away.
2. Election results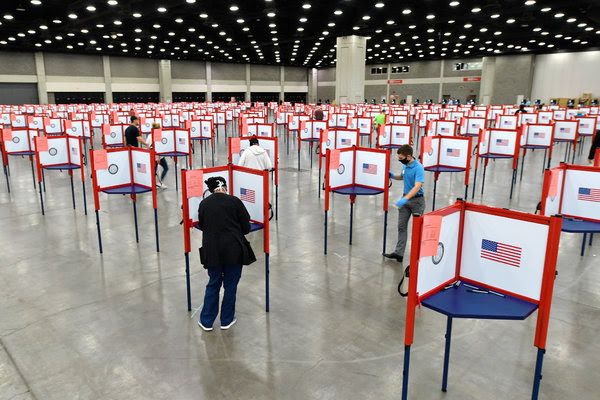 The Kentucky Exposition Center, Louisville's only open polling station on Tuesday.Timothy D. Easley/Associated Press

Election Night is different during a pandemic. Many results remain unknown, because absentee ballots continue to arrive for days. With that caveat, here's what we know about last night's primaries:
Several progressive Democrats are doing well in House primaries in New York State. In the race I focused on yesterday, Jamaal Bowman holds a substantial lead over the incumbent, Eliot Engel. Mondaire Jones leads in a suburban district north of the city. Ritchie Torres — the first openly gay elected official in the Bronx and "a potential national star," according to Dave Wasserman of The Cook Political Report — seems on pace to win. And Alexandria Ocasio-Cortez easily dispatched her more moderate opponents.
Two Republican House candidates opposed by President Trump — one in North Carolina, one in Kentucky — won their primaries. The North Carolina winner was Madison Cawthorn, a 24-year-old investor.
In Kentucky, Amy McGrath and Charles Booker are in a tight race to become the Democratic nominee who will face Mitch McConnell.
3. Coronavirus upends a pillar of Islam
Saudi officials effectively canceled this year's hajj, one day after restricting the journey to people already in the country. Because of the coronavirus, only about 1,000 people will be permitted to make the pilgrimage to Mecca, compared with the 2.5 million who did so last year. The announcement sent waves of sadness across the Muslim world.
In other virus developments:
The European Union is preparing to block Americans from visiting when borders reopen on July 1 because the U.S. has failed to control the virus.
The governor of Texas, who has resisted another lockdown, urged residents to stay home after the state posted a record number of new infections.
4. Where overhauls could change policing
The increased scrutiny on policing has uncovered a growing list of cases where procedural changes might have prevented problems.

A white police officer in New Jersey who was caught on video pepper-spraying a group of black youths had a long history of violence — and had worked in nine different police departments. How is that possible?

New Jersey has no central database tracking police abuse. The family of Eric Umansky, a ProPublica journalist, witnessed an unmarked N.Y.P.D. cruiser hit a black teenager in 2019. Umansky then spent months trying to figure out what happened, but repeatedly ran into rules that shield the police from accountability.

More recently, a Michigan man was arrested based on a match from a facial recognition algorithm that was flawed. Our colleague Kashmir Hill has a gripping story about the case.
Here's what else is happening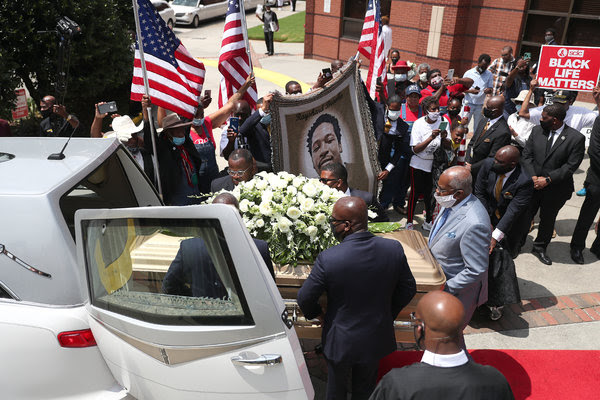 Mourners gathered at Ebenezer Baptist Church in Atlanta on Tuesday for the funeral of Rayshard Brooks.Joe Raedle/Getty Images

Activists, politicians and celebrities gathered in Atlanta yesterday for the funeral of Rayshard Brooks, who was fatally shot by the police.

Major League Baseball has set a plan for a 60-game season. "Think of it as forced competitive balance," our columnist writes, "when even the worst teams can dream of getting hot for nine weeks and stealing a playoff berth."

Top Justice Department officials intervened to seek a more lenient sentence for the Trump ally Roger Stone, a former federal prosecutor is expected to tell Congress today.

Lives Lived: Shirley Siegel was no stranger to discrimination. After graduating fourth in her class at Yale Law School in 1941, she was rejected by 40 male-dominated law firms. But she went on to become a top civil rights lawyer. She died at 101.
BACK STORY: A POLLING POST-MORTEM
For many people, it's hard to know how seriously to take this year's political polls, because in 2016 they showed Hillary Clinton as likely to beat Donald Trump. So we wanted to offer a quick look back: What did polls get wrong four years ago?
A short answer — as The Times's Nate Cohn has written — is that many surveys of crucial Midwestern states in 2016 did not include enough voters without college degrees. These voters are less likely to respond to polls, and polling firms failed to make the needed statistical adjustments. Because most of these non-college voters backed Trump, the polls underestimated his support.

Notably, most national polls did weight their samples by education — and national polls were quite accurate. They showed Clinton winning the popular vote by a few percentage points, which she did.
Pollsters tried to solve this problem in the 2018 midterms (with only partial success), and they are trying to do so again this year. But it's not easy to predict who will vote, which means that the polls may suffer from the same problem in 2020 — or from a different problem.

On the other hand, if one candidate is beating the other by more than 10 percentage points — Biden's current lead over Trump — polling errors probably won't be big enough to matter. For more: Nate offers more thoughts on 2016 and 2020 in a new article.
The Associated Press     AP MORNING WIRE
Good morning. In today's AP Morning Wire:

·         Dr. Fauci: Next few weeks critical to tamping down US virus spikes.·

Scarce medical oxygen around world leaves many gasping for life.·

Police officer involved in Breonna Taylor's fatal shooting fired.
·

Trump-backed House candidates lose in Kentucky, North Carolina.

TAMER FAKAHANY
DEPUTY DIRECTOR – GLOBAL NEWS COORDINATION, LONDON

The Rundown

| | |
| --- | --- |
| AP PHOTO/EMILIO MORENATTI | |
Dr. Fauci: Coming weeks critical to reduce US spikes; Scarce medical oxygen worldwide leaves many gasping for life

The U.S. government's top infectious disease expert has said the next few weeks are critical to tamping down a disturbing coronavirus surge in America.

Dr. Anthony Fauci issued a plea for people to avoid crowds and wear masks, just hours before mask-shunning President Donald Trump addressed a crowd of his young supporters in one hot spot in Arizona, report Lauran Neergaard and Ricardo Alonso-Zaldivar.

Despite controversy over Trump's comments that testing is finding too many infections, Fauci told a congressional committee that testing hasn't slowed — and the country will be doing even more.

Fighting for Breath: The pandemic is prompting soaring demand for oxygen. But in much of the world, medical oxygen is expensive and hard to get — a basic marker of inequality both between and within countries. It's in short supply from Peru to Bangladesh.

Across Africa, only a handful of hospitals have direct oxygen hookups, as is standard across Europe and the United States. And most medical facilities lack even the most basic equipment needed to help patients breathe. Lori Hinnant, Carley Petesch and Boubacar Diallo have this exclusive report.

Global Latest: China appears to have tamed a new outbreak of the coronavirus in Beijing, once again demonstrating its ability to quickly mobilize vast resources by testing nearly 2.5 million people in 11 days. But elsewhere in the world, cases are surging.

·         India reported a record daily increase of nearly 16,000 new cases.

·         Mexico also set a record with more than 6,200 new cases.

·         South Africa has recorded its highest daily death toll of 111 people.

PHOTOS: Plastic keeps virus, not love and hugs away from Spanish nursing home: One facility for the elderly in Barcelona now allows family visits to resume through plastic screens. A deeply moving gallery of images by Emilio Morenatti.
| | |
| --- | --- |
| | White police officer involved in Breonna Taylor's fatal shooting in Kentucky fired |
Sober science weighs in on Trump's virus take
The U.S. government's top public health leaders on Tuesday shot down assertions by President Donald Trump that the coronavirus pandemic is under control and the U.S. is excelling in testing for the virus. 
North says Kim suspended action against South for Korean impasse
North Korea says its planned retaliation against South Korea for stalemated relations and anti-Pyongyang activism has been suspended by leader Kim Jong Un. Analysts say North Korea, after weeks of deliberately raising tensions with threats of military action, may be pulling away just enough to make room for South Korean concessions.
Powerful earthquake shakes southern Mexico, at least 5 dead
A magnitude 7.4 quake centered in southern Mexico has killed at least five people, swayed buildings in Mexico City and sent thousands fleeing into the streets. One person was killed and another injured in a building collapse in Huatulco. There were also deaths in Oaxaca. There were further reports of broken windows and collapsed walls.
Israeli annexation plan draws apartheid comparisons
For years, labeling Israel an apartheid state was used primarily by its strongest detractors to describe its rule over Palestinians who were denied basic rights in occupied areas. For the most part, Israel successfully pushed back. But as Israel moves closer to launching annexation — perhaps as soon as next month — as part of President Trump's Mideast plan, the term is becoming part of Israel's political conversation.
For openers: MLB tries again with short season, skewed rules
By the time Major League Baseball returns in late July, it will have been more than four months since teams last played. The season is now going to be a 60-game sprint to the finish, held in U.S. ballparks without fans and featuring some unusual rules.

Coronavirus Updates: E.U. may ban Americans when it reopens

The Washington Post <email@washingtonpost.com> 
Tue, Jun 23, 2020

Important developments in the pandemic.

The Post's coronavirus coverage linked in this newsletter is free to access from this email. 

The latest

The European Union may ban Americans from traveling there when it reopens its borders, the New York Times reported, as coronavirus cases surge in the United States. European countries are working to agree on two lists of acceptable travelers as they finalize plans to reopen on July 1, and the U.S. isn't on the drafts, the Times reported. The number of daily new cases remains at a far higher level in the U.S. than in Europe, where stringent lockdowns have helped slow the spread and reactions to resurgent outbreaks are swift.

Four top U.S. health officials, including infectious disease expert Anthony S. Fauci, testified at a high-profile hearing before the House Energy and Commerce Committee Tuesday, and all four told the committee they had never been instructed to slow down testing for the coronavirus, contradicting what President Trump said hours earlier. Fauci also told lawmakers he was "cautiously optimistic" that an effective vaccine will be available by the beginning of next year. Read more on the health experts' testimony about vaccines, treatments, another wave and testing here. (At send time, the hearing is still going.)

As cases continue to spike across dozens of states, along with hospitalizations, the president's continued claim that additional testing is to blame (it is not) is increasingly at odds with Republican allies in the hardest-hit states, where governors are beginning to change their tunes.

Income is a major predictor of coronavirus infections, a federal analysis found, along with race. The analysis supports the commonly understood pattern that the black community is harder hit by covid-19, but its findings on poverty add another layer of vulnerability. The infection rate among those with low incomes is "drastically higher" than everyone else in the analysis, said Seema Verma, administrator of the federal Centers for Medicare and Medicaid Services.

Trump has told aides he supports another round of stimulus checks, saying that he believes it will help the economy and boost his reelection odds. But leading congressional Republicans and some senior White House officials remain skeptical of more payments. The differing opinions in conservative circles could make the next stimulus package, scheduled to be taken up in July, difficult to pass.

Many of us are aching to go on vacation, but still concerned about the health risks. "Contactless" travel is a buzzy term right now among those itching for a trip, but is it even possible? By The Way reporter Natalie B. Compton planned and executed a "contactless" adventure to find out. You can read about how her trip turned out here. (And there's more advice on driving vs. flying this summer in the Q&A below.)

Other important news

The FDA is warning people not to use any hand sanitizer from a certain manufacturer after finding a potentially fatal toxic substance in nine of its products.

Over 700 cash-strapped cities are halting plans to repair roads, water systems or make other key investments.

A Q&A on the new restrictions on foreign workers imposed by the Trump administration on Monday, citing the pandemic.

Activists halt street protests in South Carolina after some demonstrators test positive for covid-19.

Saudi Arabia announced that it will drastically limit the number of people involved in the annual hajj pilgrimage to Mecca.
The New York Times    The Morning      June 19, 2020
Good morning. Facebook and Twitter take actions against Trump. Climate change is making babies sick. And the Supreme Court issues its second left-leaning decision in a week.
DACA lives on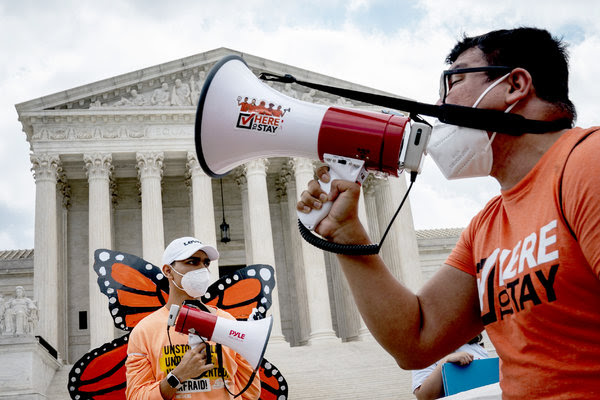 Supporters of DACA outside of the U.S. Supreme Court Thursday.Drew Angerer/Getty Images

When this country started hearing a decade ago about Dreamers — people who came to the United States as small children without legal permission — many of them were in their teens or early 20s. These Dreamers are now full adults, with careers and families, and many have spent years anxiously wondering whether they would be thrown out of the only country they've really known.
"It feels amazing," Vanessa Pumar, 31, an immigration lawyer who came from Venezuela at age 11, said. "I have been holding my breath. It feels like I can finally breathe."
Marisol Montejano, who's 36 and received a math degree this week from a California university, used the same word: "I feel like I could breathe." Montejano planned to tell her two children that "it's going to be OK."
Joana Cabrera, who is 24 and came from the Philippines at age 9, said, "I'm actually still shaking." Cabrera added, "I'm unbelievably happy, because I was expecting the worst."
The decision was the second this week in which at least one conservative justice — Chief Justice John Roberts, in this case — joined the court's four liberal members to issue a left-leaning ruling. Immigration is proving to be one of the issues (along with L.G.B.T.Q. rights) on which the court is not reliably conservative. Last year, a majority effectively blocked the Trump administration from adding a question about citizenship status to the 2020 census.
Yesterday's decision was a narrow one, holding that the administration did not follow the proper procedures for terminating President Barack Obama's policy, Deferred Action for Childhood Arrivals, or DACA, of allowing Dreamers to stay. Trump quickly suggested that he still planned to end the policy.
But, as The Times's Miriam Jordan told us, "There's nothing the Trump administration could do fast enough to get rid of the program before the election."
Many Republicans may be quite happy about that, anyway. "Polls show extraordinarily broad support for giving legal status to the Dreamers," said Julie Davis, a Times editor who's written a book about Trump's immigration policy with her colleague Michael Shear, "and being on the wrong side of that issue is the last place Republicans want to be five months before an election."
The dissent: Justice Clarence Thomas argued that Trump had the power to end DACA and the majority of justices were trying "to avoid a politically controversial but legally correct decision."
Big impact: Roberto G. Gonzales, a Harvard professor who has been studying DACA since it went into effect in 2012, calls it "the most successful immigration policy in recent decades."
Gonzales explains: "Within a year, DACA beneficiaries were already taking giant steps. They found new jobs. They increased their earnings. They acquired driver's licenses. And they began to build credit through opening bank accounts and obtaining credit cards."
FOUR MORE BIG STORIES
1. Social media vs. the president
Facebook and Twitter both pushed back against Trump's use of inflammatory material yesterday. Facebook removed advertisements by the Trump campaign that prominently featured a red triangle that the Nazis used to classify Communist political prisoners during World War II. The ad used it in connection with antifa, a loose collective of anti-fascist protesters.
Twitter added a warning — an exclamation point with the label "Manipulated Media" — to a Trump tweet that featured a video of two toddlers running down a sidewalk. The video, which included a headline about a "racist baby," had been made to look like a CNN segment.

The next source of debate: Tomorrow, Trump will hold his first rally since the coronavirus shut down public gatherings. Critics have condemned his choice of a host city: Tulsa, Okla., the site of a racist massacre 99 years ago this month.
2. Observing Juneteenth
Today is Juneteenth, and a growing number of companies have begun recognizing it as a holiday, in the wake of the police killing of George Floyd, The Wall Street Journal reports. The Times has put together a collection of historical photos, poetry and articles about the holiday, which commemorates the end of slavery in the U.S.

"As someone who has celebrated Juneteenth for a long time, I think we need it now — not in lieu of the freedom, justice and equality we are still fighting for — but in addition, because we have been fighting for so very long," Veronica Chambers, an editor who spearheaded the project, writes.
3. Another bleak jobs picture
Another 1.5 million Americans applied for state unemployment benefits last week, a sign that the coronavirus pandemic was reaching deeper into the economy even as the pace of jobs cuts slowed.
"Layoffs that happened at the beginning of this likely were intended as temporary," said Martha Gimbel, a labor market expert. "But if you're laying off people now, that's probably a long-term business decision."
4. The limate's effect on pregnancy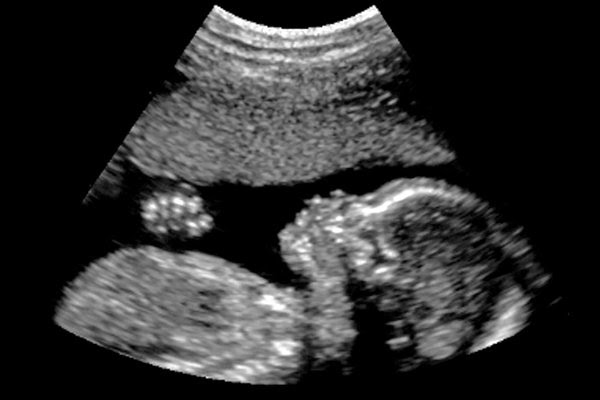 Living Art Enterprises, LLC/Science Source
Higher temperatures caused by climate change and increased air pollution have raised women's risk of giving birth to premature, underweight or stillborn children — and hurt African-American babies most. That's the finding of a newly published paper, which reviewed data from 57 studies collectively analyzing nearly 33 million births in the United States.
Here's what else is happening
PBSNewsHour follow@newshour.org via gmail.mcsv.net 
June 23, 2020
FIVE OVERLOOKED POLITICAL STORIES FROM THE PAST WEEK
By Ian Couzens, @iancouzenz
Politics production assistant
Nebraska governor says he'll withhold federal money from counties that require masks –– June 18. Local governments in Nebraska can encourage people to wear masks, but the governor does not believe people should be denied access to government buildings for failure to wear a mask, and said any locality requiring them will not receive funds from the CARES Act meant to help fight the coronavirus. Why it matters: The mandate means counties are reluctantly dropping mask requirements meant to prevent the spread of COVID-19. — The Los Angeles Times
Trump campaign makes pitch for fourth debate with Biden amid declining poll numbers — June 18. Just months ago Trump threatened not to participate in any of the three previously scheduled debates. Why it matters: The Trump campaign believes the best way to ding Biden's strong poll numbers is to get him to make more public appearances. — The Washington Post
How the White House agenda for managing space traffic got jammed up — June 19. Space Policy Directive-3, signed by the president in 2018, was meant to improve U.S. tracking of objects in space, reassigning that responsibility from the Department of Defense to the Commerce Department. But Commerce has not yet been given full authority nor resources, and has no budget for the mission in fiscal year 2020. Why it matters: As access to space becomes easier and less expensive, orbits are becoming crowded, creating the need for more space traffic management to prevent major accidents such as satellite collisions. — Politico 
California judge blocks Betsy DeVos from withholding relief money from undocumented students — June 17.  DeVos tried to implement restrictions on which college students could receive emergency coroanvirus relief money, limiting it only to those who qualified for normal federal financial aid and excluding undocumented and foreign students, as well as those with poor grades, defaulted student loans or small drug convictions. Why it matters: DeVos' directive would exclude hundreds of thousands of students from accessing funds Congress chose not to restrict, and while the rulings in California and Washington apply only to those states, the policy is on shaky ground nationally. — The Washington Post
U.S. senators unveil bill to curb foreign espionage, influence on campuses — June 18. The "Safeguarding American Innovation Act" is meant to give the U.S. State Department more authority to deny visas to foreign nationals seeking access to sensitive information and technologies related to national and economic security. Why it matters: The bipartisan group of senators behind the bill say it will help prevent foreign governments from accessing research and vital intellectual property developed at universities. — Reuters 
Five Takeaways From John Bolton's Memoir
"The Room Where It Happened" describes Mr. Bolton's 17 turbulent months at President Trump's side through a multitude of crises and foreign policy challenges.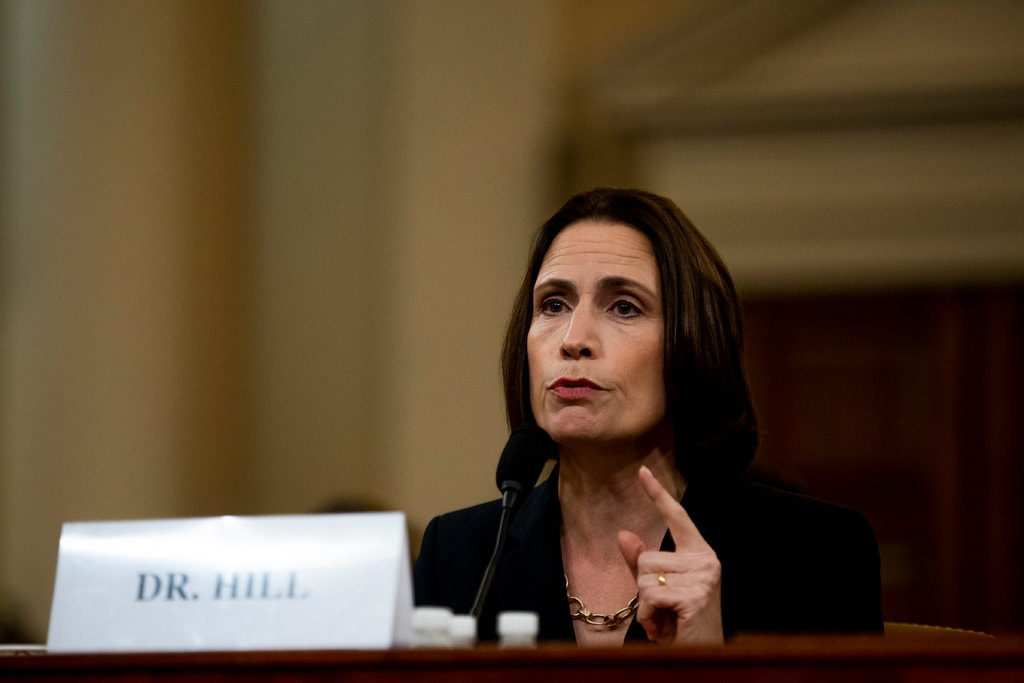 Fiona Hill, John R. Bolton's former Russia adviser, during a House impeachment hearing last year in Washington.Credit…Anna Moneymaker/The New York Times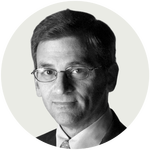 By Peter Baker
Published June 18, 2020Updated June 20, 2020
John R. Bolton, the former national security adviser, plans to publish a damning book next week depicting President Trump as a corrupt, poorly informed, reckless leader who used the power of his office to advance his own personal and political needs even ahead of the nation's interests.
The book, "The Room Where It Happened," describes Mr. Bolton's 17 turbulent months at Mr. Trump's side through a multitude of crises and foreign policy challenges, but attention has focused mainly on his assertions that the president took a variety of actions that should have been investigated for possible impeachment beyond just the pressure campaign on Ukraine to incriminate Democrats.
Mr. Bolton, who did not testify during House proceedings and whose offer to testify in the Senate trial was blocked by Republicans, confirms many crucial elements of the Ukraine scheme that got Mr. Trump impeached in December. He also asserts that the president was willing to intervene in criminal investigations to curry favor with foreign dictators. And he says that Mr. Trump pleaded with China's president to help him win re-election by buying American crops grown in key farm states.
Here are some of the highlights:
An offer of firsthand evidence on the Ukraine matter.
The book offers firsthand evidence that Mr. Trump linked his suspension of $391 million in security aid for Ukraine to his demands that Ukraine publicly announce investigations into supposed wrongdoing by Democrats, including former Vice President Joseph R. Biden Jr. — the heart of the impeachment case against the president.
If Mr. Bolton's account is to be believed, it means that Mr. Trump explicitly sought to use taxpayer money as leverage to extract help from another country for his partisan political campaign, a quid pro quo that House Democrats called an abuse of power. At the time of the impeachment hearings, Republicans dismissed the accusation by saying that the witnesses offered only secondhand evidence. Mr. Bolton, by contrast, was in the room.
Mr. Bolton says that he and Secretary of State Mike Pompeo and Defense Secretary Mark T. Esper tried eight to 10 times to persuade the president to release the aid, which Ukraine desperately needed to defend itself against a continuing war with Russia-sponsored forces. The critical meeting took place on Aug. 20 when, Mr. Bolton writes, Mr. Trump "said he wasn't in favor of sending them anything until all the Russia-investigation materials related to Clinton and Biden had been turned over," referring to Hillary Clinton.
Thanks for reading The Times.
Mr. Bolton otherwise confirms testimony offered by his former Russia adviser, Fiona Hill, that he objected to the "drug deal" being cooked up by Mr. Trump's associates to force Ukraine to help and that he called Rudolph W. Giuliani, the president's personal lawyer who was hip deep in the affair, "a hand grenade who's going to blow everybody up." He writes that he suspected that Mr. Giuliani had personal business interests at stake and adds that he had the matter reported to the White House Counsel's Office.
"I thought the whole affair was bad policy, questionable legally, and unacceptable as presidential behavior," Mr. Bolton writes. "Was it a factor in my later resignation? Yes, but as one of many 'straws' that contributed to my departure."
Explaining a lack of testimony, and placing blame on Democrats.
As the book nears publication and details spill out, many congressional Democrats quickly assailed Mr. Bolton for not telling his story during the impeachment proceedings and instead saving it for his $2 million book.
Mr. Bolton explains his position in the epilogue, saying he wanted to wait to see if a judge would order his former deputy to testify over White House objections. House Democrats opted not to pursue the case, fearing endless litigation. Once the House impeached Mr. Trump over the Ukraine matter, Mr. Bolton volunteered to testify in the Senate trial that followed if subpoenaed.
But Senate Republicans voted to block new testimony by him and any other witnesses even after The New York Times reported that his forthcoming book would confirm the quid pro quo. Some of those Republican senators said that even if Mr. Bolton was correct, it would not be enough in their minds to justify making Mr. Trump the first president in American history convicted and removed from office.
Mr. Bolton blames House Democrats for being in a rush rather than waiting for the court system to rule on whether witnesses like him should testify, and he faults them for narrowing their inquiry to just the Ukraine matter rather than building a broader case with more examples of misconduct by the president.
"Had a Senate majority agreed to call witnesses and had I testified, I am convinced, given the environment then existing because of the House's impeachment malpractice, that it would have made no significant difference in the Senate outcome," he writes.
Singling out episodes of "obstruction of justice as a way of life."
The other episodes that Mr. Bolton says the House should have investigated include Mr. Trump's willingness to intervene in Justice Department investigations against foreign companies to "give personal favors to dictators he liked." Mr. Bolton said it appeared to be "obstruction of justice as a way of life."
He singles out Halkbank of Turkey, a state-owned financial institution investigated for a multibillion-dollar scheme to evade American sanctions on Iran. At a side encounter during a Buenos Aires summit meeting in late 2018, President Recep Tayyip Erdogan of Turkey handed Mr. Trump a memo by the law firm representing Halkbank, "which Trump did nothing more than flip through before declaring he believed Halkbank was totally innocent." He then told Mr. Erdogan "he would take care of things."
Attorney General William P. Barr later spent months trying to negotiate a settlement with the bank, but that came to an end in October, after Mr. Bolton left office, when the Justice Department charged Halkbank in a six-count indictment.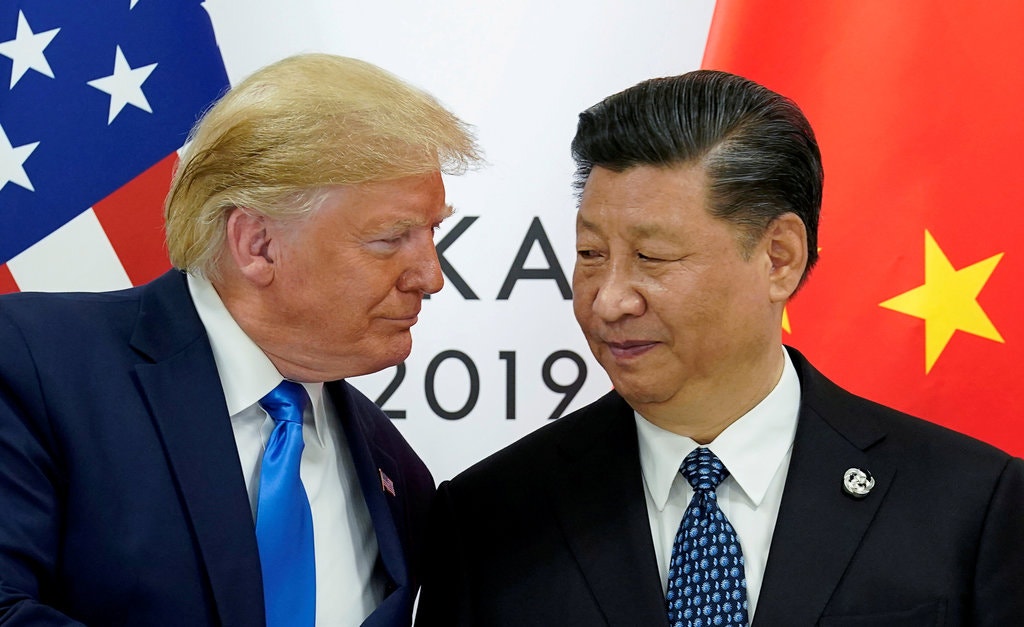 President Trump with President Xi Jinping of China last summer in Osaka, Japan.Credit…Kevin Lamarque/Reuters
Mr. Bolton also mentions ZTE, the Chinese telecommunications giant that was convicted of evading sanctions on Iran and North Korea and then faced new penalties for further violations during its follow-up consent decree. During a conversation on trade with President Xi Jinping of China, Mr. Trump offered to lighten the penalties.
"Xi replied that if that were done, he would owe Trump a favor and Trump immediately responded he was doing this because of Xi," Mr. Bolton writes. He called himself "appalled" and "stunned" by the idea of intervening in a criminal investigation to let a sanctions buster off the hook. In the end, at Mr. Trump's behest, the Justice Department accepted a $1 billion fine and lifted a seven-year ban on buying American products, an act of lenience that saved the company from going out of business.
A new allegation in the book accuses Mr. Trump of "pleading" with Mr. Xi to help him win re-election by buying American agricultural products, which would help the president in farm states. Mr. Trump did not deny it when asked about the matter on Wednesday night by Sean Hannity on Fox News, but Robert Lighthizer, his trade representative, did on his behalf earlier in the day, saying it was not true.
Describing a toxic environment inside the administration.
Over a long career in and out of Republican administrations in Washington, Mr. Bolton has rarely shied from giving his opinions, usually born of strong conservative national security convictions that have made him one of the capital's most outspoken hawks advocating the use of military power and sanctions.
While he agreed with Mr. Trump on issues like getting out of the nuclear accord with Iran, he found himself repeatedly trying to stop the president from making concessions to other rogue states or making an ill-considered peace deal with the Taliban in Afghanistan while pushing for a more robust use of force against outliers like Iran or Syria. He considered Mr. Trump's diplomacy to be folly.
To Mr. Bolton, Mr. Trump's decision to meet North Korea's leader, Kim Jong-un, in Singapore was a "foolish mistake," and the president's desire to then invite Mr. Kim to the White House was "a potential disaster of enormous magnitude." A series of presidential Twitter posts about China and North Korea were "mostly laughable." Mr. Trump's meeting with President Vladimir V. Putin of Russia in Helsinki was a "self-inflicted wound" and "Putin had to be laughing uproariously at what he had gotten away with in Helsinki."
Mr. Bolton also describes an environment inside the administration marked by caustic infighting in which various players trash one another in a contest for the president's ear — and the president trashes all of them.
When Mr. Bolton took over as national security adviser in 2018, John F. Kelly, then the White House chief of staff, disparaged the departing adviser, H.R. McMaster, by saying, "The president hasn't had a national security adviser in the past year and he needs one." Mr. Pompeo, the book says, disparaged Nikki R. Haley, then the ambassador to the United Nations, calling her "light as a feather."
Battling over what is deemed classified information.
The Justice Department has gone to court to stop the book from being published, arguing that it has classified information in it and that it was not cleared by a prepublication review required of former government officials like Mr. Bolton.
In fact, according to his lawyer, Charles J. Cooper, Mr. Bolton participated in an extensive back-and-forth over the book and agreed to all of the revisions mandated by the career official who reviewed it or came up with acceptable alternatives. Only when the review was over did another official, Michael J. Ellis, a political appointee, step in to review it all over again at the instruction of Robert C. O'Brien, Mr. Bolton's successor as national security adviser.
If there is classified information still in the book, it is hard to figure out what it might be. There are not references to secret intelligence programs or espionage sources and methods. But Mr. Trump insisted this week that every conversation with him was "highly classified" and therefore could not be disclosed, an assertion that goes far beyond tradition.
In his epilogue, Mr. Bolton says that in a few cases, "I was prevented from conveying information that I thought was not properly classifiable, since it revealed information that can only be described as embarrassing to Trump or as indicative of possible impermissible behavior." One example is the direct quote of what Mr. Trump said to Mr. Xi about helping him win re-election.
For the most part, though, Mr. Bolton explains in the epilogue that the career official who reviewed the book merely made him take quotation marks off things that the president said and otherwise generally left them in. And so Mr. Bolton offers a guide to readers: "In some cases, just put your own quotation marks around the relevant passages; you won't go far wrong."