PBS NewsHour full episode, June 3, 2020
Jun 3, 2020  PBS NewsHour
Wednesday on the NewsHour, violent confrontations diminish, but mass protests over George Floyd's death continue in cities across the U.S. — and the world. Plus: A South Carolina mayor on what's happening in his city, racial disparities in American policing, how the U.S. can address structural racism and analyzing results from Tuesday's elections. WATCH TODAY'S SEGMENTS Charges against police added, upgraded in Floyd case https://www.youtube.com/watch?v=03D6K… How this South Carolina mayor is fostering dialogue on race https://www.youtube.com/watch?v=oHRug… News Wrap: Florida reports 1,300 new coronavirus cases https://www.youtube.com/watch?v=zHDqV… How to address racial disparities in American policing https://www.youtube.com/watch?v=TnlO0… Leveraging family, community to overcome American racism https://www.youtube.com/watch?v=PEqFE… Amy Walter on the 'symbolism' of Tuesday's election results https://www.youtube.com/watch?v=aNLca… Stream your PBS favorites with the PBS app: https://to.pbs.org/2Jb8twG Find more from PBS NewsHour at https://www.pbs.org/newshour Subscribe to our YouTube channel: https://bit.ly/2HfsCD6
PBS NewsHour full episode, June 2, 2020
Jun 2, 2020  PBS NewsHour
Tuesday on the NewsHour, it has been a full week of protests across parts of the U.S. in response to the death of George Floyd at the hands of Minneapolis police. Plus: A controversial law enforcement response to protesters near the White House, Sen. John Thune on the national unrest, Bishop Mariann Budde on the role of the church amid protest and using the U.S. military to quell demonstrations. WATCH TODAY'S SEGMENTS Political divide over best response to protests widens https://www.youtube.com/watch?v=k0Doz… D.C. protests grow a day after controversial Trump photo op https://www.youtube.com/watch?v=vVFQE… Thune on Trump's rhetoric: The country needs healing https://www.youtube.com/watch?v=XpbU7… Bishop Budde on Trump's rhetoric and healing the nation https://www.youtube.com/watch?v=a1Fbz… News Wrap: Birx wants more COVID-19 testing amid protests https://www.youtube.com/watch?v=fVQK9… Current protests highlight risks of militarizing the police https://www.youtube.com/watch?v=3yhnB… Stream your PBS favorites with the PBS app: https://to.pbs.org/2Jb8twG Find more from PBS NewsHour at https://www.pbs.org/newshour Subscribe to our YouTube channel: https://bit.ly/2HfsCD6
PBS NewsHour full episode, June 1, 2020
Jun 1, 2020  PBS NewsHour
Monday on the NewsHour, unrest spreads across the U.S. in response to the death of George Floyd in Minneapolis police custody. Plus: What reporters are seeing on the ground, the role of law enforcement during protests, systemic issues of race and privilege in the U.S. and the long roots of racial tension in Minneapolis. WATCH TODAY'S SEGMENTS Cities brace for continued unrest over police violence https://www.youtube.com/watch?v=3ueIS… 3 reporters share what's happening at their cities' protests https://www.youtube.com/watch?v=s7lJs… 2 voices on how to hear protesters while maintaining peace https://www.youtube.com/watch?v=b1BTF… What's different about these protests — and what isn't https://www.youtube.com/watch?v=-FI0O… News Wrap: Health officials fear protests will spread virus https://www.youtube.com/watch?v=febJw… Minneapolis' troubled history of unequal policing https://www.youtube.com/watch?v=l-9vp… Stream your PBS favorites with the PBS app: https://to.pbs.org/2Jb8twG Find more from PBS NewsHour at https://www.pbs.org/newshour Subscribe to our YouTube channel: https://bit.ly/2HfsCD6
PBS NewsHour Weekend full episode May 31, 2020
May 31, 2020  PBS NewsHour
On this edition for Sunday, May 31, chaos and clashes across the nation continue as some protests over the murder of George Floyd turn violent, the history of activism and its influence on political change. Also, creative and safe ways to celebrate graduation. Hari Sreenivasan anchors from New York. Stream your PBS favorites with the PBS app: https://to.pbs.org/2Jb8twG Find more from PBS NewsHour at https://www.pbs.org/newshour Subscribe to our YouTube channel: https://bit.ly/2HfsCD6
PBS NewsHour Weekend full episode May 30, 2020
May 30, 2020  PBS NewsHour
On this edition for Sunday, May 30, the latest on the nationwide protests as demonstrations flare across the country over the killing of George Floyd, a black man, by a white police officer in Minneapolis. Several cities and states are mobilizing the National Guard after protests turned violent on Friday night. Hari Sreenivasan anchors from New York. Stream your PBS favorites with the PBS app: https://to.pbs.org/2Jb8twG Find more from PBS NewsHour at https://www.pbs.org/newshour Subscribe to our YouTube channel: https://bit.ly/2HfsCD6
Shields and Brooks on George Floyd, 100K coronavirus deaths   May 29, 2020
PBS NewsHourSyndicated columnist Mark Shields and New York Times columnist David Brooks join Judy Woodruff to discuss the latest political news, including former Vice President Joe Biden's comments on the death of George Floyd and what action it should prompt, President Trump's approach toward Twitter and truth and the milestone of 100,000 American deaths from COVID-19. Stream your PBS favorites with the PBS app: https://to.pbs.org/2Jb8twG Find more from PBS NewsHour at https://www.pbs.org/newshour Subscribe to our YouTube channel: https://bit.ly/2HfsCD6
'Not the America that we want to live in,' says St. Paul mayor of George Floyd's death
May 26, 2020  PBS NewsHour
An African American man in Minneapolis died Monday night after a police officer kneeled on his neck while apprehending him. Echoing the 2014 Eric Garner case, George Floyd told the officer, "I can't breathe." The incident, captured on video, prompted outrage in the Twin Cities and beyond — and led to the dismissal of four police officers involved. Amna Nawaz talks to St. Paul Mayor Melvin Carter. Stream your PBS favorites with the PBS app: https://to.pbs.org/2Jb8twG Find more from PBS NewsHour at https://www.pbs.org/newshour Subscribe to our YouTube channel: https://bit.ly/2HfsCD6
How Trump leverages Twitter to spread misinformation
May 26, 2020  PBS NewsHour
President Trump's messages to his more than 80 million Twitter followers can carry a lot of weight — but don't always represent the truth. Controversy recently erupted over a Trump tweet that had no basis in fact. Now, the social media platform is applying a note to it that directs users to more information. Yamiche Alcindor reports and speaks with Craig Silverman, media editor for BuzzFeed News. Stream your PBS favorites with the PBS app: https://to.pbs.org/2Jb8twG Find more from PBS NewsHour at https://www.pbs.org/newshour Subscribe to our YouTube channel: https://bit.ly/2HfsCD6
The New York Times           The  Morning         June 2, 2020
Good morning. Protests continued overnight despite curfews. President Trump threatened to send the military into cities. Let's start with the words of the protesters.
Voices from the protests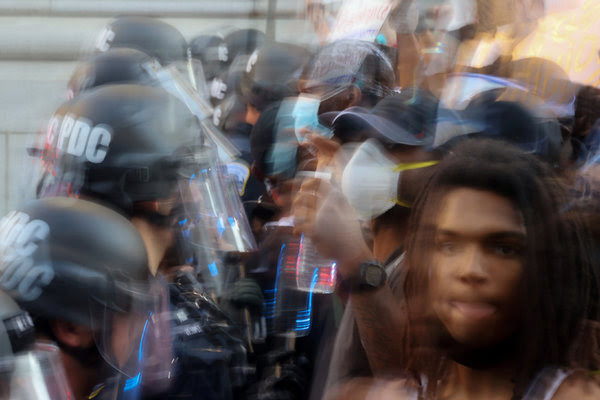 Demonstrations near the White House in Washington on Sunday.Jonathan Ernst/Reuters
The anger is different this time. After years of Americans being killed by the police — more than 1,000 per year, for as long as statistics exist — something has changed over the past week.
The gruesome video of a Minneapolis police officer kneeling on George Floyd's neck plays a role. So does a pandemic that's disproportionately killing African-Americans. And so do the angry, racialized politics that President Trump encourages.
Here are some of the voices from the protests, which have included many people who say they've never protested before:
"In every city, there's a George Floyd," said Michael Sampson II, 30, of Jacksonville, Fla.
"It could be my father, my brother, my uncle, my cousin, my friend," said Victoria Sloan, 27, of Brooklyn. "It makes me angry."
"I'm speaking for everybody, all my kinfolk, all my brothers and sisters who've gotten beaten up by police," said Cory Thomas, 40, who said the police beat him when he was a teenager in Brooklyn. "I don't condone the violence," or the looting, he said, "but at the end of the day, no 14-year-old should be beat up by police."
"There are people out there who are very negative," D.J. Elliott, 30, a gym manager in Harlem said, in frustration about a small number of late-arriving, violent protesters. "And this is their golden opportunity."
"If we don't fight for change we're not going to get it," Douglas Golliday, a 65-year-old resident of a Minneapolis suburb, told The Star Tribune while waiting to be taken to jail along with his 44-year-old son, Robert, and other protesters.
"I took six rubber bullets, but do you know what didn't happen to me?" Elizabeth Ferris, a 36-year-old Georgetown University student, told The Washington Post. "No one kneeled on my neck."
Ashley Gary of Minneapolis said: "We've been through Jamar Clark, we've been through Philando Castile, and there was no justice whatsoever. We're tired of it, we are very tired. My son, he's 16 and six feet tall, and I don't want him to be taken as somebody bad because he's a bigger black man."
"I came out peacefully to show my support, and the police are aiming right at me," Mariana Solaris, a 20-year-old from San Bernardino, Calif., told The Los Angeles Times, after the police fired foam pellets at her. "I saw this on the news earlier tonight," she said, "and I thought, 'No way is it really like that out there with the police.' So I came out to see. And, yeah, it's really like that."
The Times has collected portraits of the protesters here.
THREE MORE BIG STORIES
1.                 Overnight developments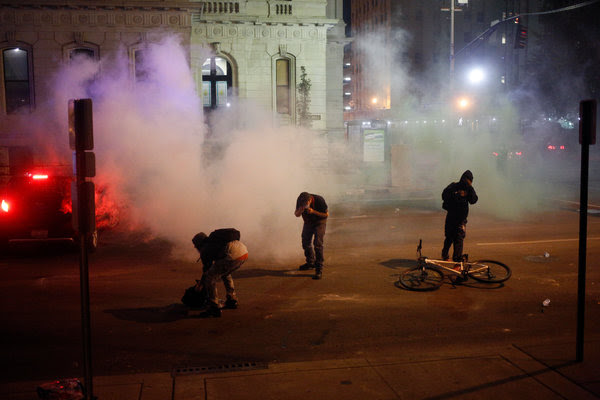 Kentucky State Troopers fire tear gas to disperse protesters after curfew in Louisville, Ky.Luke Sharrett for The New York Times
Protesters faced off against the police for a seventh straight night in cities across the country.
In Washington, police officers used tear gas and flash grenades to clear a path through a peaceful protest so President Trump could visit a nearby Episcopal church, St. John's, where he posed for photos holding a Bible. An Episcopal bishop in Washington said she was "outraged" that he used the church "as a backdrop for a message antithetical to the teachings of Jesus." Trump also warned he would order the military into cities if local officials could not control their streets.
In New York City, Mayor Bill de Blasio acknowledged that an 11 p.m. curfew had failed to prevent widespread looting, including along Fifth Avenue in Manhattan. As a result, the curfew will begin at 8 tonight.
In a shootout at a protest in St. Louis, four police officers were injured. In Buffalo, an S.U.V. sped through a line of officers in riot gear, injuring two of them, in an episode caught on video. In Las Vegas, the authorities are investigating the shootings of two officers, although the details are unclear.
The mayor of Louisville, Ky., fired the city's police chief after the owner of a local barbecue restaurant was killed when police officers and National Guard troops shot toward protesters.
In the Times Opinion section, Tonya Russell asks companies to understand the toll that police brutality videos have on their black employees. "They should encourage self-care," she writes, "and make clear there will be no penalties for those who may need to take a mental health day or temporarily take on a lighter workload."
The Times will be providing updates all day here.
2.               A private autopsy of George Floyd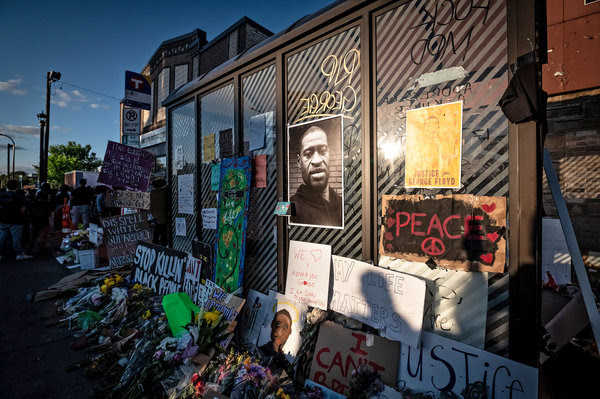 The site where George Floyd was killed by police in Minneapolis on Friday.Caroline Yang for The New York Times
Both a government autopsy and an autopsy commissioned by Floyd's family concluded that his death was a homicide. The experts hired by the family say he was asphyxiated; the autopsy by the county says his heart stopped while officers were kneeling on him and notes Floyd's underlying heart condition.
Video: The Times's visual investigations team has reconstructed Floyd's death using security footage, witness videos and official documents. "It's hard to watch this. Really hard," Marc Lacey, The Times's national editor writes. "But here's the most comprehensive reconstruct you'll find of what happened."
3. 'Illiberal populists' and the virus
The four large countries where coronavirus cases have been increasing fastest — Brazil, the U.S., Russia and Britain — have something in common: They are all run by populist male leaders who cast themselves as anti-elite and anti-establishment.
"Very often they rail against intellectuals and experts of nearly all types," Steven Levitsky, a Harvard political scientist, told us. The leaders, he said, "claim to have a kind of common-sense wisdom that the experts lack. This doesn't work very well versus Covid-19." We explain — with a chart — here.
Another phone call: Trump also spoke by phone yesterday with President Vladimir Putin of Russia about the pandemic, the global economy and Trump's desire to let Russia attend an upcoming G7 meeting.
What we've learned: Times journalists have summarized what scientists know about the virus, as well as the important mysteries that remain.

PBS NewsHour follow@newshour.org via gmail.mcsv.net 

June 2, 2020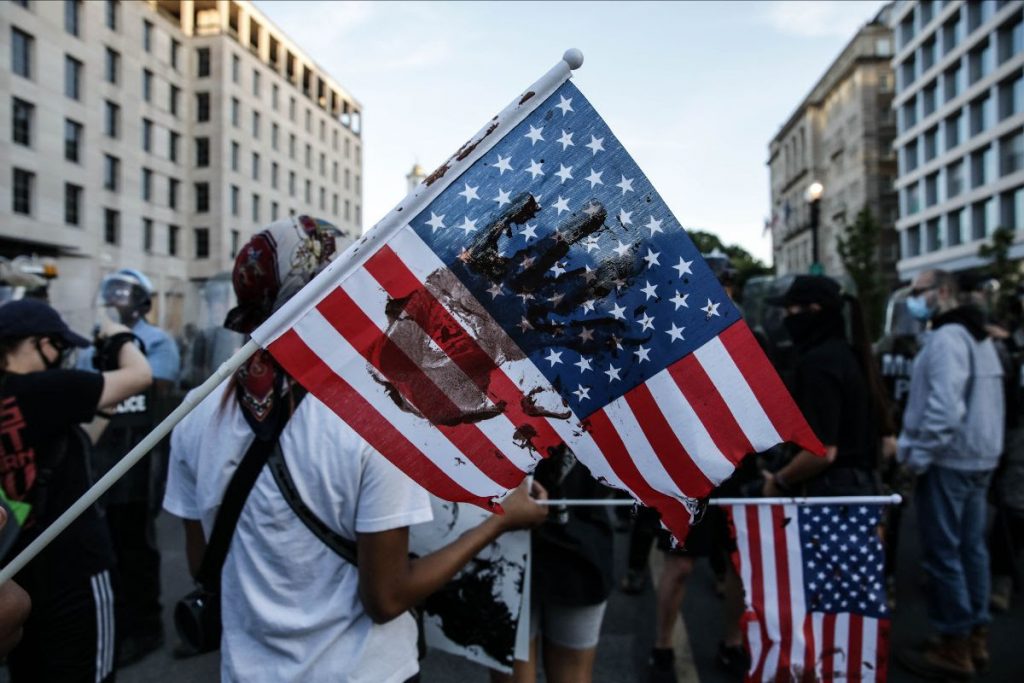 Yasin Ozturk/Anadolu Agency via Getty Images
WHO HOLDS SEATS OF POWER IN AMERICA?
By Lisa Desjardins, @LisaDNews
Correspondent
Consider two lists of names.
First: George Floyd, Donnie Sanders, Breonna Taylor, William Howard Green, Christopher Whitfield, 
Atatiana Jefferson, Channara "Philly" Pheap, Ryan Twynman, Isaiah Lewis, Marcus McVae.
These are the names of 10 black men and women who were killed by police in just more than a year.  
Next: Hiram Revels, Blanche Bruce, Edward Brooke, Carol Moseley Braun, Barack Obama, Roland Burris,
Tim Scott, WIlliam "Mo" Cowan, Cory Booker, Kamala Harris. This is a list of every black American who has
ever served in the U.S. senate. There have been 10. 
It is a stark reminder that people who are often the victims of police violence are not proportionally
represented in our government.
Looking only at police shooting deaths, something this Washington Post database has tracked carefully
since 2015, 235 black people were shot and killed by police in the U.S. in 2019. That is 23.5 percent of all
police shooting deaths, nearly double the percentage of the U.S. population that is black.
And that figure dwarfs the number of black Americans — again, 10 — who have ever had a seat in the U.S. Senate, considered to be the most powerful elected body in the U.S.
As protests over the death of George Floyd continue this week, we looked at how black Americans are represented in our democracy. The numbers show glaring disparities continue, though there are instances of proportional representation.  
·  Overall: 13 percent of the U.S. population is black or African American, according to the official people counters: the Census. 
White House: 4 percent of President Donald Trump's cabinet is black. That is one official —- HUD Secretary Ben Carson — out of 23 cabinet positions. Carson has announced he intends to leave the job at the end of this year.
·  House of Representatives. The House of Representatives nearly has proportional representation, with 12.5 percent of the lawmakers there being black.  
·  U.S. Senate. In the Senate, however, that figure is 3 percent, with just three black senators currently in the chamber — three of 10 to ever hold a seat in the body. 
·  Federal Courts: About 13 percent of federal judges are black, according to recent data from the Center for American Progress, a left-leaning think tank, as well as 2017 data cited by the Congressional Research Service.
·  Governors: There are currently no black governors.
·  State legislatures.  About 9 percent of lawmakers in state houses are black, according to the National Council of State Legislatures.
·  Big City Mayors: According to the data we reviewed from the 50 largest cities, 11 of them have black mayors. That's 22 percent.
IN MINNEAPOLIS, PROTESTS OVER GEORGE FLOYD'S DEATH 'A LONG TIME COMING'
By Daniel Bush, @DanielBush
Senior Political Reporter
MINNEAPOLIS — It's the way George Floyd died that hurts the most.
"To see a man being held down that way, it's just too much," said Franklin Bridgeman, 53, who is black and a longtime resident of Minneapolis, Floyd's hometown. "Of all the police shootings and killings, it's the most painful. This was just so blatant."
"This could have been my dad. This could have been my brothers, my nephews. George Floyd feels like my family," Dha'Manique Evans said.
The police "don't care about us at all. They know they can get away with it," Evans, 21, added, and for that reason, she's glad her city decided to protest. "They hear us now. They see what we're doing."
Floyd, a 46-year-old black man, died on May 25 after a white police officer, Derek Chauvin, held him to the ground with a knee on his neck for nearly nine minutes as Floyd said several times, "I can't breathe." Video of the incident captured by bystanders quickly went viral, spurring protests in Minneapolis and dozens of cities across the country, including Los Angeles, Chicago, Detroit, New York, Atlanta and Washington, D.C.
Chauvin, 44, and three other officers who were present at the arrest were fired the day after Floyd's  death. Chauvin was charged on May 29 with third-degree murder and manslaughter.
But by then, the protests in Minneapolis that had started peacefully were increasingly punctuated by confrontations between residents and police. Swaths of the city were set on fire and looted. Police fired tear gas, pepper spray and rubber bullets to disperse crowds. The governor imposed a curfew and ordered the largest deployment of the National Guard in state history.
In interviews around Minneapolis, many white residents expressed shock that something like this could happen in their city. Black residents said the anger and pain underlying the protests were both familiar and misunderstood. READ THE FULL STORY. 
 FIVE OVERLOOKED POLITICAL STORIES FROM THE PAST WEEK
By Alex D'Elia, @AlexDEliaNews
Politics production assistant
Trump vetoes student loan forgiveness bill — May 29. The president rejected Congress' bipartisan legislation, which would have kept in place an existing Obama administration loan forgiveness plan. Why it matters: Education Secretary Betsy DeVos' narrower loan forgiveness rules — which stay in place because of Trump's action — limit students' ability to get their loans forgiven when schools shut down due to fraud. — Forbes
Supreme Court upholds Puerto Rico oversight board from constitutional challenge — June 1. The board was formed by then-President Barack Obama in 2016 to oversee Puerto Rico's  debt restructuring, a process that has been complicated by Hurricane Maria, earthquakes and now the coronavirus. Why it matters: The Supreme Court ruling allows for the oversight board to continue restructuring hundreds of billions in debt and bankruptcy to help the island emerge from its financial crisis. — The Washington Post
Lawmakers begin bipartisan push to cut off police access to military-style gear — June 1.Local law enforcement receive military weaponry — like bayonets and grenade launchers — through a Pentagon program that was shut down by Obama but revived by Trump. Why it matters: The program is being scrutinized amid concerns about aggressive use of force by police around the country as they are dispersing often non-violent protesters. — The New York Times
Senate Democrats pump brakes on new stimulus checks — May 29. Though House Democrats want to include more $1,200 checks in the next economic stimulus bill, some Senate Democrats would rather focus the relief effort specifically on  those who have been hit the hardest. Why it matters: The conflict demonstrates difficult negotiations surrounding coronavirus relief that could stall aid as the pandemic's economic impacts linger. — The HIll 
Justice Department closing insider-trading investigations into three U.S. senators — May 26. Investigations into the stock sales of Sens. Kelly Loeffler, Jim Inhofe and Dianne Feinstein at the beginning of the coronavirus outbreak have concluded. Why it matters: The end of the investigation is welcome news particularly for Loeffler, a Republican who is facing a challenger from her own party for her Georgia Senate seat and has politically suffered in the polls in part because of the insider-trading scandal.  — The Wall Street Journal
#POLITICSTRIVIA
By Kate Grumke, @KGrumke
Politics producer
On this day in 1774, the British government renewed an act that allowed British troops to stay housed in private American residences. This was the fourth in a series of legislation known as the Intolerable Acts or the Coercive Acts, which spurred the first meeting of the Continental Congress.
Our question: What was this act called?
Send your answers to NewsHourPolitics@newshour.org or tweet using #PoliticsTrivia. The first correct answers will earn a shout-out next week.
Last week, we asked: On this day in 1868, Andrew Johnson's impeachment trial ended. The Senate voted on three articles of impeachment, and failed to get the necessary two-thirds majority on any of them to convict Johnson and remove him from office. How many votes did each article fail by?
The answer: Each article failed by just one vote.
This was the first impeachment trial in our nation's history, and a majority of Senators voted to convict the president of "high crimes and misdemeanors." But the final roll call was 35-19 for the three articles of impeachment.
Johnson served out the rest of his term, and five years after leaving office, won a Senate seat and returned to the capitol.
Congratulations to our winners: Tim Smith and Mary Hubbard!!
Thank you all for reading and watching. We'll drop into your Inbox next week.
The Washington Post         The Post Most      June 3, 2020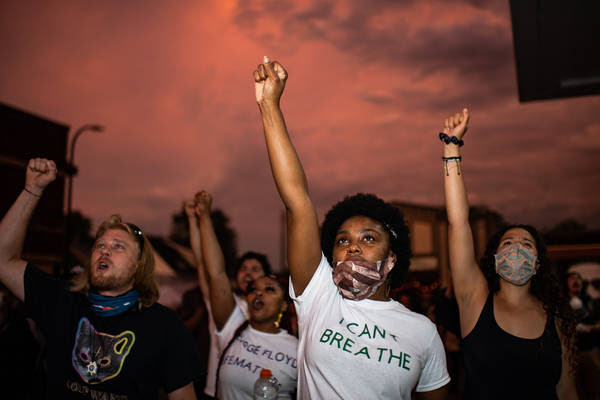 Live updates ?  By Washington Post staff ?  Read more »
 'This can't be happening': An oral history of 48 surreal, violent, biblical minutes in Washington
By Dan Zak, Monica Hesse, Ben Terris, Maura Judkis and Travis Andrews ?  Read more »
 
 Didn't get your stimulus payment? Here's how to find it.
 America is awash in cameras, a double-edged sword for protesters and police
 Boris Johnson offers refuge, British citizenship path for nearly 3 million Hong Kongers
 The global race for a coronavirus vaccine could lead to this generation's Sputnik moment
 Rosenstein says, in hindsight, he would not have signed application to surveil former Trump campaign adviser
 Americans are delaying medical care, and it's devastating health-care providers
By Ted Mellnik, Laris Karklis and Andrew Ba Tran ?  
Read more »
 Trump says Republicans will pull convention from Charlotte; U.S. coronavirus cases pass 1.8 million
Live updates ?  By Washington Post staff ?  
Read more »
 Men wearing Hawaiian shirts and carrying guns add a volatile new element to protests
By Craig Timberg, Elizabeth Dwoskin and Souad Mekhennet ?  
Read more »
 When life gives you herbs by the fistful, put them to use in sauces, salads and drinks
 Trump administration bans flights by Chinese airlines
 Biden begins to map out 'revolutionary' agenda, reimagining his presidency amid national upheaval
 Latin America had time to prepare for the coronavirus. It couldn't stop the inevitable.
More on the unrest in Lafayette Square
(Chip Somodevilla/Getty)
Perspective ?  By Robin Givhan ?  Read more »
 The New York Times           The  Morning         June 3, 2020
 Good morning. Protests continued late into the night, without the destruction of recent days. George W. Bush offered praise for the protesters. Let's start by looking at how mass incarceration has shaped black Americans' lives.
When jail becomes normal

The exercise yard at California Medical Facility in Vacaville, Calif.Rich Pedroncelli/Associated Press
 For most white Americans, interactions with the police happen rarely, and they're often respectful or even friendly. Many white people don't know a single person who's currently behind bars.
In many black communities — and especially for black men — the situation is entirely different. Some of the statistics can be hard to fathom:
 Close to 10 percent of black men in their 30s are behind bars on any given day, according to the Sentencing Project.
Incarceration rates for black men are about twice as high as those of Hispanic men, five times higher than those of white men and at least 25 times higher than those of black women, Hispanic women or white women.
 When the government last counted how many black men had ever spent time in state or federal prison — in 2001 — the share was 17 percent. Today, it's likely closer to 20 percent (and this number doesn't include people who've spent time in jail without being sentenced to prison). The comparable number for white men is about 3 percent.
The rise of mass incarceration over the last half-century has turned imprisonment into a dominant feature of modern life for black Americans. Large numbers of black men are missing from their communities — unable to marry, care for children or see their aging parents. Many others suffer from permanent economic or psychological damage, struggling to find work after they leave prison.
 A recent study by the economists Patrick Bayer and Kerwin Kofi Charles found that 27 percent of black men in the prime working years of their lives — between the ages of 25 and 54 — didn't report earning a single dollar of income in 2014. "That's a massive number," Charles, the dean of the Yale School of Management, told me. Incarceration, including the aftereffects, was a major reason.
The anger coursing through America's streets over the past week has many causes, starting with a gruesome video showing the killing of George Floyd in Minneapolis. But that anger has also been building up for a long time. It is, in part, anger about incarceration having become normal.
 An explainer podcast: How has mass incarceration happened? "Justice in America" — hosted by Josie Duffy Rice of The Appeal — tries to answer the question. The Times's Caity Weaver recommends starting with the first episode, about bail. "I learn so much from this freaking podcast," Caity tweeted yesterday.
 1.                  Less violence on Tuesday night
People gather during a peace march honoring Minneapolis man George Floyd Tuesday in Houston.David J. Phillip/Associated Press
 The amount of violence, fires and looting declined last night, relative to the chaos of previous nights. Instead, peaceful protesters in many cities defied curfews and remained on the streets late into the night to protest police violence.
Other protest developments:
 Minneapolis police used force against black people at a rate at least seven times that of white people during the past five years, city data show.
In his first speech outside his home since the coronavirus lockdown, Joe Biden likened President Trump's language to that of Southern racists of the 1960s. "We cannot let our rage consume us," Biden said.
Former President George W. Bush praised peaceful protesters. He said that he and his wife, Laura, were "anguished by the brutal suffocation of George Floyd and disturbed by the injustice and fear that suffocate our country."

2. Fears of 'autocracy'
Attorney General William Barr gave the order to clear the square across from the White House on Monday night, The Times explains, in a story reconstructing the incident. The order led law enforcement to use smoke and flash grenades to scatter peaceful protesters so that Trump could appear at a church for a photo opportunity.
 Former military leaders and democracy experts condemned the use of force against citizens. Retired Adm. Mike Mullen wrote in The Atlantic that Trump had "laid bare his disdain for the rights of peaceful protest in this country." Kori Schake, a former Pentagon official and Republican policy adviser, said, "If we were seeing this in another country, we would be deeply concerned." Gail Helt, a former C.I.A. analyst, told The Washington Post: "This is what autocrats do. This is what happens in countries before a collapse. It really does unnerve me."
3. Voting in a shaken country
People in eight states and Washington, D.C., 
cast ballots in extraordinary circumstances
 yesterday, and it seemed to go more smoothly than some people feared. "If Tuesday's vote-by-mail primaries were a test for November, elections officials have reason to be encouraged: a few bumps but no major disasters," said Stephanie Saul, a Times reporter.
 Among the results:
4. Zuckerberg defends his approach
 In a tense company meeting, the Facebook C.E.O. Mark Zuckerberg stood by his decision not to remove or flag Trump's inflammatory posts.
Some Facebook employees have been in open revolt over the policy. "Mark always told us that he would draw the line at speech that calls for violence," said 
one engineer in a resignation note
 this week. "He showed us on Friday that this was a lie."
Here's what else is happening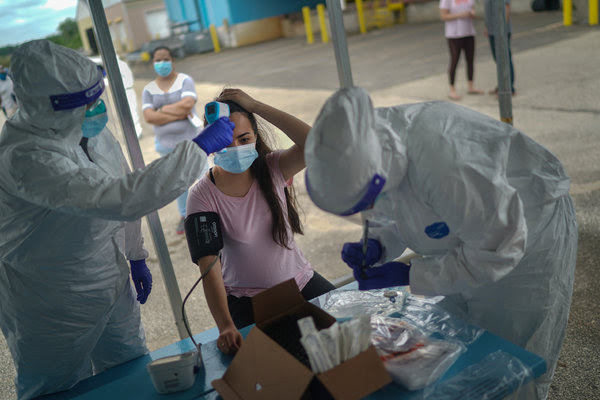 Workers at the Atlantic Blueberry Company are tested prior to the picking season, in Hammonton, N.J.Chang W. Lee/The New York Times
 The Associated Press   May 30, 2020
https://apnews.com/bee77c500c44054c48448d6f1f2602b7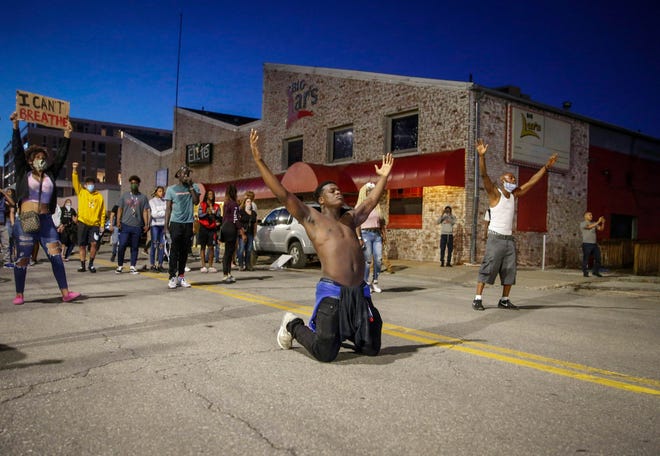 Marcus Lavon of Des Moines raises his hands during a protest in Des Moines, May 29, 2020. (Bryon Houlgrave/The Des Moines Register via AP)
AP PHOTOS: Images from protests across a traumatized nation
By The Associated Press   May 30, 2020
In cities across the United States, protesters angered over the killing of George Floyd faced off against heavily-armed officers, with some smashing police cars, ransacking businesses and setting fires that smoldered through the night.
Fears of another cycle of violence were palpable on Saturday as cities from Atlanta to Minneapolis grappled with the scope of the damage, and pleas for calm from elected officials and others seemed to do little to dampen the anger.
In Minnesota, where Floyd died Monday after a police officer pressed down on his neck for more than eight minutes, Gov. Tim Walz activated more than a thousand national guardsmen early Saturday, promising a massive show of force to protect the city.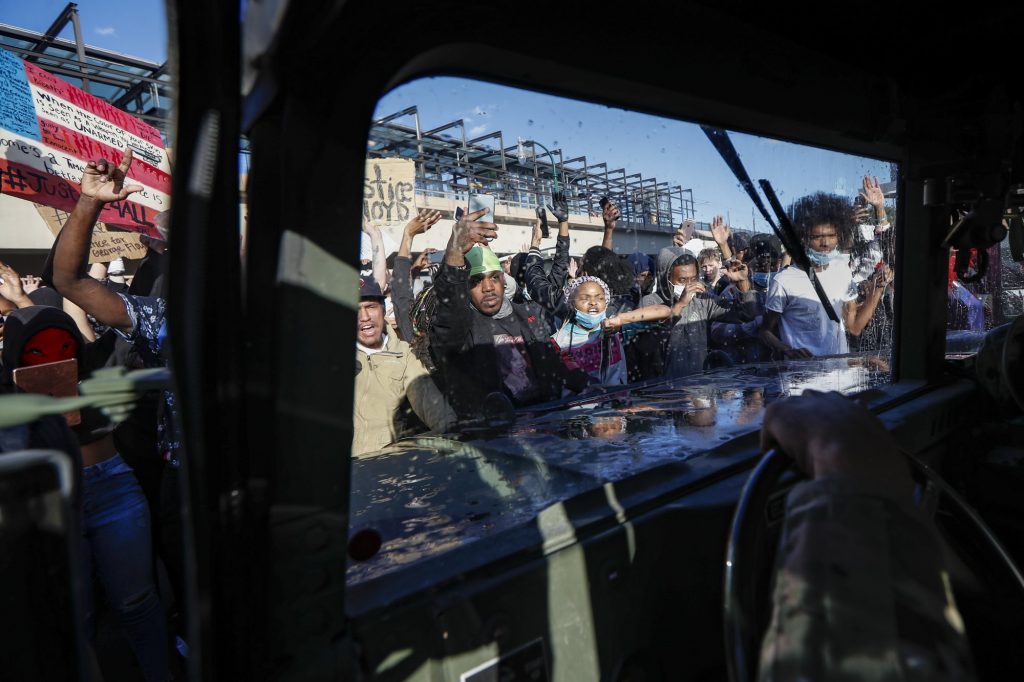 Protesters refuse to allow National Guard personnel to advance towards Hiawatha Avenue along East Lake Street, Friday, May 29, 2020, in St. Paul, Minn. Protests continued following the death of George Floyd, who died after being restrained by Minneapolis police officers on Memorial Day. (AP Photo/John Minchillo)
Portland Mayor Ted Wheeler also declared an emergency and ordered a nighttime curfew for the city. And in Washington, D.C., the guard was on standby as a crowd gathered outside the White House and chanted curses at President Donald Trump.
In all, more than two dozen cities experienced racially diverse protests, many peaceful but some of violent.
Full Coverage: Photography
Many of those out on the streets spoke of frustration that Floyd's death was one more in a litany. It came in the wake of the killing in Georgia of Ahmaud Arbery, who was shot after being pursued by two white men while running in their neighborhood, and in the middle of the coronavirus pandemic that has thrown millions out of work, killed more than 100,000 people in the U.S. and disproportionately affected black people.
Trump was again under criticism for stoking the racial discord with a series of tweets Saturday belittling the protesters outside, claiming many of the Secret Service agents were "just waiting for action" and ready to unleash "the most vicious dogs, and the most ominous weapons, I have ever seen" if protesters try to breech the White House's security fence.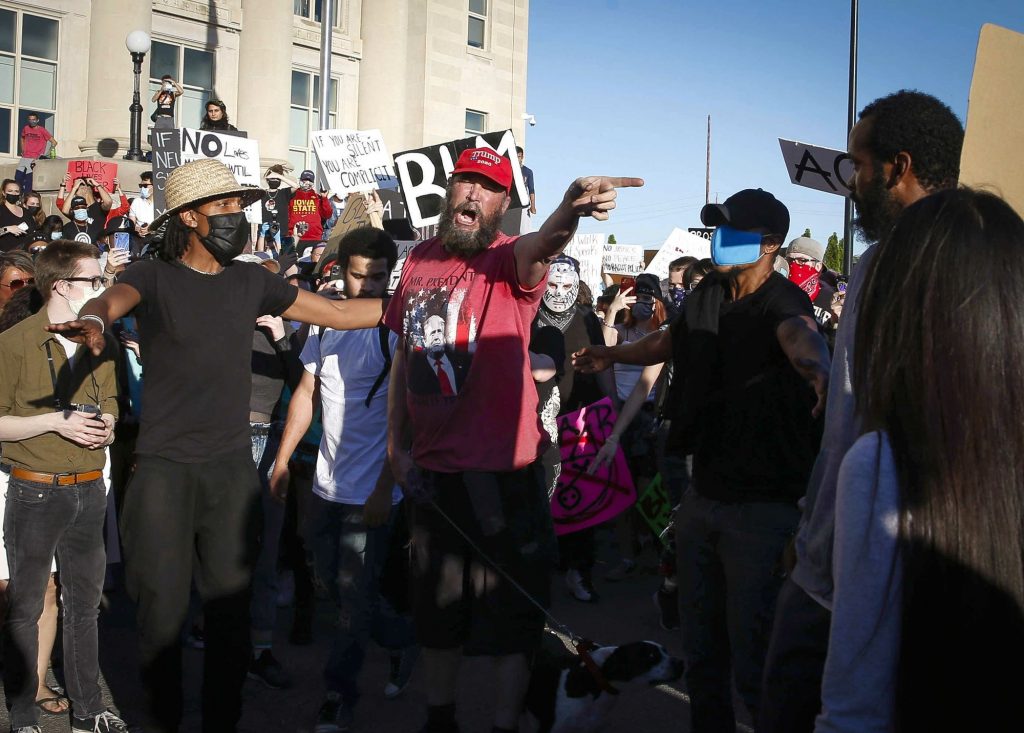 Donald Trump supporter Michael Rooney of Des Moines argues with protesters outside of the Des Moines Police Department during a protest on Friday, May 29, 2020, in Des Moines. (Bryon Houlgrave/The Des Moines Register via AP)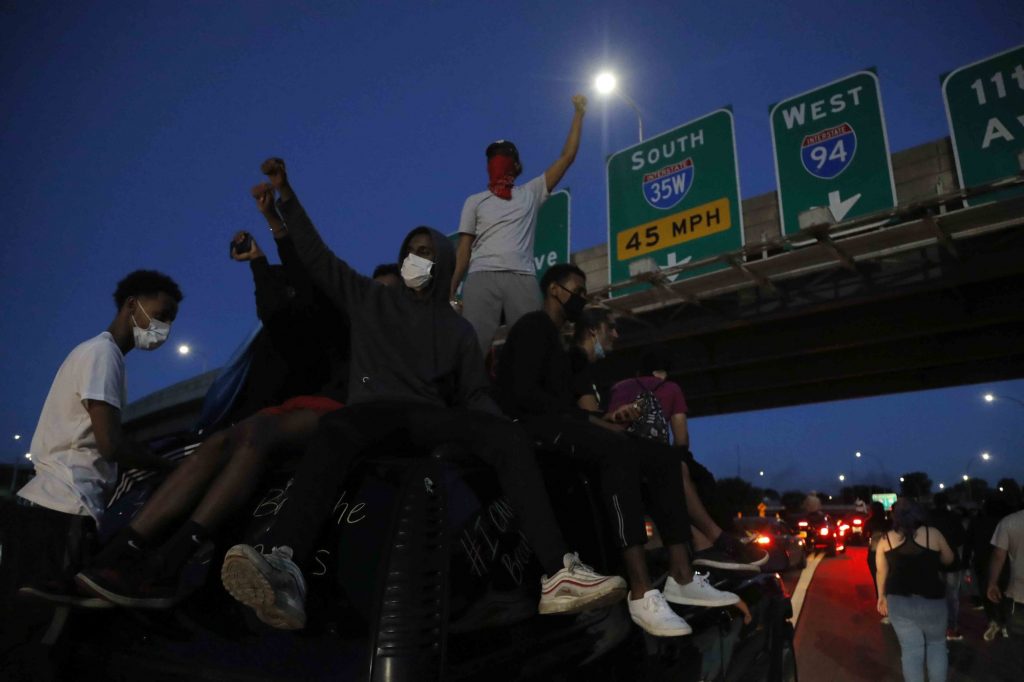 Protesters move along a highway Friday, May 29, 2020, in Minneapolis. Protests continued following the death of George Floyd who died after being restrained by Minneapolis police officers on Memorial Day. (AP Photo/Julio Cortez)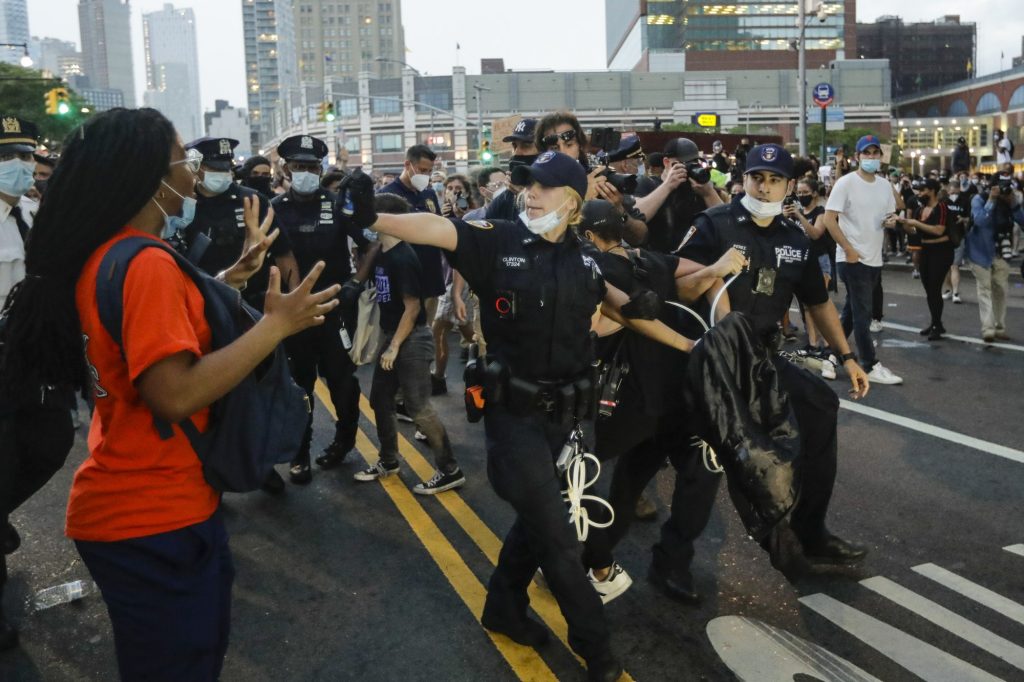 A Police officer warns a protester during an arrest at a rally Friday, May 29, 2020, in the Brooklyn borough of New York. (AP Photo/Frank Franklin II)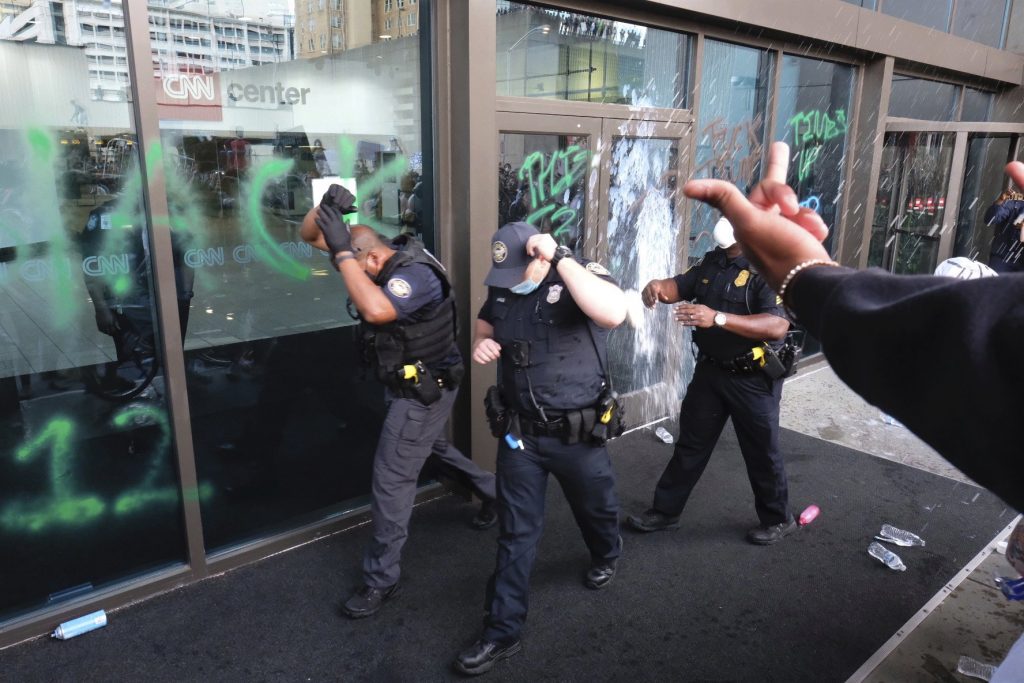 Police react to protesters in Atlanta on May 29, 2020. Protesters carried signs and chanted their messages of outrage over the death of George Floyd in Minneapolis. (Ben Gray/Atlanta Journal-Constitution via AP)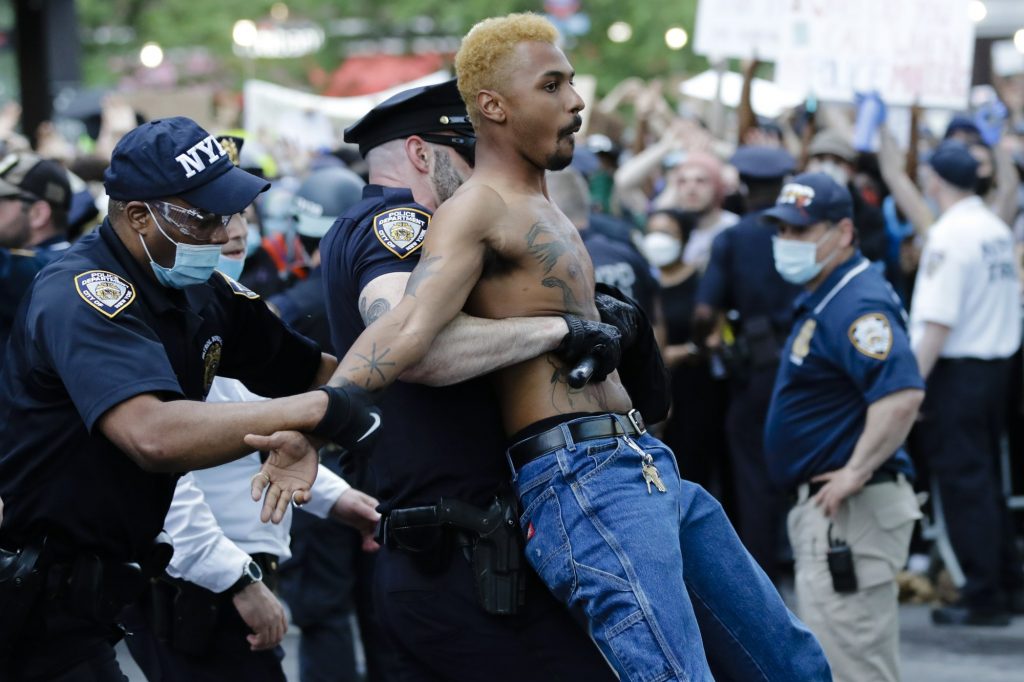 A protester is arrested near Barclays Center in the Brooklyn borough of New York on Friday, May 29, 2020, following a rally to protest the death of George Floyd, a black man who was killed in police custody in Minneapolis on May 25. (AP Photo/Frank Franklin II)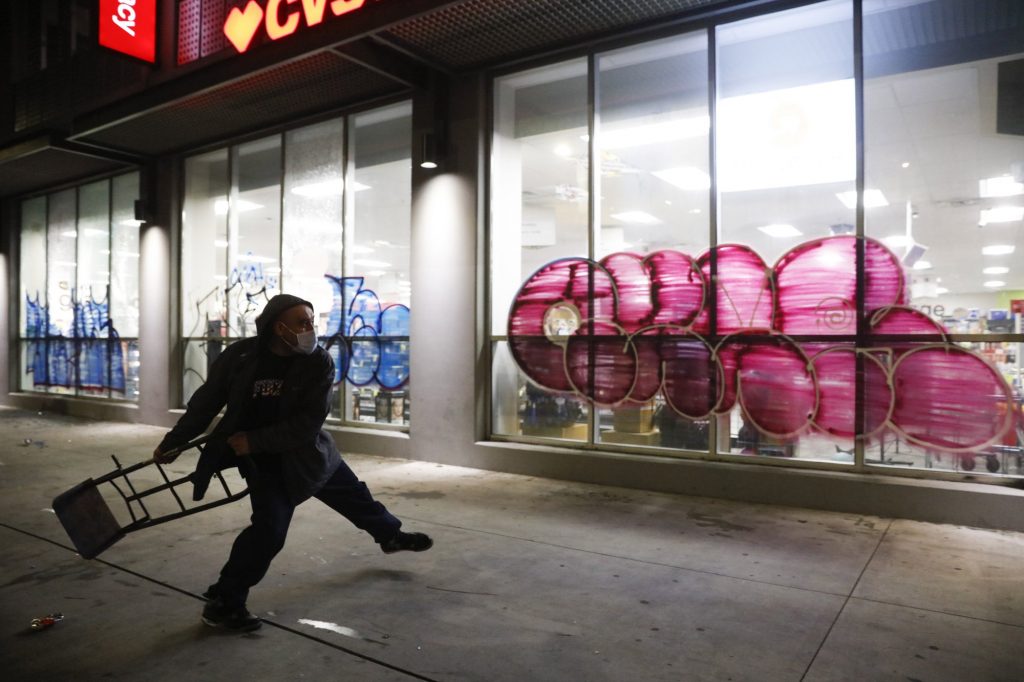 A man throws a hand truck into the window of vandalized CVS store during a protest over the death of George Floyd Saturday, May 30, 2020, in Los Angeles. Floyd died in police custody Monday in Minneapolis. (AP Photo/Jae C. Hong)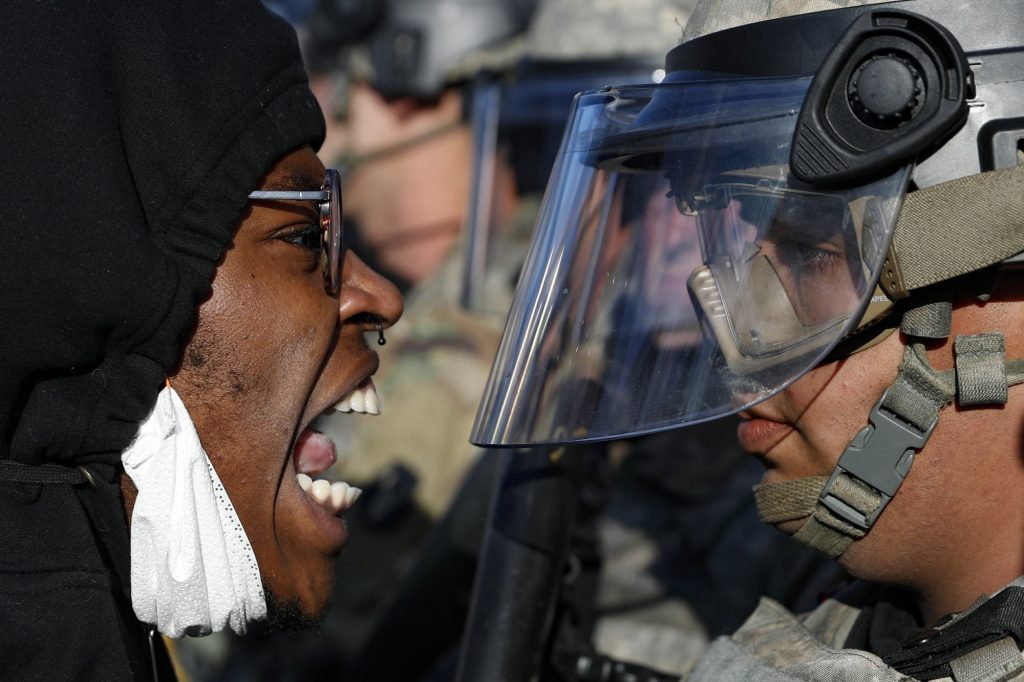 Protesters and National Guardsmen face off on East Lake Street, Friday, May 29, 2020, in St. Paul, Minn. Protests continued following the death of George Floyd, who died after being restrained by Minneapolis police officers on Memorial Day. (AP Photo/John Minchillo)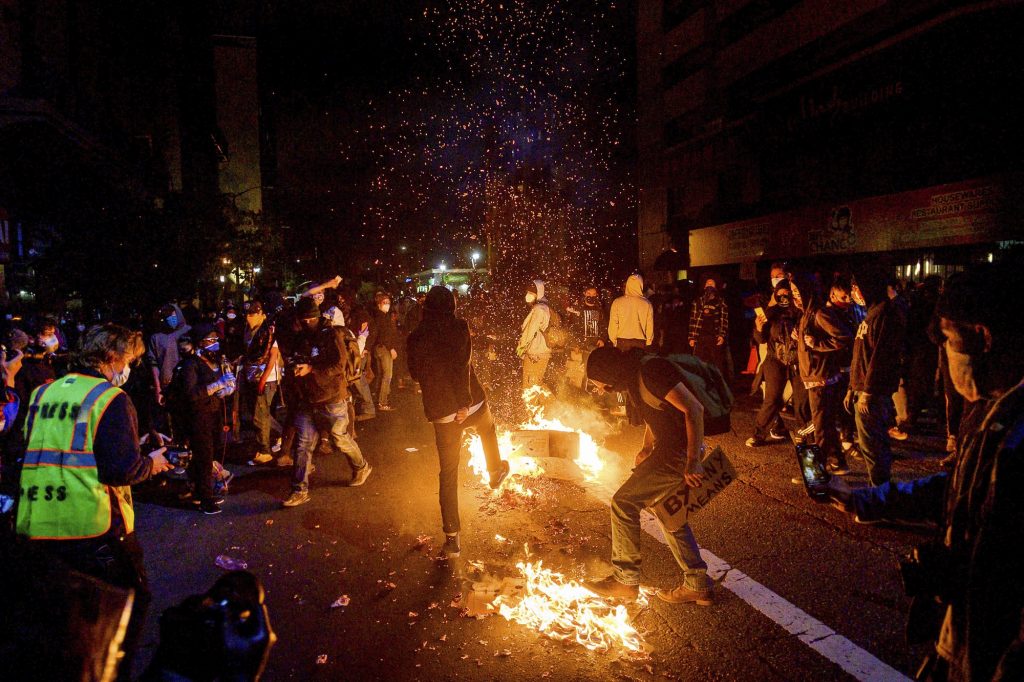 Demonstrators burn garbage in Oakland, Calif., on Friday, May 29, 2020, while protesting the Monday death of George Floyd, a handcuffed black man in police custody in Minneapolis. (AP Photo/Noah Berger)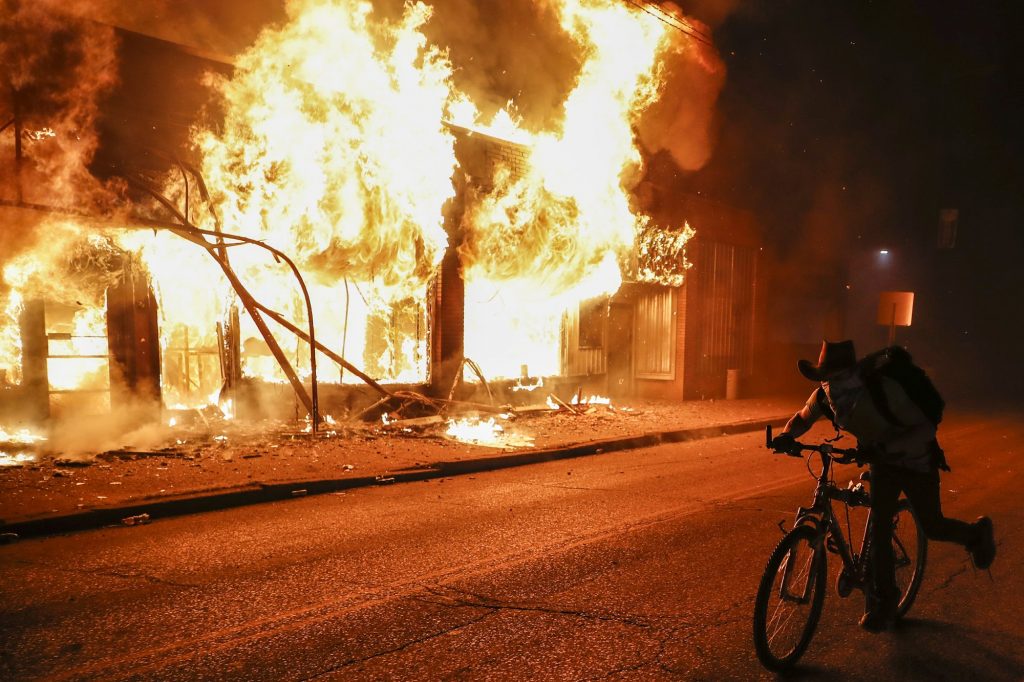 A protester rides his bike past a burning building that housed a check cashing business, Friday, May 29, 2020, in St. Paul, Minn. (AP Photo/John Minchillo)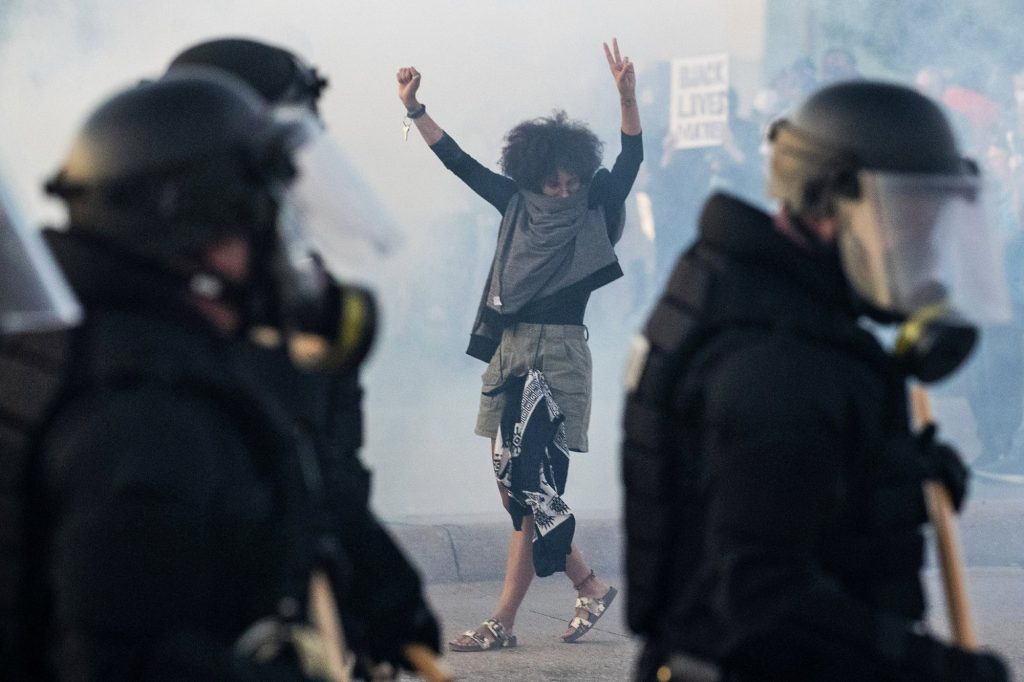 A woman flashes the peace sign while walking backwards in a cloud of tear gas during a protest at 72nd and Dodge Streets on Friday, May 29, 2020. (Chris Machian/Omaha World-Herald via AP)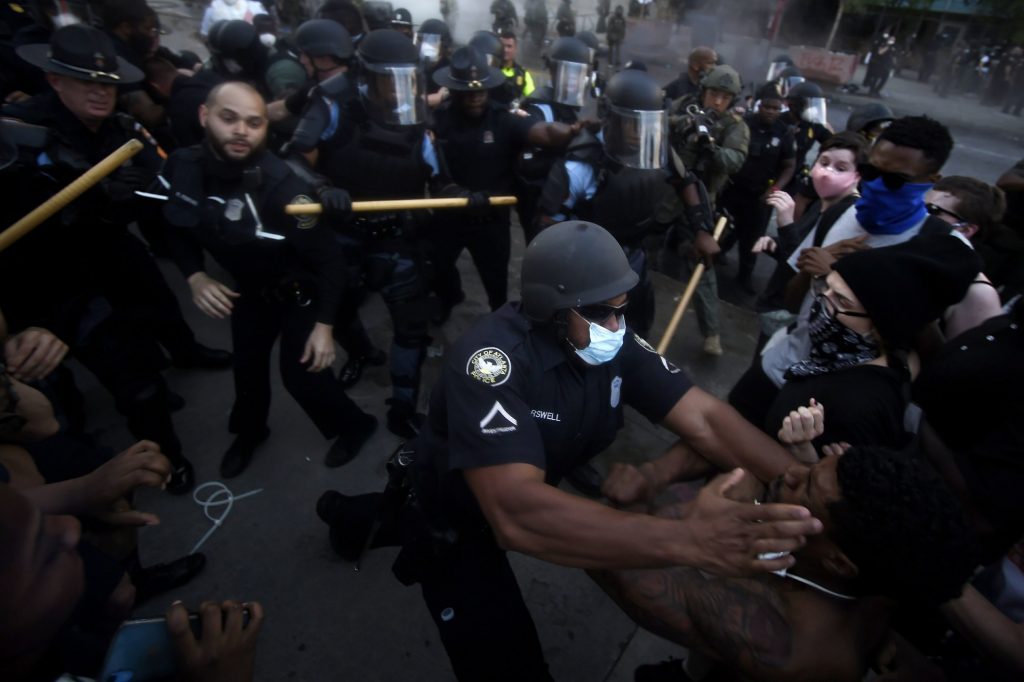 Police officers and protesters clash near CNN Center, Friday, May 29, 2020, in Atlanta, in response to George Floyd's death in police custody in Minneapolis on Memorial Day. (AP Photo/Mike Stewart)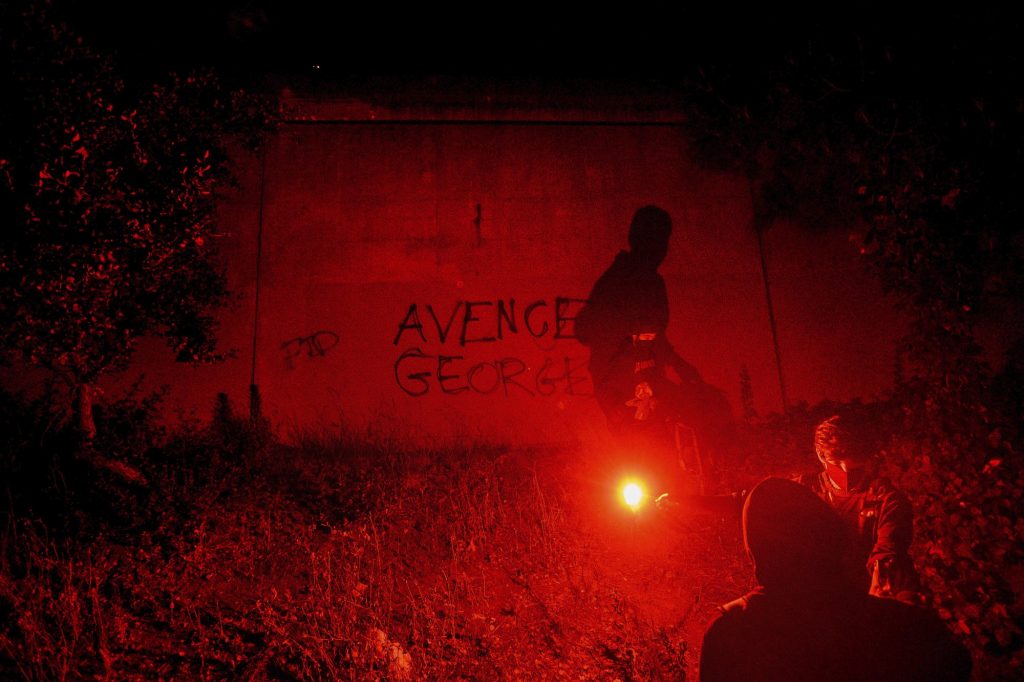 Demonstrators rally in Oakland, Calif., on Friday, May 29, 2020, to protest the Monday death of George Floyd, a handcuffed black man in police custody in Minneapolis. (AP Photo/Noah Berger)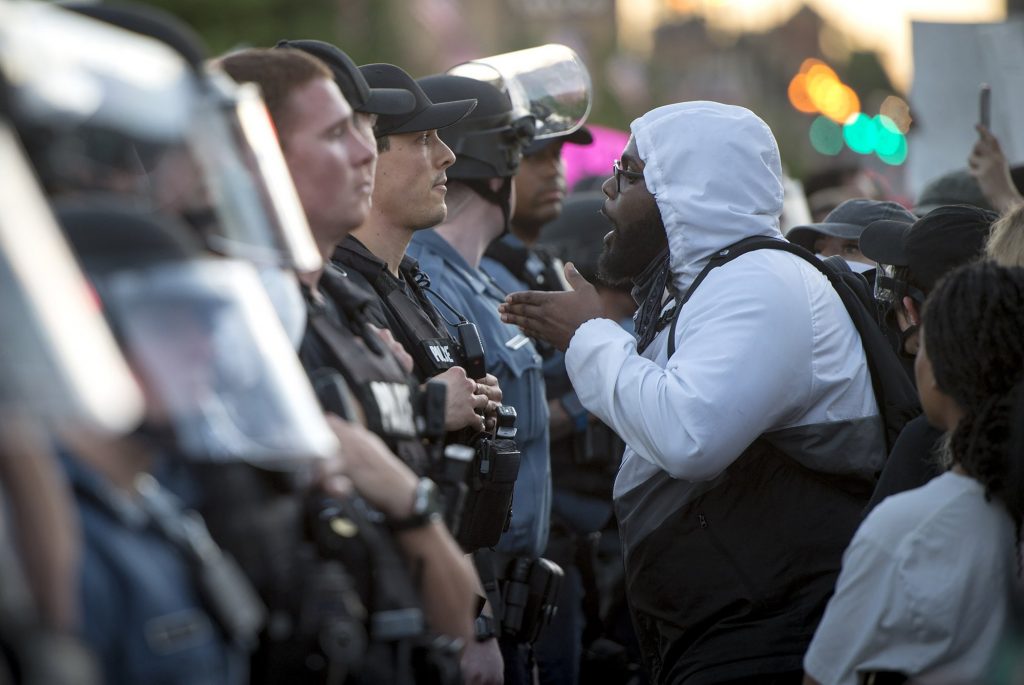 A protester confronts Kansas City police during a George Floyd protest at the Country Club Plaza in Kansas City, May 29, 2020. (Tammy Ljungblad/The Kansas City Star via AP)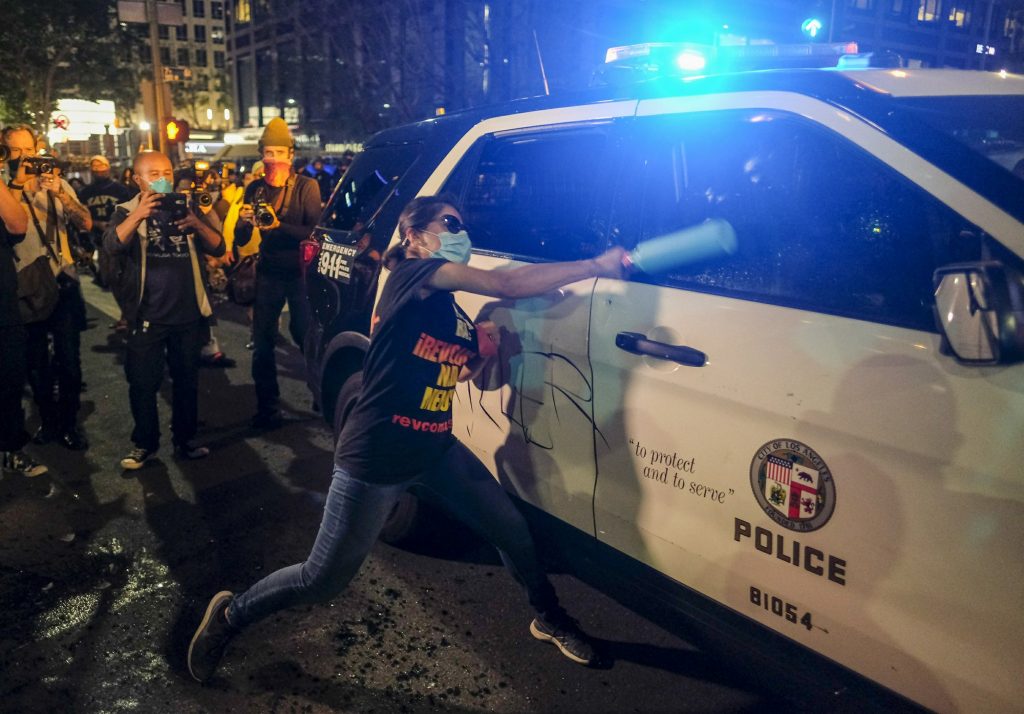 A demonstrator attacks a police car during a protest over the death of George Floyd in downtown Los Angeles, Friday, May 29, 2020. Floyd died in the custody of the Minneapolis police on Memorial Day. (AP Photo/Ringo H.W. Chiu)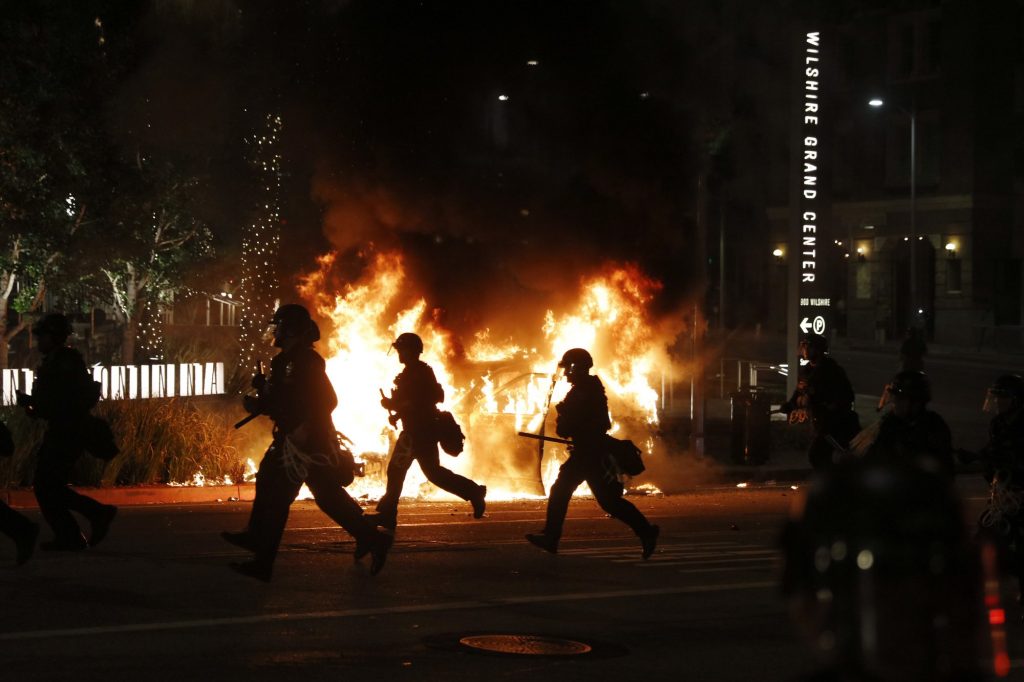 Police officers rush past a burning police vehicle to disperse protesters during a protest over the death of George Floyd Saturday, May 30, 2020, in Los Angeles. Floyd died in police custody Monday in Minneapolis. (AP Photo/Jae C. Hong)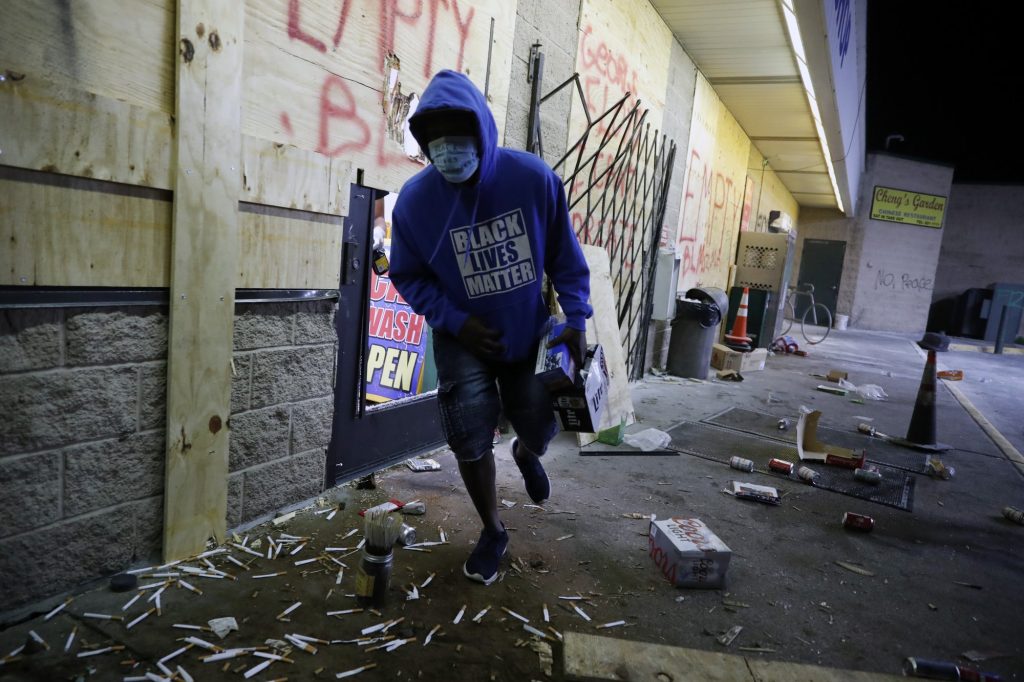 >A man runs out of a convenience store Friday, May 29, 2020, in Minneapolis. Protests continued following the death of George Floyd, who died after being restrained by Minneapolis police officers on Memorial Day. (AP Photo/John Minchillo)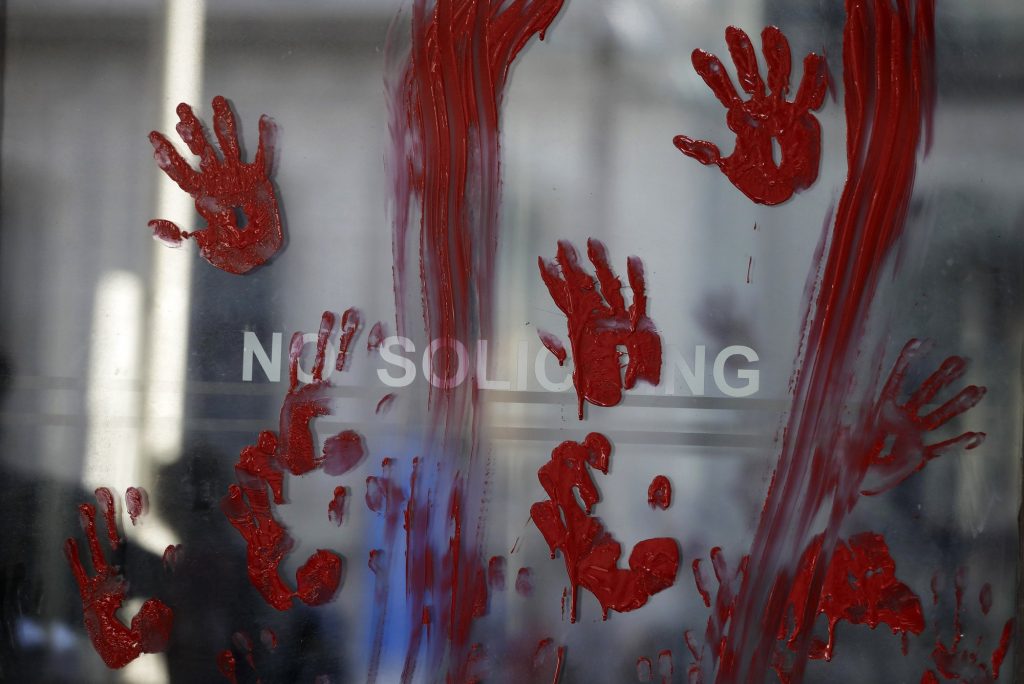 Red handprints cover a window at the Hall of Justice building in downtown Louisville, Ky., Friday, May 29, 2020. Breonna Taylor, a black woman, was fatally shot by police in her home in March. (AP Photo/Darron Cummings)
A Police vehicle burns after protesters rallied at Barclays Center over the death of George Floyd, a black man who died Memorial Day while in Minneapolis police custody, Friday, May 29, 2020, in the Brooklyn borough of New York. (AP Photo/Frank Franklin II)
Medical examiner: Floyd's heart stopped while restrainedMINNEAPOLIS (AP) — A medical examiner on Monday classified George Floyd's death as a homicide, saying his heart stopped as police restrained him and compressed his neck, in a widely seen video…  yesterday