Biden Introduces Department of Justice Nominees and A Violent pro-Trump Mob Stormed the U.S. Capitol, CNN News, NBC News, PBS News,  DW News, and The New York Times

NBC News: Biden Introduces Department of Justice Nominees, Jan 7, 2021
CNN News: See Biden's speech as rioters invade Capitol, Jan 6, 2021 
PBS NewsHour full episode, Jan. 6 & 7, 2020
DW News: How has the world reacted to Trump supporters storming the US Capitol?  and Could Trump be removed for inciting supporters to storm the Capitol? Jan 7, 2021
The New York Times – The Morning – By David Leonhardt, January 7, 2021
Biden Introduces Department Of Justice Nominees | NBC News
417,235 views
Streamed live 10 hours ago, 1.7.2020 NBC News
Watch live coverage as President-elect Joe Biden introduces key nominees to serve at the Department of Justice. » Subscribe to NBC News: http://nbcnews.to/SubscribeToNBC » Watch more NBC video: http://bit.ly/MoreNBCNews NBC News is a leading source of global news and information. Here you will find clips from NBC Nightly News, Meet The Press, and original digital videos. Subscribe to our channel for news stories, technology, politics, health, entertainment, science, business, and exclusive NBC investigations. Connect with NBC News Online! Visit NBCNews.Com: http://nbcnews.to/ReadNBC Find NBC News on Facebook: http://nbcnews.to/LikeNBC Follow NBC News on Twitter: http://nbcnews.to/FollowNBC Follow NBC News on Instagram: http://nbcnews.to/InstaNBC Live: Biden Introduces Department of Justice Nominees | NBC News
See Biden's speech as rioters invade Capitol
Jan 6, 2021  CNN
President-elect Joe Biden speaks as a pro-Trump mob invades the US Capitol as Congress was trying to certify the 2020 election. #CNN #News
https://www.youtube.com/watch?v=8cUaUIfliLk
PBS NewsHour full episode, Jan. 7, 2020
Jan 7, 2021  PBS NewsHour
Thursday on the NewsHour, the nation begins the process of recovery after a violent pro-Trump mob stormed the U.S. Capitol, calls to remove President Trump from office grow among lawmakers, the breach at the Capitol prompts demands for answers about security, and a look at the tactics used by law enforcement at the Capitol and those often employed during peaceful racial justice protests. WATCH TODAY'S SEGMENTS The fallout on Capitol Hill a day after violent riots  https://www.youtube.com/watch?v=ZpqlI… Tensions at the White House: 'as high as they've ever been' https://www.youtube.com/watch?v=ODN0R… Calls to remove Trump from office grow louder https://www.youtube.com/watch?v=BAsDE… Security at the Capitol prompts demand for answers https://www.youtube.com/watch?v=MMYNL… Former Homeland Security head on Trump's rhetoric https://www.youtube.com/watch?v=8DNoX… How police treated the mob that stormed the Capitol https://www.youtube.com/watch?v=7IRQs… Insurrection at Capitol draws condemnation across the globe https://www.youtube.com/watch?v=yzwYr… News Wrap: U.S. sets a new deadly record from COVID-19 https://www.youtube.com/watch?v=C9IU9… Stream your PBS favorites with the PBS app: https://to.pbs.org/2Jb8twG Find more from PBS NewsHour at https://www.pbs.org/newshour Subscribe to our YouTube channel: https://bit.ly/2HfsCD6
https://www.youtube.com/watch?v=S2RW9ttwgvA&t=2s
PBS NewsHour full episode, Jan. 6, 2021
Jan 6, 2021  PBS NewsHour
Wednesday on the NewsHour, a violent Pro-Trump mob storms the U.S. Capitol as Congress certifies electoral votes, Democrats capture control of the U.S. Senate with victories in Georgia, President Trump continues his false claims about the election, and a look at what is fueling the extremist elements of Trump's base. WATCH TODAY'S SEGMENTS Pro-Trump mob storms the Capitol as Congress certifies vote https://www.youtube.com/watch?v=QhtUL… Lawmakers to continue certifying electoral votes https://www.youtube.com/watch?v=dwTKW… Trump's false election claims fuels extremism https://www.youtube.com/watch?v=KtPr9… Power shifts in U.S. Senate as Democrats win in Georgia  https://www.youtube.com/watch?v=1v2Sa… Can a 50-50 Senate work in a fractured environment?   https://www.youtube.com/watch?v=GCtRg… News Wrap: Biden taps Merrick Garland for attorney general https://www.youtube.com/watch?v=muZLm… Sen.-elect Raphael Warnock on leading a divided nation https://www.youtube.com/watch?v=CqFMI… Stream your PBS favorites with the PBS app: https://to.pbs.org/2Jb8twG Find more from PBS NewsHour at https://www.pbs.org/newshour Subscribe to our YouTube channel: https://bit.ly/2HfsCD6
How has the world reacted to Trump supporters storming the US Capitol? | DW News
Jan 7, 2021  DW News
Leaders around the world watched in disbelief as the chaos unfolded in Washington, where supporters of President Donald Trump stormed the US Capitol. Many have condemned the violence and called for democracy to be respected. German Chancellor Angela Merkel and French President Emmanuel Macron gave their reactions, and DW spoke to people on the street in Germany. Around the world, there was disbelief at the scenes that unfolded in the Capitol: -Germany's Bild newspaper talked of a "coup attempt" – and a "moment of great shame" -In Britain, the Daily Telegraph minced no words: "Democracy under siege" -The picture of Trump supporters storming the Capitol dominated the United Arab Emirates' Gulf News daily. -The Nigerian Tribune offered this blistering verdict: "Trump supporters defile democracy." -China compared the storming of the Capitol with pro-democracy protests in Hong Kong. Subscribe: https://www.youtube.com/user/deutsche… For more news go to: http://www.dw.com/en/ Follow DW on social media: ?Facebook: https://www.facebook.com/deutschewell… ?Twitter: https://twitter.com/dwnews ?Instagram: https://www.instagram.com/dwnews Für Videos in deutscher Sprache besuchen Sie: https://www.youtube.com/channel/deuts… #DonaldTrump #UsCapitolRiots
Could Trump be removed for inciting supporters to storm the Capitol? | DW News
Jan 7, 2021  DW News
Unprecedented – and deadly – scenes at the Capitol in Washington DC – where supporters of President Trump stormed the building in a bid to overturn the election results. One woman was shot and later died of her injuries, as rioters attempted to stop Congress members from certifying Joe Biden's election victory. Chaos unraveled on Capitol Hill as the building was stormed by hundreds of Trump supporters. A battle ensued between riot police and the protesters as they broke past security. They stormed the Senate chambers to prevent Congress from certifying Joe Biden's election victory – literally bringing democracy to a halt. Police then drew their guns. A woman was shot by police officers – and was later proclaimed dead. Some protesters also turned their anger against the media. Earlier at a rally near the White House, President Trump had repeated his unsubstantiated claims that the election had been stolen from him – and urged his supporters to rally at the Capitol. Hours later Trump then released a recorded message telling his supporters to go home but failed to condemn their actions. Trump has now been suspended from several social media accounts, including Twitter, after tweeting to supporters who attacked the Capitol. When lawmakers finally got back into the Senate chambers, several senior republicans condemned then violence. Including Trump's vice president Mike Pence. The violence was branded as a siege by President-elect Joe Biden, who warned of the threat to democracy. The crowds dissipated once the 6pm curfew came into force, but National Guard troops remained alert for potential violence throughout the night. Subscribe: https://www.youtube.com/user/deutsche… For more news go to: http://www.dw.com/en/ Follow DW on social media: ?Facebook: https://www.facebook.com/deutschewell… ?Twitter: https://twitter.com/dwnews ?Instagram: https://www.instagram.com/dwnews Für Videos in deutscher Sprache besuchen Sie: https://www.youtube.com/channel/deuts… #DonaldTrump #UsCapitolRiots #25thAmendment
The New York Times        The Morning                    January 7, 2021
Good morning. A pro-Trump mob stormed the Capitol. Members of Congress — after fleeing for their safety — voted to confirm Biden's victory.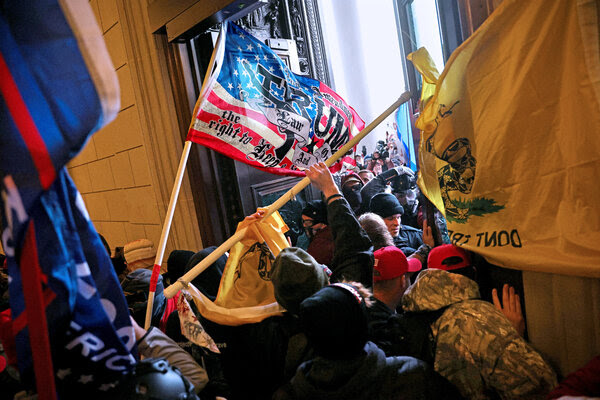 Supporters of President Trump stormed the Capitol yesterday.Win Mcnamee/Getty Images
They listened to the president
Donald Trump has been attacking American democracy for much of his time as president.
He has told repeated lies about voter fraud, undermining people's confidence in elections. He has defied parts of the Constitution. He has spent his final weeks in office pressuring other government officials to overturn the result of an election he lost. He has occasionally encouraged his supporters to commit violence.
Yesterday, hundreds of those supporters decided to take Trump literally.
They fought their way through armed police, smashed windows and stormed the U.S. Capitol to prevent Congress from certifying President-elect Joe Biden's victory. They then spent several hours inside the building, vandalizing offices and the House floor. They injured at least 14 law enforcement officers. Vice President Mike Pence, members of Congress and others fled for their safety.
In the end, the rioters — and Trump — will fail in their effort to keep him in power. At about 3:45 a.m., Congress did confirm Biden's victory. Thirteen days from now, he will take the oath of office and become president of the United States.
But a physical assault on the nation's seat of government is no small thing. And it was not a onetime event. It was a logical extension of the message that Trump has long been telling his supporters — that American democracy is a fraud, that his opponents are traitors and that his allies need to fight back.
"We're seeing more and more citizens expressing openness to violence," Lee Drutman, a political scientist, told me almost three months ago, "as more and more partisan leaders engage in the kinds of dehumanizing rhetoric that paves the way for taking violent action."
Trump, speaking to the protesters at a rally hours before they burst into the Capitol, referred to his political opponents as "bad people" and "the enemy of the people." He described his allies as "warriors" and encouraged them to stop "fighting like a boxer with his hands tied behind his back." He added, "We're going to have to fight much harder."
At the same rally, Rudy Giuliani said that Trump's opponents should go to jail and added, "Let's have trial by combat." And Donald Trump Jr., addressing congressional Republicans who planned to split from his father, said: "We're coming for you, and we're going to have a good time doing it."
After the violence, Trump himself wrote on social media, "These are the things and events that happen when a sacred landslide election victory is so unceremoniously and viciously stripped away from great patriots who have been badly & unfairly treated for so long."
Trump's efforts are failing in large part because a significant number of Republicans have refused to go along with him. But many other high-level Republicans have echoed and encouraged him. Josh Hawley, Ted Cruz and dozens of other members of Congress have fanned voters' anger by promoting Trump's lies about the election. (Here's a list of Congress members who did so yesterday.) They have joined his attempts to undermine the American system of government.
"This is what you've gotten, guys," Senator Mitt Romney, the Utah Republican, yelled as the rioters breached the Capitol yesterday. He was addressing his colleagues who have supported Trump's efforts to overturn the results of the election.
Shortly afterward, uniformed police officers evacuated senators and reporters from the chamber to the basement, before rushing them through underground tunnels to a secure location in a Senate office building. There, Romney saw Jonathan Martin, a Times reporter, and called for Jonathan to come over and talk. In 15 years of covering him, Jonathan said he had never seen Romney so alarmed.
"This is what the president has caused today, this insurrection," Romney, with fury in his voice, said.
THE SCENE, IN PHOTOS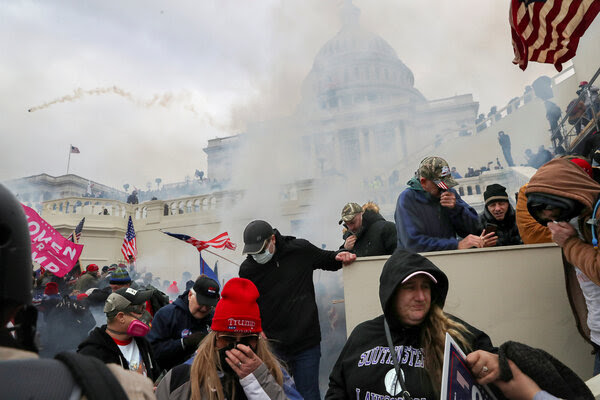 Trump loyalists and the police clashed outside the Capitol.Leah Millis/Reuters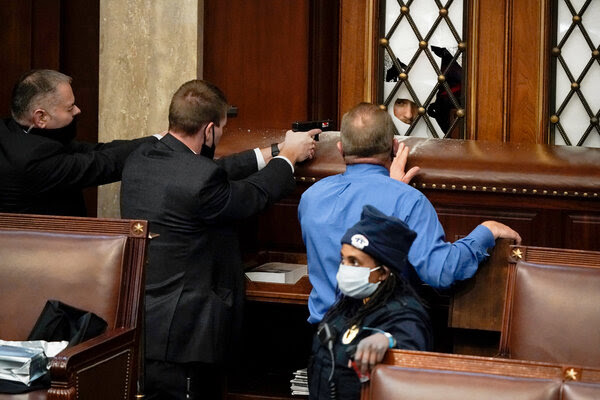 Capitol Police trying to prevent pro-Trump extremists from entering the House chamber.J. Scott Applewhite/Associated Press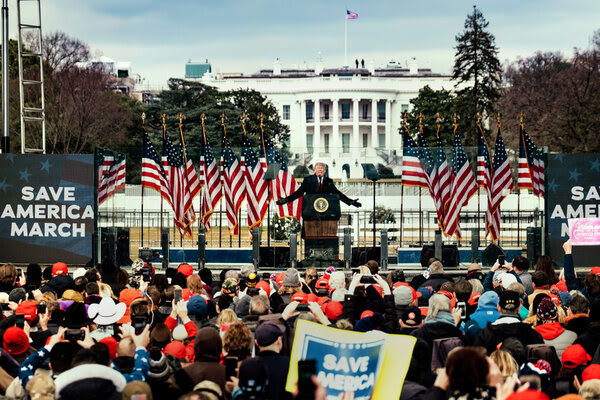 President Trump spoke to his supporters, directing them toward the Capitol.Pete Marovich for The New York Times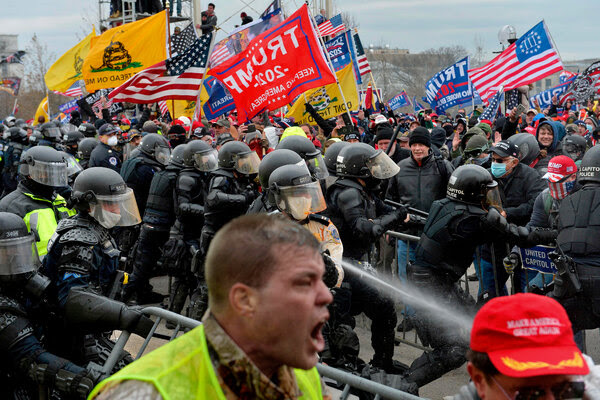 Police officers in riot gear after security was breached at the Capitol.Joseph Prezioso/Agence France-Presse — Getty Images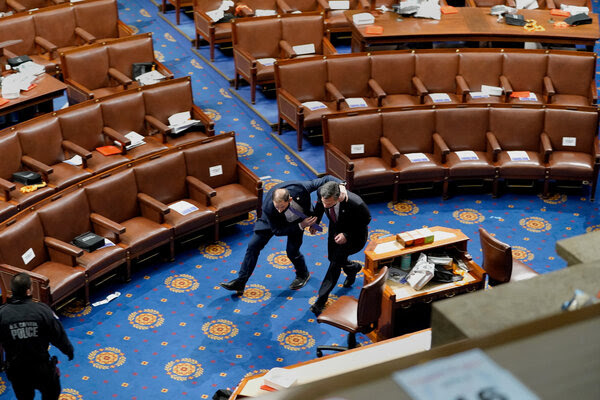 Members of Congress ran for cover as pro-Trump extemists tried to break into the House chamber.Drew Angerer/Getty Images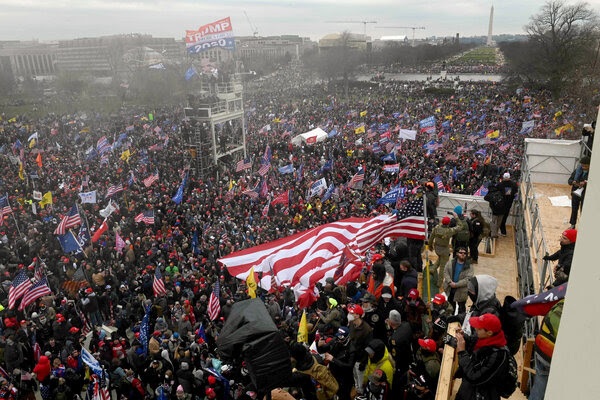 A crowd gathered on the west front of the Capitol.Roberto Schmidt/Agence France-Presse — Getty Images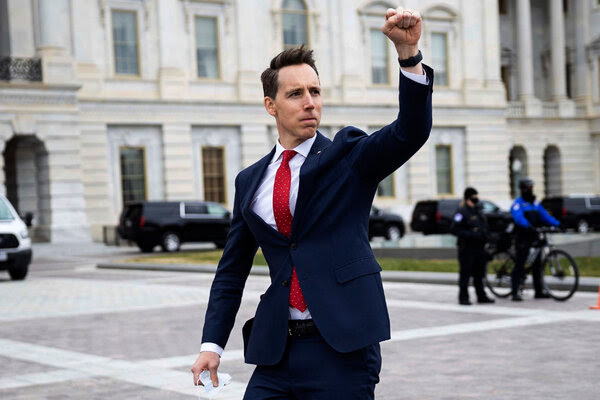 Senator Josh Hawley gestured to Trump supporters outside the Capitol.Francis Chung/E&E News and Politico, via Associated Press
THE HEADLINES ABROAD
Clockwise, from top left: Frankfurter Allgemeine, Germany; Clarín, Argentina; La Repubblica, Italy; The Chosun Ilbo, Korea; Adresseavisen, Norway; Dainik Bhaskar, India.
How did the media in other countries cover the events?
"Trump supporters attack the heart of American democracy," Correa de Manhã, in Portugal, reported. Italy's La Repubblica wrote: "Trump supporters on the attack: weapons in the chamber, Congress in lockdown."India's Dainik Bhaskar: "Oldest

democracy in crisis."And France's Le Figaro: "Capture of the Capitol: The day America's democracy fractured."

OTHER BIG STORIES