Joe Biden and Kamala Harris' Inauguration Day, Wednesday, January, 20, 2021
PBS News, CBS News, ABC News, MSNBC, NBC News, and The New York Times
PBS News: PBS NewsHour full episode, Jan. 20, 2021, President Joe Biden's virtual Inauguration Day parade, 'Celebrating America' – A PBS NewsHour inauguration special, 'Celebrating America' – A PBS NewsHour inauguration special, and Harris escorts the Pences as they depart U.S. Capitol
CBS News: New White House press secretary Jen Psaki gives first press briefing, Jan 20, 2021 
ABC News: Vice President Kamala Harris takes her walk to the White House, Jan 20, 2021 
MSNBC: Kamala Harris Swears In Padilla, Ossoff And Warnock, Officially Giving Dems Senate Control, Jan 20, 2021 
NBC Nightly News Broadcast (Full) – January 20th, 2021
The New York Times – The Morning:  Biden's first day, January 21, 2021, by David Leonhardt
https://www.youtube.com/watch?v=TkjgpOwXIYs
PBS NewsHour full episode, Jan. 20, 2021
Jan 20, 2021  PBS NewsHour  (56:45)
Wednesday on the NewsHour, Joe Biden calls for unity as he and Kamala Harris are sworn in to office, the new president confronts the many challenges facing the country with a list of initiatives and executive orders, the transition of power is ensured with a massive show of force in Washington and across the country, and public installations stand in for crowds in a ceremony subdued by COVID-19. WATCH TODAY'S SEGMENTS Biden sworn in as the 46th president https://www.youtube.com/watch?v=xtYus… Biden signs executive actions aimed at undoing Trump legacy https://www.youtube.com/watch?v=bI8Ja… Peaceful transfer of power ensues amid massive show of force https://www.youtube.com/watch?v=fngib… Biden calls for unity in a deeply divided nation  https://www.youtube.com/watch?v=Dq-aR… Rep. Eleanor Holmes Norton on breaking the glass ceiling https://www.youtube.com/watch?v=srSqP… Rep. Malliotakis on how Republicans view Biden's agenda https://www.youtube.com/watch?v=lMeP1… Trump's final hours in office: pardons and commutations https://www.youtube.com/watch?v=cIePP… News Wrap: U.S. death toll from COVID-19 reaches 403,000 https://www.youtube.com/watch?v=5AdLz… Unusual imagery for an inauguration without precedent https://www.youtube.com/watch?v=3LUCt… High school students share hopes for Biden administration https://www.youtube.com/watch?v=3OxdC… Stream your PBS favorites with the PBS app: https://to.pbs.org/2Jb8twG Find more from PBS NewsHour at https://www.pbs.org/newshour Subscribe to our YouTube channel: https://bit.ly/2HfsCD6
https://www.youtube.com/watch?v=98BP_qex5YM
WATCH: President Joe Biden's virtual Inauguration Day parade
Streamed live 8 hours ago, Jan. 20.2021   PBS NewsHour   (1:32:05)
Stream your PBS favorites with the PBS app: https://to.pbs.org/2Jb8twG Find more from PBS NewsHour at https://www.pbs.org/newshour Subscribe to our YouTube channel: https://bit.ly/2HfsCD6
'Celebrating America' – A PBS NewsHour inauguration special (29:45)
Jan 20, 2021  PBS NewsHour
Join PBS NewsHour as we take a closer look at Inauguration Day with our special, "Celebrating America." Anchor and managing editor Judy Woodruff breaks down the historic day with White House correspondent Yamiche Alcindor, Washington Post senior critic Robin Givhan, filmmaker Ken Burns and Annette Gordon-Reed, a historian and law professor at Harvard University. Stream your PBS favorites with the PBS app: https://to.pbs.org/2Jb8twG Find more from PBS NewsHour at https://www.pbs.org/newshour Subscribe to our YouTube channel: https://bit.ly/2HfsCD6
https://www.youtube.com/watch?v=BfIz481QlSk
WATCH LIVE: 'Celebrating America' – A PBS NewsHour inauguration special
Streamed live 2 hours ago, Jan. 20.2021  PBS NewsHour  (1:49:10)
Stream your PBS favorites with the PBS app: https://to.pbs.org/2Jb8twG Find more from PBS NewsHour at https://www.pbs.org/newshour Subscribe to our YouTube channel: https://bit.ly/2HfsCD6 Follow us: Facebook: http://www.pbs.org/newshour Twitter: http://www.twitter.com/newshour Instagram: http://www.instagram.com/newshour Subscribe: PBS NewsHour podcasts: https://www.pbs.org/newshour/podcasts Newsletters: https://www.pbs.org/newshour/subscribe
New White House press secretary Jen Psaki gives first press briefing
Jan 20, 2021  CBS News
President Biden's White House press secretary Jen Psaki gave her first press conference on Wednesday night, seven hours after Mr. Biden was sworn in as president. Psaki emphasized the "importance of bringing truth and transparency back to the briefing room." Watch her briefing. CBSN is CBS News' 24/7 digital streaming news service featuring live, anchored coverage available for free across all platforms. Launched in November 2014, the service is a premier destination for breaking news and original storytelling from the deep bench of CBS News correspondents and reporters. CBSN features the top stories of the day as well as deep dives into key issues facing the nation and the world. CBSN has also expanded to launch local news streaming services in major markets across the country. CBSN is currently available on CBSNews.com and the CBS News app across more than 20 platforms, as well as the CBS All Access subscription service. Subscribe to the CBS News YouTube channel: http://youtube.com/cbsnews Watch CBSN live: http://cbsn.ws/1PlLpZ7c Download the CBS News app: http://cbsn.ws/1Xb1WC8 Follow CBS News on Instagram: https://www.instagram.com/cbsnews/ Like CBS News on Facebook: http://facebook.com/cbsnews Follow CBS News on Twitter: http://twitter.com/cbsnews Subscribe to our newsletters: http://cbsn.ws/1RqHw7T Get new episodes of shows you love across devices the next day, stream CBSN and local news live, and watch full seasons of CBS fan favorites like Star Trek Discovery anytime, anywhere with CBS All Access. Try it free: http://bit.ly/1OQA29B
Vice President Kamala Harris takes her walk to the White House
Jan 20, 2021  ABC News
Kamala Harris takes her first walk as vice president into the White House and Amy Klobuchar comments on the inauguration ceremony. FULL COVERAGE: https://abcn.ws/361BpUe SUBSCRIBE to ABC NEWS: https://bit.ly/2vZb6yP Watch More on http://abcnews.go.com/ LIKE ABC News on FACEBOOK https://www.facebook.com/abcnews FOLLOW ABC News on TWITTER: https://twitter.com/abc #ABCNews #Inauguration #Biden #Harris #President #Politics
WATCH: Harris escorts the Pences as they depart U.S. Capitol
Jan 20, 2021  PBS NewsHour
Skip to 12:49 to watch Harris and Emhoff escort the Pences down the Capitol steps. Vice President Kamala Harris and second gentleman Douglas Emhoff escorted former Vice President Mike Pence and second lady Karen Pence to their departure from the U.S. Capitol after Harris and President Joe Biden were sworn in on Wednesday. While former President Donald Trump never formally conceded to Biden, Pence called Harris to offer his congratulations and assistance in the transition five days ago. Stream your PBS favorites with the PBS app: https://to.pbs.org/2Jb8twG Find more from PBS NewsHour at https://www.pbs.org/newshour Subscribe to our YouTube channel: https://bit.ly/2HfsCD6
Kamala Harris Formerly Resigns From the Senate
Jan 19, 2021  NowThis News
Watch Kamala Harris' heartfelt video goodbye to California, as she resigns from the Senate in order to officially become the next Vice President of the United States. » Subscribe to NowThis: http://go.nowth.is/News_Subscribe » Sign up for our newsletter KnowThis to get the biggest stories of the day delivered straight to your inbox: https://go.nowth.is/KnowThis For more U.S. politics and election coverage, subscribe to NowThis News. #KamalaHarris #Senate #Inauguration #Politics #News #NowThis
WATCH LIVE: Georgia Democrats Jon Ossoff and Raphael Warnock sworn into the U.S. Senate
Streamed live 7 hours ago, Jan. 20. 2021  PBS NewsHour   (2:40:24)
Stream your PBS favorites with the PBS app: https://to.pbs.org/2Jb8twG Find more from PBS NewsHour at https://www.pbs.org/newshour Subscribe to our YouTube channel: https://bit.ly/2HfsCD6 Follow us: Facebook: http://www.pbs.org/newshour Twitter: http://www.twitter.com/newshour Instagram: http://www.instagram.com/newshour Subscribe: PBS NewsHour podcasts: https://www.pbs.org/newshour/podcasts Newsletters: https://www.pbs.org/newshour/subscribe
Kamala Harris Swears In Padilla, Ossoff And Warnock, Officially Giving Dems Senate Control | MSNBC
Jan 20, 2021   MSNBC
Vice President Kamala Harris swears in the newest members of the Senate, Democratic Senators John Ossoff, Raphael Warnock and Alex Padilla. Aired on 01/20/2021. » Subscribe to MSNBC: http://on.msnbc.com/SubscribeTomsnbc MSNBC delivers breaking news, in-depth analysis of politics headlines, as well as commentary and informed perspectives. Find video clips and segments from The Rachel Maddow Show, Morning Joe, Meet the Press Daily, The Beat with Ari Melber, Deadline: White House with Nicolle Wallace, Hardball, All In, Last Word, 11th Hour, and more.
https://www.youtube.com/watch?v=4w_Ykx3TFi8
NBC Nightly News Broadcast (Full) – January 20th, 2021 | NBC Nightly News
Jan 20, 2021  NBC News
Biden sworn in as 46th U.S. president with unprecedented inauguration, women across U.S. react as Harris makes history as vice president, and a look at a transfer of power unlike any other in U.S. history. Watch "NBC Nightly News With Lester Holt" at 6:30 p.m. ET / 5:30 p.m. CT (or check your local listings). 00:00 Intro 01:22 Biden Sworn In As 46th President Of United States 07:04 Biden Decades-Long Journey To The Presidency 08:58 Biden Takes Immediate Action On First 100 Days Agenda 10:36 Kamala Harris Makes History As 1st Woman Vice President 12:07 Pres. Biden Calls For Unity In Speech To Divided Nation 12:54 V.P. Kamala Harris Hits The Ground Running 13:19 Biden Sworn In As 46th President Of United States 13:52 A Transfer Of Power Unlike In Any In U.S. History 16:50 Pres. Biden Asks Americans To Wear Masks For 100 Days 17:26 Pres. Biden Inherits Economy Devastated By Pandemic 17:49 Pres. Biden Signs Exec. Order About Racial In Equality 18:25 Pres. Biden Faces Critical Tests On World Stage » Subscribe to NBC News: http://nbcnews.to/SubscribeToNBC » Watch more NBC video: http://bit.ly/MoreNBCNews
The New York Times      The Morning:  Biden's first day

January 21, 2021

By David Leonhardt  

Good morning. The Biden administration begins to address the six crises that the new president described in his inaugural address.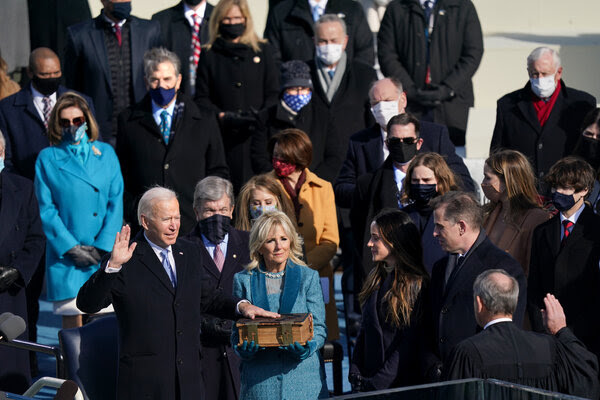 Joe Biden was sworn in as president just before noon Eastern yesterday. Erin Schaff/The New York Times
'Cascading crises of our era'
Near the end of his inaugural address yesterday, President Biden named six crises that the U.S. faces: the virus, climate change, growing inequality, racism, America's global standing and an attack on truth and democracy.

"Any one of these will be enough to challenge us in profound ways. But the fact is, we face them all at once," Biden said. "We will be judged — you and I — by how we resolve these cascading crises of our era."
To get started, Biden announced a longer list of Day 1 executive actions — 17, in all — than any previous modern president, as The Times's Michael Shear points out. The Biden administration is also asking for legislation by Congress. But here's our explanation of how the new president is trying to make immediate progress: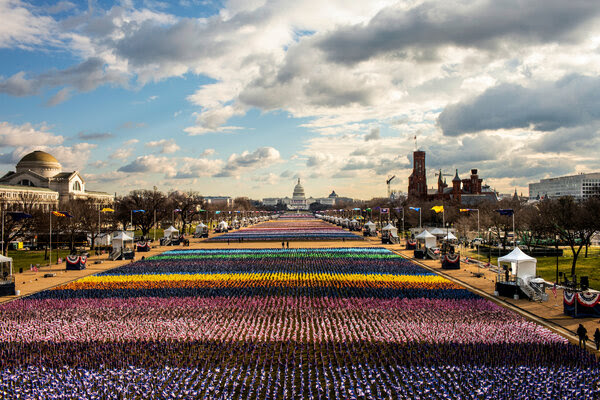 A field of flags represented the thousands of Americans who could not attend the inauguration.Jason Andrew for The New York Times
The virus

Biden signed an executive order yesterday requiring masks where he has the authority to do so — in federal buildings, for example — as well as a separate order creating a White House position to improve the government's response to the virus.
He also made clear that he was ending the Trump administration's hostility to global cooperation by halting the U.S. withdrawal from the World Health Organization. Biden is sending Dr. Anthony Fauci to the group's meeting today as the head of the U.S. delegation. "It's an interconnected world," my colleague Apoorva Mandavilli says. To succeed in combating the virus, "we have to coordinate with other countries."
Biden is also asking Americans to wear masks for the next 100 days. One question he hasn't yet answered: How will he persuade more Republican voters — many of whom are skeptical of masks — to wear them?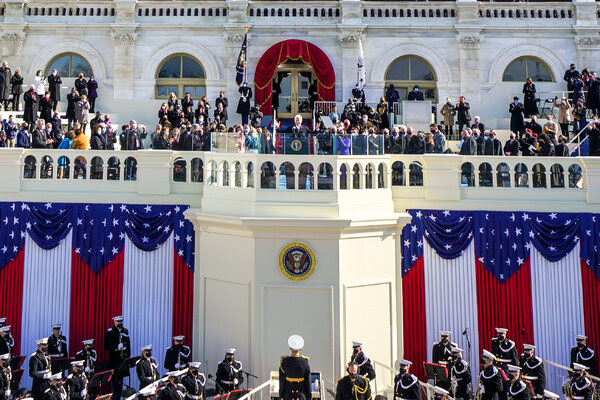 President Biden delivering his inaugural address.  Chang W. Lee/The New York Times
Climate change
Biden signed two executive orders on climate — one that recommits the U.S. to the Paris climate agreement and another that reverses Donald Trump's hostility to environmental regulations. "No president has brought in this many people at the start of an administration to work on climate change," Lisa Friedman, who covers climate policy, said.
Still, these actions are only first steps, Nathaniel Keohane of the Environmental Defense Fund told me. Reversing Trump's actions is significant, he added — but the world needs more ambitious steps to curb the use of greenhouse gases that are causing so much damage.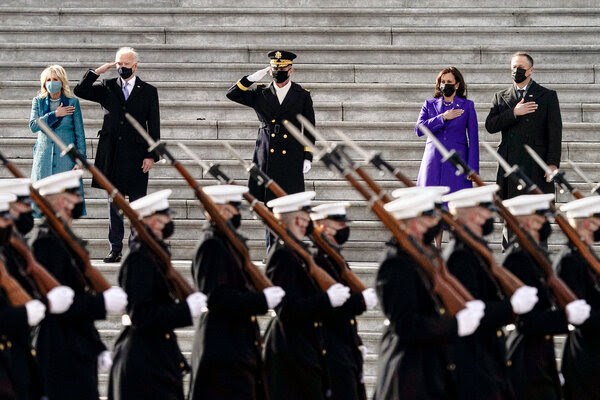 Biden and Vice President Kamala Harris during a ceremonial review of the miiltary.Amr Alfiky/The New York Times
Inequality and racism
Biden's biggest attempts to reduce economic and racial inequality will require congressional legislation. But he took some early steps yesterday.
He has extended moratoriums on evictions and student-loan payments that the Trump administration had put in place. He also ordered federal agencies to root out racially unequal policies. "We have great evidence from economists that tearing down barriers to advancement for men of color and women of all races fueled huge amounts of growth in the United States in decades past," The Times's Jim Tankersley said.
Biden also sought to undo several of Trump's anti-immigration policies. Among the moves: refocusing deportation efforts on those undocumented immigrants who have committed crimes in the U.S. "Trump, on the other hand, decided that anyone in the country illegally should be arrested and deported," Miriam Jordan, who covers immigration for The Times, said.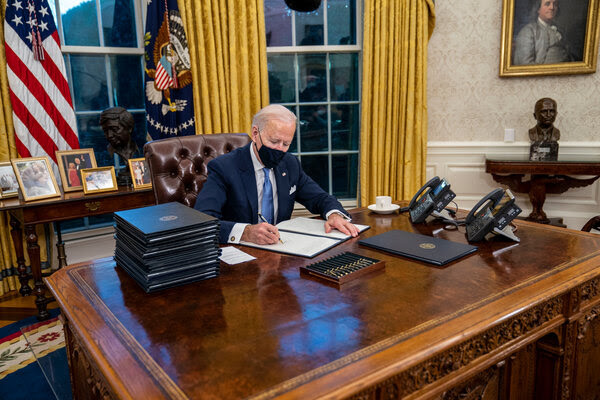 Biden signing the executive orders.Doug Mills/The New York Times
Democracy, truth and America's role in the world

In his address, Biden repeatedly stressed the importance of truth and included a veiled but obvious reference to Trump by criticizing "lies told for power and for profit." And at her first White House briefing last night, Jen Psaki, Biden's press secretary, said: "There will be moments when we disagree … but we have a common goal, which is sharing accurate information with the American people."
Biden signaled his emphasis on diplomacy by embracing the Paris climate accord and World Health Organization. Another big move to improve the U.S. image around the world was his immediate repeal of a signature Trump policy: the so-called Muslim travel ban. It had restricted nearly all passport holders from several Muslim-majority countries — including Iran, Libya, Somalia, Syria and Yemen — from entering the U.S.

MORE ON THE INAUGURATION
REVIEWS OF THE SPEECH
 Most presidents' inaugural addresses have included encomiums to unity. But "Biden's words felt less like rhetorical flourishes and more like an urgent appeal to stabilize a country reeling" from multiple crises, Julie Pace of The Associated Press wrote.

·         The journalist Clare Malone: "'Lies told for power and for profit' is a good line and a description of a thing that's not going away."

·         Slate's Jim Newell: Biden is not likely to erase the country's political divisions. But he has laid out an agenda with "tangible, deliverable items to make lives better."

·         Eric Levitz of New York Magazine: "He does not seek the unity of all Americans, only that of 'enough of us' to drag the rest toward justice."

·         "It wasn't a memorable speech, but its informal style was true to Biden," National Review's Rich Lowry wrote. "Obviously it's much easier to talk unity than achieve it."

·         Biden's declaration that he would "defeat" white supremacy echoed Ulysses S. Grant, the president who crushed the Ku Klux Klan after the Civil War, The New Yorker's Jelani Cobb noted.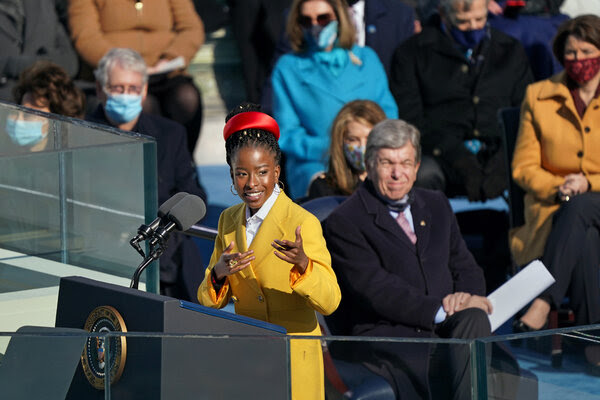 Amanda Gorman reading her poem "The Hill We Climb."Erin Schaff/The New York Times
THE POEM
Amanda Gorman, 22, was the youngest person to deliver an inaugural poem. You can watch her performance, or read the text.
Gorman said she had listened to the musical "Hamilton" for inspiration. "You were perfect," Lin-Manuel Miranda, the show's creator, wrote to her on Twitter. "Brava!"
Like Biden, Gorman has had a speech impediment, and it helped draw her to poetry. Before the inauguration, she practiced delivering her poem "The Hill We Climb" over and over, she told The Times.
INAUGURAL FASHIONS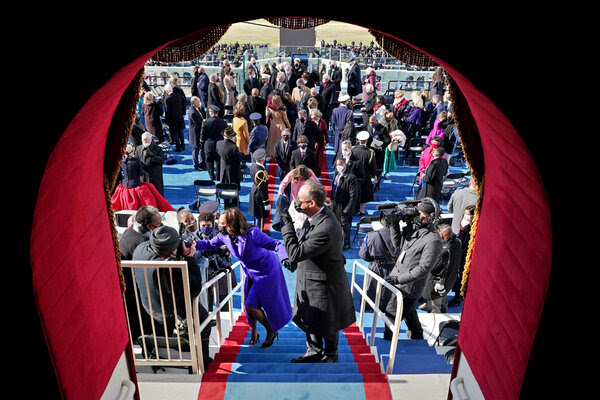 Harris and her husband, Doug Emhoff.  Chang W. Lee/The New York Times
Purple — a blend of red and blue — was the color of the day. (It's also one of the signature colors of the suffragists.) Vice President Kamala Harris, Michelle Obama and Hillary Clinton all wore variations of the color.
Biden and his wife, Jill Biden, as well as Harris and her husband, Doug Emhoff, wore American designers. Harris's outfit was designed by Christopher John Rogers, the latest Black designer whose clothes she has spotlighted.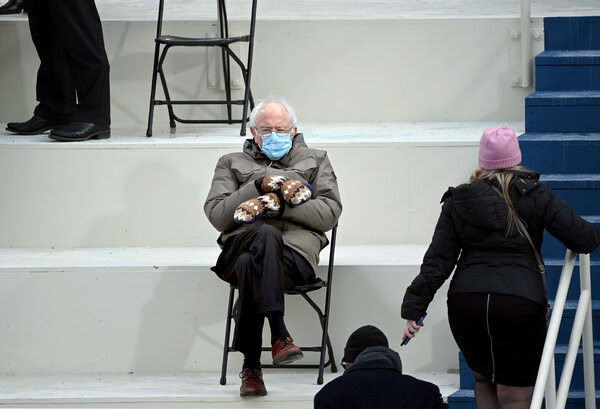 Bernie Sanders at yesterday's inauguration.  Brendan  Smialowski/Agence France-Presse — Getty Images
Senator Bernie Sanders and his mittens became a meme. They are Vermont-made, and he wore them on the campaign trail, Ruby Cramer of BuzzFeed News wrote.
Lady Gaga, who wore a large brooch of a dove carrying an olive branch as she sang the national anthem, evokedthe dystopian book series "The Hunger Games." Its heroine, Katniss Everdeen, sports a pin of a fictional bird.
Sneakerheads admired the rare pair of Dior Air Jordan 1sthat Nikolas Ajagu, husband of Meena Harris and nephew-in-law of Kamala Harris, wore to the ceremony.
THE ADMINISTRATION'S FIRST DAY
OTHER NEWS
Several species of salmon in the Pacific Northwest are "on the brink of extinction," partly as a result of climate change.
A U.S. woman living in Bali praised the Indonesian island as "queer friendly." In response, the authorities deported her for "spreading information that could unsettle the public."
MORNING READS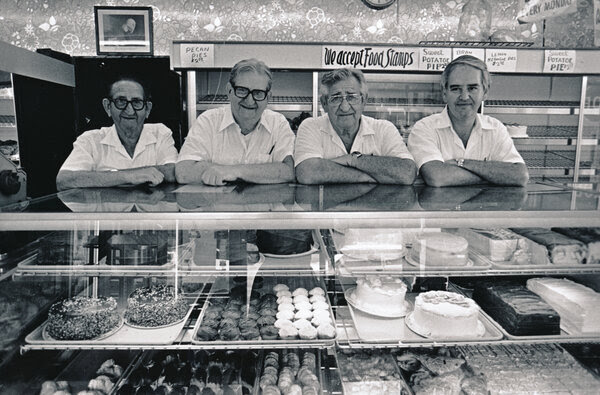 Old Gottlieb's Bakery in Savannah, Ga., in the early 1970s.Gottlieb's Bakery
A Morning Read: An ode to Gottlieb's Bakery, whose Georgia-made rye bread rivaled any deli in New York City for those who grew up with it.
From Opinion: Access to the coronavirus vaccines has been unfair and inequitable. But if you're offered one, you should take it — no matter how undeserving you may feel, Melinda Wenner Moyer writes.
Lives Lived: Margo St. James was one of the nation's most prominent advocates for sex workers, devoting her life to decriminalizing prostitution and destigmatizing its practitioners. She called her organization COYOTE (for Call Off Your Old Tired Ethics). She died at 83.