Biden delivers remarks on the 500,000 lives lost to COVID-19, 2.22.21, PBS News, NBC News,  VOA News,  Reuters, NowThis News, Washington Post, FRONTLINE, and RT Documentary
PBS News: Biden delivers remarks on the 500,000 lives lost to COVID-19, 2.22.21, PBS NewsHour 
PBS NewsHour full episode, Feb. 22, 2021
NBC Nightly News Broadcast (Full) – February 22nd, 2021
PBS News: National Cathedral rings bells in memory of 500k+ U.S. citizens lost to COVID-19, 2.22.21
VOA News: Biden Laments 500,000 Coronavirus Deaths in US, By Steve Herman
VOA News: Biden Tours Pfizer Vaccine Production Center, Updated February 19, 2021 09:33 PM
VOA News: Biden Announces Financial Support for Global COVID Vaccine Program
By Wayne Lee, Updated February 19, 2021 06:16 PM
Reuters: Biden to Debut at G-7 with Focus on Vaccines, Economy and China
By Reuters, February 19, 2021 08:52 AM
NowThis News: The Full Story of Trump and COVID-19 | NowThis, Oct 6, 2020
Washington Post: An inside look at Trump's failed coronavirus response | America's Pandemic, Premiered Oct 29, 2020 
PBS News: The Virus: What Went Wrong? (full film) | FRONTLINE, Jun 16, 2020 
RT Documentary:  COVID vs the USA. Why is America's death toll so high? Aug 21, 2020 
WATCH LIVE: Biden delivers remarks on the 500,000 lives lost to COVID-19
Streamed live 7 hours ago, 2.22.21  PBS NewsHour
Stream your PBS favorites with the PBS app: https://to.pbs.org/2Jb8twG? Find more from PBS NewsHour at https://www.pbs.org/newshour? Subscribe to our YouTube channel: https://bit.ly/2HfsCD6?
https://www.youtube.com/watch?v=b5wsq9yQuuU
PBS NewsHour full episode, Feb. 22, 2021
Feb 22, 2021  PBS NewsHour
Monday on the NewsHour, the U.S. death toll from COVID-19 reaches 500,000 as experts warn safety measures may remain for longer than anticipated, major questions about energy infrastructure and emergency response remain in Texas following the winter storm, and we speak with Bill Gates about the ongoing pandemic response and the consequences of inaction in the global fight against climate change. WATCH TODAY'S SEGMENTS  U.S. death toll from COVID-19 reaches 500,000 https://www.youtube.com/watch?v=hqDXW…? News Wrap: WHO concerned about vaccines in poor nations https://www.youtube.com/watch?v=qltmV…? Texas faces a cascade of issues after winter storm  https://www.youtube.com/watch?v=meR9S…? Bill Gates on climate change and the pandemic response https://www.youtube.com/watch?v=BMbb4…? How the women of the YPJ led the fight against ISIS https://www.youtube.com/watch?v=CdME1…? Republicans who voted to convict Trump face political peril https://www.youtube.com/watch?v=HEaIC…? Tamara Keith and Amy Walter on Biden's relief package  https://www.youtube.com/watch?v=VeEHp…? Stream your PBS favorites with the PBS app: https://to.pbs.org/2Jb8twG? Find more from PBS NewsHour at https://www.pbs.org/newshour? Subscribe to our YouTube channel: https://bit.ly/2HfsCD6?
https://www.youtube.com/watch?v=eVi67jsOts8
NBC Nightly News Broadcast (Full) – February 22nd, 2021 | NBC Nightly News
Feb 22, 2021  NBC News
President Biden observes moment of silence for 500,000 U.S. lives lost to Covid, Democrats push for vote on Biden's $1.9 trillion Covid relief plan, and FAA orders inspections on Boeing 777s after engine failure. Watch "NBC Nightly News With Lester Holt" at 6:30 p.m. ET / 5:30 p.m. CT (or check your local listings). 00:00? Intro 02:10? U.S. Surpasses Staggering 500,000 Covid Deaths 02:47? Officials: Millions Of Delayed Doses Arrive By Midweek 03:25? NYC Movie Theaters To Reopen At 25 Percent Capacity 04:19? Democrats Push For Vote On Biden's $1.9 Trillion Plan 05:17? Over 100 Boeing 777s Grounded After Midair Emergency 07:41? Millions Desperate For Food And Clean Water In Texas 08:24? Texas Residents Outraged By Skyrocketing Energy Bills 08:50? Family Of 11-Year-Old Who Died Files $100 Million Lawsuit 09:30? New Inquiries Launched Into Texas Power Grid Failure 10:13? Confirmation Hearing For Biden's A.G. Pick Merrick Garland 11:31? Supreme Court Deals Trump Major Defeat Over Taxes 11:56? Probe Finds Police Failures In Elijah McClain Death 13:38? Mother Speaks Out One Year After Ahmaud Arbery Killing 16:02? FDA Rule Forcing Vaccine Doses To Go To Waste? 18:33? New Images Show Perseverance Rover Landing On Mars 18:52? Cancer Survivor Joins First All-Civilian Space Mission » Subscribe to NBC News: http://nbcnews.to/SubscribeToNBC? » Watch more NBC video: http://bit.ly/MoreNBCNews?
WATCH: National Cathedral rings bells in memory of 500k+ U.S. citizens lost to COVID-19
Streamed live 8 hours ago  PBS NewsHour
Stream your PBS favorites with the PBS app: https://to.pbs.org/2Jb8twG? Find more from PBS NewsHour at https://www.pbs.org/newshour? Subscribe to our YouTube channel: https://bit.ly/2HfsCD6
https://www.voanews.com/covid-19-pandemic/biden-laments-500000-coronavirus-deaths-us
Biden Laments 500,000 Coronavirus Deaths in US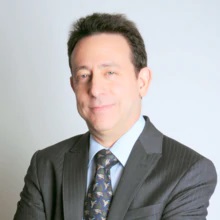 By  Steve Herman
White House Bureau Chief
February 22, 2021 08:28 PM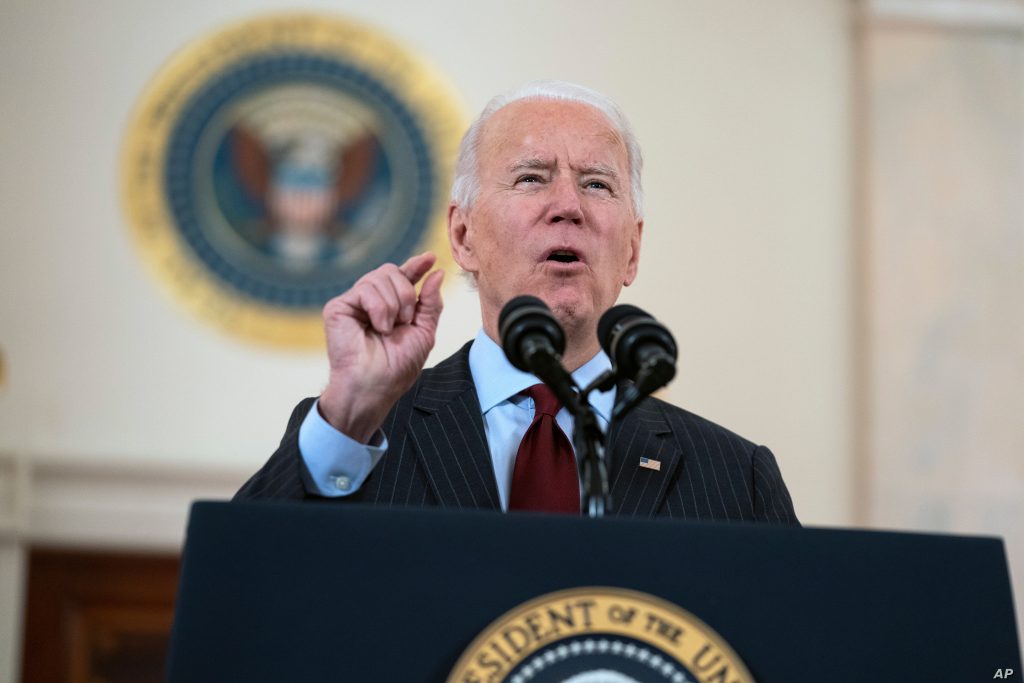 President Joe Biden speaks about the 500,000 Americans that have died from COVID-19, Feb. 22, 2021, in Washington.
WHITE HOUSE – As the nation marked 500,000 deaths because of COVID-19, U.S. President Joe Biden at twilight Monday walked to a White House South Portico decorated with black bunting and 500 candles.
Alongside the president were first lady Jill Biden and Vice President Kamala Harris and her husband, Doug Emhoff, who is known as the second gentleman. They stood silently as the Marine Corps band played the Christian hymn, "Amazing Grace."
As the music concluded, Biden, a Catholic, made the sign of the cross.
A few minutes earlier at the Cross Hall on the first floor of the White House, Biden asked the nation to join in the moment of silence and, in a subdued tone, directed remarks to those who had lost loved ones to the virus.
"It seems unbelievable, but I promise you the day will come when the memory of the one you have lost brings a smile to your lips before a tear to your eye," the president said. "We will get through this, I promise you."
He also spoke of the cruelty of death amid the pandemic.
"So many of the rituals that help us cope, that help us honor those we loved, haven't been available to us," the president noted. "As a nation, we cannot and we must not let this go on."
The president on Monday ordered U.S. flags on federal property lowered to half-staff for five days.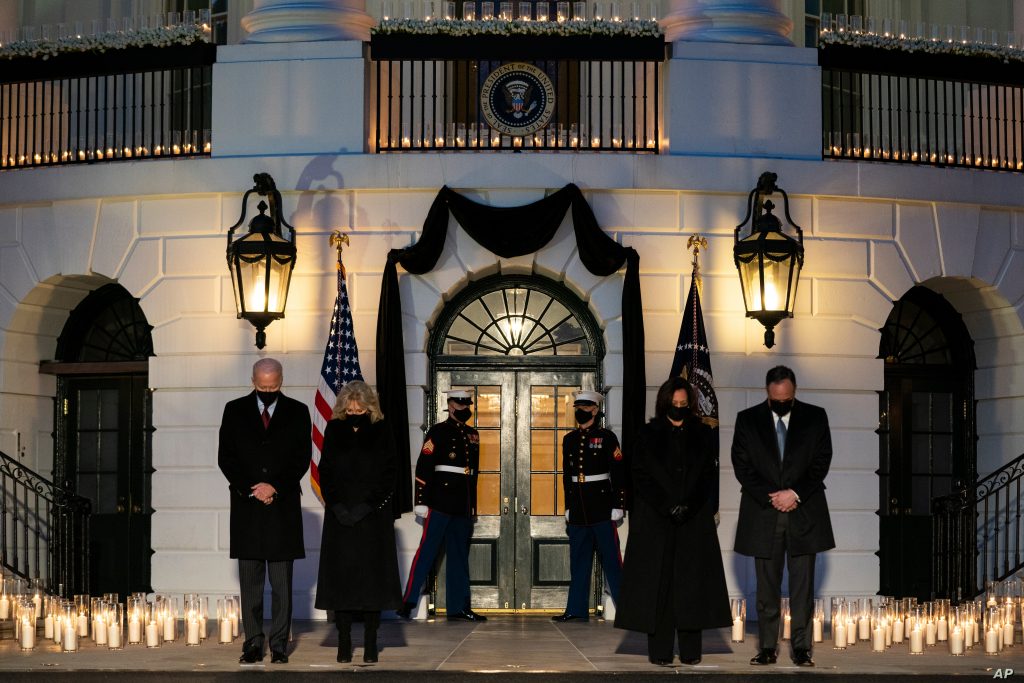 President Joe Biden, first lady Jill Biden, Vice President Kamala Harris, and Doug Emhoff participate in a moment of silence during a ceremony to honor the 500,000 Americans that died from COVID-19, at the White House, Feb. 22, 2021.
The National Cathedral in Washington, meanwhile, tolled its bells 500 times to honor the lives lost to the coronavirus.
It was a year ago Tuesday that President Donald Trump declared to reporters on the White House South Lawn as he departed for India that "we have it very much under control," adding "very interestingly, we've had no deaths."
The first fatality from the virus in the United States had actually occurred more than two weeks before the president's remarks, but it was not until April 2020 that authorities confirmed 57-year-old Patricia Dowd of San Jose, California, had died of COVID-19.
Amid the gloom of a half-million deaths and the emergence of variants of the virus, there are expressions of optimism from top U.S. government officials.
The seven-day average of deaths in the country is continuing to decline, according to Dr. Rochelle Wolensky, director of the U.S. Centers for Disease Control and Prevention.
A nationwide COVID-19 vaccination campaign is under way and about 13% of the population has received at least one dose, although winter weather in recent days has slowed the pace of immunization in some states.
Officials continue to plead for people to wear masks in public and maintain social distancing as the United States is "still seeing a lot of disease – 66,000 cases per day," Wolensky said during a video briefing with reporters Monday.
The president's chief medical adviser, Dr. Anthony Fauci, who heads the National Institute of Allergy and Infectious Diseases, also cautioned "we are still at an unacceptably high baseline level," preventing the resumption of normal society.
The United States has suffered the most deaths from the coronavirus and accounts for nearly 20% of total global deaths from the virus, although it is home to just 4% of the world's population.
That is partly blamed on a lack of coherent federal response to the pandemic during the Trump administration. Trump, who left office January 20, had clashed with his own health experts and he primarily left it to the individual 50 states to figure out how to combat the virus.
Biden's team "inherited a mess," Florida's emergency management director, Jared Moskowitz, told a state legislative committee last month.
In 2020, the virus shaved a full year off the average life expectancy in the United States, the biggest decline since World War II.
The loss of so many lives is "a horrific human toll of staggering proportions and incomprehensible sadness," House Speaker Nancy Pelosi said Monday in a statement, in which she called for swift action by Congress to approve the Biden administration's American Rescue Plan "to put an end to this pandemic and to stem the suffering felt by so many millions."
The $1.9 trillion plan by the president is intended to increase the country's recovery from the economic and health effects of the pandemic.
Some lawmakers have expressed concern about the proposed legislation's total cost and what it covers.
"I'm prepared to hear ideas about how to make the American Rescue Plan better and cheaper," Biden said in remarks delivered earlier Monday. "But we have to make clear who we're helping and who it would hurt."
Katherine Gypson contributed to this report.
https://www.voanews.com/covid-19-pandemic/biden-tours-pfizer-vaccine-production-center
Biden Tours Pfizer Vaccine Production Center
By VOA News
Updated February 19, 2021 09:33 PM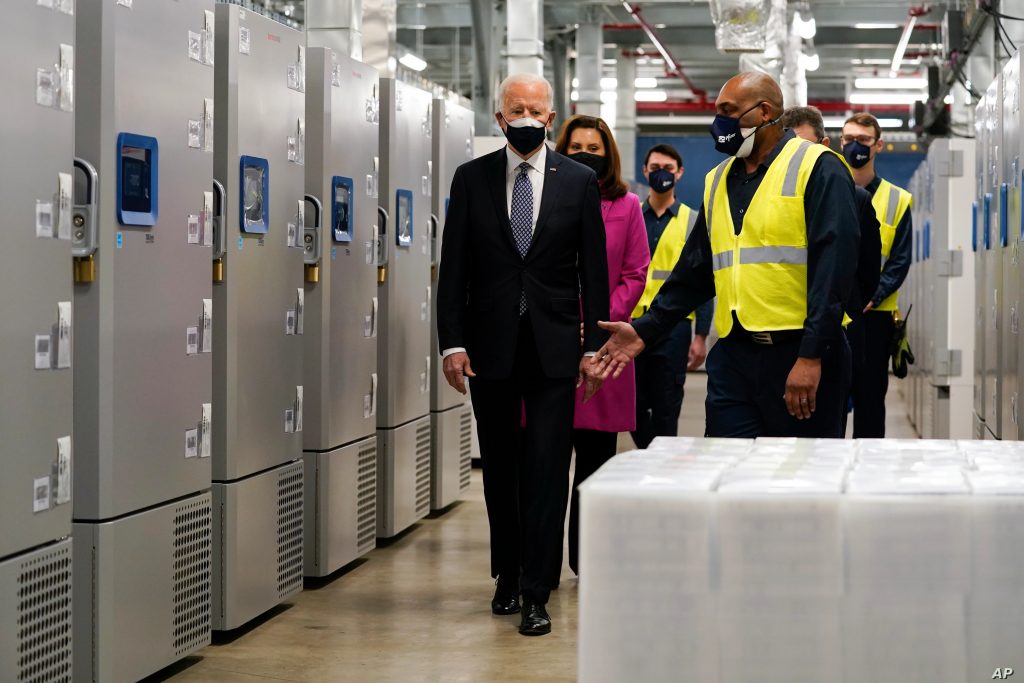 President Joe Biden walks past freezers used to store Pfizer-BioNtech's COVID-19 vaccine as he tours a Pfizer manufacturing site, Friday, Feb. 19, 2021, in Portage, Mich. (AP Photo/Evan Vucci)
U.S. President Joe Biden toured a Pfizer COVID-19 vaccine manufacturing plant Friday afternoon outside Kalamazoo, Michigan, where he touted his administration's plans to distribute the vaccine to Americans, even as winter weather across the country caused delays.
"We're now on track to have enough vaccine supply for all Americans by the end of July. That doesn't mean it'll be in all Americans' arms, but enough vaccine will be available," Biden said.
The president acknowledged that winter weather across much of the country is currently "slowing up the distribution," but said his administration is on track to reach its goal of administering 100 million shots in its first 100 days.
White House officials said earlier Friday that the winter storms in the Midwest and South had delayed the delivery of 6 million vaccines, which is impacting every state. The delayed doses of both Pfizer and Moderna vaccines represents three days' worth of shipments.
Even the president's trip to see Pfizer's largest plant was delayed a day because of a storm affecting Washington.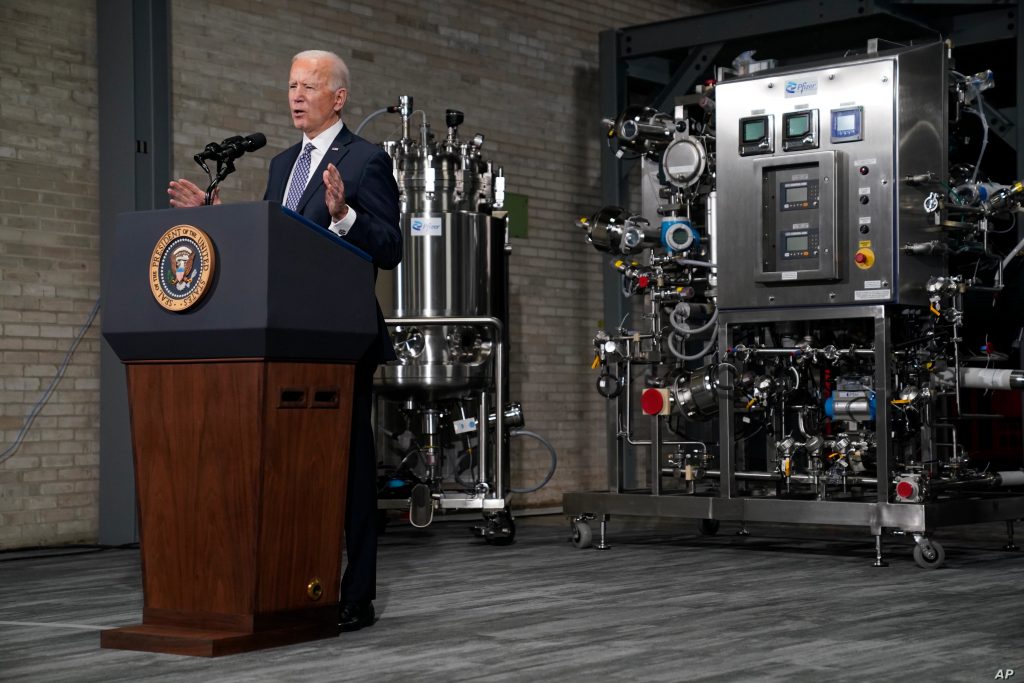 President Joe Biden speaks to the press after a tour of a Pfizer manufacturing site, Feb. 19, 2021, in Portage, Mich.
During his tour of the Pfizer plant, Biden walked through an area called the "freezer farm," where vaccine doses are stored in ultra-cold conditions. Wearing two face masks, the president spoke with some of the plant's workers. He was joined by Michigan Gov. Gretchen Whitmer, Pfizer CEO Albert Bourla and White House coronavirus response coordinator Jeff Zients.
Speaking before Biden, Bourla said Pfizer would more than double vaccine production capacity in the coming weeks. Currently it averages 5 million doses per week. He said the increase was the result in part of improvements in the manufacturing processes at the plant.
In his remarks, the president touted the vaccine's safety and encouraged everyone to get vaccinated.
"If there's one message to cut through to everyone in this country, it's this: The vaccines are safe," he said.
Earlier Friday, Pfizer and its pharmaceutical partner BioNTech said a new study they conducted indicates their COVID-19 vaccine can remain effective when stored in standard freezers for up to two weeks.
The finding is a significant development since one of the initial drawbacks of the Pfizer-BioNTech COVID-19 vaccine was that it was required to be stored in ultra-low-temperature freezers not commonly found in standard clinics and pharmacies.
In a statement posted on Pfizer's website Friday, the companies said they have submitted the new data to the U.S. Food and Drug Administration (FDA) demonstrating their vaccine is stable when stored at -25°C to -15°C, temperatures commonly found in pharmaceutical freezers and refrigerators.
Also Friday, the U.S. Centers for Disease Control and Prevention (CDC) said that data collected in the first month of vaccinations in the United States have found no concerning new issues with either the Pfizer- BioNTech vaccine or the Moderna vaccine.
It said data collected from the administration of 13.8 million doses of vaccines between December 14, 2020, and January 13, 2021, showed 6,994 reports of adverse events after vaccination, with 90.8% of them classified as nonserious and 9.2% as serious.
Biden Announces Financial Support for Global COVID Vaccine Program
By Wayne Lee
Updated February 19, 2021 06:16 PM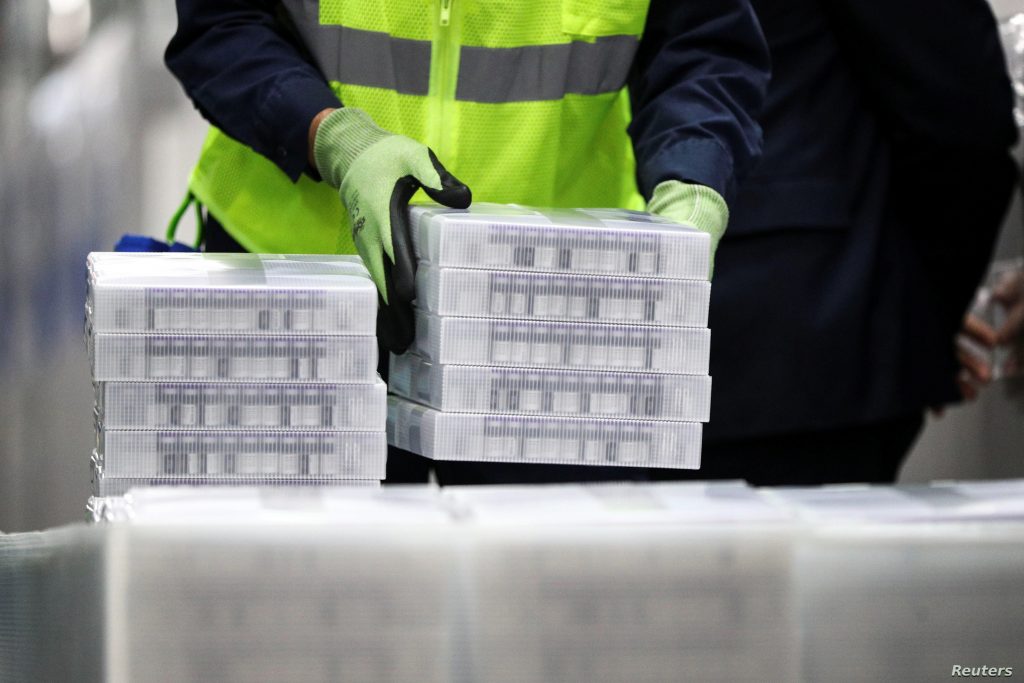 Pfizer employees handle containers of vaccine as U.S. President Joe Biden tours a Pfizer manufacturing plant producing the coronavirus vaccine in Kalamazoo, Michigan, Feb. 19, 2021.
U.S. President Joe Biden announced Friday a $4 billion pledge to a global campaign to bolster the distribution of COVID-19 vaccines to poor countries.
At his first meeting as president with world leaders at the Munich Security Conference, Biden announced financial support for COVAX, a coalition tasked with distributing vaccines to low- and middle-income countries.
"Even as we fight to get out of the teeth of this pandemic, a resurgence of Ebola in Africa is a stark reminder that we must simultaneously work to finally finance health security, strengthen global health systems, and create early warning systems to prevent, detect and respond to future biological threats because they will keep coming," Biden said at the virtual meeting.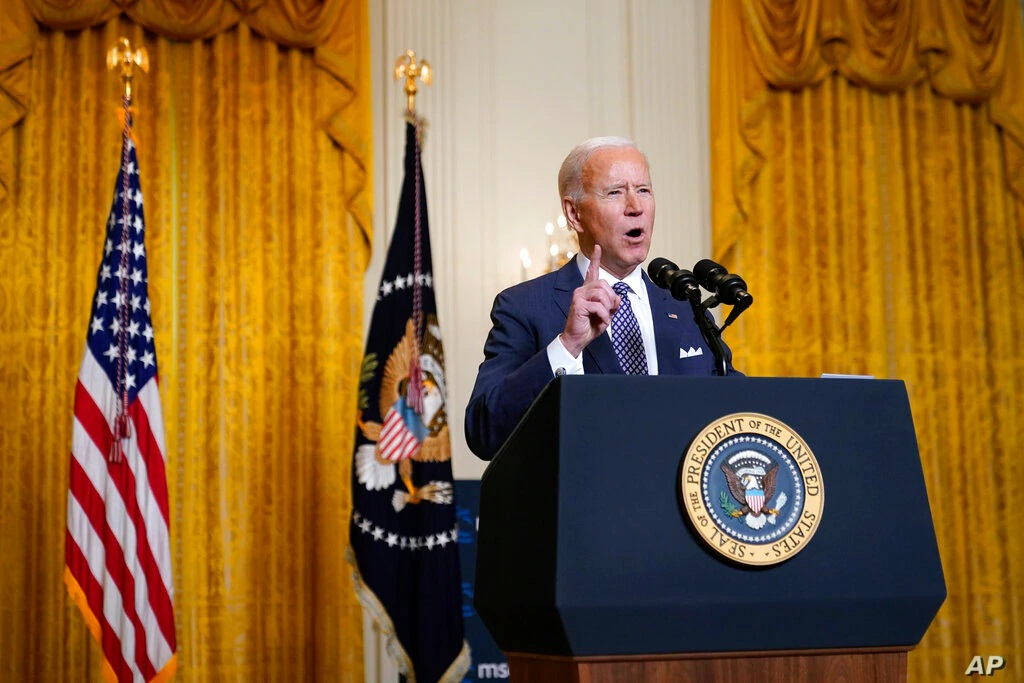 President Joe Biden participates in a virtual event with the Munich Security Conference in the East Room of the White House, Feb. 19, 2021.
Biden pledged $2 billion that will fund the COVAX program through 2022. The pledge follows an initial $2 billion contribution that the U.S. Congress appropriated two months ago that should be released by the end of this month.
The COVAX program is jointly operated by the World Health Organization, an agency of the United Nations responsible for international public health. Former President Donald Trump withdrew from the WHO after accusing it of covering up China's blunders in managing the virus at the start of the public health crisis.
"We have to work together to strengthen and reform the World Health Organization," Biden said. "We need a U.N. system focused on biological threats that can move quickly to trigger action."
Download File
Biden used the financial commitment to encourage G-7 partners to fulfill their pledges to the COVAX program and make additional investments in international vaccine development and distribution.
Paris accord 
Also on Friday, the United States officially rejoined the Paris climate accord, the most comprehensive global effort to combat global warming. Biden warned of dire consequences if nations don't do more to reduce carbon emissions.
"We can no longer delay or do the bare minimum to address climate change," he said. "This is a global existential crisis. We will all suffer the consequences if we fail."
Biden called on world leaders to "rapidly accelerate our commitments to aggressively curb our emissions and hold one another accountable for meeting our goals and increasing our ambitions."
Biden previously said he would consider climate change when reviewing every major domestic and foreign policy decision his administration faces.
https://www.voanews.com/usa/biden-debut-g-7-focus-vaccines-economy-and-china
Biden to Debut at G-7 with Focus on Vaccines, Economy and China
By Reuters
February 19, 2021 08:52 AM
FILE – U.S. President Joe Biden hosts a meeting with labor leaders to discuss coronavirus response legislation and the president's infrastructure plan in the Oval Office at the White House in Washington.
LONDON – U.S. President Joe Biden will attend his first meeting with Group of Seven leaders on Friday to discuss plans to defeat the coronavirus, reopen the battered world economy and counter challenges posed by China.
The COVID-19 pandemic has killed 2.4 million people, tipped the global economy into its worst peacetime slump since the Great Depression and upended normal life for billions.
Biden "will focus on the global response to the pandemic, including vaccine production, distribution of supplies" and efforts to fight emerging infections, White House spokeswoman Jen Psaki said on Thursday.
He "will also discuss the global economic recovery, including the importance of all industrial countries maintaining economic support for the recovery" and "the importance of updating global roles to tackle economic challenges such as those posed by China," Psaki said.
The call with G7 leaders at 1400 GMT is a chance for Biden, a Democrat who took over as president from Republican Donald Trump on Jan. 20, to project a message of re-engagement with the world and with global institutions after four years of his predecessor's "America First" policies.
Besides Biden, Italy's new prime minister, Mario Draghi, will be a new face at the leaders' virtual table, though he is famous for "doing whatever it takes" at the European Central Bank to save the euro during the European debt crisis.
Vaccine drive
Britain, which holds the rotating chair of the G7 and is trying to recast itself as a steward of the rules-based international system following Brexit, will ask members to help speed up the development of future vaccines to 100 days.
Prime Minister Boris Johnson is keen to build ties with Biden, who did not support Brexit and who, as a presidential candidate, last year publicly warned Britain against endangering peace in Ireland.
Johnson has said he is interested in the idea of a global treaty on pandemics to ensure proper transparency after the COVID-19 outbreak which originated in China.
The Biden administration will pledge $4 billion to a coronavirus vaccination program for poorer countries in hopes of prying loose bigger donations from other governments, U.S. officials said on Thursday.
Britain, which has pledged 548 million pounds ($766 million) to the COVAX program co-led by the World Health Organization, will ask other G7 partners to give more.
China
China will also be on the agenda.
In his first major foreign policy speech as president, Biden cast China as the "most serious competitor" of the United States.
"We'll confront China's economic abuses; counter its aggressive, coercive action; to push back on China's attack on human rights, intellectual property, and global governance," Biden said on Feb. 4.
The United States will keep tariffs imposed on Chinese goods by the Trump administration in place for now, but will evaluate how to proceed after a thorough review, Treasury Secretary Janet Yellen said.
The G7 of the United States, Japan, Germany, United Kingdom, France, Italy and Canada has a combined gross domestic product of about $40 trillion – a little less than half of the global economy.
By  Reuters
The Full Story of Trump and COVID-19 | NowThis
Oct 6, 2020  NowThis News
THE FULL STORY OF TRUMP & COVID: More than 7 million Americans have suffered from COVID-19, including Pres. Trump. Emmy winner Jeffrey Wright narrates the documentary detailing how four years of Trump's actions brought America to this moment (warning: distressing images). » Subscribe to NowThis: http://go.nowth.is/News_Subscribe? » Sign up for our newsletter KnowThis to get the biggest stories of the day delivered straight to your inbox: https://go.nowth.is/KnowThis? Executive Producer – Nate Houghteling Directed by Nate Houghteling and Sarah Sherman Written by Sarah Sherman and Seamus McKiernan Edited by Pierce Wilson Produced with Portal A https://www.youtube.com/channel/UCDOS…? For more U.S. politics, 2020 election news, and Trump news, subscribe to NowThis News. #Trump? #Politics? #COVID19? #News? #NowThis? #NowThisNews? Connect with NowThis » Like us on Facebook: http://go.nowth.is/News_Facebook? » Tweet us on Twitter: http://go.nowth.is/News_Twitter? » Follow us on Instagram: http://go.nowth.is/News_Instagram? » Find us on Snapchat Discover: http://go.nowth.is/News_Snapchat? NowThis is your premier news outlet providing you with all the videos you need to stay up to date on all the latest in trending news. From entertainment to politics, to viral videos and breaking news stories, we're delivering all you need to know straight to your social feeds. We live where you live. http://www.youtube.com/nowthisnews? @nowthisnews
An inside look at Trump's failed coronavirus response | America's Pandemic
Premiered Oct 29, 2020  Washington Post
This video is the final installment of a three-part documentary series by the Washington Post. Read more on The Washington Post: https://wapo.st/3ovFoQx? Despite decades of warnings and preparation, President Trump has claimed that covid-19 "came out of nowhere." He downplayed the coronavirus as it began to take hold in the U.S., disregarding the advice of experts and politicizing a health crisis. Through interviews with former Trump administration officials Mark Harvey and Olivia Troye, along with Washington Post reporters Dan Balz and Yasmeen Abutaleb, "Playing it down" explores why the White House was slow to respond to the pandemic, and the far-reaching consequences of its inaction. After months of mixed messages, contradictory policies, divisive rhetoric — and more than 220,000 deaths — the president continues to insist the virus will one day disappear. Follow us: Twitter: https://twitter.com/washingtonpost? Instagram: https://www.instagram.com/washingtonp…? Facebook: https://www.facebook.com/washingtonpost/? #WashingtonPost? #Documentary? #AmericasPandemic?
The Virus: What Went Wrong? (full film) | FRONTLINE
Jun 16, 2020  FRONTLINE PBS | Official
As COVID-19 spread across the globe, why was the U.S. caught so unprepared??An investigation of how America's leaders failed to prepare and protect us — and who is accountable. This journalism is made possible by viewers like you. Support your local PBS station here: http://www.pbs.org/donate? In this 90-minute FRONTLINE documentary special, award-winning journalists Marcela Gaviria and Martin Smith trace the coronavirus's path across the globe and?identify a chain of fateful missteps — from Chinese authorities' early silencing of dissent around the virus's emergence in Wuhan, to the World Health Organization's failure to more quickly sound the alarm, to Italian officials' slow initial reaction. Then, "The Virus: What Went Wrong?" zeroes in on key moments in the Trump administration's halting response — including warnings going back to January, the CDC's inability to manufacture and mass-distribute a working COVID-19 test early on, and a string of missed opportunities to contain the virus before it was too late. #Coronavirus? #COVID19? #CoronavirusPandemic? Love FRONTLINE? Find us on the PBS Video App where there are more than 300 FRONTLINE documentaries available for you to watch any time: https://to.pbs.org/FLVideoApp? Subscribe on YouTube: http://bit.ly/1BycsJW? Instagram: https://www.instagram.com/frontlinepbs? Twitter: https://twitter.com/frontlinepbs? Facebook: https://www.facebook.com/frontline? Funding for FRONTLINE is provided through the support of PBS viewers and by the Corporation for Public Broadcasting. Major funding for FRONTLINE is provided by the John D. and Catherine T. MacArthur Foundation and the Ford Foundation. Additional funding is provided by the Abrams Foundation, the Park Foundation, The John and Helen Glessner Family Trust, and the FRONTLINE Journalism Fund with major support from Jon and Jo Ann Hagler on behalf of the Jon L. Hagler Foundation.
COVID vs the USA. Why is America's death toll so high? | RT Documentary
Aug 21, 2020  RT Documentary
America's covid-19 death toll is higher than anywhere else in the world. The richest country in the world is having trouble holding things together in the face of the COVID pandemic. To find out why, RT Documentary visits the #COVID? hotspots of New York City and Florida. There, ordinary people and analysts, homeless people and nurses talk about the underlying social conditions causing the chaos. If you want to support Janet Mendez, who struggles to pay an outrageous medical bill after COVID treatment go visit her go fund me page https://www.gofundme.com/f/5a8ms-covi…? 00:00? – Introduction 2:37? – New York's protest movement amid the pandemic 5:44? – How to maintain social distance during protests 8:01? – Why was New York hit so badly by COVID-19? 12:22? – Overcrowded homeless shelters – a breeding ground for coronavirus 15:26? – Coronavirus crisis from a homeless man's standpoint 16:51? – Mass-grave burials on Hart Island 19:14? – Diana Torres, a New York nurse 21:37? – Healthcare workers forced to wear trash bags 23:49? – Florida, America's new COVID hotbed 25:00? – 'Shame on you', Ron DeSantis 28:21? – Masks – to wear or not to wear 29:48? – Flourishing funeral homes? 33:00? – Elmhurst, New York's virus epicentre 37:27? – A $400,000 medical bill 43:35? – Inside Brownsville, New York's most dangerous neighbourhood #RT? Documentary offers you in-depth #documentary? films on topics that will leave no one indifferent. It's not just front-page stories and global events, but issues that extend beyond the headlines. Social and environmental issues, shocking traditions, intriguing personalities, history, sports and so much more – we have documentaries to suit every taste. RT Documentary's film crews travel far and wide to bring you diverse and compelling #stories?. Discover the world with us! SUBSCRIBE TO RTD Channel to get documentaries firsthand! http://bit.ly/1MgFbVy? FOLLOW US RTD WEBSITE: https://RTD.rt.com/? RTD ON TWITTER: http://twitter.com/RT_DOC? RTD ON FACEBOOK: http://www.facebook.com/RTDocumentary? RTD ON INSTAGRAM https://www.instagram.com/rt_document…? RTD LIVE https://rtd.rt.com/on-air/?