Thai Alphabet Drawing by Grandpa John, and Grandson Kai, Part 3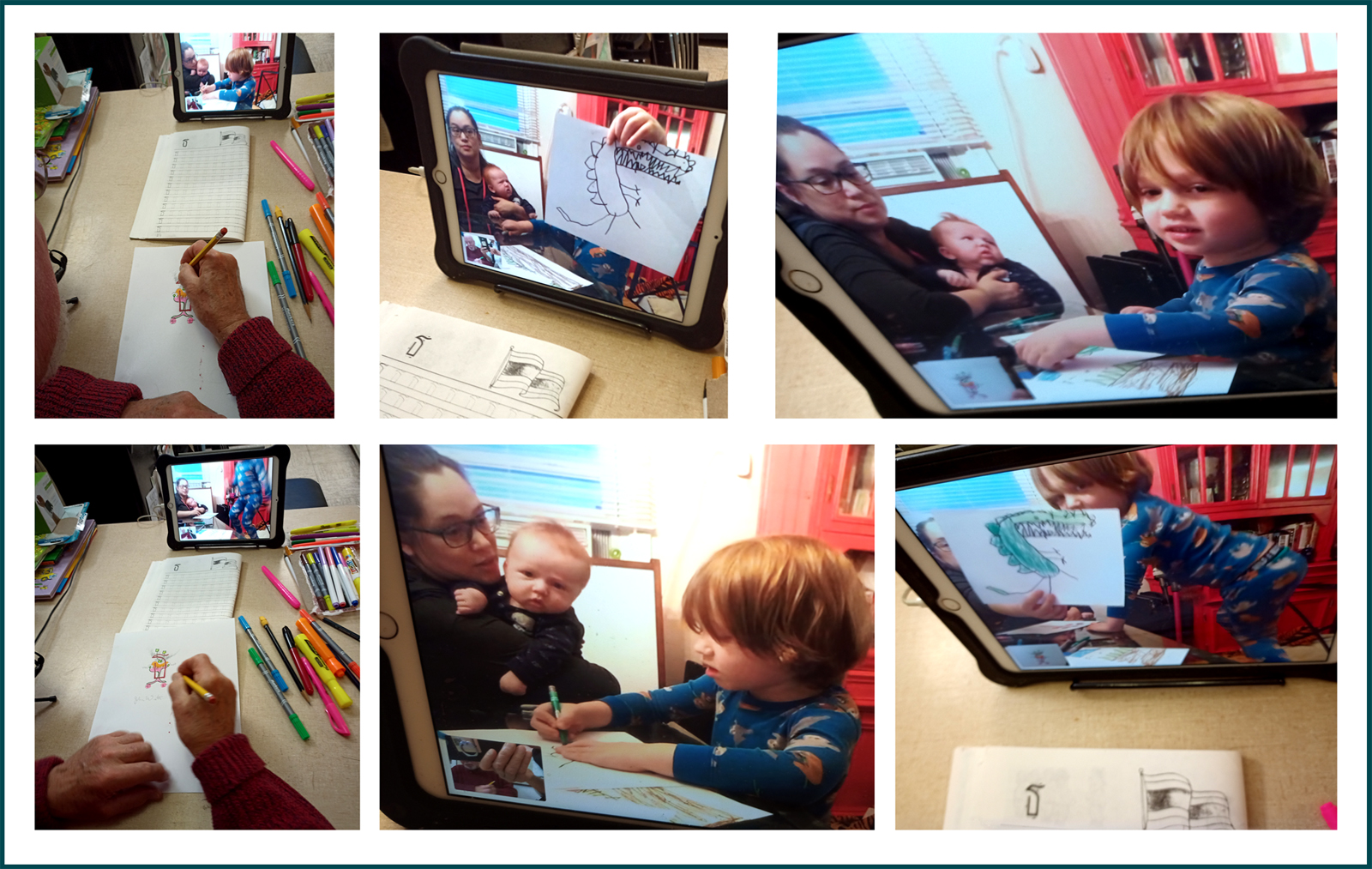 Thai Alphabet Drawing by Grandpa John (77 years old), and Grandson Kai (4 years old), Part 3 (Thai alphabet from letter # 23 to letter #33)
Organized by Grandma Ing (Ing-On Vibulbhan-Watts)
Technical Support by Mommy Mali, Daddy Jim and almost two months old brother Bodhi, started on Wednesday, April 22, 2020, Grandpa John and Grandson Kai communicated via Face Time through iPad during the lock-down from the pandemic of COVID-19 (coronavirus)

ThaiAlphabetFromLetter23ToLetter33John
There are 44 letters in Thai Alphabets.  I divided into 4 parts, 11 characters in each group.  John and Kai enjoyed drawing Thai characters using their imaginations in composing the letters.  Mommy Mali was holding her new born 2 months old baby, Bodhi, to supervise Kai with his playful and loving drawing activity.  I participated by taking pictures and video of the event.  Daddy Jim entertained the troops by playing music with his loving of Guitar performance.  We were all happy spending time in the evening after a full belly from the home-made meal.  Hopefully, little bodhi heard our conversation of loving and laughing. We managed to turn the COVID – 19 locked down in to a more useful and entertaining time.
For me, personally, I was so glad to see the Welshman, John, and our American grandson Kai, invent characters that are unique and special to me.  As a Thai person it brought a sentimental reminder of my own native Thai language.  
I hope that Thai people who view this Thai alphabet will smile because of the unique playfulness of the Thai characters created in John and Kai's drawings.  Each culture is unique, and when we come together, we can appreciate each other, bringing harmony and peace to families, communities and the world. 
Ing-On Vibulbhan-Watts, Friday, May 27, 2022, 12:45 PM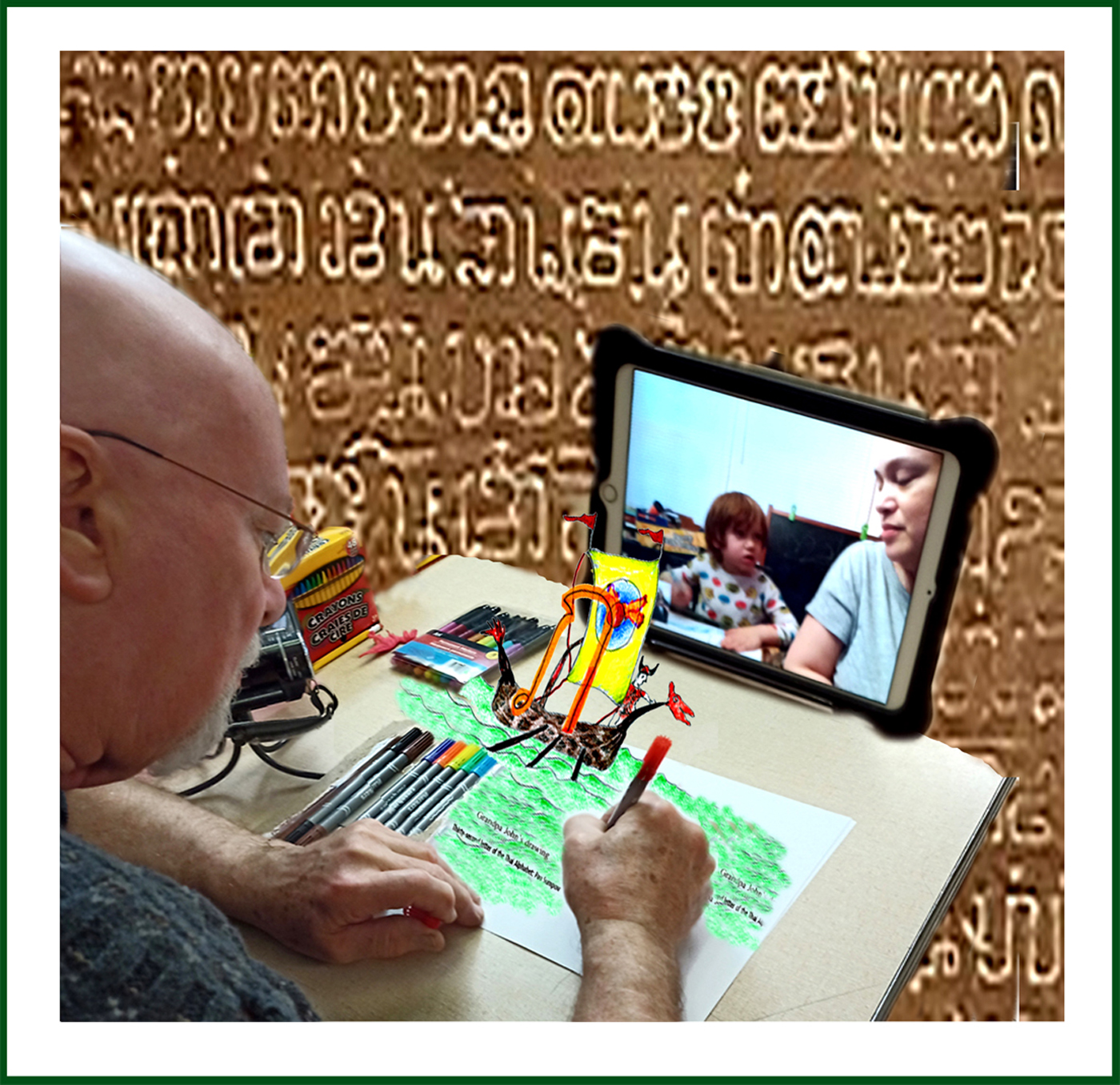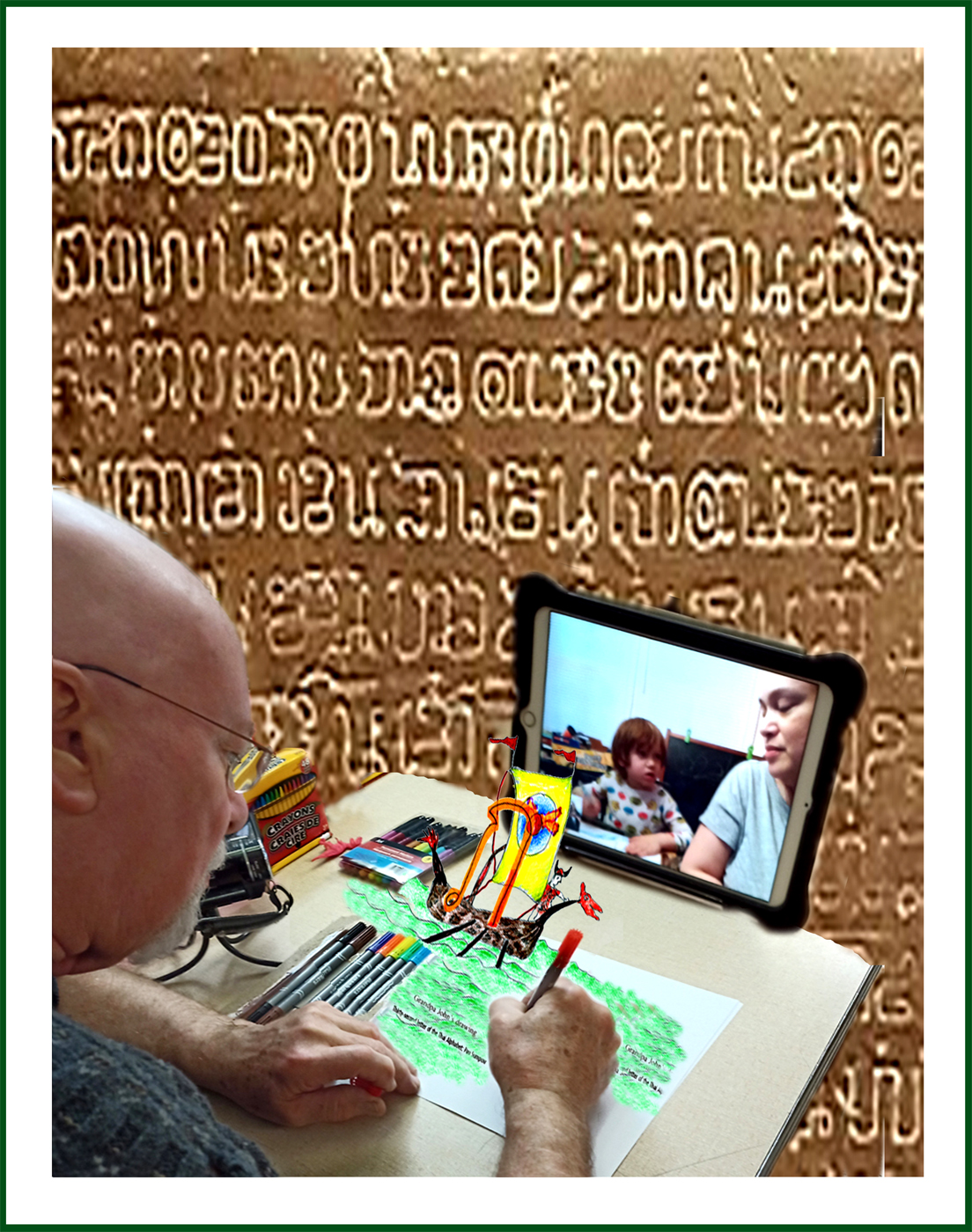 Ing's Artwork:  I combined, John, Kai, & Mali, with King Ram Khamhaeng Inscription while they were in the process of drawing the Thai alphabet.  I integrated one of John's drawings of character # 32, Pau Sumpow, into the work.  The result is the artwork above.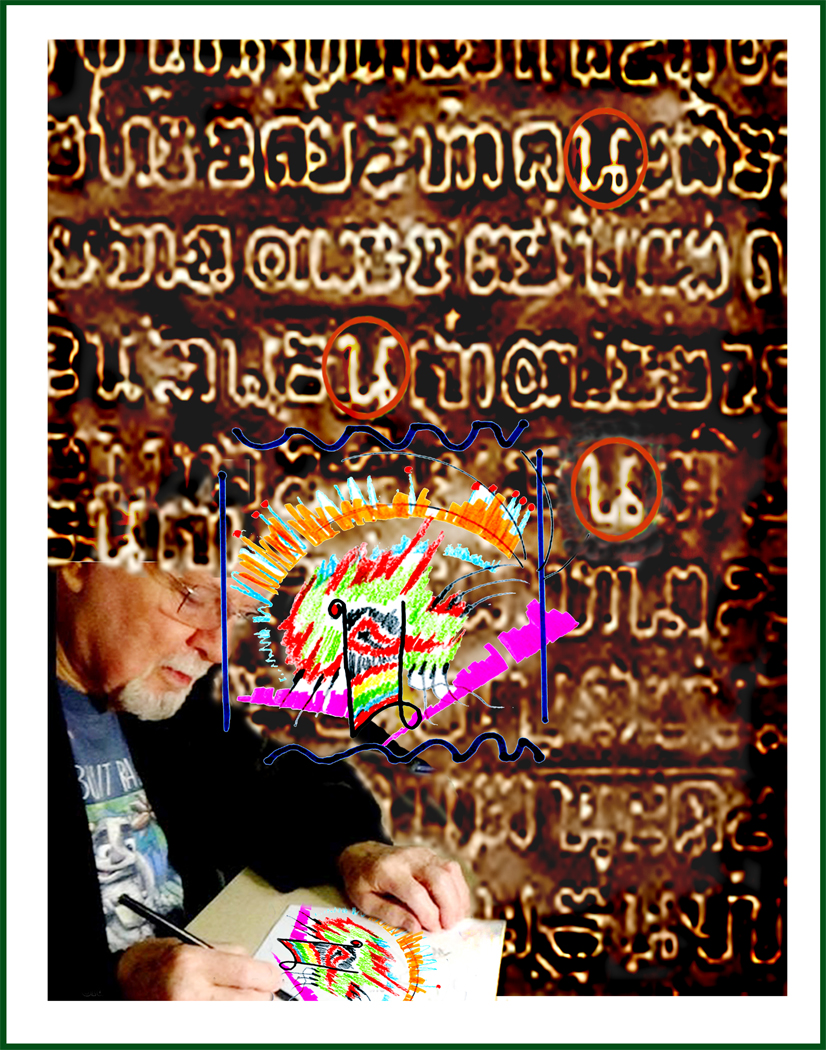 Ing's Artwork: John was working on the Thai alphabet, the letter # 27, Nau Nu.   I noticed that in the King Ram Khamhaeng Inscription, quite a few uses of the letter # 27, Nau Nu. The Thai alphabet is derived from the Old Khmer script. The letters have been modified and simplified, becoming the modern Thai alphabet.  But I notice that the letter # 27, Nau Nu was not modified or simplified. It remains unchanged as it is seen in my artwork above.
  According the document states that "The script used, now known as the Sukhothai script, is an early form of the Thai script (also known as Siamese), which differs vastly from modern Thai and bears some resemblance to ancient Khmer, from which it is considered to have been adapted."
"The Thai alphabet is derived from the Old Khmer script (Thai: ????????, akson khom), which is a southern Brahmic style of writing derived from the south Indian Pallava alphabet (Thai: ??????). According to tradition it was created in 1283 by King Ramkhamhaeng the Great (Thai: ????????????????????).[1] The earliest attestation of the Thai script is the Ram Khamhaeng Inscription dated to 1292, however some scholars question its authenticity.[2] The script was derived from a cursive form of the Old Khmer script of the time.[1] It modified and simplified some of the Old Khmer letters and introduced some new ones to accommodate Thai phonology. It also introduced tone marks. Thai is considered to be the first script in the world that invented tone markers to indicate distinctive tones, which are lacking in the Mon-Khmer (Austroasiatic languages) and Indo-Aryan languages from which its script is derived. Although Chinese and other Sino-Tibetan languages have distinctive tones in their phonological system, no tone marker is found in their orthographies. Thus, tone markers are an innovation in the Thai language that later influenced other related Tai languages and some Tibeto-Burman languages on the Southeast Asian mainland.[2] Another addition were consonant clusters that were written horizontally and contiguously, rather than writing the second consonant below the first one.[2] Finally, the script wrote vowel marks on the main line, however this innovation fell out of use not long after.[1]"             
For more information, please visit the following link:
https://en.wikipedia.org/wiki/Thai_script#:~:text=The%20Thai%20alphabet%20is%20derived,Thai%3A%20%E0%B8%9E%E0%B9%88%E0%B8%AD%E0%B8%82%E0%B8%B8%E0%B8%99%E0%B8%A3%E0%B8%B2%E0%B8%A1%E0%B8%84%E0%B8%B3%E0%B9%81%E0%B8%AB%E0%B8%87%E0%B8%A1%E0%B8%AB%E0%B8%B2%E0%B8%A3%E0%B8%B2%E0%B8%8A).
Sukhothai Dance at the Loy Kratong Festival, Wat Buddhapadipa, London 2018
Nov 6, 2018  blutey
Thai dancers perform the Sukhothai Dance ??????????? at the Loy Kratong Festival, Thai Temple Wimbledon, London, 04th Nov 2018. Shot on a Sony AX53. Copyright (c) Blutey 2018
Giawkhao THAILAND (Harvest Song from THAILAND)
Aug 15, 2012  Lerkiat Mahavinijchaimontri
From Documentary of Culture about ASIA "Letter from ASIA" produced by Ministry of culture KOREA Preformed by Musicians from Fine Arts Department of THAILAND Visit Letter from Asia website: www.atma.kr