PBS News: April 17 – 20, 2020, Washington Week, and In this quarantine art challenge, creativity begins at home
 Africanews Live
 Sky News Live
 CNA 24/7 LIVE – Breaking news, top stories and documentaries
 Roylab Stats: Coronavirus LIVE Count [LIVE] Coronavirus Pandemic: Real Time Counter, World Map, News
 Google: Coronavirus disease (COVID-19) information
92nd Street Y: Bob Woodward's "FEAR: Trump in The White House"
The New York Times: Morning Briefing, April 19, 2020
 Miumiu Guitargril – [ I wish you love ] by A girl six years old
 boredpanda: 29 Paintings By My 5-Year-Old Son With Autism
https://www.youtube.com/watch?v=G1TC3pR9PFY
PBS NewsHour full episode, Apr 20, 2020
Apr 20, 2020  PBS NewsHour
Monday on the NewsHour, protesters demand U.S. government restrictions be lifted despite the continued spread of COVID-19. Plus: The price of oil tanks, evaluating the risks of reopening the U.S., the pandemic's effect on agriculture, Brazil's president minimizes the public health threat, a fragile Afghanistan confronts COVID-19, Politics Monday and an essential worker on taking out the trash. WATCH TODAY'S SEGMENTS Crowds protest restrictions as health experts warn of risks https://www.youtube.com/watch?v=TQApS… Troubled global oil market tanks amid pandemic's demand drop https://www.youtube.com/watch?v=1DPob… News Wrap: Nova Scotia reels as mass shooting kills 18 https://www.youtube.com/watch?v=4PeRr… The 'fantasy' that normal American life will resume in weeks https://www.youtube.com/watch?v=Nn52p… How COVID-19 is causing chaos for American agriculture https://www.youtube.com/watch?v=Zlpx2… Brazil's people fear COVID-19 threat their president denies https://www.youtube.com/watch?v=Kl2xm… Can politically fragile Afghanistan combat COVID-19? https://www.youtube.com/watch?v=dDdtn… Tamara Keith and Amy Walter on U.S. pandemic response polls https://www.youtube.com/watch?v=tBT9V… The special hazards of collecting garbage during a pandemic https://www.youtube.com/watch?v=oeJYU… Stream your PBS favorites with the PBS app: https://to.pbs.org/2Jb8twG Find more from PBS NewsHour at https://www.pbs.org/newshour Subscribe to our YouTube channel: https://bit.ly/2HfsCD6
https://www.youtube.com/watch?v=8hbI3K_vf48&t=1476s
PBS NewsHour Weekend full episode April, 19, 2020
Apr 19, 2020  PBS NewsHour
On this edition for Sunday, April 19, states weigh-in on re-opening for business, the coronavirus exposes the need for programmers for outdated unemployment systems, the popularity of animal fostering during a pandemic, and a breakdown of the debate for the latest federal relief package as millions of small businesses languish. Hari Sreenivasan anchors from New York. Stream your PBS favorites with the PBS app: https://to.pbs.org/2Jb8twG Find more from PBS NewsHour at https://www.pbs.org/newshour Subscribe to our YouTube channel: https://bit.ly/2HfsCD6
https://www.youtube.com/watch?v=xFsHw5JnSHo
PBS NewsHour Weekend full episode April, 18, 2020
Apr 18, 2020  PBS NewsHour
On this edition for Saturday, April 18, the latest on the coronavirus, what scientists are finding out about antibody testing, some big companies are redeploying their employees during the outbreak, and the impact of the pandemic on a cultural cornerstone in Portland, Oregon. Hari Sreenivasan anchors from New York. Stream your PBS favorites with the PBS app: https://to.pbs.org/2Jb8twG Find more from PBS NewsHour at https://www.pbs.org/newshour Subscribe to our YouTube channel: https://bit.ly/2HfsCD6
https://www.youtube.com/watch?v=TucJAf3ueQo
PBS NewsHour full episode, Apr 17, 2020
Apr 17, 2020  PBS NewsHour
Friday on the NewsHour, President Trump offers states guidance on reopening, but some governors fear it's too soon. Plus: Vice President Mike Pence on COVID-19 testing and PPE, why testing remains slow, an assault allegation against former Vice President Joe Biden, the latest from Congress on funding economic relief, Shields and Brooks, in memory of those lost to COVID-19 and a Broadway triumph. WATCH TODAY'S SEGMENTS States try to balance economic crisis, public health threat https://www.youtube.com/watch?v=2e_S9… Pence: Health care 'has not been overwhelmed' by COVID-19 https://www.youtube.com/watch?v=jQow7… News Wrap: Ukraine wildfires cause surge in air pollution https://www.youtube.com/watch?v=waqx5… The supply chain fiasco has derailed U.S. COVID-19 testing https://www.youtube.com/watch?v=piPGT… What we know about sexual assault allegation against Biden https://www.youtube.com/watch?v=hblpN… What's holding up additional funding for U.S. small business https://www.youtube.com/watch?v=TS3m7… Shields and Brooks on Trump vs. states on COVID-19 https://www.youtube.com/watch?v=nYqYr… Remembering some of those lost to COVID-19 https://www.youtube.com/watch?v=BvORW… This Broadway cast 'Ain't Too Proud' for digital performance https://www.youtube.com/watch?v=QrErM… Stream your PBS favorites with the PBS app: https://to.pbs.org/2Jb8twG Find more from PBS NewsHour at https://www.pbs.org/newshour Subscribe to our YouTube channel: https://bit.ly/2HfsCD6
Apr 17, 2020  Washington Week
President Trump unveiled his plan for states to shoulder the brunt of the burden on deciding when to reopen. The panel also discussed the effort among congressional Republicans and Democrats and the White House to negotiate more funding for the small business lending program, which has maxed out. Panel: Kimberly Atkins, Senior News Correspondent, WBUR, Peter Baker, Chief White House Correspondent, The New York Times, Paula Reid, White House Correspondent, CBS News, Kristen Welker, White House Correspondent, NBC News Watch the latest full show and Extra here: https://pbs.org/washingtonweek Subscribe to our YouTube channel: https://bit.ly/2ZEPJNs Follow us on Twitter: https://twitter.com/washingtonweek Like us on Facebook: https://www.facebook.com/washingtonweek
Category  News & Politics
africanews Live
Started streaming on Feb 20, 2020
Africanews is a new pan-African media pioneering multilingual and independent news telling expertise in Sub-Saharan Africa. Subscribe on ourYoutube channel : https://www.youtube.com/c/africanews?… Africanews is available in English and French. Website : www.africanews.com Facebook : https://www.facebook.com/africanews.c… Twitter : https://twitter.com/africanews
Category  News & Politics
Watch Sky News live
Started streaming on Nov 2, 2019 Sky News
Today's top stories: Boris tells adults the best present they can give their mother for Mother's Day is to stay away, the health secretary has said 4,500 retired healthcare workers have signed up to help battle coronavirus and lockdown in the Italian region of Lombardy has been tightened as the country confirmed more than 53,500 cases of COVID-19. ? Boris Johnson warns of 'stark' and 'accelerating' coronavirus numbers ahead of Mother's Day https://trib.al/lrbMq77 ? 4,500 retired doctors and nurses sign up to battle COVID-19 pandemic https://trib.al/LYsfa83 ? Lockdown tightens in parts of Italy hardest hit by COVID-19 https://trib.al/oBdZFdy SUBSCRIBE to our YouTube channel for more videos: http://www.youtube.com/skynews Follow us on Twitter: https://twitter.com/skynews and https://twitter.com/skynewsbreak Like us on Facebook: https://www.facebook.com/skynews Follow us on Instagram: https://www.instagram.com/skynews Sky News videos are now available in Spanish here/Los video de Sky News están disponibles en español aquí https://www.youtube.com/skynewsespanol For more content go to http://news.sky.com and download our apps: Apple https://itunes.apple.com/gb/app/sky-n… Android https://play.google.com/store/apps/de…
Category  News & Politics
[CNA 24/7 LIVE] Breaking news, top stories and documentaries
Started streaming on Jan 1, 2020 CNA
Watch CNA's 24-hour live coverage of the latest headlines and top stories from Singapore, Asia and around the world, as well as documentaries and features that bring you a deeper look at Singapore and Asian issues. CNA is a regional broadcaster headquartered in Singapore. Get the programming schedule here: https://www.channelnewsasia.com/news/… Subscribe to our channel here: https://cna.asia/youtubesub Subscribe to our news service on Telegram: https://cna.asia/telegram Follow us: CNA: https://cna.asia CNA Lifestyle: http://www.cnalifestyle.com Facebook: https://www.facebook.com/channelnewsasia Instagram: https://www.instagram.com/channelnews… Twitter: https://www.twitter.com/channelnewsasia
[LIVE] Coronavirus Pandemic: Real Time Counter, World Map, News
Started streaming 14 hours ago  Roylab Stats
Coronavirus Live Streaming: Breaking news, world Map and live counter on confirmed cases and recovered cases. I started this live stream on Jan 26th. Many people are worried about the spread of coronavirus. For anyone that wants to know the real-time progression of the worldwide spread of this virus, I offer this live stream. The purpose is not to instill fear or panic, nor is it to necessarily comfort; I just want to present the data to help inform the public of the current situation. The purpose of this stream is to show basic information and data to understand the situation easily. For detail information, please visit our reference sites.
 Google News
https://news.google.com/covid19/map?hl=en-US&gl=US&ceid=US:en
Cases
| | | | | |
| --- | --- | --- | --- | --- |
| Location | Confirmed | Cases per 1M people | Recovered | Deaths |
| Worldwide | 2,478,634 | 318.76 | 651,736 | 170,389 |
| United States | 799,456 | 2,425.86 | 72,368 | 42,604 |
| Spain | 200,210 | 4,250.71 | 80,587 | 20,852 |
| Italy | 181,228 | 3,008.26 | 48,877 | 24,114 |
| Germany | 147,065 | 1,768.69 | 84,717 | 4,862 |
| United Kingdom | 124,743 | 1,877.65 | — | 16,509 |
| France | 114,657 | 1,709.36 | 37,409 | 20,265 |
| Turkey | 90,980 | 1,094.1 | 13,430 | 2,140 |
| Iran | 83,505 | 1,002.09 | 59,273 | 5,209 |
| China | 82,758 | 59.03 | 77,123 | 4,632 |
| Russia | 47,121 | 321.11 | 3,446 | 405 |
| Brazil | 40,581 | 192.02 | 22,130 | 2,575 |
| Belgium | 39,983 | 3,469.41 | 8,895 | 5,828 |
| Canada | 36,831 | 969.77 | 12,586 | 1,690 |
| Netherlands | 33,405 | 1,914.21 | — | 3,751 |
| Switzerland | 27,673 | 3,222.83 | 18,600 | 1,429 |
Source:Wikipedia·
About this data
Description
Coronavirus disease (COVID-19) is an infectious disease caused by a new virus.
The disease causes respiratory illness (like the flu) with symptoms such as a cough, fever, and in more severe cases, difficulty breathing. You can protect yourself by washing your hands frequently, avoiding touching your face, and avoiding close contact (1 meter or 3 feet) with people who are unwell.
HOW IT SPREADS
Coronavirus disease spreads primarily through contact with an infected person when they cough or sneeze. It also spreads when a person touches a surface or object that has the virus on it, then touches their eyes, nose, or mouth.
For informational purposes only. Consult your local medical authority for advice.
Source: World Health OrganizationLearn more
Resources from Google

Google tools and resources to help you stay informed and connected
Bob Woodward's "FEAR: Trump in The White House"
Sep 17, 2018  92nd Street Y
Watergate journalist Bob Woodward's new book, FEAR: Trump in the White House, announced as the most acute and penetrating portrait of a sitting president ever published during the first years of an administration, is unprecedented. Talking with Jacob Weisberg, Bob Woodward gives a front-row-seat view of life inside Donald Trump's White House, as revealed in his new book, FEAR: Trump in the White House. The Pulitzer Prize-winning journalist, an associate editor at The Washington Post, shows how the president makes decisions on major foreign and domestic policies. Drawing from hundreds of hours of interviews with firsthand sources, contemporaneous meeting notes, files, documents, and personal diaries, FEAR brings to light the most explosive debates that drive decision-making in the Oval Office, the Situation Room, Air Force One, and the White House residence. It's the inside story on President Trump as only Bob Woodward can tell it. Don't miss this opportunity to hear first-hand as the legendary journalist sits down with the chairman and editor-in-chief of Slate. Recorded on September 12, 2018 at 92nd Street Y. Subscribe for more videos like this: http://bit.ly/1GpwawV Your support helps us keep our content free for all. Donate now: http://www.92y.org/donatenow?utm_sour… Facebook: http://facebook.com/92ndStreetY Instagram: http://Instagram.com/92ndStreetY Twitter: https://twitter.com/92Y Tumblr: http://92y.tumblr.com/ On Demand: http://www.92yondemand.org
Category  Nonprofits & Activism
The New York Times – Morning Briefing

By Remy Tumin and Elijah Walker
Here are the week's top stories, and a look ahead. 
April 19, 2020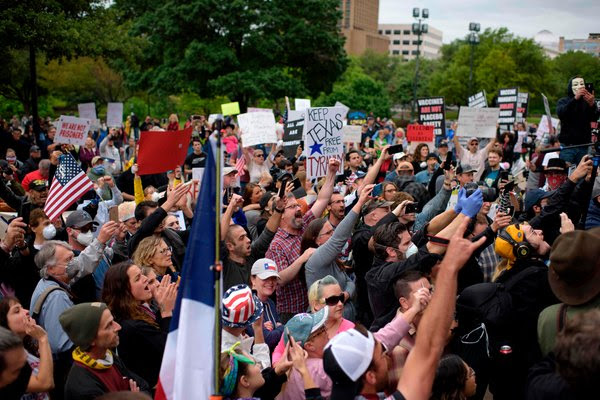 Mark Felix/Agence France-Presse — Getty Images

1. Demonstrators across the country violated social-distancing orders to call for the reopening of states and the American economy.
The rallies, like the one outside the state Capitol in Austin, Texas, above, rode a wave of similar protests this past week. On Saturday alone, people also gathered in Indianapolis, Ind.; Carson City, Nev.; Annapolis, Md.; Salt Lake City, Utah, and Brookfield, Wis.

President Trump on Friday openly encouraged the right-wing protests in states with stay-at-home orders, even after officially and publicly conceding that reopening was up to governors.
2. What does the year ahead look like?
There will be no quick return to normal American life, but there is hope for managing the outbreak now and in the long term. Our global health reporter Donald G. McNeil Jr. spoke to over 20 experts on what to expect in the coming months.
Some of their predictions:
The lockdowns will end haltingly. Putting safety first could mean reopening only after coronavirus cases declined for 14 days, 90 percent of contacts of infected people could be traced, infections of health care workers were eradicated, recuperation sites existed for mild cases — and many other hard-to-reach goals.
It is not clear whether recovery from the virus and antibodies confer immunity. If they do, or are believed to, America could be split into two classes: those protected (or thought to be) and those still vulnerable.
The virus can be kept in check, but only with expanded resources like widespread testing. And treatments are likely to arrive before a vaccine.
3. The U.S. needs to triple the number of coronavirus tests it is currently administering before the country can reopen, experts say. Above, a testing line in the Bronx.
An average of 146,000 people per day have been tested for the virus nationally so far this month, according to the COVID Tracking Project. A total of 3.6 million tests have been administered. But to reopen the U.S. by mid-May, the number of daily tests performed should be 500,000 to 700,000, according to researchers at Harvard University.
4. Access to food is changing.
Many U.S. school cafeterias are now operating more like soup kitchens, sending days' worth of food home for entire families even though the federal school meals program will not reimburse them.
Slaughterhouses have turned out to be the weakest link in the nation's food supply chain. Some of the country's highest-producing meat plants have closed because workers are getting sick.
But shutting down a plant backs up production, crushes prices paid to farmers and eventually leads to months of shortages.
5. In normal times, men are a majority of the overall work force. The pandemic has flipped that.
One in three jobs held by women has been designated as essential, according to a Times analysis of census data. Nonwhite women are more likely to have essential jobs — cashier, emergency room nurse, home health aide and more — than anyone else. Above, Constance Warren, who works the cold cuts counter in a New Orleans grocery.

No matter their sex, race or income level, most Americans are united on one thing, according to a Times survey: a sense of deep pessimism about the economy.
6. Republicans think blaming China for the coronavirus is a winning strategy for the November elections. But President Trump keeps going off message.
Republican senators locked in difficult races are preparing commercials that will condemn China. Party officials are brandishing polling data in hopes that Mr. Trump will confront Beijing. But with a reliance on China's manufacturers for lifesaving medical supplies as well as trade talks and unstable markets to consider, Mr. Trump has repeatedly muddied those efforts.

We also spoke to Bernie Sanders's supporters about whether they'll be voting for Joe Biden. They weren't unenthusiastic.
7. The latest threat to Indonesia's wildlife: bird-singing competitions.
Officials and conservationists say wild songbirds are disappearing at a tremendous rate across the vast archipelago. One bird protection organization estimates that poachers capture more than 20 million songbirds a year.

Much of the demand is fueled by the growing craze for high-stakes bird singing contests at which government officials frequently preside. To build a bird's stamina, one poacher said that he would slap the sides of its 20-foot-cage to make it fly 500 laps a day.
[ I wish you love ] by A girl six years old INS @miumiuguitargril
Feb 24, 2020  Miumiu Guitargirl
INS @miumiuguitargril Thank you for your encouragement.I will continue to study hard. To fulfill my dream to be an excellent guitarist. Please forgive me for my poor English. This is not my native language. I've tried my best to do it well. Because of my English level, I can't Reply every message. If you have any good suggestions, please email me. My mother will help me reply. 234361800@qq.com
Category  Music
In this quarantine art challenge, creativity begins at home
Apr 15, 2020  PBS NewsHour
During a period when art lovers can't simply visit a museum or gallery, a new social media phenomenon has arisen as a creative outlet. Participants isolating at home amid the pandemic are encouraged to recreate a prominent work of art using everyday objects. Jeffrey Brown has the story as part of our ongoing arts and culture series, Canvas. Stream your PBS favorites with the PBS app: https://to.pbs.org/2Jb8twG Find more from PBS NewsHour at https://www.pbs.org/newshour Subscribe to our YouTube channel: https://bit.ly/2HfsCD6
https://www.boredpanda.com/boy-with-autism-paintings-tristan/
29 Paintings by My 5-Year-Old Son With Autism
Tristan is my five-year-old son who was diagnosed with an autism spectrum disorder at the age of three. Despite this life-changing diagnosis, he is still a very and playful child.
One day Tristan saw his older sister painting. After a while, he showed great interest and asked us, his parents, if he could also paint sometimes. I found myself in a little awkward situation because I didn't know what to answer to my beloved son who's having difficulty with fine motor skills.
Then, I came up with the idea that Tristan could paint but in a different way and style. The next day, Tristan got his first acrylic color set and right away started splashing, dripping and spraying the pictures.
After he had created a few paintings, we realized that they were unique and rather special. We decided to create an Instagram profile to show off his works. During his painting sessions, I record him and after he's finished, Tristan watches and analyses his creations back with a big smile on his face.
For Tristan as an autistic child, creating these paintings in his own unique style and for us to enjoy, is priceless and we believe very therapeutic for him. His movements and actions when he is expressing himself and his thoughts through his art are really quite magical.
We want to share these happy moments with you so we've created this Bored Panda profile to show the world our cute and special artist and his amazing works.
More info: Instagram
Tristan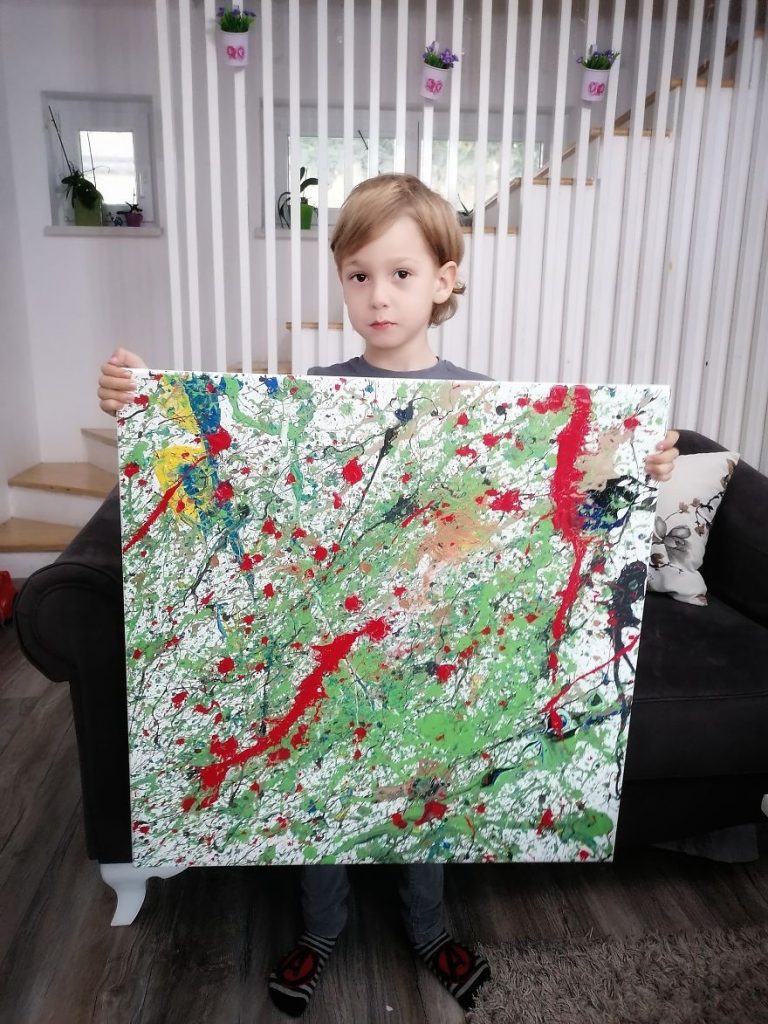 Splashing, dripping and spraying the pictures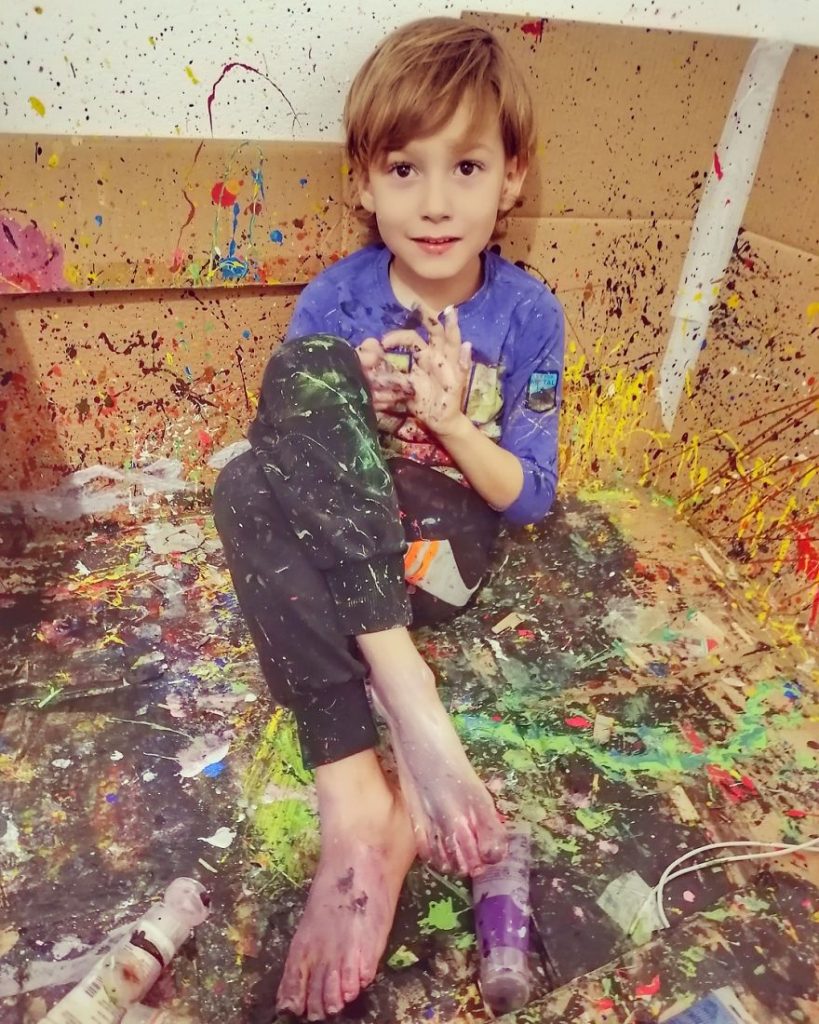 His artwork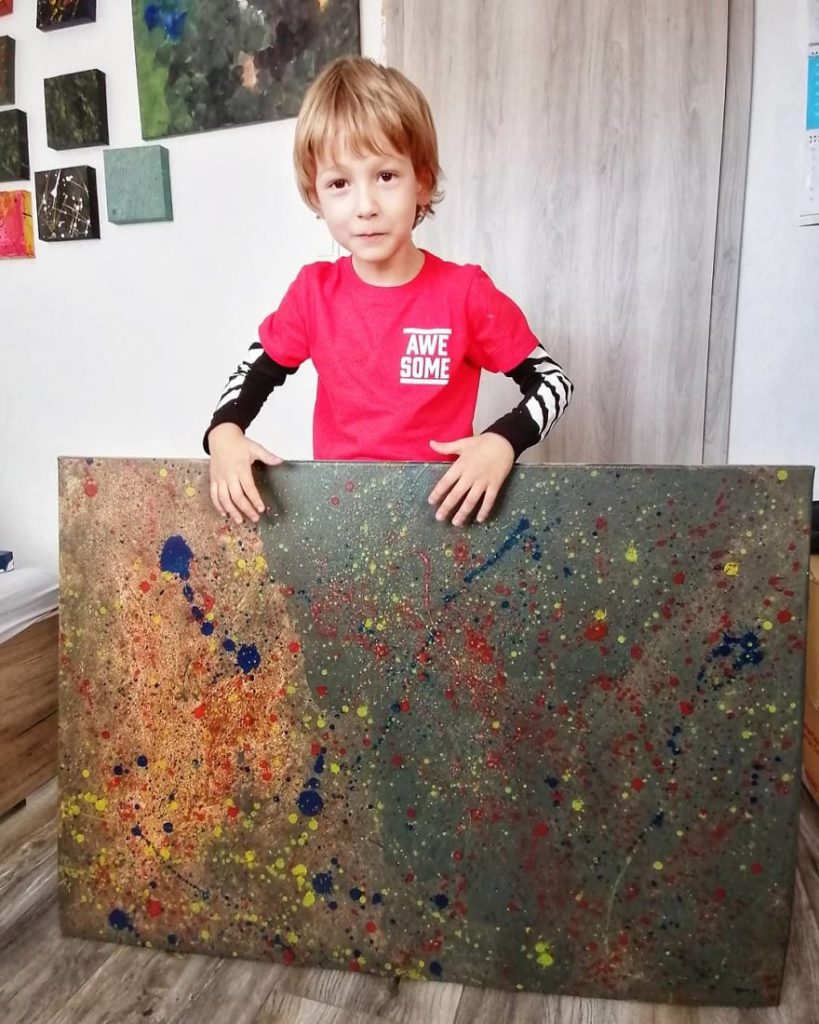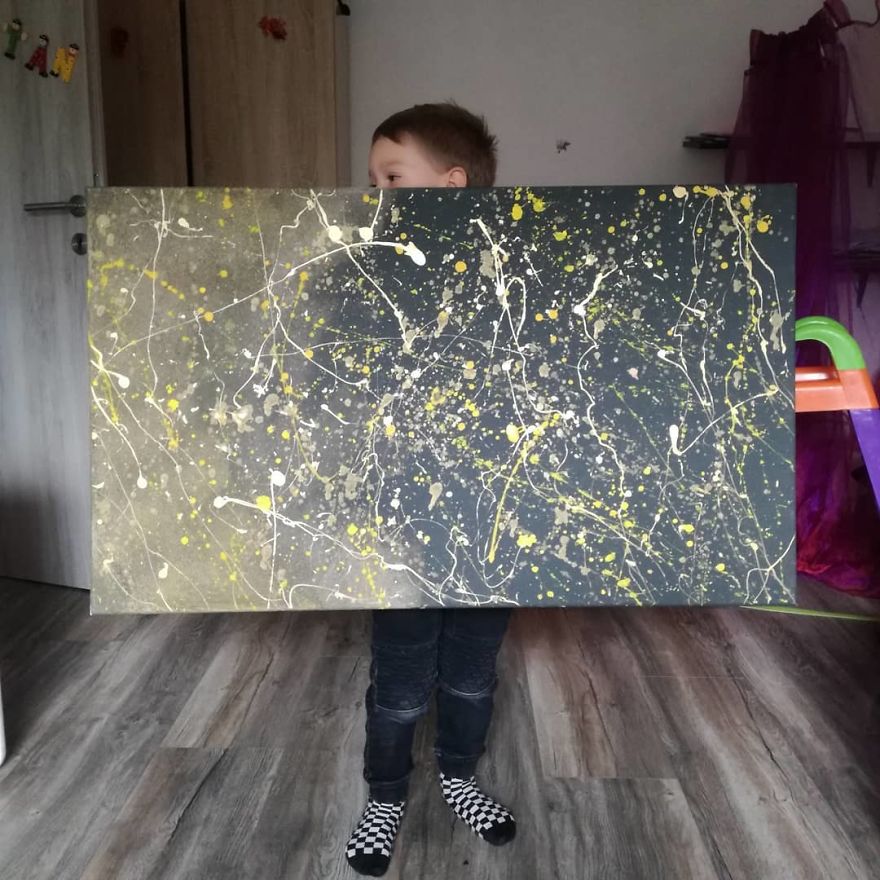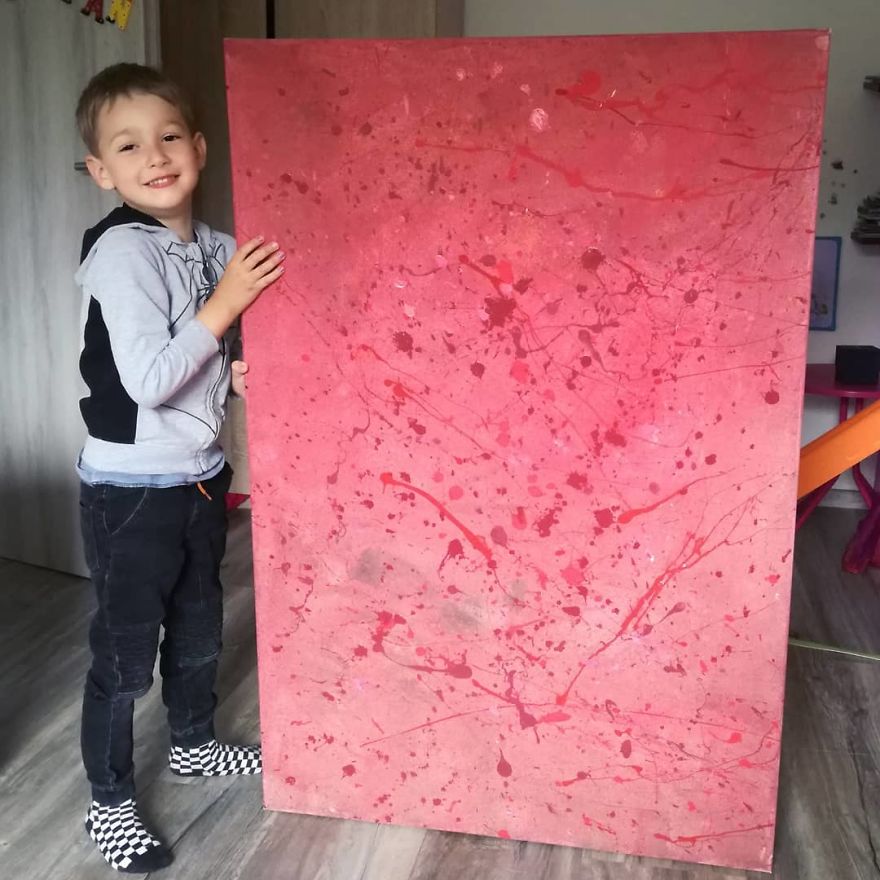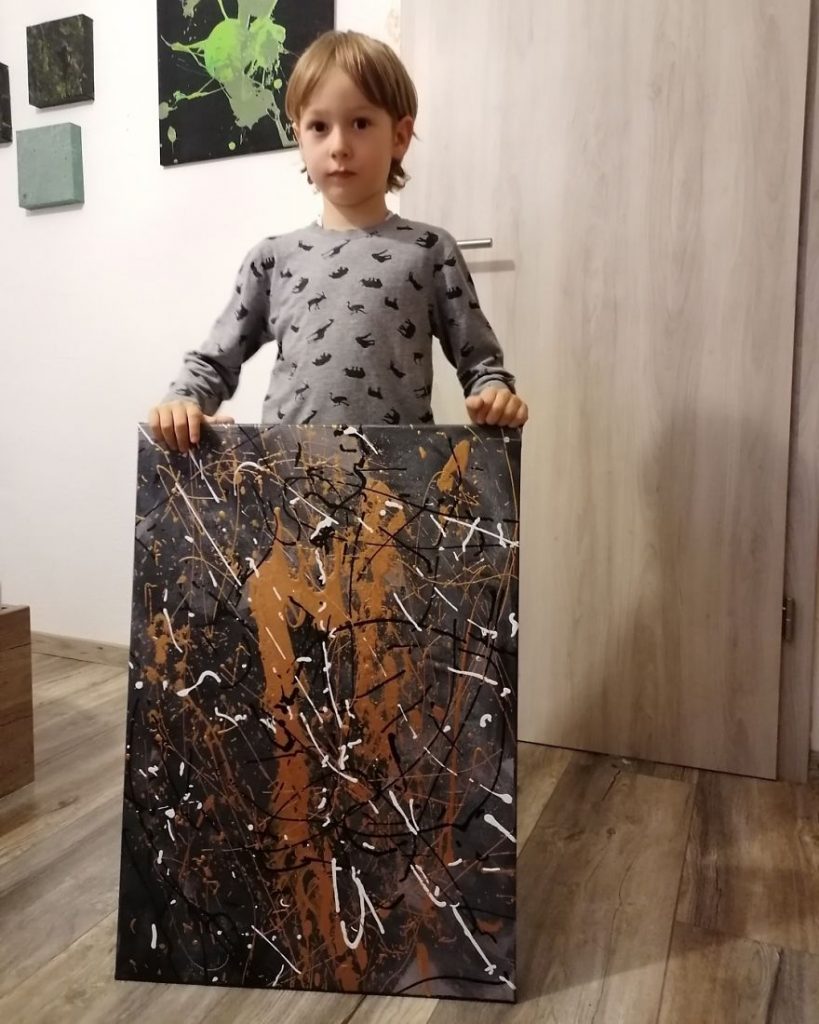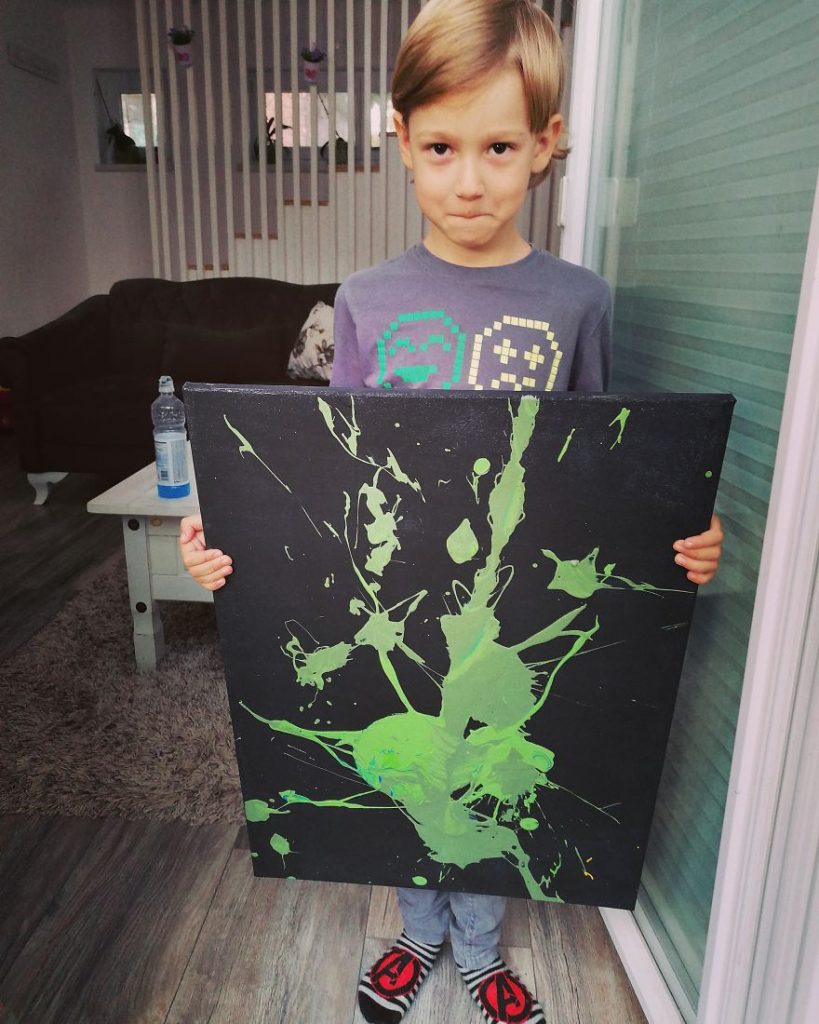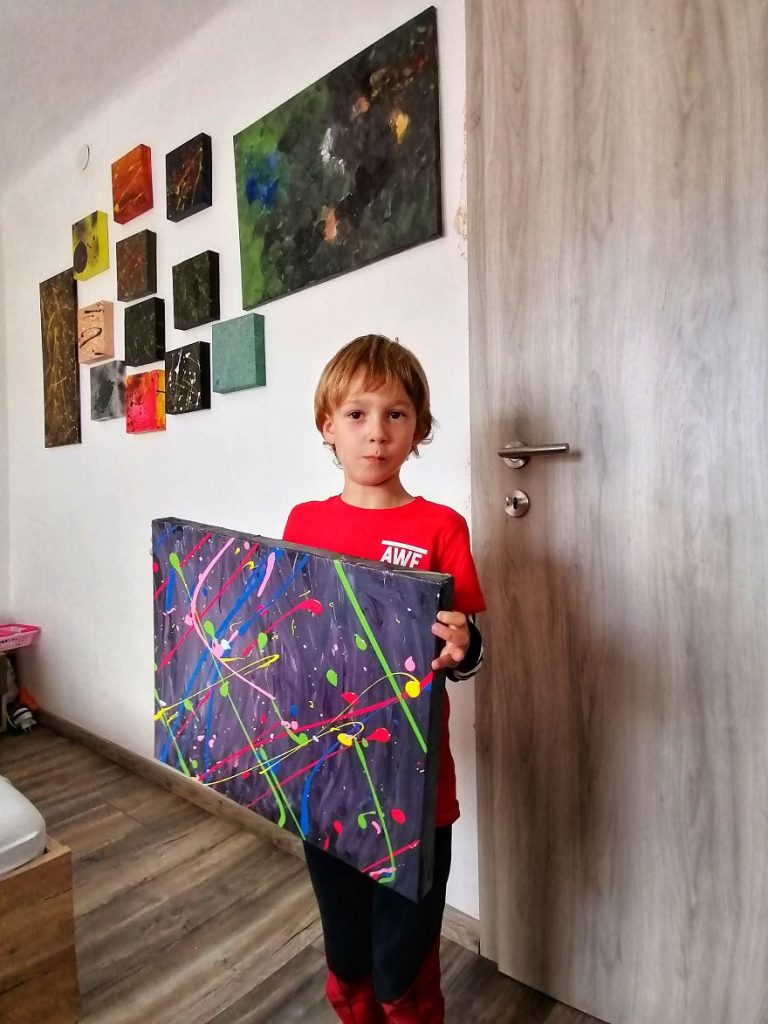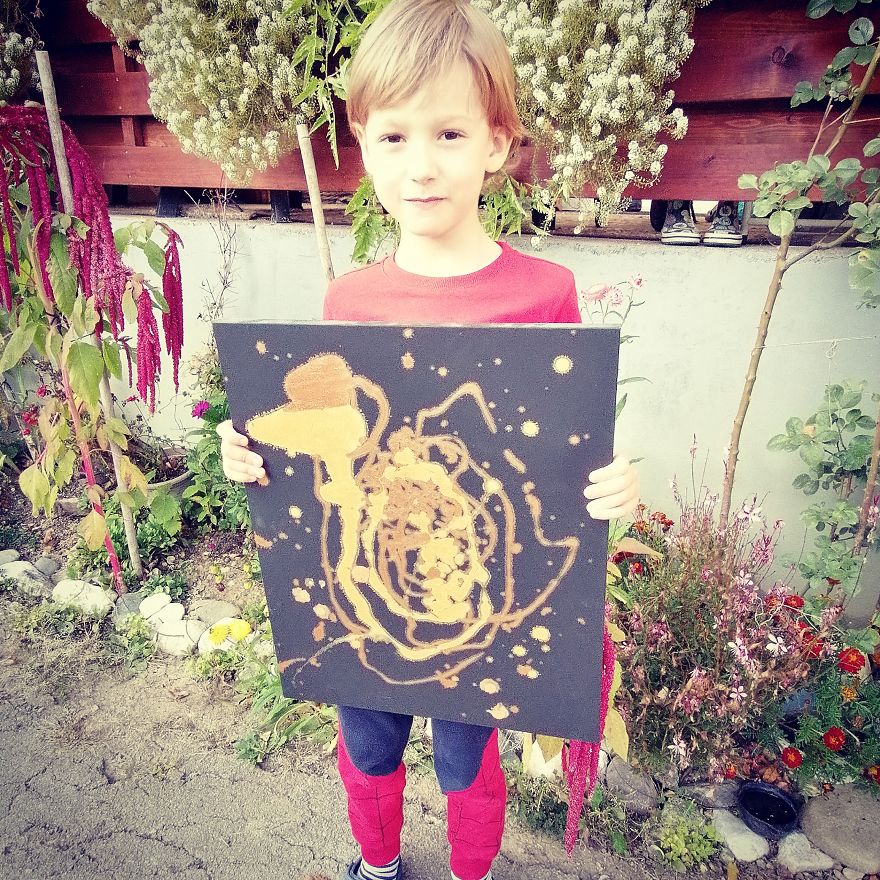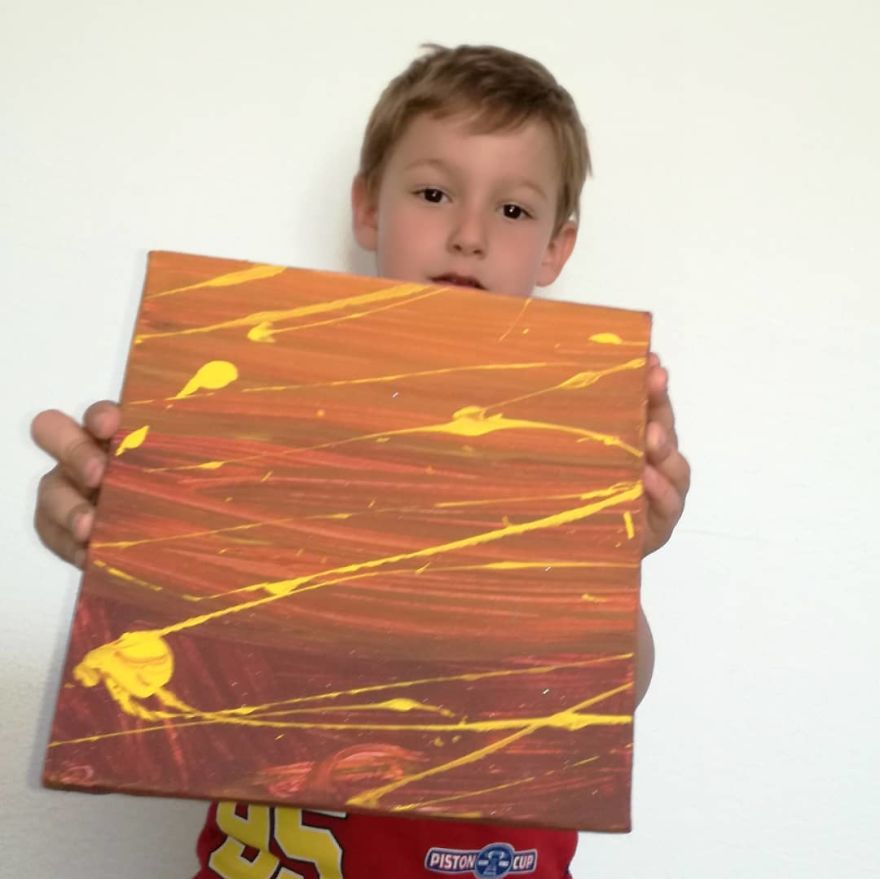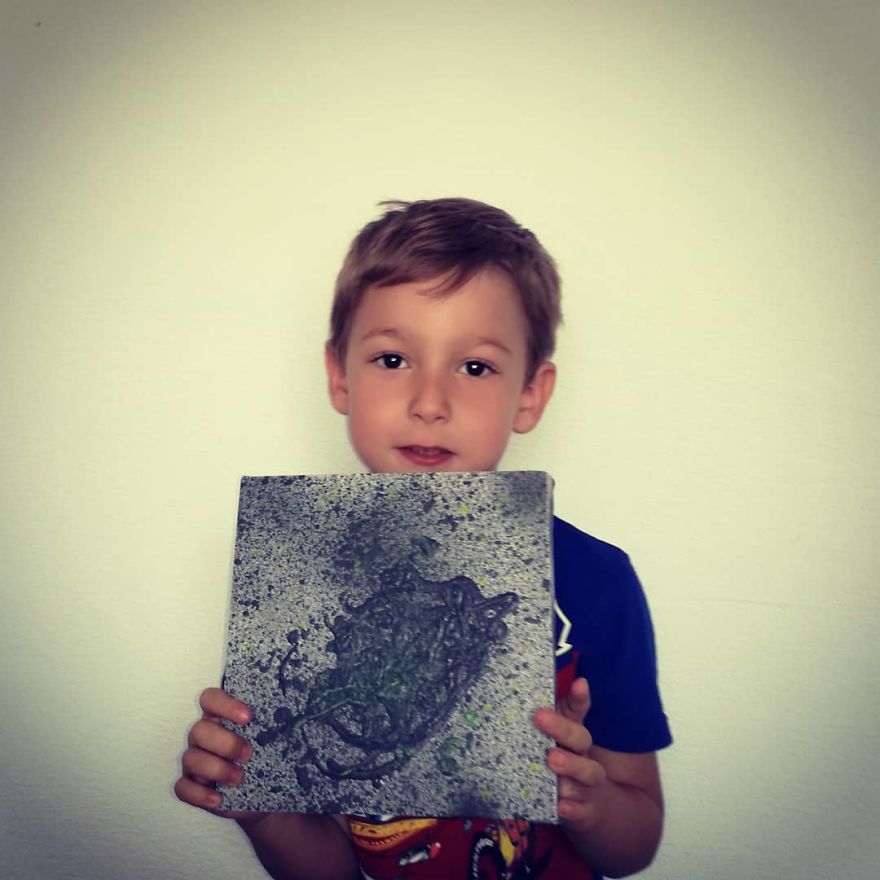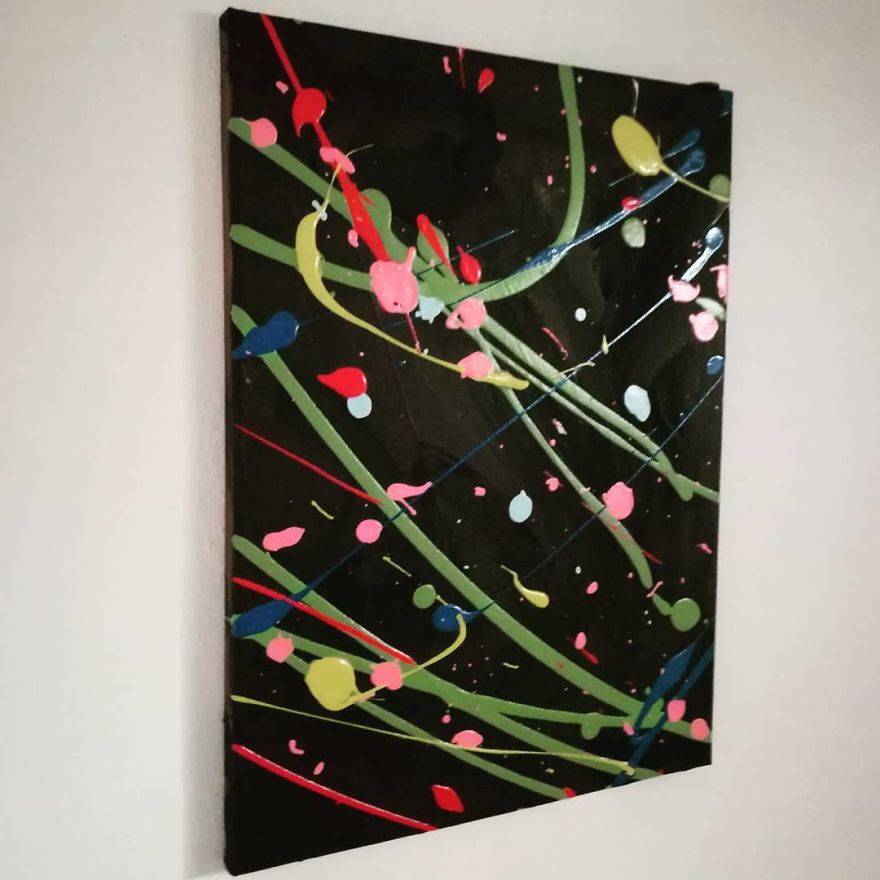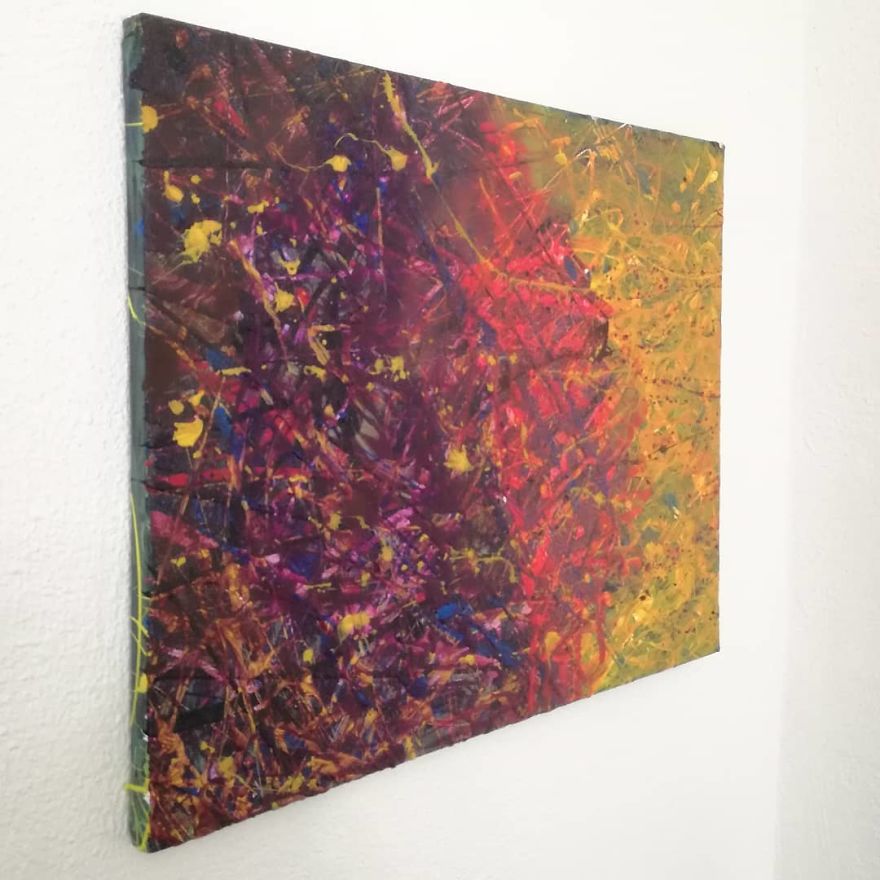 For more information please visit the following link:
https://www.boredpanda.com/boy-with-autism-paintings-tristan/