PBS News: May 15 – 19, 2020
Al Jazeera English | Live
 DW News Livestream | Latest news and breaking stories, and Autopsies reveal: Coronavirus is more than a lung infection | COVID-19 Special
 Roylab Stats: [LIVE] Coronavirus Pandemic: Real Time Counter, World Map, News
 Google News: Coronavirus disease (COVID-19) information
The New York Times:   The Morning May 20, 2020 and A drive-by art show
BoredPanda: 10-Year-Old Designs A Plastic Curtain to Be Able to Hug Her Grandparents Safely During Quarantine
PBS NewsHour full episode, May 19, 2020
May 19, 2020  PBS NewsHour
Tuesday on the NewsHour, the Senate is divided over when to provide additional coronavirus aid — and to whom. Plus: Sens. Pat Toomey and Sherrod Brown on federal pandemic relief, California Gov. Gavin Newsom on COVID-19 trends in his state, coronavirus infections surge in Russia, grappling with COVID-19 in the most vulnerable facilities, and a NewsHour Bookshelf choice that seems to echo reality. WATCH TODAY'S SEGMENTS Senate divided over providing more coronavirus relief https://www.youtube.com/watch?v=jVxqS… Sen. Toomey on the need to get Americans back to work https://www.youtube.com/watch?v=to4Zz… Sen. Brown on the risk of new workplace COVID-19 outbreaks https://www.youtube.com/watch?v=XeRaN… News Wrap: India, Bangladesh brace for tropical cyclone https://www.youtube.com/watch?v=4JgI5… Newsom: Calif. reopening based on 'evidence, not ideology' https://www.youtube.com/watch?v=hElKa… In Russia, doctors treating COVID-19 pay a deadly price https://www.youtube.com/watch?v=4fmEJ… COVID-19 highlights systemic flaws of U.S. nursing homes https://www.youtube.com/watch?v=83cew… Lawrence Wright's prescient novel about a global pandemic https://www.youtube.com/watch?v=k3zcK… Stream your PBS favorites with the PBS app: https://to.pbs.org/2Jb8twG Find more from PBS NewsHour at https://www.pbs.org/newshour Subscribe to our YouTube channel: https://bit.ly/2HfsCD6
PBS NewsHour full episode, May 18, 2020
May 18, 2020  PBS NewsHour
Monday on the NewsHour, President Trump announces he is taking a controversial drug unproven to treat COVID-19 as more states lift their restrictions. Plus: How U.S.-China tensions are affecting the global pandemic response, a medical view of when and how to reopen, the firing of a State Department watchdog, college admissions tests during COVID-19, Politics Monday and singing the pandemic blues. WATCH TODAY'S SEGMENTS As states reopen, Trump says he's taking hydroxychloroquine https://www.youtube.com/watch?v=zUeDj… U.S.-China tensions take center stage at WHO summit https://www.youtube.com/watch?v=cRyp6… News Wrap: FBI says Pensacola gunman tied to al-Qaida https://www.youtube.com/watch?v=7pzF9… How to apply lessons from health care workers to daily life https://www.youtube.com/watch?v=eZ1Yy… Trump's 'highly unusual' politicization of government IGs https://www.youtube.com/watch?v=vYnfi… What does COVID-19 mean for college admissions? https://www.youtube.com/watch?v=RFwqm… Tamara Keith and Amy Walter on Obama speaking out https://www.youtube.com/watch?v=FGsD7… Why this blues musician is now playing for an audience of 1 https://www.youtube.com/watch?v=fUNg9… Stream your PBS favorites with the PBS app: https://to.pbs.org/2Jb8twG Find more from PBS NewsHour at https://www.pbs.org/newshour Subscribe to our YouTube channel: https://bit.ly/2HfsCD6
https://www.youtube.com/watch?v=qxiUwjnGMGc
PBS NewsHour Weekend full episode May 17, 2020
May 17, 2020  PBS NewsHour
On this edition for Sunday, May 17, more stay-at-home orders are lifted and businesses start to reopen, concerns over COVID-19 as the Keystone pipeline construction continues, children's literary titles reimagined for pandemic times, and a Chicago photographer captures the faces behind shuttered businesses. Hari Sreenivasan anchors from New York. Stream your PBS favorites with the PBS app: https://to.pbs.org/2Jb8twG Find more from PBS NewsHour at https://www.pbs.org/newshour Subscribe to our YouTube channel: https://bit.ly/2HfsCD6
https://www.youtube.com/watch?v=3b1YAfJMhQI
PBS NewsHour Weekend full episode May 16, 2020
May 16, 2020  PBS NewsHour
On this edition for Saturday, May 16, several states ease restrictions on businesses and public life, and how the pandemic is complicating the hard-fought voting rights for former felons. Also, a rare visit to Rose Atoll in American Samoa where scientists are studying the impact of climate change. Hari Sreenivasan anchors from New York. Stream your PBS favorites with the PBS app: https://to.pbs.org/2Jb8twG Find more from PBS NewsHour at https://www.pbs.org/newshour Subscribe to our YouTube channel: https://bit.ly/2HfsCD6
PBS NewsHour full episode, May 15, 2020
May 15, 2020  PBS NewsHour
Friday on the NewsHour, the U.S. House considers another round of coronavirus relief, but it could face major opposition. Plus: An inflammatory response in some children exposed to COVID-19, Bangladesh braces for the pandemic, investigating sexual assault allegations against former Vice President Joe Biden, the analysis of Mark Shields and David Brooks, in memoriam and messages for graduates. WATCH TODAY'S SEGMENTS Trump vows return to business, 'vaccine or no vaccine' https://www.youtube.com/watch?v=k4QCL… News Wrap: Khalilzad blames hospital attack on Islamic State https://www.youtube.com/watch?v=wMeq7… Why do some kids develop inflammatory response to COVID-19? https://www.youtube.com/watch?v=gbk50… Bangladesh confronts dual challenges of poverty, pandemic https://www.youtube.com/watch?v=y6j5i… What we learned about Biden's Senate offices in the 1990s https://www.youtube.com/watch?v=QrKNA… Shields and Brooks on Tara Reade allegations, Burr probe https://www.youtube.com/watch?v=344Oi… Mourning 5 people killed by COVID-19 https://www.youtube.com/watch?v=mba1s… Commencement messages for graduates in an age of uncertainty https://www.youtube.com/watch?v=K5yHF… Stream your PBS favorites with the PBS app: https://to.pbs.org/2Jb8twG Find more from PBS NewsHour at https://www.pbs.org/newshour Subscribe to our YouTube
channel: https://bit.ly/2HfsCD6
https://www.youtube.com/watch?v=2EppLNonncc&feature=emb_rel_err
Al Jazeera English | Live
@Al Jazeera English, we focus on people and events that affect people's lives. We bring topics to light that often go under-reported, listening to all sides of the story and giving a 'voice to the voiceless'. Reaching more than 270 million households in over 140 countries across the globe, our viewers trust Al Jazeera English to keep them informed, inspired, and entertained. Our impartial, fact-based reporting wins worldwide praise and respect. It is our unique brand of journalism that the world has come to rely on. We are reshaping global media and constantly working to strengthen our reputation as one of the world's most respected news and current affairs channels. Subscribe to our channel: http://bit.ly/AJSubscribe Follow us on Twitter: https://twitter.com/AJEnglish Find us on Facebook: https://www.facebook.com/aljazeera Check our website: http://www.aljazeera.com/ #AlJazeeraEnglish #BreakingNews #AlJazeeraLive
Category  News & Politics
https://www.youtube.com/watch?v=NvqKZHpKs-g
DW News Livestream | Latest news and breaking stories
Started streaming on Jan 21, 2019  DW News
DW News goes deep beneath the surface, providing the key stories from Europe and around the world. Exciting reports and interviews from the worlds of politics, business, sports, culture and social media are presented by our DW anchors in 15-, 30- and 60-minute shows. Correspondents on the ground and experts in the studio deliver detailed insights and analysis of issues that affect our viewers around the world. We combine our expertise on Germany and Europe with a special interest in Africa and Asia while keeping track of stories from the rest of the world. Informative, entertaining and up-to-date – DW News, connecting the dots for our viewers across the globe. Deutsche Welle is Germany's international broadcaster. We convey a comprehensive image of Germany, report events and developments, incorporate German and other perspectives in a journalistically independent manner. By doing so we promote understanding between cultures and peoples. #dwNews #LiveNews #NewsToday
Category  News & Politics
[LIVE] Coronavirus Pandemic: Real Time Counter, World Map, News
Started streaming 15 hours ago   Roylab Stats
Coronavirus Live Streaming: Breaking news, world Map and live counter on confirmed cases and recovered cases. I started this live stream on Jan 26th, and since Jan 30th I have been streaming this without stopping. Many people are worried about the spread of coronavirus. For anyone that wants to know the real-time progression of the worldwide spread of this virus, I offer this live stream. The purpose is not to instill fear or panic, nor is it to necessarily comfort; I just want to present the data to help inform the public of the current situation. The purpose of this stream is to show basic information and data to understand the situation easily. For detail information, please visit our reference sites.
Google News: Coronavirus disease (COVID-19) information
https://news.google.com/covid19/map?hl=en-US&gl=US&ceid=US:en
Cases
Sorted by Confirmed in descending order
Location
Confirmed
Cases per 1M people
Recovered
Deaths
New cases (last 60 days)
Worldwide
4,931,057
634
1,710,337
324,240
United States
1,559,750
4,733
297,628
92,333
Russia
308,705
2,104
85,392
2,972
Brazil
275,382
1,303
106,794
18,130
United Kingdom
248,293
3,737
—
35,704
Spain
232,555
4,937
150,376
27,888
Italy
227,364
3,774
132,282
32,330
Germany
177,827
2,139
155,614
8,193
Turkey
152,587
1,835
113,987
4,222
France
143,845
2,145
63,354
28,132
Iran
126,949
1,523
98,808
7,183
India
106,750
78
42,298
3,303
Peru
99,483
3,096
36,524
2,914
Mainland China
82,965
59
78,244
4,634
Canada
80,081
2,109
40,670
6,027
Saudi Arabia
59,854
1,749
31,634
329
Belgium
55,983
4,858
14,847
9,150
Mexico
54,346
429
37,325
5,666
Chile
53,616
2,806
22,504
544
Pakistan
45,898
209
13,101
985
Netherlands
44,447
2,547
—
5,748
Qatar
35,606
12,960
5,634
15
Ecuador
34,151
1,956
3,433
2,839
Belarus
32,426
3,445
11,415
179
Sweden
31,523
3,051
4,971
3,831
Switzerland
30,618
3,566
27,700
1,614
Portugal
29,432
2,864
6,431
1,247
Singapore
29,364
5,148
11,207
22
Bangladesh
25,121
149
4,993
370
United Arab Emirates
25,063
2,534
10,791
227
Ireland
24,315
4,941
19,470
1,571
Poland
19,569
510
7,903
953
Ukraine
19,230
459
5,955
564
Indonesia
19,189
72
4,575
1,242
Romania
17,387
896
10,356
1,141
South Africa
17,200
293
7,960
312
Colombia
16,935
343
4,050
613
Kuwait
16,764
3,793
4,681
121
Israel
16,650
1,814
13,299
277
Japan
16,433
130
12,286
784
Source:Wikipedia·  About this data  Description
Coronavirus disease (COVID-19) is an infectious disease caused by a new virus.
The disease causes respiratory illness (like the flu) with symptoms such as a cough, fever, and in more severe cases, difficulty breathing. You can protect yourself by washing your hands frequently, avoiding touching your face, and avoiding close contact (1 meter or 3 feet) with people who are unwell.
HOW IT SPREADS
Coronavirus disease spreads primarily through contact with an infected person when they cough or sneeze. It also spreads when a person touches a surface or object that has the virus on it, then touches their eyes, nose, or mouth.
For informational purposes only. Consult your local medical authority for advice.
Source: World Health OrganizationLearn more
Resources from Google

Google tools and resources to help you stay informed and connected
Autopsies reveal: Coronavirus is more than a lung infection | COVID-19 Special
May 15, 2020  DW News
Coronavirus is more than just a lung infection. From the first known instance of Covid-19 nearly half a year ago in the Chinese city of Wuhan medical scientists are still learning all the ways the virus can cause harm. A research team at New York's Irving Medical Center says it has never seen so many extreme, abnormal cases. In a new study, scientists say that thromboses and pulmonary embolisms were frequently found in the deceased, something intensive care medics have already suspected. Intensive care medics from China, North America, and Europe are seeing more and more thromboses caused by blood clots. These blood clots are not just dangerous for a patient's limbs. They can break away and affect the lungs, the heart, or the brain in the form of pulmonary embolisms, heart attacks, or strokes. Subscribe: https://www.youtube.com/user/deutsche… For more news go to: http://www.dw.com/en/ Follow DW on social media: ?Facebook: https://www.facebook.com/deutschewell… ?Twitter: https://twitter.com/dwnews ?Instagram: https://www.instagram.com/dw_stories/ Für Videos in deutscher Sprache besuchen Sie: https://www.youtube.com/channel/deuts…
Category  News & Politics
The New York Times   The Morning May 20, 2020
Good morning. Virus cases are surging in France and Iran. The U.S. is deporting children. And colleges are reopening. Let's start with the debate over stimulus.
A struggling stimulus program
There have clearly been problems with the business loan programs in the federal government's coronavirus stimulus.
Many companies, especially small businesses, have struggled to get loans. And in a high-profile hearing yesterday, several senators criticized Jerome Powell, the Federal Reserve chair, and Steven Mnuchin, the Treasury secretary, for those problems.
More quietly, though, there also seems to be a growing recognition in Congress — among members of both parties — that the execution of the stimulus program hasn't been the main problem. The design of the program has been.
Much of the rest of the world — including Australia, Britain, Canada, France, Germany and South Korea — has followed one strategy on coronavirus stimulus. Governments have temporarily paid the salaries of workers in order to prevent millions of layoffs.
The United States has taken a different path. It created a complicated mix of different stimulus policies, including loans to businesses and checks for families. This approach doesn't appear to be working: The U.S. has had a sharper rise in unemployment than other countries. Many jobless Americans have also lost their health insurance — in the midst of a pandemic.
Now Congress may be on the verge of changing its approach.
The stimulus bill that House Democrats passed last week includes a new paycheck subsidy program, similar to those in other countries. For businesses that have lost substantial revenue, it would cover — as grants, not loans — as much as 80 percent of payroll costs, up to $60,000 per worker in annual salary. The policy would be expensive, yet still cheaper than the previous stimulus plans.
The bill is only one sign of the idea's growing popularity. Yesterday, almost 100 House Democrats introduced a more ambitious version of the program. And senators across the ideological spectrum — from Josh Hawley (a Missouri Republican) on the right to Doug Jones (an Alabama Democrat) in the center to Bernie Sanders (you know who he is) on the left — are pushing their own versions of the plans.
Janet Yellen, the former Fed chair, has praised the idea as a "smart, quick and effective way to channel aid to workers through their firms."
It's still not clear what will happen. Mitch McConnell, the Senate Republican leader, continues to speak skeptically about the need for any further stimulus. Regardless, any bill is likely to be more diffuse and complex than the approach of other countries, and any paycheck subsidy is likely to be less ambitious.
But the U.S. may soon be moving in the direction of those other countries.
FOUR MORE BIG STORIES
1.              Spikes in new virus cases in Iran and France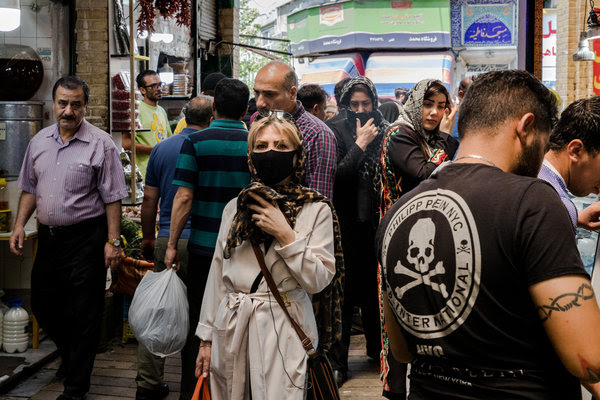 A crowded street in Tehran.Arash Khamooshi for The New York Times
Two countries are facing challenges after starting to reopen. French authorities shut some schools just a week after many students returned because of a spike in new cases. France's education minister said that some new cases were "inevitable" and added, "The consequences of not going back to school are much more serious."
In Iran, weeks after leaders began easing coronavirus restrictions to help the economy, cases are spiking in eight provinces. Health experts attributed the resurgence to the country's reopening before cases were consistently falling and before Iran had established widespread testing and contact tracing.
A long read: When you have some extra time, I recommend a New Yorker article, by Dexter Filkins, on Iran. It's a good way to understand the broader political turmoil there.
2. The U.S. is deporting children
American authorities have deported hundreds of migrant children and teenagers, without giving them the opportunity to speak to a social worker or to plead for asylum, The Times's Caitlin Dickerson reports. Some children are being deported in the middle of night, without their families being notified.
In expelling the children, the Trump administration is abandoning protections that both Democratic and Republican presidents have granted to young migrants for decades. Federal officials are justifying the practices under a 1944 law that grants the president broad power to prevent the "serious threat" of a dangerous disease.
Live music lives on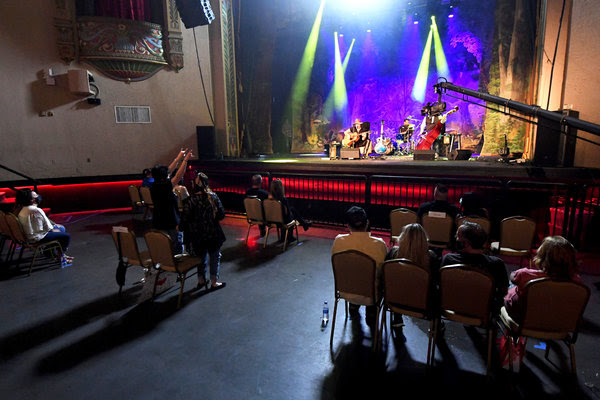 Travis McCready on stage during the first socially-distanced concert in Ft. Smith, Ark.Kevin Mazur/Getty Images
On Monday, fans of the country musician Travis McCready experienced the nation's first live concert in months. Some drove for hours to attend the Arkansas show, where they had their temperatures taken and wore masks. Four of every five seats were kept empty. The show offered a preview of what live music might look like for the foreseeable future.
BoredPanda:10-Year-Old Designs A Plastic Curtain To Be Able To Hug Her Grandparents Safely During Quarantine
Andželika Jasevi?i?t?   BoredPanda staff
To protect our loved ones from COVID-19, especially those who are in the risk group, we are forced to keep a distance from them. This means that we cannot even visit them for a brief minute and must refrain from hugs and kisses. However, we all know that nothing feels better than a hug from your grandparents, so a smart girl from Riverside created a walkaround.
This 10-year-old girl couldn't wait for social distancing to end so she could hug her grandparents
After seeing a video of someone making a blanket that intended to allow people to give hugs to their family members while keeping them safe from the coronavirus, the 10-year-old girl, Paige, got an idea.
So she decided to create a curtain that allows to safely embrace them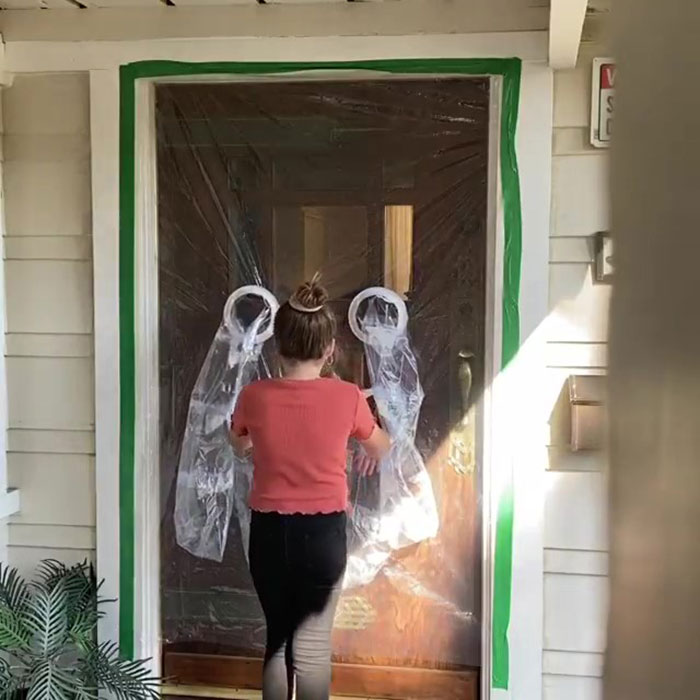 She decided to construct a safe curtain that has sleeves to allow two people to hug each other.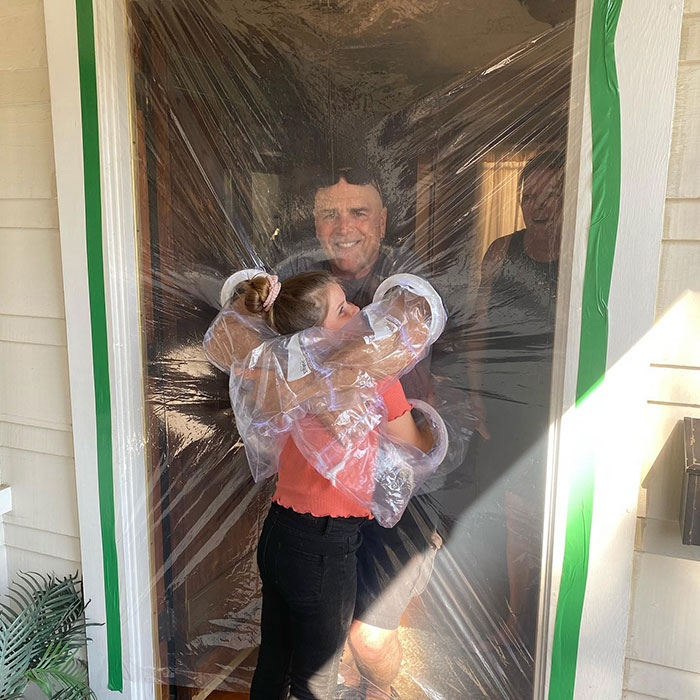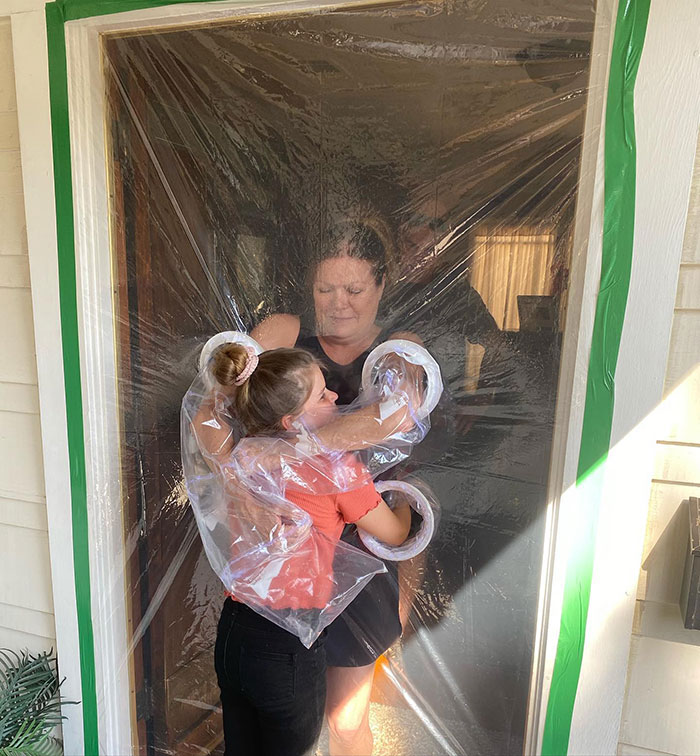 With this creation, Paige and other family members were able to embrace each other without the threat of the virus.
Watch the video of the beautiful moment
Top of Form
Like what you're reading? Subscribe to our top stories.
Bottom of Form
Follow Bored Panda on Google News!
For more information and video please visit the following link:
https://www.boredpanda.com/hug-curtain-grandparents-covid-19-lockdown/?utm_source=newsletter&utm_medium=email&utm_campaign=Newsletter
A Drive-By Art Show Turns Lawns and Garages Into Galleries
The outdoor exhibition on Long Island featured works installed at properties from Hampton Bays to Montauk, with social isolation as just one theme.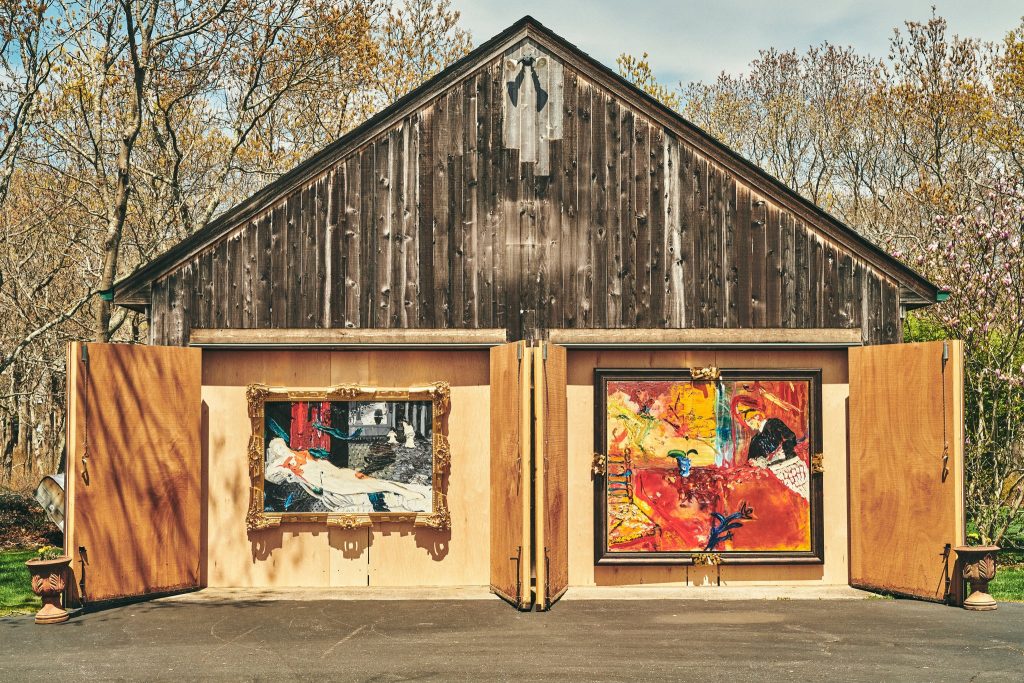 Paintings by Darius Yektai were part of the "Drive-By-Art" event. Its organizer, Warren Neidich, said the show grew out of the question: "How do we show empathy and solidarity in this new age?"Credit…Bryan Derballa for The New York Times
By Stacey Stowe  May 11, 2020
No one was supposed to get too close to each other over the weekend during a drive-by exhibition of works by 52 artists on the South Fork of Long Island — a dose of culture amid the sterile isolation imposed by the pandemic. But some people couldn't help themselves.
"At least this one looks like art," said one man, as he stepped out of a convertible BMW onto the driveway of a rustic home in Sag Harbor on Saturday. He and two others examined the paintings, a cheeky homage to old masters by Darius Yektai that were affixed to two-by-fours nailed to trees. "Not like the other stuff."
"The other stuff" was on display on the lawns, porches, driveways and garage doors at properties from Hampton Bays to Montauk, some from prominent artists and others by those lesser known. On a windy, blue-skied weekend, most people drove but others came on foot or by bicycle for the show, "Drive-By-Art (Public Art in This Moment of Social Distancing)."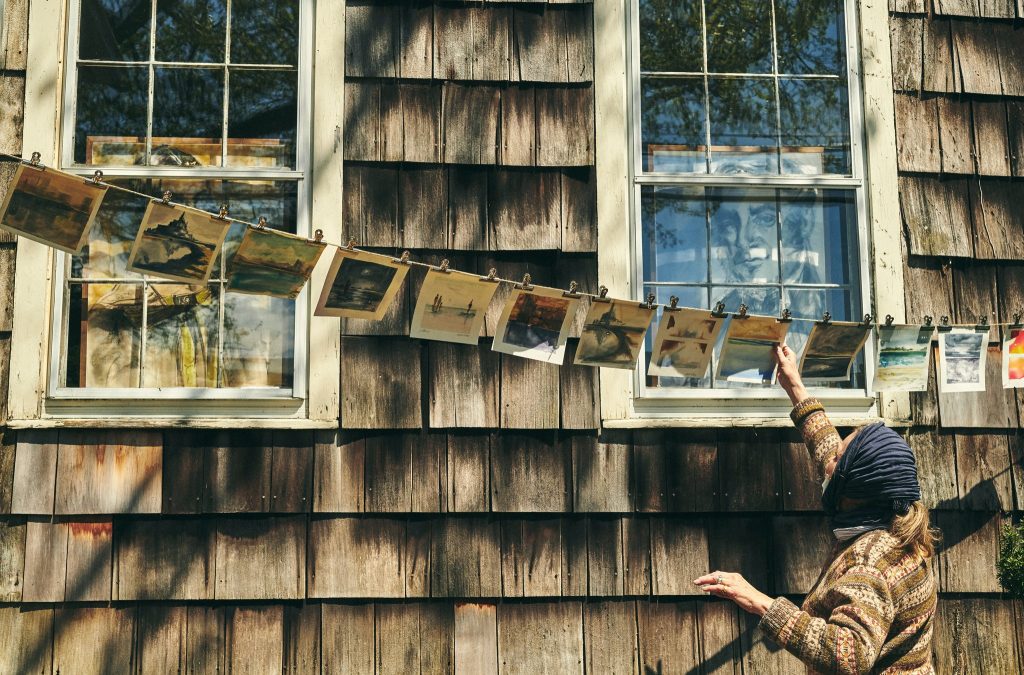 Sabina Streeter, in Sag Harbor, preparing for the show on the South Fork. She also had elegant portraits on her porch.Credit…Bryan Derballa for The New York Times
The exhibition was conceived by Warren Neidich, an artist and theorist who lives in Los Angeles and Berlin. He has also planned a drive-by exhibition in Los Angeles for Memorial Day weekend.
"How do we show empathy and solidarity in this new age that is lacking in emotional solidarity?" asked Mr. Neidich, who put the show together in less than three weeks while living in a Wainscott cottage. "I was feeling a need to find a way to revisit and create a new vocabulary."
The exhibition had a homespun air. Its signs, on thin yellow paper, sometimes pointed in the wrong direction. The map on the website lacked some detail; there was at least one mistaken address. But people showed up, some wearing masks, some not, in muddy pickup trucks and shiny S.U.V.s, sports cars and Subarus, snaking past the properties and looking, for a change, at something other than a television or computer screen.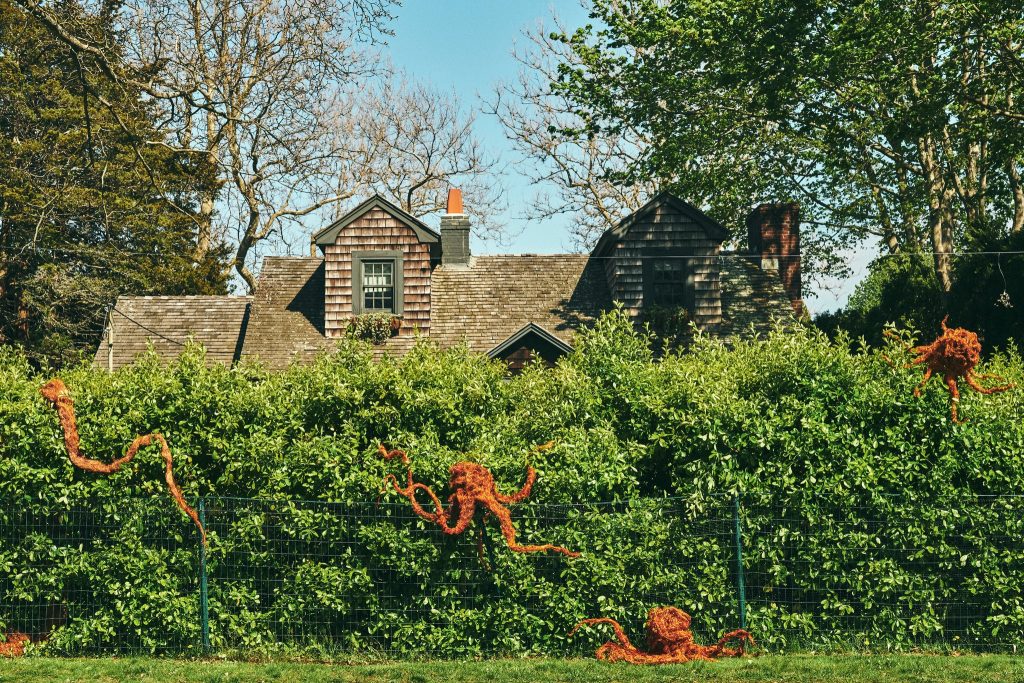 The sculptor Monica Banks winked at the signature hedges of the Hamptons with "Brains in Our Arms,"  steel wool octopuses positioned in her own hedge.Credit…Bryan Derballa for The New York Times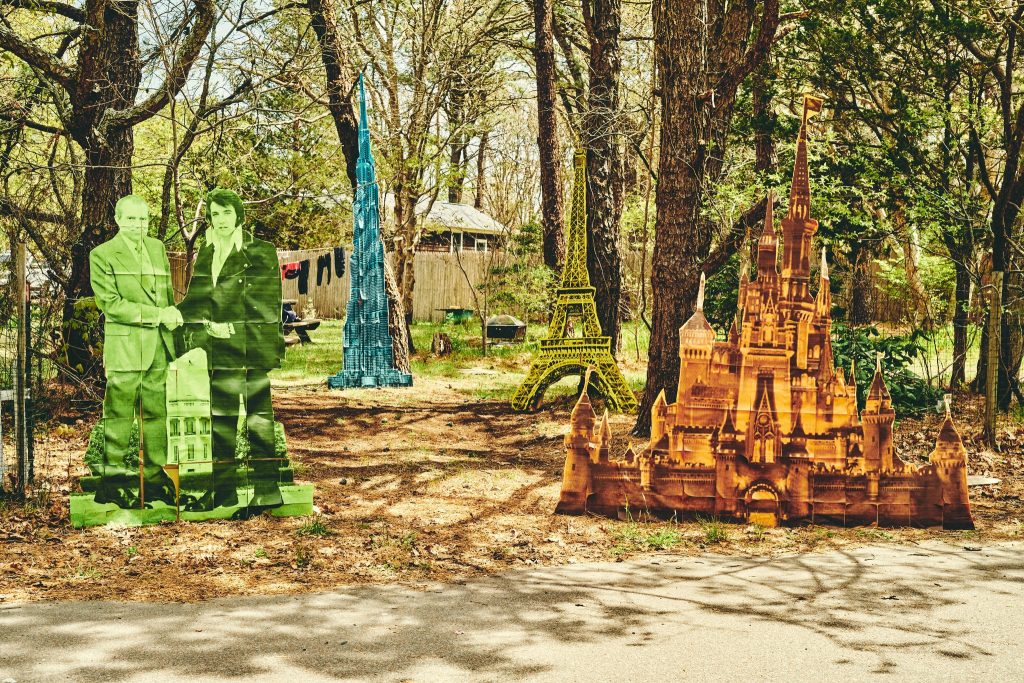 Jeremy Dennis's "Destinations," wood silhouettes with photocopied images of Disney World, the Eiffel Tower, and the meeting of Elvis and President Richard M. Nixon.Credit…Bryan Derballa for The New York Times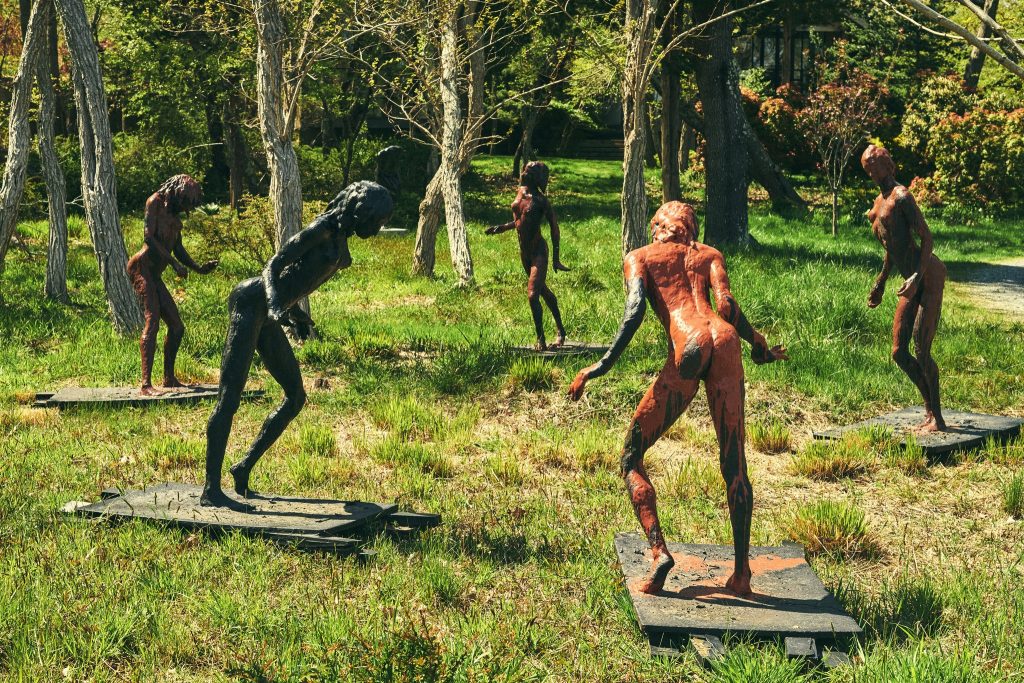 Eric Fischl's life-size sculptures of nymphs, titled "Young Dancers Dancing," amid a grove of trees at his home in Sag Harbor.Credit…Eric Fischl/Artists Rights Society (ARS), NY; Bryan Derballa for The New York Times
The artists included Jeremy Dennis, with a tart commentary on pop culture and politics with wood silhouettes papered over with images, like one of a meeting of Elvis and President Richard M. Nixon; the sculptor Monica Banks, whose work winked at the signature hedges of the Hamptons; and Joe Brondo, an interdisciplinary artist, who positioned three glowing orbs on the lawn of his East Hampton home. Under a chandelier strung from a tree, Dianne Blell presented "Table for Two/Separate Tables," with furniture set for a spaced-apart restaurant meal, and in the same vein, Toni Ross and her daughter Sara Salaway positioned folding chairs along a fence in Wainscott, with dates and words, making a calendar of social isolation.
Stripped of the imprimatur of a gallery wall or an august museum setting, the works stood alone for better or worse. Eric Fischl's life-size sculptures of nymphs dancing were amplified by a grove of trees in light leaf at his home in Sag Harbor, while a lone piece of driftwood propped on a driveway and painted by Joan Jonas to mark off six feet stood forlornly.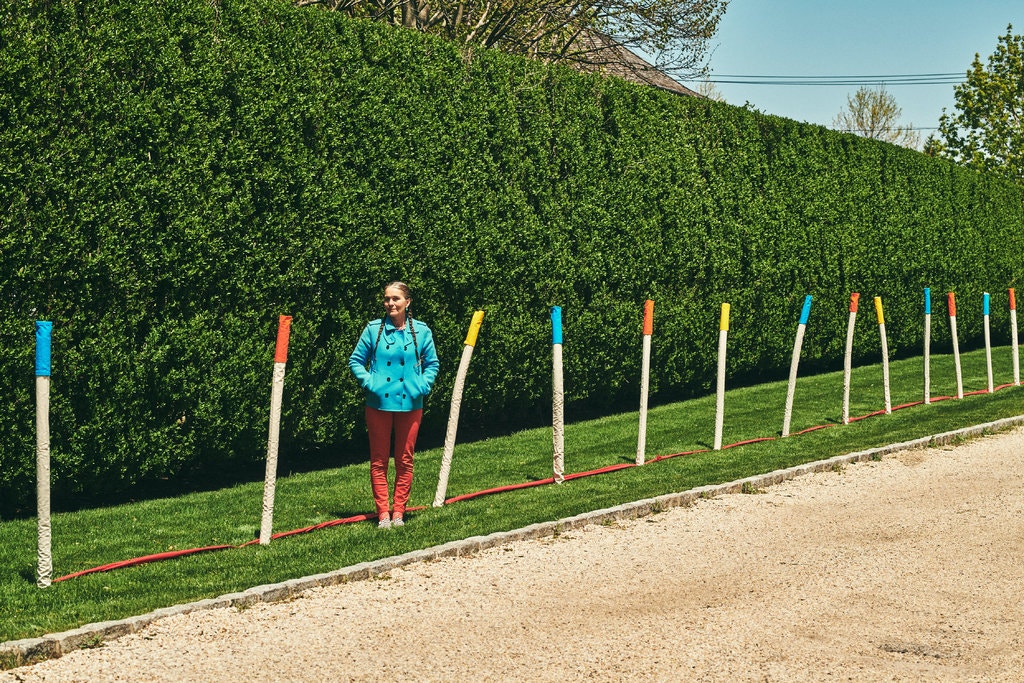 Bastienne Schmidt with her work "Grids and Threads" (2020), which has stakes six feet apart. She and her husband, Philippe Cheng, participated in the show.Credit…Bryan Derballa for The New York Times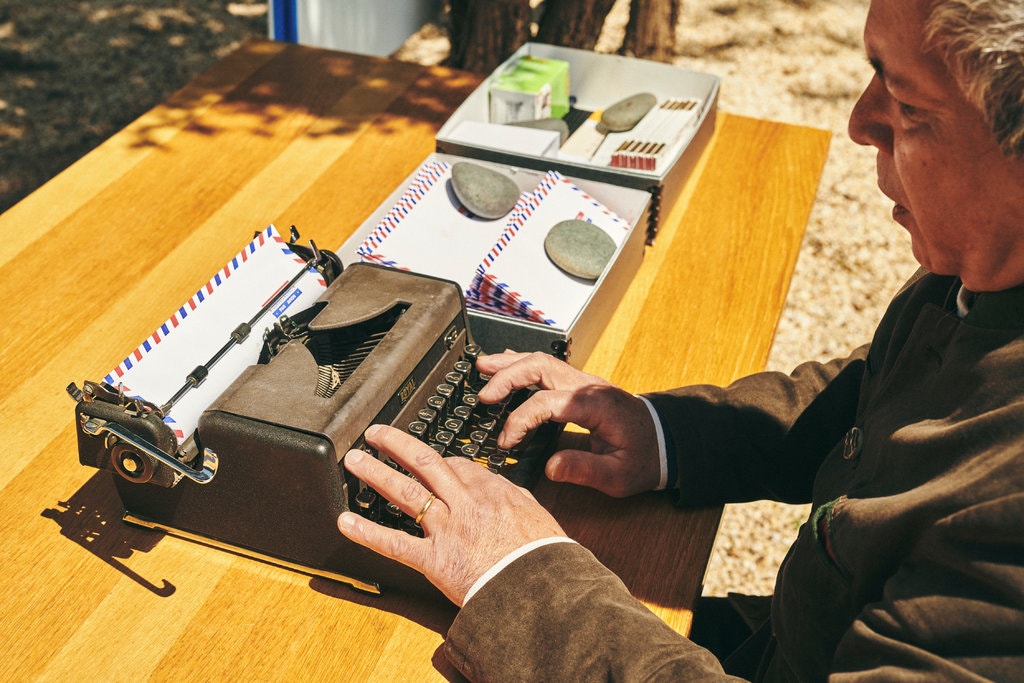 Mr. Cheng, working on "AirMail," in the "Drive-By-Art" event.Credit…Bryan Derballa for The New York Times
There was spontaneous interaction. The artist Bastienne Schmidt, dressed in a bright blue pea coat and red pants, waved to those who checked out her installation of canvas-wrapped posts set six feet apart at the Bridgehampton home she shares with her husband, the photographer Philippe Cheng. Kathryn McGraw Berry, an architect sampling the tour in a champagne-colored Audi, chatted with Eric Dever, who was checking the wind resistance of his 12 paintings mounted on posts at his 18th-century Water Mill home.
"It's nice seeing one's work in the landscape when you've been cooped up in the house," Mr. Dever said. "I grew up in Southern California so I appreciate the drive-through idea."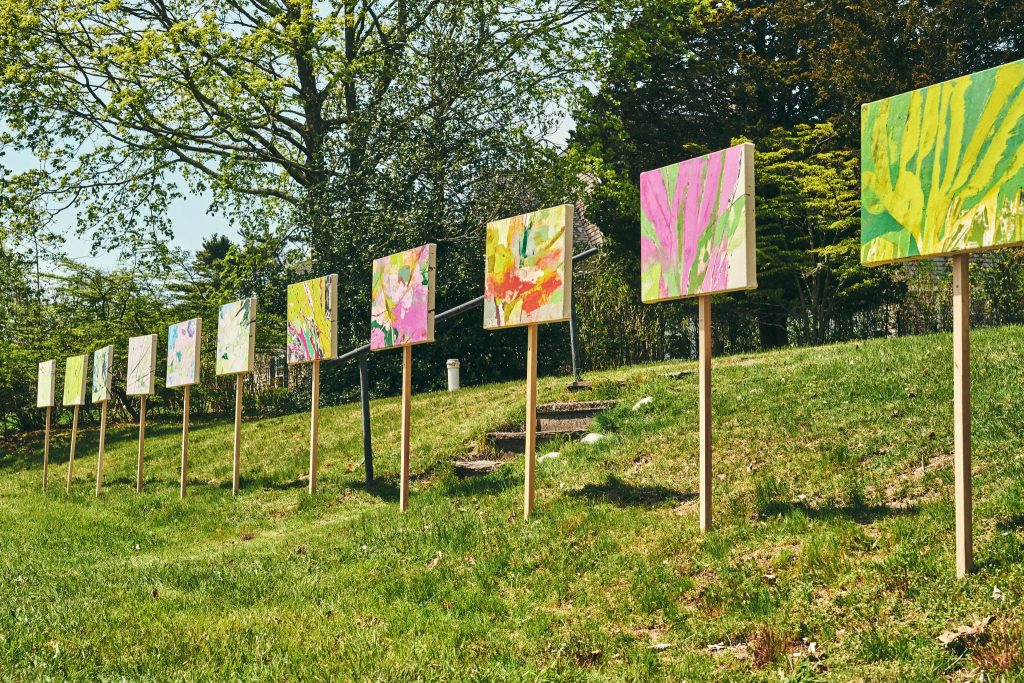 Eric Dever's "Áquas de Março (Waters of March)." "It's nice seeing one's work in the landscape when you've been cooped up in the house," he said. Credit…Bryan Derballa for The New York Times
At the East Hampton home of Suzanne Anker, an artist who established the Bio-Art Laboratory at the School of Visual Arts in New York, three illuminated, galvanized boxes of seedlings sat atop pedestals. The boxes are part of a series of 31 to create part of the light process that produces photosynthesis in plants.
She said she participated in the drive-by show to give people something to do while cultural institutions have been shut down. "It's a unique treasure trove where you follow the clues, see the art and see where artists live," she said. "There is a whole diversity of places and the kind of intimacy that you don't typically get to experience."