PBS News: June 10 – 12, 2020
Al Jazeera English | Live
 DW News Livestream | Latest news and breaking stories
 Roylab Stats: [LIVE] Coronavirus Pandemic: Real Time Counter, World Map, News
 Google News: Coronavirus disease (COVID-19) information
TED Talks: Shantell Martin How drawing can set you free?
The Washington Post: The Post Most and A photo essay from the last two weeks, but the quotes paired with them span 100 years By David Montgomery
PBS NewsHour full episode, June 12, 2020
Fundraiser
Jun 12, 2020  PBS NewsHour
Warning: Tonight's In Focus segment contains disturbing imagery. Friday on the NewsHour, the movement to eliminate symbols of the Confederacy continues to gain steam. Plus: NASCAR driver Bubba Wallace on changing his sport, how young Americans are approaching this pivotal moment in culture and society, the analysis of Mark Shields and David Brooks, remembering victims of the coronavirus and a look at photography's role in documenting social change. Support your local PBS station here: https://pbs.org/donate WATCH TODAY'S SEGMENTS News Wrap: Trump defends planned rally in Tulsa on June 19 https://www.youtube.com/watch?v=YvkgU… Is this the end for public monuments to the Confederacy? https://www.youtube.com/watch?v=SwHts… Driver Bubba Wallace on welcoming new fans to NASCAR https://www.youtube.com/watch?v=zYLd4… How Gen-Z is approaching this historic moment of change https://www.youtube.com/watch?v=ydG1W… Shields and Brooks on Americans' changing views of policing https://www.youtube.com/watch?v=6ycQM… Remembering 5 more victims of the coronavirus https://www.youtube.com/watch?v=4hTRf… The camera's role in documenting a critical social movement https://www.youtube.com/watch?v=HBhdk… Stream your PBS favorites with the PBS app: https://to.pbs.org/2Jb8twG Find more from PBS NewsHour at https://www.pbs.org/newshour Subscribe to our YouTube channel: https://bit.ly/2HfsCD6
PBS NewsHour full episode, June 11, 2020
Fundraiser
Jun 11, 2020  PBS NewsHour
Thursday on the NewsHour, the top U.S. military officer apologizes for joining President Trump in a controversial June 1 photo op amid protests in Washington, D.C. Plus: Unemployment in America, protests against racism extend beyond the U.S., the struggles of black-owned businesses, dealing with addiction during the pandemic, strengthening American democracy and community in New York's Chinatown. Support your local PBS station here: https://pbs.org/donate WATCH TODAY'S SEGMENTS How Gen. Mark Milley became a 'prop' during Trump photo op https://www.youtube.com/watch?v=wI-W8… News Wrap: COVID-19 cases continue to surge in Brazil, India https://www.youtube.com/watch?v=fvlxh… What latest jobs numbers say about a U.S. economic recovery https://www.youtube.com/watch?v=fuSj_… George Floyd catalyzes global movement for racial justice https://www.youtube.com/watch?v=fwof9… Pandemic highlights hardships black business owners face https://www.youtube.com/watch?v=r3B5n… How Americans' drinking habits have changed during pandemic https://www.youtube.com/watch?v=ArHTQ… Policy recommendations to strengthen American democracy https://www.youtube.com/watch?v=o4TBt… A Brief But Spectacular take on the Chinatown Block Watch https://www.youtube.com/watch?v=OdmsB… Stream your PBS favorites with the PBS app: https://to.pbs.org/2Jb8twG Find more from PBS NewsHour at https://www.pbs.org/newshour Subscribe to our YouTube channel: https://bit.ly/2HfsCD6
https://www.youtube.com/watch?v=TWojA5LyBtQ
PBS NewsHour full episode, June 10, 2020
Fundraiser
Jun 10, 2020  PBS NewsHour
Wednesday on the NewsHour, George Floyd's brother headlines a congressional hearing as lawmakers consider action to address police brutality and racial profiling. Plus: Voting chaos in the Georgia primary, Alabama's rising COVID-19 cases, the risks of reopening society amid coronavirus, grappling with a pandemic during the war in Syria and the therapeutic value of gardening in turbulent times. Support your local PBS station here: https://pbs.org/donate WATCH TODAY'S SEGMENTS How close is Congress to taking action on police brutality? https://www.youtube.com/watch?v=VhoZP… News Wrap: Ex-DOJ employees call for investigation of Barr https://www.youtube.com/watch?v=ndJ9W… What went wrong in Georgia's chaotic primary election? https://www.youtube.com/watch?v=ZRQhC… Why COVID-19 cases are rising in Alabama https://www.youtube.com/watch?v=Fq4XJ… What this global health expert sees in state COVID-19 surges https://www.youtube.com/watch?v=wMCDA… Syrians prepare for new battle with invisible foe: COVID-19 https://www.youtube.com/watch?v=yjq27… Disability advocates lobby for more support during pandemic https://www.youtube.com/watch?v=qGLDP… Landscape designer Piet Oudolf on the solace of gardening https://www.youtube.com/watch?v=aJo9Q… Stream your PBS favorites with the PBS app: https://to.pbs.org/2Jb8twG Find more from PBS NewsHour at https://www.pbs.org/newshour Subscribe to our YouTube channel: https://bit.ly/2HfsCD6
https://www.youtube.com/watch?v=2EppLNonncc
Al Jazeera English | Live
@Al Jazeera English, we focus on people and events that affect people's lives. We bring topics to light that often go under-reported, listening to all sides of the story and giving a 'voice to the voiceless'. Reaching more than 270 million households in over 140 countries across the globe, our viewers trust Al Jazeera English to keep them informed, inspired, and entertained. Our impartial, fact-based reporting wins worldwide praise and respect. It is our unique brand of journalism that the world has come to rely on. We are reshaping global media and constantly working to strengthen our reputation as one of the world's most respected news and current affairs channels. Subscribe to our channel: http://bit.ly/AJSubscribe Follow us on Twitter: https://twitter.com/AJEnglish Find us on Facebook: https://www.facebook.com/aljazeera Check our website: http://www.aljazeera.com/ #AlJazeeraEnglish #BreakingNews #AlJazeeraLive
Category  News & Politics
https://www.youtube.com/watch?v=NvqKZHpKs-g
DW News Livestream | Latest news and breaking stories
Started streaming on Jan 21, 2019  DW News
DW News goes deep beneath the surface, providing the key stories from Europe and around the world. Exciting reports and interviews from the worlds of politics, business, sports, culture and social media are presented by our DW anchors in 15-, 30- and 60-minute shows. Correspondents on the ground and experts in the studio deliver detailed insights and analysis of issues that affect our viewers around the world. We combine our expertise on Germany and Europe with a special interest in Africa and Asia while keeping track of stories from the rest of the world. Informative, entertaining and up-to-date – DW News, connecting the dots for our viewers across the globe. Deutsche Welle is Germany's international broadcaster. We convey a comprehensive image of Germany, report events and developments, incorporate German and other perspectives in a journalistically independent manner. By doing so we promote understanding between cultures and peoples. #dwNews #LiveNews #NewsToday
Category  News & Politics
[LIVE] Coronavirus Pandemic: Real Time Counter, World Map, News
Started streaming 15 hours ago   Roylab Stats
Coronavirus Live Streaming: Breaking news, world Map and live counter on confirmed cases and recovered cases. I started this live stream on Jan 26th, and since Jan 30th I have been streaming this without stopping. Many people are worried about the spread of coronavirus. For anyone that wants to know the real-time progression of the worldwide spread of this virus, I offer this live stream. The purpose is not to instill fear or panic, nor is it to necessarily comfort; I just want to present the data to help inform the public of the current situation. The purpose of this stream is to show basic information and data to understand the situation easily. For detail information, please visit our reference sites.
Google News: Coronavirus disease (COVID-19) information
https://news.google.com/covid19/map?hl=en-US&gl=US&ceid=US:en
Cases
Sorted by Confirmed in descending order
Location
Confirmed
Cases per 1M people
Recovered
Deaths
New cases (last 60 days)
Worldwide
7,410,510
953
—
418,294
United States
2,103,926
6,384
647,309
116,795
Brazil
832,866
3,941
427,610
42,055
Russia
520,129
3,544
274,641
6,829
India
308,993
227
154,330
8,884
United Kingdom
294,375
4,431
—
41,662
Spain
243,605
5,172
150,376
27,136
Italy
236,651
3,928
174,865
34,301
Peru
220,749
6,870
107,133
6,308
Germany
187,388
2,254
171,897
8,866
Iran
184,955
2,220
146,748
8,730
Turkey
176,677
2,125
150,087
4,792
Chile
167,355
8,759
—
3,101
France
156,813
2,338
72,808
29,389
Mexico
139,196
1,100
101,767
16,448
Pakistan
132,405
604
50,056
2,551
Saudi Arabia
123,308
3,604
82,548
932
Canada
98,373
2,590
59,334
8,106
Bangladesh
84,379
501
17,827
1,139
Mainland China
83,075
59
78,367
4,634
Qatar
78,416
28,543
55,252
70
South Africa
65,736
1,118
36,850
1,423
Belgium
59,918
5,199
16,547
9,650
Belarus
53,241
5,656
29,111
303
Sweden
50,931
4,929
—
4,874
Netherlands
48,640
2,787
—
6,057
Colombia
46,858
949
18,715
1,545
Ecuador
45,778
2,622
4,600
3,828
Egypt
42,980
429
11,529
1,484
United Arab Emirates
41,990
4,246
26,761
288
Singapore
40,197
7,048
28,808
26
Indonesia
37,420
140
13,776
2,091
Portugal
36,463
3,548
22,438
1,512
Kuwait
35,466
8,024
25,882
289
Switzerland
31,094
3,621
28,800
1,677
Ukraine
30,506
728
13,976
880
Poland
29,017
756
14,104
1,237
Argentina
28,751
640
8,730
785
Philippines
25,392
234
5,706
1,074
Ireland
25,295
5,140
23,213
1,705
Afghanistan
24,102
748
4,201
451
Dominican Republic
22,572
2,179
13,084
577
Romania
21,679
1,117
15,635
1,394
Panama
19,211
4,554
13,759
421
Iraq
18,950
484
7,515
549
Israel
18,876
2,056
15,319
300
Japan
17,382
138
15,580
924
Austria
17,078
1,918
16,012
677
Bolivia
16,929
1,476
2,431
559
Nigeria
15,181
74
4,891
399
Algeria
10,810
251
7,420
760
Honduras
8,132
888
844
306
Finland
7,087
1,282
6,200
325
Sudan
6,879
162
2,416
433
Hungary
4,064
416
2,476
559
Source:Wikipedia·
About this data
Description
Coronavirus disease (COVID-19) is an infectious disease caused by a new virus.
The disease causes respiratory illness (like the flu) with symptoms such as a cough, fever, and in more severe cases, difficulty breathing. You can protect yourself by washing your hands frequently, avoiding touching your face, and avoiding close contact (1 meter or 3 feet) with people who are unwell.
HOW IT SPREADS
Coronavirus disease spreads primarily through contact with an infected person when they cough or sneeze. It also spreads when a person touches a surface or object that has the virus on it, then touches their eyes, nose, or mouth.
For informational purposes only. Consult your local medical authority for advice.
Source: World Health OrganizationLearn more
Resources from Google

Google tools and resources to help you stay informed and connected
Who are you? To answer this question, artist Shantell Martin followed her pen. In this brilliantly visual talk featuring her signature freestyle line work — drawn across everything from the screens of Times Square to the bodies of New York City Ballet dancers — Martin shares how she found freedom and a new perspective through art. See how drawing can connect your heart to your hand and deepen your connection with the world.
This talk was presented at an official TED conference, and was featured by our editors on the home page.
ABOUT THE SPEAKER
Shantell Martin forges new connections between fine art, education, philosophy and technology to establish an environment that values artists as integral contributors to a healthy society.
MORE RESOURCES
Shantell Martin, Katharine Stout, Hans Ulrich Obrist
HENI Publishing (2020)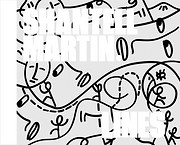 TAKE ACTION   LEARN
Learn how to draw with Shantell Martin.
TED 2020 | May 2020
The Washington Post    The Post Most    June 11, 2020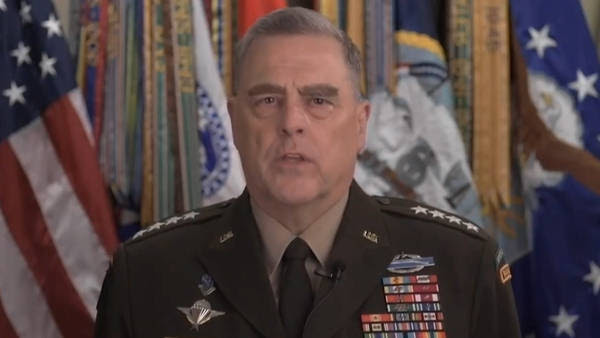 (National Defense University)
A photo essay from the last two weeks, but the quotes paired with them span 100 years By David Montgomery
From the Magazine ?  By David Montgomery ?  Read more »
https://www.washingtonpost.com/graphics/2020/lifestyle/magazine/the-endless-call-for-racial-equity-and-justice-in-photos-and-quotes/?utm_campaign=wp_post_most&utm_medium=email&utm_source=newsletter&wpisrc=nl_most
The Endless Call
Demands for racial equity and justice have always been part of the American story.
While the images here span the past two weeks, the words paired with them span the past 100 years.
Turn music on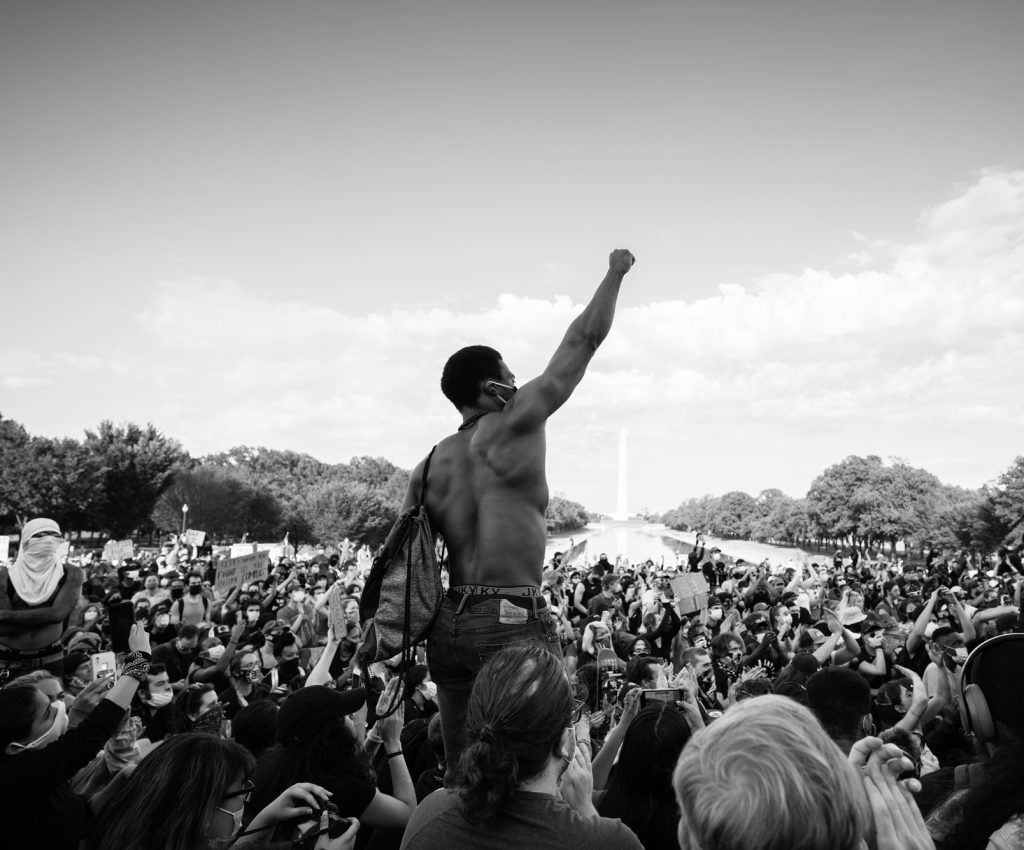 By David Montgomery    June 11, 2020
Ninety-nine years ago, in Tulsa, white mobs torched the black side of town and killed as many as 300 residents, with the tacit support of some in law enforcement, in one of the worst spasms of racial violence in American history. Last month in Minneapolis, George Floyd died with a police officer's knee pressed to his neck, just days ahead of the May 31-June 1 anniversary of the Tulsa Race Massacre. Those two episodes bookend nearly a century in which civil rights progress has been fitful, hard-fought and unfinished. Across 10 decades, from Tulsa to today — against a backdrop of lynching and cross burning, more recently replaced by police chokeholds and vigilante gunshots, amid the subtler violence of systemic racism — voices have been raised in protest and defiance.
Words spoken in times of uplift or assault, hope or despair, can crystallize a moment or a movement: I have a dream. … Black Power. … I can't breathe. Black Lives Matter. The voices collected here elaborate and extend the mantras, such as Langston Hughes versifying his insistence that America live up to its myth, and James Baldwin defining protest as a duty.
But how many other voices have been lost? For a long time the Tulsa massacre was barely mentioned in history books. The account of eyewitness B.C. Franklin quoted here surfaced only in 2015. Today it's harder for people and events to be ignored because another phrase from protests past — The whole world is watching — has literally come true, thanks to the cameras in every potential witness's pocket. The recent demonstrations were sparked by a bystander's video of George Floyd's death — and they have ended up generating more evidence of excessive force used by police against demonstrators in Washington, Buffalo, Philadelphia, New York and Atlanta.
The images presented here, photographed in late May and early June, capture the passion, anger and hope of new voices demanding to be heard. The raised fists communicate as directly as the cardboard signs — hand-lettered with yet more indelible words — while the fleeting tears of a young demonstrator and the warm embrace of comrade marchers speak of the vulnerability and pain at the root of any protest.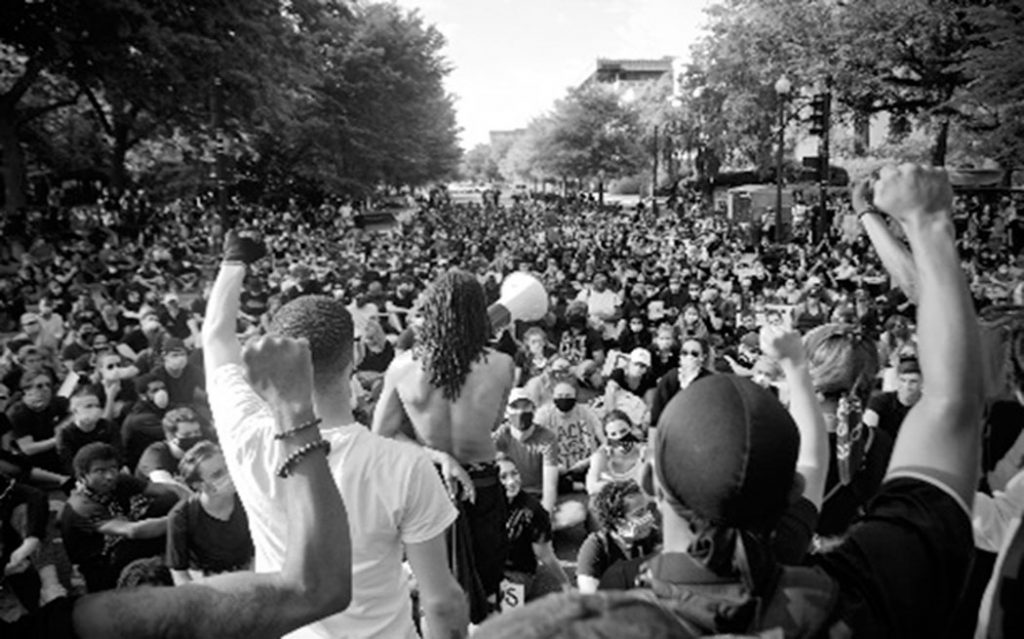 Washington, D.C., June 2. (Photo by Kian Kelley-Chung, son of André Chung, who took the photo at top)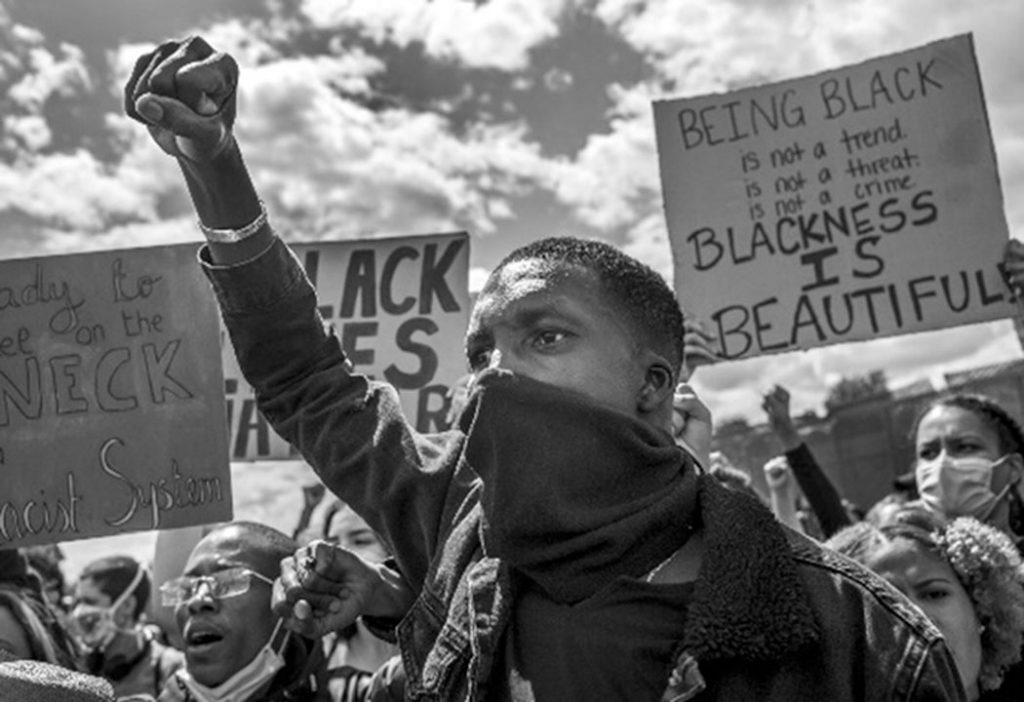 Paris, June 6. (Photo by Peter Turnley)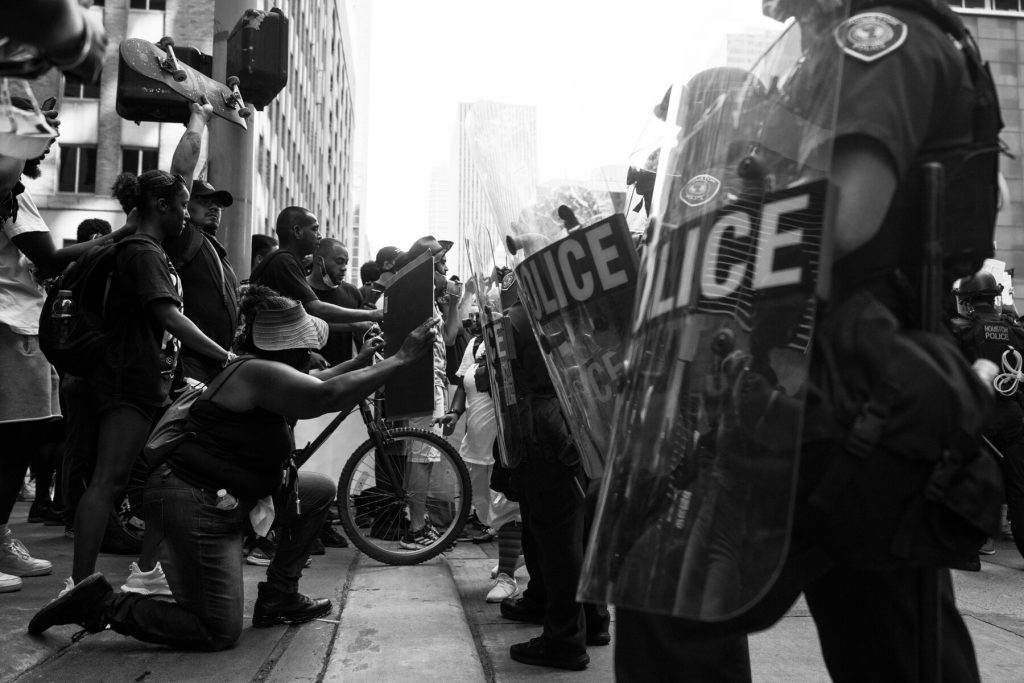 Houston, June 2. (Photo by Greg Noire)
The juxtaposition of the historic voices and contemporary images underscores how much work is left to be done. Read in the context of today's clamors for justice, the decades-old diagnoses and laments sound remarkably — and wrenchingly — fresh and relevant. That those dreams remain unfulfilled speaks to an American futility and systemic failure. Seen in that light, the images of today become part of the canon of timeless illustrations documenting the unfinished struggle.
The killing of George Floyd offers yet another tragic opportunity to continue an erratic process of change begun long ago. No one can say if this time will be different. All we can know is that these voices echoing from the past put their faith in the future — and that these demonstrators insist that the future is now.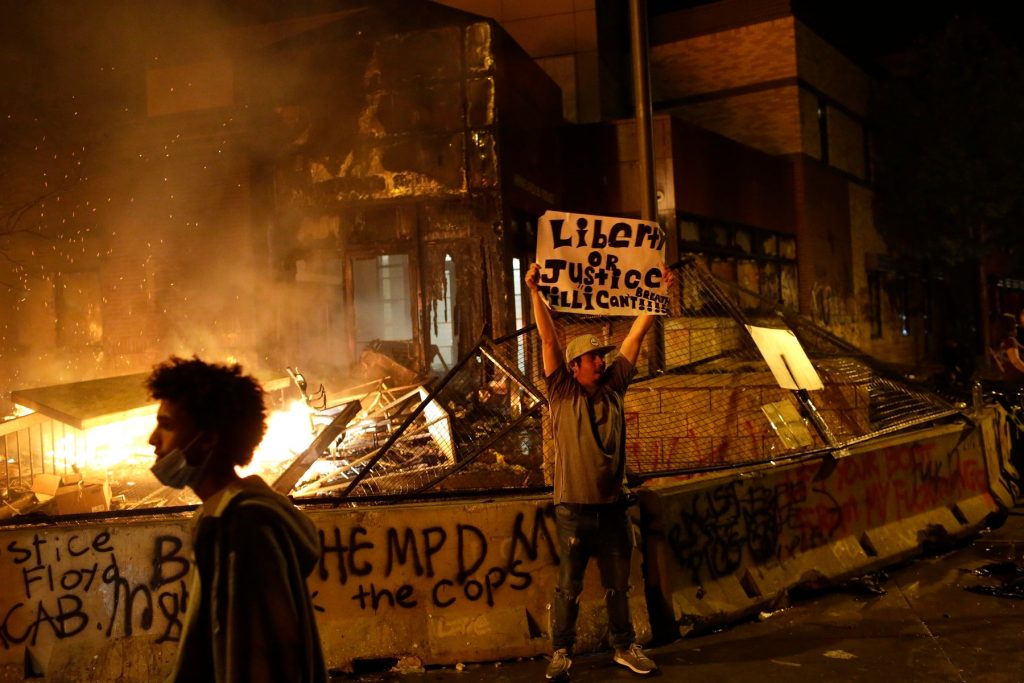 Minneapolis, May 28. (Photo by Joshua Lott for The Washington Post)
For fully forty eight hours, the fires raged and burned everything in its path and it left nothing but ashes and burned safes and trunks and the like where once stood beautiful homes and business houses. And so proud, rich, black Tulsa was destroyed by fire — that is its buildings and property; but its spirit was neither killed nor daunted.
B.C. Franklin, a black lawyer who witnessed a white mob's attack on the black section of Tulsa in 1921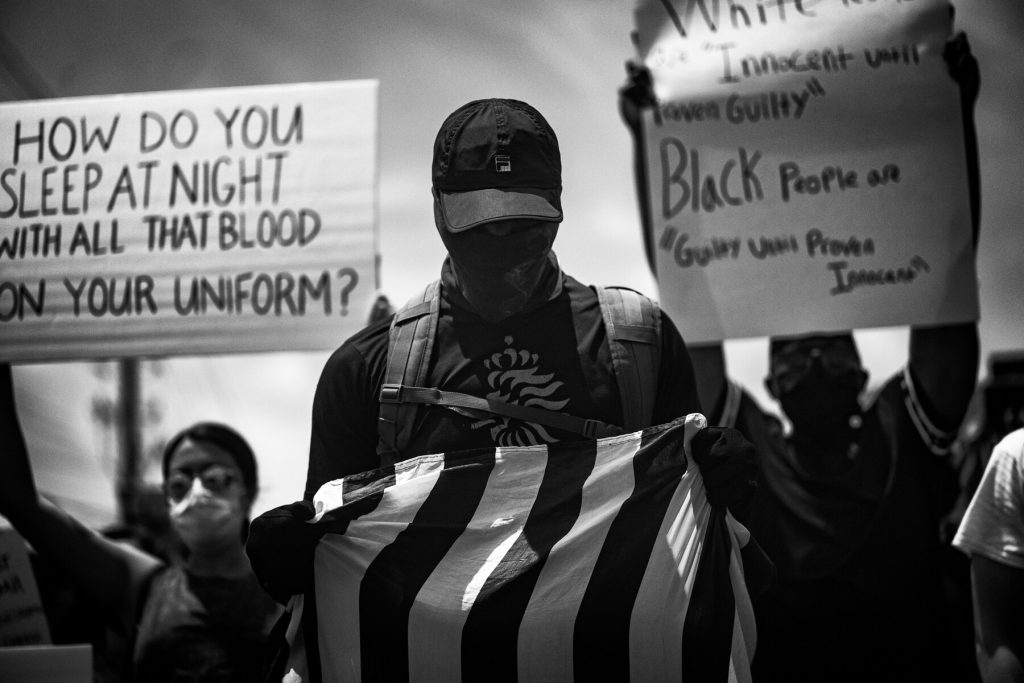 Atlanta, June 7. (Photo by Sheila Pree Bright)
Let America be America again.
Let it be the dream it used to be.
Let it be the pioneer on the plain
Seeking a home where he himself is free.
(America never was America to me.)
From the poem "Let America Be America Again" by Langston Hughes, 1936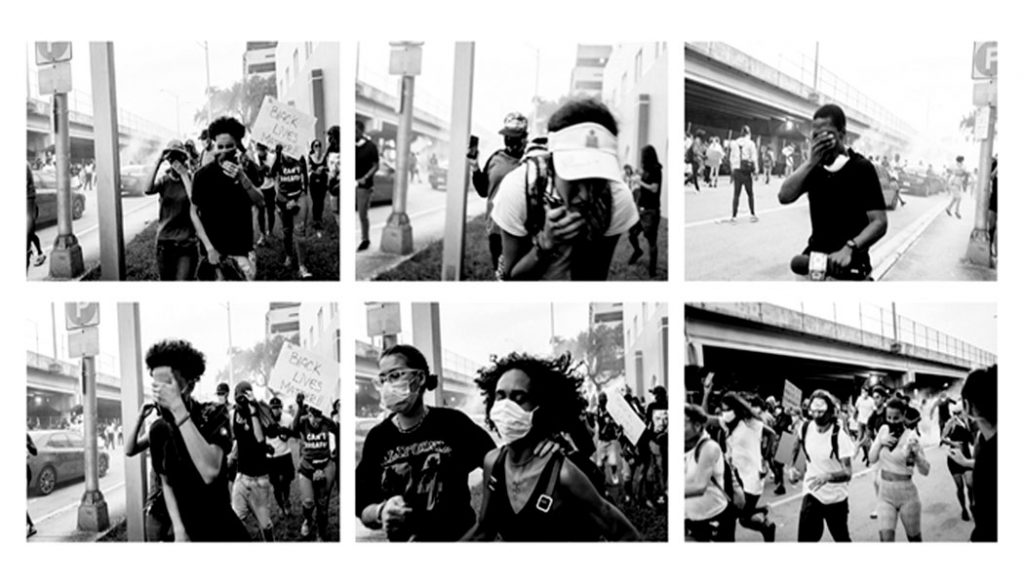 Miami, May 30. (Photos by Jonathan Frydman)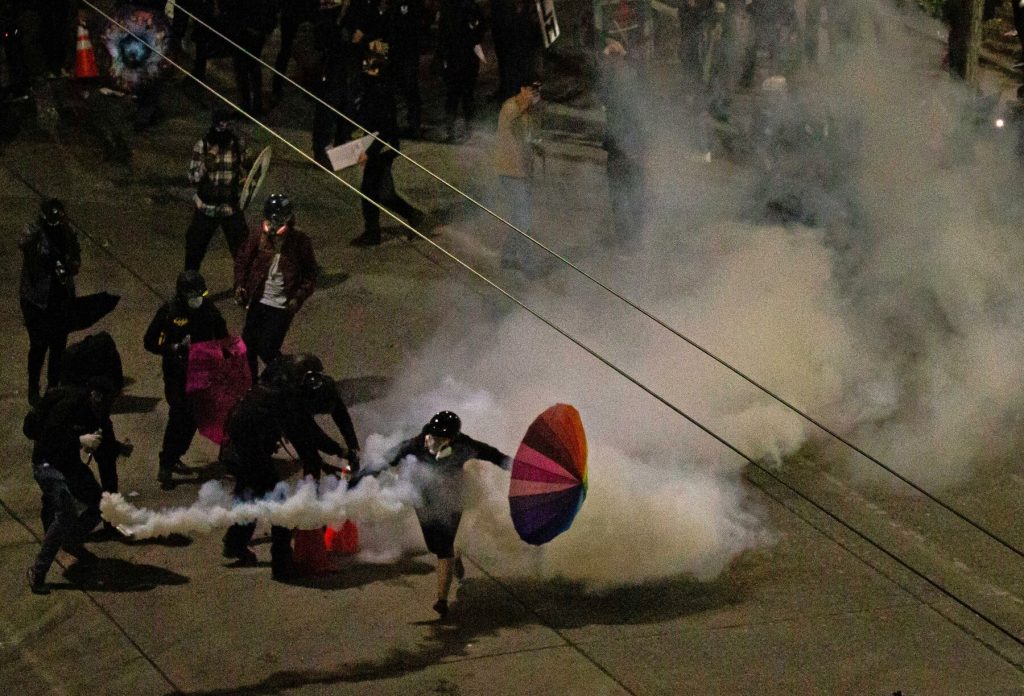 Seattle, June 8. (Photo by David Ryder/Getty Images)
Though I have found no Negroes who want to see the United Nations lose this war, I have found many who, before the war ends, want to see the stuffing knocked out of white supremacy and of empire over subject peoples. American Negroes, involved as we are in the general issues of the conflict, are confronted not with a choice but with the challenge both to win democracy for ourselves at home and to help win the war for democracy the world over.
Philip Randolph, union leader and civil rights organizer, calling for an end to discrimination in defense jobs and the military, 1942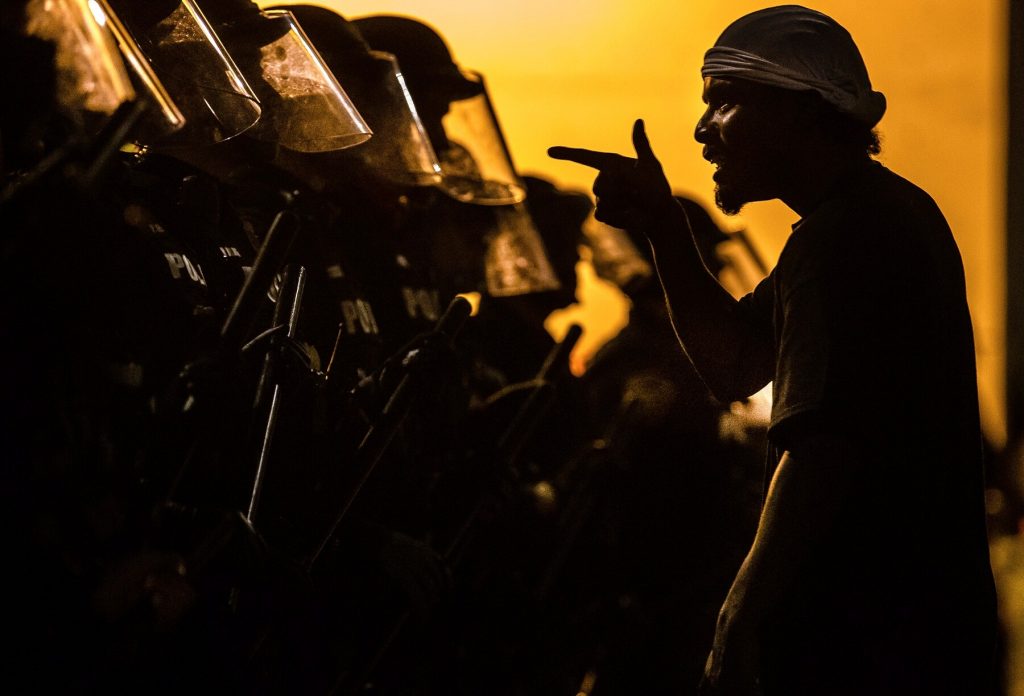 Tucson, May 30. (Photo by Josh Galemore/Arizona Daily Star/AP)
I had been pushed around all my life and felt at this moment that I couldn't take it anymore. When I asked the policeman why we had to be pushed around? He said he didn't know. "The law is the law. You are under arrest."
Rosa Parks, from her handwritten account of refusing to give up her seat on a Montgomery, Ala., bus in 1955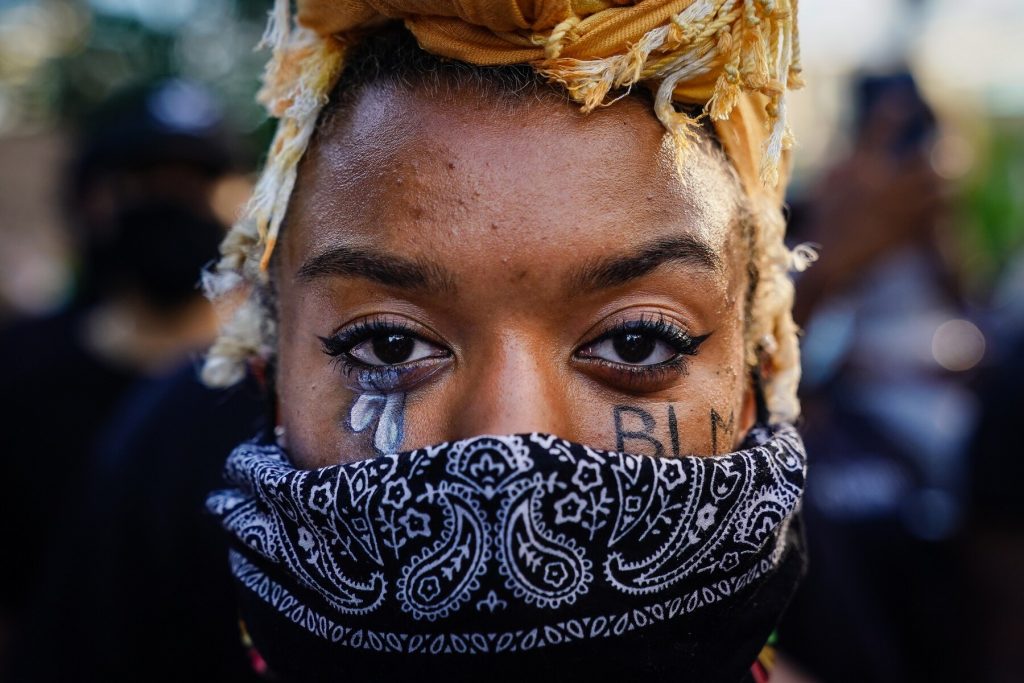 Atlanta, May 31. (Photo by Elijah Nouvelage/Getty Images)
I love America more than any other country in the world, and, exactly for this reason, I insist on the right to criticize her perpetually.
James Baldwin, from "Notes of a Native Son," 1955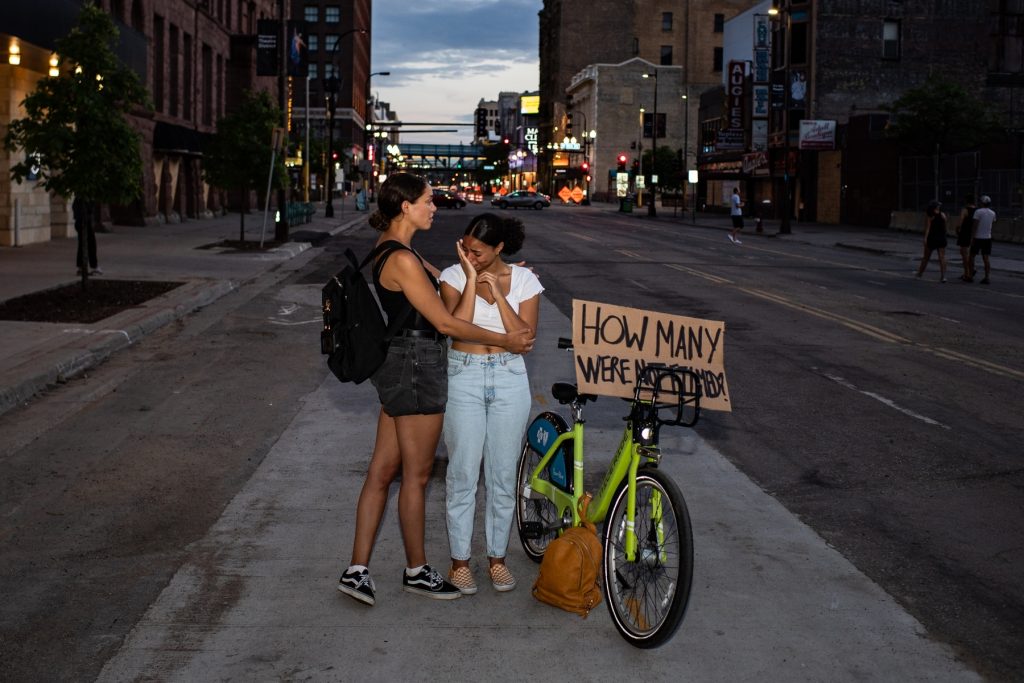 Minneapolis, June 3. (Photo by Salwan Georges/The Washington Post)
No, I'm not an American. I'm one of the 22 million black people who are the victims of Americanism. One of the 22 million black people who are the victims of democracy, nothing but disguised hypocrisy. So, I'm not standing here speaking to you as an American, or a patriot, or a flag saluter, or a flag waver — no, not I. I'm speaking as a victim of this American system. And I see America through the eyes of the victim. I don't see any American Dream; I see an American nightmare.
Malcolm X, from a speech in Cleveland, 1964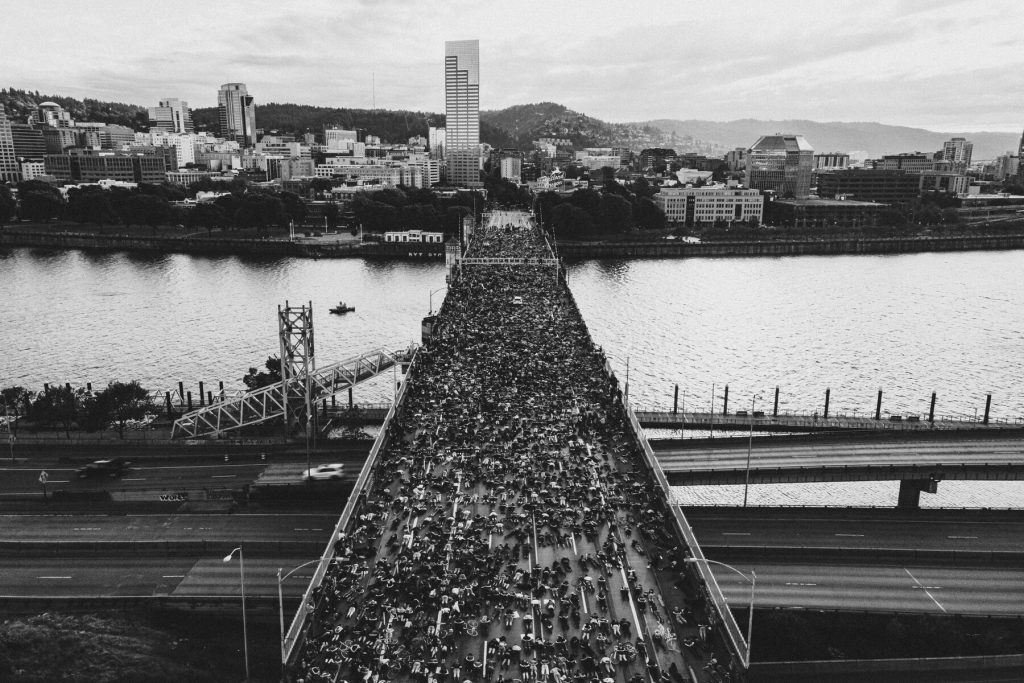 Portland, Ore., June 2. (Photo by Andrew Wallner)
See, it's time for America to wake up and know that we're not going to tolerate — we're not begging anymore. And I'm not going to say it's not any more of us going to die, because I'm never sure when I leave home whether I'll get back home or not. But if I fall while I'm in Kentucky, I'll fall five feet and four inches forward for freedom, and I'm not backing off it. And nobody will have to cover the ground that I walk on as far as freedom is concerned because I know as well as you should know that no man is an island to himself, and until I'm free in Mississippi, you're not free in no other place.
Fannie Lou Hamer, from a speech in Kentucky, 1968
New York, June 5. (Photos by Celeste Sloman)
Let me speak of a recent, a very recent black dream: The waiting for the Messiah, some leader. Now nobody — Martin Luther King did not tell Rosa Parks to stay in her seat. That came first. Then he came. She just didn't move. We didn't used to have to wait for the word. And the history of black people in this country is those people who got up and moved, all over this country.
Toni Morrison, from a speech in Portland, Ore., 1975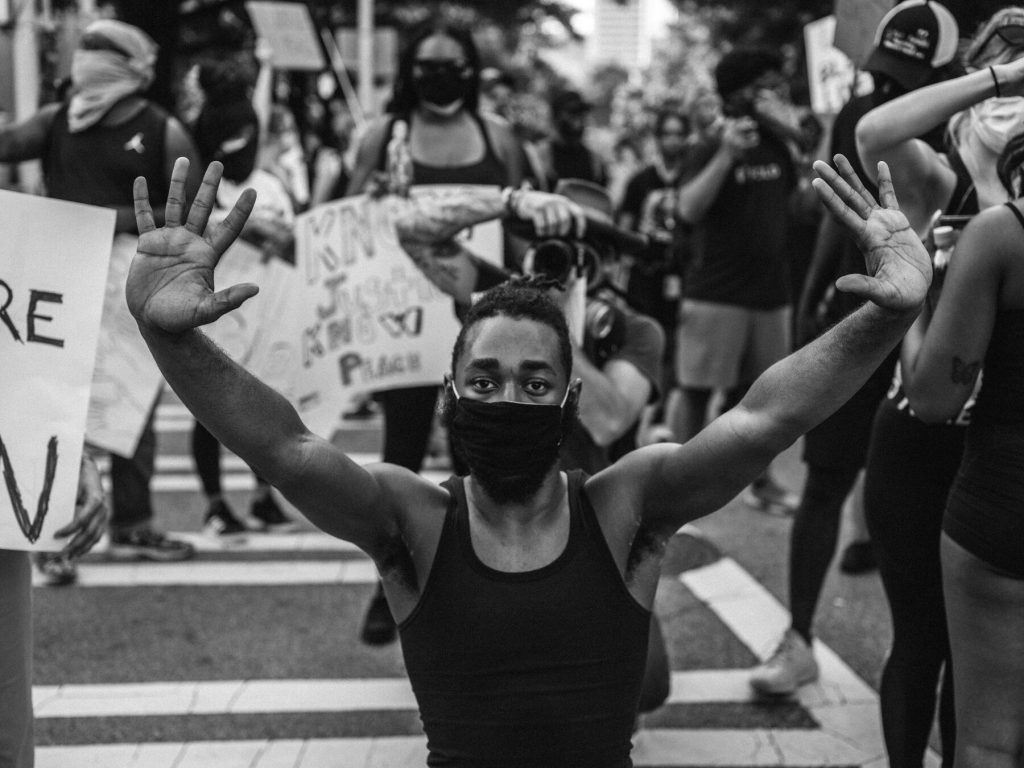 Atlanta, June 2. (Photo by Lynsey Weatherspoon)
We imagined a more humane future, but we also risked our very lives to defeat racism and U.S. military aggression against Southeast Asia. Now, it is your turn to imagine a more humane future — a future of justice, equality and peace. And if you wish to fulfill your dreams, which remain the dreams of my generation as well, you must also stand up and speak out against war, against joblessness and against racism.
Angela Davis, from a commencement address to the Berkeley High School graduating class, 1983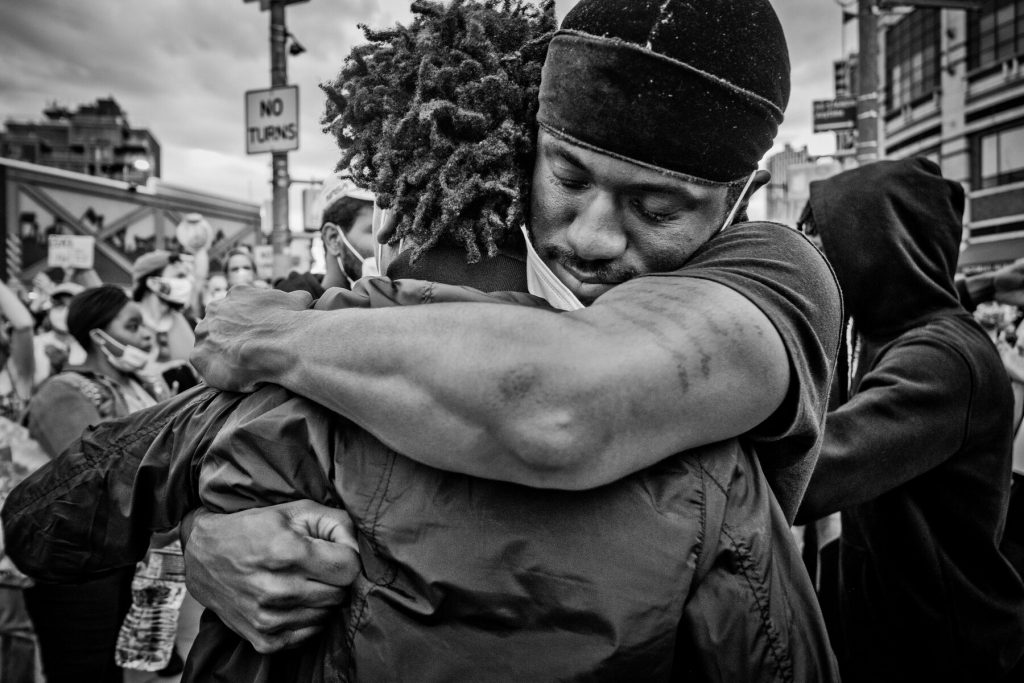 Brooklyn, June 2. (Photo by Yunghi Kim/Contact Press Images)
What happened in Los Angeles in April of 1992 was neither a race riot nor a class rebellion. Rather, this monumental upheaval was a multiracial, trans-class, and largely male display of justified social rage. For all its ugly, xenophobic resentment, its air of adolescent carnival, and its downright barbaric behavior, it signified the sense of powerlessness in American society.
Cornel West, from "Race Matters," on the reaction to the acquittal of white police officers in the beating of Rodney King, 1993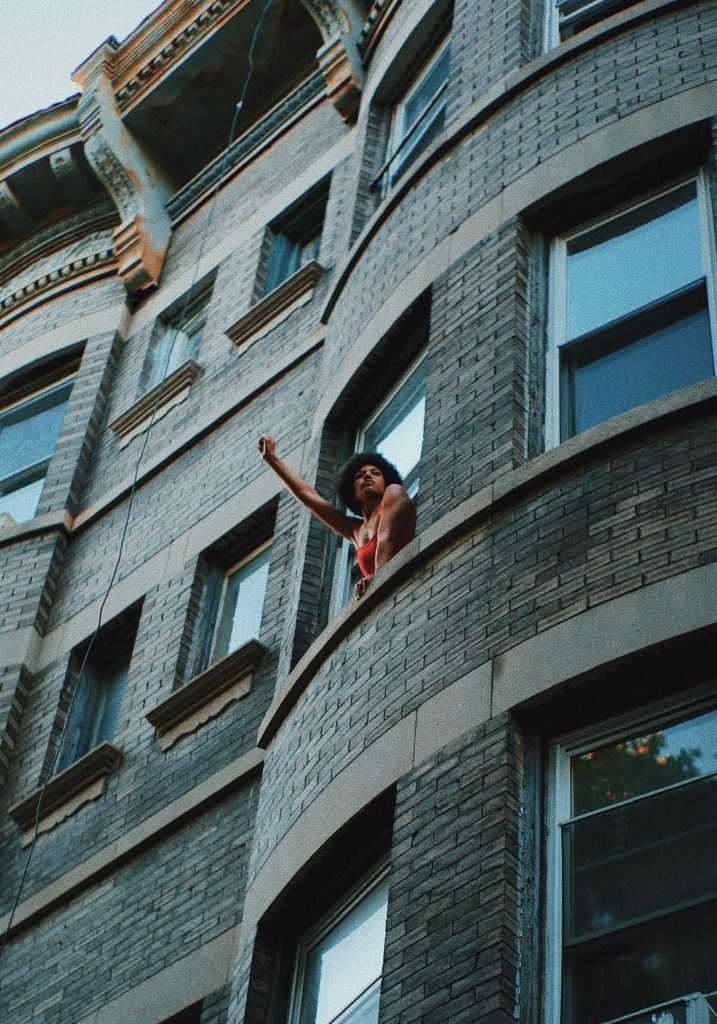 New York, June 1. (Photo by Jelani Rice)
This is where we are right now. It's a racial stalemate we've been stuck in for years. … But I have asserted a firm conviction, a conviction rooted in my faith in God and my faith in the American people, that working together we can move beyond some of our old racial wounds and that, in fact, we have no choice — we have no choice if we are to continue on the path of a more perfect union.
Barack Obama, from a speech on race during the 2008 presidential campaign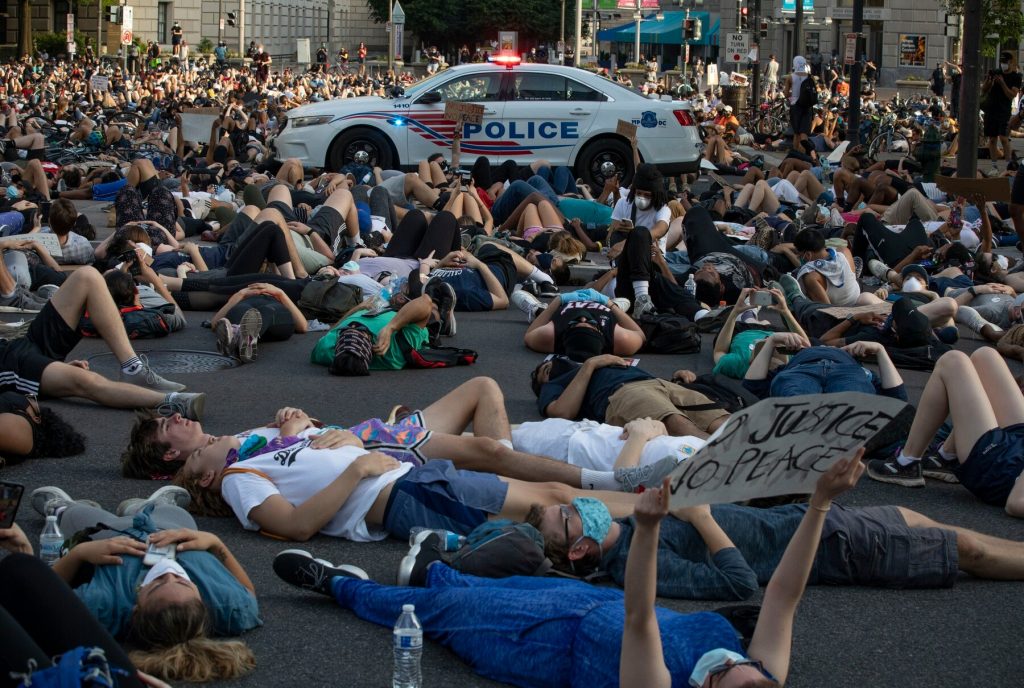 Washington, D.C., June 3. (Photo by Evelyn Hockstein for The Washington Post)
We know how to be racist. We know how to pretend to be not racist. Now let's know how to be antiracist.
Ibram X. Kendi, from "How to Be an Antiracist," 2019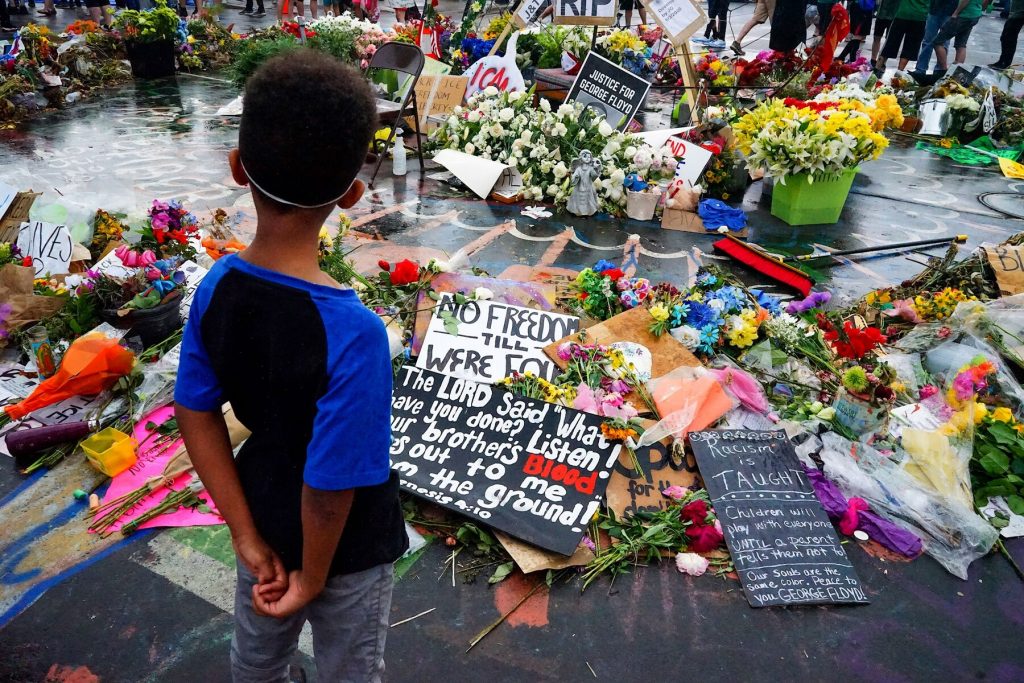 Minneapolis, June 7. (Photo by Russell Frederick)
I came to this city in 1955, which was the year that the body of Emmett Till was found in a body of water in Mississippi, same year that Rosa Parks refused to give up the back seat on the bus. … Since that time, I have seen any number of struggles against racism, and they have all ended up with relatively little outcome. So the question is valid, it's a reasonable question: Is this going to be just like so many other movements, a moment of anger and rage and then back to business as usual? … [But] his death did not simply start a bunch of good speeches, a bunch of tributes. Out of his death has come a movement, a worldwide movement. And that movement is not going to stop after two weeks, three weeks, a month. That movement is going to change the world.
Rev. William A. Lawson, pastor emeritus of Houston's Wheeler Avenue Baptist Church, from his address at the funeral for George Floyd, Houston, June 9, 2020  David Montgomery   David Montgomery writes general features, profiles and arts stories for the Washington Post Magazine, including pieces on the Latino community. He joined The Washington Post in 1993 and has covered Prince George's County, politics in Maryland and life in the District.       About this story  Design by Christian Font. Photo editing by Dudley M. Brooks. Audio editing by Linah Mohammad.                                                       Go to the top