PBS News: WATCH LIVE – Biden and Harris make 1st appearance as running mates in Delaware, Aug 12, 2020 
NBC Nightly News: With Lester Holt at 6:30 p.m. ET, & Harris Make First Appearance As Running Mates, Kamala Harris Makes History On 2020 Democratic Ticket, Aug 12, 2020 
ABC News: Biden, Harris make 1st appearance together as presidential ticket | WNT  Aug 12, 2020 
Wikipedia:  Kamala Harris
townandcountrymag.com: Joe Biden Selects Kalama Harris as His Running Mate. BY CAROLINE HALLEMANN
Indian Express: Kamala Harris – Some throwback photos from her childhood
Town & Country: Who Is Kamala Harris's Husband, Douglas Emhoff? BY LAUREN HUBBARD
WATCH LIVE: Biden and Harris make 1st appearance as running mates in Delaware
Streamed live 5 hours ago  PBS NewsHour
Stream your PBS favorites with the PBS app: https://to.pbs.org/2Jb8twG Find more from PBS NewsHour at https://www.pbs.org/newshour Subscribe to our YouTube channel: https://bit.ly/2HfsCD6
https://www.youtube.com/watch?v=fTkMYqLZE4U
Watch "NBC Nightly News With Lester Holt" at 6:30 p.m. ET / 5:30 p.m. CT (or check your local listings). 00:00 Intro 01:27 Biden & Harris Make First Appearance As Running Mates 04:44 Kamala Harris Makes History On 2020 Democratic Ticket 08:27 Trump Sharpens Attacks Against Kamala Harris 10:54 Nearly 1,200 Students, Staff Quarantined In Georgia County 11:19 Growing Number Of students Forced To Quarantine 11:52 Study: Coronavirus Can Travel Indoors Up To 16 Feet 12:09 Stated Face Difficult Decisions On Reopening Schools 12:55 Train Derailment Leaves At Least Three Dead 13:40 Remote Learning Struggles For Students Learning English 15:16 Student With Special Need Face Online Learning Challenges » Subscribe to NBC News: http://nbcnews.to/SubscribeToNBC » Watch more NBC video: http://bit.ly/MoreNBCNews
Biden, Harris make 1st appearance together as presidential ticket | WNT
Aug 12, 2020  ABC News
Former Vice President Joe Biden and Sen. Kamala Harris appeared together Wednesday afternoon in Wilmington, Delaware. WATCH THE FULL EPISODE OF 'WORLD NEWS TONIGHT': https://bit.ly/2DUFC15 WATCH OTHER FULL EPISODES OF WORLD NEWS TONIGHT: http://abc.go.com/shows/world-news-to… WATCH WORLD NEWS TONIGHT ON HULU: https://hulu.tv/33iKepm #WorldNewsTonight #JoeBiden #KamalaHarris
From Wikipedia, the free encyclopedia
Kamala Harris
District Attorney of San Francisco
Attorney General of California
U.S. Senator from California
2020 vice presidential campaign
·         2003 campaign for District Attorney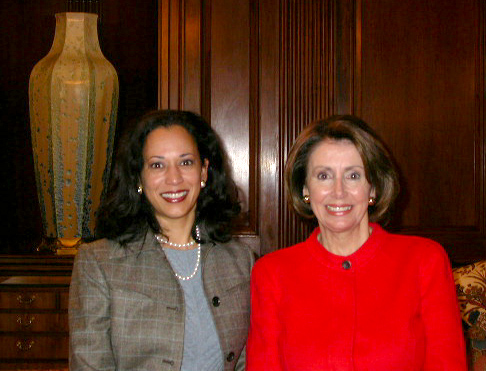 Harris in 2004 with California Congresswoman Nancy Pelosi, who later twice became Speaker of the U.S. House of Representatives
Harris in 2004 with California
District Attorney of San Francisco (2004–2011)
Public safety
Felony conviction rate
Harris as San Francisco District Attorney
Harris inherited a 50% felony conviction rate from Hallinan when she took over in 2004. During her tenure, the felony conviction rate rose to 53% in 2005, to 66% in 2006, the highest in a decade.[51]The felony conviction rate continued to rise, reaching 76% in 2009.[52] Convictions of drug dealers increased from 56% in 2003, to 74% in 2006.[52]
Harris was re-elected in 2007 when she ran unopposed.[53]
Non-violent crimes
In summer 2005, Harris created a unit to tackle environmental crimes.[54]Harris filed charges against the Alameda Publishing Corporation, and two men hired by the company's previous owner, for dumping hazardous printing ink in San Francisco's Bayview Fifty-gallon buckets of hazardous ink were left overturned and leaking. The corporation and its publishers were charged with unlawful disposal and transportation of hazardous waste and with depositing of hazardous substances on a road.[55][56] The two men subsequently pleaded guilty, and were sentenced to probation.[56]
Violent crimes
In the early 2000s, the City and County of San Franciscomurder rate per capita drastically outpaced the national average. Within the first six months of taking office, Harris cleared 27 of 74 backlogged homicide cases by settling 14 by plea bargain and taking 11 to trial; with 9 convictions and 2 hung juries, she attained an 81% success rate. She took 49 violent crime cases to trial and secured 36 convictions, for an 84% success rate.[63] From 2004 to 2006, Harris achieved an 87% conviction rate for homicides and a 90% conviction rate for all felony gun violations.[64]
Kamala Harris created a special Hate Crimes Unit, focusing on hate crimesagainst LGBT children and teens in schools.[74] In early 2006, Gwen Araujo, a 17-year-old American Latina transgender teenager, was murdered by two men who later used the "gay panic defense" before being convicted of second-degree murder. Harris, alongside Araujo's mother Sylvia Guerrero, convened a two-day conference of at least 200 prosecutors and law enforcement officials nationwide to discuss strategies to counter such legal defenses.[75] Harris subsequently supported A.B. 1160, the Gwen Araujo Justice for Victims Act, advocating that California's penal code include jury instructions to ignore bias, sympathy, prejudice, or public opinion in making their decision, also making mandatory for district attorney's offices in California to educate prosecutors about panic strategies and how to prevent bias from affecting trial outcomes.[76] In September 2006, California governor Arnold Schwarzenegger signed A.B. 1160 into law; the law put California on record as declaring it contrary to public policy for defendants to be acquitted or convicted of a lesser included offense on the basis of appeals to "societal bias".[76][77]
In August 2007, state assemblyman Mark Lenointroduced legislation to ban gun shows at the Cow Palace, joined by Harris, Police Chief Heather Fong, and Mayor Gavin Newsom. City leaders contended the shows were directly contributing to the proliferation of illegal guns and spiking homicide rates in San Francisco: Mayor Newsom earlier that month signed into law local legislation banning gun shows on city and county property. Leno alleged that merchants drove through the public housing developments nearby and illegally sold weapons to residents.[78] While the bill would stall, local opposition to the shows continued until the Cow Palace Board of Directors in 2019 voted to approve a statement banning all future gun shows.[79]
Reform efforts
Recidivism and re-entry initiative
Death penalty
Attorney General of California (2011–2017)
2010 election
Main article: 2010 California Attorney General election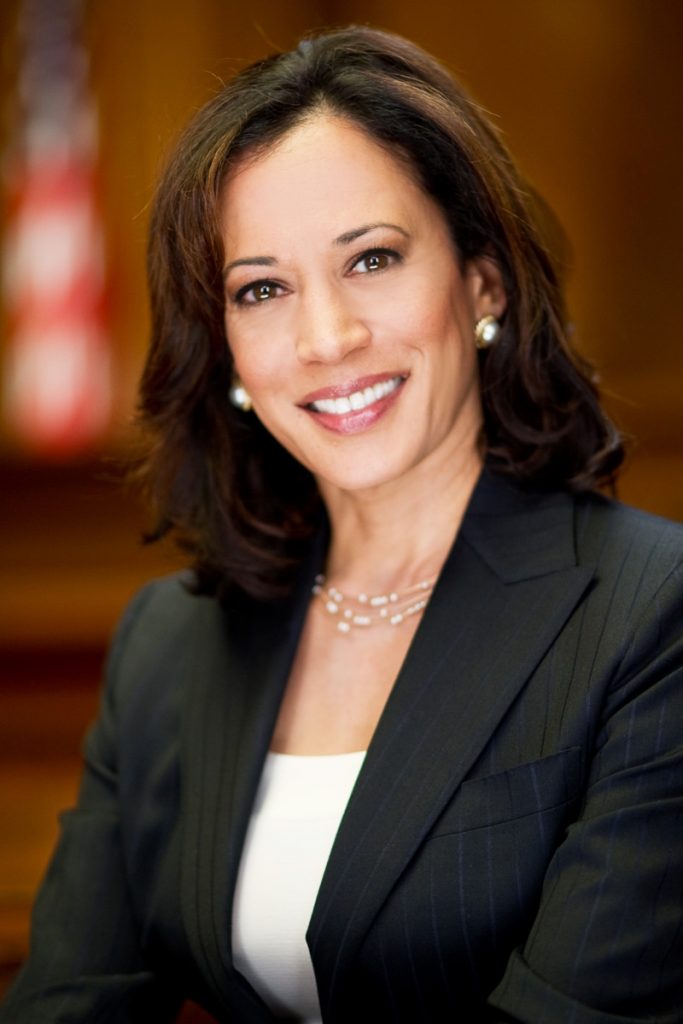 Official Attorney General portrait
On November 12, 2008, Harris announced her candidacy for California attorney general. Both of California's senators, Dianne Feinstein and Barbara Boxer, House speaker Nancy Pelosi, United Farm Workers cofounder Dolores Huerta, and Mayor of Los Angeles Antonio Villaraigosa all endorsed her during the primary.[99] In the June 8, 2010 primary, she was nominated with 33.6% of the vote, defeating Alberto Torrico and Chris Kelly.[100]
Significant cases and policies
Anti-truancy efforts
Visiting Peterson Middle School in 2010
In 2011, Harris urged criminal penalties for parents of truant children as she did as District Attorney of San Francisco, allowing the court to defer judgment if the parent agreed to a mediation period to get their child back in school. Critics charged that local prosecutors implementing her directives were overzealous in their enforcement and that Harris's policy adversely affected some families.[105] In 2013, Harris issued a report titled "In School + On Track", which found that more than 250,000 elementary school students in the state were "chronically absent" and that the statewide truancy rate for elementary students in the 2012–2013 school year was nearly 30 percent, at a cost of nearly $1.4 billion to school districts, since funding is based on attendance rates.[106]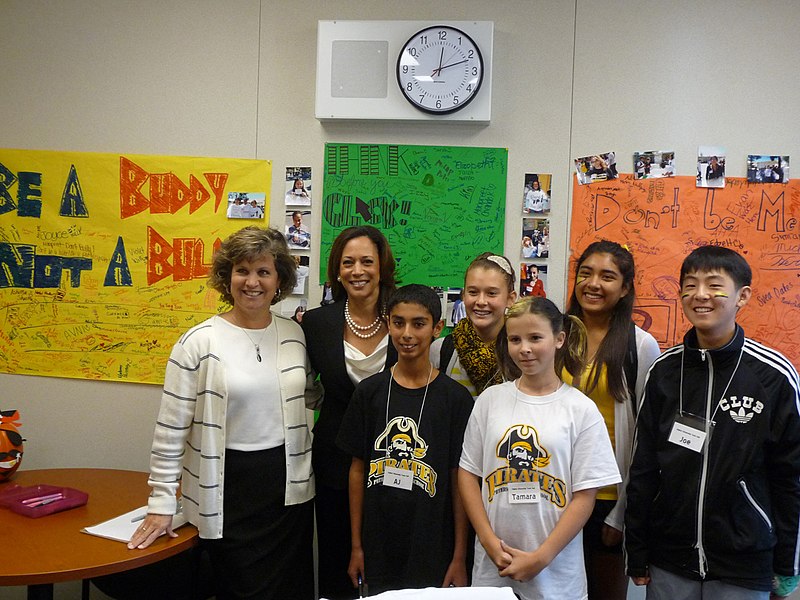 Visiting Peterson Middle School in 2010
Law enforcement accountability
Criminal justice reform
Launch of Division of Recidivism Reduction and Re-Entry
Sentencing and prison inmate retention
Death penalty
Consumer protection
Fraud, waste, and abuse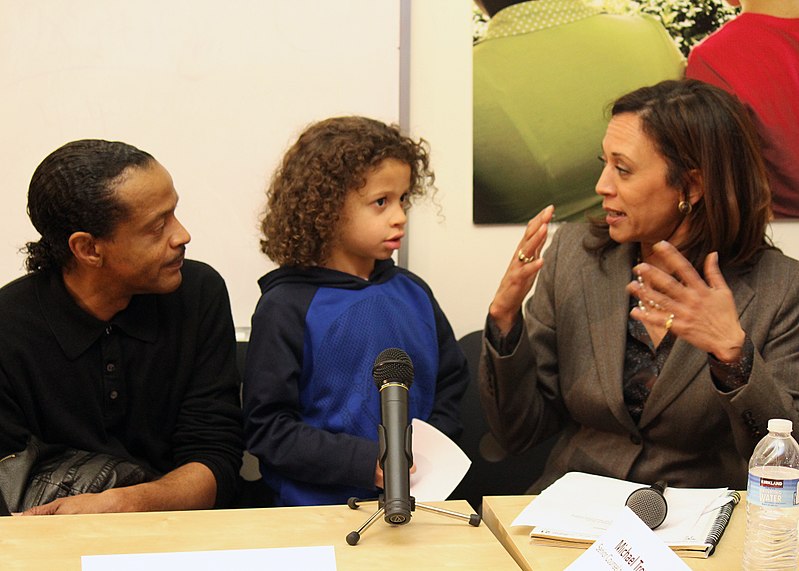 Harris meets foreclosure victims in 2011.
In 2011, Harris announced the creation of the Mortgage Fraud Strike Force in the wake of the 2010 United States foreclosure crisis.[127] That same year, Harris obtained two of the largest recoveries in the history of California's False Claims Act – $241 million from Quest Diagnostics and then $323 million from the SCAN healthcare network – over excess state Medi-Cal and federal Medicare payments.[128][129]
Privacy rights
LGBTQ rights
Opposing Prop 8
Public safety
Environmental protection
Attorney General Kamala Harris tours oil spill cleanup efforts.
Law enforcement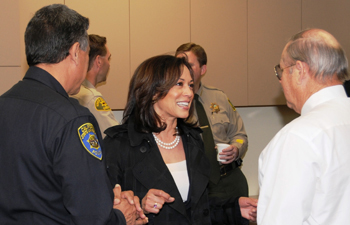 AG Harris touring the Fresno Regional DNA Laboratory
Sex crimes
In 2011, Harris obtained a guilty plea and a four-year prison sentence from a stalker who used Facebook and social engineering techniques to illegally access the private photographs of women whose social media accounts he hijacked.
Transnational criminal organizations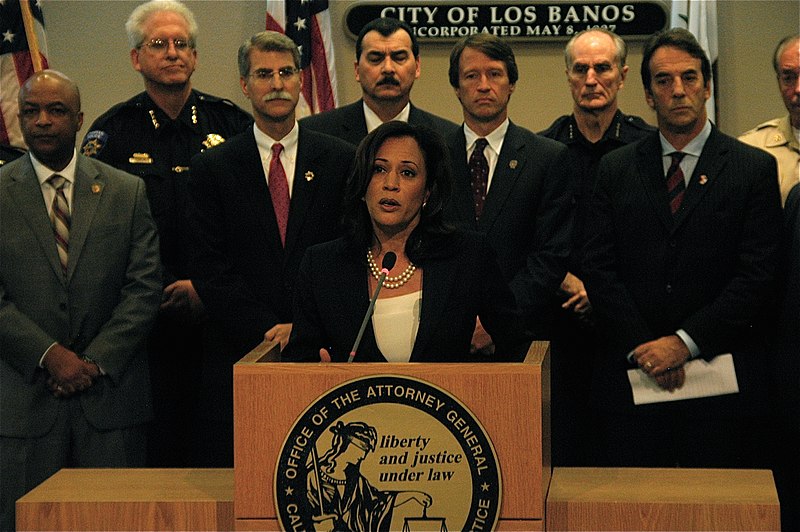 AG Harris announces the arrest of 101 gang members in Los Banos, California.
Obama appointment speculation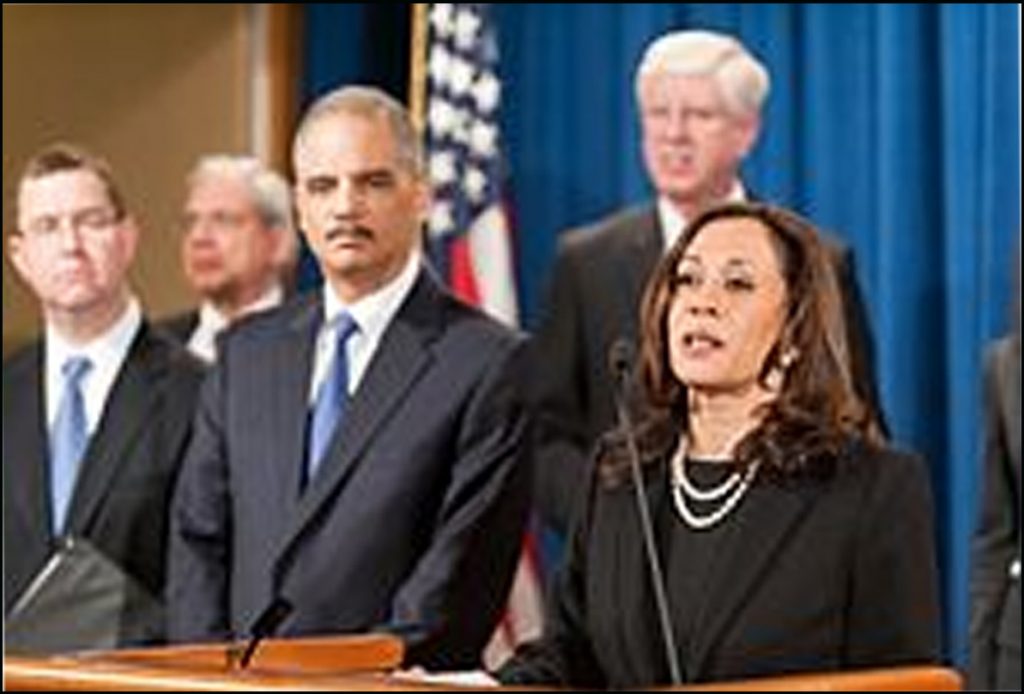 Kamala Harris with U.S. Attorney General Eric Holder
During Obama's presidency, Harris was mentioned as a possible nominee for U.S. attorney general.[216] Harris publicly stated she was not interested in the job.[217]
After the death of Supreme Court justice Antonin Scalia in 2016, Harris was speculated to be his replacement as an associate justice of the Supreme Court.[218] However, as her campaign had already begun, Harris publicly stated she was only interested in running for the U.S. Senate and did not wish to be considered.[219]
U.S. Senate (2017–present)
2016 election
Main article: 2016 United States Senate election in California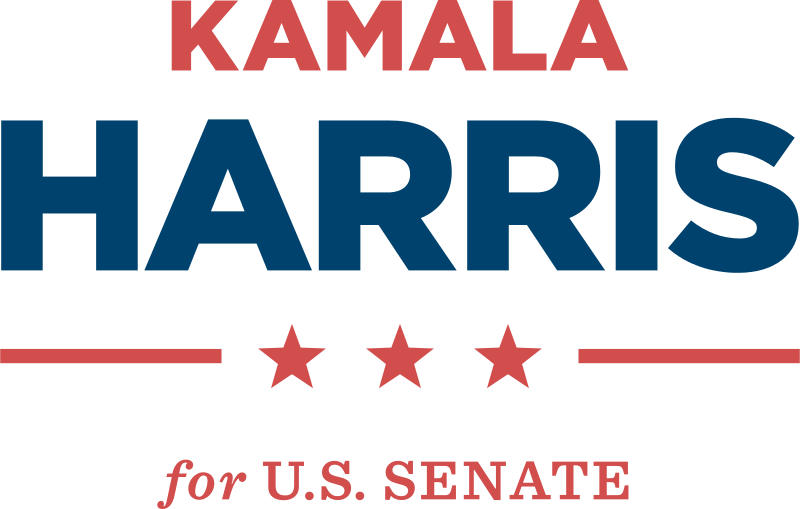 Senate campaign logo, 2016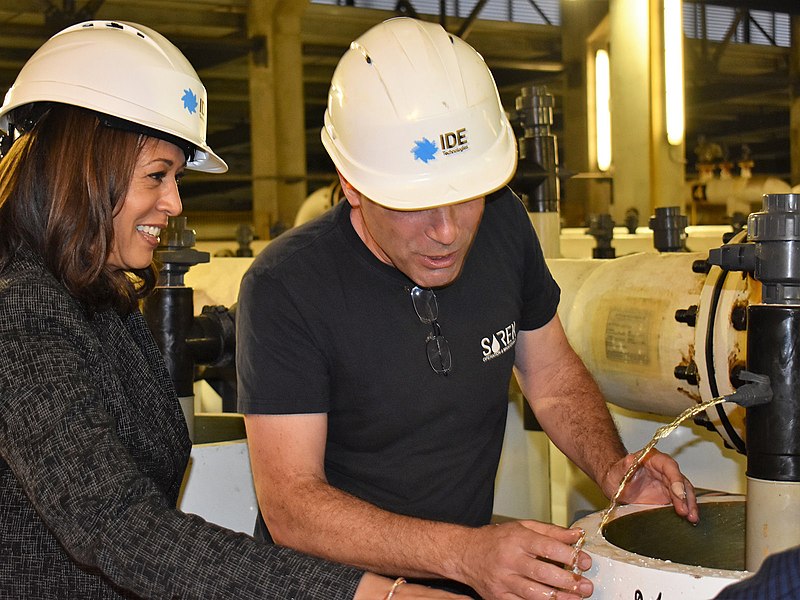 Harris at the Sorek Desalination Plant in Israe
2018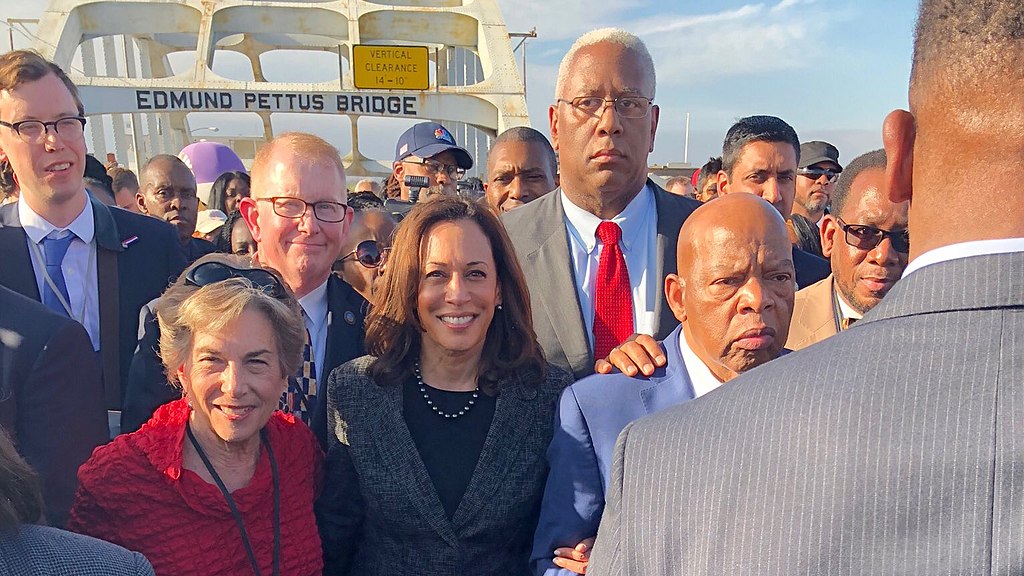 Harris in Selma, 2018
2019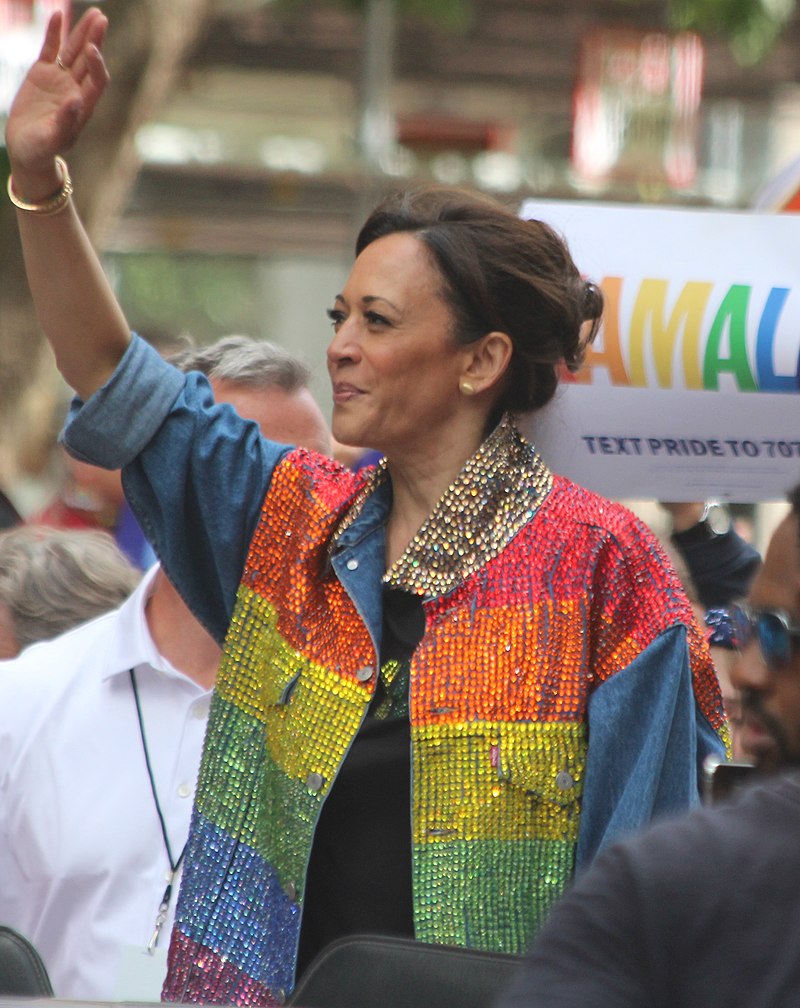 Harris at SF Pride Parade 2019
2020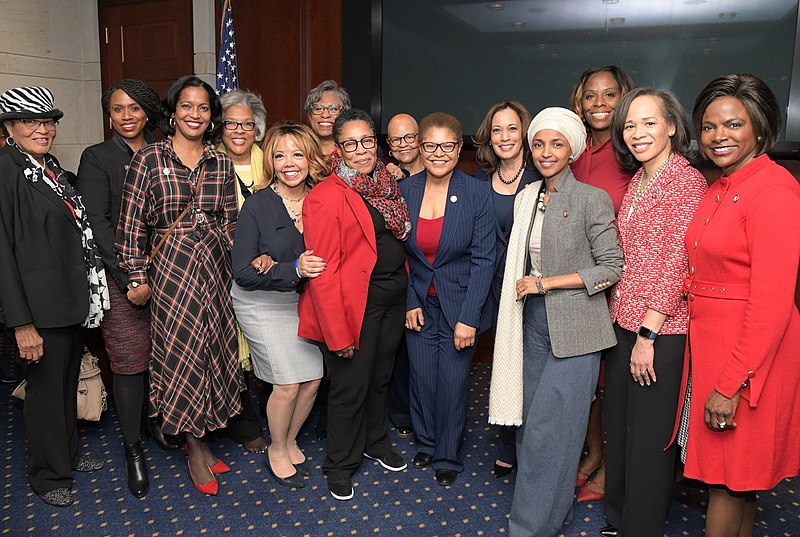 Harris with Congressional Black Caucus women
Presidential campaign
Main article: Kamala Harris 2020 presidential campaign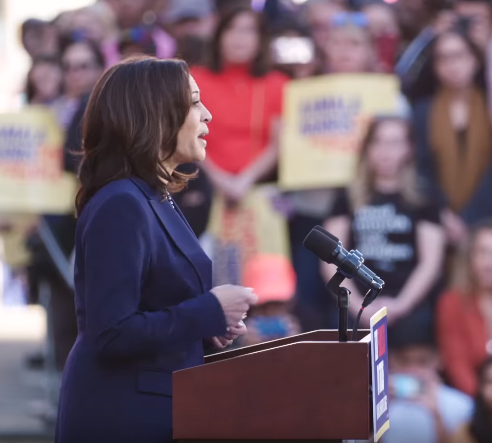 Harris formally announcing her run for the Democratic nomination for president, January 27, 2019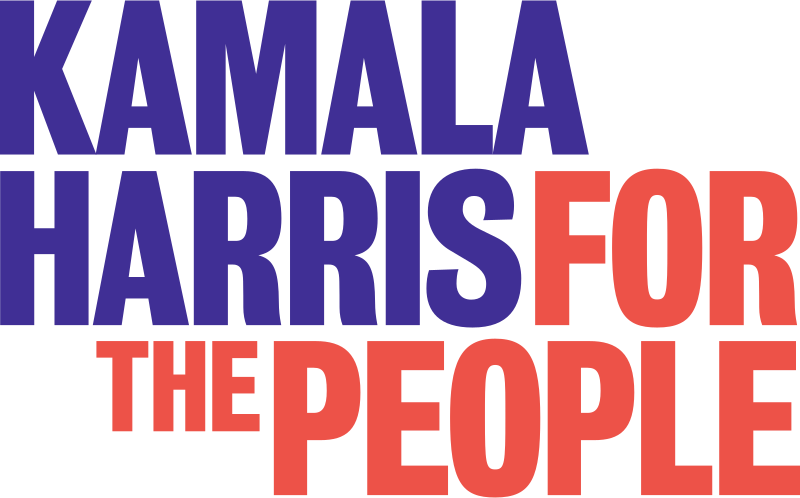 Logo for Harris' presidential campaign
On December 3, 2019, Harris withdrew from seeking the 2020 Democratic nomination, citing a shortage of funds.[295] In March 2020, Harris endorsed Joe Biden for president.[296]
Vice presidential campaign
Main articles: Joe Biden 2020 presidential campaign and 2020 Democratic Party vice presidential candidate selection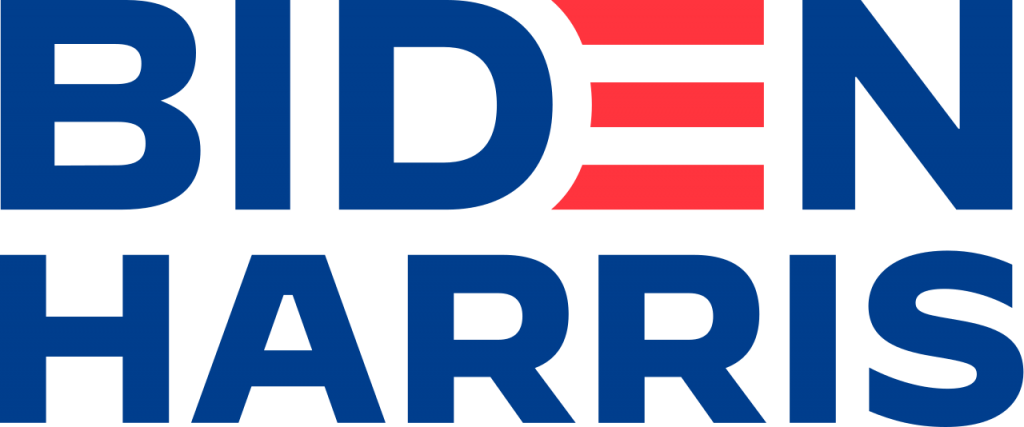 Campaign logo for the Biden–Harris ticket
Awards and honors
Harris at Howard University in 2017
Honorary degrees
Harris gave the commencement address at the Howard ceremony.[312]
Personal life
Harris is married to attorney Douglas Emhoff, who was at one time partner-in-charge at Venable LLP's Los Angeles office.[321] They married on August 22, 2014, in Santa Barbara, California.[322] Harris is stepmother to Emhoff's two children from his previous marriage.[323] As of August 2019, Harris and her husband had an estimated net worth of $5.8 million.[324] She is a member of Third Baptist Church of San Francisco, a congregation of the American Baptist Churches USA.[325][326][327]
Harris's sister Maya Harris was an MSNBC political analyst, her brother-in-law Tony West is general counsel of Uber and a former United States Department of Justice senior official,[328] and her niece Meena Harris is the founder of the Phenomenal Women Action Campaign.
Publications
Harris has written two non-fiction books and one children's book.[329][330]
For more information please visit the following link: Wikipedia:  Kamala_Harris
https://en.wikipedia.org/wiki/Kamala_Harris
Joe Biden Selects Kalama Harris as His Running Mate
"I've decided that Kamala Harris is the best person to help me take this fight to Donald Trump and Mike Pence and then to lead this nation starting in January 2021," Joe Biden said Tuesday.

AUG 11, 2020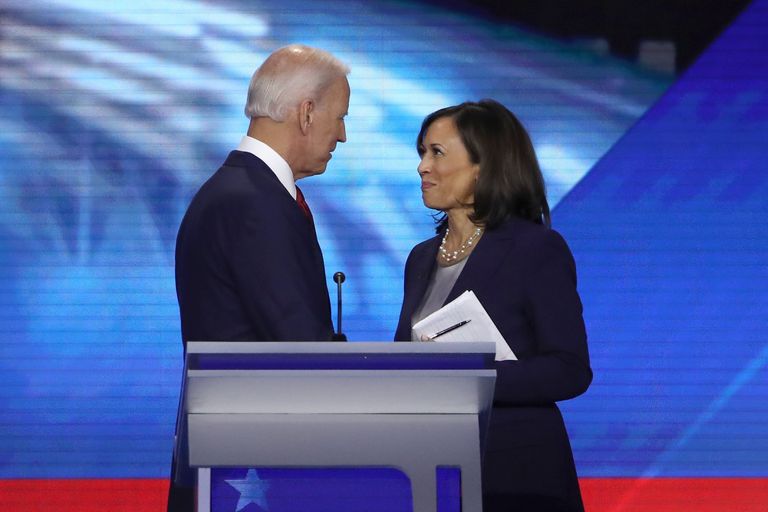 Joe Biden and Kamala Harris speak after the Democratic Presidential Debate at Texas Southern University on September 12, 2019 in Houston.
WIN MCNAMEEGETTY IMAGES
Back in March, Joe Biden pledged that should he get the Democratic nomination, a woman would be his running mate. When asked during the debate in D.C., "How will your cabinet ensure the best advice on issues that affect women's physical and financial health?" Biden committed to putting a woman on his ticket.
"If I'm elected president, my cabinet, my administration will look like the country, and I commit that I will, in fact, pick a woman to be vice president," Biden says in the video above. "There are a number of women who are qualified to be president tomorrow. I would pick a woman to be my vice president."
Bernie Sanders later dropped out of the race, leaving Biden as the presumptive Democratic nominee, but one question remained: who would he choose as his VP?
Today, we finally have an answer. This afternoon, the Biden camp confirmed that he has selected California senator Kamala Harris to be his running mate.
"I've decided that Kamala Harris is the best person to help me take this fight to Donald Trump and Mike Pence and then to lead this nation starting in January 2021," Biden said Tuesday.
Harris, one of Biden's former sparring partners, has been on a short list of VP contenders for weeks now. She made a name for herself during the debates, and while she doesn't directly help Biden flip a swing state, having a person of color on the ticket is a key issue for many Democratic voters.
Last August, Biden said he was open to choosing a person of color as his running mate, suggesting it might be his preference. "Whomever I pick, preferably it will be someone who was of color and/or a different gender, but I'm not making that commitment until I know that the person I'm dealing with I can completely and thoroughly trust as authentic and on the same page [as me]," he said.
Below, a few of the other women who were thought to have been in the running for Biden's VP.
For more information please visit the following link:
https://www.townandcountrymag.com/society/politics/a31788718/joe-biden-vp-candidate-predictions/
Kamala Harris: Some throwback photos from her childhood
Updated: August 12, 2020 10:31:26 pm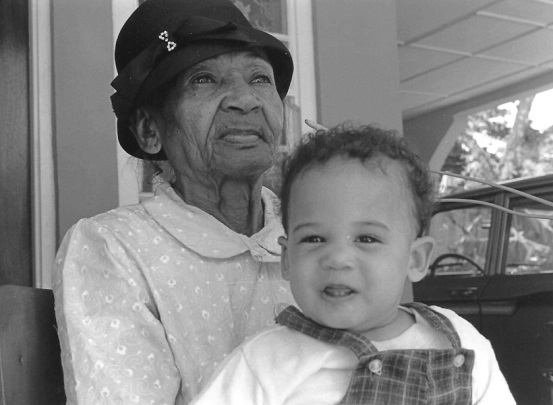 In a major breakthrough for Indian-Americans in US politics, Joe Biden has picked Senator Kamala Harris as his running mate to woo the Black voters and the influential Indian diaspora who could play a key role in his bid to defeat Donald Trump in the presidential election. In pic: Iris Finegan holds her great granddaughter, Kamala Harris, in Jamaica. (Kamala Harris campaign via AP)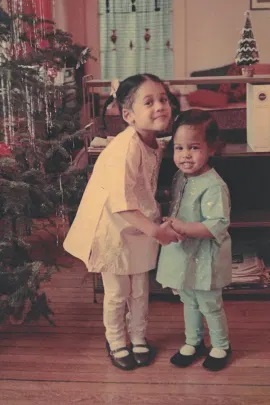 This December 25, 1968 photo shows Kamala Harris with her sister, Maya, on Christmas. (Kamala Harris campaign via AP)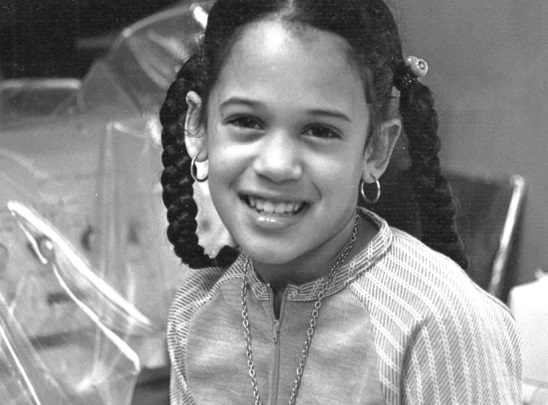 Kamala Harris as a child at her mother's lab in Berkeley, California. (Kamala Harris campaign via AP)
This September 1966 photo provided by the Kamala Harris campaign shows her during a family visit to the Harlem neighborhood of New York. (Kamala Harris campaign via AP)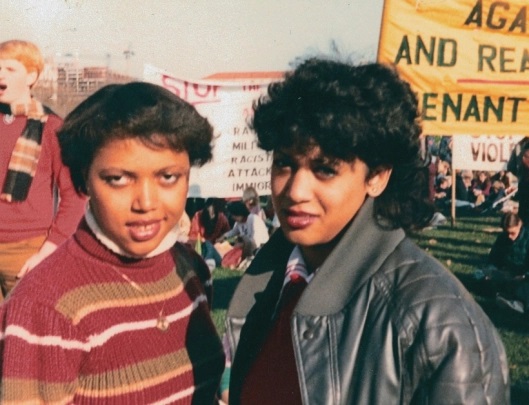 This November 1982 photo shows Kamala Harris, right, with Gwen Whitfield at an anti-apartheid protest during her freshman year at Howard University in Washington. (Kamala Harris campaign via AP)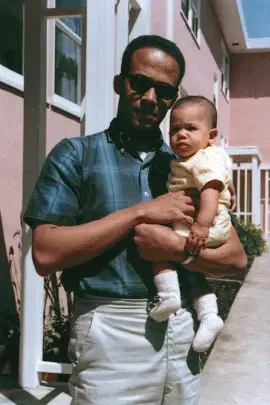 In this April 1965 photo provided by the Kamala Harris campaign, Donald Harris holds his daughter, Kamala. (Kamala Harris campaign via AP)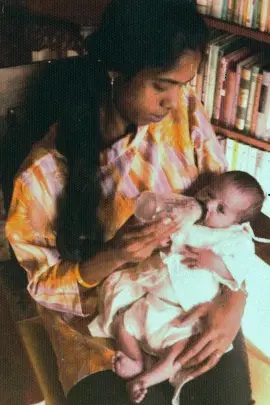 In this undated photo provided by the Kamala Harris campaign in April 2019, Shyamala Gopalan Harris, 25, holds her baby, Kamala. (Kamala Harris campaign via AP)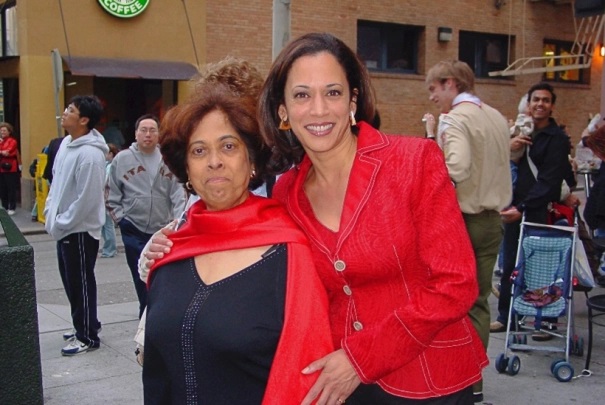 Born to a Jamaican father and Indian mother, she often speaks of her deep bond with her late mother, whom she has called her single biggest influence. In pic: Kamala Harris with her mother, Shyamala, at a Chinese New Year parade in 2007. (Kamala Harris campaign via AP)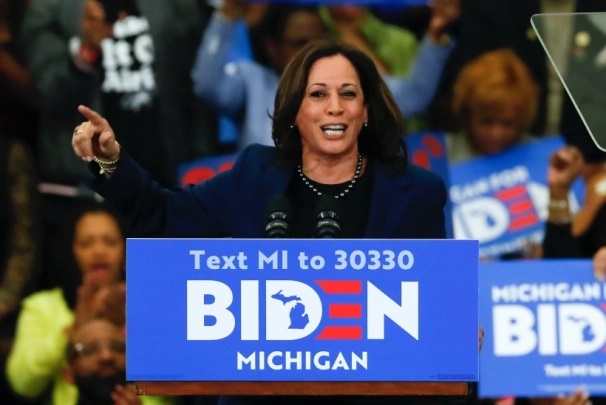 On Tuesday, Biden tapped California Sen. Kamala Harris to be his running mate, making her the first Black woman to serve on a major party presidential ticket. The Biden campaign has said it plans a rollout that blends the historic nature of Harris' selection with the realities of the 2020 campaign and the gravity of the nation's circumstances. (AP
For more information please visit the following link:
https://indianexpress.com/photos/world-news/kamala-harris-photos-childhood-6552110/
Who Is Kamala Harris's Husband, Douglas Emhoff?
The entertainment lawyer just might be the sweetest political spouse on Twitter

AUG 11, 2020
He's an entertainment lawyer.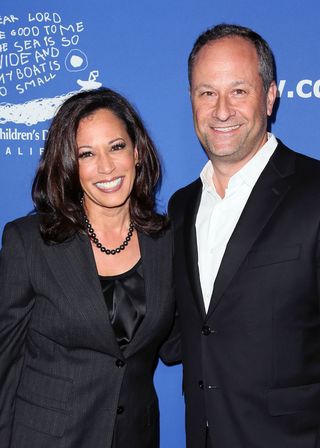 California senator Kamala Harris has been with her husband Douglas Emhoff since 2013.
DAVID LIVINGSTONGETTY IMAGES
Though he was born in Brooklyn, New York, California has arguably had the biggest impact on Emhoff's life. Hhe graduated from the University of Southern California's Gould School of Law, and met and married his wife on the left coast, and it's where he now works as a partner at DLA Piper Law Firm.
According to the company's profile of him, Emhoff, "Represents large domestic and international corporations and some of today's highest profile individuals and influencers in complex business, real estate and intellectual property litigation disputes."
One such dispute, according to The Hollywood Reporter, had Emhoff representing the ad agency TBWA in an early 2000s lawsuit over the rights to the chihuahua featured in Taco Bell's "Yo Quiero Taco Bell" ads.
The 54-year-old now reportedly splits his time between California and D.C., as well as traveling with his wife to help with her campaign. "With all this other stuff that's happening in my life right now, it's great to have [my practice,] because it's something that I love and I'm good at," he told THR.
For more information please visit the following link:
https://www.townandcountrymag.com/society/politics/a27256864/kamala-harris-husband-douglas-emhoff-facts/