PBS News: August 15-17, 2020, How USPS policies and the pandemic could create mail-in voting 'perfect storm', Aug 14, 2020, and  #WashWeekPBS full episode: Kamala Harris takes on President Trump, Aug 14, 2020
NBC News: NBC Nightly News Broadcast (Full), August 17th & 16th, 2020 and Meet The Press Broadcast (Full), August 16th, 2020
Roylab Stats: [LIVE] Coronavirus Pandemic: Real Time Counter, World Map, News
Al Jazeera English | Live
DW News Livestream | Latest news and breaking stories
Now This News: Kamala Harris' Greatest Moments, Aug 8, 2020 
Last Week Tonight: Voting by Mail: Last Week Tonight with John Oliver (HBO)
TEDMED:  Joseph Shin How doctors can help fix the broken us asylum system, March 2020
Bored Panda: I Quit My Job In Finance And Have Been Photographing Wildlife Ever Since, Here Are My 30 Favorite Pics
https://www.youtube.com/watch?v=BSljg0PlliA
PBS NewsHour full episode, Aug. 17, 2020
Fundraiser
Aug 17, 2020  PBS NewsHour
Monday on the NewsHour, the Democratic National Convention begins, with virtual events occurring at locations around the country. Plus: A convention debrief, the political fight over the U.S. Postal Service intensifies, Sen. Chris Coons on Joe Biden's candidacy, Politics Monday with Amy Walter and Tamara Keith, uproar in Belarus over election results and Iowa reels from a devastating wind storm. Support your local PBS station here: https://pbs.org/donate WATCH TODAY'S SEGMENTS Democrats kick off unprecedented virtual convention https://www.youtube.com/watch?v=mVw17… How Democrats, Trump are approaching a big week in politics https://www.youtube.com/watch?v=LPvO6… A former USPS  board chair on mail-in ballots and Trump https://www.youtube.com/watch?v=RAQvC… Sen. Coons on how Biden can unite America in time of crisis https://www.youtube.com/watch?v=UCD2e… Tamara Keith and Amy Walter on Biden's DNC, Trump vs. USPS https://www.youtube.com/watch?v=ANIDE… News Wrap: Virus outbreak sends UNC-Chapel Hill back online https://www.youtube.com/watch?v=6K9OY… Do 'extraordinary' Belarus protests threaten Lukashenko? https://www.youtube.com/watch?v=eyWRJ… A week after wind storm, Iowa faces 'humanitarian crisis' https://www.youtube.com/watch?v=DNQwZ… Stream your PBS favorites with the PBS app: https://to.pbs.org/2Jb8twG Find more from PBS NewsHour at https://www.pbs.org/newshour Subscribe to our YouTube channel: https://bit.ly/2HfsCD6
PBS NewsHour Weekend Full Episode, August 16, 2020
Aug 16, 2020  PBS NewsHour
On this edition for Sunday, August 16, the postal service crisis becomes a voting rights issue, Black immigrants in Maine are disproportionately infected with COVID-19, and the first four-day, virtual Democratic national nominating convention kicks off Monday. Hari Sreenivasan anchors from Sarasota, Florida. Stream your PBS favorites with the PBS app: https://to.pbs.org/2Jb8twG Find more from PBS NewsHour at https://www.pbs.org/newshour Subscribe to our YouTube channel: https://bit.ly/2HfsCD6
PBS NewsHour Weekend Full Episode, August 15, 2020
Aug 15, 2020  PBS NewsHour
On this edition for Saturday, August 15, public health officials are worried about the decline in COVID-19 testing in the U.S. even as the number of cases and deaths decline in the country, the homelessness and healthcare crisis in Lebanon after a massive explosion in Beirut, and 'Talking Heads' co-founder and drummer Chris Frantz speaks about his new memoir. Hari Sreenivasan anchors from Sarasota, Florida. Stream your PBS favorites with the PBS app: https://to.pbs.org/2Jb8twG Find more from PBS NewsHour at https://www.pbs.org/newshour Subscribe to our YouTube channel: https://bit.ly/2HfsCD6
How USPS policies and the pandemic could create mail-in voting 'perfect storm'
Aug 14, 2020  PBS NewsHour
The U.S. Postal Service is warning that it may not be able to deliver all mail-in ballots in time for them to be counted for the election. That message was communicated in letters sent to state officials around the country, and it raised the prospects of big problems in November. William Brangham reports and talks to The Washington Post's Erin Cox about the challenges and what voters can do. Stream your PBS favorites with the PBS app: https://to.pbs.org/2Jb8twG Find more from PBS NewsHour at https://www.pbs.org/newshour Subscribe to our YouTube channel: https://bit.ly/2HfsCD6
#WashWeekPBS full episode: Kamala Harris takes on President Trump
Aug 14, 2020  Washington Week
Joe Biden's search for a running mate ended this week with a history-making pick: Senator Kamala Harris of California. The panel discussed Harris's record as a senator and California Attorney General as well as President Trump's attacks on the US Postal Service. Panel: Yamiche Alcindor, PBS NewsHour; Mary Jordan, The Washington Post; Jonathan Martin, The New York Times; Ayesha Rascoe, NPR
https://www.youtube.com/watch?v=gZ5_EUiwrQE
NBC Nightly News Broadcast (Full) – August 17th, 2020 | NBC Nightly News
Aug 17, 2020  NBC News
Trump escalates attacks on mail-in voting, inside USPS struggles over mail delays, election ballots, and UNC-Chapel Hill converts to remote learning after COVID-19 spreads among students. Watch "NBC Nightly News With Lester Holt" at 6:30 p.m. ET / 5:30 p.m. CT (or check your local listings). 00:00 Intro 01:31 Trump Steps Up Mail-in Voting Attacks: 'Very Dangerous' 02:57 House To Vote On $25 Billion For Postal Service 03:37 Trump's Postmaster General To Testify Before Congress 04:08 Postal Workers On Front Lines Speak Out On Crisis 06:30 Michelle Obama Headlines First Night Of Virtual DNC 07:41 Democratic National Convention Kicks Off Virtually 09:13 What To Watch For As DNC Kicks Off Virtually 10:23 UNC-Chapel Hill Abruptly Suspends In-Person Classes 10:55 Students Throw Massive Parties Without Social Distancing 11:53 CDC Warns COVID-19 Rates In Kids 'Steadily Increasing' 12:59 Historic Disaster In Iowa One Week After Deadly Storm 14:47 52 Million Under Heat Alerts As Wildfires Rage 15:21 Milwaukee Still Has Key Role To Play As DNC Goes Virtual 17:24 Oklahoma Boy Gets 5,000 Adoption Inquires After Viral Interview » Subscribe to NBC News: http://nbcnews.to/SubscribeToNBC » Watch more NBC video: http://bit.ly/MoreNBCNews
https://www.youtube.com/watch?v=hRB-PDHI_CQ
NBC Nightly News Broadcast (Full) – August 16th, 2020 | NBC Nightly News
Aug 16, 2020  NBC News
Parties at reopened colleges increase fears of coronavirus outbreaks, Democrats push for answers on U.S. Postal Service delays, and what to expect from this week's virtual Democratic National Convention.» Subscribe to NBC News: http://nbcnews.to/SubscribeToNBC » Watch more NBC video: http://bit.ly/MoreNBCNews NBC News Digital is a collection of innovative and powerful news brands that deliver compelling, diverse and engaging news stories. NBC News Digital features NBCNews.com, MSNBC.com, TODAY.com, Nightly News, Meet the Press, Dateline, and the existing apps and digital extensions of these respective properties. We deliver the best in breaking news, live video coverage, original journalism and segments from your favorite NBC News Shows.
Meet The Press Broadcast (Full) – August 16th, 2020 | Meet The Press | NBC News
Aug 16, 2020  NBC News
Sen. Bernie Sanders (I-Vt.) says postal disruptions are 'undermining American Democracy' and discusses the Democratic National Convention. National Security Adviser Robert O'Brien talks about the new diplomatic agreement between Israel and the UAE and the threat of foreign interference in the upcoming election. Kasie Hunt, Carol Lee, Jeh Johnson and Charles Benson join the panel.» Subscribe to NBC News: http://nbcnews.to/SubscribeToNBC » Watch more NBC video: http://bit.ly/MoreNBCNews
[LIVE] Coronavirus Pandemic: Real Time Counter, World Map, News
Started streaming 15 hours ago   Roylab Stats
Coronavirus Live Streaming: Breaking news, world Map and live counter on confirmed cases and recovered cases. I started this live stream on Jan 26th, and since Jan 30th I have been streaming this without stopping. Many people are worried about the spread of coronavirus. For anyone that wants to know the real-time progression of the worldwide spread of this virus, I offer this live stream. The purpose is not to instill fear or panic, nor is it to necessarily comfort; I just want to present the data to help inform the public of the current situation. The purpose of this stream is to show basic information and data to understand the situation easily. For detail information, please visit our reference sites.
https://www.youtube.com/watch?v=_dsWF2prkR8
Al Jazeera English | Live
Started streaming on Aug 9, 2020  Al Jazeera English
@Al Jazeera English, we focus on people and events that affect people's lives. We bring topics to light that often go under-reported, listening to all sides of the story and giving a 'voice to the voiceless'. Reaching more than 270 million households in over 140 countries across the globe, our viewers trust Al Jazeera English to keep them informed, inspired, and entertained. Our impartial, fact-based reporting wins worldwide praise and respect. It is our unique brand of journalism that the world has come to rely on. We are reshaping global media and constantly working to strengthen our reputation as one of the world's most respected news and current affairs channels. Subscribe to our channel: http://bit.ly/AJSubscribe Follow us on Twitter: https://twitter.com/AJEnglish Find us on Facebook: https://www.facebook.com/aljazeera Check our website: http://www.aljazeera.com/ #AlJazeeraEnglish #BreakingNews #AlJazeeraLive
https://www.youtube.com/watch?v=NvqKZHpKs-g
DW News Livestream | Latest news and breaking stories
Started streaming on Jan 21, 2019  DW News
DW News goes deep beneath the surface, providing the key stories from Europe and around the world. Exciting reports and interviews from the worlds of politics, business, sports, culture and social media are presented by our DW anchors in 15-, 30- and 60-minute shows. Correspondents on the ground and experts in the studio deliver detailed insights and analysis of issues that affect our viewers around the world. We combine our expertise on Germany and Europe with a special interest in Africa and Asia while keeping track of stories from the rest of the world. Informative, entertaining and up-to-date – DW News, connecting the dots for our viewers across the globe. Deutsche Welle is Germany's international broadcaster. We convey a comprehensive image of Germany, report events and developments, incorporate German and other perspectives in a journalistically independent manner. By doing so we promote understanding between cultures and peoples. #dwNews #LiveNews #NewsToday
Category  News & Politics
Kamala Harris' Greatest Moments | NowThis
Aug 8, 2020  NowThis News
BEST OF KAMALA: Whether it's Bill Barr or a tuna melt, Sen. Kamala Harris is always ready to apply the heat. Watch her greatest moments on race, marriage equality, criminal justice reform, and much more. » Subscribe to NowThis: http://go.nowth.is/News_Subscribe » Sign up for our newsletter KnowThis to get the biggest stories of the day delivered straight to your inbox: https://go.nowth.is/KnowThis For more U.S. politics and world news, subscribe to NowThis News. #KamalaHarris #Politics #News #NowThis #NowThisNews Connect with NowThis » Like us on Facebook: http://go.nowth.is/News_Facebook » Tweet us on Twitter: http://go.nowth.is/News_Twitter » Follow us on Instagram: http://go.nowth.is/News_Instagram » Find us on Snapchat Discover: http://go.nowth.is/News_Snapchat NowThis is your premier news outlet providing you with all the videos you need to stay up to date on all the latest in trending news. From entertainment to politics, to viral videos and breaking news stories, we're delivering all you need to know straight to your social feeds. We live where you live. http://www.youtube.com/nowthisnews @nowthi
Voting by Mail: Last Week Tonight with John Oliver (HBO)
Jun 1, 2020 LastWeekTonight
With the 2020 presidential election nearing and a pandemic in full swing, John Oliver discusses why voting by mail is necessary, the fearmongering surrounding it, and why we need to start planning for November right now. Connect with Last Week Tonight online… Subscribe to the Last Week Tonight YouTube channel for more almost news as it almost happens: www.youtube.com/lastweektonight Find Last Week Tonight on Facebook like your mom would: www.facebook.com/lastweektonight
How doctors can help fix the broken US asylum system
Joseph Shin • TEDMED 2020 • March 2020
Refugees fleeing persecution endure unimaginable hardships in search of a better life. Physician Joseph Shin explains the essential collaboration of d… more
This video was produced by TEDMED. TED's editors featured it among our daily selections on the home page.
ACTIVITYINFO + RESOURCESTRANSCRIPT
Why this idea matters
Be the first to recommend this talk
Help spread this idea by sharing why it matters to you. The most inspiring responses are featured right on this page.
Why does this idea matter to you?
What's this?
Login to share your thoughts ?
TED Talks are free thanks to our partners and advertisers
https://www.boredpanda.com/wildlife-photography-africa-peter-delaney/?utm_source=newsletter&utm_medium=email&utm_campaign=Newsletter
I Quit My Job In Finance And Have Been Photographing Wildlife
Ever Since, Here Are My 30 Favorite Pics
Peter Delaney
Community member
One day, while visiting the Natural History Museum, by accident, I wandered into the wrong exhibit hall. To my surprise, I had entered the exhibition for the BBC Wildlife Photographer of the Year. I was astounded by the winning photographs. I was transported visually to a world I had never witnessed before. I was mesmerized by the beautiful artworks on show—in particular, the winning image, Blue Iceberg by Cherry Alexander.
This wildlife exhibition was an uplifting experience and one I would repeat every year. Little did I know the profound effect it would have on my life in years to come.
After working in the finance industry in the City of London for 15 years, I needed a balance in my life. Wildlife photography became my yang! I quit my job.
And in 2005, Africa became the new chapter in my life. The sheer size and magnitude of this continent were overwhelming. From navigating the forests of Bwindi and climbing the peaks of Kilimanjaro through to meandering along the red dunes of the Kalahari, I started photographing Africa.
It may be a cliché, but it is true—photography has become my life. No matter where I am, my mind's eye is taking photographs. It has taught me to see the world in a different light, and for that, I am eternally grateful.
We never know what road we may take in life or the catalyst that changes our life forever. For me, it was a serendipitous wrong turn into the exhibit hall of the Wildlife Photographer of the Year, the world's most prestigious wildlife photography competition, which incidentally I have won an astonishing three times.
More info: peterdelaneyphotography.com | Facebook | Instagram | youtube.com | twitter.com
#1   White-Backed Vulture, Kalahari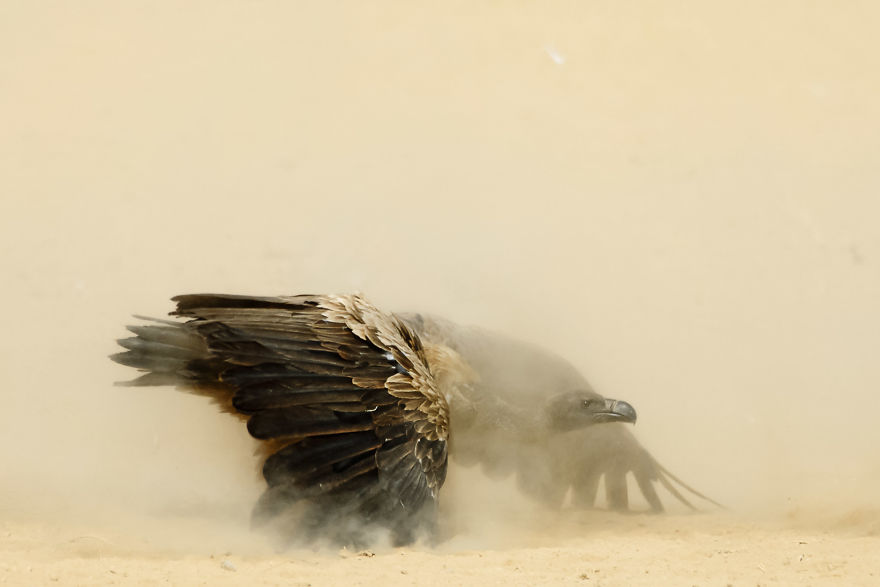 #2   Elephant Sunset, Etosha Pan, Namibia
#3   Heart Of Darkness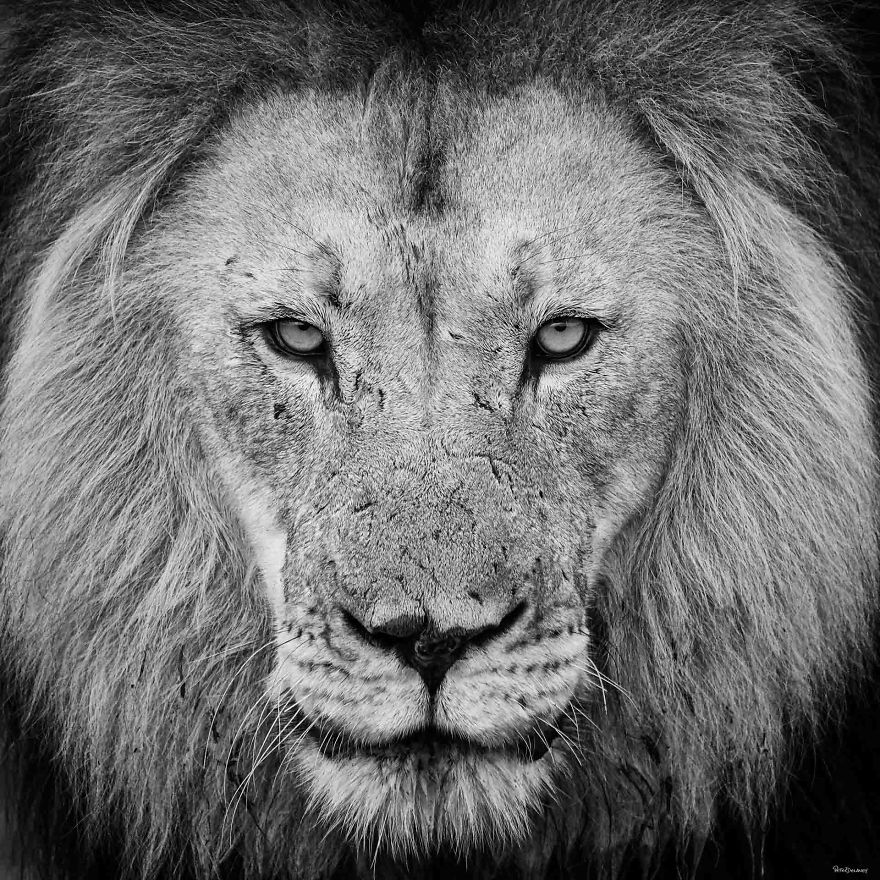 #4   Bull Elephant, Dust Bathing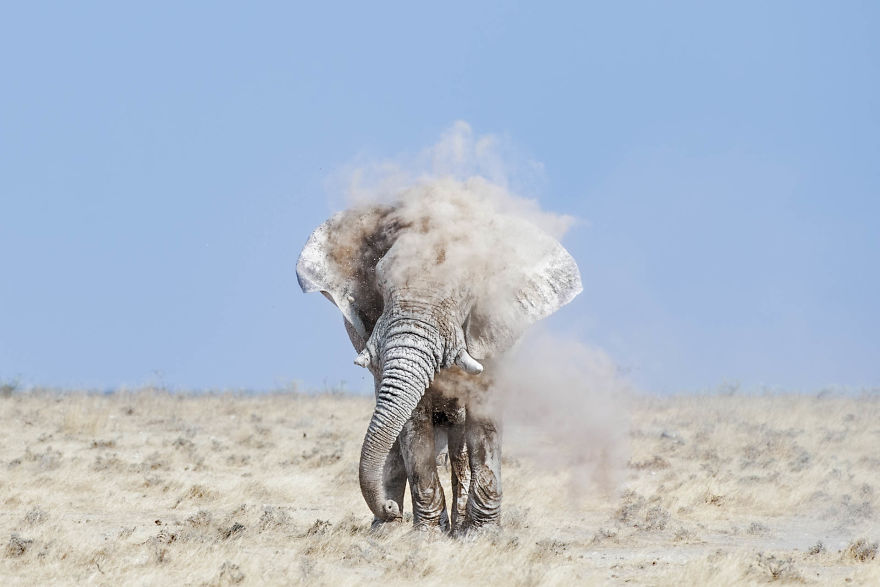 #5   Lion Flehmen, Masai Mara, Kenya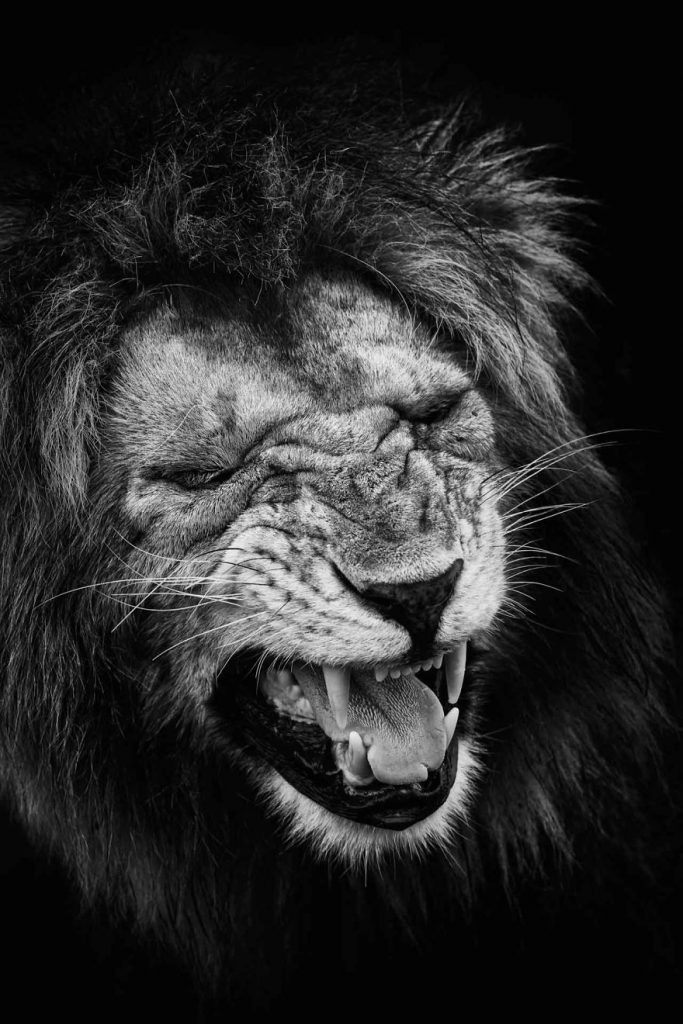 #6   Dune On Fire, Namibia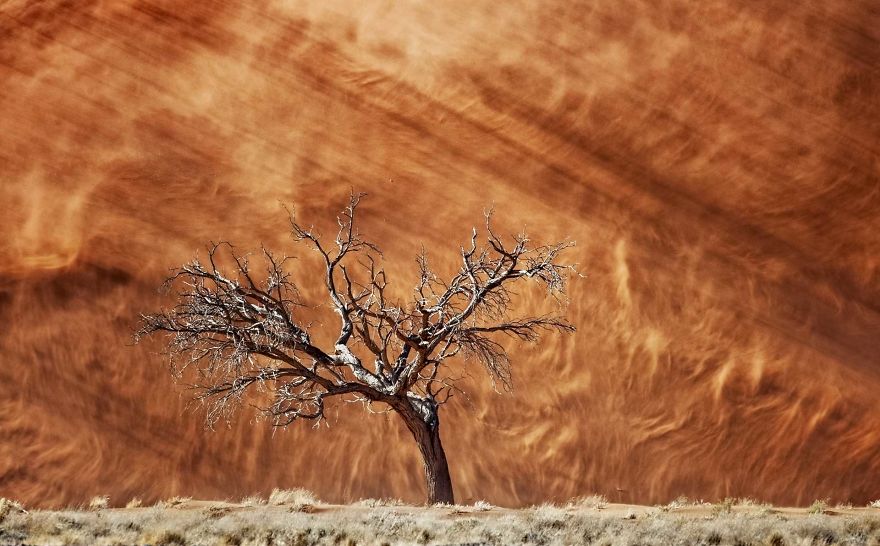 #7   Chimpanzee Dreaming, Uganda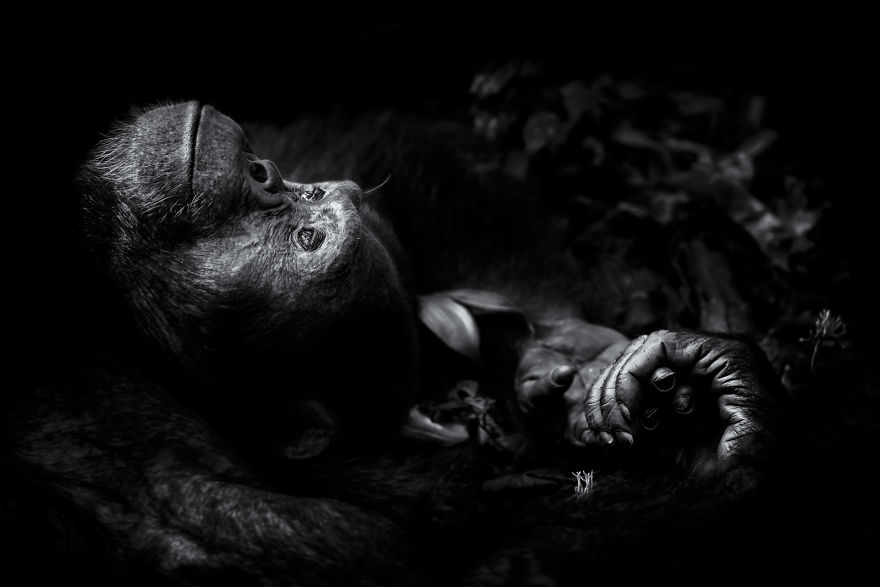 #8   Vanishing Point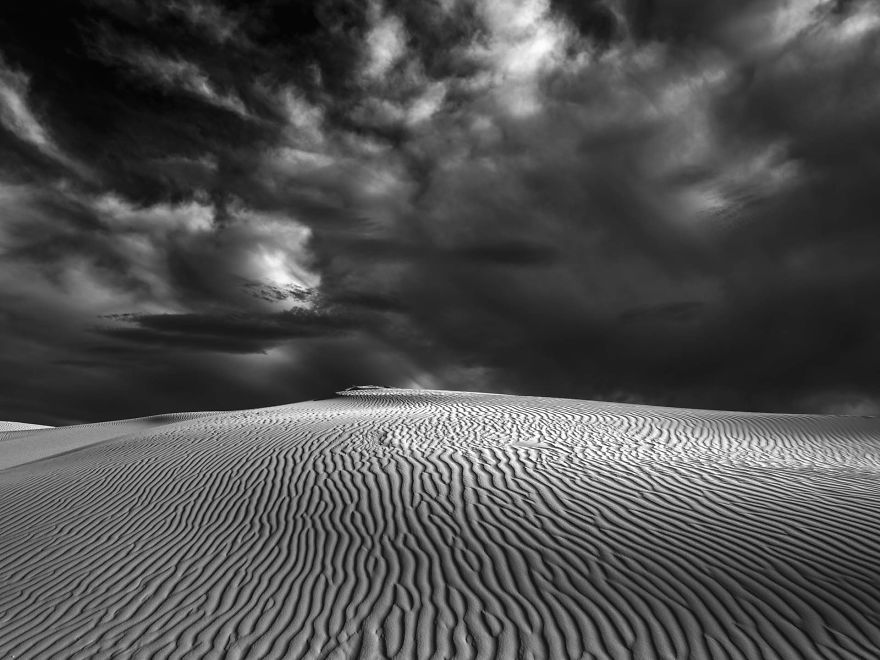 #9   Tower Of Giraffes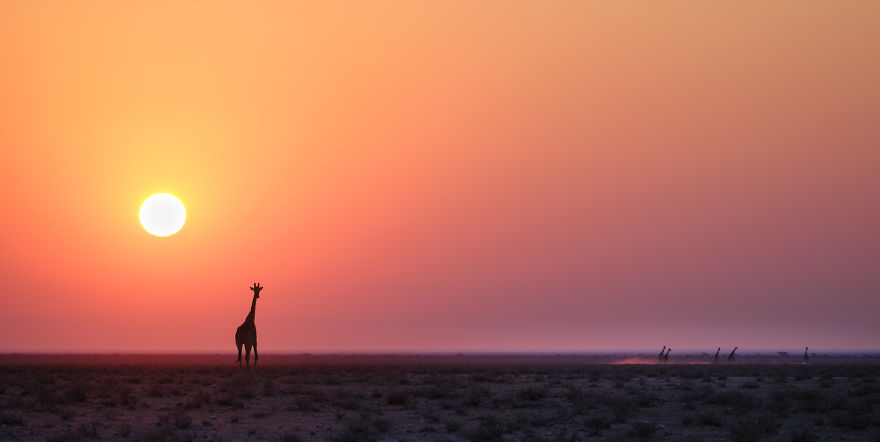 #12   Black Rhino Charge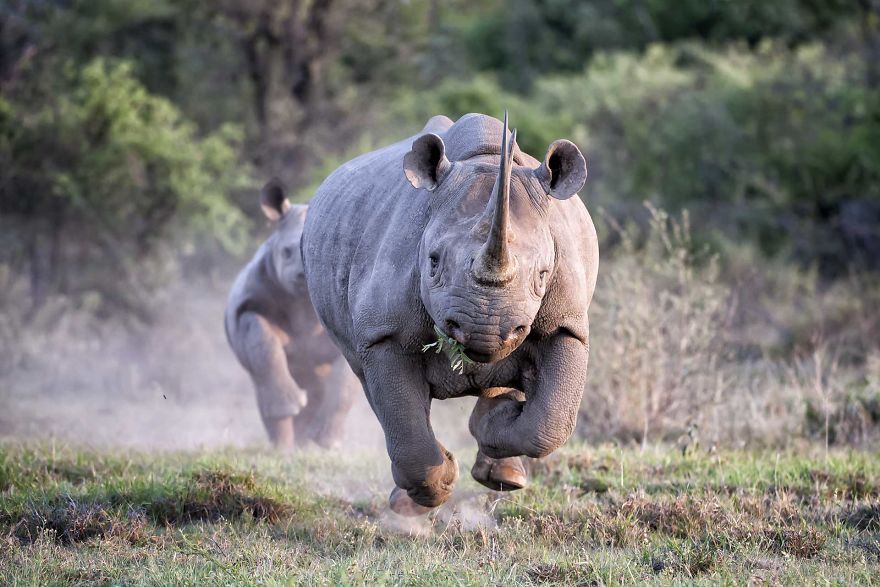 #13   Black Rhino Portrait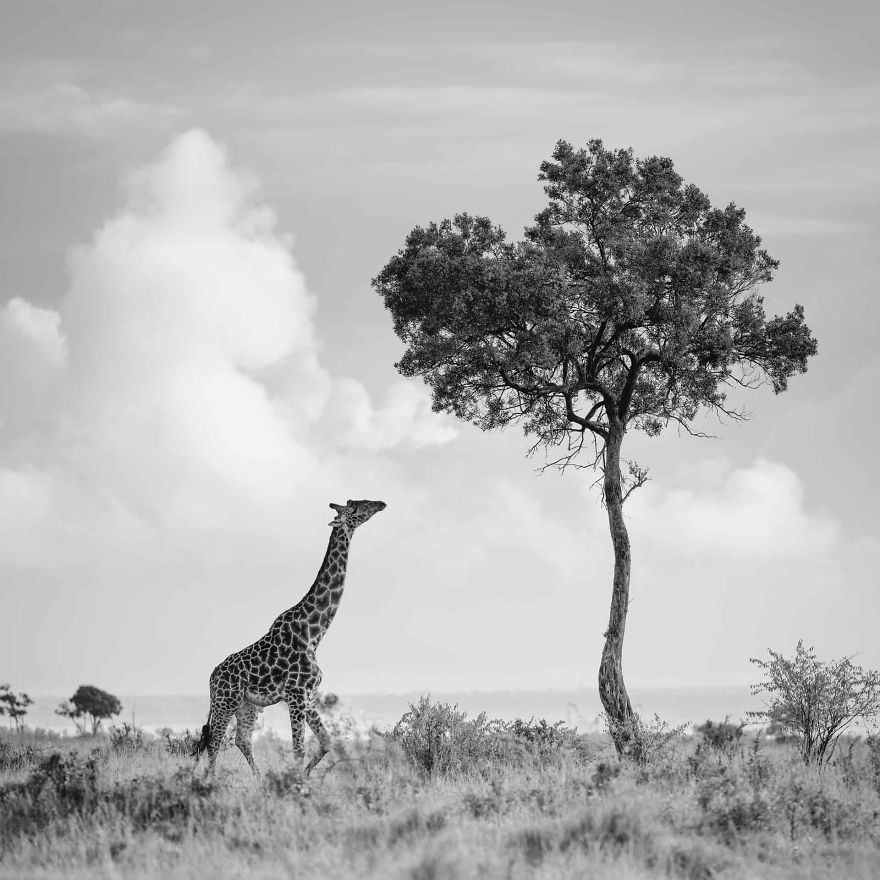 #15   Zebra Dance, Addo, South Africa
#16   Grey Ghosts Of Etosha, Namibia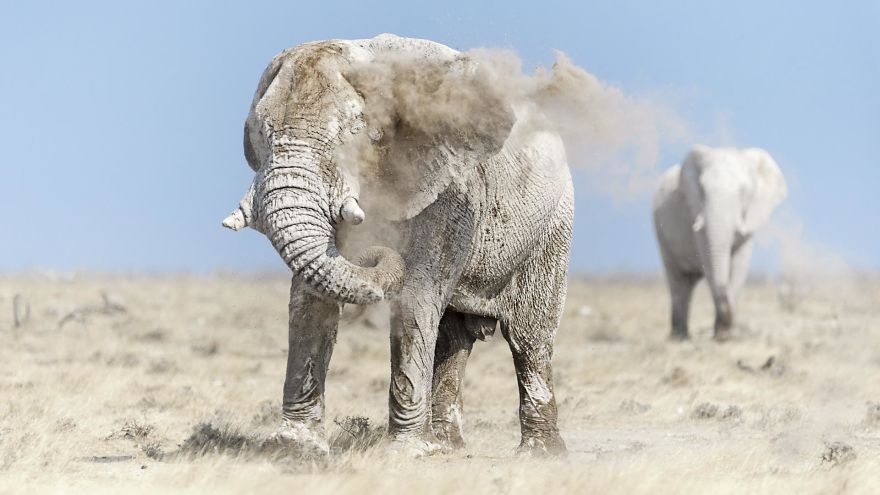 #17   Virginia's Tree, Storm Over Mara, Kenya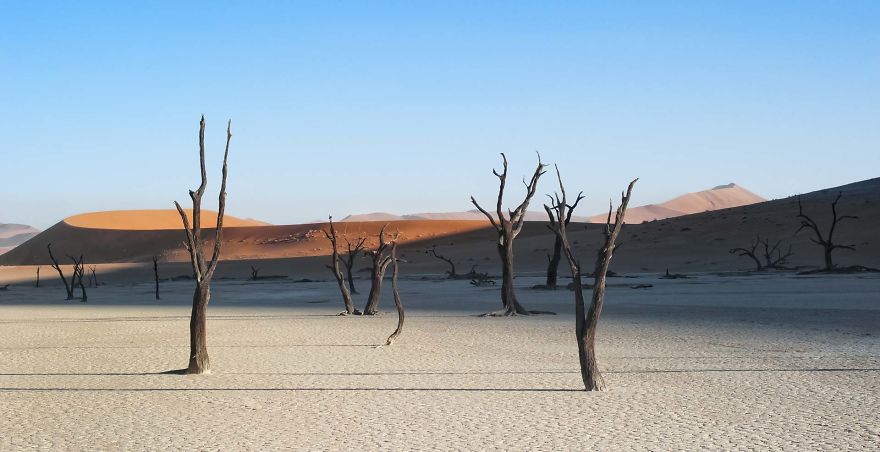 #19    Deadvlei, Namibia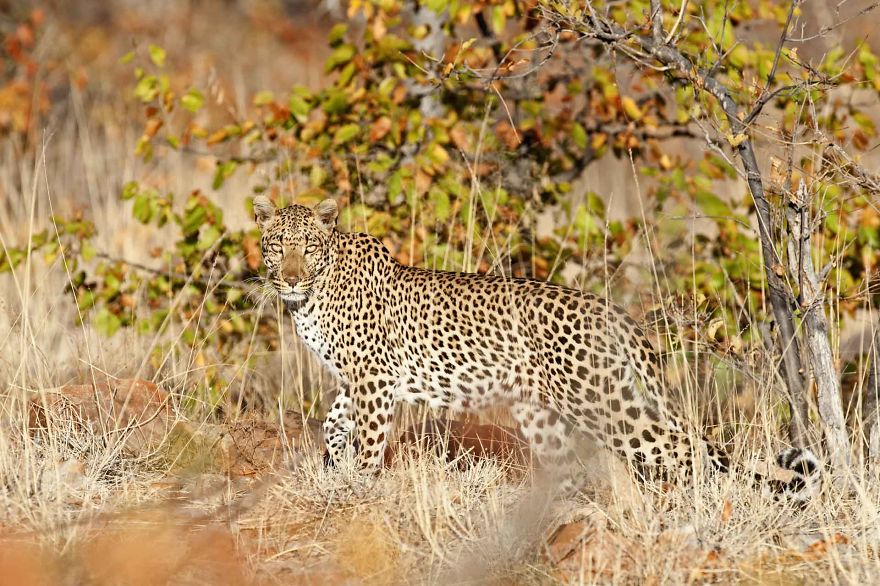 #20   Leopard In Autumn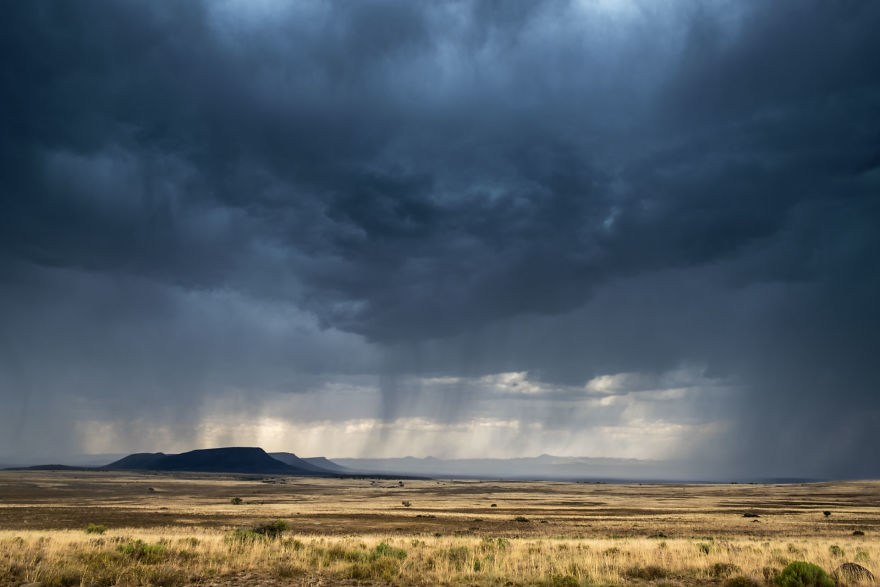 #21   Storm Over The Karoo, South Africa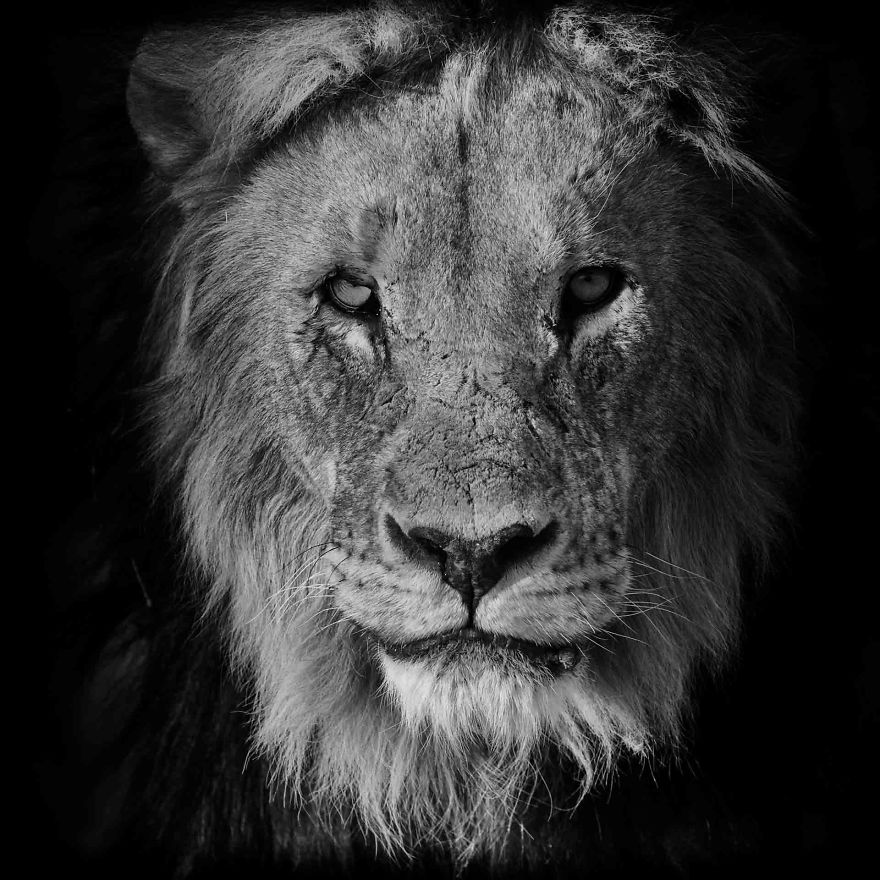 #22   Heart Of Darkness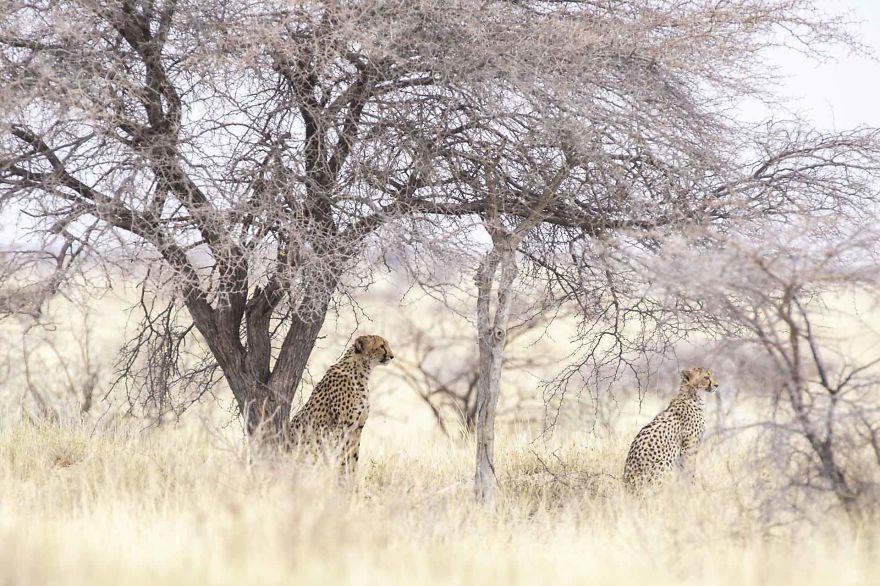 #23   Cheetah Mum And Baby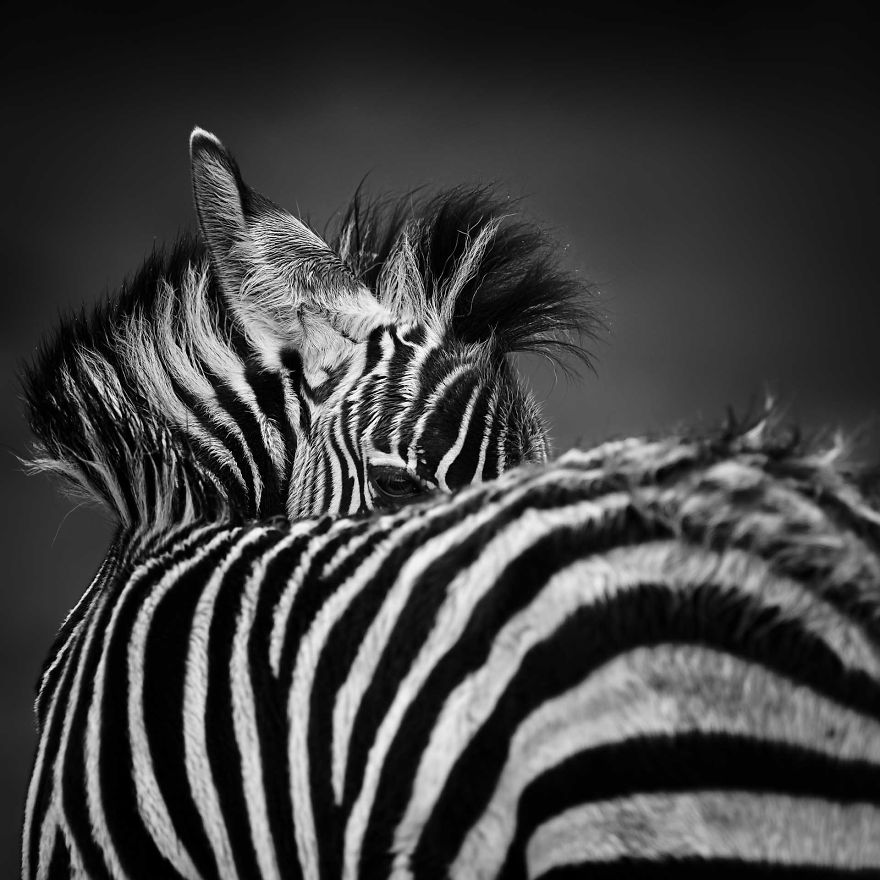 #24   Looking Back, Zebra Foal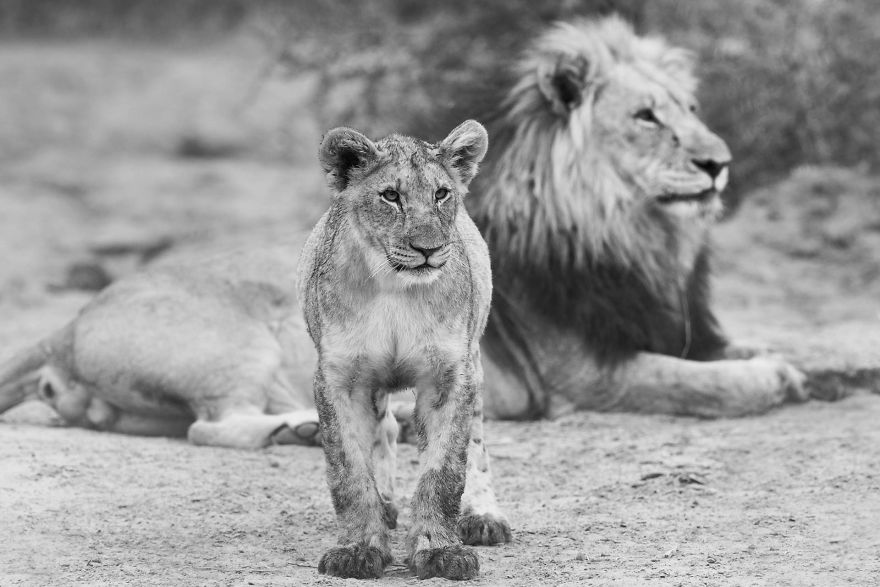 #25   Lion And Cub, Father And Son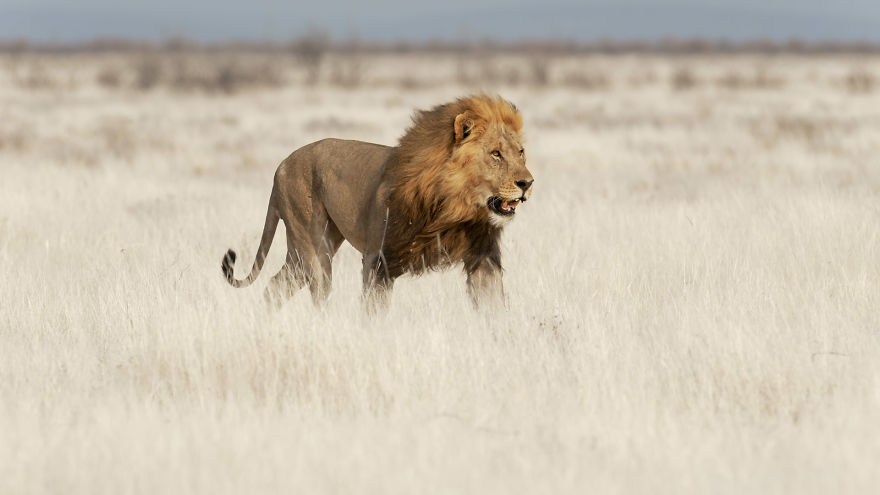 #26   Kalahari Black-Maned Lion
#27   Lappet-Faced Vulture, Botswana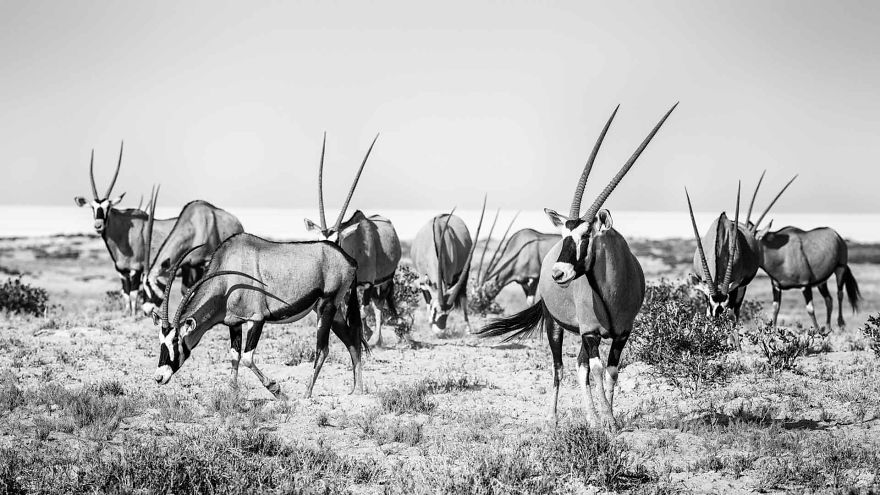 #28   Gemsbok, Kalahari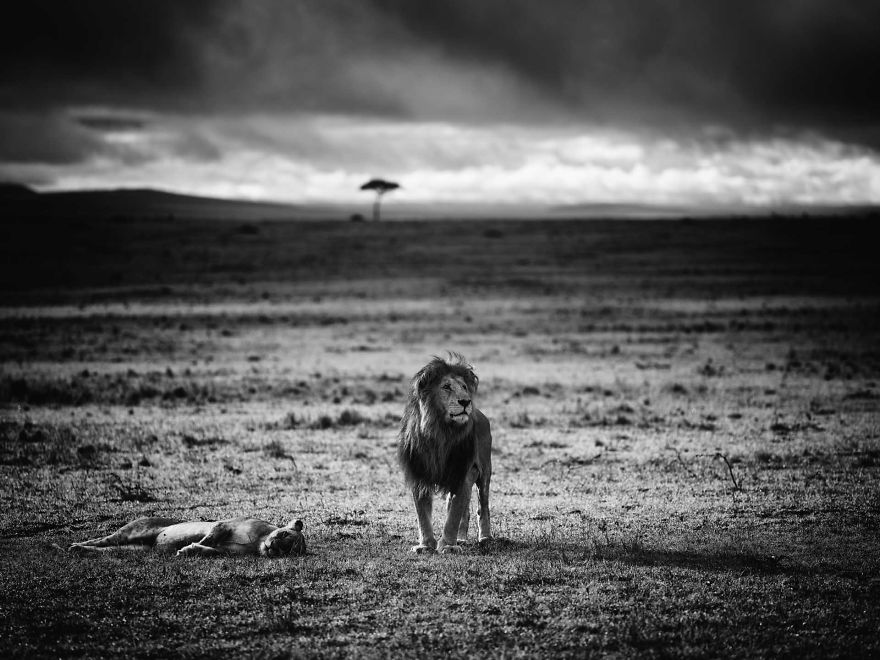 #29   Duke And Duchess, Masai Mara, Kenya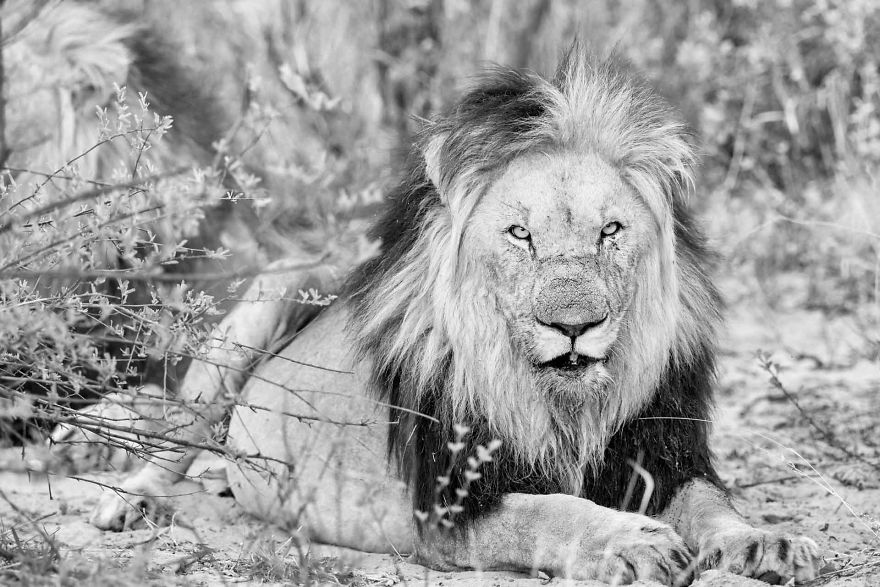 #30   Kalahari Lion Stare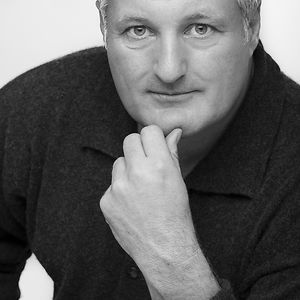 Author, Community member    Follow 
A Few Words About Peter
Peter Delaney quit a career in finance to pursue a dream of travelling Africa in a Land Cruiser. And along the way, he found his passion, Wildlife Photography.
From navigating the forests of Bwindi and climbing the peaks of Kilimanjaro, through to meandering along the red dunes of the Kalahari, Delaney started photographing Africa. "Africa became the new chapter in my life, and I have dedicated the last 15 years capturing Wildlife Photos this diverse continent," Delaney notes.
The Irish native exchanged the Emerald Isle for a more colourful life in George, South Africa, to continue his travels through the magnitude of Africa. "The continent fascinates me like no other…
Anyone can write on Bored PandaLEARN MORE