Ing's Street Art, "My Little Red Shoes", "Elephant Bath", "In the Midst of Troubles, I Seek Peace", and "U.S. Supreme Court Justices on Eviction"

Halsey Street, Newark, New Jersey, USA
Part 2
 In the Midst of troubles, I Seek Peace
 In the midst of trouble
Global warming
Causes the fires in California and elsewhere
The weather turns more violence
Hurricane Ida caused destruction in Haiti
Louisiana and other places in its path to the North East
Strong winds, rain and floods
Whole cities had to evacuate
Millions homeless caused by the nature
What causes nature to be violent?
Who causes Global warming?
Humans blame nature
Causing the destruction
No one can be blamed but ourselves
Let us start again
To care for Nature
for our lives now
And generations to come
Where can I Find Peace Street?
I got lost.
Where do you want to go?
I want to go to Peace Street
Where I can find my mother
Father and my family
I want to go to Peace Street
Where I am happy
To see a peaceful Village
I want to go to Peace Street
Where children have a joyful time
With parents and family
I want to go to Peace Street
Where children are not afraid
Or cry for food
And no place to stay
I want to go to Peace Street
where everyone is happy
No fighting
No disaster
I want to go to Peace Street
Where there are no weapons produced
And sold to kill each other
For profit and wealth
I want to go to Peace Street
Where there are no corrupt politicians
And greedy rich people who keep
Everything for themselves
Leaving non for the poor
I want to go to Peace Street
Where people are kind
And helpful to one another
I want to go to Peace Street
To see beautiful nature
With no pollution
Clean oceans
With all the creatures
Living happily
Can you direct me to Peace Street?
I got lost
I am hungry
Where are my mother, father,
my husband, my daughter, my grandsons
and the others in my family?
I miss them
I am lonely
Please help to direct me to Peace Street
My life is short
I am lost
Where I can find Peace Street on Earth
I woke up this morning.  I felt sad, thinking about my family and other unfortunate people.  Biden had a policy to deport Haitian people who suffered in their country.  Most immigrants want to have an opportunity to work for survival of their families.  It is cruel to send people back to suffer and die while politicians try to find a way to gain credit for their future election to office.
Ing-On Vibulbhan-Watts, Saturday, September 25, 2021
U.S. Supreme Court Justices on Eviction
Low-income people have difficulty to survive
Even to have enough money to buy food
 To feed themselves and their children
A few days ago, a report from the news media stated that
700,000 people in the US died from COVID-19
The epidemic of the virus may cause some people not to get jobs
Especially families that have children
No money to pay rent
Thanks to an eviction moratorium policy
From Biden's administration
 Landlords were prevented from evicting families
This policy to help the poor
Is just a drop of water to quench the thirst
Of dying families
Now! Six Republican Supreme Court Justice Appointees
Declared that landlords can evict poor families
That cannot pay rent
Millions of poor families
With children are going to be homeless
In the midst of the COVID-19 epidemic
Powerful people receive
Benefits and salary from the tax payers of the country
These people use their power to cause the poor
Who cannot get jobs because the COVID-19 epidemic
To suffer even more than they were facing before
"Where is the justice?"
I want to ask these six Justices of the Supreme Court  
If it makes you happy to see children and their parents suffer?
These poor families who have difficulty to feed children and themselves
Now have no home to stay
Where is your humanity?
Where is your empathy toward the poor?
Where is your kindness for the poor?
Where is your morality toward these citizens?
We, the citizens of the country
Especially the unfortunate poor and homeless
 Who has no voice
Ask the Six Republican Appointed Justices of the Supreme Court
The above questions
What were you thinking when you made your decision?
You represent the Supreme Court of the land
 Are happy now that you have
Paid back the favor to billionaires that appointed you
To the Throne of Justice?
It is sad to see these humans
These so-called Supreme Court Justices walk the earth
"In the Midst of Troubles, I Seek Peace"
Where I can find Peace?
I could not control my tears for the evicted families
My heart is aching to hear such an order from this group of
United State Supreme Court Justices
Let me calm down
At least for my recording of the event
Let it be etched into history for future
Generations to learn
To cultivate the next generation
To be kind human beings
helping the unfortunate who
Suffer more than they
"In the Midst of Troubles, I Seek Peace"
I will calm myself
Get back to my garden
And continue doing my artwork
At least my minuscule contributions
Brings happiness to the others
Hearing people pass my little garden
And artwork saying
"The flowers are beautiful"
And commenting
"You changed your artwork.
I like the children in your painting"
"The painting is called, My Little Red Shoes"
I respond
Ing-On Vibulbhan-Watts, Saturday, October 2, 2021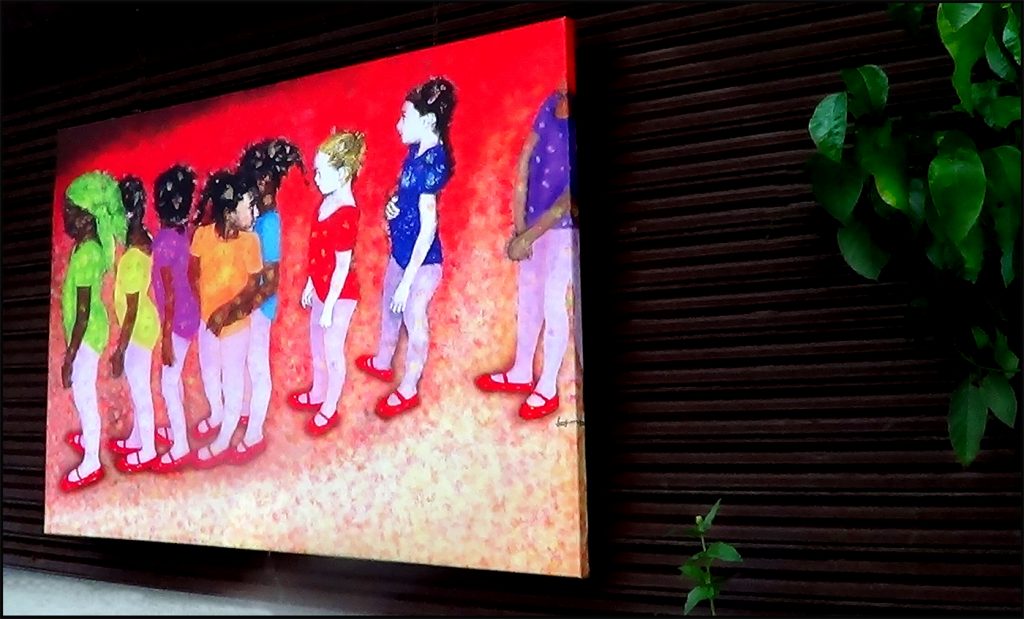 Artwork by Ing-On Vibulbhan-Watts, "My Little Red Shoes" in 1996. 
Daily Mail:
Supreme Court says letting the Biden administration keep the eviction moratorium in place could open the door to mandates for 'free grocery delivery for the sick and vulnerable and free computers to let Americans work from home'
Conservatives on the Supreme Court said extending eviction moratoriums could lead to government mandates on 'free grocery delivery and free computers' 
'Could the CDC mandate free grocery delivery to the homes of the sick or vulnerable?' the majority opinion reads from the six conservatives on the court
'Require manufacturers to provide free computers to enable people to work from home? Order telecommunications companies to provide free Internet?'
The Supreme Court voted 6-3 to block the eviction moratorium, allowing landlord to kick out renters who haven't paid rent in the midst of the pandemic
Argued that preventing landlords from evicting tenants who breach their leases strips them of their 'right to exclude'  
The six conservative justices elected to end the eviction freeze from the CDC and the three liberals justices voting it should stay
Said the CDC overextended its authority in imposing the moratorium 
By KATELYN CARALLE, U.S. POLITICAL REPORTER FOR DAILYMAIL.COM  and AP
PUBLISHED: 18:43 EDT, 30 August 2021 | UPDATED: 18:43 EDT, 30 August 2021
Conservatives on the Supreme Court said that allowing the eviction moratorium to continue could set a precedent for government mandated 'free grocery delivery' and 'free internet' for people to work from home.
'Preventing [landlords] from evicting tenants who breach their leases intrudes on one of the most fundamental elements of property ownership—the right to exclude,' the majority opinion reads from the Thursday decision.
The court's decision will allow for landlords to evict tenants who have not paid rent in the midst of the coronavirus pandemic.
Questioned in the unsigned opinion from the six conservative justices was hypothetical situations for how the Centers for Disease Control and Prevention could overreach its authority in the future, as they claim it did so in extending the moratorium.
'Could the CDC, for example, mandate free grocery delivery to the homes of the sick or vulnerable?' the majority opinion reads. 'Require manufacturers to provide free computers to enable people to work from home? Order telecommunications companies to provide free high-speed Internet service to facilitate remote work?'
All this to say, the court feels that the CDC cannot decide for the sake of public health that other aspects of business can be impacted, like preventing landlords from collecting rent.
They also claim that congressional action is needed to extend the moratorium.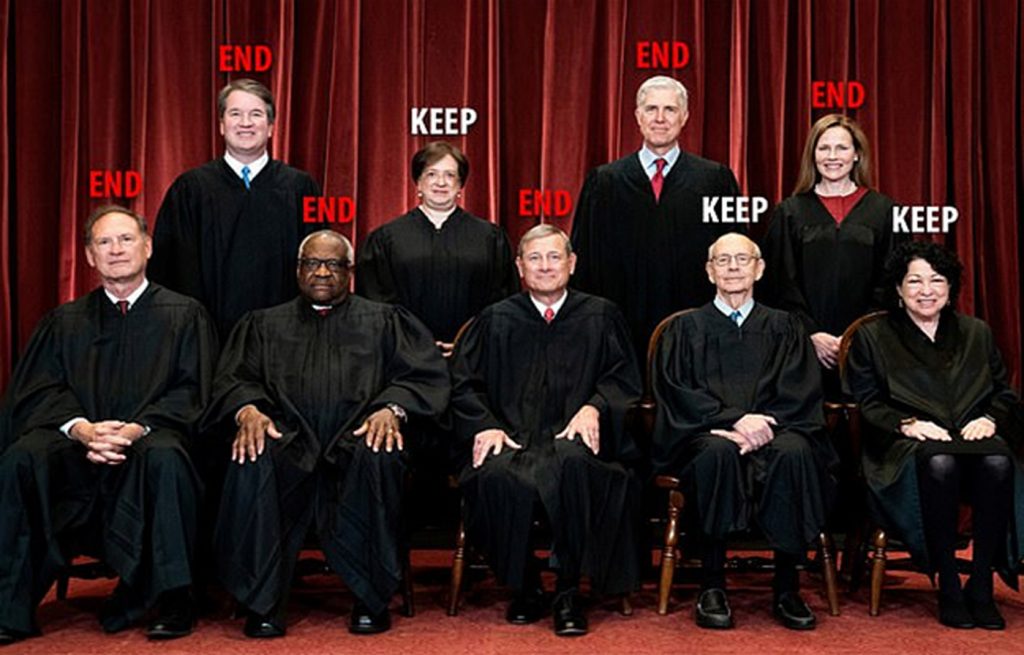 The Supreme Court elected to end the national eviction moratorium in a 6-3 vote on Thursday, claiming it would lead to a precedent of mandated 'free grocery delivery for the sick' or 'free computers and internet' to work from home
The decision again exhibited the power Republicans have with the court's 6-3 conservative majority, which is now allowing evictions to resume across the U.S. as it blocks the Biden administration from continuing to enforce a temporary ban that was put in place because of the coronavirus pandemic.
The vote was split by party line with conservatives John Roberts, Clarence Thomas, Samuel Alito, Neil Gorsuch, Brett Kavanaugh, and Amy Coney Barrett voting to end the eviction moratorium, and liberals Stephen Breyer, Sonia Sotomayor, and Elena Kagan voting to keep it.
The justices said in an unsigned opinion Thursday that the CDC, which reimplemented the moratorium on August 3, lacked the authority to do so under federal law without explicit congressional authorization.
'It would be one thing if Congress had specifically authorized the action that the CDC has taken,' the court wrote. 'But that has not happened. Instead, the CDC has imposed a nationwide moratorium on evictions in reliance on a decades-old statute that authorizes it to implement measures like fumigation and pest extermination. It strains credulity to believe that this statute grants the CDC the sweeping authority that it asserts.'
Real estate groups in Georgia and Alabama had argued this point and told the high court that the moratorium caused property owners across the nation significant financial hardships, USA Today reports.
Property owners had to continue to pay expenses while not receiving payments from renters. They were also banned from evicting nightmare tenants, who were given free reign to make their neighbors' lives a misery.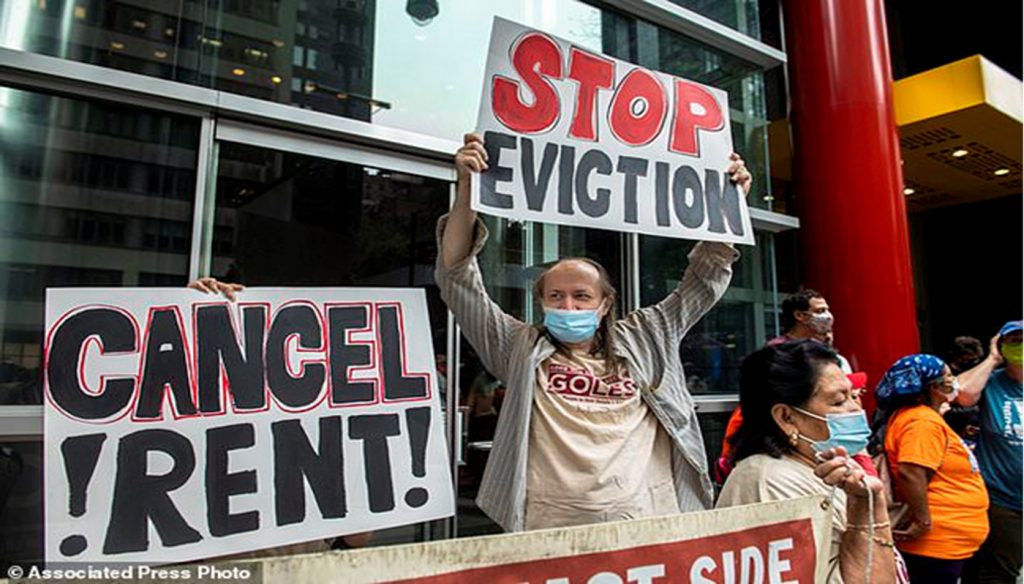 Court said the CDC did not have the power to extend the moratorium. Housing advocates protest on August 4 to allow the eviction moratorium to continue in New York
As of August 25, nearly 90 per cent of the federal funds meant to help landlords make up for the loss of funds had not been distributed, the U.S. Treasury Department said in a statement.
Roughly 3.5 million people in the United States said they faced eviction in the next two months, according to Census Bureau data from early August.
After the Thursday ruling, several progressive lawmakers pleaded with House Speaker Nancy Pelosi and Senate Majority Leader Chuck Schumer to act with the 'highest levels of urgency' to combat evictions.
The lawmakers asked the leaders in a Friday letter to work to revive the national eviction moratorium after the Supreme Court ruled congressional action is needed.
'Millions of people who are currently at risk for eviction, housing insecurity, or face becoming unhoused desperately look to their elected representatives to implement legislation that will put their health and safety first and save lives,' the letter reads.
The effort was led by Representative Ayanna Pressley and signed on by more than 60 Democrats, including fellow 'squad' members Representatives Alexandria Ocasio-Cortez and Cori Bush.
Bush, who was once homeless before running for office, led protesters in sleeping outside the Capitol earlier this summer when the moratorium faced its end before the CDC expanded it.
The Supreme Court had originally allowed the eviction freeze to continue to July in a 5-4 vote, but Kavanaugh, who voted to keep it, indicated that he would vote against any further extension.
Roberts followed suit and voted against the moratorium with Kavanagh on Thursday.
In his dissenting opinion, Breyer asserted that the court should not end the moratorium on an expedited basis.
'Applicants raise contested legal questions about an important federal statute on which the lower courts are split and on which this court has never actually spoken,' Breyer wrote. 'These questions call for considered decision making, informed by full briefing and argument. Their answers impact the health of millions.'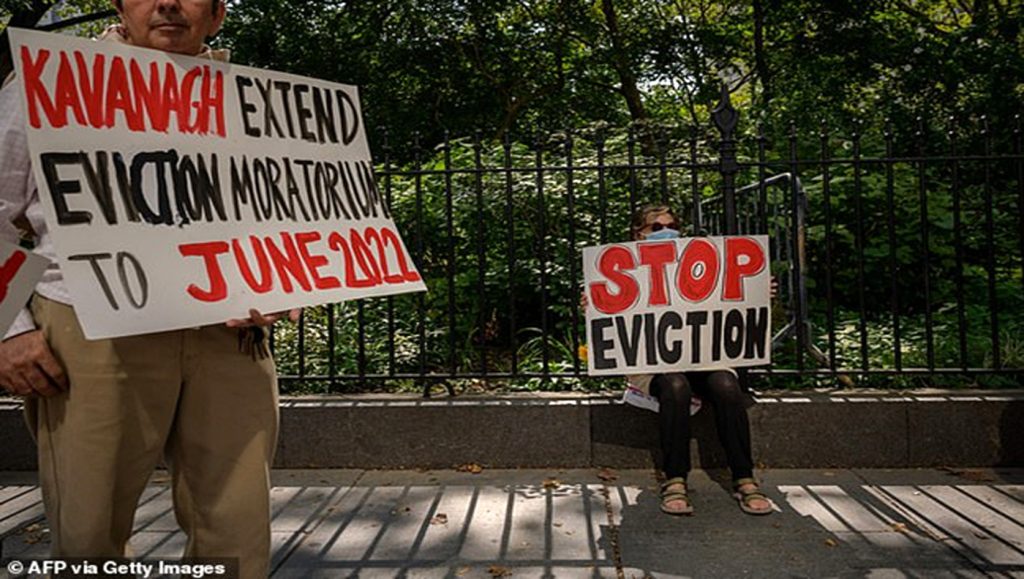 The national eviction freeze was set in place at the start of the pandemic and continued on until July, when the Supreme Court previously upheld it in a 5-4 vote
The Biden administration's extension of the eviction moratorium was heralded by members the 'the Squad,' including U.S. Representative Alexandria Ocasio-Cortez, who had celebrated the announcement earlier this month.
She and fellow Democratic congress woman Cori Bush had demonstrated outside the Capitol in protest of the moratorium's original deadline at the start of August.
Bush was hailed as a key figure who pushed Biden and his administration to extend the deadline after five continuous days of protest, tweeting about her accomplishment.
'Squad' member Ilhan Omar also acknowledged Bush's efforts in spearheading the moratorium extension, The Hill reported.
U.S. Rep. Maxine Waters, a fellow democrat from California who sponsored a House bill to extend the eviction freeze, also thanked Biden 'from the bottom of my heart and on behalf of millions of renters.
'This extension of the moratorium is the lifeline that millions of families have been waiting for. From the very beginning of this pandemic, it was clear that eviction moratoriums not only kept people housed, but also saved lives,' Waters said in a statement.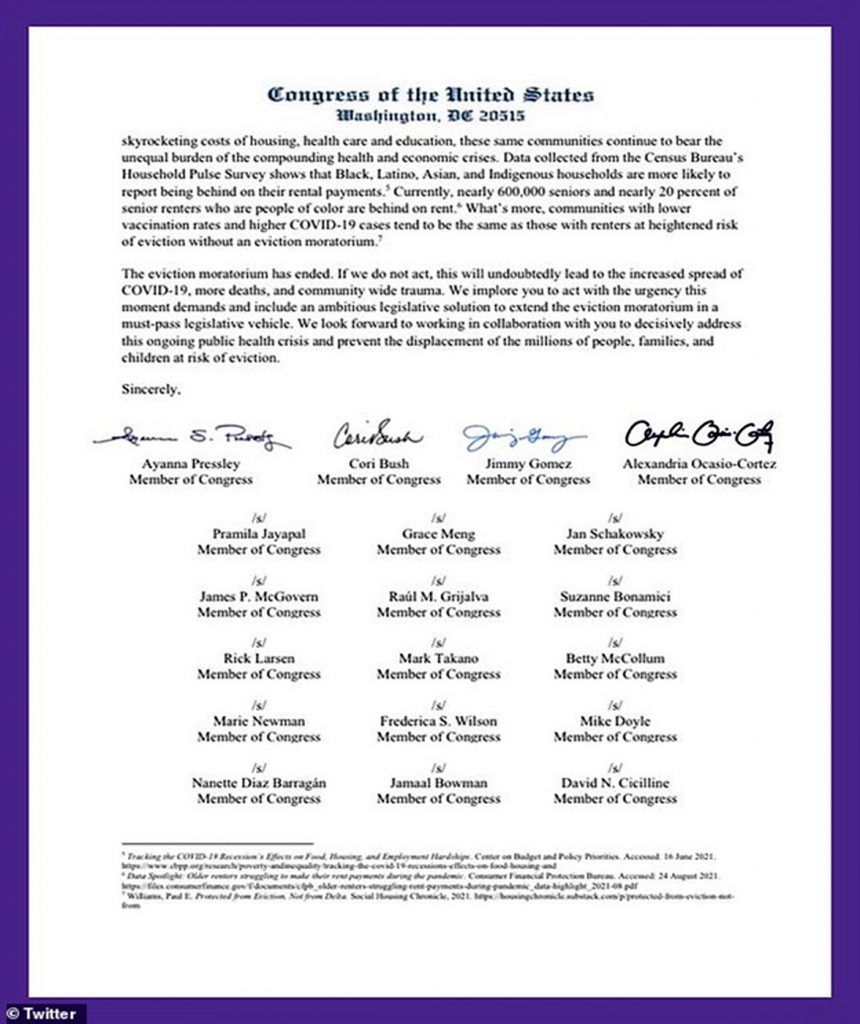 A group of Democratic lawmakers wrote a letter to Nancy Pelosi and Chuck Schumer urging them to act congressionally to extend the moratorium after the Supreme Court said the CDC overreached 
This was the second high court loss for the administration this week at the hands of the court's conservative majority.
On Tuesday, the court effectively allowed the reinstatement of a Trump-era policy forcing asylum seekers to wait in Mexico for their hearings.
The new administration had tried to end the Remain in Mexico program, as it is informally known.
Earlier this month, the Supreme Court voted the same way to strike down part of New York's eviction moratorium.
In the same 6-3 ruling, the Supreme Court ruled against allowing COVID-19 hardships to stand as a reason to ban landlords from kicking out tenants. The state's rules allowed renters to simply state they'd suffered financial hardship and avoid eviction without providing any evidence.
New Yorkers renting apartments will also now no longer be able to stay in homes they've stopped paying rent on by claiming that doing so would endanger their health.
The pause on evictions expires at the end of August, meaning people could start getting kicked out of their apartments by the end of this month.
Incoming Governor Kathy Hochul criticized Thursday's ruling, saying that she and state lawmakers would work to try and reinforce the moratorium.
Both parts of the law that have been cut were enacted when COVID decimated many of New York's biggest industries – including hospitality and travel – leaving people who worked in them fearful of being made homeless.
The state has since largely reopened, and its economy appears to be on the path to recovery.
Demonstrators protesting evictions are arrested by NYPD
Eviction moratorium finally set to expire 18 months after it was created amid COVID first wave
The national eviction moratorium was put in place last September by the Centers for Disease Control and Prevention to provide aid for those struggling from the economic impacts of the coronavirus pandemic in March 2020.
The moratorium was supposed to end in December, but Congress voted to extend it until January 2021.
The Biden administration then pushed the deadline further, once in January and then again in March.
Although the moratorium was set to expire at the end of July, the spread of the delta variant and summer spikes in COVID-19 cases continued to leave millions vulnerable.
Data showed that in July, roughly 3.6 million people would face evictions by September if the moratorium was halted, according to the U.S. Census Bureau's Household Pulse Survey.
The Supreme Court ruled in a 5-4 decision to allow the deadline to extend one final time until the end of July.
The pressure came as landlords and property owners grieved over the loss of income rent while the federal aid set aside for them trickled in at a snail's pace.
Of the $47 billion in rental assistance that was supposed to go to help tenants pay off months of rent, only about 10% has been distributed as of Aug. 25.
Some states like New York have distributed almost nothing, while several have only approved a few million dollars.
After weeks of protests to extend the eviction moratorium were held at the Capitol, the Biden administration extended the deadline one more time into August.
Supreme Court Justice Brett Kavanaugh, who voted to extend the deadline to July, had warned that he would switch his vote if the administration tried extending it again.
True to his word, Kavanaugh voted against the order on August 26, with Chief Justice John Roberts following suit.
The Supreme Court ultimately banned the eviction moratorium in a 6-3 decision.
For more information, please view the following link:
Read more:
Share or comment on this article:
Supreme Court says extending eviction moratorium could open the door to 'free grocery delivery'
In dissent, Justice Breyer wrote that "the public interest is not favored by the spread of disease or a court's second-guessing of the C.D.C.'s judgment."
The Biden administration and other moratorium proponents predicted that the decision would set off a wave of dire consequences.
"As a result of this ruling, families will face the painful impact of evictions, and communities across the country will face greater risk of exposure to Covid-19," Jen Psaki, the White House press secretary, said in a statement.
The ruling also renewed pressure on congressional Democrats to try to extend the freeze over the opposition of Republicans.
"Tonight, the Supreme Court failed to protect the 11 million households across our country from violent eviction in the middle of a deadly global pandemic," said Representative Cori Bush, a Missouri Democrat who slept on the steps of the Capitol this month to protest the expiration of the previous moratorium. "We already know who is going to bear the brunt of this disastrous decision: Black and brown communities, and especially Black women."
But landlords, who have said the moratoriums saddled them with billions of dollars in debt, hailed the move.
"The government must move past failed policies and begin to seriously address the nation's debt tsunami, which is crippling both renters and housing providers alike," said Bob Pinnegar, the president of the National Apartment Association, a trade association representing large landlords.
It will most likely take a while for the backlog of eviction cases in many states to result in the displacement of renters. But tenant groups in the South, where fast-track evictions are common, are bracing for the worst.
In recent days, Mr. Biden's team has been mapping out strategies to deal with the likely loss of the moratorium, with a plan to focus its efforts on a handful of states — including South Carolina, Tennessee, Georgia and Ohio — that have large backlogs of unpaid rent and few statewide protections for tenants.
The administration had at first concluded that a Supreme Court ruling in June had effectively forbidden it from imposing a new moratorium after an earlier one expired at the end of July. While the administration had prevailed in that ruling by a 5-to-4 vote, one member of the majority, Justice Brett M. Kavanaugh, wrote that he believed the moratorium to be unlawful and that he had cast his vote to temporarily sustain it only to allow an orderly transition. He would not support a further extension without "clear and specific congressional authorization (via new legislation)," he wrote.
Congress did not act. But after political pressure from Democrats, a surge in the pandemic and new consideration of the legal issues, the administration on Aug. 3 issued the moratorium that was the subject of the new ruling.
The administration's legal maneuvering might have failed, but it bought some time for tenants threatened with eviction. In unusually candid remarks this month, President Biden said that was part of his calculus in deciding to proceed with the new moratorium, which was set to expire Oct. 3.
Congress declared a moratorium on evictions at the beginning of the coronavirus pandemic, but it lapsed in July 2020. The C.D.C. then issued a series of its own moratoriums, saying that they were justified by the need to address the pandemic and authorized by a 1944 law. People unable to pay rent, the agency said, should not be forced to crowd in with relatives or seek refuge in homeless shelters, spreading the virus.
The last moratorium — which was put in place by the C.D.C. in September and expired on July 31 after being extended several times by Congress and Mr. Biden — was effective at achieving its goal, reducing by about half the number of eviction cases that normally would have been filed since last fall, according to an analysis of filings by the Eviction Lab at Princeton University.
The challengers in the current case — landlords, real estate companies and trade associations led by the Alabama Association of Realtors — argued that the moratorium was not authorized by the law the agency relied on, the Public Health Service Act of 1944.
That law, the challengers wrote, was concerned with quarantines and inspections to stop the spread of disease and did not bestow on the agency "the unqualified power to take any measure imaginable to stop the spread of communicable disease — whether eviction moratoria, worship limits, nationwide lockdowns, school closures or vaccine mandates."
What to Know About the Supreme Court Term
A blockbuster term begins. The Supreme Court, now dominated by six Republican appointees, returns to the bench to start a momentous term this fall in which it will consider eliminating the constitutional right to abortion and vastly expanding gun rights.
The big abortion case. The court seems poised to use a challenge to a Mississippi law that bars most abortions after 15 weeks to undermine and perhaps overturn Roe v. Wade, the 1973 decision that established a constitutional right to abortion. The ruling could effectively end legal abortion access for those living in much of the South and Midwest.
A major decision on guns. The court will also consider the constitutionality of a longstanding New York law that imposes strict limits on carrying guns outside the home. The court has not issued a major Second Amendment ruling in more than a decade.
A test for Chief Justice Roberts. The highly charged docket will test the leadership of Chief Justice John G. Roberts Jr., who lost his position at the court's ideological center with the arrival last fall of Justice Amy Coney Barrett.
A drop in public support. Chief Justice Roberts now leads a court increasingly associated with partisanship. Recent polls show the court is suffering a distinct drop in public support following a spate of unusual late-night summer rulings in politically charged cases.
The C.D.C. responded that the moratorium was authorized by the 1944 law. Evictions would accelerate the spread of the coronavirus, the agency said, by forcing people "to move, often into close quarters in new shared housing settings with friends or family, or congregate settings such as homeless shelters."
The moratorium, the administration told the justices, was broadly similar to quarantine. "It would be strange to hold that the government may combat infection by prohibiting the tenant from leaving his home," its brief said, "but not by prohibiting the landlord from throwing him out."
The case was complicated by congressional action in December, when lawmakers briefly extended the C.D.C.'s moratorium through the end of January in an appropriations measure. When Congress took no further action, the agency again imposed moratoriums under the 1944 law.
In its Supreme Court brief, the government argued that it was significant that Congress had embraced the agency's action, if only briefly.
The central legal question in the case was whether the agency was entitled to act on its own. In June, with the earlier moratorium about to expire, the court voted 5 to 4 in favor of the administration, allowing that measure to stand.
But that victory was distinctly provisional. Justice Kavanaugh, who voted with the majority, wrote that he had cast his vote reluctantly and had taken account of the then-impending expiration of the earlier moratorium.
"The Centers for Disease Control and Prevention exceeded its existing statutory authority by issuing a nationwide eviction moratorium," Justice Kavanaugh wrote. "Because the C.D.C. plans to end the moratorium in only a few weeks, on July 31, and because those few weeks will allow for additional and more orderly distribution of the congressionally appropriated rental assistance funds, I vote at this time to deny the application" that had been filed by the challengers.
The other members of the court did not give reasons for their votes in the June ruling. But four of them — Justices Clarence Thomas, Samuel A. Alito Jr., Neil M. Gorsuch and Amy Coney Barrett — voted to lift the earlier moratorium. Taken together with Justice Kavanaugh's statement, that distinctly suggested that a majority of the justices would not look favorably on another extension unless it came from Congress.
The Biden administration initially seemed to share that understanding, urging Congress to act and saying it did not have the unilateral power to impose a further moratorium through executive action. When Congress failed to enact legislation addressing the issue, the moratorium expired.
Under pressure from Speaker Nancy Pelosi and other Democrats and wary of the rise of the Delta variant, the administration reversed course a few days later.
The new moratorium was not identical to the earlier one, which had applied nationwide. It was instead tailored to counties where Covid-19 was strongest, a category that currently covers some 90 percent of counties in the United States.
Mr. Biden was frank in discussing his reasoning, saying the new measure faced long odds but would buy tenants some time.
"The bulk of the constitutional scholarship says that it's not likely to pass constitutional muster," he said on Aug. 3. "But there are several key scholars who think that it may — and it's worth the effort."
Many states and localities, including New York and California, have extended their own moratoriums, providing another layer of protection for some renters. In some places, judges, aware of the potential for large numbers of people to be put out on the street even as the pandemic intensifies again, have said they would slow-walk cases and make greater use of eviction diversion programs.
Evictions, the Pandemic and the Courts
As Democrats Seethed, White House Struggled to Contain Eviction Fallout
The Biden administration issues a new eviction moratorium as the virus surges.
Federal Judge Strikes Down Moratorium on Evicting Renters
Adam Liptak covers the Supreme Court and writes Sidebar, a column on legal developments. A graduate of Yale Law School, he practiced law for 14 years before joining The Times in 2002. @adamliptak • Facebook
A version of this article appears in print on Aug. 27, 2021, Section A, Page 15 of the New York edition with the headline: Justices End Biden's Eviction Moratorium, Leaving Thousands at Risk. Order Reprints | Today's Paper | Subscribe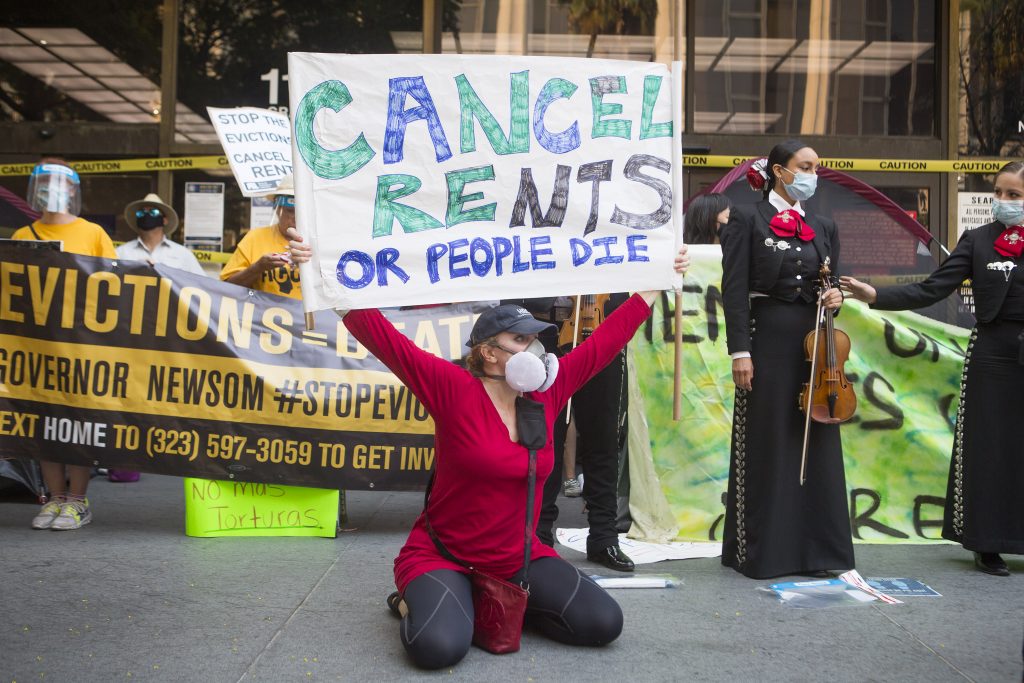 Tenants' right advocates march down the Alameda to the offices of the California Apartment Association in San Jose, Calif., Thursday, April 6, 2017. They are protesting against no-cause evictions, which allows landlords to evict tenants in retaliation without giving a reason, displacing families and destabilizing communities. (Patrick Tehan/Bay Area News Group)U.S. Supreme Court on Eviction
On the eviction moratorium, the Supreme Court turns the law on its head | Opinion
Published: Oct. 04, 2021, 5:15 p.m.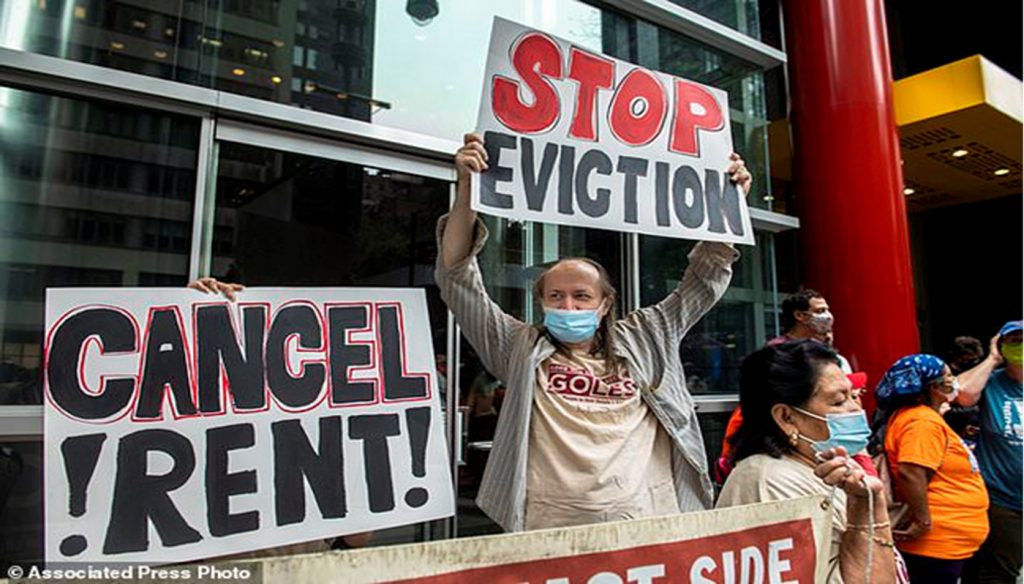 Patrick Hill, an author and associate professor at Rutgers University, says that since judicial review by the U.S. Supreme Court is based on an impoverished understanding of the law, its thoroughly confused decision against the eviction moratorium is not surprising. (AP Photo/Brittainy Newman, File)AP
By Star-Ledger Guest Columnist
By T. Patrick Hill
When the U.S. Supreme Court, on Aug. 26, ruled against President Biden's extension of the moratorium on evictions, it sacrificed the safety and quite possibly the lives of hundreds of Americans to a legal ideology known as legal positivism or the understanding of law as justified simply because it is law, no matter its consequences.
In an eight-page unsigned decision, made with the concurrence of the six conservative justices and the dissent of the three liberal justices, the Court concluded that the Centers for Disease Control (CDC) which is responsible nationally for the public's health, had exceeded its statutory authority by issuing the moratorium.
The statute, the Court correctly notes, is the 1944 Public Health Service Act which authorizes the Health and Human Services secretary (HHS) to "make and enforce such regulations as in his (sic) judgment are necessary to prevent the introduction, transmission, or spread of communicable diseases … from one State or possession into any other State or possession." Subsequently, this authority was placed in the hands of the CDC.
But from this point, the Court's reading of the statute goes from bad to worse. Inexplicably, the statute appears to be suspect because, since enactment, it has rarely been used, and certainly not used to justify an eviction moratorium. Are we to conclude from this that the Court considers rarely invoked statutes as something less than law? But even when invoked, the statute has been confined, the Court insists, to measures like quarantining infected individuals, for example. But why should that logically justify the inference that an eviction moratorium exceeds the purposes of the statute?
And just because the statute has specifically included measures like fumigation, disinfection and pest extermination, that cannot be thought logically to mean it has specifically excluded other measures, such as an eviction moratorium. If the statute authorizes something as extreme as quarantining infected individuals in the interests of the public's safety, why is it, as the Court puts it, a stretch to think an eviction moratorium would also be authorized?
Like any legislation, the statute may be thought to acknowledge that since we may not know, at any particular moment, everything there is to be known about controlling infectious disease, it is prudent to provide reasonably broadly for that inevitable moment when an infectious disease presents itself in radically unprecedented features.
The COVID-19 pandemic has resulted in more than 701,000 deaths in the U.S. so far. Yet, what is a major concern for the Court in its decision? The moratorium, it emphasizes, encroaches on "an area that is the particular domain of state law: the landlord-tenant relationship," adding that earlier decisions of the Court have insisted on exceedingly clear language when congressional legislation might change the balance between state and federal power, in particular, governmental power over private property.
It is surely curious how, for the Court, the language of the 1944 statute is not sufficiently clear that it might be thought to include an eviction moratorium, but it is indeed sufficiently clear to exclude it. More curious is how, in the estimation of the Court, measures to control a raging pandemic, that is no respecter of state borders, are to play second fiddle to a narrow state-based interest.
Bottom of Form
The best that the Court can bring itself to acknowledge how indisputable the strong interest of the American public is in resisting the spreading threat of COVID-19, but not so strong as to justifiably override the private property interests that make up the landlord-tenant relationship. These are the calculations of justices, like Samuel Alito and Clarence Thomas, who believe so much in what they do but understand so little of what that is, and, as a consequence, bring down upon our heads a perfect storm of irrationality that undermines the very essence of law and its purpose in society.
There can be no clearer demonstration of this than the Court's declaration, upon closing its argument, that "… our system does not permit agencies to act unlawfully even in pursuit of desirable ends." With what understanding of the law can it be said that to act, simply as one should, to protect human life from disease and even death is to act unlawfully? That can be only when the law is understood as a law unto itself, as self-justifying, and in no way accountable for its justification to ethics, from which all human law is ultimately derived.
Since judicial review by the U.S. Supreme Court is based on this impoverished understanding of the law, its thoroughly confused decision against the eviction moratorium is not surprising. Nevertheless, how mistaken to think that acting for the good of the public is to act unlawfully when actually it is to act ethically and must therefore be to act lawfully.
Patrick Hill is an associate professor at Rutgers University and the author of the book, No Place for Ethics:Judicial Review, Legal Positivism and the Supreme Court of the United States.
Our journalism needs your support. Please subscribe today to NJ.com.
For more information please visit the  following link:
https://www.nj.com/opinion/2021/10/on-the-eviction-moratorium-the-supreme-court-turns-the-law-on-its-head-opinion.html
U.S. Supreme Court ends Biden's Covid-19 eviction moratorium
Aug 27, 2021  Yahoo Finance
#EvictionMoratorium #moratoriumeviction #Biden Yahoo Finance's Dani Romero reports on the U.S. Supreme Court blocking the Biden administration's eviction moratorium. Watch the 2021 Berkshire Hathaway Annual Shareholders Meeting on YouTube: https://youtu.be/gx-OzwHpM9k Subscribe to Yahoo Finance: https://yhoo.it/2fGu5Bb About Yahoo Finance: At Yahoo Finance, you get free stock quotes, up-to-date news, portfolio management resources, international market data, social interaction and mortgage rates that help you manage your financial life. Yahoo Finance Plus: With a subscription to Yahoo Finance Plus get the tools you need to invest with confidence. Discover new opportunities with expert research and investment ideas backed by technical and fundamental analysis. Optimize your trades with advanced portfolio insights, fundamental analysis, enhanced charting, and more. To learn more about Yahoo Finance Plus please visit: https://yhoo.it/33jXYBp Connect with Yahoo Finance: Get the latest news: https://yhoo.it/2fGu5Bb Find Yahoo Finance on Facebook: http://bit.ly/2A9u5Zq Follow Yahoo Finance on Twitter: http://bit.ly/2LMgloP Follow Yahoo Finance on Instagram: http://bit.ly/2LOpNYz Follow Cashay.com Follow Yahoo Finance Premium on Twitter: https://bit.ly/3hhcnmV
CDC Announces Targeted Eviction Moratorium After Protests
Aug 4, 2021  NBC News
The CDC has announced a new targeted eviction moratorium after the previous moratorium expired, leaving more than 10 million Americans at risk of losing their homes. NBC News' Leigh Ann Caldwell explains how the new moratorium differs from the expired one and how Democrats were able to influence the CDC's decision.  » Subscribe to NBC News: http://nbcnews.to/SubscribeToNBC » Watch more NBC video: http://bit.ly/MoreNBCNews NBC News Digital is a collection of innovative and powerful news brands that deliver compelling, diverse and engaging news stories. NBC News Digital features NBCNews.com, MSNBC.com, TODAY.com, Nightly News, Meet the Press, Dateline, and the existing apps and digital extensions of these respective properties. We deliver the best in breaking news, live video coverage, original journalism and segments from your favorite NBC News Shows. Connect with NBC News Online! NBC News App: https://smart.link/5d0cd9df61b80 Breaking News Alerts: https://link.nbcnews.com/join/5cj/bre… Visit NBCNews.Com: http://nbcnews.to/ReadNBC Find NBC News on Facebook: http://nbcnews.to/LikeNBC Follow NBC News on Twitter: http://nbcnews.to/FollowNBC Follow NBC News on Instagram: http://nbcnews.to/InstaNBC #Eviction #Housing #CDC
https://www.njspotlight.com/video/nj-eviction-moratorium-to-end-soon-for-some-tenants/
For the last 1 ½ years, renters across New Jersey have been able to keep a roof over their head regardless of nonpayment of rent, thanks to an eviction moratorium in the state. But a new law is ending that protection as of Aug. 31 for people who make more than 80% of their county's area median income. For those who make less than 80% of the area median income, the moratorium will be extended through Dec. 31.
Tenants who make more than 80% of the area median income and who are still struggling to pay rent will have to certify under penalty of law that their failure to pay is related to COVID-19. If they can prove that, the moratorium will be extended for them.
While housing advocates say the measure will provide some relief, landlords say it continues to put the brunt of the financial weight on them.
What to know about the eviction moratorium as it nears expiration again
Aug 25, 2021  PBS NewsHour
The clock is ticking away again for those who could face eviction this fall. The CDC's pandemic moratorium on evictions is set to expire in early October — or possibly even sooner. The Biden administration is pushing states, cities, and counties to tap into more federal aid, and get it to those who need it. But as John Yang reports, new data shows those efforts are moving much slower than needed. Stream your PBS favorites with the PBS app: https://to.pbs.org/2Jb8twG Find more from PBS NewsHour at https://www.pbs.org/newshour Subscribe to our YouTube channel: https://bit.ly/2HfsCD6
Oct 4, 2021   PBSNewsHour
The "Pandora Papers," written by a worldwide consortium of journalists, reveal how world leaders and the mega-rich can hide billions of dollars in secret offshore accounts, which investigators say drain money from government treasuries and can undermine national security. Nick Schifrin talks to Drew Sullivan, co-founder and editor of the Organized Crime and Corruption Reporting Project, or OCCRP. Stream your PBS favorites with the PBS app: https://to.pbs.org/2Jb8twG Find more from PBS NewsHour at https://www.pbs.org/newshour Subscribe to our YouTube channel: https://bit.ly/2HfsCD6 Follow us: Facebook: http://www.pbs.org/newshour Twitter: http://www.twitter.com/newsho
What are the Pandora Papers?
Oct 3, 2021  Washington Post
A massive trove of private financial records shared with The Washington Post exposes vast reaches of the secretive offshore system used to hide billions of dollars from tax authorities, creditors, criminal investigators and citizens around the world. Read more: https://wapo.st/3A0AVdi. Subscribe to The Washington Post on YouTube: https://wapo.st/2QOdcqK Follow us: Twitter: https://twitter.com/washingtonpost Instagram: https://www.instagram.com/washingtonp… Facebook: https://www.facebook.com/washingtonpost/ #WashingtonPost #PostDocs #PandoraPapers
The Pandora Papers: How the world of offshore finance is still flourishing | Four Corners
Oct 4, 2021  ABC News In-depth
In a major international investigation, Four Corners reveals the secrets of the Pandora Papers. Subscribe: https://www.youtube.com/c/abcnewsindepth For months, more than 600 journalists from around the world, including the ABC, the Washington Post and the BBC, have been working with the International Consortium of Investigative Journalists on this top-secret investigation. One of the biggest data leaks in history, the papers reveal how the wealthy and powerful are continuing to use offshore tax havens to hide their ownership of assets and stash their cash – despite attempts to rein the industry in.  _________
Political Divisions Threaten President Biden's Agenda | Washington Week | October 1, 2021
Oct 1, 2021  Washington Week PBS
Democrats clashed over the size of President Biden's infrastructure package, as Congress passed a bill to avoid a federal government shutdown before the deadline. The panel also discussed America's continued division over COVID vaccines and mandates, plus a look into the testimony from military leaders on the chaotic withdrawal from Afghanistan. Panel: Laura Barrón-López of POLITICO, Natasha Bertrand of CNN, Garrett Haake of NBC News, Carl Hulse of The New York Times