Mr. Putin, "PLEASE STOP THE WAR IN UKRAINE" May Peace, Love & Kindness be in your Heart always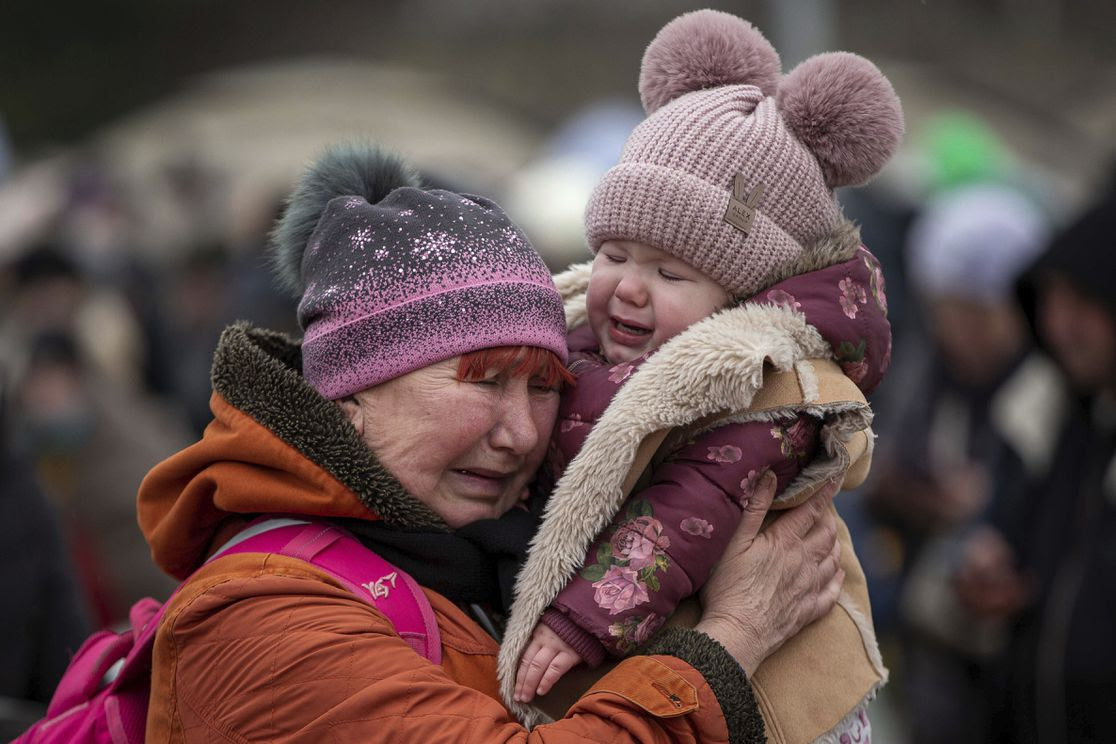 A woman arrives at the border crossing in Medyka, Poland. Photo: Visar Kryeziu/AP
Are this lady and baby doing any harm to you?
You destroyed her home, her community and her country
You killed her family, her friends, and her beloved country, Ukraine.
"PLEASE STOP THE WAR!!!"
Your young Russian men, are only teenagers, just starting their lives, were killed in thousands.
"PLEASE STOP THE WAR!!!"
Millions of Ukrainians are homeless, with no place to stay, no food to eat.
Once you told people that your mother had no food to eat and she fainted, people thought that she was dead.
But now you put the Ukrainian people in a worse situation than your mother.
"PLEASE STOP THE WAR!!!"
If you want your Ukraine brothers to be with you, you have to give them Peace, Love and Kindness
 You said that Ukraine is the brother of Russia. You should not kill your brother, but that is what you are doing.   
"PLEASE STOP THE WAR!!!"
 You will never conquer Ukraine or the world.  If you use nuclear weapons, it will be suicide, because you and all your Russia people will also die.
"PLEASE STOP THE WAR!!!"
If you want the world to respect and honor you, you need to use kindness and love, which in turn will bring peace.
Imagine that you stand proudly at the highest podium, with love, kindness and open arms, offering Peace to the world. This you can do though your wealth and power.
You will be honored as a man of Peace, Love and Kindness. For this you will be remembered and recorded in history forever.
 "PLEASE STOP THE WAR IN UKRAINE!!!"
"What does Peace mean to you?"
Ing-On Vibulbhan-Watts, Sunday, March 13, 2022, 3:38 PM
   AXIOS AM: Mar 13, 2022

Mike Allen mike@axios.com
By Mike Allen ·Mar 13, 2022
 Good morning … It's March Madness Selection Sunday. Smart Brevity™ count: 1,150 words … 4½ mins. Edited by Fadel Allassan.

 Bulletin: National security adviser Jake Sullivan, warning Russia could be preparing to use chemical weapons in Ukraine, told Margaret Brennan on CBS' "Face the Nation"

"[T]here is an escalating level of rhetoric on the Russian side trying to accuse the Ukrainians and the United States of potentially using chemical or biological weapons. And that's …. an indicator that in fact, the Russians are getting ready to do it and try and pin the blame elsewhere."
 2. U.S. journalist killed in Ukraine
An elderly resident hides in a basement with no electricity, water or food, in the center of the Irpin, northwest of Kyiv, on Friday. Photo: Efrem Lukatsky/AP
A freelancer who formerly worked on New York Times projects was killed covering the war in Ukraine, The Times said today.
"We are deeply saddened to hear of Brent Renaud's death. Brent was a talented filmmaker who had contributedto The New York Times over the years," The Times said in a statement emailed to Axios.
"Though he had contributed to The Times in the past (most recently in 2015), he was not on assignment for any desk at The Times in Ukraine. Early reports that he worked for Times circulated because he was wearing a Times press badge that had been issued for an assignment many years ago."
Renaud, 50, was a writer, filmmaker, and photojournalist from Little Rock, according to his Nieman bio.
 NATO's doorstep: Waves of Russian missiles pounded a military training base near Ukraine's western border with NATO member Poland, killing 35 people, Ukrainian authorities told AP.
More than 30 Russian cruise missiles targetedthe sprawling facility, less than 15 miles from the closest border point with Poland, according to the governor of Ukraine's western Lviv region.
Ukrainian President Volodymyr Zelensky accused Russia of using blackmail and bribery in an attempt to force local officials in the southern Kherson region to form a "pseudo-republic."
Axios Ukraine dashboard … Axios explainers.
1,000 words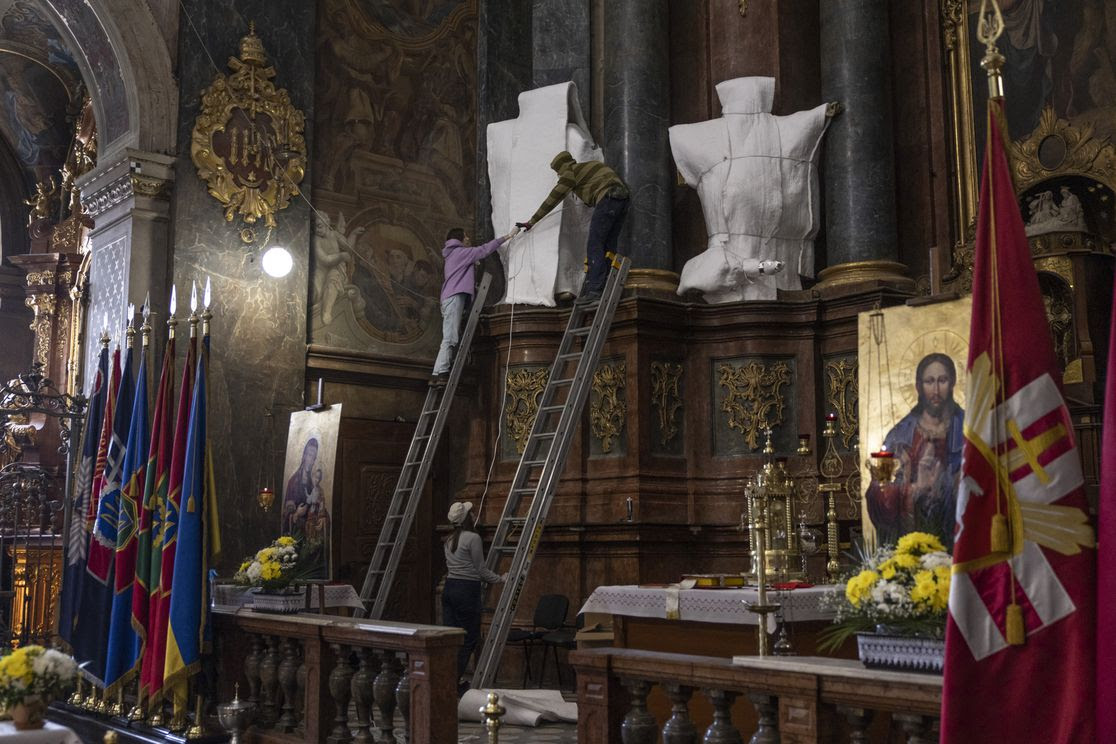 Photo: Dan Kitwood/Getty Images
Lviv preps for potential Russian invasion: Statues are wrapped yesterday at Saints Peter and Paul Garrison Church in Lviv, western Ukraine.
The church was dedicated in 1630 — 392 years ago.
Split-screen America: 2 years of pandemic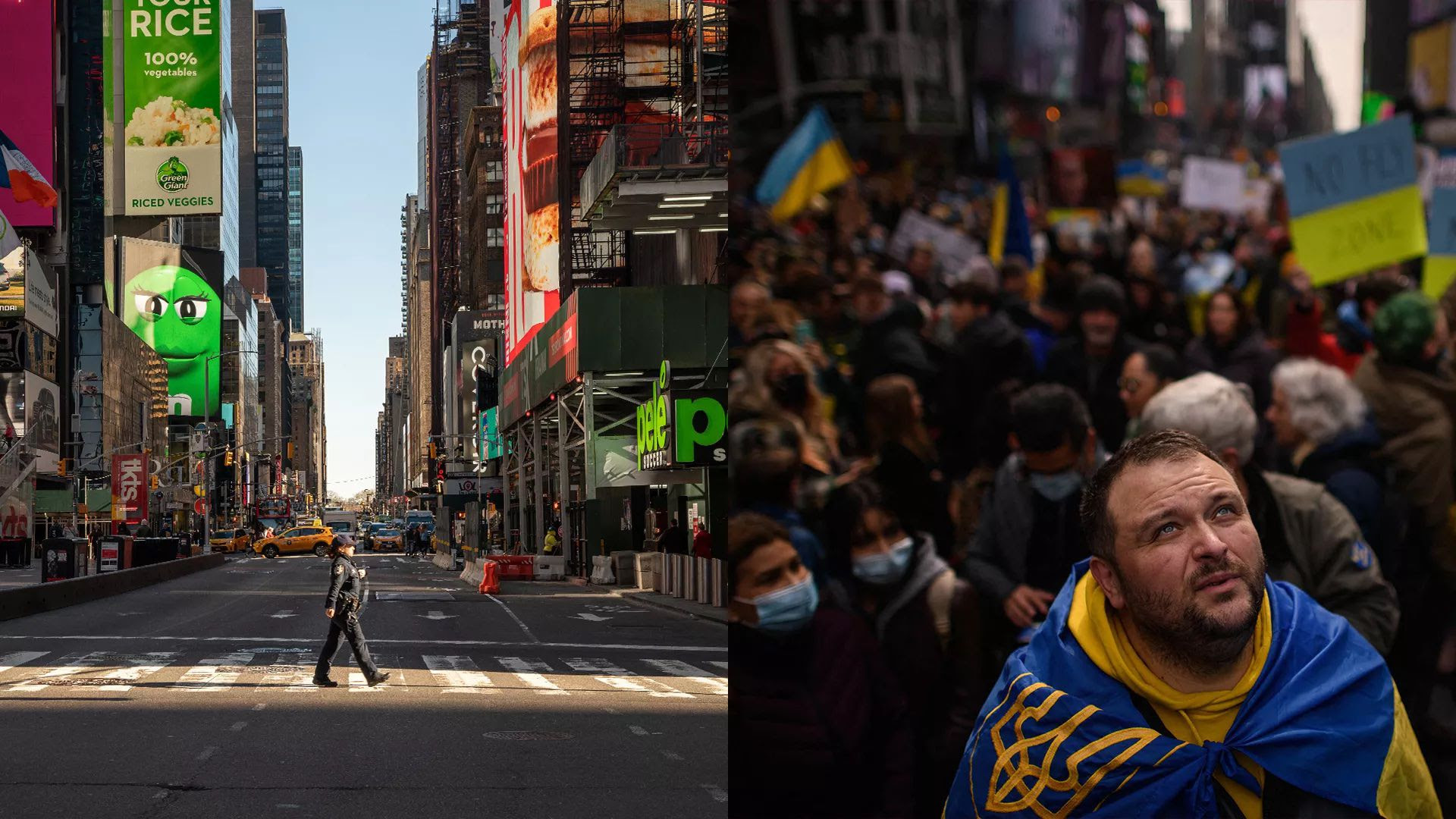 Photos: David Dee Delgado and Ed Jones/AFP via Getty Images
At left, a lone police officer in Times Square in March 2020.
At right, supporters of the Ukrainian community in Times Square in March 2022.
See 3 more split screens, from Axios senior visual journalist Aïda Amer.
6.  Poll of the day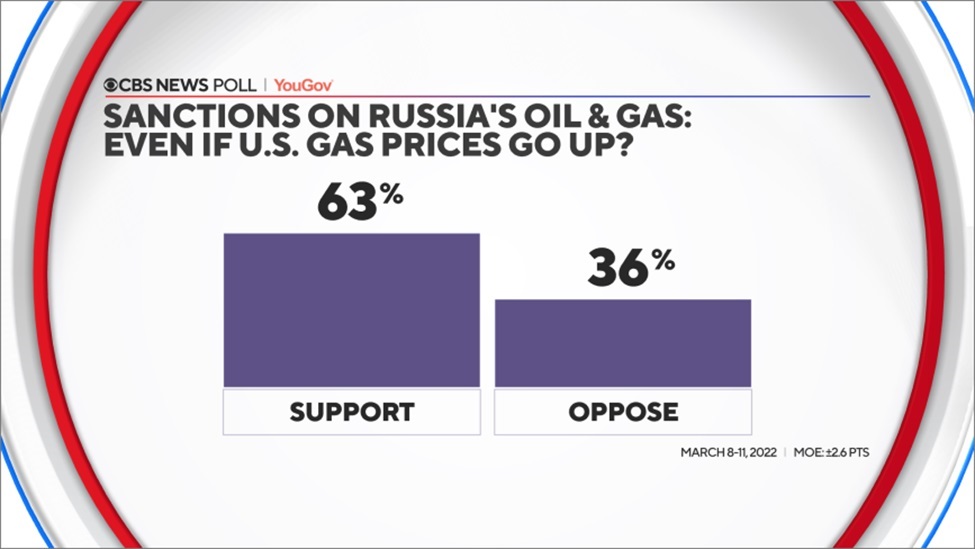 Graphic: CBS News
A CBS News poll out today finds "overwhelming support for sanctions on Russia's oil and gas, and the willingness to pay more as a result."
·  Why it matters: This is "the kind of widespread sentiment we don't always see in public opinion these days: bipartisan, cutting across race, region, and even income," CBS pollsters note.
AXIOS AM: Mar 12, 2022

Mike Allen mike@axios.com
 Breaking: Ukrainian President Volodymyr Zelensky warned of "a new stage of terror" in a video posted to Telegram last night, referring to the abduction of the mayor of Melitopol by Russian forces.
Zelensky accused Russiaof "a war of annihilation" as devastation intensified across Ukraine, including in Kyiv, The New York Times reported.
Russian forces pounding the port city of Mariupol shelled a mosque sheltering 80+ people, including children, the Ukrainian government said. Get the latest.
1 big thing: Dems ask Americans to sacrifice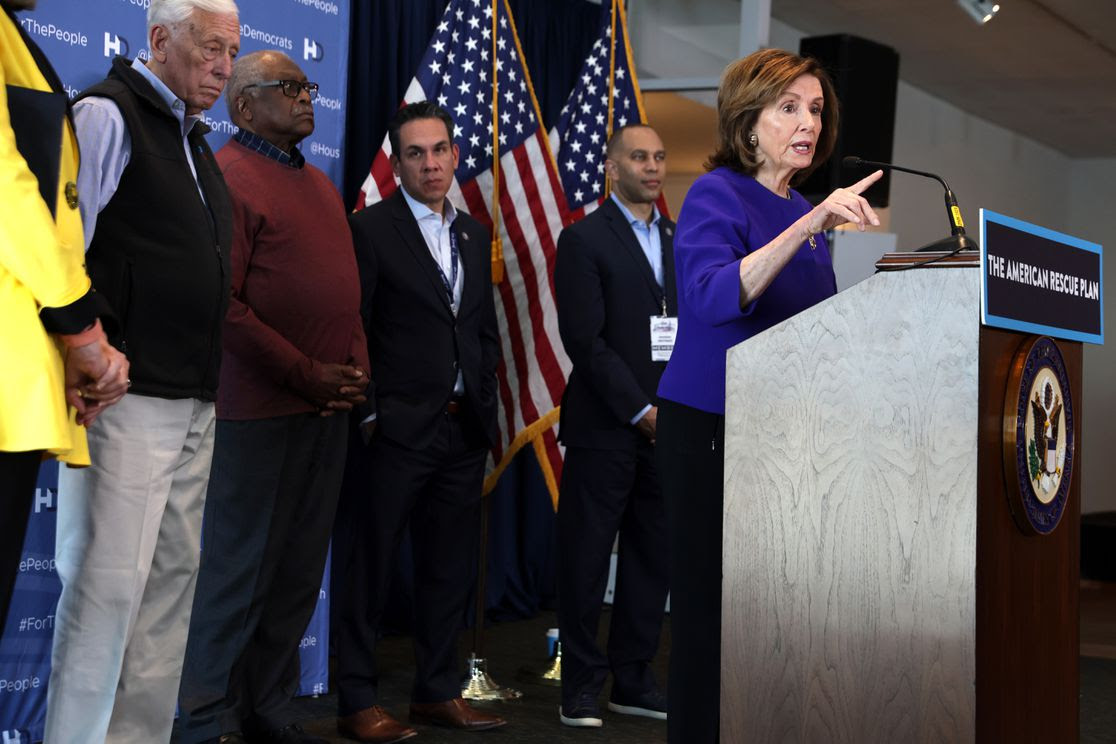 Speaker Pelosi and House Democratic leaders at their issues conference in Philadelphia yesterday. Photo: Alex Wong/Getty Images)
Facing a bleak midterm outlook, Democrats see a potential reset with voters based on President Biden's handling of the Ukraine crisis, Axios' Sophia Cai reports from Philadelphia:
Why it matters:S. sanctions on Russia are worsening inflation and increasing gas prices — adding misery for Democrats, who are bracing for the possible loss of the House and even the Senate in November.
At a conference for House Democrats in Philadelphia this week, lawmakers made the case for Americans' shared sacrifice — including paying more for gas.
House Foreign Affairs Chairman Gregory Meeks(D-N.Y.) said: "I'm asking the people of the United States to also make that kind of sacrifice because in the long run, democracy is at stake."
Between the lines: The war is giving Biden a chance to showcase attributes that appealed to Americans who backed him for president —foreign-policy experience, empathy and respect for institutions.
Reality check: Some House Dems tell Axios they're skeptical voters will embrace surging gas prices — and reward or forgive Biden and Democrats just because they find Vladimir Putin repugnant, or value democracy over oppression.
"It's not enough for us to say, 'It's a tough time and it's because of the war in Russia,'" Rep. Ro Khanna (D-Calif.) told Axios. He and Sen. Sheldon Whitehouse (D-R.I.) introduced legislation to tax the largest oil companies, and assist individuals earning less than $75,000 or couples earning less than $150,000.
"We've got to figure out something to reduce prices, and we need to be getting more money into the hands of working families."
 What we're watching: A Wall Street Journal poll out yesterday (subscription) found that "57% of voters remained unhappy with Biden's job performance, "despite favorable marks for the president's response to the Russian invasion of Ukraine and a recent State of the Union speech."
Democratic advantagesover Republicans narrowed on education, COVID response and protecting middle-class families, the poll found.
 What they're hoping: DCCC Chair Rep. Sean Patrick Maloney (D-N.Y.) advised Biden: "Be the man you saw on Tuesday night — who crushed it at the State of the Union, who right now is leading the world standing up to Russian aggression."
"The next chapteris going to be where the American people rediscover they elected a strong, decent man who is fighting for very important things."
Go deeper: See Wall Street Journal poll results (not paywalled).
Axios Ukraine dashboard … Axios explainers.
Quote of the week: We won't fight WW III in Ukraine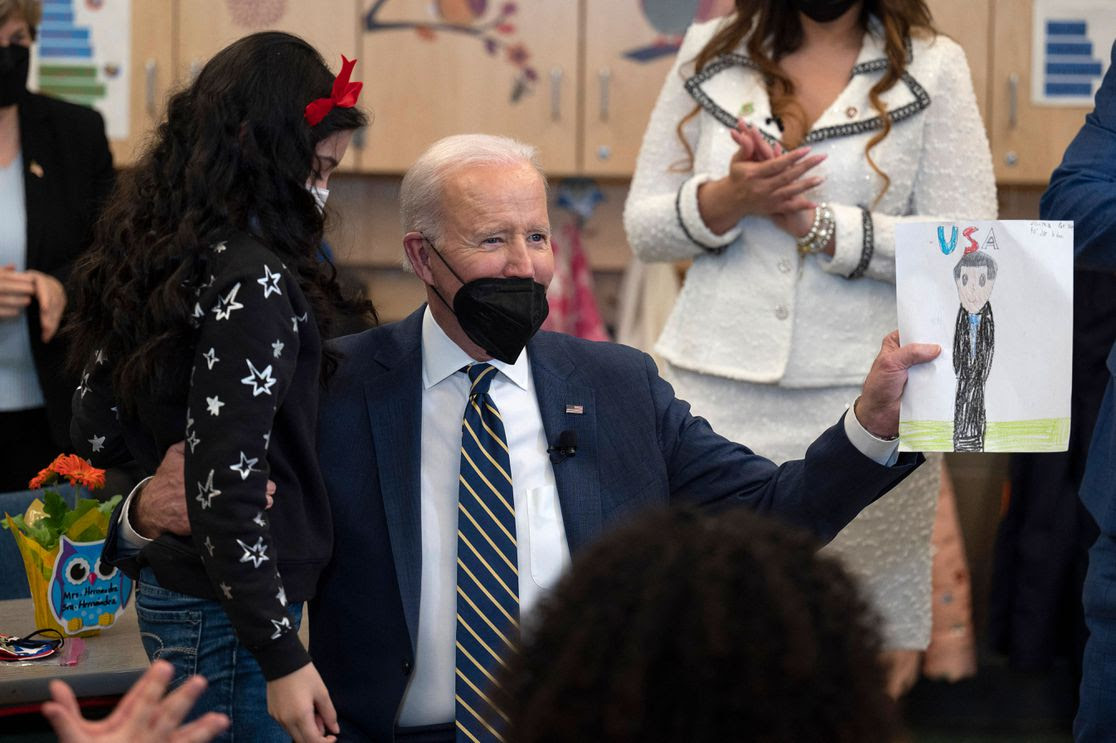 President Biden holds a drawing by Mia Parrilla as he visits Hon. Luis Muñoz-Marín Elementary School in Philadelphia yesterday. Photo: Jim Watson/AFP via Getty Images
President Biden in the Roosevelt Room yesterday, on Day 16 of the Ukraine invasion, as he announced revocation of Russia's most-favored-nation status:
We will not fight a war against Russia in Ukraine. Direct confrontation between NATO and Russia is World War Three, something we must strive to prevent.
But we already know Putin's war against Ukraine will never be a victory. 
Explainer on "most favored nation" … Full remarks.
AXIOS AM: Mar 11, 2022

  Mike Allen <mike@axios.com>
1 big thing: Chemical weapons threat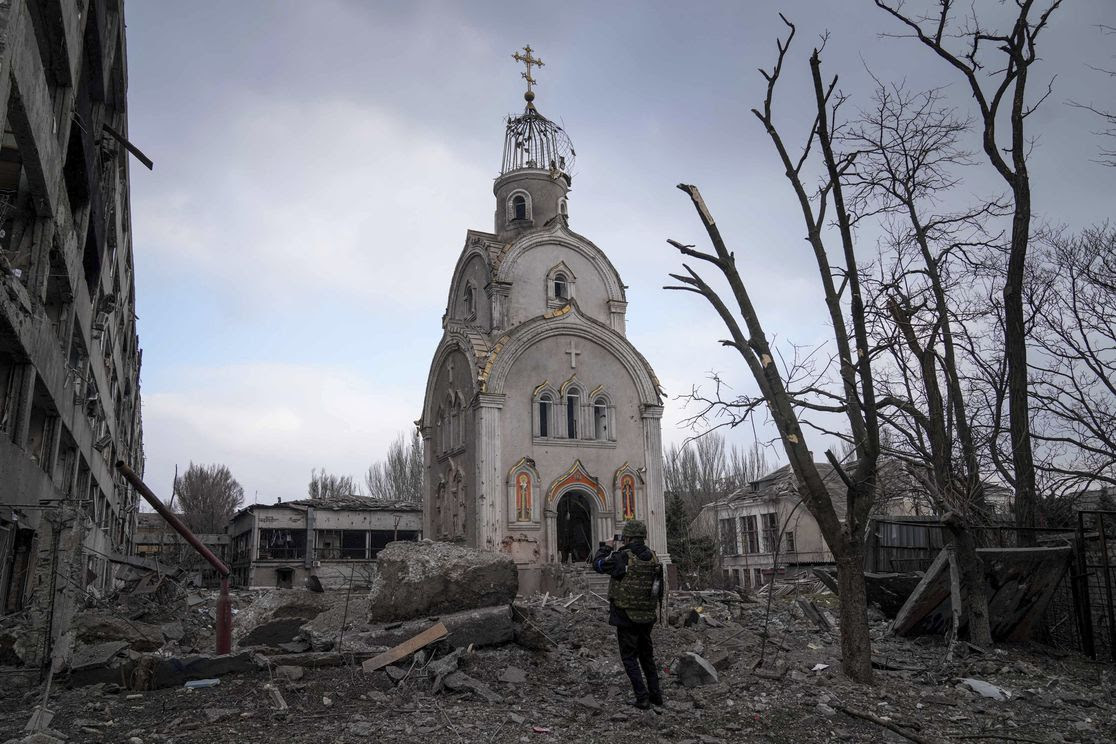 A Ukrainian serviceman photographs a damaged church yesterday, after shelling hit a residential district in Mariupol, Ukraine. Photo: Evgeniy Maloletka/AP
The White House is sounding the alarm over a new Russian propaganda campaign that officials fear is a pretext for an appalling new phase of the war:
The use of biological or chemical weapons, Axios' Zachary Basu reports.
Why it matters: Vladimir Putin has a history of deploying illegal nerve agents against enemies, including opposition leader Alexei Navalny and former double agent Sergei Skripal. In Syria, Russia helped Bashar al-Assad cover up the use of chemical weapons against his own people.
What's happening: Kremlin propagandists have been frenetically spreading baseless claims that the Pentagon is funding dangerous bioweapons labs in Ukraine.
Chinese diplomats and state-controlled media have joined in on the conspiracy theories, raising fears about a level of coordination between the two powers not seen during the conflict thus far.

Data:

 Institute for the Study of War.

Map: Jared Whalen/Axios
Reality check: The U.S. and Ukraine have vigorously denied the presence of any U.S.-backed bioweapons program, saying the only labs the U.S. supports in Ukraine are standard research facilities that focus on "diagnostics, therapeutics, treatment, prevention and vaccines."
The Biden administration has issued statements calling the Russian claims "preposterous" and "total nonsense," and urging the world to "be on the lookout" for Russia to use chemical weapons itself or attempt a "false flag" operation in Ukraine.
"Allegedly, we are preparing a chemical attack," Ukrainian President Volodymyr Zelensky said in a new video address. "This makes me really worried because we've been repeatedly convinced: if you want to know Russia's plans, look at what Russia accuses others of."
Between the lines: The U.S. has repeatedly sought to debunk Russia's narratives about Ukraine by declassifying intelligence about Putin's plans ahead of time, a novel approach that undermines his element of surprise.
Go deeper: Axios Ukraine dashboard … Axios explainers.
Social media's new ethical minefield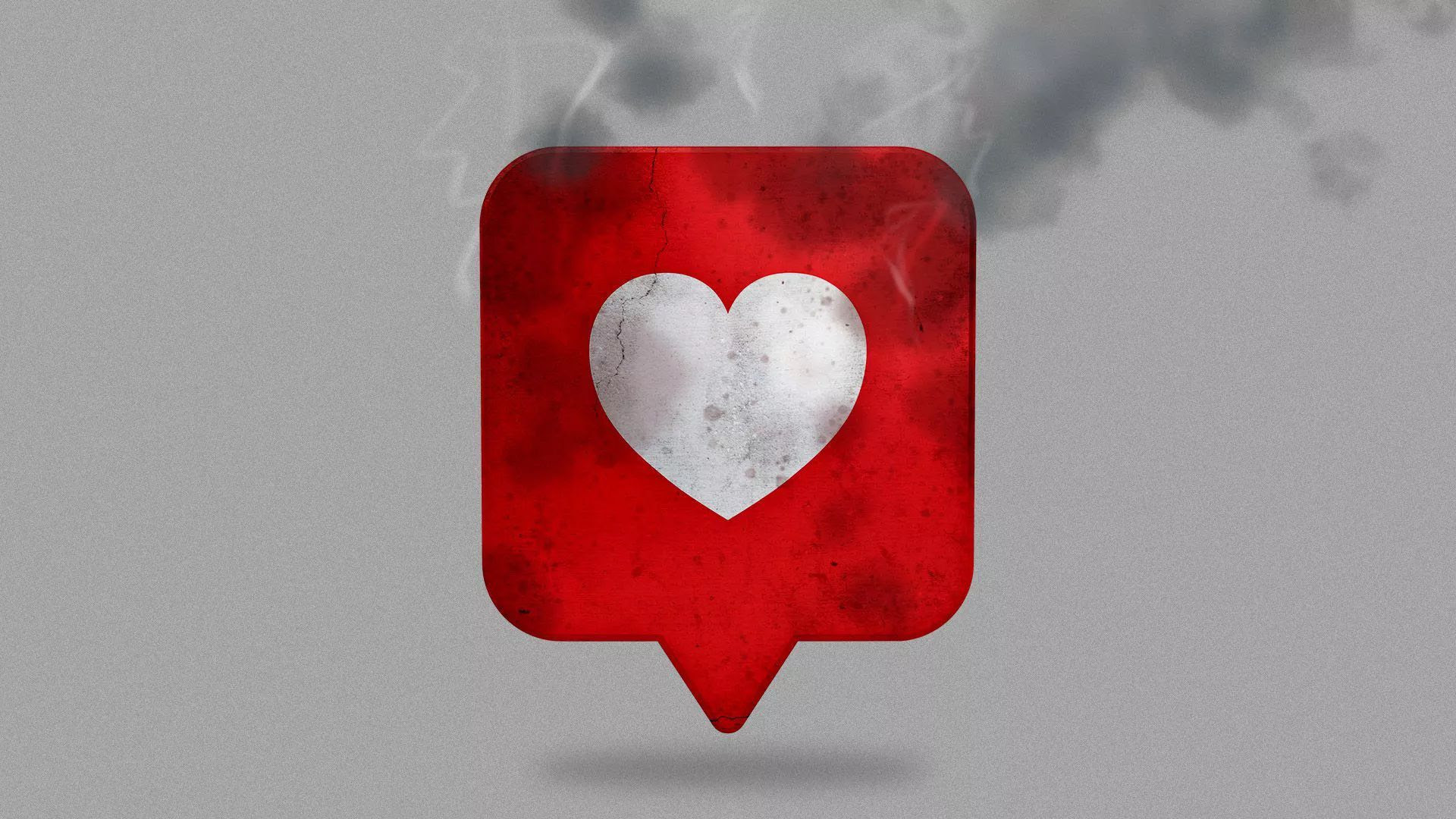 Illustration: Sarah Grillo/Axios
War intensifies the impulse to share powerful images, but leaves users with uncomfortable choices and pitfalls in the social media wilderness, Axios' Ina Fried writes in her weekly "Signal Boost" tech column.
Why it matters: Platform moderators face complex ethical and legal calls over photos of dead soldiers, images of teens taking up arms and videos of prisoners of war criticizing the conflict.
A video went viral of a Russian soldier denouncing the invasion after being captured in Ukraine.
It wasn't long before observers pointed outthat such footage, if produced by a government, might well violate the Geneva Conventions.
Detainees"must be treated with dignity, and not exposed to public curiosity — like circulating images on social media," the International Red Cross said as part of a Twitter thread explaining those rules.
1,000 words
Photo: Robert Hanashiro/USA Today
Spotted yesterday on Manchester Boulevard in Inglewood, near LAX
Banks reveal billions in potential Russia losses
Illustration: Shoshana Gordon/Axios
With Russia's economy collapsing, its stock market cryogenically frozen and its bonds near default, global investors are set to endure major losses, Axios Markets co-author Matt Phillips reports.
Why it matters: For decades, Russian investments were a cornerstone of "emerging market" investing — the financial world's marketing rubric encouraging the free-flowing global investments that helped define the post-Cold War era.
Russia was a star of the "BRICS" — a rubric coined by Goldman Sachs analysts that stood for the fast-growing emerging market economies that were investor favorites over the last two decades.
BRICS = Brazil, Russia, India, China, South Africa.
What we're watching: Russia is considering seizing and potentially nationalizing assets of companies that quit the country.
AXIOS PM: Mar 10, 2022

  Mike Allen <mike@axios.com>
Double-digit inflation risk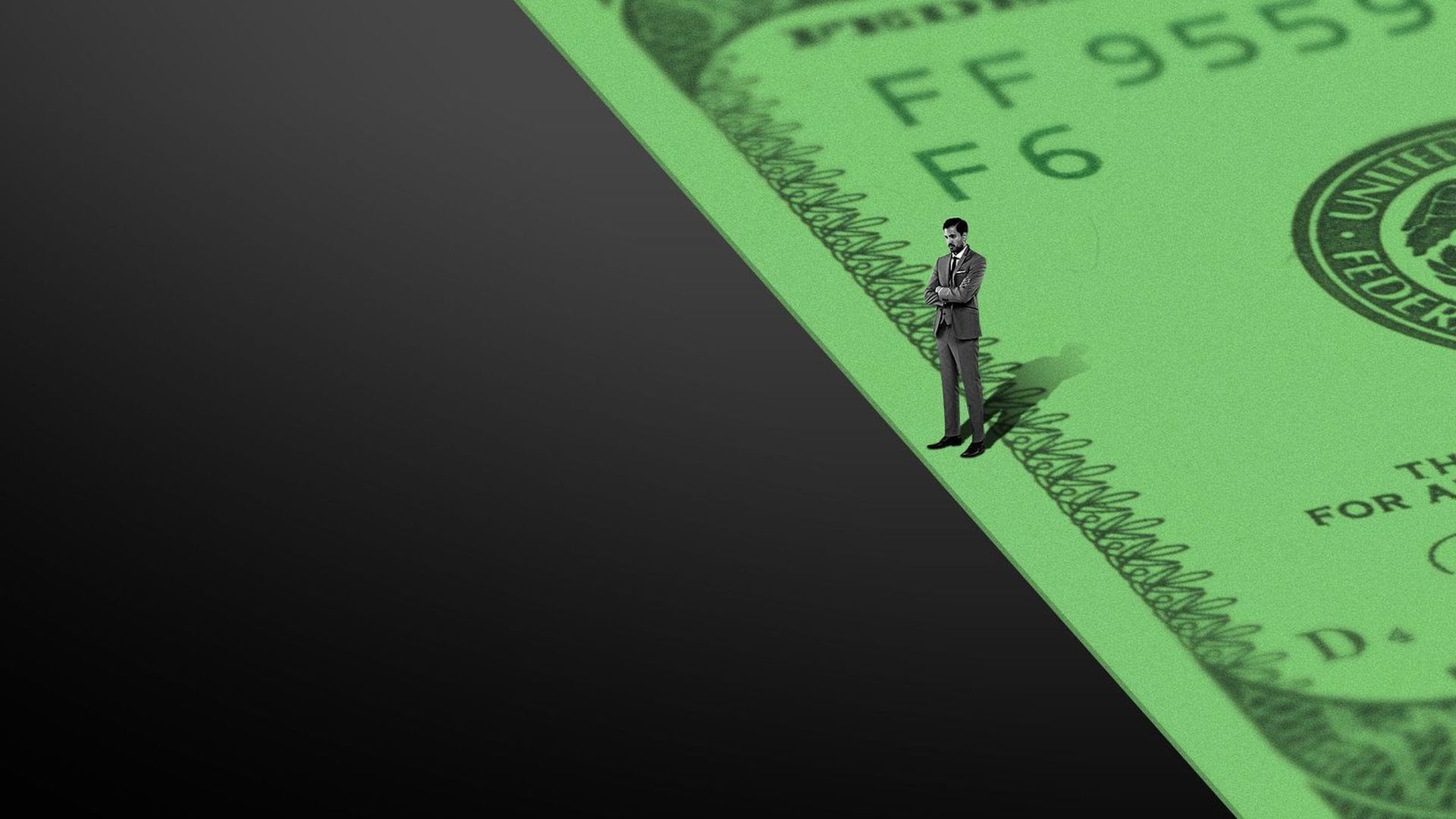 Illustration: Aïda Amer/Axios
The commodity price spike caused by the war in Ukraine has increased the risks of a recession, sustained high inflation, or both, reports Axios Capital author Neil Irwin.
The big picture: It's pretty much a mathematical certainty that inflation rates will be higher in the months ahead rather than lower.
Will year-over-year headline inflationhit double digits? Quite plausibly. That leaves the Fed between a rock and a hard place.
AXIOS AM: Mar 10, 2022

  Mike Allen <mike@axios.com>
Putin-Zelensky meeting raised at peace talks
A woman outside a maternity hospital that was shelled yesterday in Mariupol, Ukraine. Photo: Evgeniy Maloletka/AP
Russian Foreign Minister Sergei Lavrov and his Ukrainian counterpart Dmytro Kuleba met in Turkey this morning for the highest-level peace talks since the war began, Axios' Zachary Basu reports.
The two sides discussed the possibilityof a meeting between Russian President Vladimir Putin and Ukrainian President Volodymyr Zelensky, but otherwise failed to come to any agreement on a ceasefire.
The big picture: As Putin's frustration builds, Russian forces have increasingly turned to targeting civilians with indiscriminate shelling. (Photo above.)
The meeting came just one day after Russia bombed a maternity ward and children's hospital in the besieged city of Mariupol, killing three people in an attack that Zelensky calledproof of genocide.
Lavrov falsely claimedat his press conference in Turkey that Ukraine was the aggressor, at one point telling reporters: "We are not planning to attack other countries. We didn't attack Ukraine in the first place."
Breaking: The U.K. this morning froze the assets of seven Russian oligarchs, including Chelsea FC owner Roman Abramovich — who was in the midst of attempting to sell the storied London soccer team.
Go deeper: Axios Ukraine dashboard … Axios explainers.
1,000 words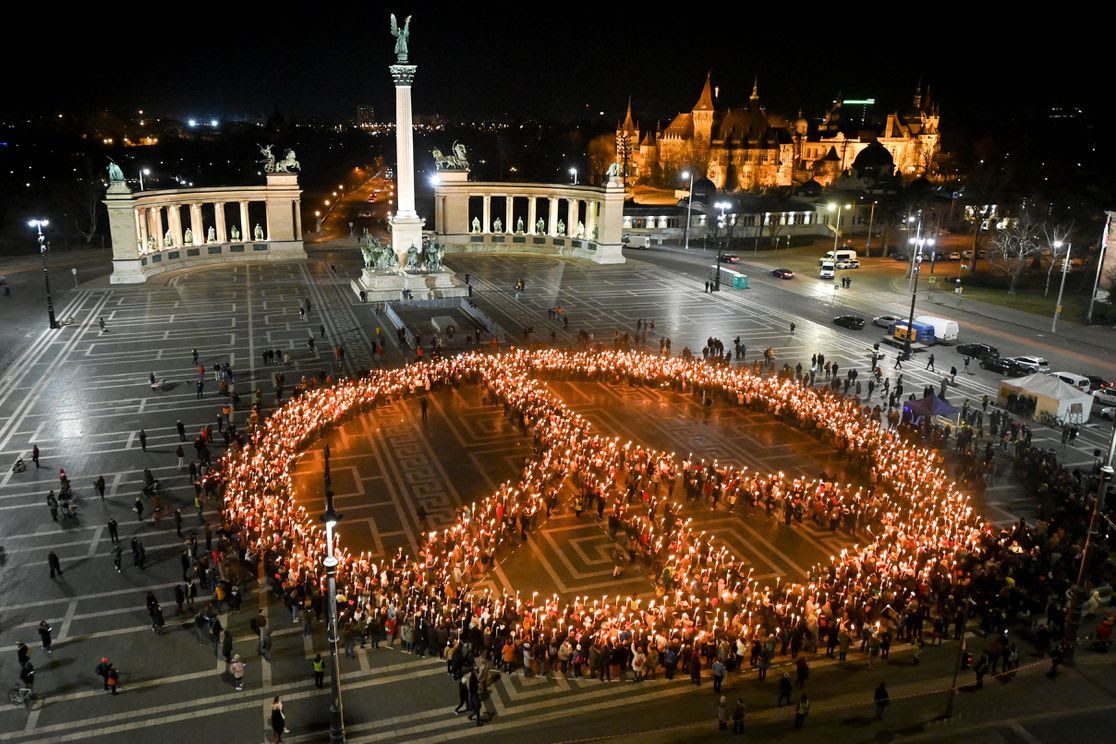 Photo: Attila Kisbendek/AFP via Getty Images
Protesters form a human peace sign in Heroes' Square in Budapest, Hungary, yesterday.
Fear in Europe: Who's next?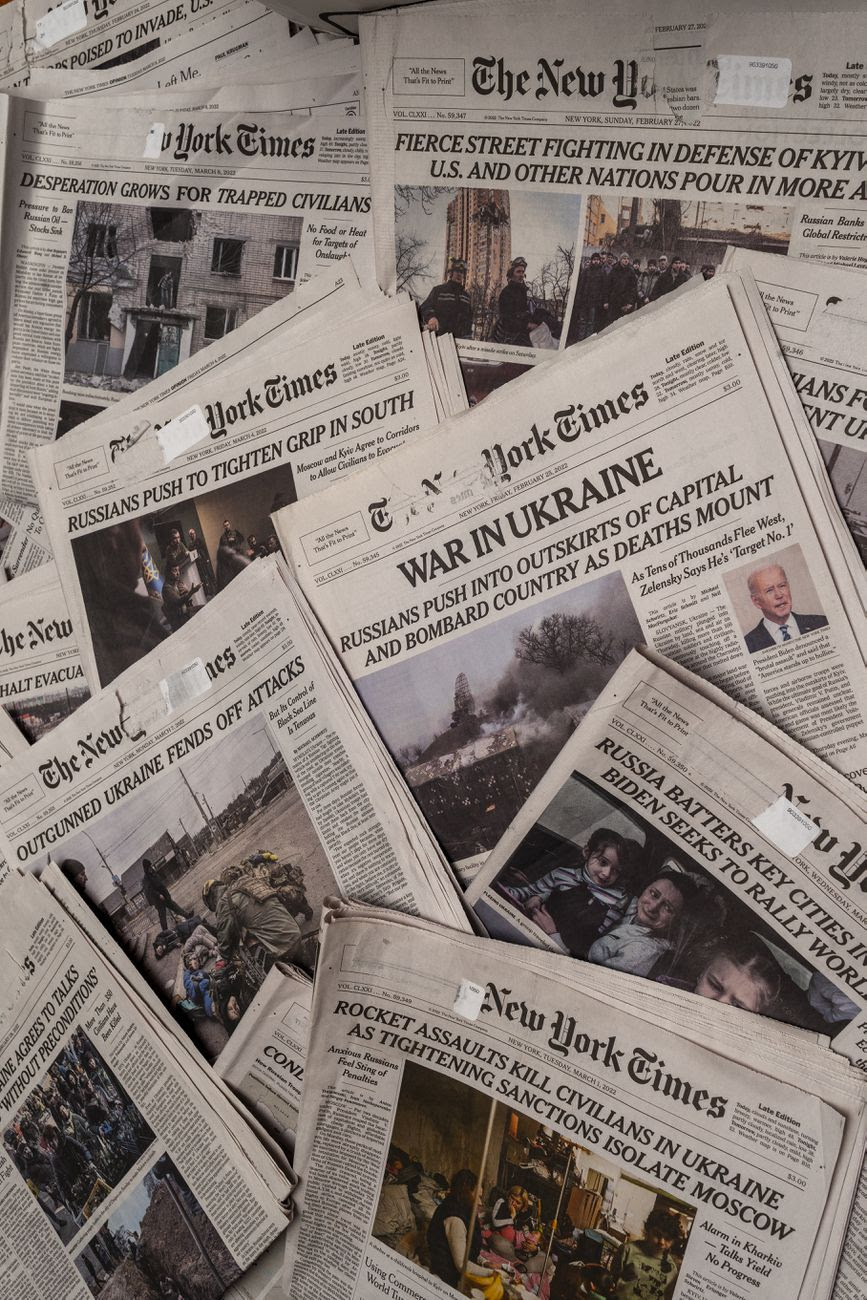 Photo: Richard B. Levine/Sipa USA via Reuters
Some European countries, watching Russia's brutal war in Ukraine, fear they could be next, AP reports.
Why it matters: Vladimir Putin "has said right from the start that this is not only about Ukraine," said Michal Baranowski, director of the German Marshall Fund's Warsaw office, but also "about the eastern flank of NATO and the rest of Eastern Europe."
Western officials say the most vulnerable could be those who aren't members of NATO or the European Union, and thus alone and unprotected — including Ukraine's neighbor Moldova and Russia's neighbor Georgia, both of them formerly part of the Soviet Union — along with the Balkan states of Bosnia and Kosovo.
Analysts warn that even NATO members could be at risk, including Estonia, Latviaand Lithuania on Russia's doorstep, as well as Montenegro, either from Moscow's direct military intervention or attempts at political destabilization.
AXIOS PM: Mar 9, 2022

  Mike Allen mike@axios.com

Why gas is so high
 A bunch of you asked: Why are gas prices going up if the U.S. barely relies on Russian oil?
The answer: You'll pay a lot more for gas for three big reasons, Axios energy experts Ben Geman and Andrew Freedman tell us.

1.      Supply: Less oil sloshing around in an already-tight market, thanks to Russia.

2.     Demand: Driving and energy use is surging back post-COVID.

3.     Risk: War.

Be prepared: It's hard to see any of these trends getting better fast. Expect high gas prices for at least the next few months.

Be aware: Oil makes up about 45% of gas prices, which is why President Biden is playing footsie with the Iranians, Saudis and Venezuelans.  They have oil. Biden wants cheaper gas.

Be savvy: We only get 3% of our oil from Russia. BUT Europe gets 27% … and we all tap the same global oil pool. Hence, your pain at the pump.
 4. Catch up quick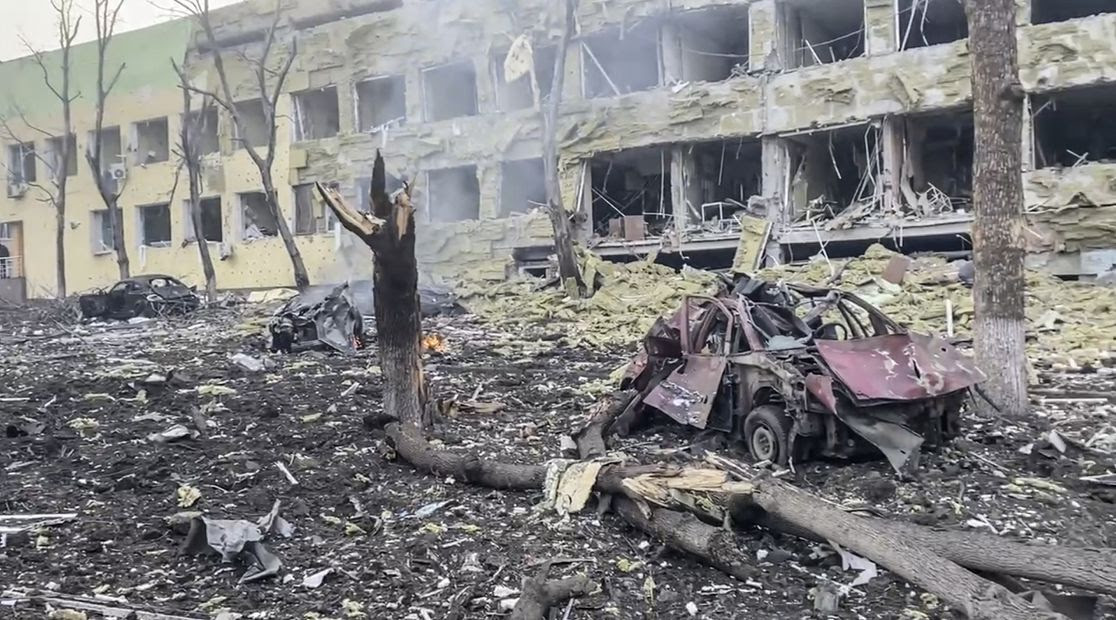 Aftermath of Mariupol Hospital after a Russian attack severely damaged the children's hospital and maternity ward. Photo: Mariupol City Council via AP
Russian shelling in the Ukrainian port city of Mariupolhas killed at least 1,170 people and destroyed a children's hospital that also housed a maternity ward, Deputy Mayor Sergiy Orlov said today. Go deeper.
The Chernobyl nuclear power plantthat's now controlled by Russian forces no longer has electricity, threatening efforts to safely store radioactive material, the Ukrainian government warned. Go deeper.
A grand jury indicted Colorado election official Tina Peters on seven felony counts as part of an investigation into tampering with the results of the 2020 election. Peters is a Republican candidate for secretary of state. Go deeper.
Volkswagen is reviving the microbus as an electric vehicle, scheduled to release in the U.S. in 2024.
AXIOS AM: Mar 9, 2022

  Mike Allen <mike@axios.com>
 Breaking: Congressional leaders reached a bipartisan deal early today to provide $13.6 billion to help Ukraine, as part of a $1.5 trillion measure funding the government. Party leaders hoped to whip the 2,741-page measure through the House today and the Senate (perhaps) by week's end. —AP
1 big thing: Putin's failure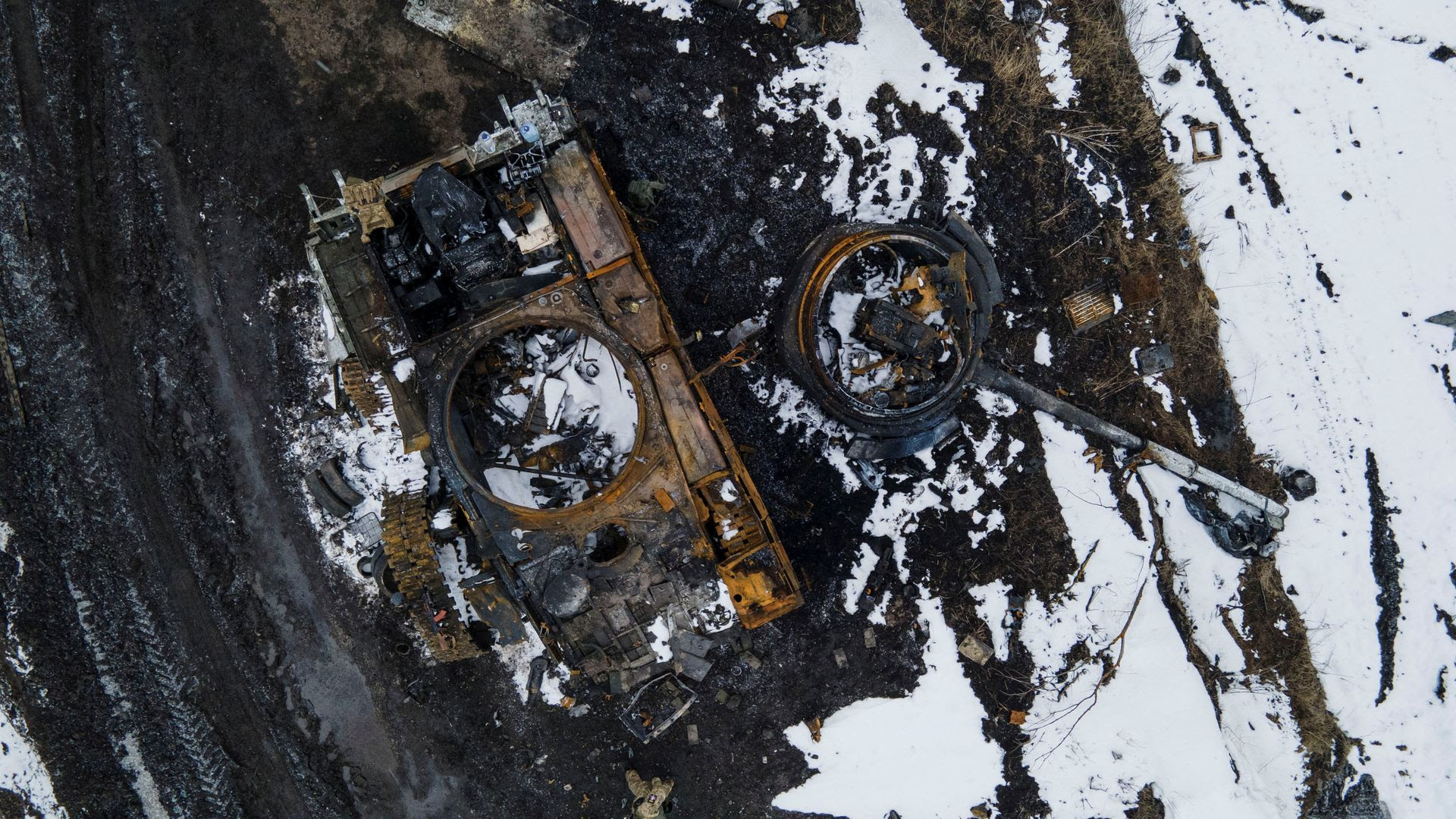 A charred Russian tank is seen Monday in Ukraine's Sumy region. Photo: Irina Rybakova for the press service of the Ukrainian Ground Forces via Reuters
Vladimir Putin's plan to seize Ukraine's capital in the first two days of Russia's invasion has been a complete failure, Axios' Zachary Basu writes.
It's been thrown off courseby a fierce Ukrainian resistance, poor planning and a series of profound miscalculations, top U.S. intelligence officials say.
Why it matters: An isolated and angry Putin is expected to double down on his brutality as the war in Ukraine drags on for weeks, months or even years. It could be his undoing.
 Reality check: A devastating punch that levels Ukrainian cities is more likely than ever. It'll be less targeted … more indiscriminate.
State of play: CIA Director Bill Burns testified at a House hearing yesterday that Putin "has no sustainable political end game in the face of what's going to continue to be fierce resistance from the Ukrainians."
Even if Russia eventually captures Kyiv, the U.S. intelligence community doesn't see a way that a pro-Russian puppet regime can stay in power given the Ukrainian people's absolute refusal to capitulate.

Ukraine's Armed Forces say this is a downed Russian jet crashing in Kharkiv, Ukraine, on Sunday. Image from video released by Ukrainian Ground Forces via Reuters
The U.S. estimates between 2,000 and 4,000 Russian troops have already been killed, "far in excess" of what Putin anticipated or has admitted, Burns said.
Putin was readyfor sanctions, but not the speed and unity with which the Western world brought the hammer down — especially private companies. McDonald's, Starbucks and Coca-Cola all halted Russian sales yesterday.
 What we're watching: Despite the setbacks, Putin is "unlikely to be deterred," Director of National Intelligence Avril Haines testified.
The people who will suffer most are Ukrainian civilians, who are already beginning to see the vicious tactics Putin adopted to achieve his military aims in Syria and Chechnya.
The upside is that what Putin "might be willing to accept as a victory may change over time, given the significant costs he is incurring," Haines predicted.
Share this story … Axios Ukraine dashboard.
Cascading crises swamp globe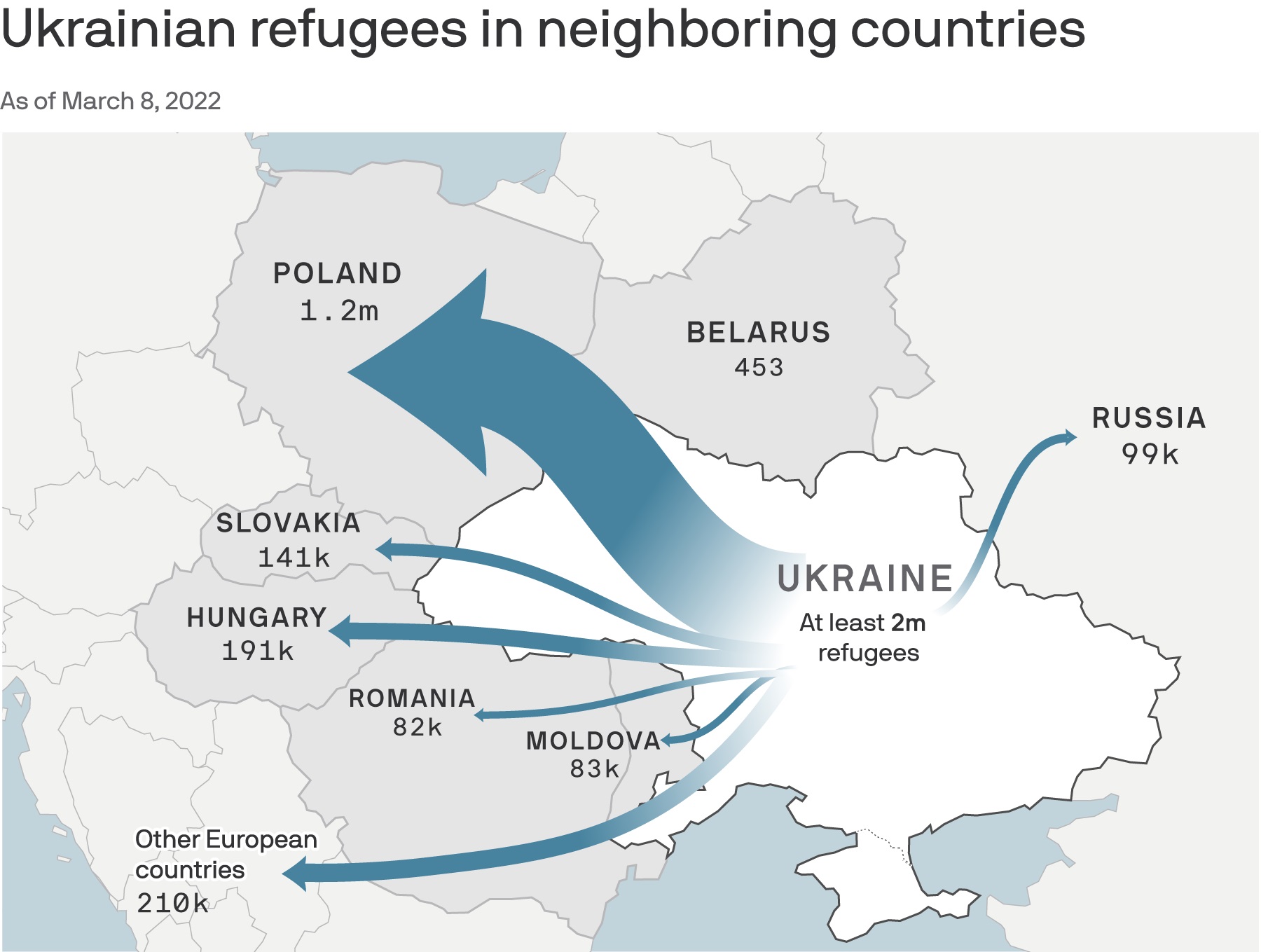 Data: UNHCR; Map: Jared Whalen and Will Chase/Axios
 Stunning stat: At the end of 2021, before the invasion of Ukraine, 1 in 29 people worldwide needed humanitarian assistance, according to the U.N.
After a pandemic, multiple food shortages, the Taliban takeover of Afghanistan — and now an exodus of Ukrainians fleeing the Russian military — global aid groups tell Axios' Stef Kight they can barely keep up.
Why it matters: "The world's humanitarian funding machine just doesn't have enough money to face all of the people in need this year," Bob Kitchen, the International Rescue Committee's director of emergencies, tells Axios.
What's happening: Aid groups are scrambling to help Ukraine, as well as the surrounding nations welcoming 2 million+ refugees — the world's fastest population movement since at least World War II, experts say.
Many of the same agencies sprang into action as refugees poured out of Afghanistan last year.
At the same time, West Africa is headed toward devastating drought and food insecurity: Over 38 million people will likely experience a severe food emergency this summer.
Separately, the Horn of Africa is facing what could be the worst food crisis in 30 years .
Conflict and other disasterscontinue in Yemen, Syria, Myanmar and elsewhere.
 How you can help: International Rescue Committee … Save the Children … Mercy Corps.
In photos: Ukraine's growing humanitarian crisis … Share this story.
AXIOS PM: Mar 8, 2022

  Mike Allen <mike@axios.com>
Helping Ukraine
 "I would love to know the top 3 or 5 ways that I can help Ukraine besides donating money to charity," Stephanie Worthington, a Finish Line reader and tech marketer in Shingle Springs, California, emailed last night.
"I've given to charity, but there must be more ways to help that I just don't know about."
Here ya go:
AXIOS AM: Mar 8, 2022

Mike Allen <mike@axios.com>
1 big thing: China censors Ukraine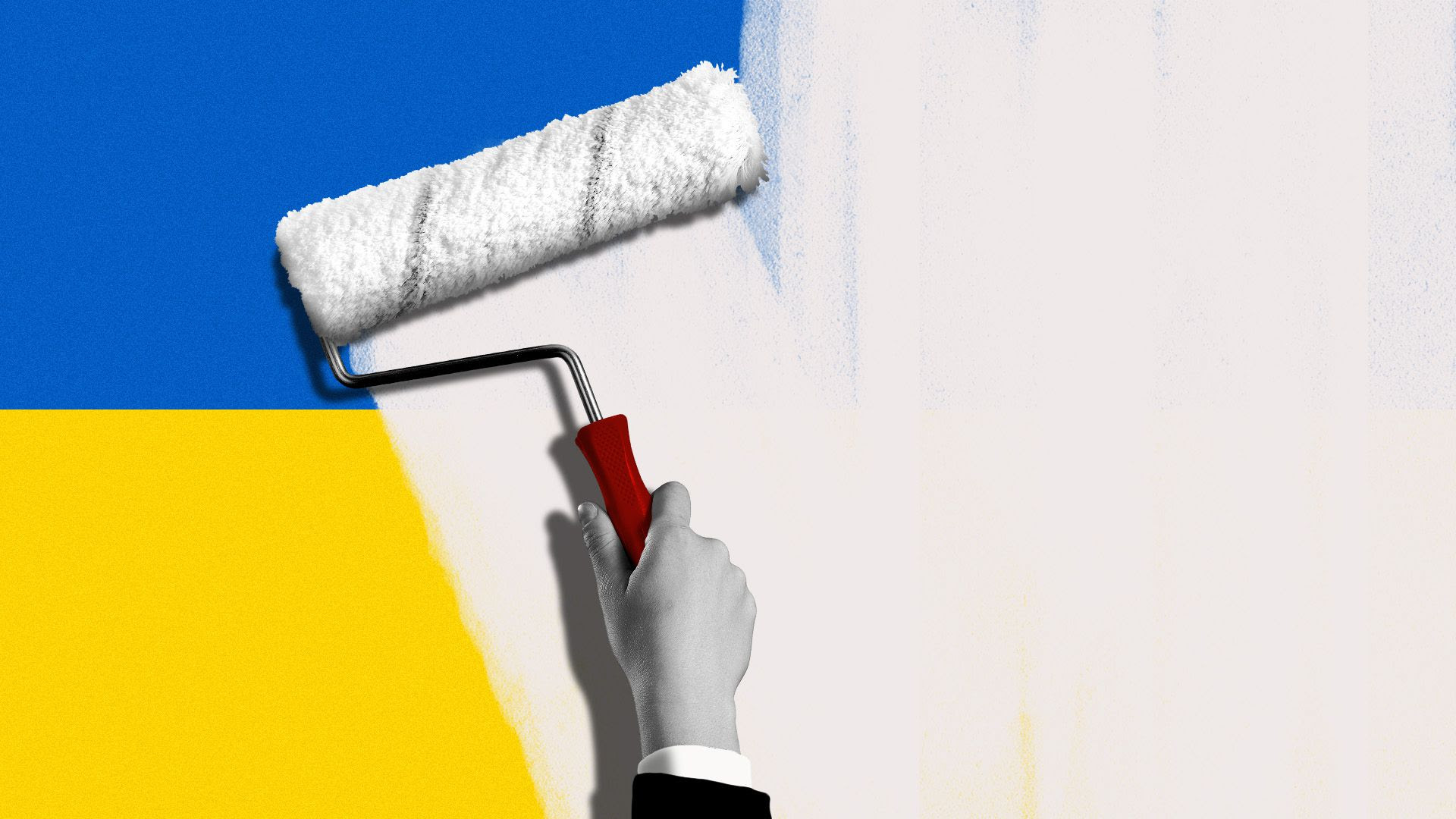 Illustration: Sarah Grillo/Axios
The Chinese government is scrubbing the country's internet of sympathetic or accurate coverage of Russia's invasion of Ukraine, and systematically amplifying pro-Putin talking points, 
Axios China
 author Bethany Allen-Ebrahimian writes.
·  Why it matters: China's use of its propaganda and censorship muscle helps insulate Beijing from domestic backlash against its support for Putin — and leaves its citizens with an airbrushed, false version of events, similar to what's seen in Putin's state-controlled Russia.
What's happening: Chinese media outlets were told to avoid posting "anything unfavorable to Russia or pro-Western" on their social media accounts, and to only use hashtags started by Chinese state media outlets, according to a leaked censorship directive.
·  Online comments expressing sympathy for Ukraine have been deleted — even the anti-war speech given by the Paralympic Committee president during the opening ceremony was censored on Chinese TV.
·  Pro-Putin social media posts on Chinese social media were allowed to proliferate, as were posts blaming the U.S. and NATO for the conflict.
·  Chinese state media have widely aggregated content from Russian outlets.
Zelensky: "I'm not hiding"
Photo from Ukrainian Presidency video
Ukraine President Volodymyr Zelensky posted a video of himself in his presidential office in Kyiv last night, declaring in the face of multiple alleged assassination attempts: "I'm not hiding. And I'm not afraid of anyone."
Why it matters: Zelensky's nightly addresses, in which he details Russian attacks and honors fallen heroes, have become appointment viewing for news and inspiration, Axios' Zachary Basu writes.
"You know, we used to say: Monday is a hard day," Zelensky said as he filmed out his window on Bankova Street on the 12th day of the invasion.
"Now there is a war in the country, so every day is Monday."

Zelensky entered selfie-style, then sat at his desk. Photo from Ukrainian Presidency video
More than 2 million refugees have now fled Ukraine.
Russia claimsit is allowing "humanitarian corridors" for the safe passage of civilians, but Ukrainian officials have reported multiple instances of shelling along those routes in the last 24 hours.
Ukraine's infrastructure minister said the country has sufferedabout $10 billion in damage since Russia's invasion began.
Zelensky pledgedto continue peace talks until the war ends — and to rebuild Ukraine until there is "no trace" of the "hatred that the enemy brought to our cities with shelling and bombing."
AXIOS PM: Mar 7, 2022

Mike Allen <mike@axios.com>
1 big thing: Food supply alarm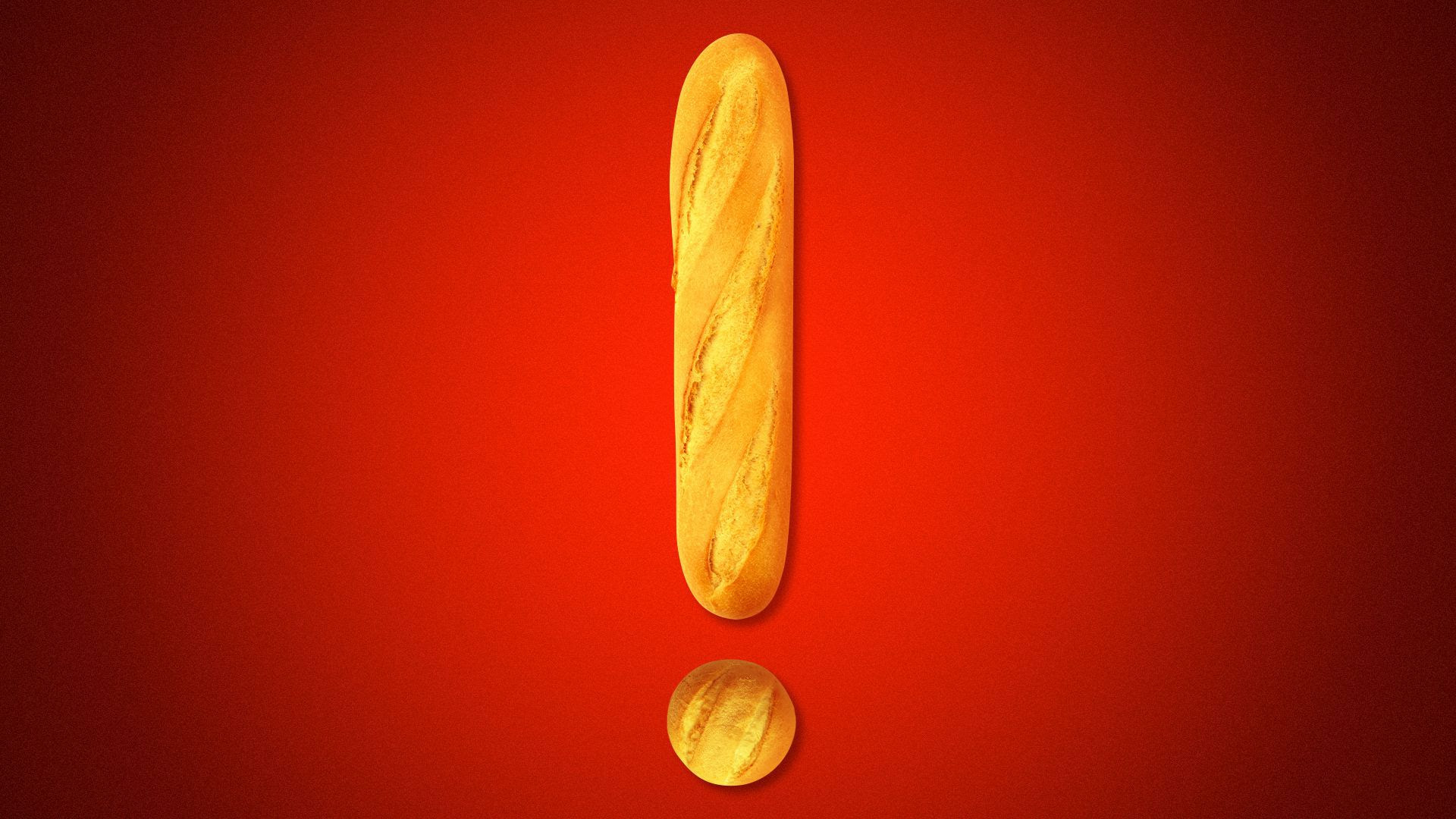 Illustration: Aïda Amer/Axios
Russia's invasion of Ukraine is threatening the global food supply.
The big picture: The two countries combine for nearly 1/3 of global wheat and barley exports, AP reports. Ukraine is a major exporter of corn.
Lebanon, Egypt and Syria are among the countries most dependent on affordable wheat. "Any [price] hikes will be catastrophic not only for me, but for the majority of the people," Ahmed Salah, an Egyptian father of seven, told AP.
Supplies were already tight because of droughts hitting the wheat belts of North America, NPR notes.
 European livestock farmers are heavily reliant on Ukraine for corn and other grain additives for animal feed.
Between the lines: This also threatens efforts to help famine-stricken countries like Afghanistan, Yemen and Ethiopia, the Financial Times reports (paywall).
The bottom line: Ukraine and Russia "account for about 12% of the calories the world trades," NPR reports.
Go deeper: Tomorrow's Axios Markets will dive into what the war means for global wheat markets.
Russia "nearly 100%" deployed
A woman arrives at the border crossing in Medyka, Poland. Photo: Visar Kryeziu/AP
Russia has now deployed "nearly 100%" of the combat power that it had massed on Ukraine's borders, a senior U.S. defense official told reporters today.
The World Health Organization confirmed at least 14 attacks on Ukrainian health facilities since the start of Russia's invasion, reports Axios' Oriana Gonzalez.
?The U.S. is deploying another 500 troops to Europe in response to the invasion, a senior defense official said today, "pushing the total number of American forces in the region to 100,000." — The Wall Street Journal
AXIOS AM: Mar 7, 2022

Mike Allen <mike@axios.com>
15 Running for their lives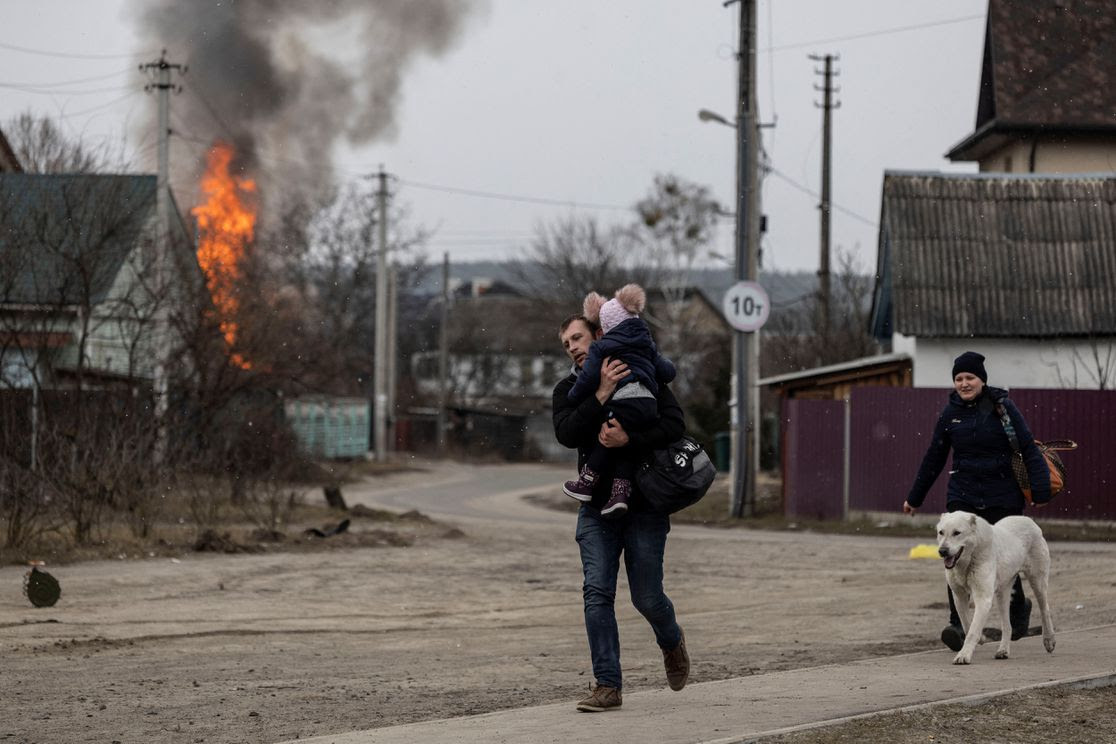 Photo: Carlos Barria/Reuters
Above, residents flee the town of Irpin, outside Kyiv, after heavy shelling landed on the only escape route used by locals, with Russian troops advancing towards the capital.
At least four civilians killed: The top of the front page of today's New York Times includes a photo of a family lying on the ground in Irpin after being hit by a Russian mortar shell. Ukraine President Volodymyr Zelensky said they were killed.
"When the family — a mother, her teenage son and a daughter who appeared to be about 8 — was spotted sprawled on the ground, soldiers rushed to help, but could do little for them or a man described as a family friend who had been helping them escape," Addario reports.
Read the story(subscription). Caution: Graphic photo.
Photo: Emilio Morenatti/AP
A factory and a store burn after being bombarded in Irpin.
AXIOS AM: Mar 6, 2022

Mike Allen <mike@axios.com>
1 big thing: Blinken sees evidence of war crimes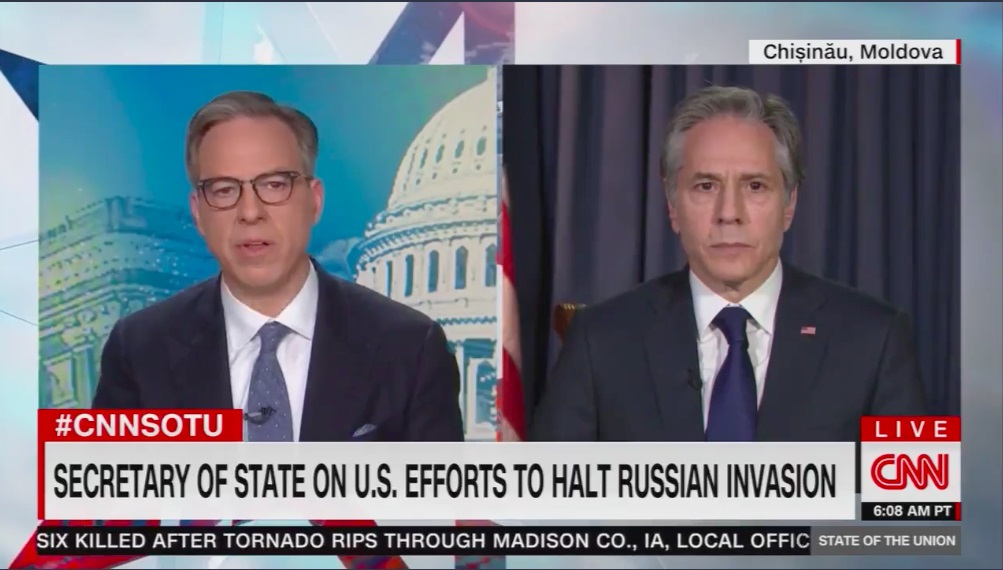 Screenshot: CNN
Secretary of State Tony Blinken told CNN's Jake Tapper on "State of the Union" from Moldova this morning: "[W]e've seen very credible reports of deliberate attacks on civilians, which would constitute a war crime."
"And what we're doingright now is documenting all of this, putting it all together, looking at it, and making sure that as people and the appropriate organizations and institutions investigate whether war crimes have been or are being committed, that we can support whatever they're doing," Blinken added.
"They're very credible. And we're documenting everything."
 Breaking: The Ukraine exodus is the fastest-growing refugee crisis in Europe since World War II, topping 1.5 million in 10 days, the UN refugee agency said today.
"In the coming days,millions more lives will be uprooted, unless there is an immediate end to this senseless conflict," the UNHCR said. Go deeper.
Pope Francis said today in his weekly address to crowds gathered in St. Peter's Square: "In Ukraine, rivers of blood and tears are flowing. This is not just a military operation [as Putin described it], but a war which sows death, destruction and misery." (Reuters)
1,000 words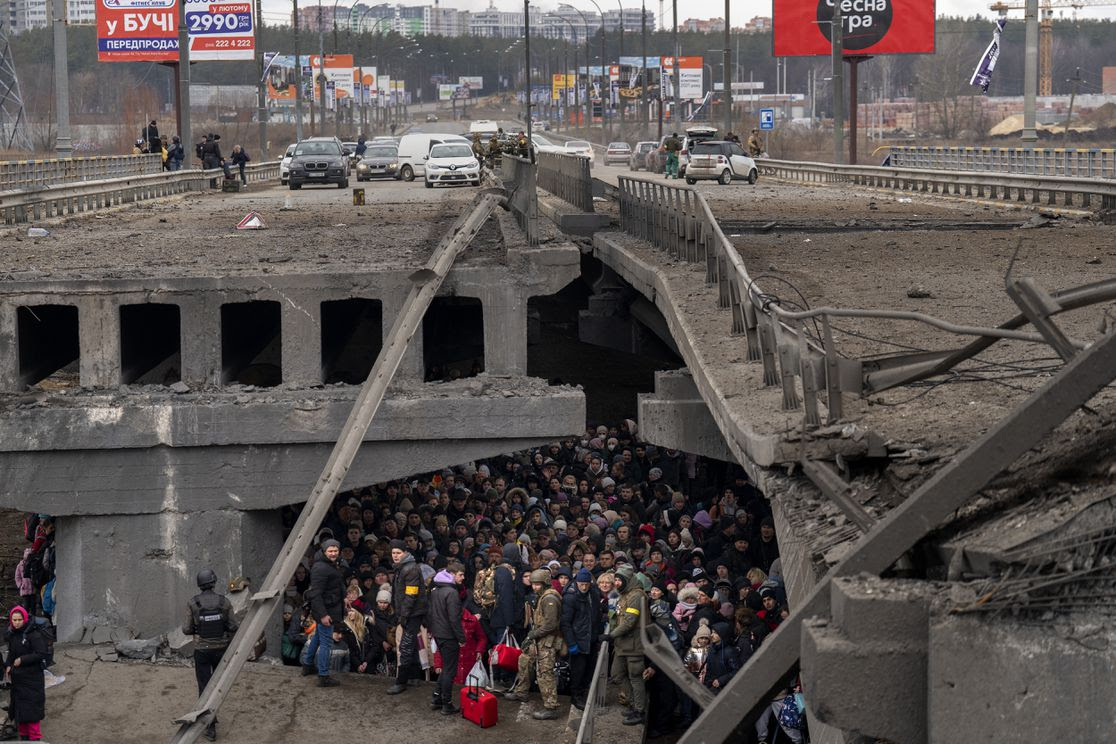 Photo: Emilio Morenatti/AP
Ukrainians crowd under a bridge destroyed by a Russian airstrike, as they wait to flee across the Irpin River on the outskirts of Kyiv yesterday.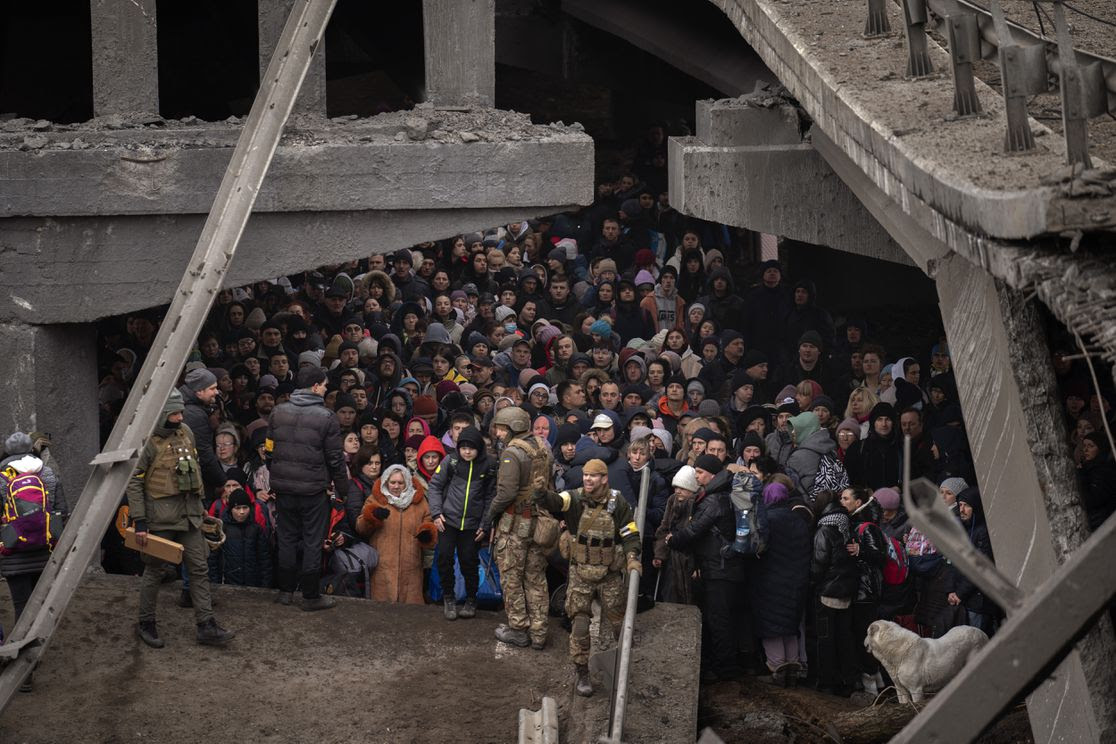 Photo: Emilio Morenatti/AP
Assisted by Ukrainian soldiers, they lugged pets, infants, purses and flimsy bags stuffed with minimal possessions, AP reports.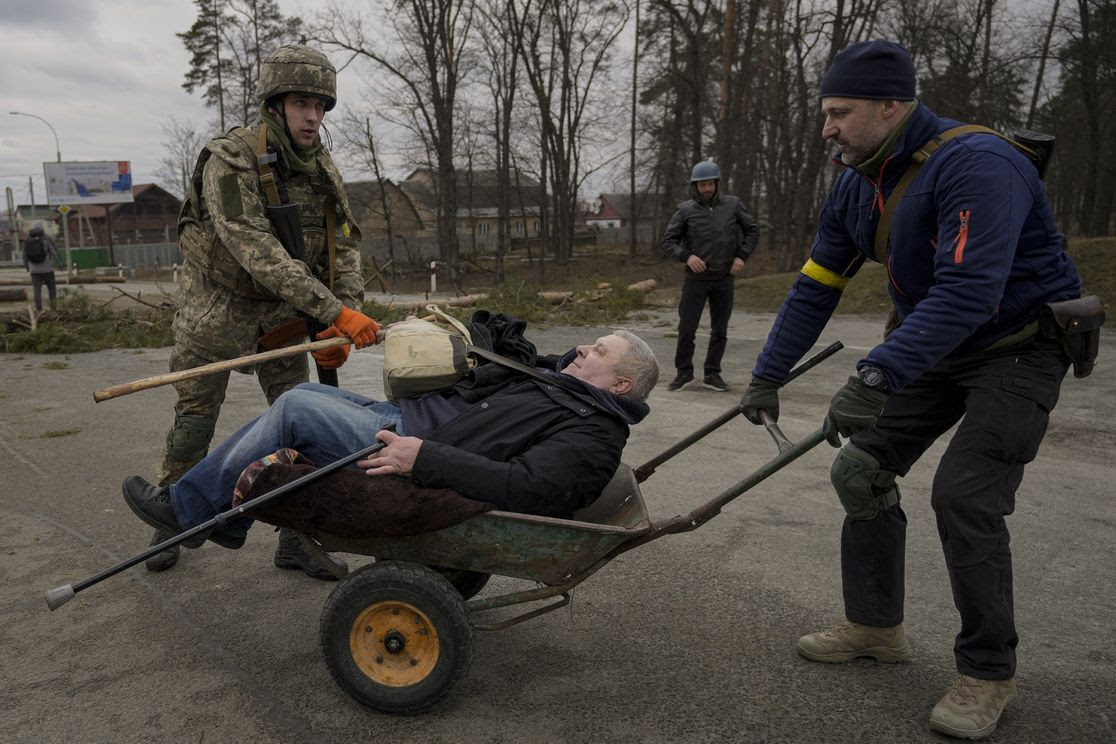 Photo: Vadim Ghirda/AP
Some of the weak and elderly were carried along the makeshift path in blankets, carts — and even a wheelbarrow.
 AXIOS AM: Mar 5, 2022

  Mike Allen <mike@axios.com>
1 big thing: Zelensky's Zoom plea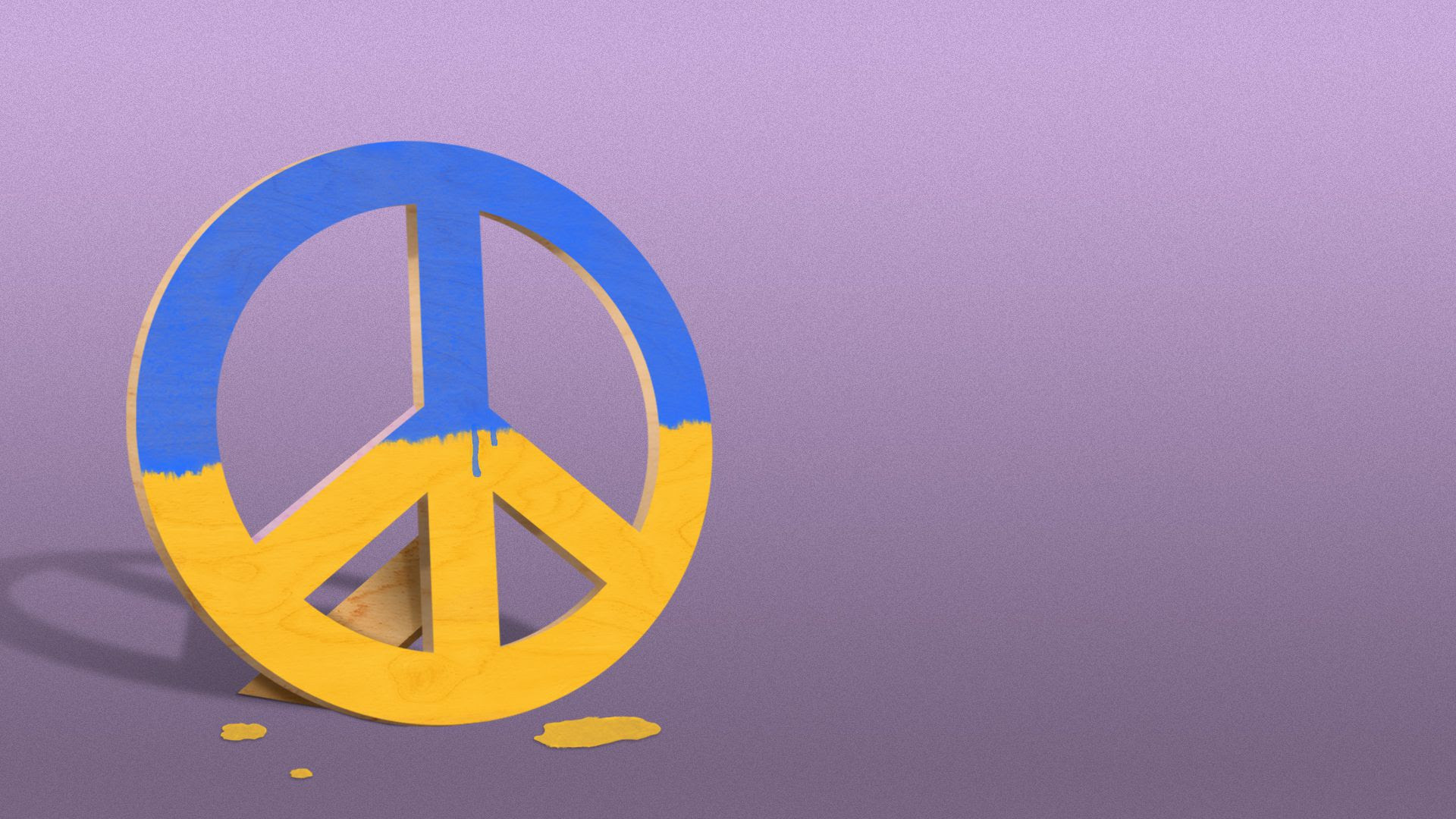 Illustration: Sarah Grillo/Axios
Ukraine leaders appreciate the worldwide solidarity, but are frustrated by how far the talk exceeds the action, Axios' Sophia Cai writes.
Why it matters:The survival of some cities could come down to hours or days. While missiles are arriving in Ukraine and crushing sanctions are being felt in Moscow, neither is stopping the invasion.
 This morning, Senate Majority Leader Chuck Schumer said after senators held a Zoom call with President Volodymyr Zelensky that the Ukrainian leader "made a desperate plea for Eastern European countries to provide Russian-made planes to Ukraine."
"These planesare very much needed," Schumer said. "I will do all I can to help the administration to facilitate their transfer."
Andriy Yermak, a longtime top aide to Zelensky, wrote in a New York Times op-ed under the headline, "I'm Writing From a Bunker With President Zelensky Beside Me. We Will Fight to the Last Breath":
We need more — and, please, stop telling us military aid is on the way. … We need antitank and antiaircraft weapons and other ammunition delivered to our brave soldiers right now.
Many countries promised aid to Ukraine to help repel the invasion. But the strongest declarations from the West and elsewhere haven't fully materialized.
The U.S. has also been heavy on symbolism over substance:
First lady Jill Bidenhosted Ukraine's ambassador to the U.S. at the State of the Union address. Many senators and representatives wore Ukrainian blue and yellow.
Congress left for the weekend,though, without passing a multibillion-dollar aid package.
Schumer told Zelensky today, according to a source on the call: "Senator McConnell and I — along with the other members on this Zoom — are working very hard in a bipartisan fashion to get all the assistance the administration has requested for the Ukrainian people. Together we will get that assistance of over $10 billion in economic, humanitarian, and security assistance to the Ukrainian people quickly."
Alexander Vindman, the Ukraine-born, retired Army officer and former National Security Council director for Europe, called for $35 billion in reconstruction aid — what's been dubbed a "Marshall Plan for Ukraine."
 Go deeper … Axios explains: Why Ukraine isn't getting a no-fly zone.
White House open to cutting Russian oil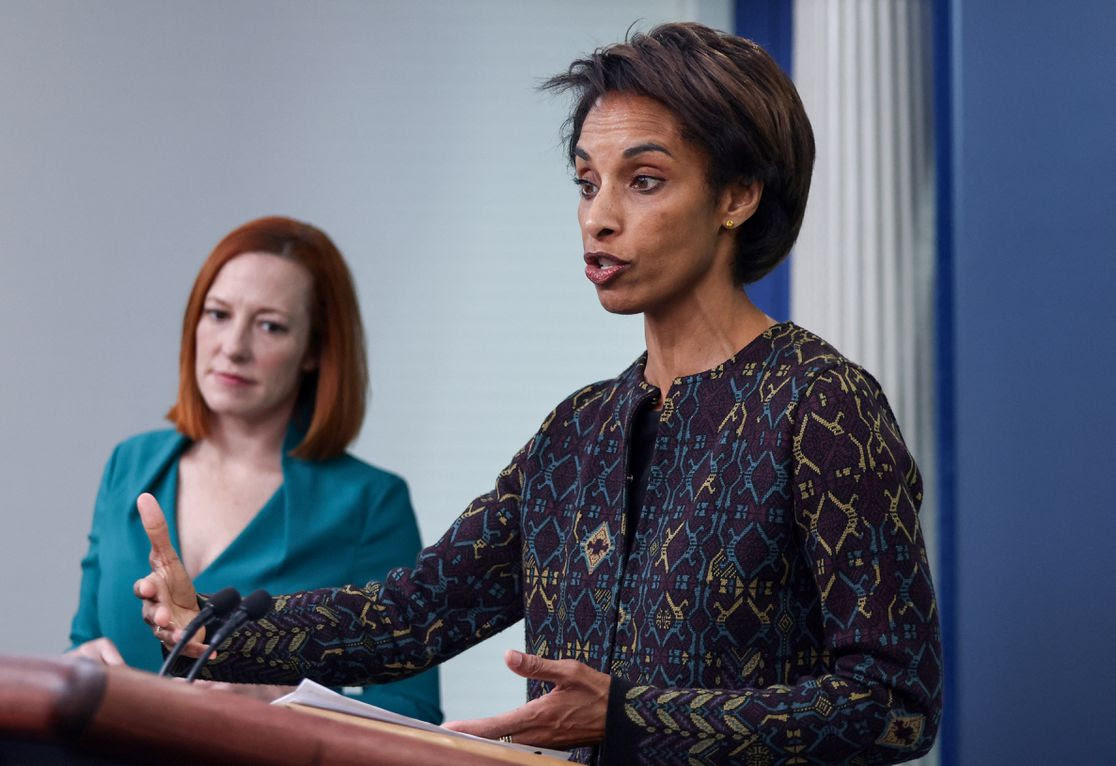 Cecilia Rouse, chair of the White House Council of Economic Advisers, joins Jen Psaki's briefing yesterday. Photo: Evelyn Hockstein/Reuters
The White House signaled openness yesterday to reducing imports of Russian oil — without saying exactly how, Axios' Hans Nichols reports.
Why it matters:A ban could translate to higher prices at the pump in parts of the U.S. and increase inflation, a key concern for Biden.
Michael McFaul, U.S. ambassador to Russia under President Barack Obama, said yesterday that he expects the practice of importing Russian oil to "change soon."
"The United States should not be importing Russian oil. Period," McFaul said during an onlinepanel discussion about the Russian invasion of Ukraine moderated by Axios' Jonathan Swan.
"I understand inflation.I understand the arguments. But there's no ethical or moral reason that we should be doing that, and I expect that to change soon."
The context: Oil from Russia accounted for roughly 3% of U.S. crude imports in 2021.
It's mostly importedin Hawaii and the coasts, where refiners don't have access to the pipelines connecting the big domestic oil fields in places like the Southwest's Permian Basin.
Energy analysts and economists disagree about how much of a price spike an import ban would generate.
State of play: Cecilia Rouse, chair of the White House Council of Economic Advisers, told reporters yesterday: "[W]e are looking at options that we can take right now if we were to cut the U.S. consumption of Russian energy. But what's really most important is we — that we maintain a steady supply of global energy."
Between the lines: That appears to be a shift from the White House's initial dismissal of the congressional effort to effectively impose an embargo on Russian oil for U.S. refiners.
Speaker Pelositold reporters on Thursday about a ban: "I'm all for that. Ban it. … Ban the oil coming from Russia. Yeah."
Drill deeper: Hans' behind-the-scenes reporting.
Russia's war on information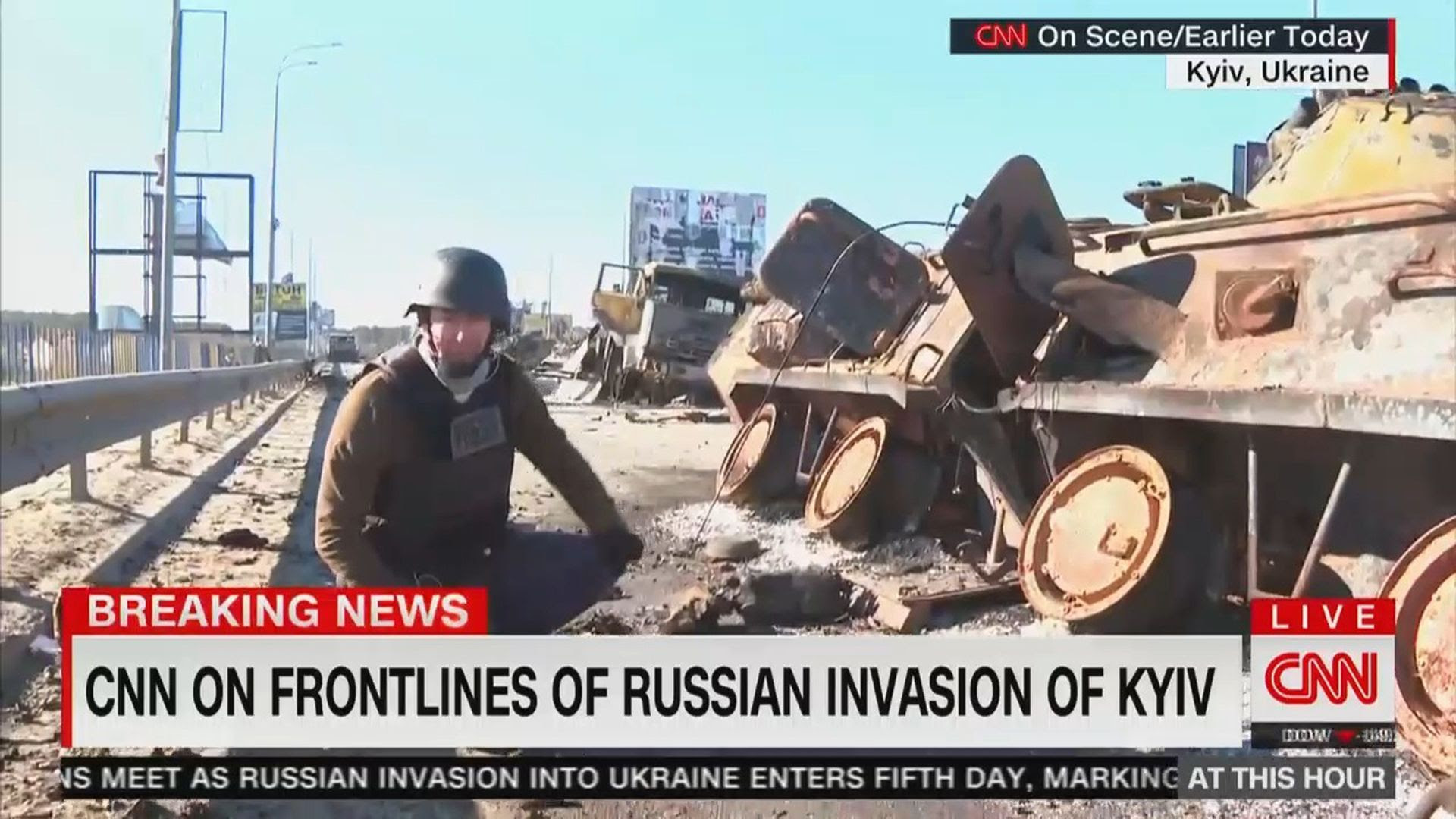 CNN's Matthew Chance on Monday. Screenshot: CNN
New efforts by the Kremlin to bully the press and silence dissent are forcing independent media and social networks out of the country, Axios' Sara Fischer writes:
The BBC and Bloomberg said they're suspending operationsin Russia, and CNN will stop broadcasting there, following a new law threatening to imprison journalists for up to 15 years if they publish what Moscow deems to be "fake" information about Russia's invasion of Ukraine.
ABC and CBS saidthey'll temporarily stop broadcasting from Russia.
Russia's communications regulator Roskomnadzor (Russian) yesterday blocked the websites of several outlets, including U.S. government-funded VOA and Radio Free Europe/Radio Liberty, for spreading what it called fake news on the "special operation in Ukraine."
High-quality Russian independent news agenciesare being yanked off the air, forcing journalists to flee the country.
Russia also blocked Facebook entirely yesterday, after partially restricting the social network last week.
Zoom out: Putin's propaganda push has intensified as protests erupt at home. The Kremlin is relying on state media to sell the war as a success domestically.
1,000 words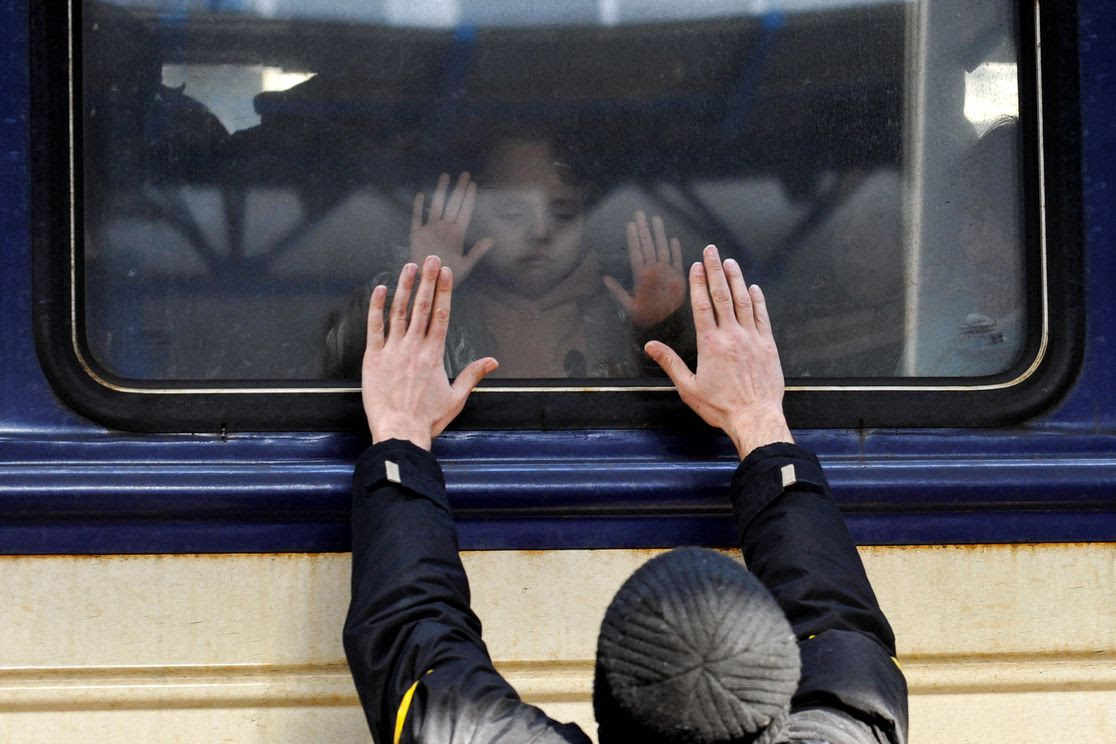 Photo: Sergei Chuzavkov/AFP via Getty Images
A traumatic farewell at an evacuation train at Kyiv's central train station yesterday.
Ukrainian women and children by the hundreds of thousands are saying goodbye to men staying to fight.
AXIOS PM: Mar 4, 2022

Mike Allen <mike@axios.com>
Russian slowdown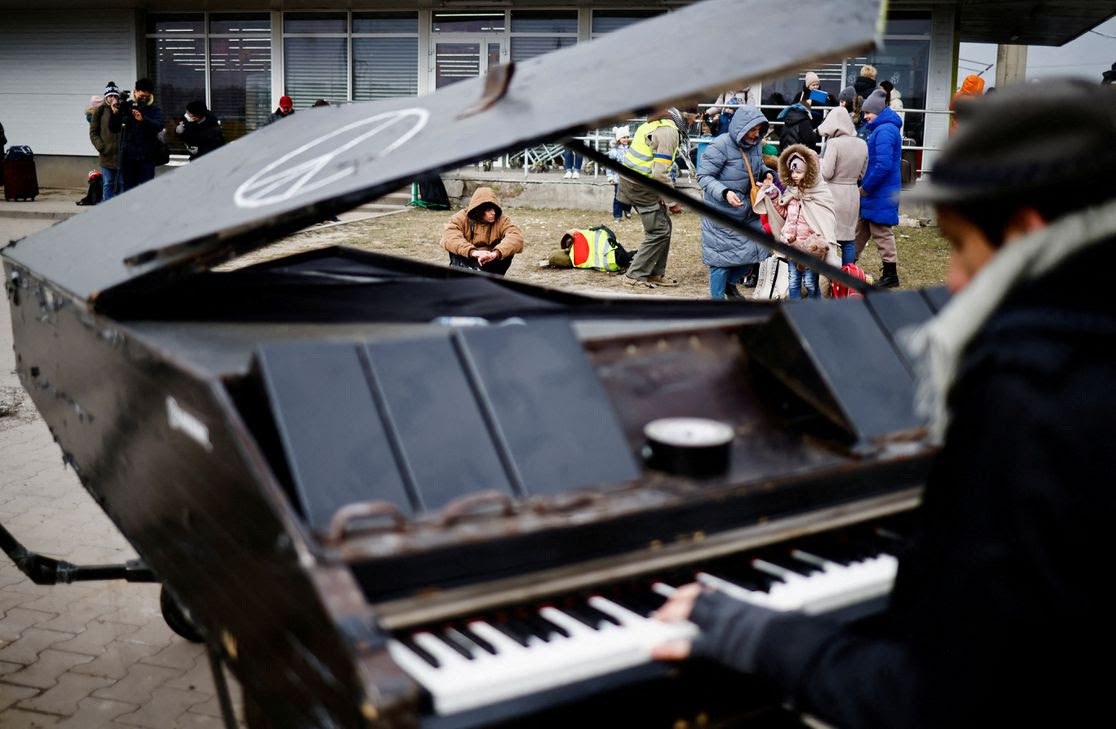 Davide Martello, 40, an Italian man living in Germany, plays the piano at the border checkpoint in Medyka, Poland. Photo: Yara Nardi/Reuters
Russia has failed to gain air superiority despite launching an estimated 500 missiles over the past nine days, the Pentagon told reporters today.
A large Russian forceis about 15 miles from Kyiv but has not advanced significantly in the past few days, reports Axios' Zachary Basu.
Ukraine and Russia planto hold a third round of peace talks this weekend.
Russia has now blocked accessto Facebook.
What they're saying: Ukraine Foreign Minister Dmytro Kuleba thanked NATO allies for their support but called on them to do more.
"Russia tries to turn Ukraine into Syria, and the tactics they deploy are very similar to the ones they excelled at in Syria."
AXIOS AM: Mar 4, 2022

Mike Allen <mike@axios.com>
1 big thing: Russia seizes reactor
This image, made from a video released by the Zaporizhzhia nuclear power plant, shows a bright, flaring object landing at the plant in Enerhodar, Ukraine, today. Photo via AP
As the Ukraine invasion enters Week 2, Russian shelling ignited a fire at Europe's biggest nuclear plant. That led to global alarm about a meltdown, as the world watched ghostly nighttime video of the complex.
But the fire is out.Russian forces took control of the site.
Why it matters: Ukraine's state nuclear regulator said losing the ability to cool nuclear fuel at the plant could lead to an accident even worse than the 1986 Chernobyl accident — the world's worst nuclear disaster — or the 2011 Fukushima meltdowns in Japan, AP reports.
The assault led to a phone call between President Biden and Ukrainian President Volodymyr Zelensky. The U.S. Energy Department activated its nuclear incident response team as a precaution.
Ukraine saidno changes in radiation levels have been recorded.
In an emotional speech in the middle of the night, Zelensky accused Russia of "nuclear terrorism" and said he feared an explosion that would be "the end for everyone. The end for Europe. The evacuation of Europe."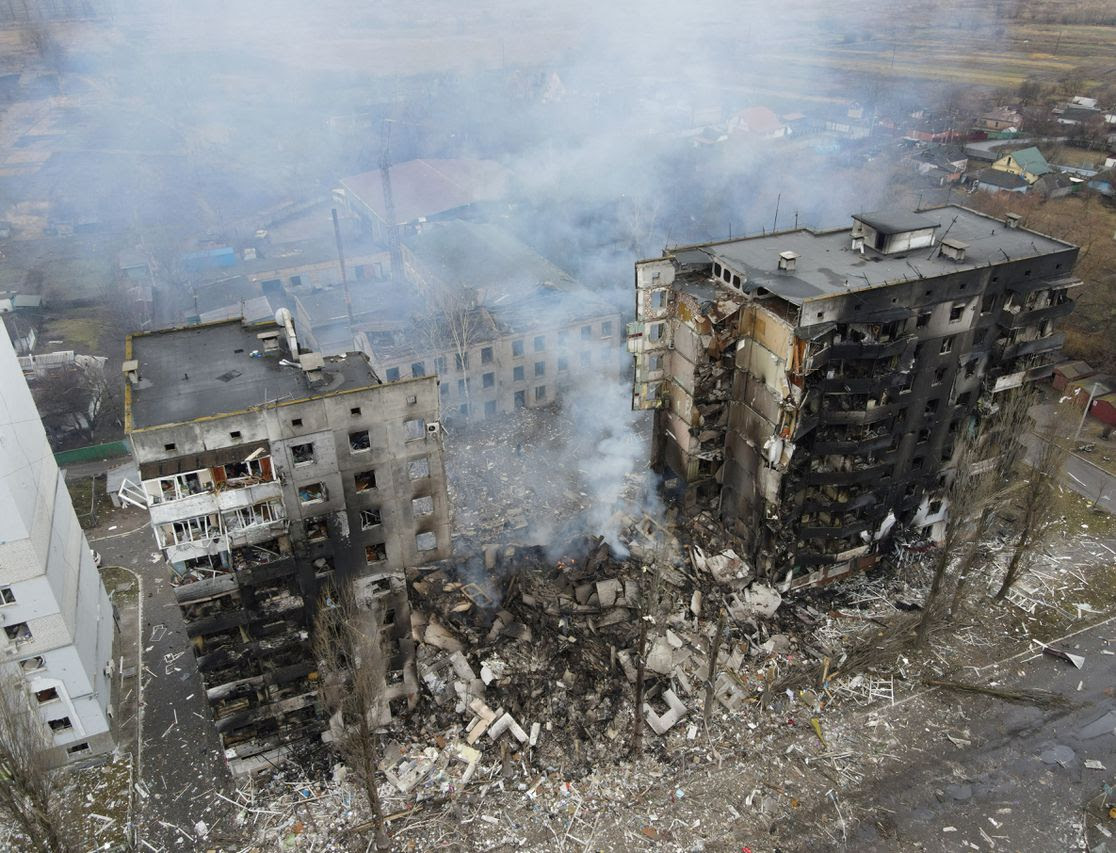 Photo: Maksim Levin/Reuters
This is a drone's-eye view of a residential building destroyed by shelling, in the settlement of Borodyanka, about 35 miles outside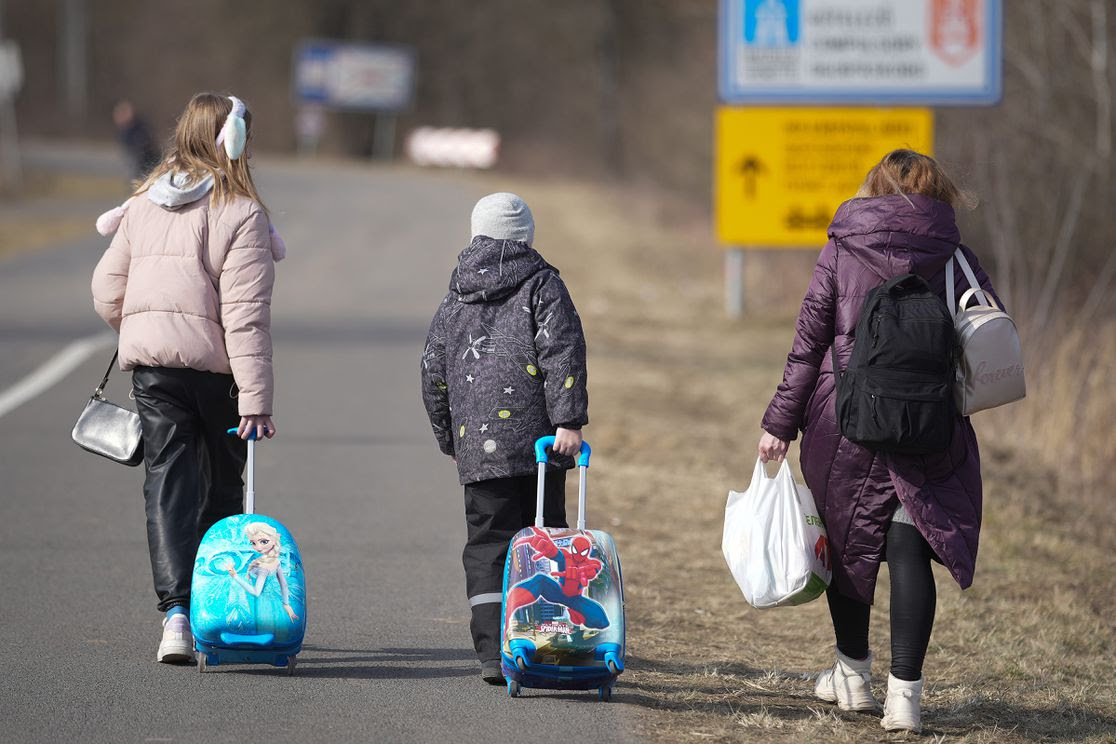 Photo: Christopher Furlong/Getty Images
A family of Ukrainian refugees in Lonya, Hungary, yesterday after walking across the border. Long queues are forming at border crossings.
   2. Putin faces danger at home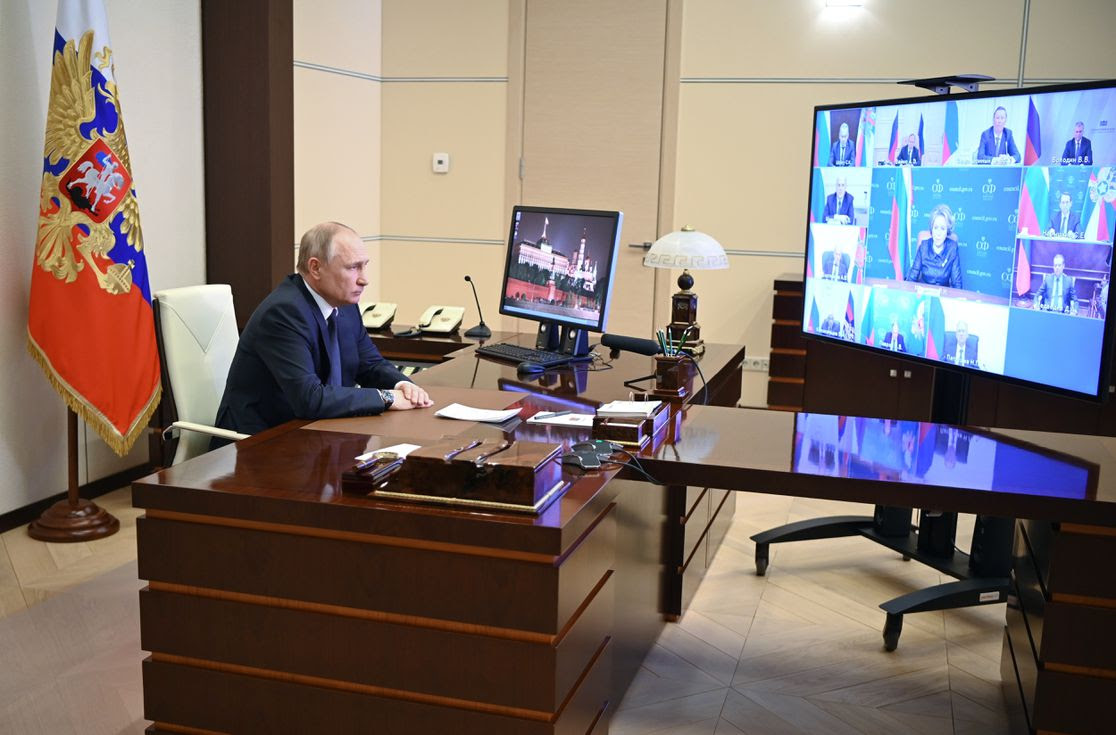 Vladimir Putin chairs a Security Council meeting yesterday at his Novo-Ogaryovo residence outside Moscow. Photo: Andrei Gorshkov/Sputnik/Kremlin Pool Photo via AP
Thousands of Russians are rushing to flee the country ahead of this weekend, as rumors swirl that Vladimir Putin could soon declare martial law, close the borders and crack down even harder on domestic dissent, Axios' Zachary Basu reports.
Why it matters: For as devastating as the humanitarian situation in Ukraine has become, widespread suffering is rapidly arriving at Russia's own doorstep.
More than 8,000 people have already been detained at anti-war protests since Feb. 24, according to the independent monitor OVD-Info.
Russia's Duma has passeda law making the spread of "fake news" about the Russian military punishable by up to 15 years in prison.
The last pillarsof Russia's already-limited independent press were forced to close under pressure from the Kremlin this week.
Russia's state communications watchdog blocked the websitesof the BBC, Voice of America, Radio Free Europe/Radio Liberty, Deutsche Welle and other foreign media outlets for spreading "fake" information.
 What to watch: Russia's second-largest airline announced it will cease all international flights from tomorrow, as Russia's upper house of parliament meets for an emergency session that many fear could mark the descent of a new Iron Curtain.
Invasion's economic dominoes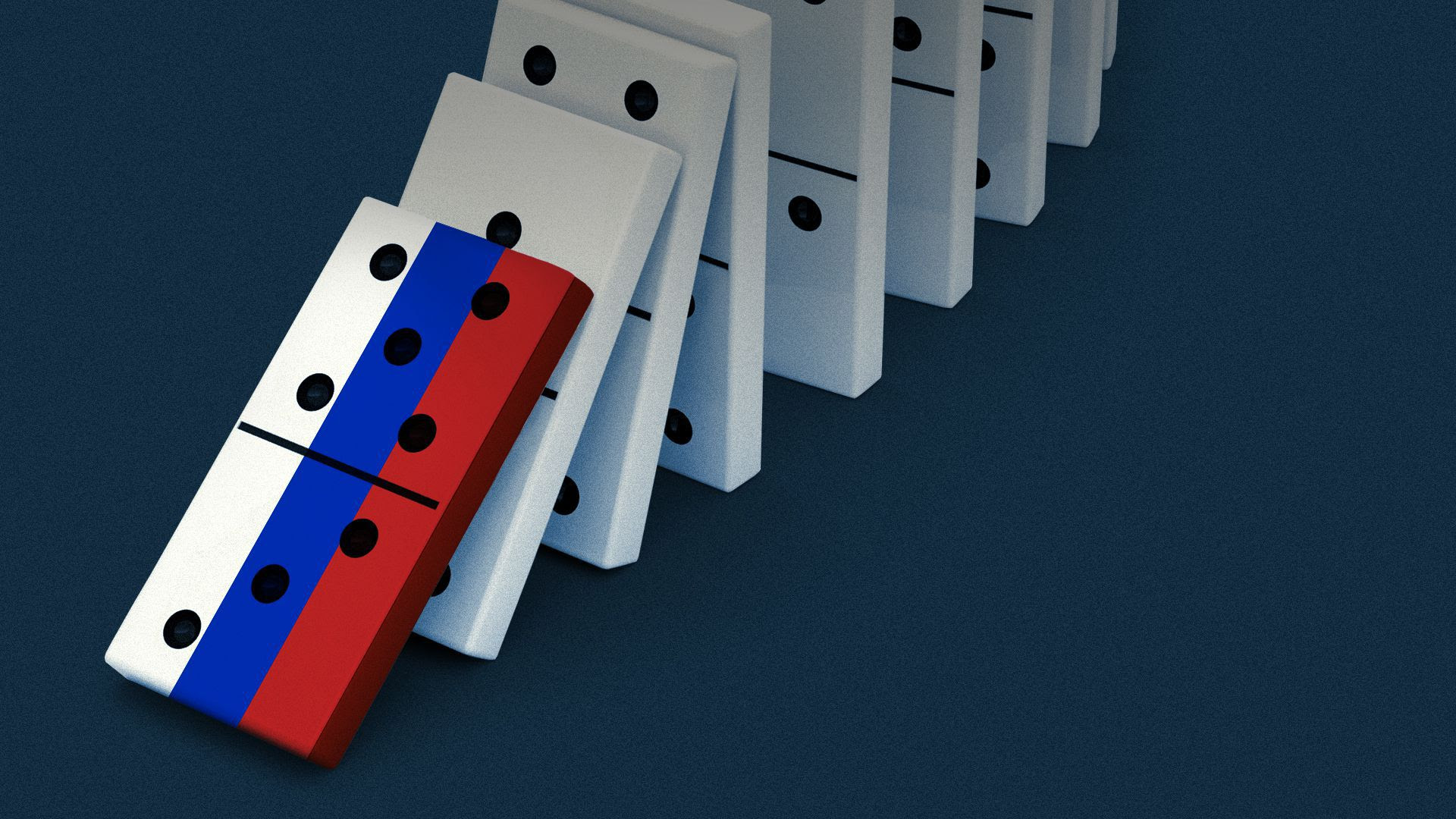 Illustration: Shoshana Gordon/Axios
Ripping Russia, the world's 11th largest economy, out of the global financial system is already causing collateral damage around the world, 
Axios Markets
 author Emily Peck 
writes
.
Oil and gas prices have skyrocketed, even though energy was purposefully carved out of sanctions.
Internal conflicts could erupt elsewhere due to food insecurity.
Catch up quick: Since Russia invaded Ukraine last week, the U.S. and its European allies moved fast to levy some of the harshest sanctions ever imposed.
The strikes were targeted. The West tried to keep the energy sector — a massive part of the Russian economy — out of the most severe penalties, so European countries could continue to buy oil and gas.
Reality check: Russia will start to operate in different ways, carving out an alternate financial system — much like Iran has done after being cut off from SWIFT by the Trump administration.
·  Keep reading.
Axios explains: Why Ukraine isn't getting a no-fly zone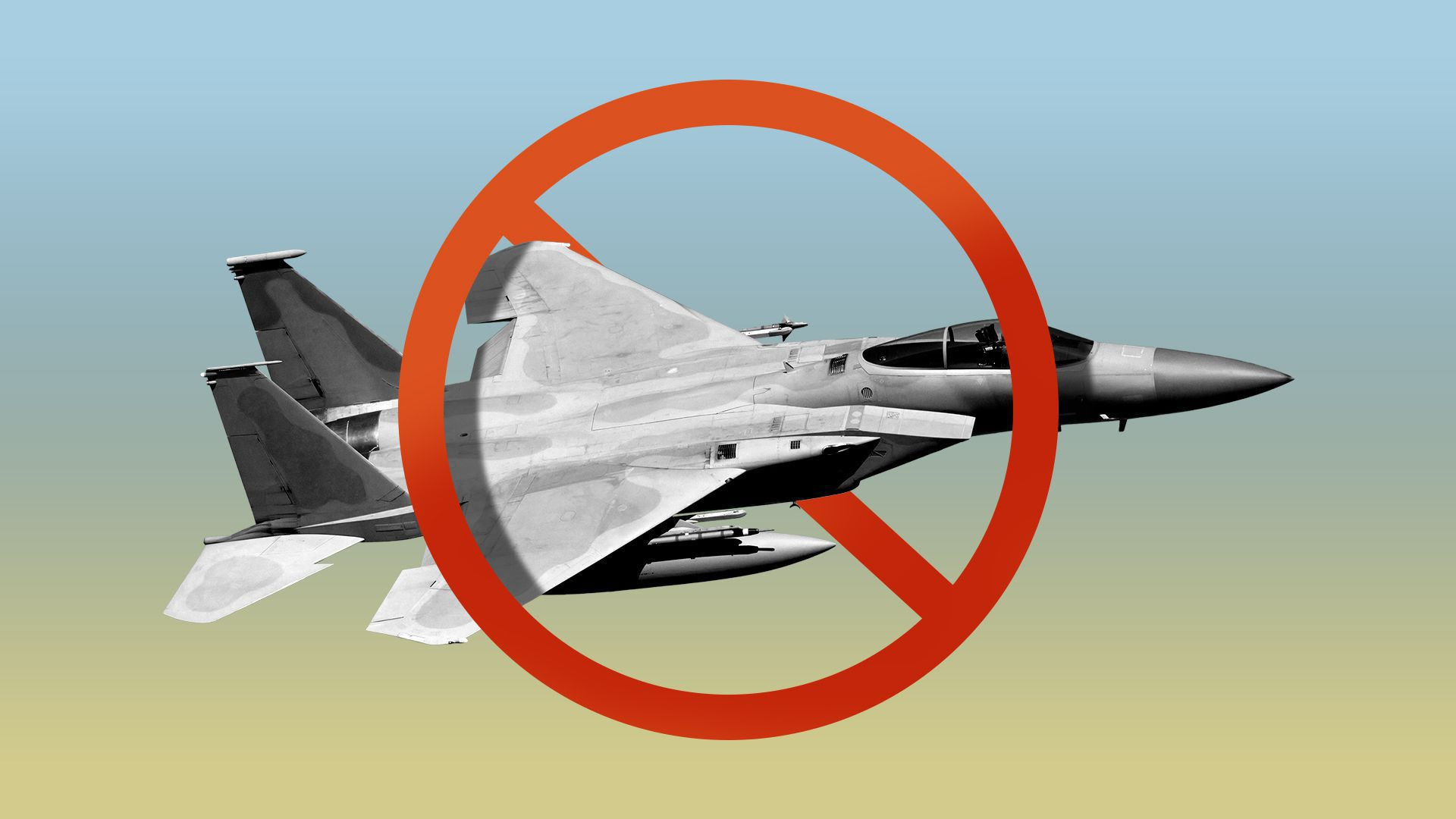 Illustration: Sarah Grillo/Axios
Ukraine President Volodymyr Zelensky has repeatedly urged Western leaders to impose a "no-fly zone" over Ukraine. But establishing one appears unlikely any time soon, Axios' Laurin-Whitney Gottbrath writes.
Why it matters:Imposing a no-fly zone (NFZ) would mark a significant escalation in the war — potentially bringing NATO directly into a conventional conflict with a nuclear power.
A no-fly zone is airspace where certain aircraft aren't allowed to enter.
In a war, no-fly zones must be enforced militarily — which can include shooting down banned aircraft.
The U.S. and other major powers have so far ruled out establishing a NFZ over Ukraine.
New on Axios: Ukraine explainers.
 AXIOS PM: Mar 3, 2022

  Mike Allen mike@axios.com
1 big thing: Biden to sign landmark #MeToo bill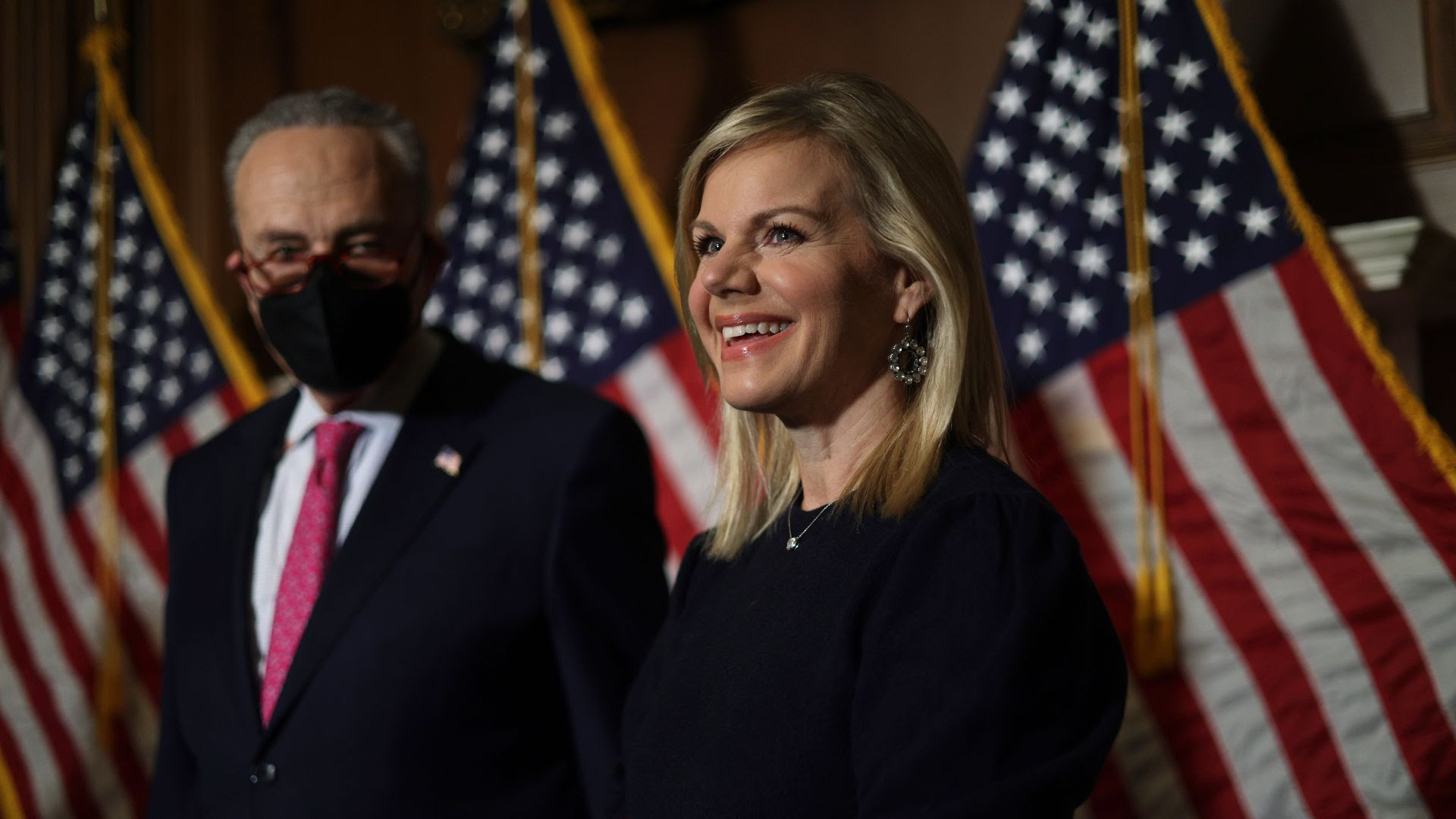 Former Fox News anchor Gretchen Carlson joins Senate Majority Leader Chuck Schumer at a press conference today following the passage of the Ending Forced Arbitration Act. Photo: Alex Wong/Getty Images
President Biden today will sign landmark workplace legislation that forbids companies from forcing sexual harassment and assault claims into arbitration, Axios' Emily Peck reports.
Why it matters: The law, the Ending Forced Arbitration Act, is the first major piece of legislation to come out of the upheaval of the #MeToo era.
·  Rep. Cheri Bustos (D-Ill.) told Axios it was "the most significant piece of labor legislation passed in this century."
·  It's a huge win for former Fox News host Gretchen Carlson, credited with bringing together diverse supporters, including Sens. Lindsey Graham (R-S.C.) and Kirsten Gillibrand (D-N.Y.).
Workers will no longer be forced to take claims of sexual harassment or assault to private arbitration.
·  But employers can still force workers to take all kinds of other complaints to private dispute resolution — including pay inequality and civil rights claims over race.
   2. Photo of the day: Refugees expected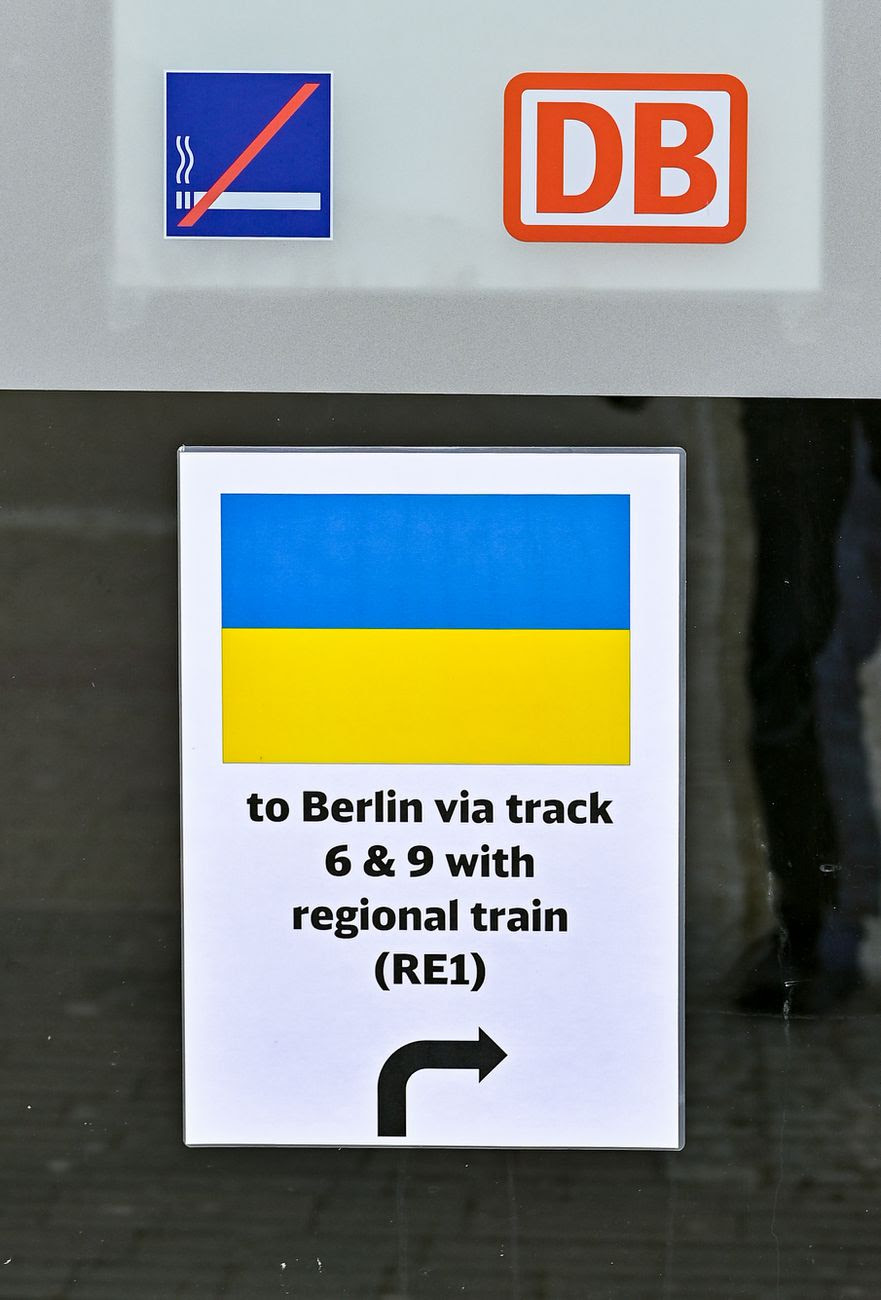 Photo: Patrick Pleul/picture alliance via Getty Images
Spotted today at the Frankfurt (Oder) rail station.
Why it matters:Trains from Poland with war refugees are expected at the station.
Context: 1 million people have fled Ukraine in seven days, UN high commissioner for refugees Filippo Grandi said today.
Catch up quick
The 190-foot Amore Vero (True Love), linked to a close ally of Vladimir Putin, was seized today in a French Riviera port. Photo: Nicholas Tucat/AFP via Getty Images
France seized a mega yacht belonging to a Russian oligarch, CNN reports.
The Sackler family reacheda deal to pay as much as $6 billion to end litigation against the OxyContin Go deeper.
Ukrainian and Russian delegationsagreed to organize humanitarian corridors to allow civilians to flee, but made no other progress.
Russian businesses in the U.S. are facing threats and vandalism, Axios' Erin Doherty reports.
AXIOS AM: Mar 3, 2022

Mike Allen <mike@axios.com>
1 big thing: Putin's CEO crisis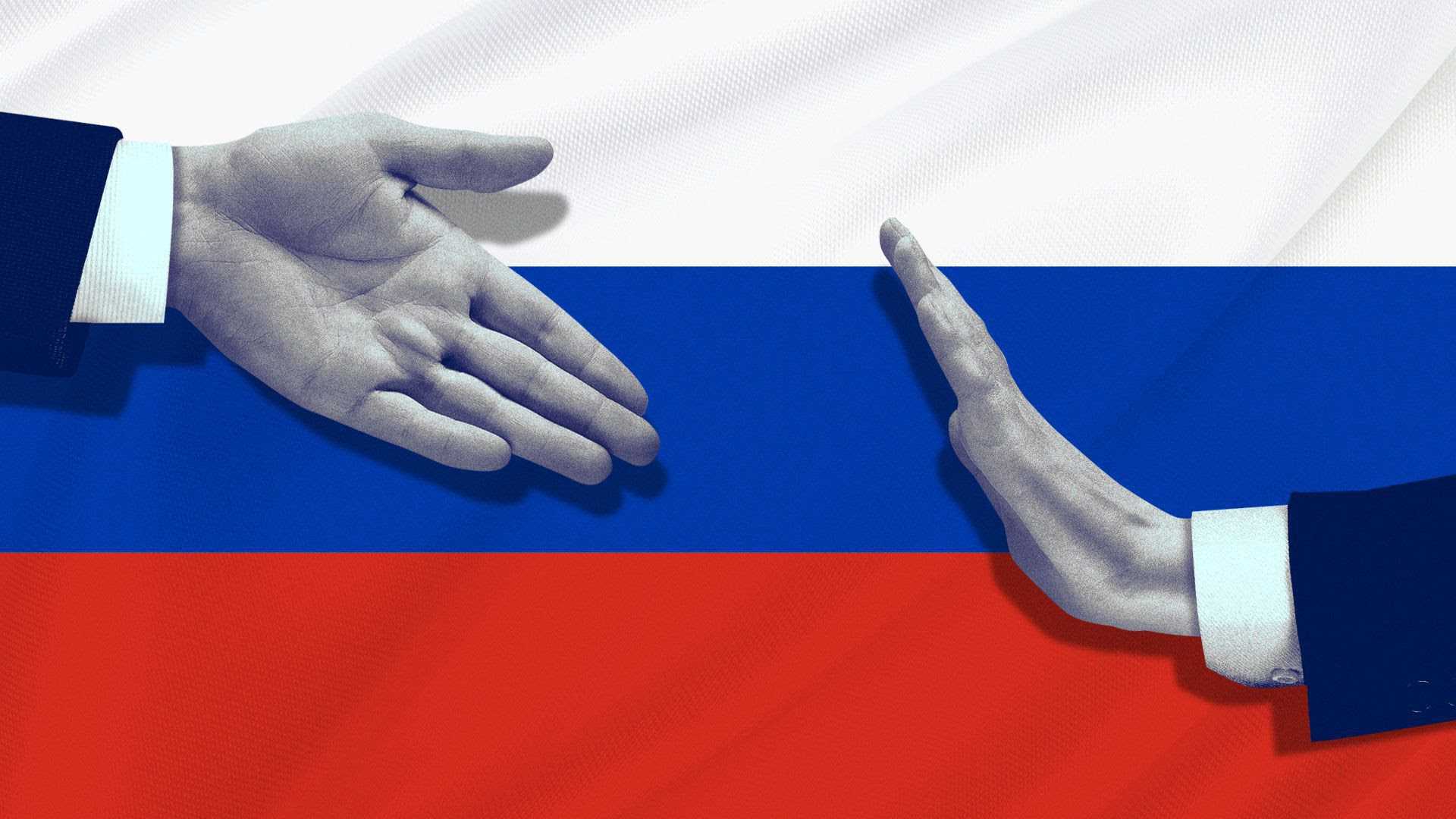 Illustration: Eniola Odetunde/Axios
Giant global businesses in every sector are abandoning Russia following the invasion of Ukraine.
Why it matters:In addition to condemning the invasion, the companies see an impossible environment — from worker safety … to the logistics of getting supplies … financial and sales disruption … and the complexity of complying with sanctions, Axios' Hope King writes.
State of play: Financial sanctions have isolated Russia from the rest of the world. Businesses operating in Russia have an increasingly limited ability to collect revenue or pay workers and suppliers.
Economic sanctions, including export controls, have curtailed imports.
Some workers are being moved out of Russia.
Restricted airspace and travelare preventing companies from getting the equipment they need to continue to operate.
Between the lines: Some companies that have very little physical presence in Russia — including many in tech, retail and media — are limiting how products are used in the country or have pulled them.
Flashback: Since the Soviet Union's collapse three decades ago, Russia had been seen as an emerging market with long-term growth potential.
In the seven days since the invasion began:
Boeingsuspended major operations in Moscow, as well as maintenance and technical support for Russian airlines.
Shellwill sever ties with Russian gas giant Gazprom and end its roughly $1 billion financing of the Nord Stream 2 gas pipeline.
Exxon Mobil saysit will exit Russia oil and gas operations valued at more than $4 billion and cease new investment.
GM, which sells only about 3,000 cars a year in Russia, saysit will suspend exporting vehicles.
Fordsuspended
BMW stoppedshipments and will stop production in Russia.
VWpaused delivery of Audis already in Russia so it can adjust car prices to reflect the decline in value of the ruble.
Harley-Davidson suspendedshipments to Russia.
Adidassuspended its partnership with the Russian Football Union.
Nikeceased online sales because it can't guarantee delivery.
FedEx and UPS suspended shipments.
Yoox Net-A-Porter Groupand Farfetch, luxury e-commerce platforms, are suspending deliveries in Russia.
Applepaused product sales and limited services (including Apple Pay), on top of ceasing exports to Russia and restricting features in Apple Maps in Ukraine to safeguard civilian safety.
Dell stopped selling products.
Walt Disney is pausingfilm debuts in Russia. Warner Bros., Sony, Paramount and Universal say they won't release films in the country.
Invasion forces 1 million from homes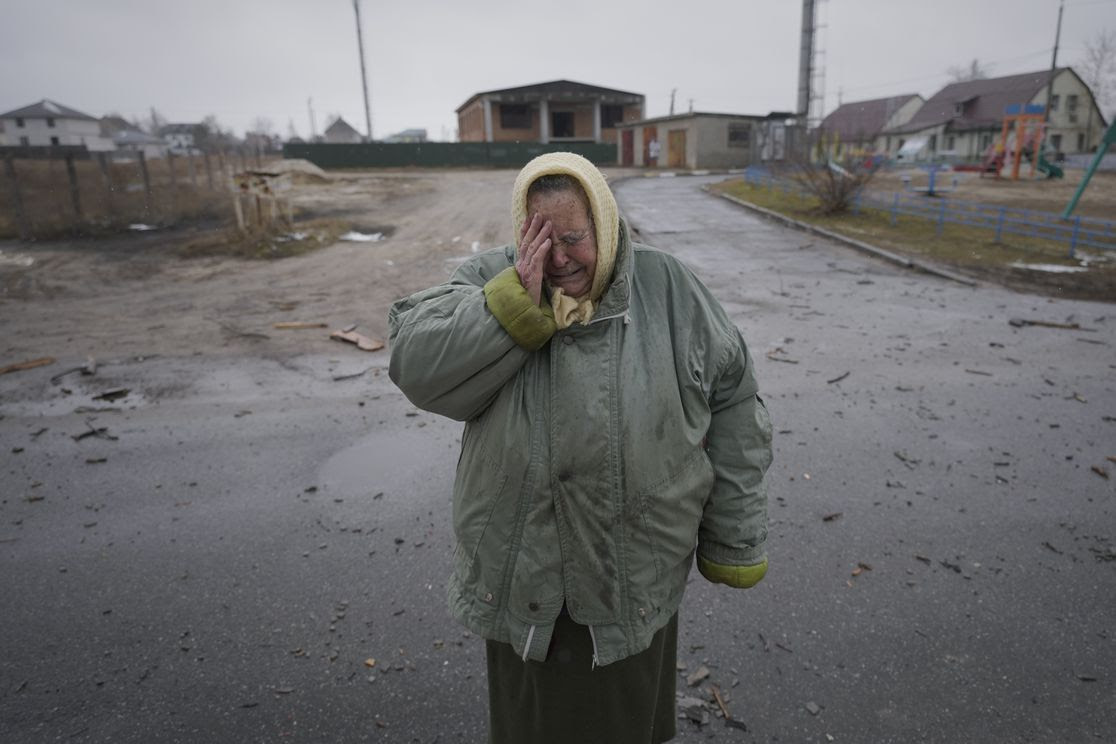 A woman cries outside houses damaged by a Russian airstrike, according to locals, in Gorenka, outside Kyiv yesterday. Photo: Vadim Ghirda/AP
Bulletin: Russia's foreign minister says Moscow is ready for peace talks but will continue destroying Ukraine's military infrastructure.
Foreign Minister Sergei Lavrov said Russia has no thoughts of nuclear war, Reuters reports.
More than 1 million people have fled Ukraine following Russia's invasion, the UN refugee agency told AP.
That amountsto more than 2% of Ukraine's population being forced out of the country in less than a week.
Go deeper: Axios Ukraine dashboard.
AXIOS PM: Mar 2, 2022

  Mike Allen <mike@axios.com>
1 big thing: The anti-Putin coalition
Data: United Nations; Map: Danielle Alberti/Axios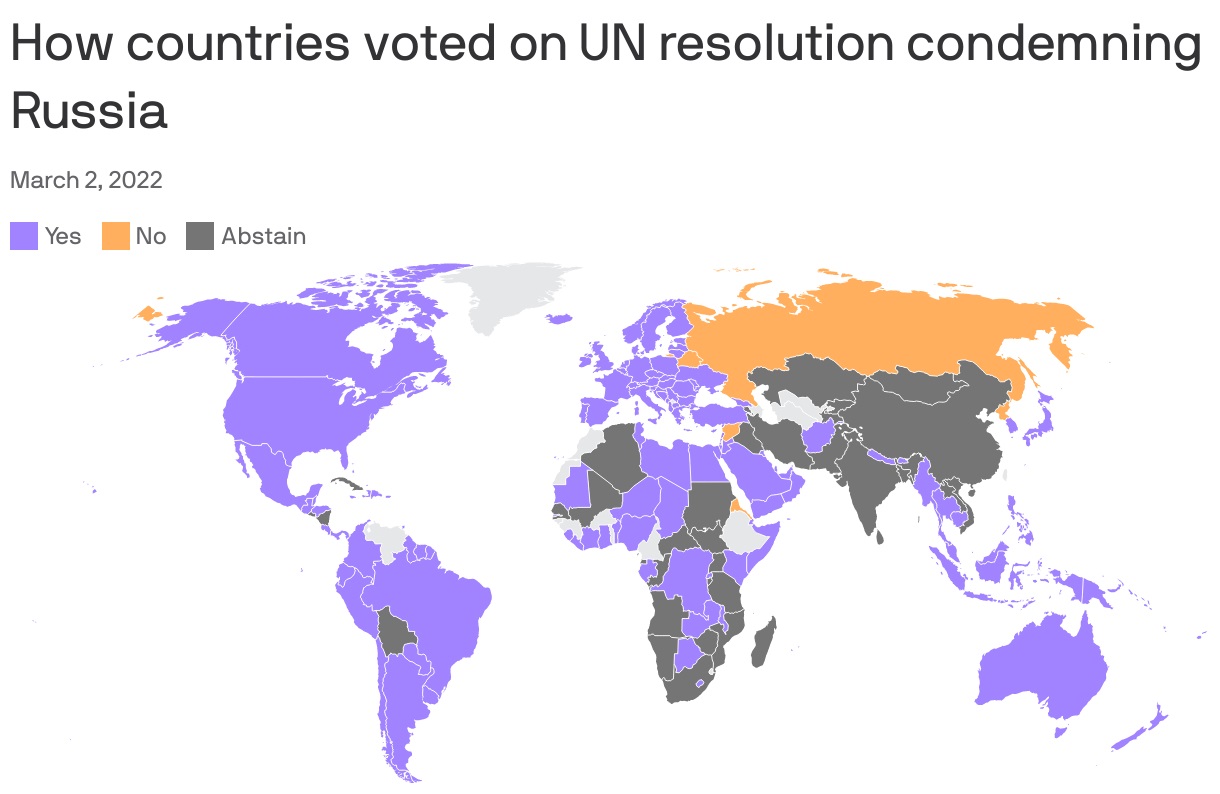 Only four countries — Belarus, North Korea, Eritrea and Syria — joined Russia today in voting against a non-binding UN resolution that condemned the invasion of Ukraine.
Another 35 abstained, including India and China, Axios' Ivana Saric and Zachary Basu report.
Between the lines:India has military ties with Russia from the Soviet era, causing headaches for the U.S. as it seeks to integrate India into an alliance to counter China in the Indo-Pacific.
141 countries voted in favor of the resolution.
AXIOS AM: Mar 2, 2022

Mike Allen <mike@axios.com>
1 big thing: Ukraine splinters internet
Illustration: Aïda Amer/Axios
Moves to restrict Kremlin disinformation after the Ukraine invasion are further splintering the global internet.
Why it matters:A universal internet — where everyone can access the same messages and services — is slipping out of reach as democracies falter and governments limit usage, Axios' Ashley Gold writes.
Zoom out: Social media execs have warned against the dangers of a Balkanized internet for years as many nations — including Russia, China, India, Kazakhstan, Belarus, Ethiopia and Turkey — limited access.
In China, American apps like Facebook and Twitter are blocked.
Between the lines: Cutting countries off can help dictators win.
In democracies, including the U.S., it's easy to focus on the harms of Big Tech and look to the government for answers, Kate Klonick, an assistant law professor at St. John's University, told Axios.
But "what we're seeing with Russia and Ukraine is a return to some of the formative ideas around the power that the internet brings to individuals."
Reality check: Authoritarian countries plow ahead with their own visions for the internet as the U.S. and Europe search for alignment on privacy, AI, competition, content moderation and cybersecurity regulations.
Biden: "I get it"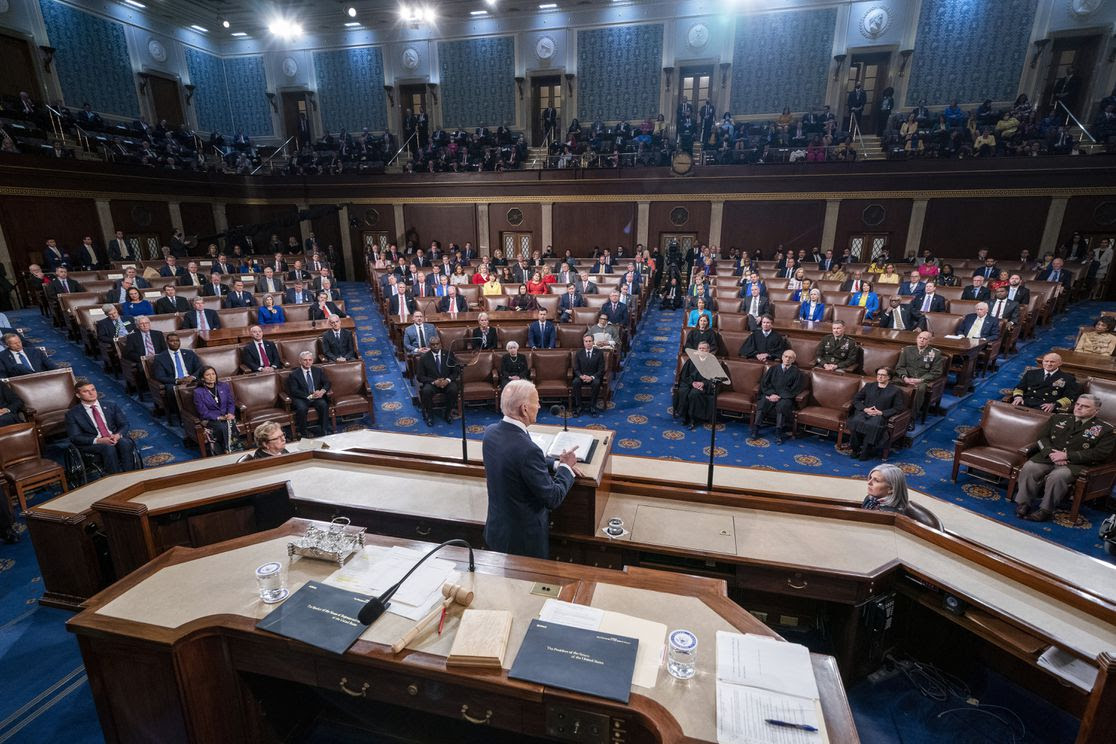 What President Biden sees. Photo: Shawn Thew/EPA/Pool via AP
President Biden said in his State of the Union address that getting inflation under control is his "top priority," while warning Russia's invasion of Ukraine could lead to higher costs for American consumers.
Why it matters:The White House knows the country is frustrated with price hikes. But officials also want credit for strong GDP growth, job creation and low unemployment, Axios' Hans Nichols writes.
"With all the bright spots in our economy, record job growth and higher wages, too many families are struggling to keep up with the bills," the president said.
"Inflation is robbing themof the gains they might otherwise feel. I get it."

Photo: Win McNamee/Getty Images
Above: An old-fashioned scrum greets President Biden after the speech.
Secretary of State Tony Blinkentalked with House Armed Services Committee Chairman Adam Smith (D-Wash.).
Go deeper: Read Biden's vow to seize yachts and jets of Russian oligarchs, from the Axios AM Thought Bubble that dropped in your inbox late last night ET.
Zelensky: "The best people on Earth"
Cover: The Times of London
Ukraine President Volodymyr Zelensky posted a video on Facebook today in which he praised Ukrainians as "a symbol of invincibility," as the Russian invasion entered a seventh day.
"Another night of Russia's full-scale war against us, against the people, has passed," Zelensky said. "We've hardly slept for seven nights."
Zelensky said invading forces "know nothing about our capital," Kyiv, or Ukrainian history: "But they have an order to erase our history … Erase our country. Erase us all."
"Today you,Ukrainians, are the symbol of invincibility, a symbol that people in any country can become the best people on Earth at any moment."

A member of the Ukrainian Emergency Service beholds Kharkiv City Hall following shelling yesterday. Photo: Pavel Dorogoy/AP
Explosions rang out in Kyiv and Kharkiv as Russian forces intensified their bombing campaign on Ukraine today.
AXIOS PM: Mar 1, 2022

Mike Allen <mike@axios.com>
1 big thing: Holocaust site hit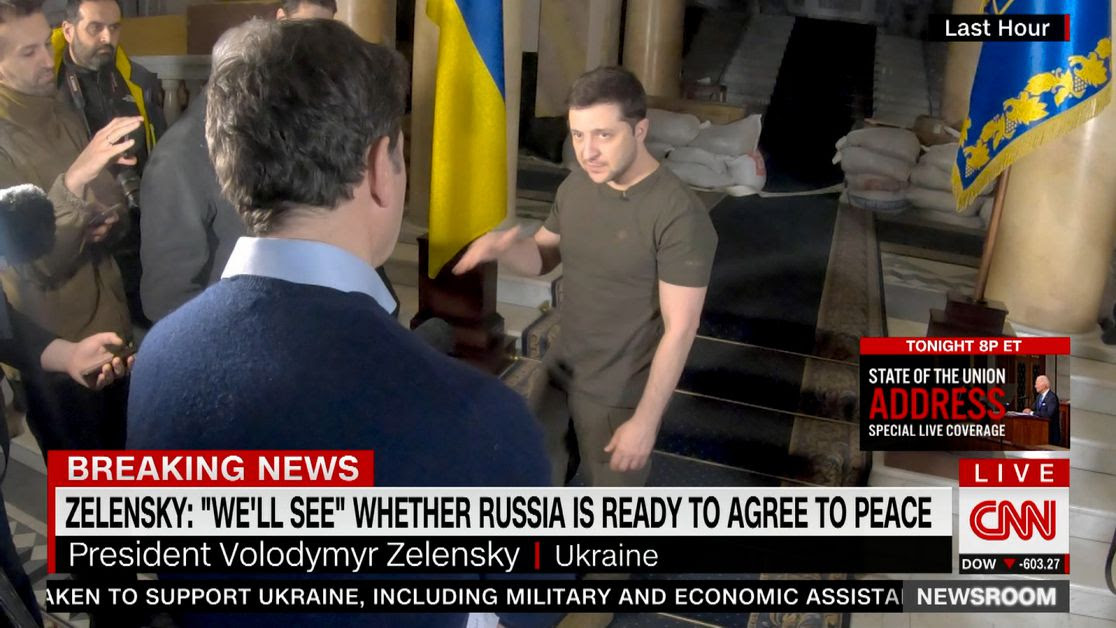 Photo: CNN
A Russian missile hit the Babyn Yar Holocaust Memorial site in Kyiv today, killing at least five people, Ukrainian officials said.
President Volodymyr Zelensky tweeted:"[W]hat is the point of saying 'never again' for 80 years, if the world stays silent when a bomb drops on the same site of Babyn Yar?"
"Between 1941 and 1943,the Nazis shot between 70,000 and 100,000 people at Babyn Yar, including almost the entire Jewish population of Kyiv," according to the Babyn Yar Holocaust Memorial Center.
The Russians were targetingthe nearby Kyiv TV tower, saying it was among the infrastructure used for "information attacks" from Ukraine's security services.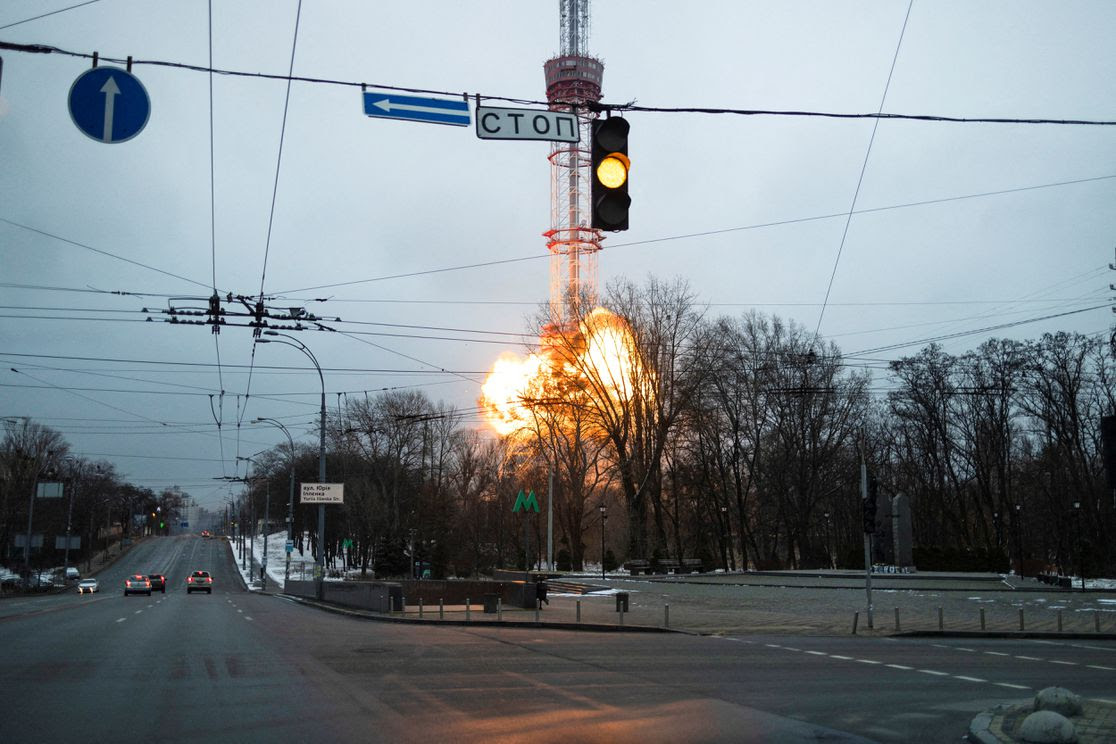 A blast is seen in the TV tower, amid Russia's invasion of Ukraine, in Kyiv, today. Photo: Carlos Barria/Reuters
The bottom line: A senior U.S. defense official told reporters that Russia's advance on Kyiv had stalled and that there were signs of flagging Russian morale, Axios' Zachary Basu and Dave Lawler report.
State of the Union spoiler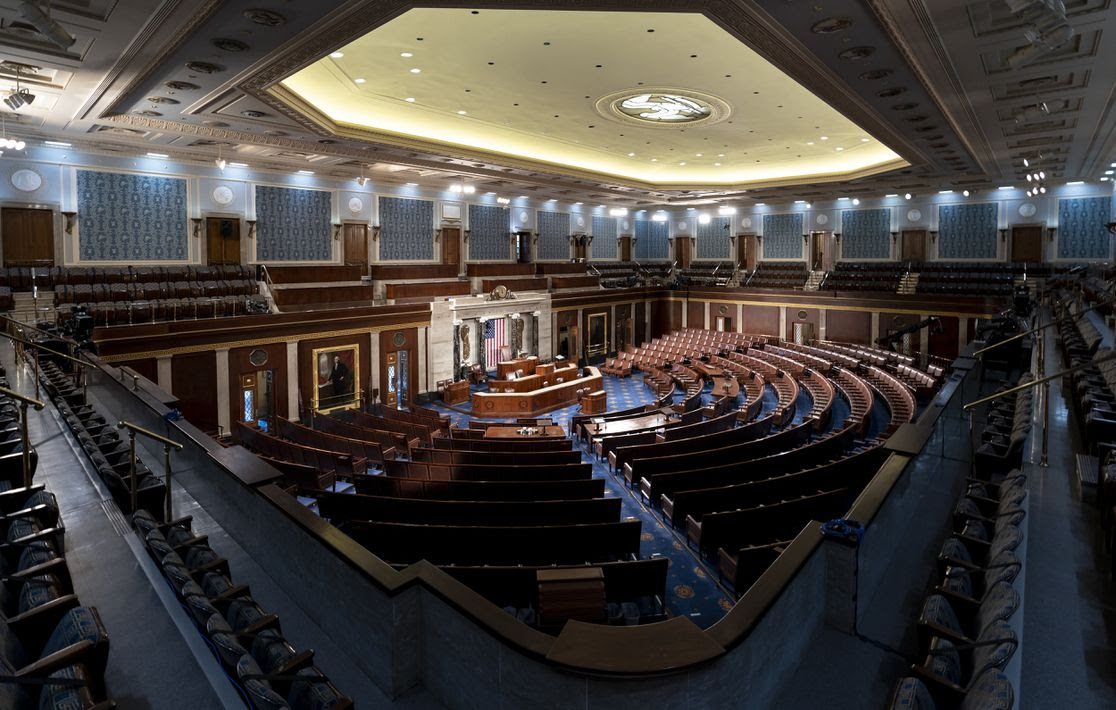 The House chamber yesterday. Photo: J. Scott Applewhite/AP
Look for President Biden to be very tough on Vladimir Putin in tonight's State of the Union address (9 p.m. ET).
Why it matters: The White House has scrambled to be sure he meets the moment.
The president will point to the U.S. role in protecting democracy, before moving on to Americans' pocketbooks — how to grow the economy from the "bottom up and the middle out," as he puts it.
The speech is built around four buckets:
World stage:Biden will say "democracy will prevail" in Ukraine.
Economy:He'll call for lowering costs for working families.
COVID:He'll stress the U.S. is "in a new moment" of the pandemic and has the tools to contain the virus.
The future of America:He'll point to Judge Ketanji Brown Jackson, his nominee for the Supreme Court, and vow to make inroads on immigration and climate.
Catch up quick
Photo: Emilio Morenatti/AP
Above: Animal keeper Kirilo Trantin comforts an elephant at the Kyiv Zoo.
"Europe's largest refugee crisis this century":About 677,000 Ukrainian refugees have arrived in neighboring countries. Go deeper.
The U.S. will release 30 million barrelsfrom the Strategic Petroleum Reserve as part of international plans to release 60 million barrels. Go deeper.
The ACLU is suing to block aTexas directive that would have a state agency investigate parents for child abuse if they seek gender-affirming care for their children. Go deeper.
Exclusive: A small group of Latino U.S. House members recently expressed "extreme concern" about a plan to potentially dispatch robot dogs along the U.S.-Mexico border, Axios' Russell Contreras reports.
AXIOS AM: Mar 1, 2022

Mike Allen <mike@axios.com>
1 big thing: Biden's new targets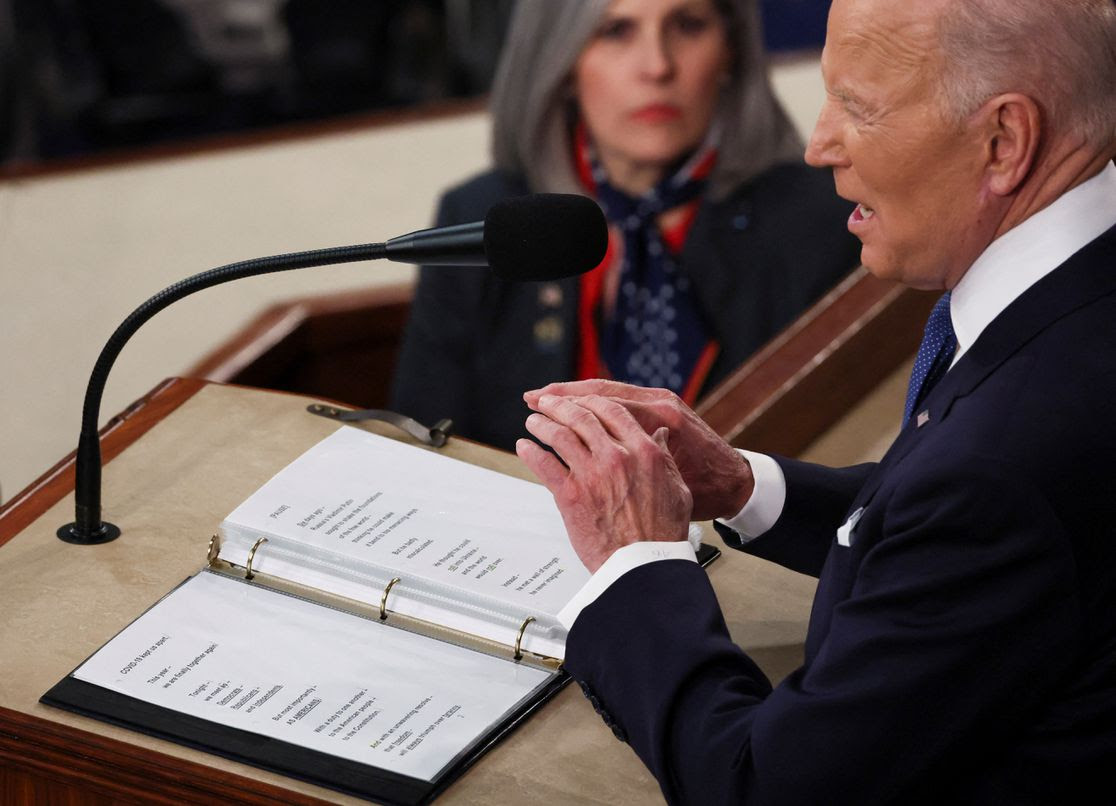 Photo: Evelyn Hockstein/Reuters
President Biden set his sights on Russian oligarchs, COVID fraudsters, social media platforms and even defund-the-police efforts tonight — populist targets in a broader speech about national and global unity.
Biden's anti-Russia,pro-Ukraine passages inspired the only real partisan unity in the chamber:
The U.S. Department of Justice is assembling a dedicated task force to go after the crimes of Russian oligarchs.
We are joining with our European allies to find and seize your yachts, your luxury apartments, your private jets. We are coming for your ill-begotten gains.
On Vladimir Putin, Biden ad-libbed: "He has no idea what's coming."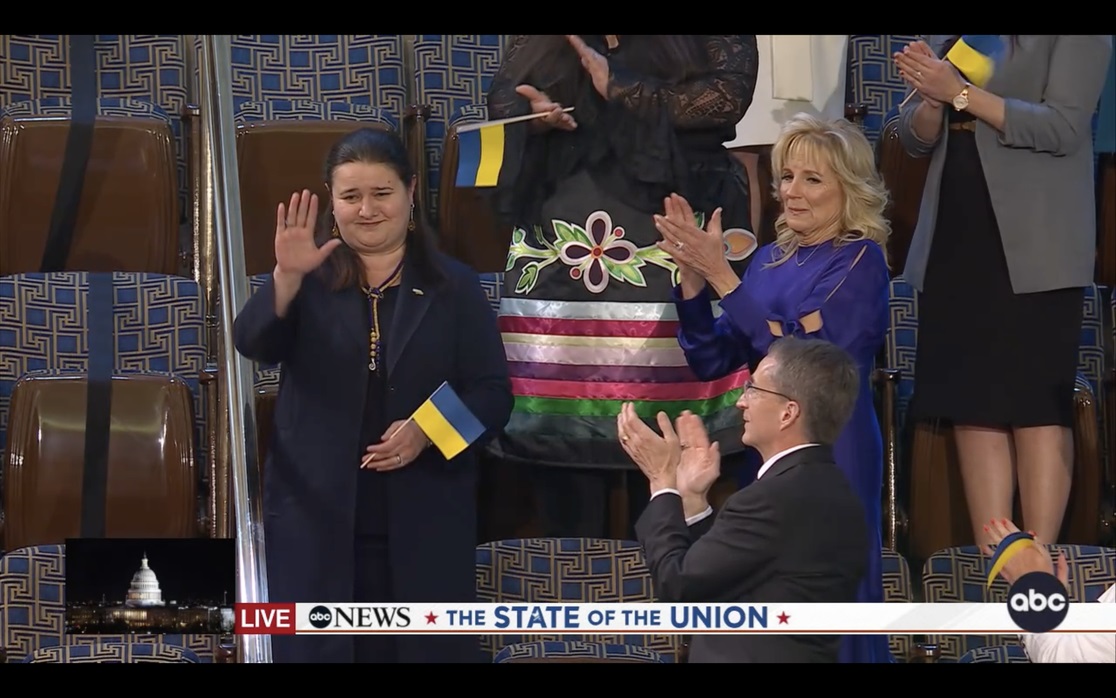 Ukrainian Ambassador Oksana Markarova is applauded by first lady Jill Biden. Photo: ABC News
 Twitter erupted when Biden accidentally said Putin would never gain the hearts and souls of the "Iranian" people, instead of Ukrainian.
Biden's other targets:
He announced that the Justice Department will appoint a chief prosecutor to go after pandemic fraud.
He bluntly distanced himselffrom the defund-the-police movement: "The answer is not to defund the police. The answer is to fund the police with the resources and training they need to protect our communities."
With Facebook whistleblower Frances Haugen in the audience, Biden framed social media as part of a larger mental health crisis and urged Congress to "strengthen privacy protections" and ban targeted advertising to children.
Reality check:Privacy legislation has been stalled for years, notes Axios managing editor Scott Rosenberg.
Joe Manchin (D-W.Va.) sat with Republican senators. Photo: J. Scott Applewhite/AP
What we were watching, from Axios' Sophia Cai, in the House chamber:
Fellow Supreme Court justicesstanding to applaud retiring Stephen Breyer — but careful to avoid politics by sitting when Biden mentioned his nominee to replace Breyer, Ketanji Brown Jackson.
Joe Manchin(D-W.Va.) sitting with Republicans — but rising for most of the Democrats' applause lines.
Lauren Boebert (R-Colo.) shouting "13 of them!" as Biden spoke, referring to Americans killed at Kabul airport during the frantic evacuation from Afghanistan. Rep. Marjorie Taylor Greene (R-Ga.) shouted: "Stay out of women's sports!"
 Axios.com has the latest reaction, including the Republican response.
1 big thing — Biden's dilemma: Putin off-ramp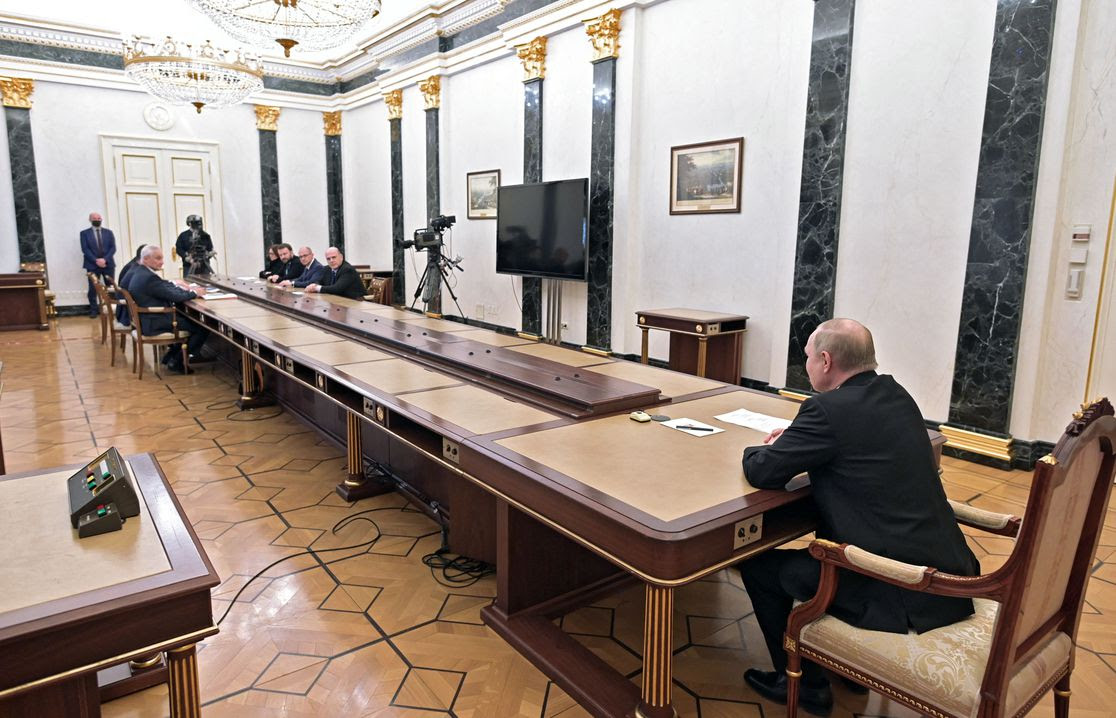 Vladimir Putin chairs a meeting on economic issues at the Kremlin yesterday. Photo: Alexey Nikolsky/Sputnik/AFP via Getty Images
With Ukraine holding Russia off longer than many U.S. officials had expected, President Biden now faces a great unanswered question — how to give Vladimir Putin an off-ramp to avoid even greater calamity.
Why it matters: A cornered, humiliated Putin could unleash untold pain on the world, from cyberattacks to nuclear threats. After enacting brutal sanctions, the White House now must consider how the invasion can end without a new catastrophe, Axios' Jonathan Swan and Zachary Basu report.
Between the lines: Nobody knows what Putin would accept.
Many officials fear that we are heading into a very dangerous period — the punishing Western sanctions pushing an autocrat into a corner.
Sen. Marco Rubio (R-Fla.), vice chair of the Senate intelligence committee, has hinted Putin could be addled.
"This is the most dangerous moment in 60 years," Rubio tweetedSunday night. Putin, he said, "is facing a humiliating military fiasco & he has triggered extraordinary consequences on #Russia's economy & people that will not be easy to reverse … And his only options to reset this imbalance are catastrophic ones."
A European diplomat told reporters at a briefing yesterday: "It's like the Sun Tzu thing of giving someone a golden bridge to retreat across. How do you get him to go in a different direction?"
"I think the door to diplomacy remains open," the diplomat continued. "Putin … doesn't normally back down. But he also controls the information environment in his own country to such an extent that if he does, he can cover his tracks. … So I think there is room for him to de-escalate — and that's certainly what we're pressing for."
The diplomat pointed to yesterday's Russia-Ukraine peace talks in Belarus as the most viable off-ramp in a sea of bad options, noting that negotiations lasted for four hours and appear headed for a second round.
Ukrainian President Volodymyr Zelenskysaid before the talks that he was willing to discuss "neutral status" for Ukraine — one of Putin's three demands.
But the other two— demilitarization and "denazification" of Ukraine, and recognition of Russia's claim to Crimea — suggest Putin will never accept a deal in which Zelensky remains in power.
The bottom line: The West's response to Putin — for so long, uncertain and halting — has moved at astonishing speed and ferocity over the past week. How Putin will respond — and whether de-escalation is even possible — is keeping national-security leaders up at night.
West squeezes oligarchs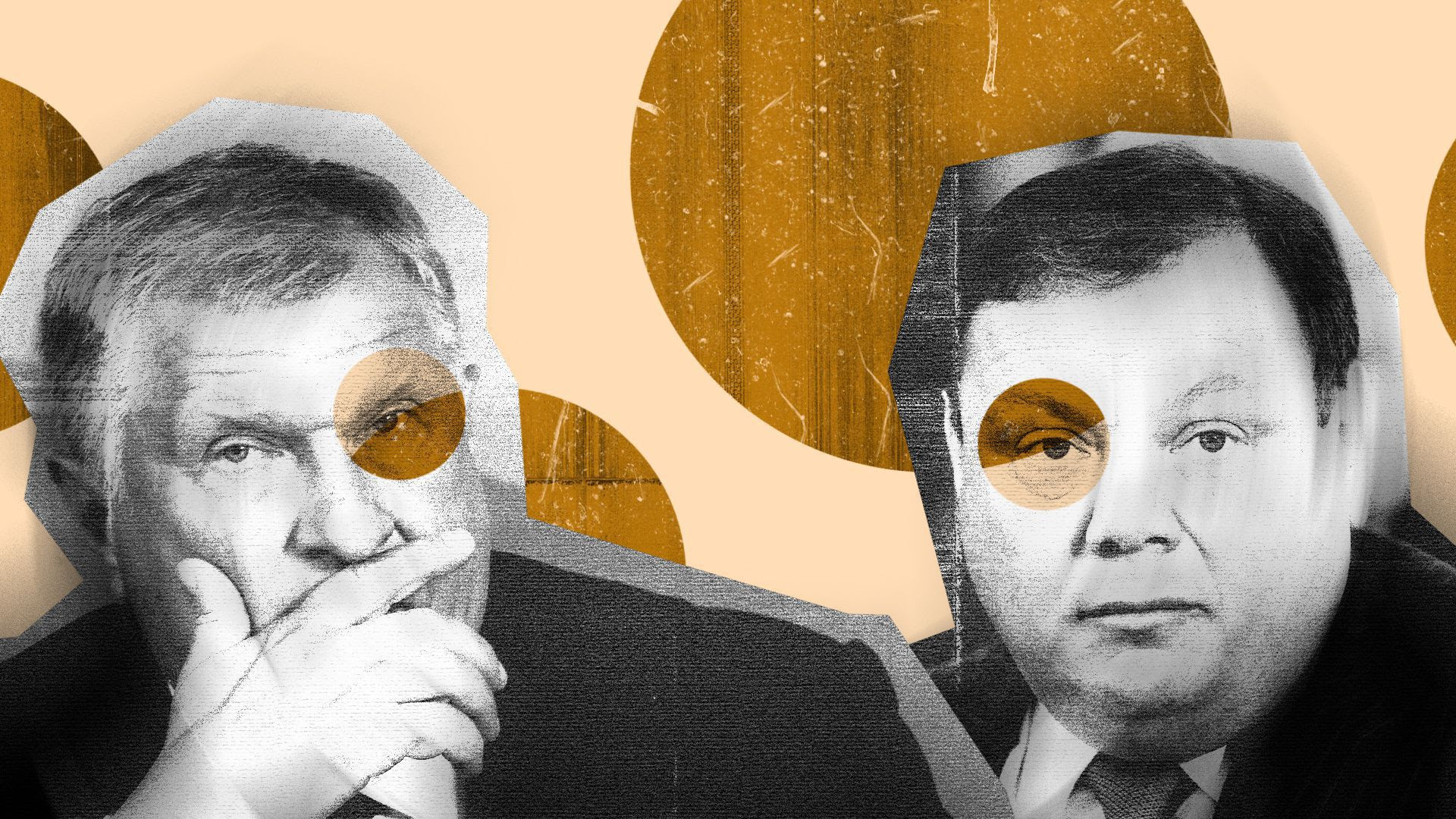 Photo illustration: Aïda Amer/Axios. Photos: Andrey Rudakov/Bloomberg, Mikhail Svetlov/Getty Images
The West is ratcheting up economic pressure on Russia's oligarchs — known for splashy yachts and piles of dark money squirreled away around the globe, 
Axios Markets
 co-author Emily Peck 
writes
.
·  Why it matters: Some of these wealthy Russians may have a measure of influence over Vladimir Putin. The U.S. and Europe are hoping that if they squeeze the oligarchs, the oligarchs may pressure Putin. In the longer term, going after hidden Russian wealth could curtail the power of Putin and his circle.
The EU yesterday banned travel and froze assets of 26 businessmen, government officials and even journalists with longstanding ties to Putin, the Financial Times first reported (subscription).
·  On the list: Igor Sechin, CEO of Rosneft, Russia's state oil company, "considered to be one of the most powerful members of the Russian Political elite," the EU said in its statement.
·  Nikolay Tokarev, CEO of Transneft, a major oil and gas company, is also among the West's specific targets. He served with Putin in the KGB in the 1980s and is one of the oligarchs who took control of state assets in the 2000s, the EU said.
Reality check: There's a lot of Russian money hidden around the globe, including in the U.S. and U.K. — and it's not always clear where it is.
·  Recent laws passed in the U.S. and EU are intensifying efforts to untangle this dark web, but they're just at the start.
Uglier phase: 40 miles of tanks
Satellite image: ©2022 Maxar Technologies
Maxar Technologies says the Russian convoy converging on Kyiv stretches 40 miles — up from the 17 miles we told you about in Axios PM.
The tanks, self-propelled artillery and armored vehiclesare spaced fairly far apart in some stretches. In others, the military equipment is traveling two or three vehicles abreast, Maxar says.
"The Russian advance on Kyiv has made little progress over the past 24 hours probably as a result of continuing logistical difficulties," the British defense ministry said in a military intelligence update quoted by Reuters.
But the war entered a new, uglier phase:70 Ukrainian servicemen were killed by a Russian rocket attack, and dozens of civilians have died in "barbaric" shelling, Ukrainian officials said.
PBS NewsHour Weekend Full Episode, March 13, 2022
Mar 13, 2022  PBS NewsHour
On this edition for Sunday, March 13, Russian forces attack a military training center in western Ukraine. American journalist and documentarian Brent Renaud, who reported for PBS in the past, is killed outside of Kyiv. And in our signature segment, the challenges of tackling drug smuggling in Antwerp, Belgium, a key entry point into Europe. Hari Sreenivasan anchors from New York. Stream your PBS favorites with the PBS app: https://to.pbs.org/2Jb8twG Find more from PBS NewsHour at https://www.pbs.org/newshour Subscribe to our YouTube channel: https://bit.ly/2HfsCD6
Ukraine Russia conflict: Russia threatens Western weapons supplies as missiles hit near Nato border
Mar 13, 2022  Channel 4 News
It's day 18 of the war in Ukraine and there has been no let up in the fighting. (Subscribe: https://bit.ly/C4_News_Subscribe) Russian forces have continued their operation all over the country. There was more heavy shelling of Chernihiv and an American journalist was shot dead near Irpin. The attack on the Yavoriv base near the Polish border is the furthest west the Russians have attacked since the invasion started. Ukrainians have also been protesting against the Russian occupation in Kherson. But there have been hopeful messages from both sides over negotiations, although it is too early to tell whether that will lead to anything. ——- Watch more of our explainer series here – https://www.youtube.com/playlist?list… Get more news at our site – https://www.channel4.com/news/ Follow us: Facebook – https://www.facebook.com/Channel4News/ Twitter – https://twitter.com/Channel4News
Nightly News Full Broadcast – March 13
Mar 13, 2022  NBC News
35 killed after Russian attack on Ukrainian military base, Ukrainian refugees begin to spread into neighboring countries, and new wrestling champion breaking down barriers. » Subscribe to NBC News: http://nbcnews.to/SubscribeToNBC » Watch more NBC video: http://bit.ly/MoreNBCNews NBC News Digital is a collection of innovative and powerful news brands that deliver compelling, diverse and engaging news stories. NBC News Digital features NBCNews.com, MSNBC.com, TODAY.com, Nightly News, Meet the Press, Dateline, and the existing apps and digital extensions of these respective properties. We deliver the best in breaking news, live video coverage, original journalism and segments from your favorite NBC News Shows. Connect with NBC News Online! NBC News App: https://smart.link/5d0cd9df61b80 Breaking News Alerts: https://link.nbcnews.com/join/5cj/bre… Visit NBCNews.Com: http://nbcnews.to/ReadNBC Find NBC News on Facebook: http://nbcnews.to/LikeNBC Follow NBC News on Twitter: http://nbcnews.to/FollowNBC #NBCNews #Russia #Ukraine
Ukraine War: Sky News Special Programme
Mar 12, 2022  Sky News
Sky's Jonathan Samuels presents a special programme about the changing situation in Ukraine – as the country's president Volodymr Zelenskyy said the conflict has reached a strategic turning point. Including reports from Kyiv, Odesa and Lviv in Ukraine, Warsaw, Moscow, Washington and London. For the latest developments: https://qrcode.skynews.com/skynews/uk… SUBSCRIBE to our YouTube channel for more videos: http://www.youtube.com/skynews Follow us on Twitter: https://twitter.com/skynews Like us on Facebook: https://www.facebook.com/skynews Follow us on Instagram: https://www.instagram.com/skynews Follow us on TikTok: https://www.tiktok.com/@skynews For more content go to http://news.sky.com and download our apps: Apple: https://itunes.apple.com/gb/app/sky-n… Android https://play.google.com/store/apps/de… Sky News videos are now available in Spanish here/Los video de Sky News están disponibles en español aquí https://www.youtube.com/channel/skyne… Sky News videos are also available in German here/Hier können Sie außerdem Sky News-Videos auf Deutsch finden: https://www.youtube.com/channel/UCHYg… To enquire about licensing Sky News content, you can find more information here: https://news.sky.com/info/library-sales