Ukraine, Artist Polina Rayko, farmer, Painted House in Tsurupinsk, Versus Putin, President of Russia who has Invaded Ukraine
Ukraine. Artist Polina Rayko, farmer, she started paint in old age, her painted house is in Tsurupinsk near Kherson. 1928-2004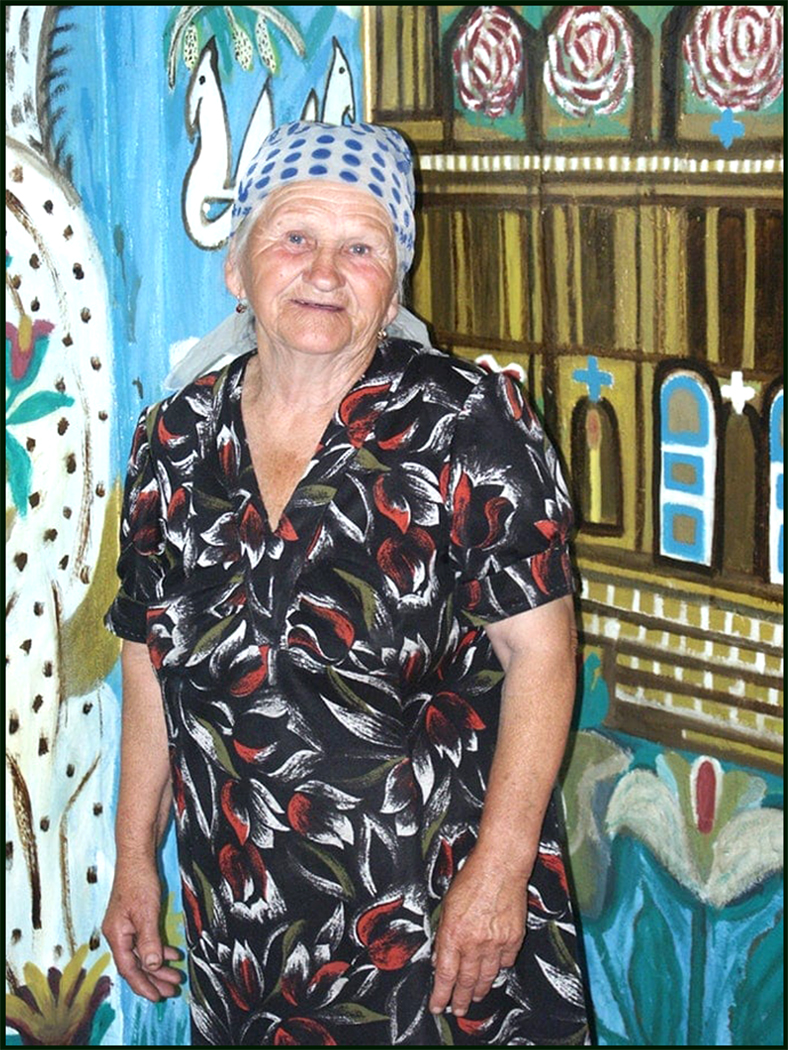 This is Ukraine. Artist Polina Rayko, farmer, she started paint in old age, her painted house is in Tsurupinsk near Kherson. 1928-2004.
Posted by Marina Koldobskava on Facebook, February 25, 2022
4tFShe5hboriuuta0tr0y a125s1 at 3i:39 ciAM  ·
Polina Rayko's Artwork, Life and Times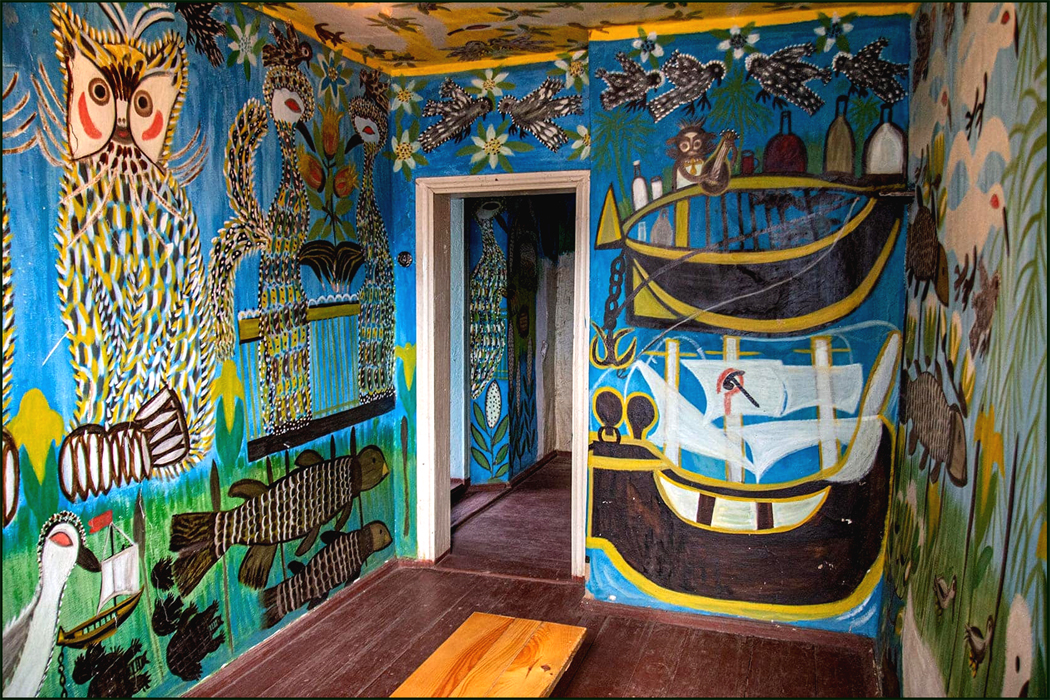 Polina Rayko (her original name was Pelaheya Soldatova) was born in April 1928 in the small Ukrainian town of Oleshky. She married Mykola Rayko at the age of 22. Polina at that time had no interest in painting. She led a life typical of a Soviet woman – she worked hard and devoted herself to her family.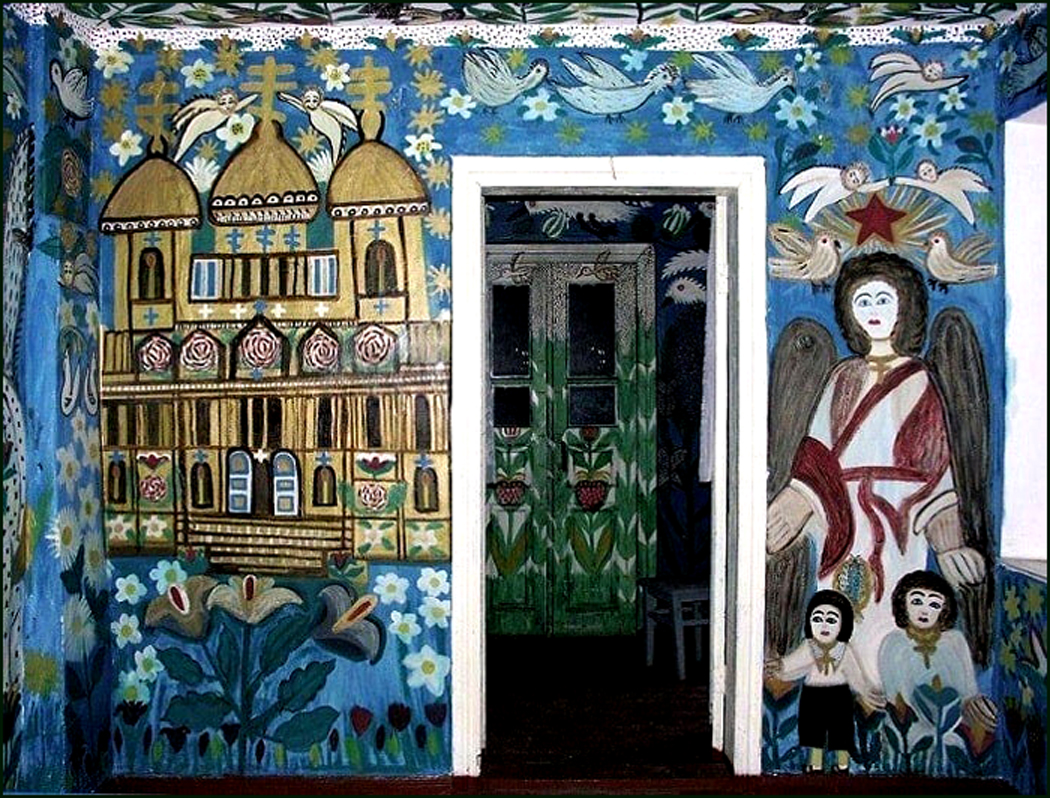 The Raykos had few means. They worked at a kolkhoz (a collective farm) and also did work for hire, grew fruits and vegetables in their kitchen garden, and generally tried to do their best. The couple brought up two children, a boy and a girl.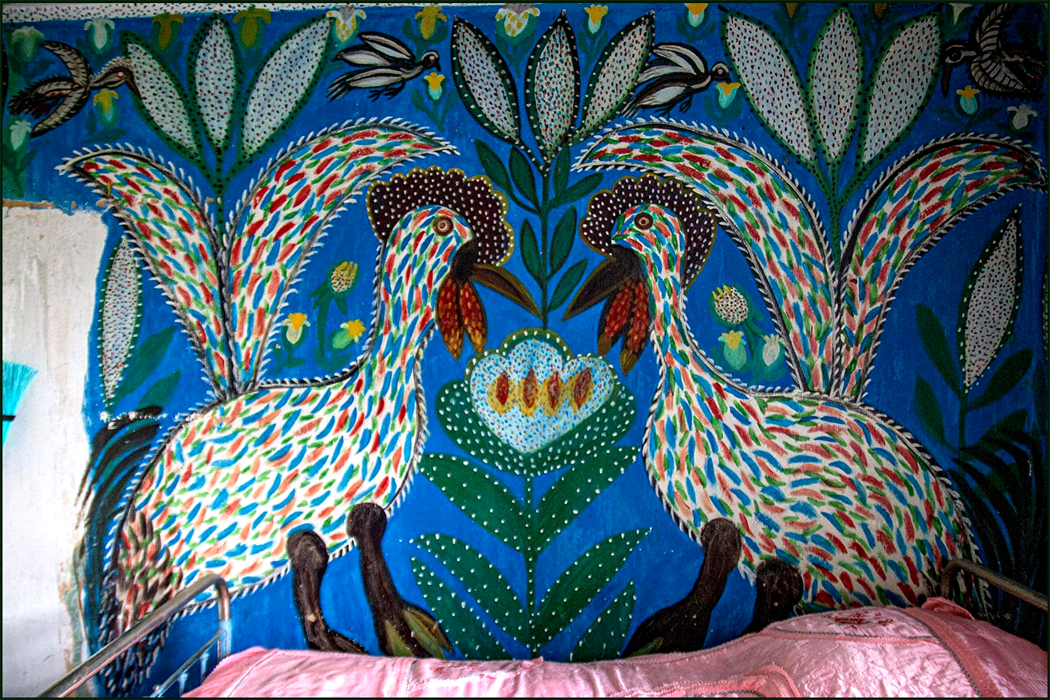 Late in life, Polina met with hard times. In 1994, her daughter Olena died tragically in a road accident and her husband Mykola passed away a year later. Instead of supporting his mother, her son drank heavily and made trouble. Later, he was imprisoned.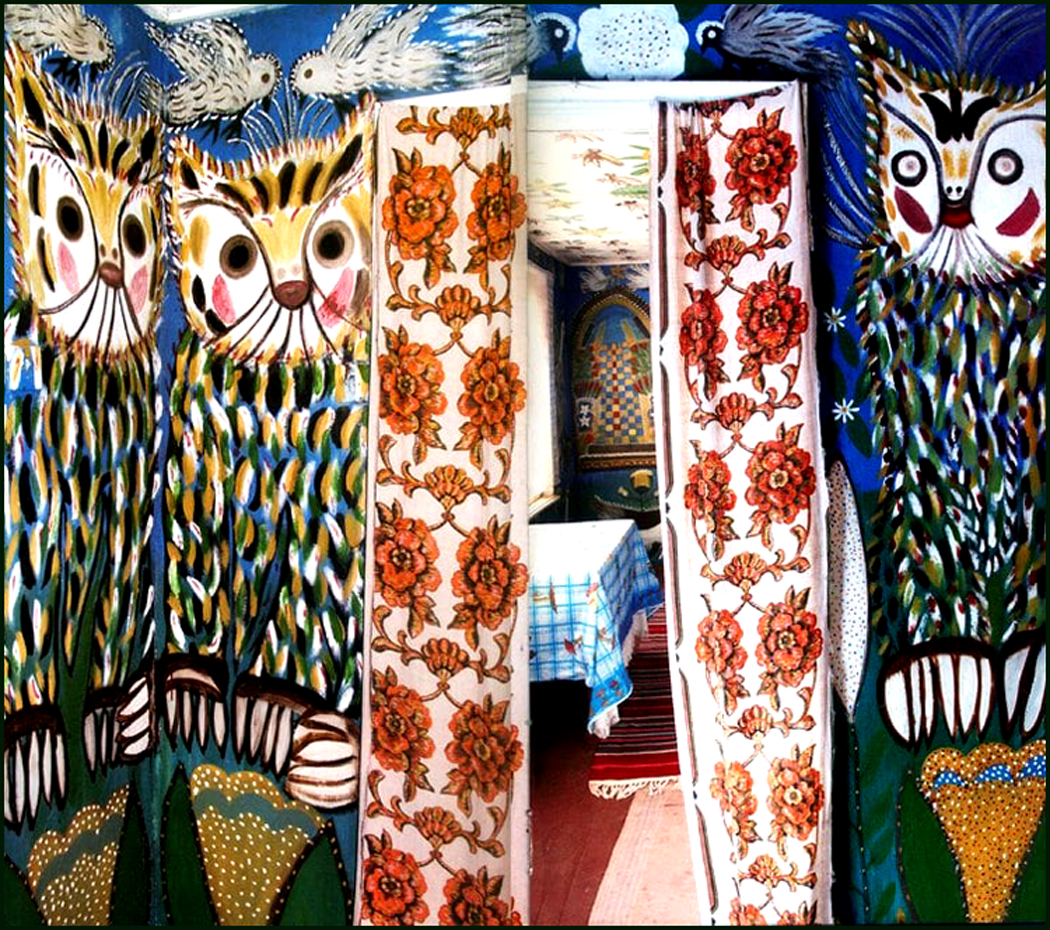 To keep from going mad with grief, the woman, to her own surprise, began to paint. She created her first paintings at the age of 69. The walls of her house became her "canvas." She used the cheapest paints – enamel floor colors. But neither lack of experience nor her use of low-cost art supplies got in the way of her desire to realize herself.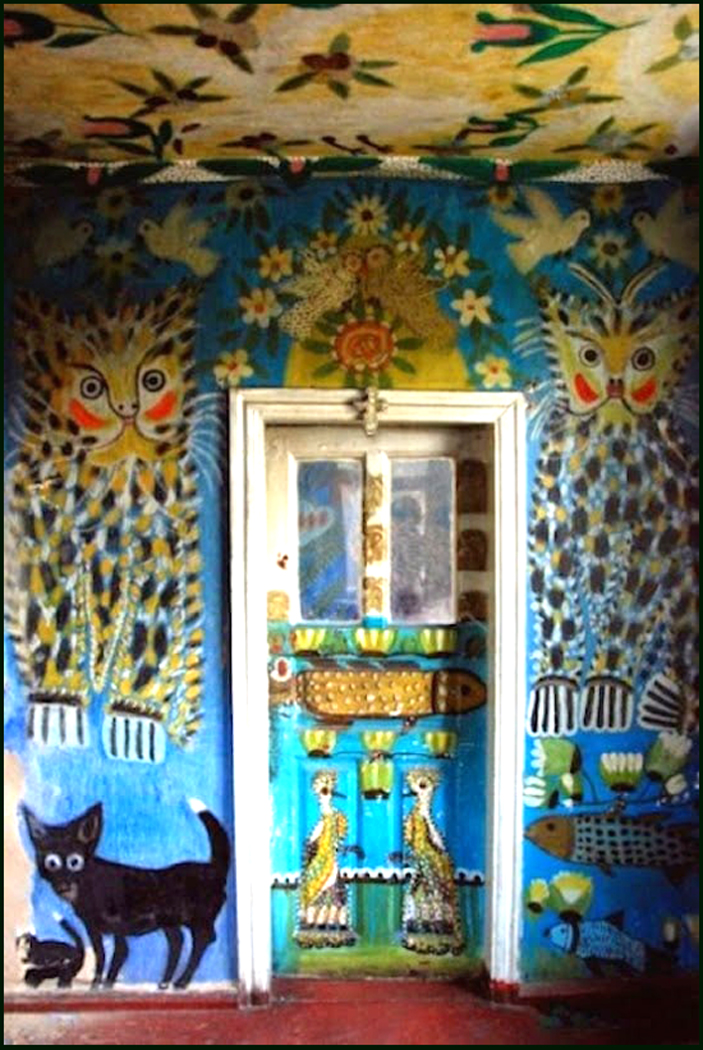 Painting became therapy for Polina Rayko, alleviating her loneliness and allowing her to appreciate herself more. She was sincerely surprised how she found subjects for her frescoes and ways of embodying her thoughts, considering that except for a few times at school, she had never before held a brush in her hands.
She Created Her Own Universe
The self-taught painter made all her frescoes in the same manner, with no free space between them – all her paintings are like one continuous mural. Granny Polina's subjects are sometimes taken from her own life.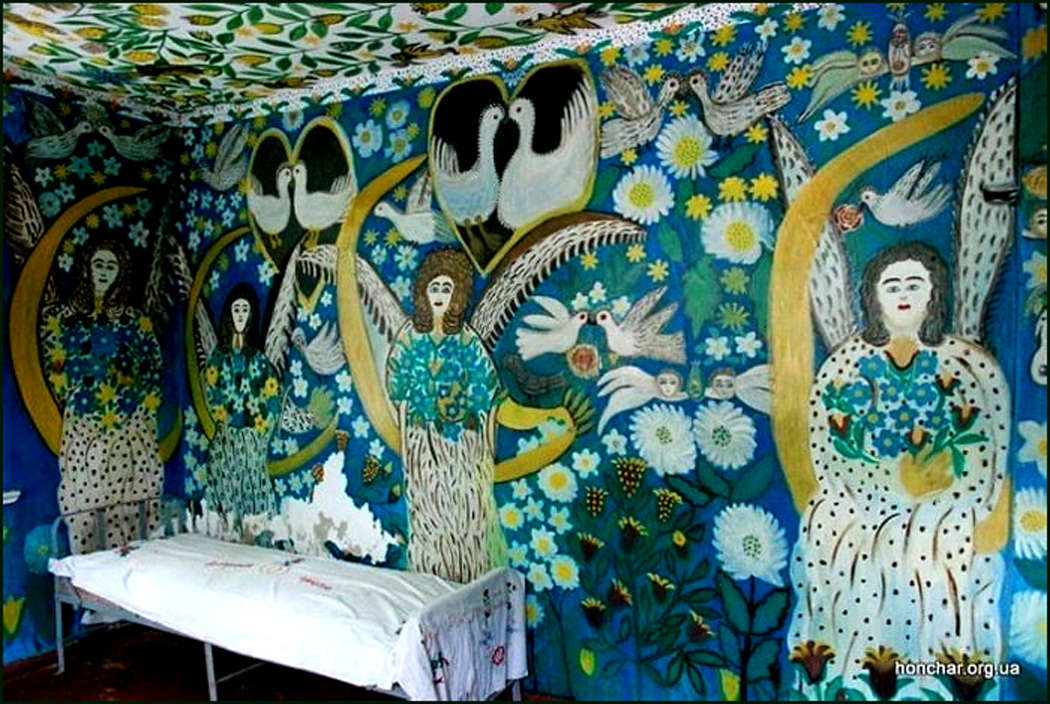 One wall of her living room is covered with life-size portraits of her sisters. All are long-haired with big wings behind their backs. Little angels and white pigeons fly around them in a blossoming magical garden.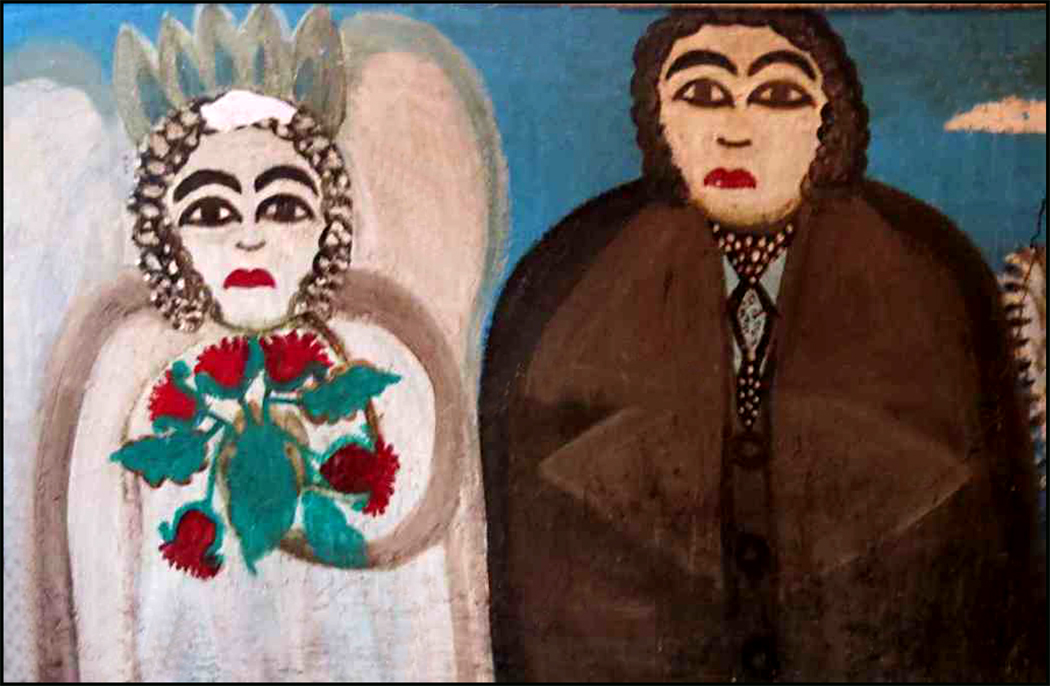 On another wall Polina depicts herself in a wedding gown beside her husband. Fantastic flowers and birds of paradise surround the newly married couple.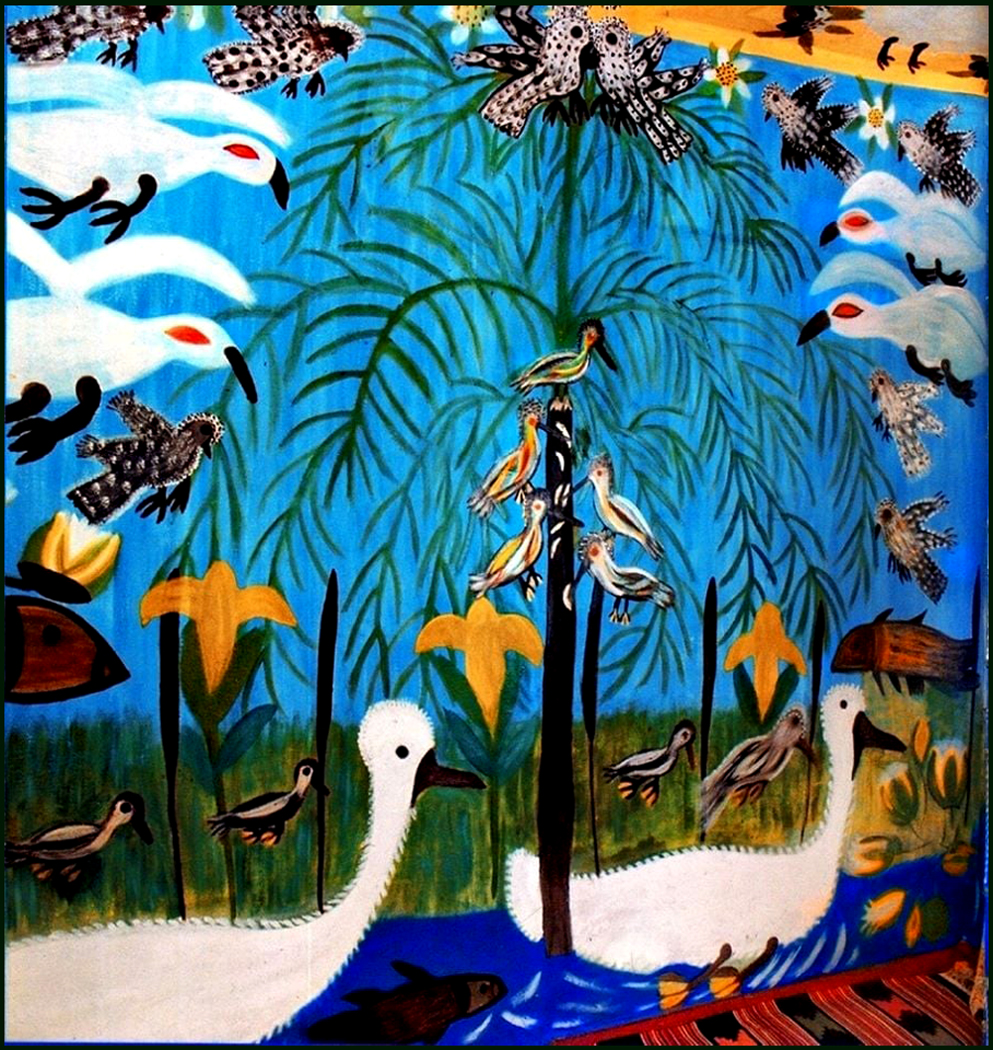 In a separate portrait of her husband Mykola, he is shown in a boat with a float fishing rod and a bottle of vodka – everything he might need in the other world.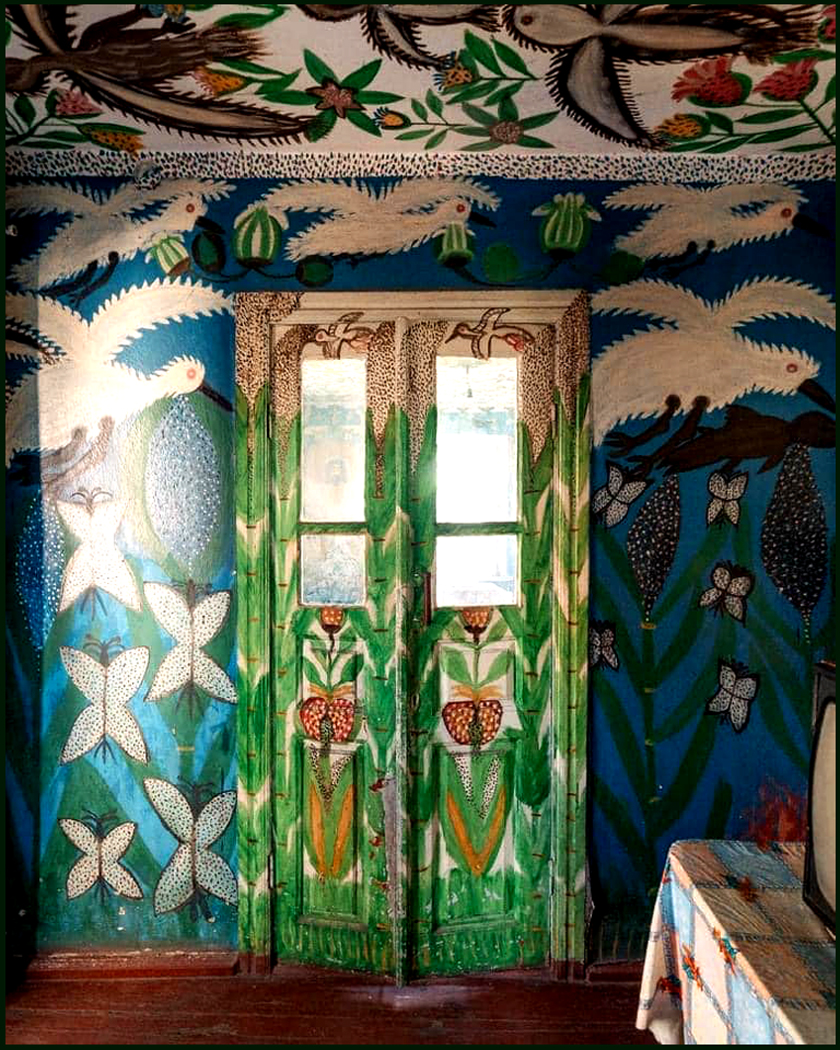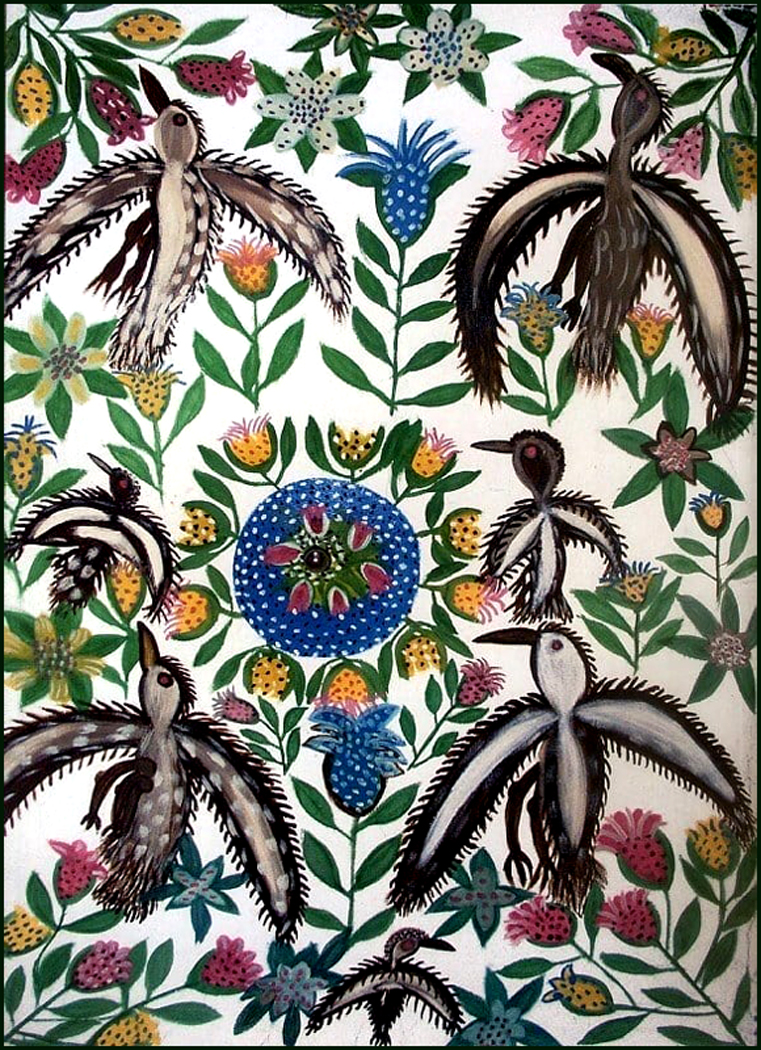 Animals make another vivid subject of her frescoes – her fabulous fish, birds, and butterflies are all over the walls, the ceiling, the stove, the doors.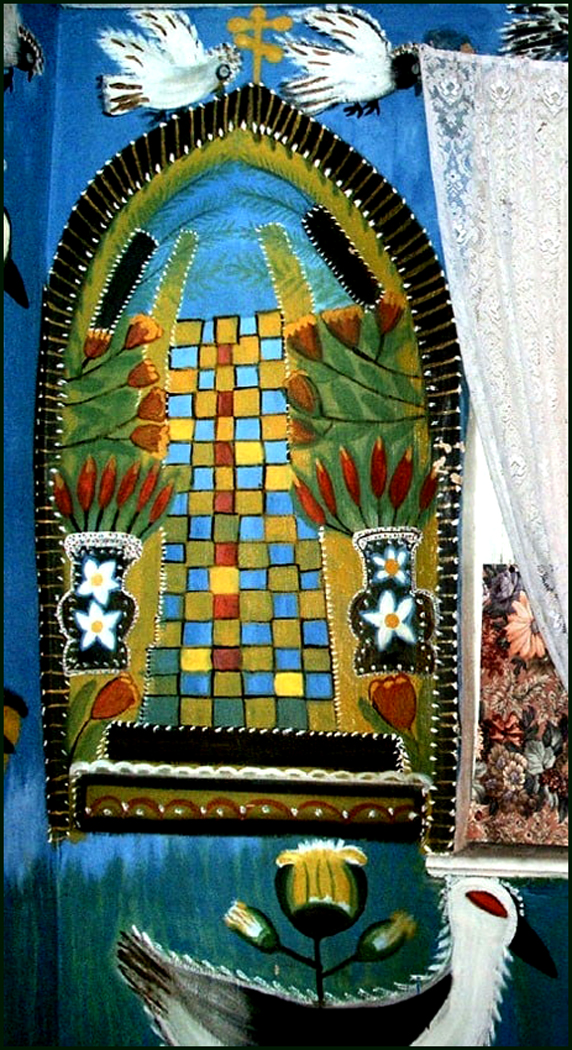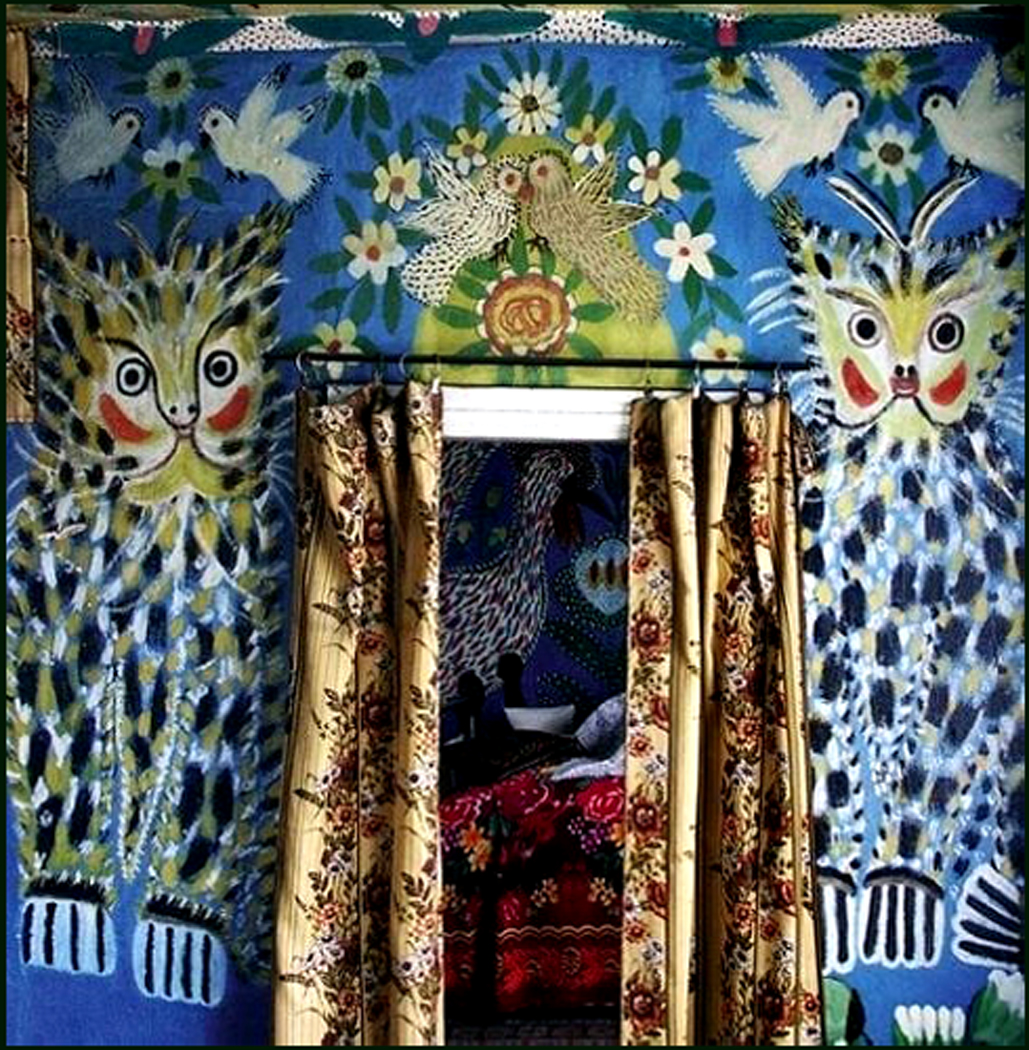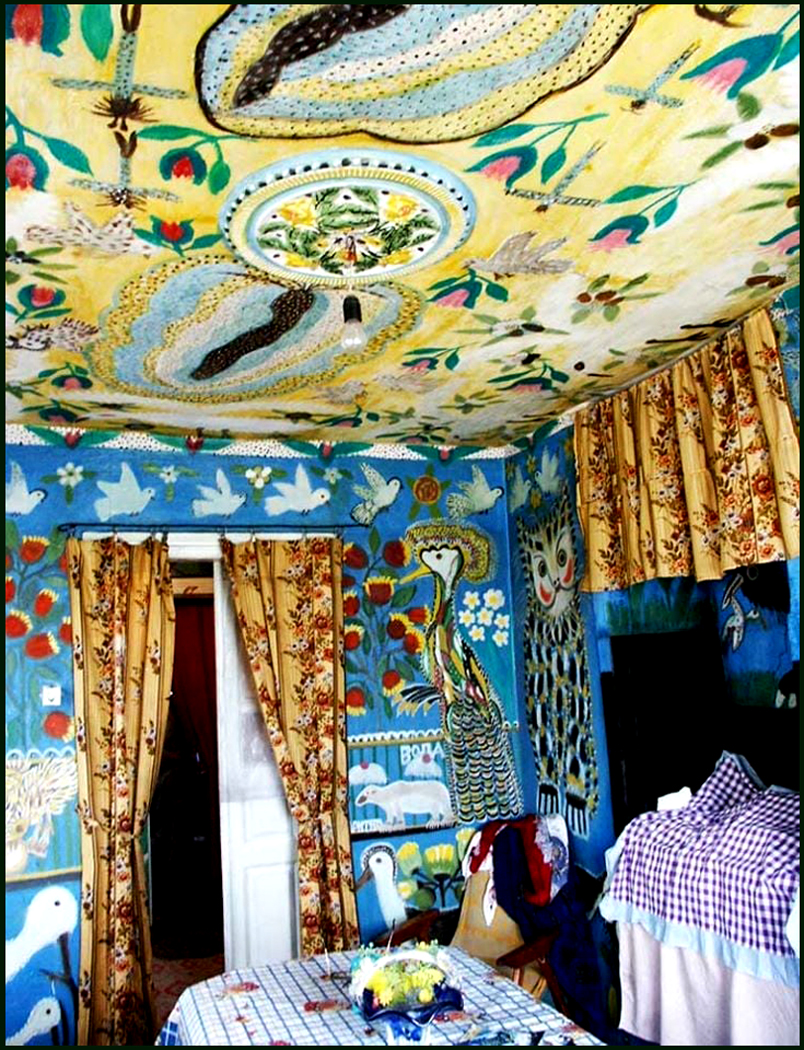 This self-taught artist learned to render the feeling of movement in her paintings. Entering the house, we seem caught up in a swirl of images flying and circling around us.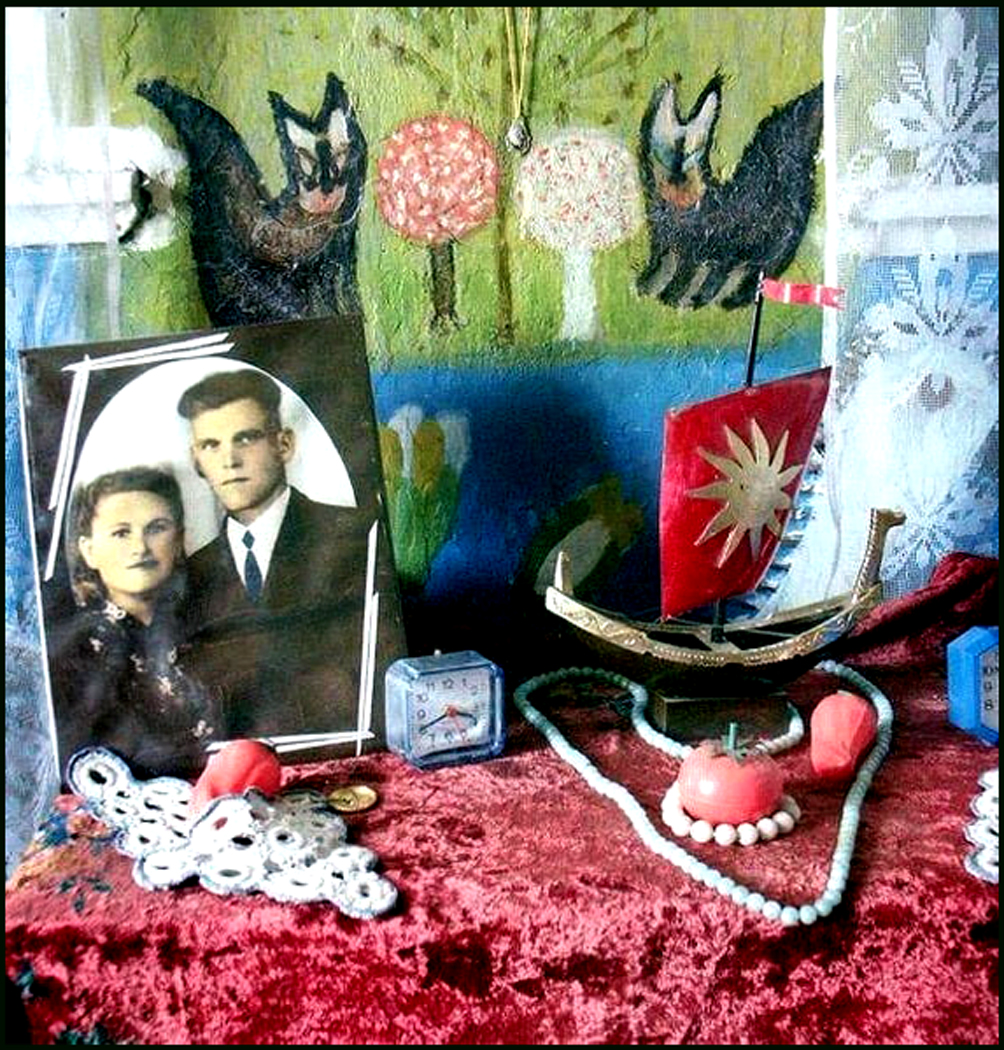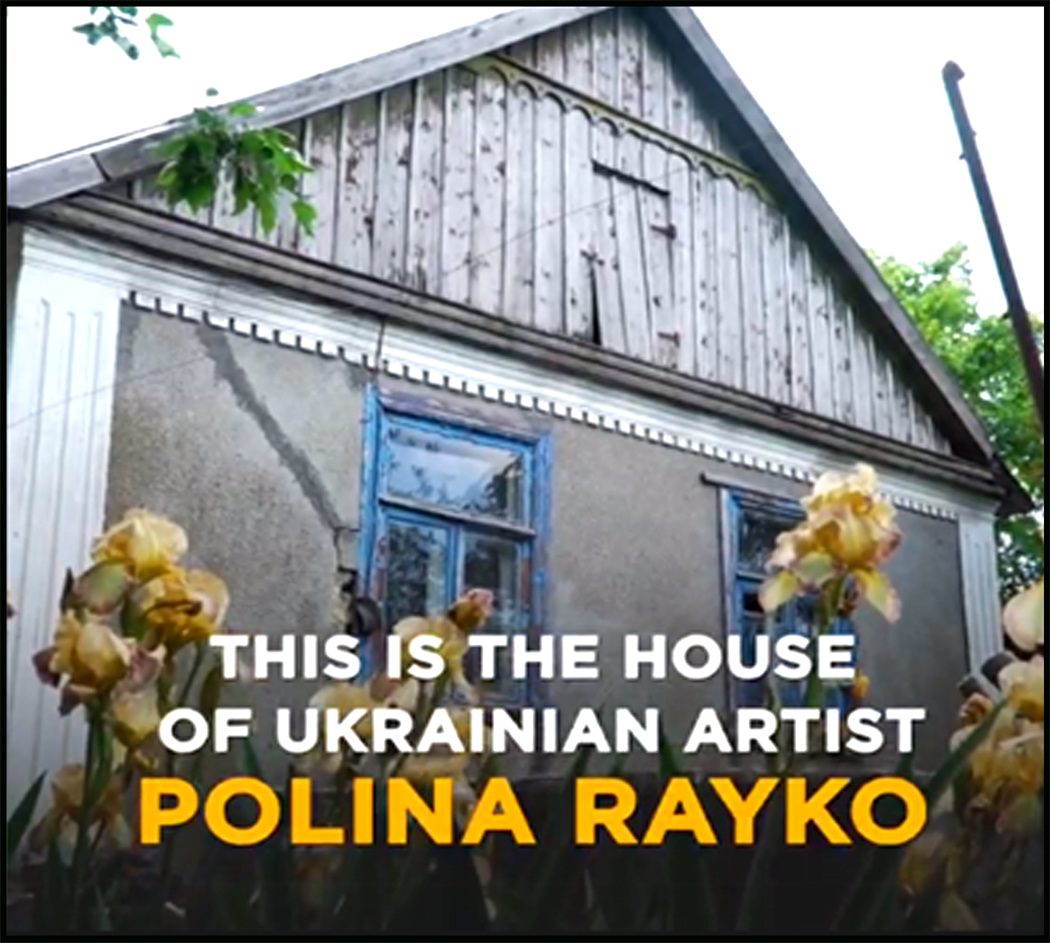 Sentiment grows to declare the house of naive painter Polina Rayko a national cultural monument of Ukraine. From Vhoru, a Kherson-based news outlet.
If granny Polina had known that high officials and famous painters would troop through her house to look at her wall paintings, she'd have thought it a dream. It wasn't for fame when the retired Polina Rayko began to paint on the walls of her house. For over 15 years the painter has been with the saints, but the images she created remain alive and inspire others.
For more information, please visit the following link:
https://tol.org/client/article/paradise-within-four-walls.html
Comments by Ing-On Vibulbhan-Watts
Polina Rayko Versus Vladimir Putin
Mrs. Polina Rayko was a simple working-class person, who went through her life with unfortunate and suffering incidents.  But she overcame problems and discovered that artwork could make her free and happier than in her younger years.  I can imagine how happy she could be to spent the end of her life for more than 15 years using her imagination, and creating artwork that will last for future generations to enjoy.  I admire her work and her ability to share and make others see that one good human being can create a positive atmosphere for the world.
At this moment, Russia has invaded Ukraine, the homeland of Polina Rayko, by the order of one man, Vladimir Putin.  He has already created more than one million refugees so far, as they run away from Russian bombs that destroyed their houses and all the possessions of their lives.  Vladimir Putin came from the poor family.  By any means possible, he has acquired great wealth in the multi-billions of dollars.  He climbed from being KGB officer to become the president of Russia for more than 20 years.  With all this wealth and power, he can do a lot of good things.  Even though he cannot paint like Polina Rayko, he can build museums that cultivate artists to create artwork that Russia and the whole world can admire and enjoy.  Aside from this, he could help the world reduce global warming by using science to discover new inventions to reduce global warming.  This could help prevent the rise of the sea water that may inundate the coastlines of the entire world.  Using his power, he can do many things to make the world better and happier.  But he selects to use his power to subjugate others by sending Russian soldiers to kill and be killed by invading Ukraine, a smaller neighboring country with far less weapons and soldiers than Russia.  Now Vladimir Putin threatens the whole world with nuclear weapon if any country intervenes with his operation.  He is able to make the whole world unhappy and on edge, afraid that we might have a third World War.    
Let us look at these two humans' lives, Mrs. Polina Rayko, versus Mr. Vladimir Putin.  Who is more peaceful, and who has more value?  The world is troubled by many problems. We need leadership that brings peace and happiness for their own countries and the world.  We need peace and togetherness as one humanity to solve the issue of global warming.  We all will not survive if global temperature is warmer than now.  
Ing-On Vibulbhan-Watts, Sunday, March 6, 2022
For more information on Vladimir Putin, please visit the following link:
https://en.wikipedia.org/wiki/Vladimir_Putin
https://www.youtube.com/watch?v=HGNABUESkJ0
Putin: The New Tsar | Free BBC Documentary | BBC Select
Premiered Feb 23, 2022  BBC Select
Admired by former President Donald Trump and feared by his rivals, Putin: The New Tsar is an enthralling BBC political documentary on BBC Select that reveals the story of Vladimir Putin's extraordinary rise to power. From a lowly KGB colonel to Russian President Boris Yeltsin's right-hand man and ultimately his successor, those from his inner circle, both close friends and bitter enemies, describe his often harsh methods. BBC Select is the new home for documentaries. Available in the U.S and Canada. Find out more and start your free trial: https://bit.ly/3kwM3bU Follow us on social media ?? Facebook: https://bit.ly/37UXpBn Twitter: https://bit.ly/3dSUqxc Instagram: https://bit.ly/3uEVieL
#ACA #ACurrentAffair #TracyGrimshaw
The real Vladimir Putin has been revealed | A Current Affair
Feb 27, 2022  A Current Affair
Subscribe here: http://9Soci.al/v6PJ50GjSKI | Vladimir Putin has ruled Russia with an iron fist for more than 20 years as he began his invasion of Ukraine. An expert of Russian politics at ANU, Dr Leonid Petrov, said he believes the Russian leader is undermining "law-based world order" to replace it with "the law of the jungle". (Broadcast February 26, 2022) Stream full episodes on 9Now: https://9now.app.link/5Kxzlq5dX6 Follow ACA on Facebook: http://facebook.com/ACurrentAffair9 Follow ACA on Twitter: http://twitter.com/ACurrentAffair9 Follow ACA on Instagram: http://instagram.com/ACurrentAffair9 A Current Affair covers the realms of politics, crime, human rights, science, technology, celebrities and entertainment – all investigated by a dedicated team. A Current Affairs airs weeknights 7.00pm on Channel 9 #ACA #ACurrentAffair #TracyGrimshaw
PBS is an American public broadcast service.
Wikipedia
Putin's Way (full documentary) | FRONTLINE  58:18
Mar 1, 2022  FRONTLINE PBS | Official
In this 2015 documentary, FRONTLINE traces Vladimir Putin's ascent from unemployed spy to modern-day czar, and investigates the accusations of criminality and corruption that have surrounded his reign in Russia. (Aired 2015) This journalism is made possible by viewers like you. Support your local PBS station here: http://www.pbs.org/donate?. In this 2015 film, a coproduction with the Canadian Broadcasting Corporation, producer Neil Docherty and correspondent Gillian Findlay traced Putin's career back two decades to his political start in St. Petersburg, where allegations of corruption began almost immediately. Drawing on firsthand accounts from exiled Russian business tycoons, writers and politicians, as well as the exhaustive research of scholar and best-selling "Putin's Kleptocracy" author Karen Dawisha, the film examined troubling episodes in Putin's past, from alleged money-laundering activities and ties to organized crime, to a secret personal fortune said to be in the billions. Love FRONTLINE? Find us on the PBS Video App, where there are more than 300 FRONTLINE documentaries available to watch any time: https://to.pbs.org/FLVideoApp? #Documentary Subscribe on YouTube: http://bit.ly/1BycsJW? Instagram: https://www.instagram.com/frontlinepbs? Twitter: https://twitter.com/frontlinepbs? Facebook: https://www.facebook.com/frontline
The Putin Files: Peter Baker  2:12:51  
Oct 25, 2017  FRONTLINE PBS | Official
Watch New York Times reporter Peter Baker's candid, full interview on Vladimir Putin and allegations of Russian interference in the 2016 U.S. election – all part of "The Putin Files", FRONTLINE's media transparency project. Explore Baker's full interview and interactive transcript here: https://www.pbs.org/wgbh/frontline/in… Explore the entire "Putin File" experience here: http://www.pbs.org/wgbh/frontline/int…
PBS NewsHour Weekend Full Episode, March 5, 2022
Mar 5, 2022  PBS NewsHour
On this edition for Saturday, March 5, Putin says sanctions are 'akin to declaration of war,' the number of Ukrainians leaving the country reaches more than 1.3 million and continues to grow rapidly, and in our signature segment how NYC's guaranteed income program is helping new mothers find their footing. Hari Sreenivasan anchors from New York. Stream your PBS favorites with the PBS app: https://to.pbs.org/2Jb8twG Find more from PBS NewsHour at https://www.pbs.org/newshour Subscribe to our YouTube channel: https://bit.ly/2HfsCD6
Nightly News Full Broadcast – March 5
Mar 5, 2022  NBC News
More than 600,000 children have now been displaced by war, thousands of American volunteers to fight alongside Ukrainians, and sunflowers marking support for Ukraine. » Subscribe to NBC News: http://nbcnews.to/SubscribeToNBC » Watch more NBC video: http://bit.ly/MoreNBCNews NBC News Digital is a collection of innovative and powerful news brands that deliver compelling, diverse and engaging news stories. NBC News Digital features NBCNews.com, MSNBC.com, TODAY.com, Nightly News, Meet the Press, Dateline, and the existing apps and digital extensions of these respective properties. We deliver the best in breaking news, live video coverage, original journalism and segments from your favorite NBC News Shows. Connect with NBC News Online! NBC News App: https://smart.link/5d0cd9df61b80 Breaking News Alerts: https://link.nbcnews.com/join/5cj/bre… Visit NBCNews.Com: http://nbcnews.to/ReadNBC Find NBC News on Facebook: http://nbcnews.to/LikeNBC Follow NBC News on Twitter: http://nbcnews.to/FollowNBC #NBCNews #Russia #Ukraine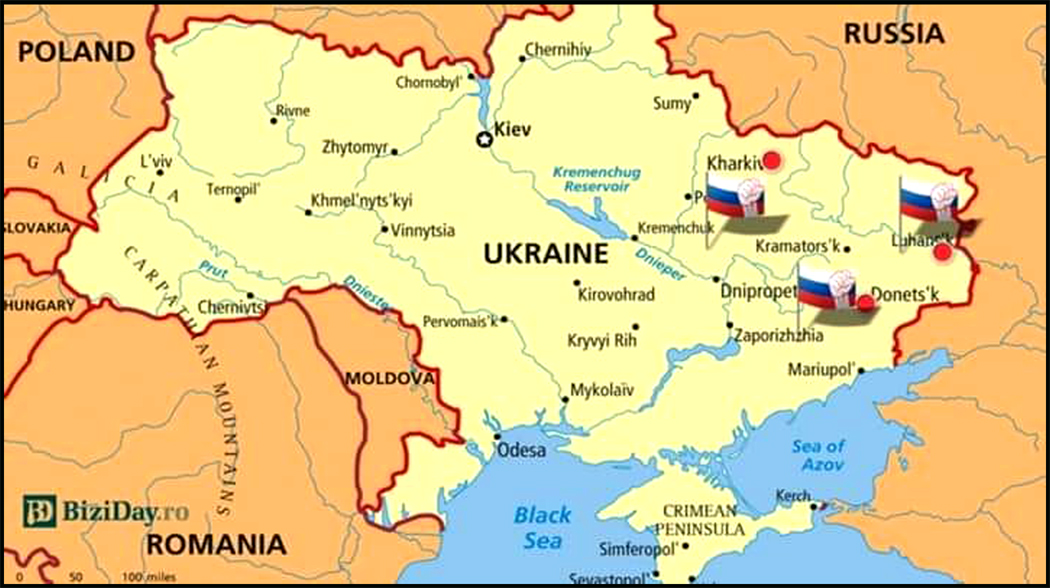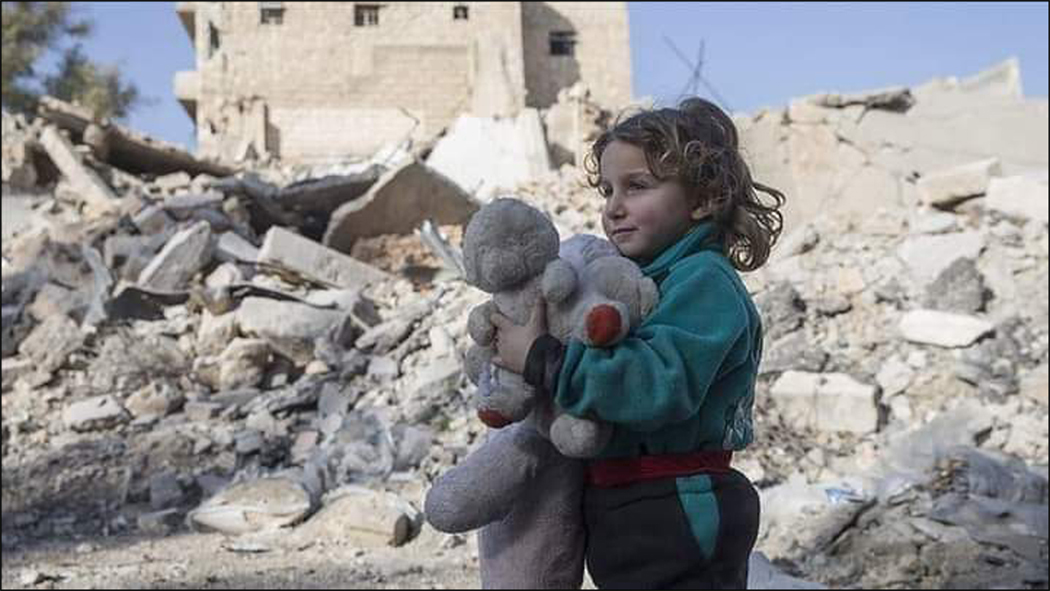 Posted by Costin Sorin Rapeanu on Facebook
Februu3aar9y 2l42 o17at 5869:03hi 5PM  ·
"Bombs costing $100,000 from a plane that costs $100,000,000 flying at a cost of $40,000 an hour to kill people living on less than $1 a day."
"This is the shit they call war."

1:25 / 3:32
BBC is a British public broadcast service.
Wikipedia
Who is Vladimir Putin? – BBC News
Feb 26, 2022  BBC News
Who is the Russian President, and what does he want with Ukraine? Vladimir Putin is the President of Russia, and has been the country's leader for more than 22 years. He grew up in an area which is now St Petersburg. His political career began when he and his family moved to Moscow in 1996, and he quickly became an important political figure. The BBC's Ros Atkins looks at Putin's life and his world view – and how they influence the decision he took this week. Please subscribe HERE http://bit.ly/1rbfUog #Ukraine #Russia #BBCNews
War in Ukraine: Seven days that changed the world – BBC News
Mar 6, 2022  BBC News
From a basement in the centre of Kyiv, BBC correspondent, James Waterhouse, has been reporting on the seismic developments in Ukraine as the Russian bombardment continues. In this special programme, James speaks with colleagues from BBC News across Ukraine and Russia on the extraordinary impact of seven days that have changed the world. Please subscribe HERE http://bit.ly/1rbfUog #BBCNews
Is Putin's power ebbing away in Russia's own back yard? – BBC News
Dec 4, 2020  BBC News
For Russian President Vladimir Putin, it's not just the coronavirus pandemic that is making 2020 a difficult year. In recent months the Kremlin has faced a whole series of geo-political challenges on its doorstep, including mass protests in Belarus and the Armenia-Azerbaijan conflict. So what do these dramatic events mean for Russia's influence in its own back yard Please subscribe HERE http://bit.ly/1rbfUog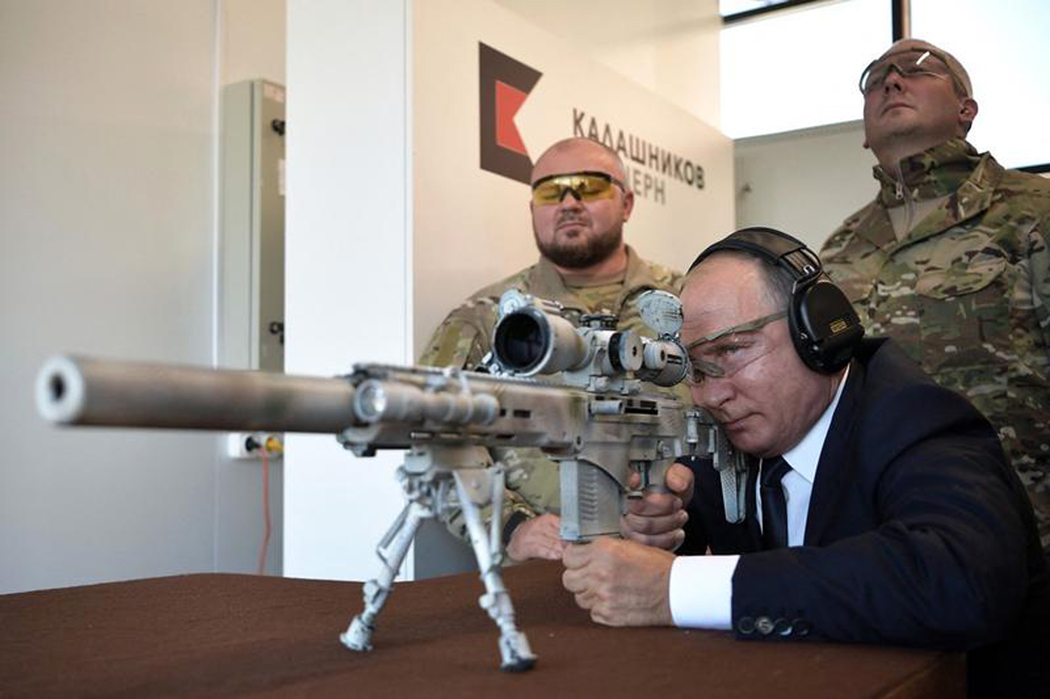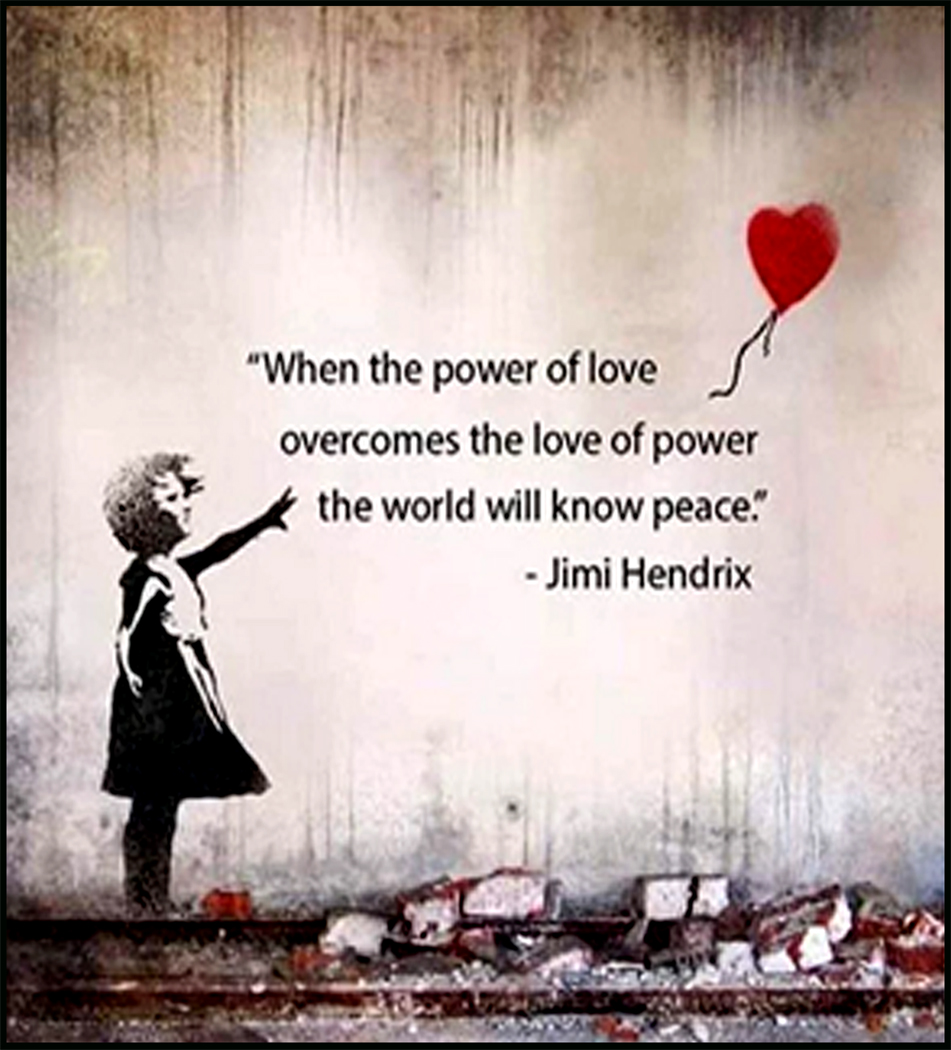 Posted by Lauren Vitiello on Facebook