PBS News: August 13-14, 2020
NBC News: Nightly News Full Broadcast (August 14th, 2020)
MSNBC: Watch Rachel Maddow Highlights: August 13 |Aug 14, 2020, and Watch Rachel Maddow Highlights: August 12 | Aug 13, 2020
Roylab Stats: [LIVE] Coronavirus Pandemic: Real Time Counter, World Map, News
Al Jazeera English | Live
DW News Livestream | Latest news and breaking stories
The Washington Post: Coronavirus Updates – The deadliest day since May, August 13, 2020
The New York Times:  The Morning, August 13, 2020
Bored Panda: People Are Sharing "Do's And Don't's" From 1918-1920 During The Spanish Flu, It Shows How History Repeats Itself
PBS NewsHour full episode, August 14, 2020
Fundraiser
Aug 14, 2020  PBS NewsHour
Friday on the NewsHour, the U.S. Postal Service warns state officials it may not be able to deliver all mail-in ballots in time for the November election. Plus: A brutal crackdown in Belarus, NBA commissioner Adam Silver on the league's playoffs, pandemic summer jobs, Americans' economic struggles, political analysis with Mark Shields and David Brooks and remembering victims of the coronavirus. Support your local PBS station here: https://pbs.org/donate WATCH TODAY'S SEGMENTS News Wrap: 3 wildfires rage in Southern California https://www.youtube.com/watch?v=mt_e0… Detained protesters in Belarus tell of government torture https://www.youtube.com/watch?v=filmp… Why USPS is warning of issues with ballot delivery this fall https://www.youtube.com/watch?v=LTySo… NBA commissioner Adam Silver on playing in a pandemic https://www.youtube.com/watch?v=WIikn… The pandemic's unexpected summer jobs for young people https://www.youtube.com/watch?v=FAikF… Voices of Americans suffering the pandemic's economic harm https://www.youtube.com/watch?v=AzWOr… Shields and Brooks on Kamala Harris, mail-in voting worries https://www.youtube.com/watch?v=_97oj… Remembering 5 lives lost to the coronavirus https://www.youtube.com/watch?v=MOyUz… Stream your PBS favorites with the PBS app: https://to.pbs.org/2Jb8twG Find more from PBS NewsHour at https://www.pbs.org/newshour Subscribe to our YouTube channel: https://bit.ly/2HfsCD6
https://www.youtube.com/watch?v=1GEloEbIsdg
PBS NewsHour full episode, Aug. 13, 2020
Fundraiser
Aug 13, 2020  PBS NewsHour
Thursday on the NewsHour, a conversation with Dr. Anthony Fauci about the current state of the coronavirus pandemic in the United States. Plus: An agreement between Israel and the United Arab Emirates, analyzing the deal with National Security Advisor Robert O'Brien, funding for the U.S. Postal Service to support increased voting by mail and the perilous migrant journey through the Darien Gap. Support your local PBS station here: https://pbs.org/donate WATCH TODAY'S SEGMENTS Fauci: Despite election, science won't be politicized https://www.youtube.com/watch?v=zi_3s… News Wrap: Firefighters battle new Southern California blaze https://www.youtube.com/watch?v=rsAMT… Is Israel-UAE deal a 'seismic shift' in the Middle East? https://www.youtube.com/watch?v=-kjsm… Robert O'Brien on 'very courageous' deal between Israel, UAE https://www.youtube.com/watch?v=nudnU… How election officials and USPS handle mail-in ballots https://www.youtube.com/watch?v=J5jia… U.S. immigration policy can seal fate of Darien Gap migrants https://www.youtube.com/watch?v=tsgaE… Stream your PBS favorites with the PBS app: https://to.pbs.org/2Jb8twG Find more from PBS NewsHour at https://www.pbs.org/newshour Subscribe to our YouTube channel: https://bit.ly/2HfsCD6
https://www.youtube.com/watch?v=VN9L76P4vHY
NBC Nightly News Broadcast (Full) – August 14th, 2020 | NBC Nightly News
Aug 14, 2020  NBC News
U.S. Postal Service warns mail-in ballots may be too late, President Trump fuels baseless birther theory about Senator Kamala Harris, and inside the plan to open New York's schools. Watch "NBC Nightly News With Lester Holt" at 6:30 p.m. ET / 5:30 p.m. CT (or check your local listings).
Watch Rachel Maddow Highlights: August 13 | MSNBC
Aug 14, 2020  MSNBC
Watch the top news stories and highlights from The Rachel Maddow Show, airing weeknights at 9 p.m. on MSNBC. » Subscribe to MSNBC: http://on.msnbc.com/SubscribeTomsnbc MSNBC delivers breaking news and in-depth analysis of the headlines, as well as informed perspectives. Find video clips and segments from The Rachel Maddow Show, Morning Joe, All In, Last Word, 11th Hour, and more.
Watch Rachel Maddow Highlights: August 12 | MSNBC
Aug 13, 2020  MSNBC
Watch the top news stories and highlights from The Rachel Maddow Show, airing weeknights at 9 p.m. on MSNBC. » Subscribe to MSNBC: http://on.msnbc.com/SubscribeTomsnbc MSNBC delivers breaking news and in-depth analysis of the headlines, as well as informed perspectives. Find video clips and segments from The Rachel Maddow Show, Morning Joe, All In, Last Word, 11th Hour, and more.
[LIVE] Coronavirus Pandemic: Real Time Counter, World Map, News
Started streaming 15 hours ago   Roylab Stats
Coronavirus Live Streaming: Breaking news, world Map and live counter on confirmed cases and recovered cases. I started this live stream on Jan 26th, and since Jan 30th I have been streaming this without stopping. Many people are worried about the spread of coronavirus. For anyone that wants to know the real-time progression of the worldwide spread of this virus, I offer this live stream. The purpose is not to instill fear or panic, nor is it to necessarily comfort; I just want to present the data to help inform the public of the current situation. The purpose of this stream is to show basic information and data to understand the situation easily. For detail information, please visit our reference sites.
https://www.youtube.com/watch?v=_dsWF2prkR8
Al Jazeera English | Live
Started streaming on Aug 9, 2020  Al Jazeera English
@Al Jazeera English, we focus on people and events that affect people's lives. We bring topics to light that often go under-reported, listening to all sides of the story and giving a 'voice to the voiceless'. Reaching more than 270 million households in over 140 countries across the globe, our viewers trust Al Jazeera English to keep them informed, inspired, and entertained. Our impartial, fact-based reporting wins worldwide praise and respect. It is our unique brand of journalism that the world has come to rely on. We are reshaping global media and constantly working to strengthen our reputation as one of the world's most respected news and current affairs channels. Subscribe to our channel: http://bit.ly/AJSubscribe Follow us on Twitter: https://twitter.com/AJEnglish Find us on Facebook: https://www.facebook.com/aljazeera Check our website: http://www.aljazeera.com/ #AlJazeeraEnglish #BreakingNews #AlJazeeraLive
https://www.youtube.com/watch?v=NvqKZHpKs-g
DW News Livestream | Latest news and breaking stories
Started streaming on Jan 21, 2019  DW News
DW News goes deep beneath the surface, providing the key stories from Europe and around the world. Exciting reports and interviews from the worlds of politics, business, sports, culture and social media are presented by our DW anchors in 15-, 30- and 60-minute shows. Correspondents on the ground and experts in the studio deliver detailed insights and analysis of issues that affect our viewers around the world. We combine our expertise on Germany and Europe with a special interest in Africa and Asia while keeping track of stories from the rest of the world. Informative, entertaining and up-to-date – DW News, connecting the dots for our viewers across the globe. Deutsche Welle is Germany's international broadcaster. We convey a comprehensive image of Germany, report events and developments, incorporate German and other perspectives in a journalistically independent manner. By doing so we promote understanding between cultures and peoples. #dwNews #LiveNews #NewsToday
Category  News & Politics
The Washington Post: Coronavirus Updates – The deadliest day since May, August 13, 2020
The latest
The United States recorded the most covid-19 deaths in a single day since mid-May on Wednesday: nearly 1,500 fatalities. 
The toll escalated as a new study found that New York City's death rate in the first two months of its outbreak rivaled that of the infamous 1918 flu pandemic. "For anyone who doesn't understand the magnitude of what we're living through, this pandemic is comparable in its effect on mortality to what everyone agrees is the previous worst pandemic," said Jeremy S. Faust, an emergency physician at Brigham and Women's Hospital in Boston who led the research team.
In extraordinary comments to Fox News, President Trump said he is trying to prevent the U.S. Postal Service from delivering millions of mail-in ballots to voters by holding up $25 billion in emergency funding for the agency. "They need that money in order to make the post office work, so it can take all of these millions and millions of ballots," Trump said. 
The cash-strapped mail service is already experiencing days-long delays after Trump's new postmaster general implemented new policies including a ban on overtime pay. Congressional Democrats have insisted on emergency funding for the agency in their negotiations over a new stimulus bill, which collapsed Thursday as the Senate adjourned for the next three and a half weeks. Many health experts say mail-in voting is the safest way for people to vote in November, but Trump has baselessly attacked efforts to expand it as a plot to steal the election. The president's likely opponent, Joe Biden, called Trump's latest comments "an assault on our democracy and economy by a desperate man."
The Supreme Court ruled on pandemic-related voter relief for the first time Thursday, denying a GOP request that would have required a witness to be present when Rhode Island voters cast absentee ballots.
About 960,000 workers filed for unemployment insurance last week — the first time new claims dropped below 1 million since the outbreak intensified in March.
Hollywood is getting back to work after a five-month hiatus, but its fictional worlds will likely be transformed and restricted by the pandemic. "Crowd scenes are a no-go," our business desk wrote. "Real-world locations will be limited. On-screen romance will be less common, sometimes restricted to actors who have off-screen relationships."
Other important news
A Georgia high school made famous by viral photos of barefaced crowds in its hallways on the first day of class will remain closed through the week after 35 people there tested positive for covid-19.
Popular, seemingly high-tech masks with exhalation vents and valves don't actually protect people from covid-19, the Centers for Disease Control and Prevention warned.
Live updates and more
Track deaths and confirmed cases in the U.S. and across the world. 
Where states reopened and cases spiked.
Post reporters are publishing live dispatches nearly 24 hours a day.
Read the latest about what's happening in the D.C. area. 
Submit a question and we may answer it in a future story or newsletter.
Your questions, answered
"Could you please discuss the cleaning of masks and the use of masks with filters? Is the recommendation to wash after each use to kill the virus or eliminate the wearer's own germs? Can surgical masks be washed without ruining their effectiveness?" — Katrinka in Maryland
Numerous studies have shown that a simple cloth mask — without valves, vents or filters — is ideal for controlling the spread of the coronavirus outside health-care settings. In updated guidance, the CDC specifically warns against wearing masks with exhalation valves or vents, even with disposable filters, because "this type of mask does not prevent the person wearing the mask from transmitting COVID-19 to others."
The truth is that any mask that advertises "breathability" or "better airflow" is likely allowing viral particles through. A mask made up of a few layers of cotton fabric is still the best way to control the spread of the coronavirus.
In terms of cleaning, Post wellness reporter Allyson Chiu published a story today that addresses frequently asked questions about how to take care of your face masks.
What are the general guidelines for proper mask care?
For cloth masks, which have exploded in popularity in recent months, all three experts interviewed say daily washings are a must.
"Treat your mask like your underwear," said Jade Flinn, a nurse educator for the Biocontainment Unit at Johns Hopkins Medicine. "You want to change it every day."
Can N95s or surgical masks be washed?
Unlike the cloth variety, these masks cannot be effectively sanitized by a standard washing, said Elizabeth Mullans, a board-certified dermatologist based in Houston.
"Hospitals may be able to disinfect them, but there's no way that the average person could go ahead and disinfect them," Mullans said.
How do I wash my cloth mask?
The widely recommended method, which has also been promoted by the CDC, is simple: Throw the dirty mask in warm or hot water with your regular laundry. Health experts suggest using a fragrance-free,
hypoallergenic detergent if your mask has caused skin irritations such as increased acne or rash.
Can sunlight disinfect a mask?
"What I'm seeing is that folks that put it in the sun sometimes are thinking that they are decontaminating the mask," said Michael Knight, an assistant professor of medicine at George Washington University. "Yes, UV light comes from the sun, but it's not in a consistent amount to say that 'yes, this has been decontaminated.' "
In the case of surgical or N95 masks, sunlight could be a bad thing, Flinn said, because it can degrade the special materials in some masks.
FAQ: How to care for your face mask (and why you shouldn't hang it from your rear-view mirror)
Today's top reads
Find more stories, analysis and op-eds about the outbreak on our coronavirus page, including:
How to give kids a sense of routine and stability in a school year that is anything but normal
A running list of the college football teams and conferences that have canceled their seasons
Britain says it overcounted its coronavirus death toll
The New York Times   The Morning            August 13, 2020
Good morning. Joe Biden and Kamala Harris made their debut as running mates. The British economy sunk into its deepest recession on record. And the QAnon conspiracy theory has found its way to the mainstream.
The rise of QAnon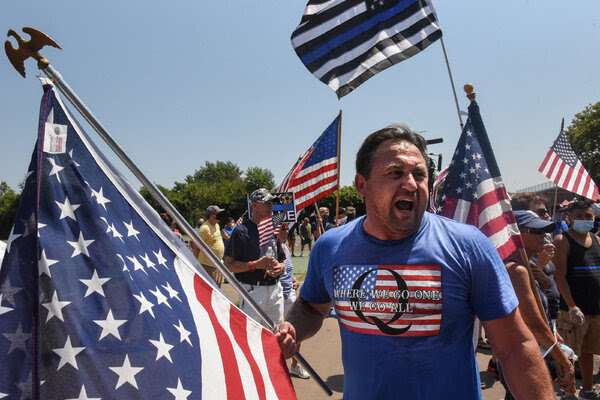 A man wearing a QAnon shirt at a pro-police rally in Brooklyn on Sunday.Stephanie Keith/Reuters
Over three years, the far-right conspiracy theory QAnon has spread from the outskirts of the internet into the mainstream. And by next year, it will most likely make its way into Congress: A QAnon supporter is almost sure to be elected after winning a Republican House primary runoff in Georgia this week.
It's a remarkable rise for a group that believes in, among other things, a ring of Satan-worshiping, child-trafficking criminals led by prominent Democrats. We spoke with our colleague Kevin Roose, who has covered QAnon extensively, to get a sense of how the movement expanded its reach.
Social media platforms are a big part of it. "It's still very fringe in terms of its ideology, but not in terms of its scale," Kevin said. "We've seen QAnon Facebook groups swell to hundreds of thousands of members, and they are routinely driving conversations on social media."
This week, NBC News reported that an internal Facebook investigation found thousands of QAnon-supporting groups and pages with millions of members and followers. Twitter permanently suspended thousands of accounts associated with the movement last month. And TikTok has blocked searches for QAnon-related hashtags.
But these companies have "realized belatedly that this is a major problem," Kevin said. "The horse has left the barn."
The pandemic, which led many people to spend more time online, has also bolstered the movement, Kevin said: "Our social interactions are mostly taking place online, and that means that the communities that have power online, including QAnon, are a much bigger part of the discourse."
Much of its growth also comes from its ability to attach itself to, and then absorb, both legitimate causes and "every major conspiracy theory of the past 50 years," Kevin said.
Its followers are "deliberately attempting to radicalize new groups of people," he noted, by infiltrating Facebook groups focused on vaccine safety, parenting, and natural food and health.
"These are people who might be skeptical of mainstream science or authorities," Kevin said, "and they're inserting their messages to those communities. So that's what people need to be made aware of — these aren't people hanging out in the dark corners of the internet anymore."
FOUR MORE BIG STORIES
1.     Biden-Harris ticket makes its debut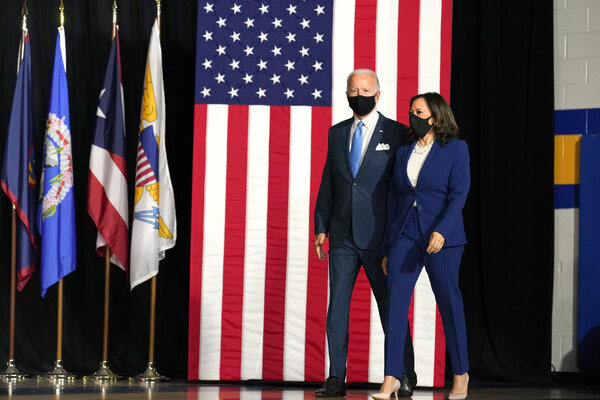 Joe Biden and Kamala Harris, in their first public event together on Wednesday.Erin Schaff/The New York Times
2. The pandemic's true toll
The number of U.S. residents who have died since March is now more than 200,000 higher than it would be in a normal year, a Times analysis found. Those "excess deaths" most likely reflect the true cost of the pandemic — and suggest that the official death toll may be a substantial undercount.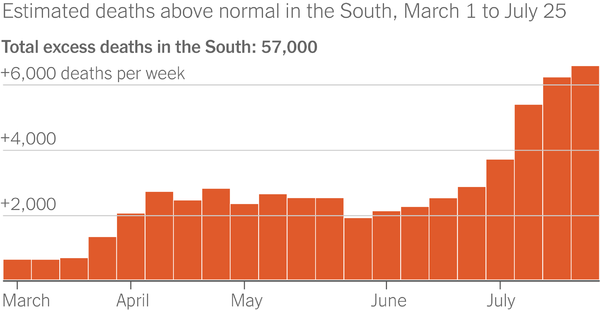 By The New York Times | Source: Centers for Disease Control and Prevention
As the coronavirus outbreak in the U.S. has moved south from its early epicenter in New York, so have the unusual patterns in deaths from all causes. Many of the recent coronavirus cases and deaths in the South may have been driven largely by reopenings and relaxed social-distancing restrictions.
3. Police raid Hong Kong newspaper
Police officers this week raided the newsroom of Apple Daily, Hong Kong's biggest pro-democracy newspaper, part of a crackdown on free expression under a national security law the Chinese government imposed on the semiautonomous region in June. Jimmy Lai, the paper's founder, and four executives face possible charges under the new law.
The raid led to a show of support from Hong Kong residents: The paper said it printed 550,000 copies on Tuesday, nearly eight times a regular run. But some reporters worry about its survival in Hong Kong's newly restrictive climate.
4. American guns invade the U.K.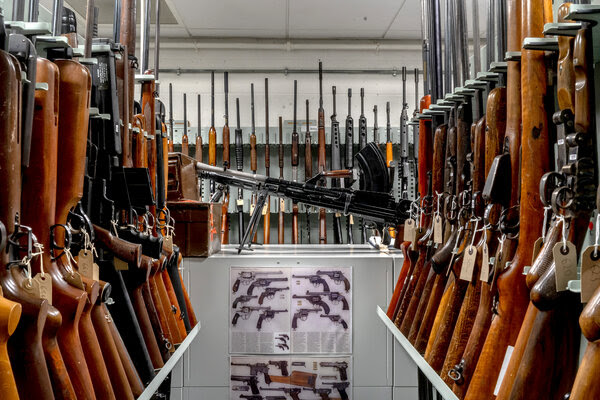 The National Ballistics Intelligence Service in Birmingham, England.Andrew Testa for The New York Times
Gun deaths in Britain, while still rare, have risen over the last few years. One reason, British authorities say, is an influx of firearms being smuggled from the United States.
At least 782 American guns have been discovered by British police since 2017, data obtained by The Times shows. Some of them can be traced to loosely regulated gun fairs in states like Florida.
"Weapons that don't matter in the United States, because America deals in millions, routinely have an enormous impact in the U.K., because of the extraordinary scarcity of handguns," one expert said.
Here's what else is happening
If you enjoy The Morning, please consider subscribing to The Times. Subscriber support helps make work like this possible.
IDEA OF THE DAY: CAN TRUMP COME BACK?
Less than 12 weeks from Election Day, Trump trails Biden by about eight percentage points nationally. Is there still time for him to turn things around?
Others think a comeback is unlikely. Given Trump's unpopularity and the state of the economy, other poll-watchers are skeptical that he can make up much ground. Undecided voters appear less willing to back Trump this year than in 2016. And voters in some states can begin voting as soon as next month.
"The only way Trump could even conceivably eke out a win on Election Day would be through voter suppression on an improbably (perhaps impossibly) massive scale," The Washington Post's Eugene Robinson wrote.

Bored Panda: People Are Sharing "Do's And Don't's" From 1918-1920 During The Spanish Flu, It Shows How History Repeats Itself

Rokas Laurinavi?ius and Mindaugas Bal?iauskas

History tends to repeat itself, and even though COVID-19 is not the worst flu whatsoever, we as a society seem to be making the same mistakes we did in 1918 during the Spanish Flu outbreak.

Talya Varga turned to Twitter to share an old newspaper article allegedly showing a list of "do's and don't's" for preventing the Spanish Flu. Sadly, almost all of the entries look painfully familiar.

"Wear a mask," reads the first. "Wash your hands before each meal", says another. Not to mention the one that urges to "not disregard the advice of a specialist just because you do not understand."

After Varga highlighted the issue, her tweet immediately went viral, sparking an important discussion.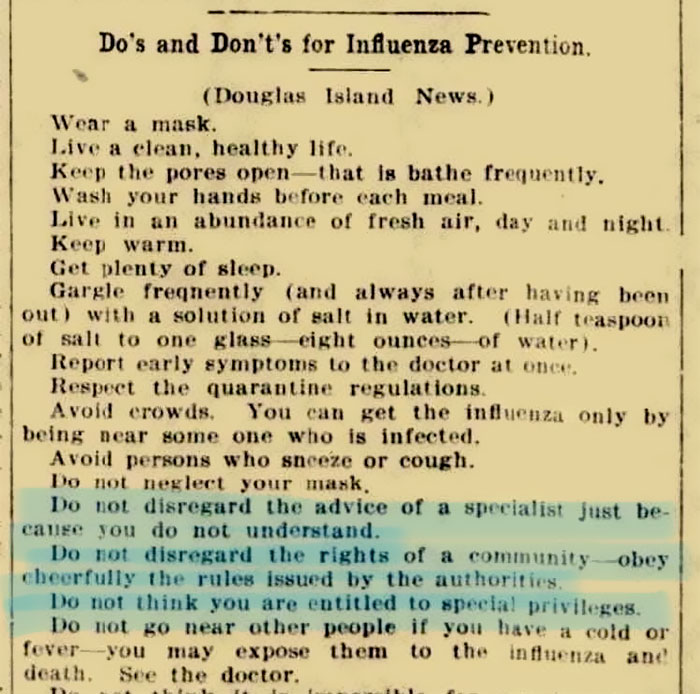 Image credits: TalyaVarga
Image credits: TalyaVarga
The 1918 influenza pandemic is one of the most severe pandemics in recent history.
It was caused by an H1N1 virus with genes of avian origin. Although there is no universal consensus regarding where the virus came from, it spread worldwide from 1918-1919.
In the US, it was first identified in military personnel in spring 1918.
Some estimates suggest that as many as 500 million people or one-third of the world's population became infected with this virus. The number of deaths was considered to be at least 50 million worldwide with about 675,000 occurring in the United States.
As the tweet started to go viral, more and more people began responding to it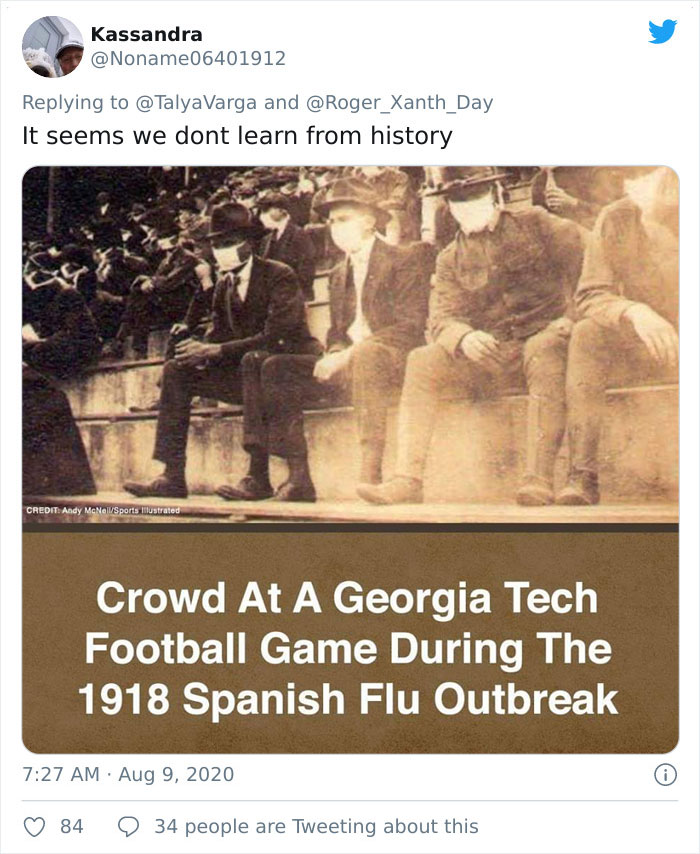 Image credits: Noname06401912
Social distancing saved thousands of American lives during the Spanish flu outbreak. Philadelphia, for example, detected its first case of a deadly, fast-spreading strain of influenza on September 17, 1918. The very next day, in an attempt to halt the virus' spread, city officials launched a campaign against coughing, spitting, and sneezing in public. Good start. 10 days later, however, despite the potential epidemic, the city hosted a parade that 200,000 people attended.
Flu cases continued to climb until finally, on October 3, schools, churches, theaters, and public gathering spaces were closed.
Two weeks after the first reported case, there were at least 20,000 of them.
For comparison, when a case popped up in St. Louis, the city shut down most public gatherings and quarantined victims in their homes just two days later.
By the end of the pandemic, the death rate in St. Louis was less than half of the rate in Philadelphia.
About 358 people per 100,000 died in St Louis, while there were about 748 deaths per 100,000 people in Philadelphia.
It's pretty saddening to see that while technology and medicine have made huge leaps since the beginning of the 20th century, our mindsets have somewhat remained the same, and we can't come together to fight this microscopic yet very powerful enemy.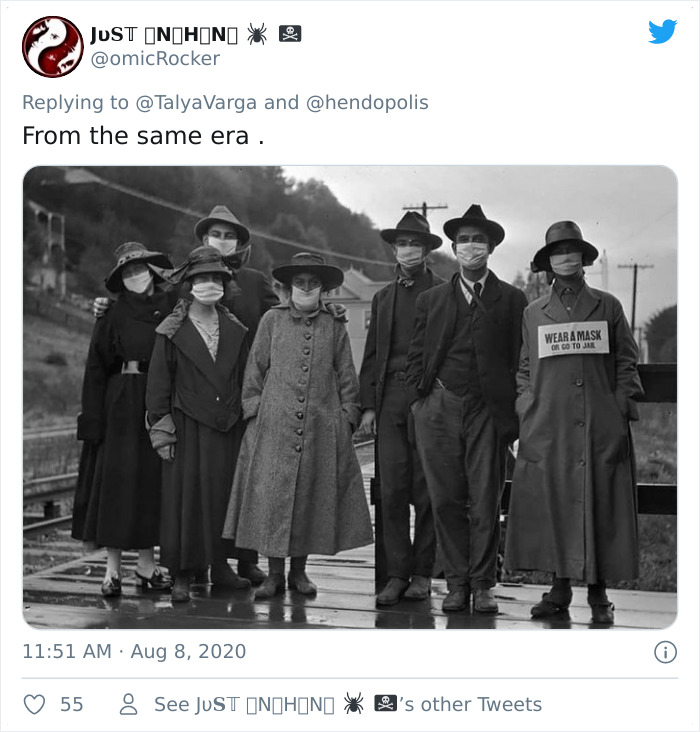 Image credits: omicRocker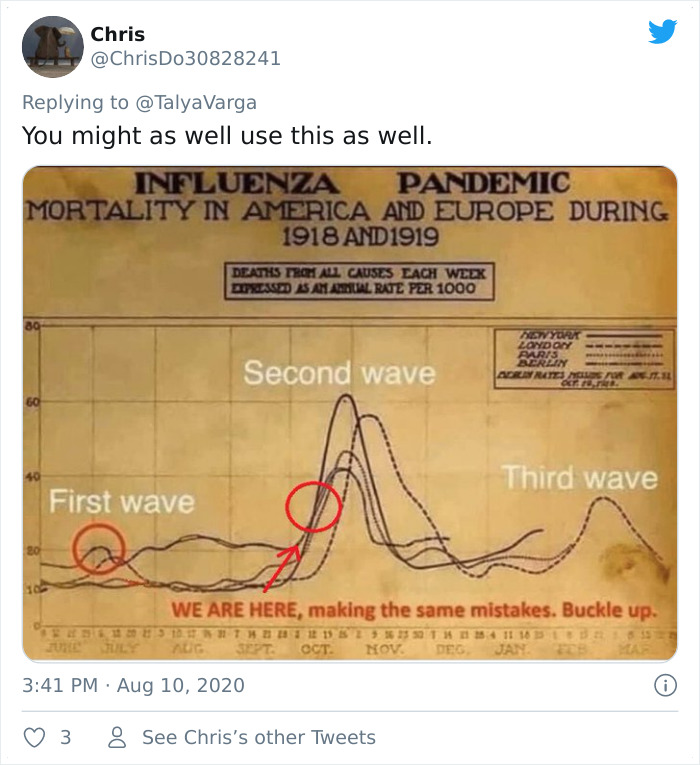 Image credits: ChrisDo30828241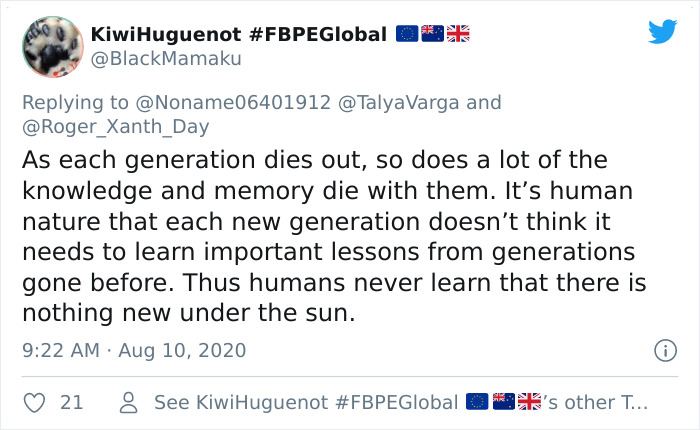 Image credits: BlackMamaku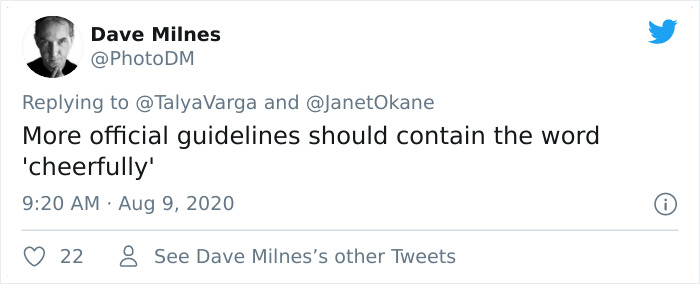 Image credits: PhotoDM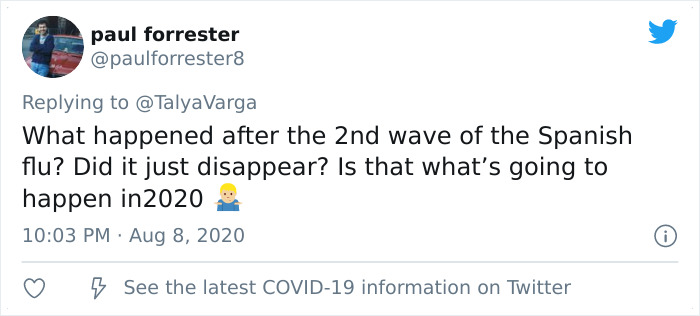 Image credits: paulforrester8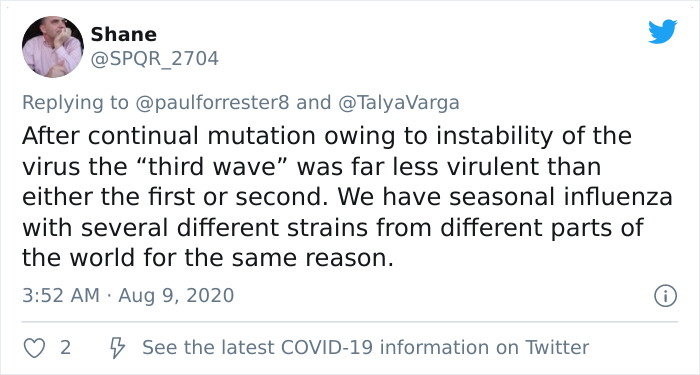 Image credits: SPQR_2704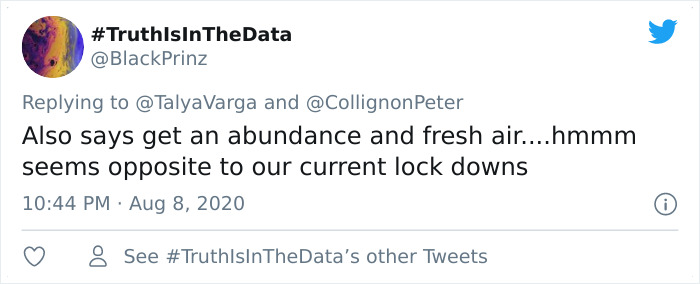 Image credits: BlackPrinz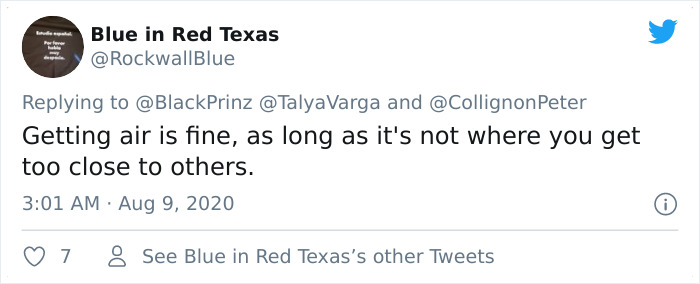 Image credits: RockwallBlue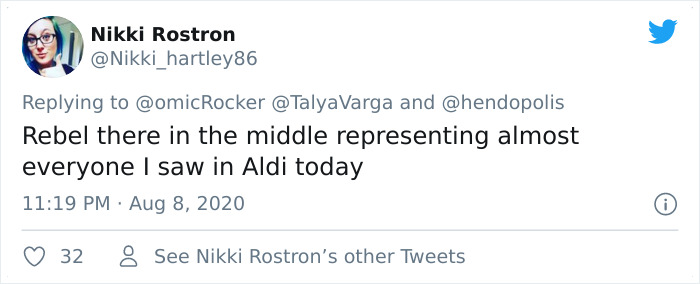 Image credits: Nikki_hartley86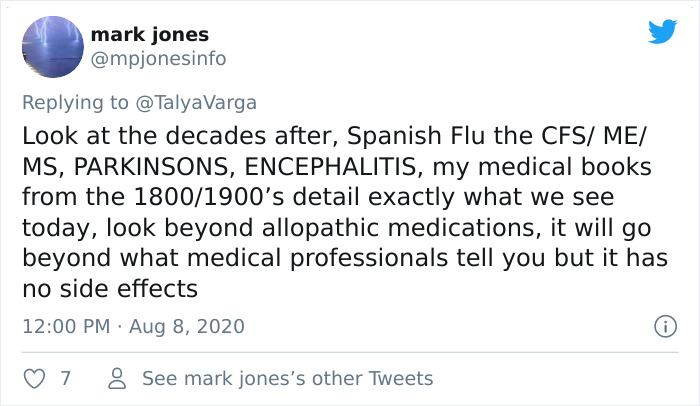 Image credits: mpjonesinfo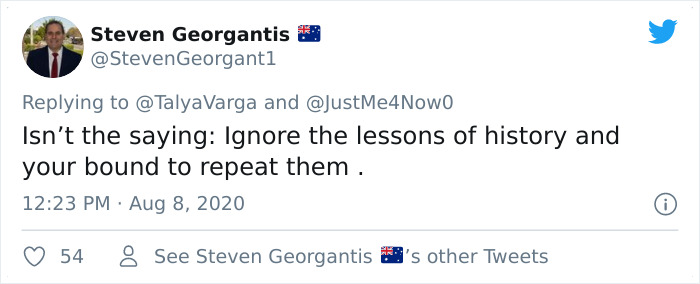 Image credits: StevenGeorgant1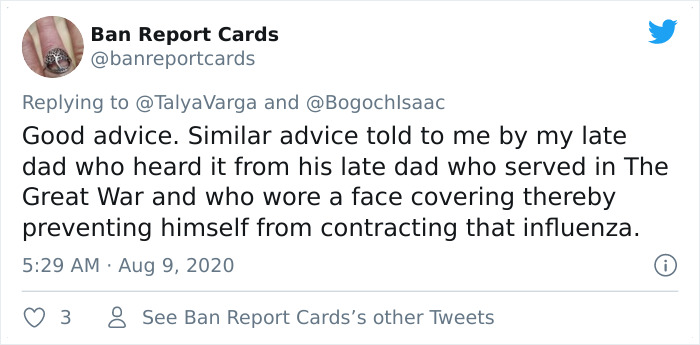 Image credits: banreportcards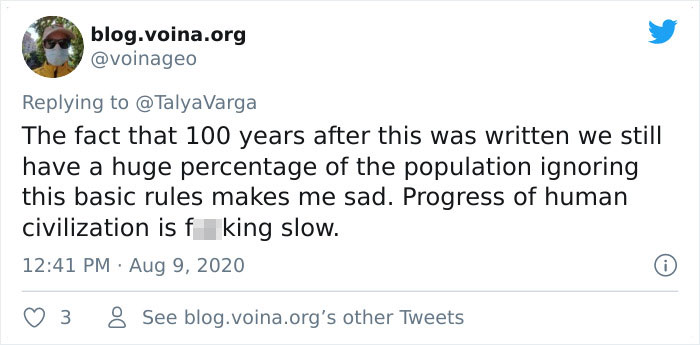 Image credits: voinageo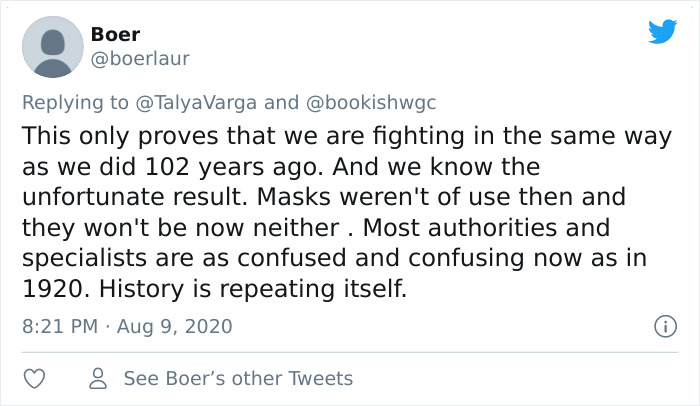 Image credits: boerlaur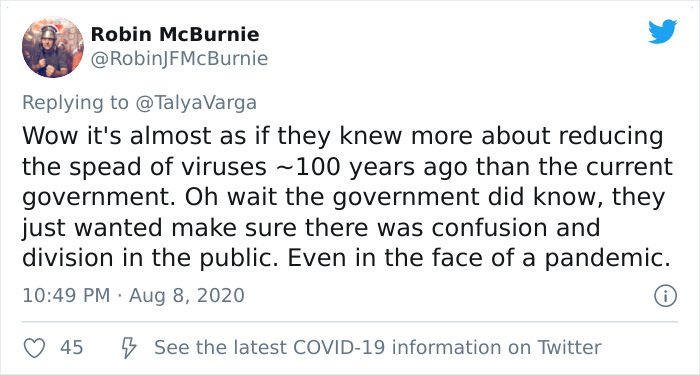 Image credits: RobinJFMcBurnie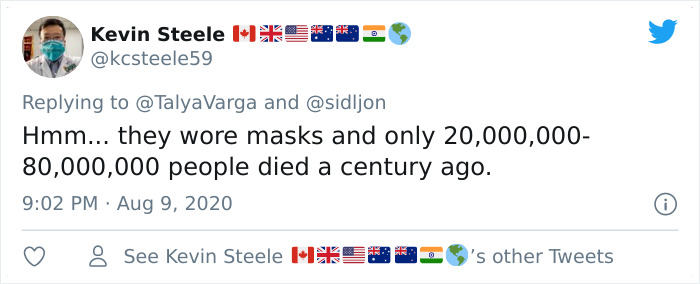 Image credits: kcsteele59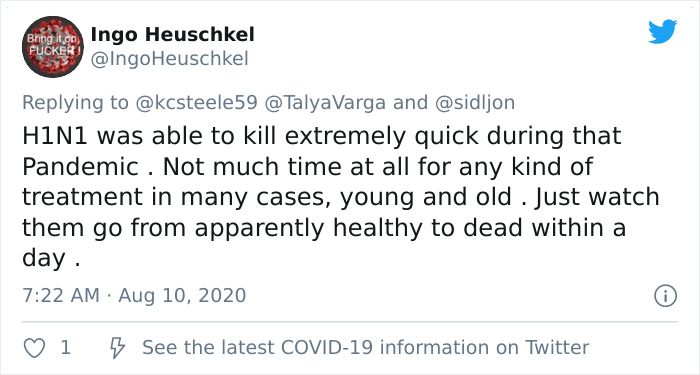 Image credits: IngoHeuschkel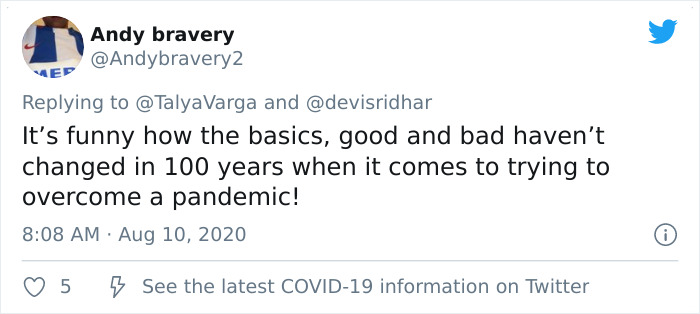 Image credits: Andybravery2

Image credits: Catheri76130871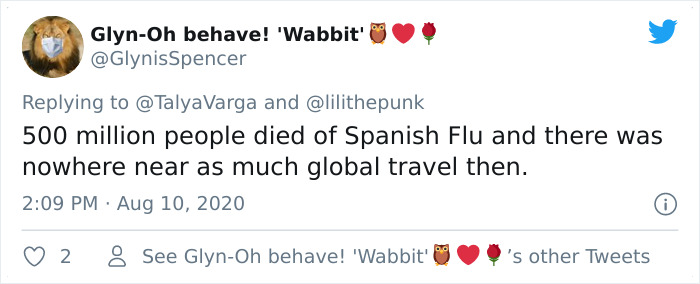 Image credits: GlynisSpencer

Image credits: alrightage
Follow Bored Panda on Google News!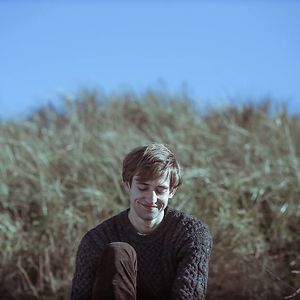 Writer, BoredPanda staff
Rokas is a writer at Bored Panda with a BA in Communication. After working for a sculptor, he fell in love with visual storytelling and enjoys covering everything from TV shows (any Sopranos fans out there?) to photography. Throughout his years in Bored Panda, over 235 million people have read the posts he's written, which is probably more than he could count to.
Show All Contributors
Anyone can write on Bored Panda LEARN MORE
For more information please visit the following link:
https://www.boredpanda.com/spanish-flu-recommendations/?utm_source=newsletter&utm_medium=email&utm_campaign=Newsletter